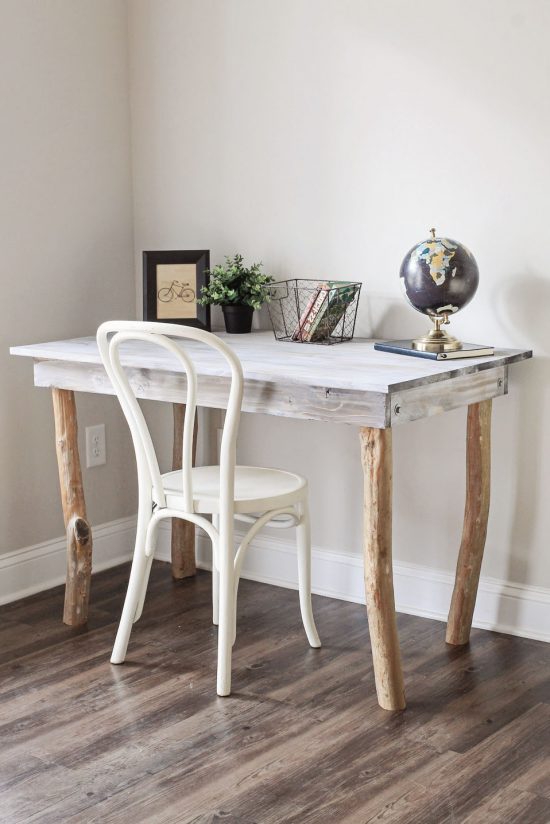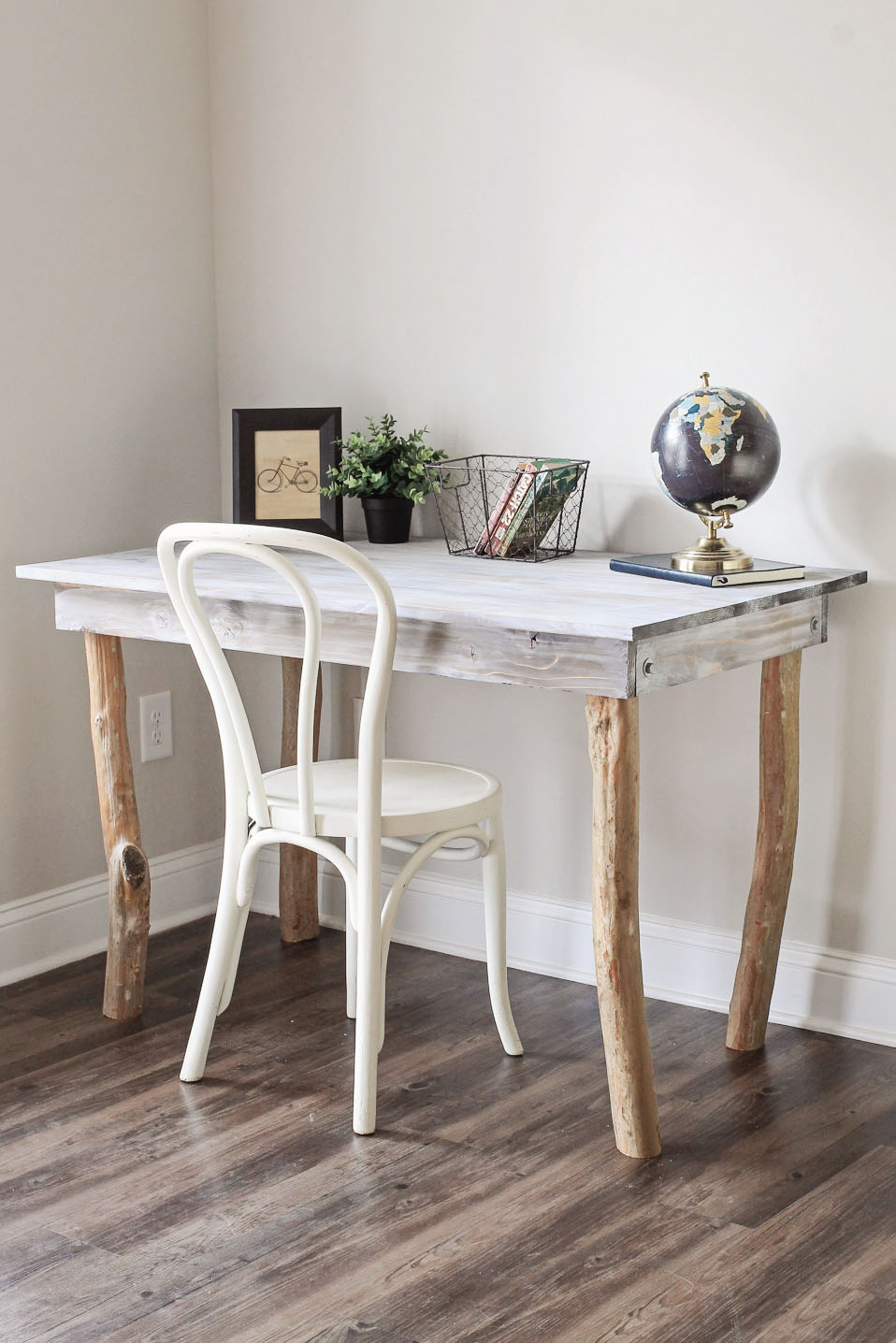 I have to start this post by admitting that this Rustic Tree Branch Desk DIY was definitely stepping outside of my comfort zone! It's not the typical style furniture I dream up and that's because I didn't think of it! Brandon came up with this design all on his own and he also did all the building and finishing on it too!
To give you a little bit of a back story…Brandon really needed a new desk, he'd been using a fold up table for awhile. Originally, he wanted to build it out of wood and black steel piping. After the hurricane, we were out walking one day and came across some broken Crepe Myrtle tree branches. I thought they were really cool looking and would make an awesome project, but I didn't know what we would do with them. Brandon immediately knew he wanted to use them for the legs of his new desk! And that is how this project came to be!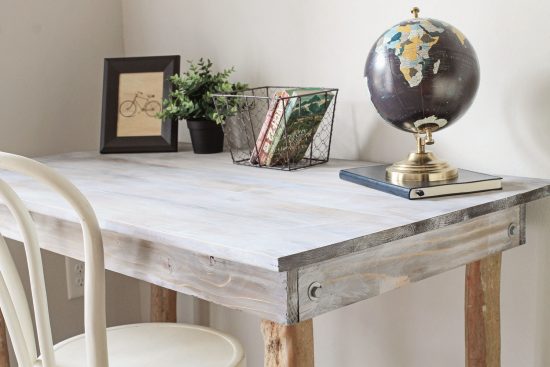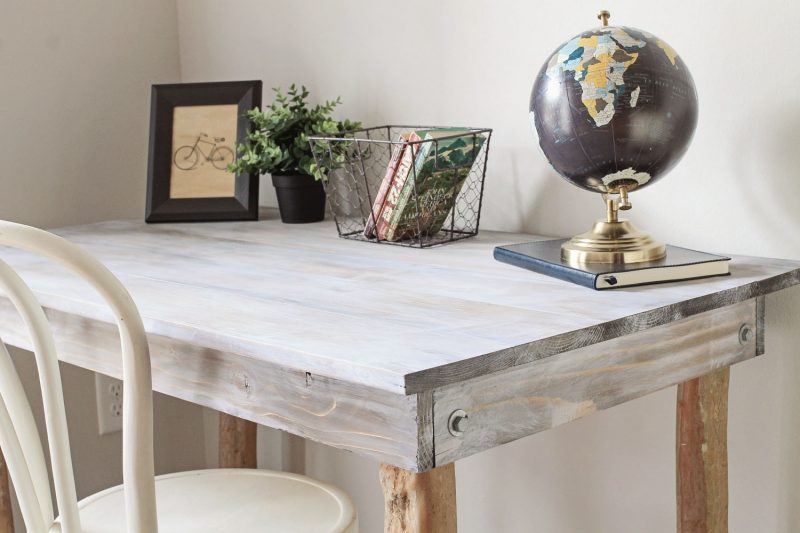 Note, this post contains some affiliate links. For more information see my disclosures here.
How to build a rustic tree branch desk:
Materials:
(5) 1×6 @ 8ft (for table top)
(4) 1×4 @ 8ft (for table aprons & branch supports)
(4) tree branches/logs at least 30″ long each
(4) 3/8″ x 2″ galvanized lag bolts (for wood)
3″ Drywall Screws
1-1/4″ Kreg screws
Alright Brandon is taking over now to explain how to build this Rustic Tree Branch Desk!
Part 1: Making the top of the desk
1. Measure and cut your 1"x6"x8' to 50" and do this for (5) boards.
2. Once your cuts are complete clear your work surface and lay out your boards side by side. This is when you want to choose which boards you want facing up and which boards you want to be your end pieces. After you have chosen your boards, flip the inside boards over and the (2) end boards you will need to swap after you flip them. Label each end of one side of all the boards 1-5 to ensure that all your boards will go back in the same order after you drill your pilot holes.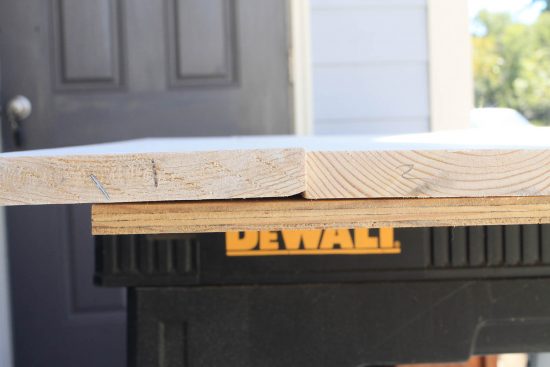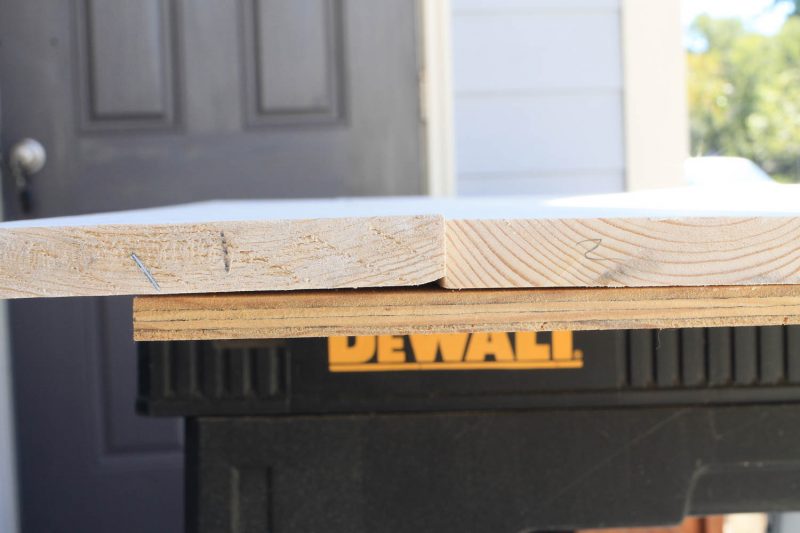 3. Keep the boards side by side so that you can mark where all of your kreg holes should go.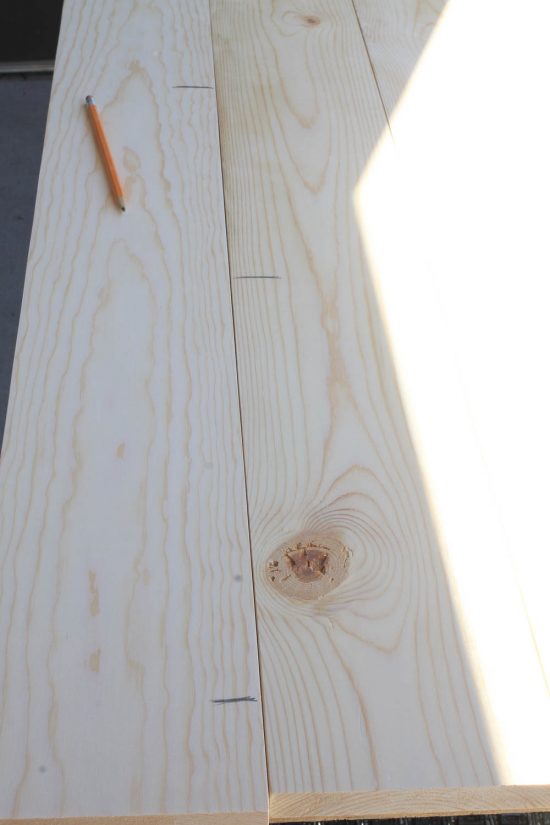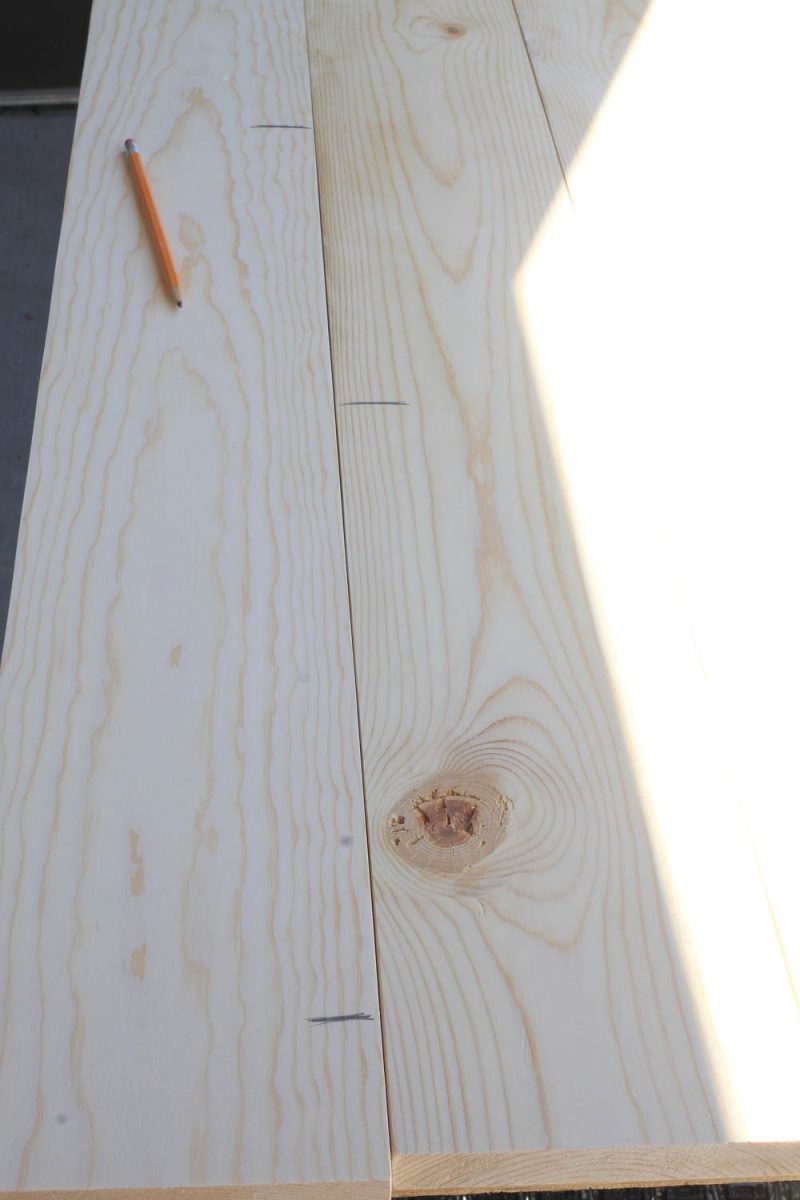 4. Find a level surface to place your boards so that you can join them together. I used the floor of my apartment. Line up the ends in number order. Using 1-¼" kreg screws and the correct bit begin to screw the boards together starting with #1 & #2. Do not use the highest setting on your drill, you do not want to be forceful because it may cause the screw to go through and pop out the top side of the surface. I will usually use a lower setting between 5-7 on my drill and as soon as the two boards pull tight together I stop and move on to the next screw.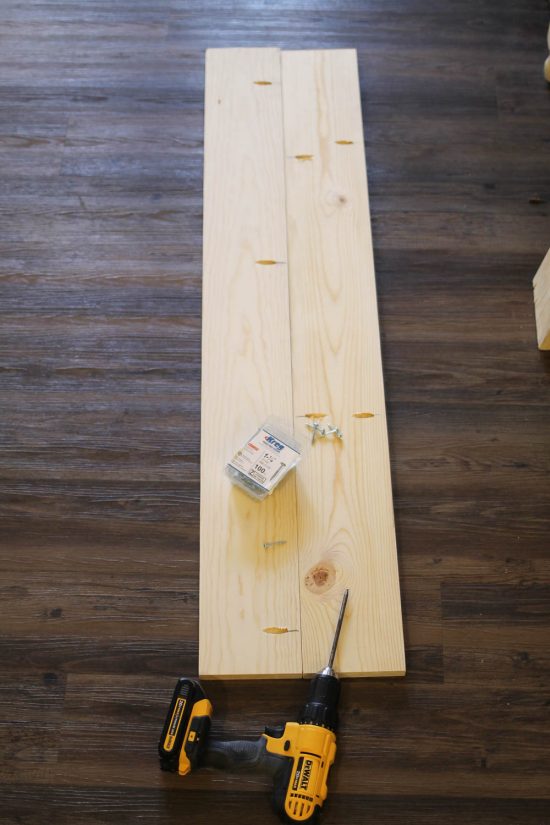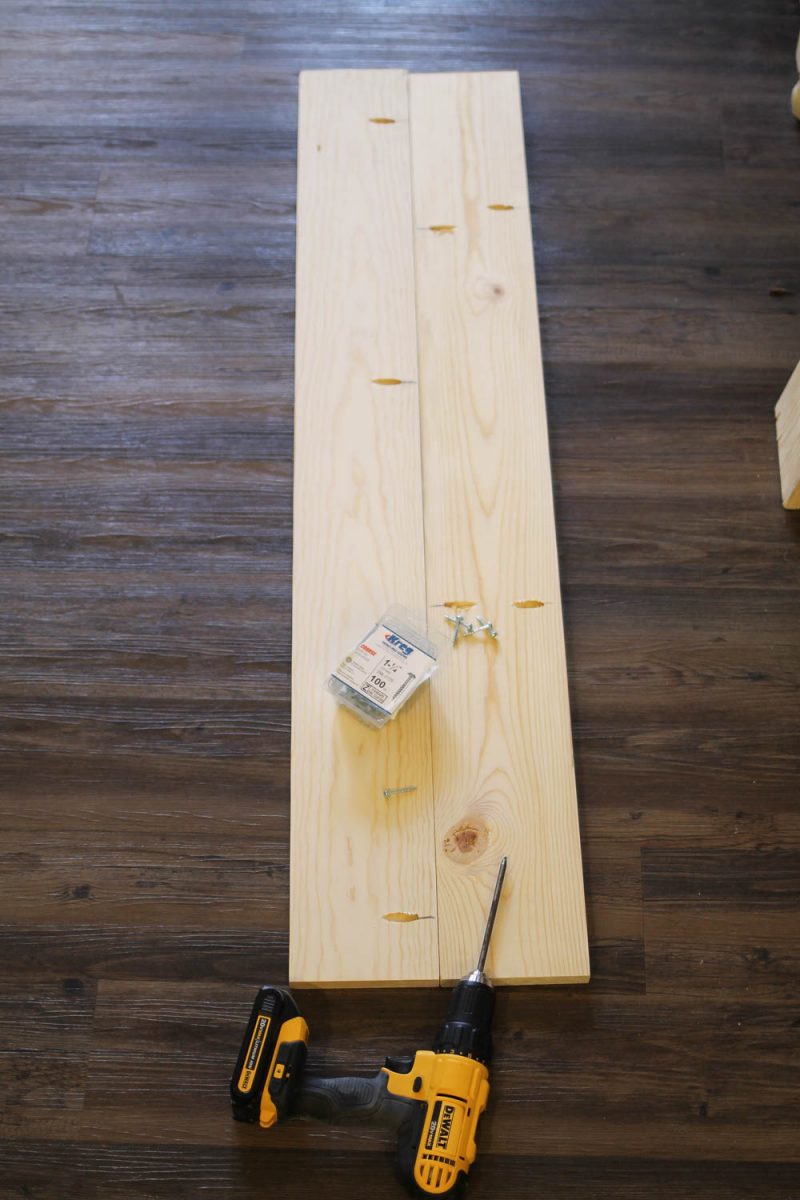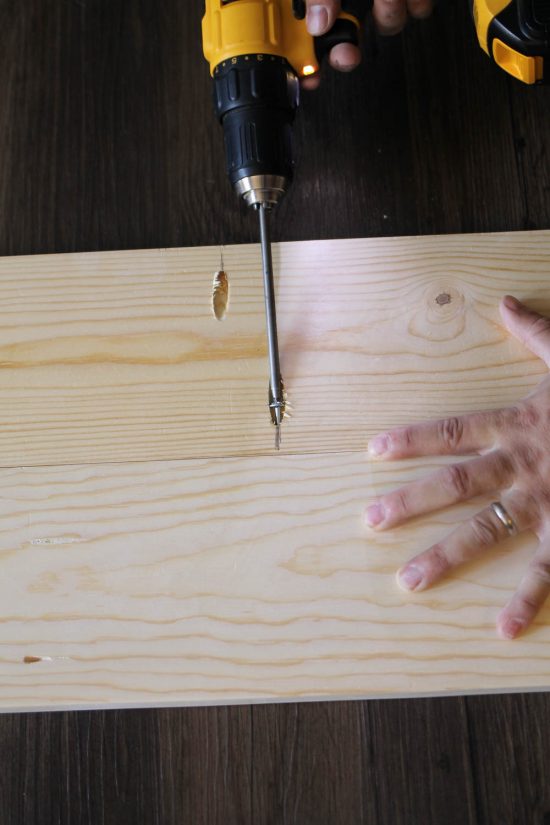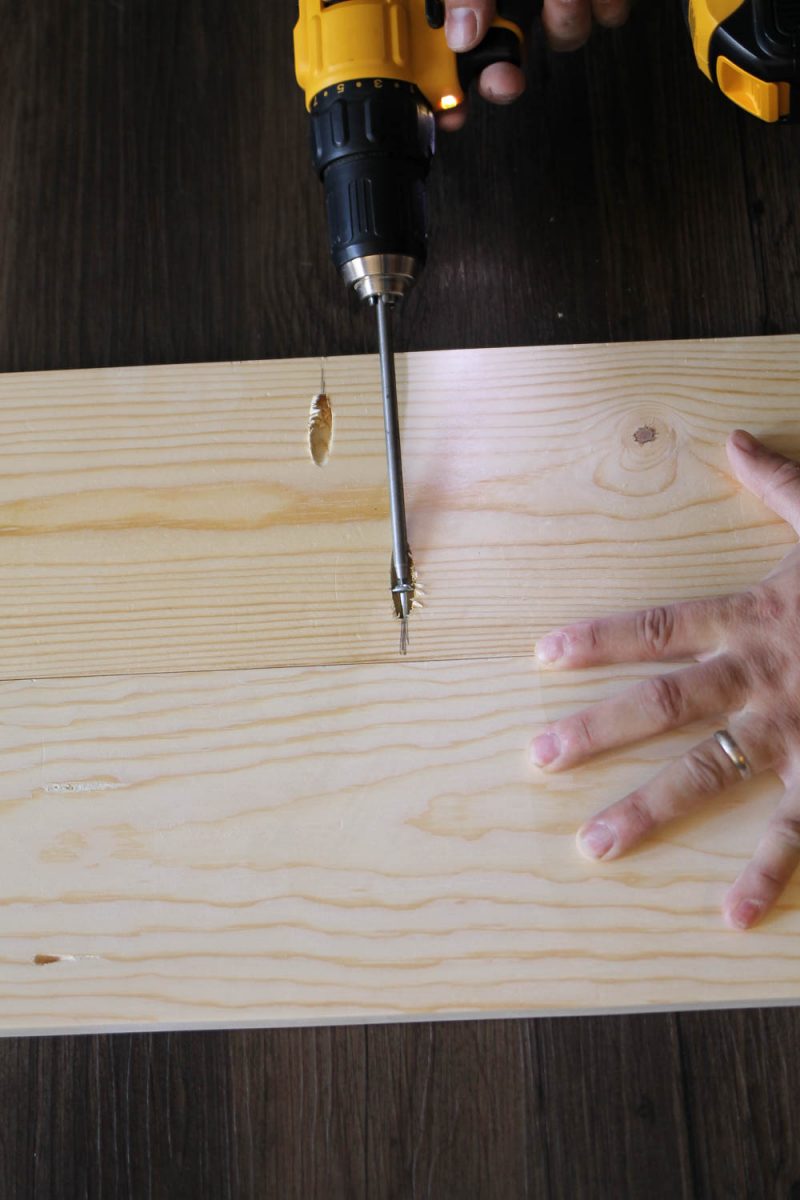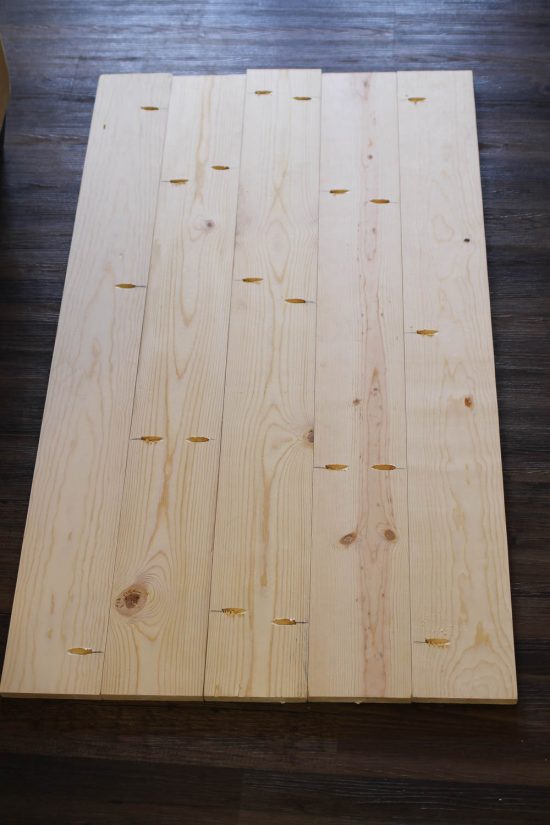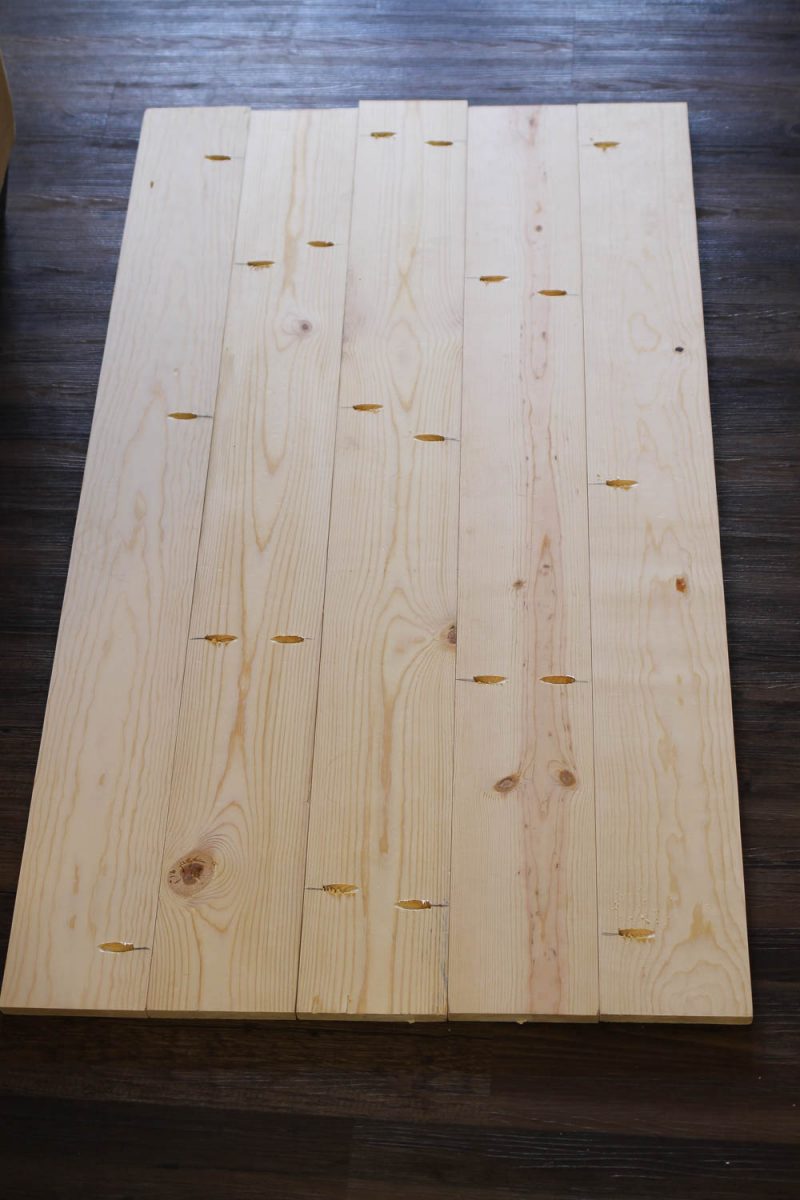 5. Using your circular saw remove 1" from each end to make for a smooth and even end. You can use a straight edge guide if needed to make a straight cut off the ends or you can make one yourself for a more affordable and still very effective option. Make these cuts with the bottom facing up so that the top of the desk will be a smooth cut.
6. Next step is laying out your measurements for your apron. I decided that I wanted a 2" gap between the long apron pieces and the edge of the top and a 2-½" gap between the short apron pieces and the edge of the top. First I laid out a 1"x4"x4' piece long ways across my top. I measured 2" from the edge of each end of the table and drew about a 4" line from the end of the top. Then I moved the 1"x4"x4' piece and laid it out on the shorter side of the top. I measured out 2-½" and made a line that crossed the marks I already made on the long apron. Repeat these for all sides, so that you have 4 cross marks at each corner of the table.
Using a miter saw make the cuts for the short aprons first. This will ensure that you can get an exact measurement on the long aprons, as they may be slightly different once you secure the short aprons to the top.
Set up your kreg jig and mark where to drill. I marked (3) holes for the short apron. Line up your short aprons first and make sure you have equal measurements from each end and the side going out to the end of the table. Drill your kreg holes and secure your side aprons with 1-¼" kreg screws.
Measure your long aprons making sure that they cover the ends of the shorter apron. Mark (4) holes with a pencil and drill kreg holes. Use the miter saw to cut the long aprons. Secure the long aprons with 1-¼" kreg screws. All corners should not have any gap at all between the long and short aprons.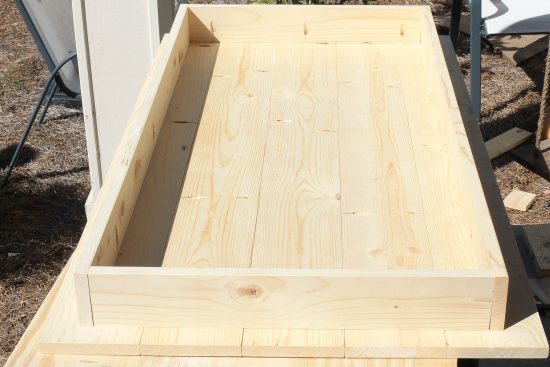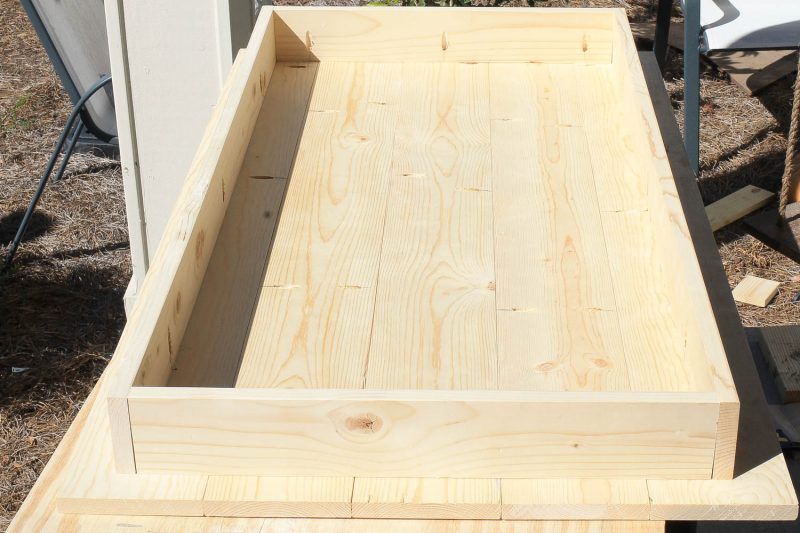 Now you have finished the hardest part and are ready to attach the legs. *Note* before attaching the legs we stained and applied a white wash finish. You can see a step by step tutorial here for how we created the weathered wood finish.
Part 2: The Tree Branch Legs
7. If you are using tree limbs they will naturally not be very straight. Before you measure cut a 1″ piece off the end where you measure from. Measure 29-3/4″ down the center of the limb. Use the miter saw to make all (4) cuts.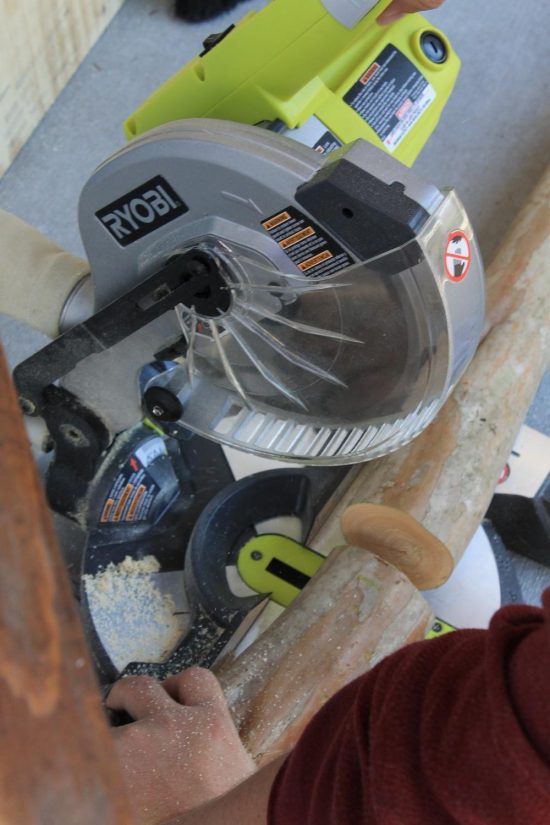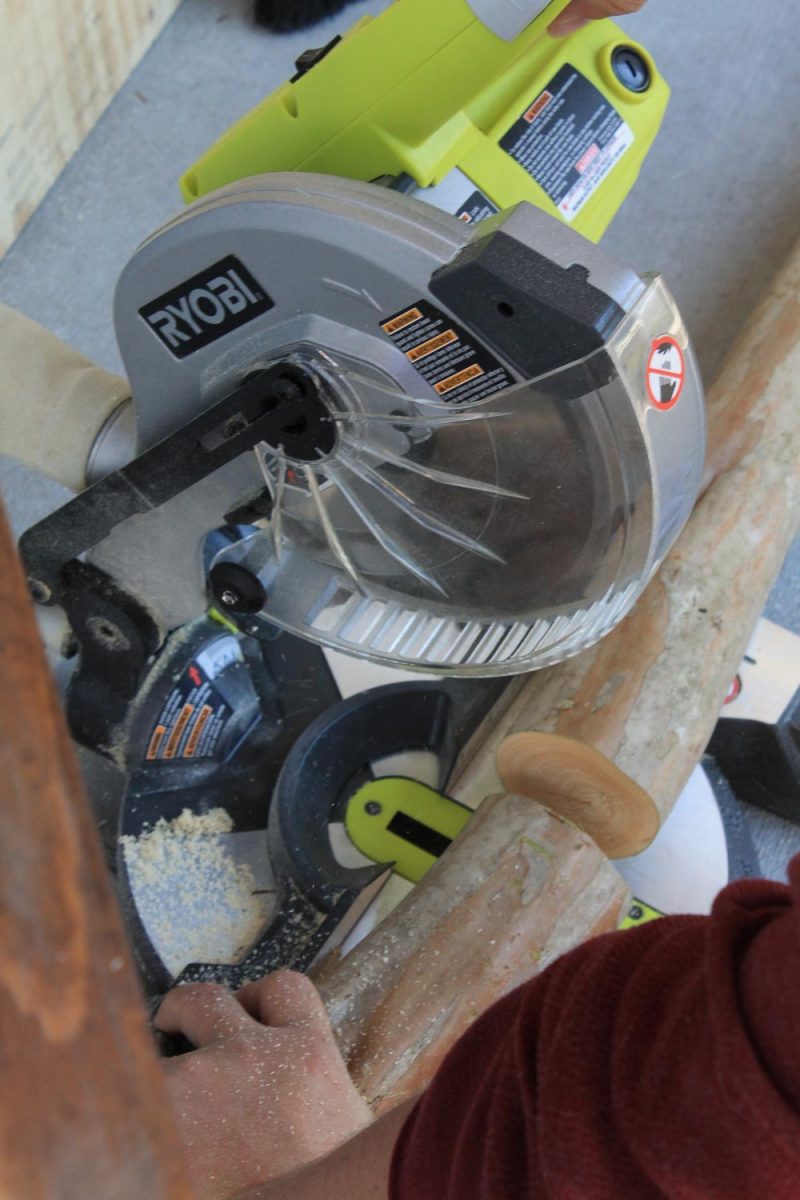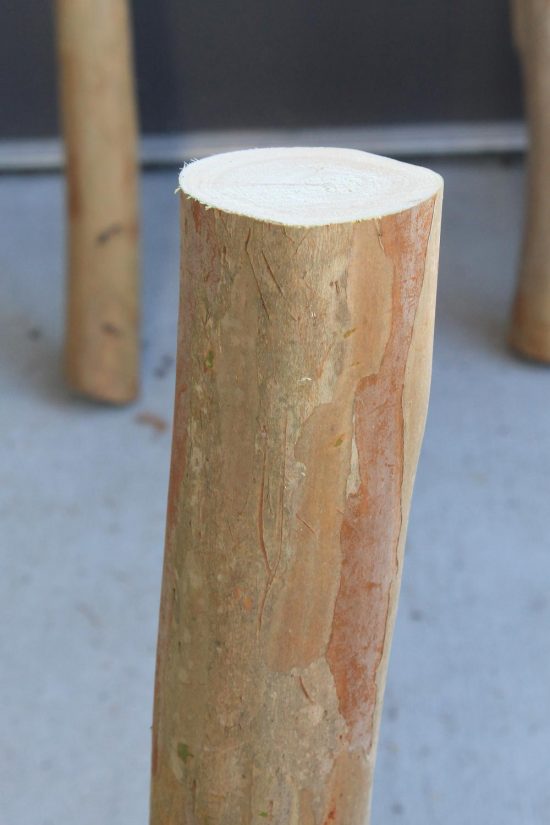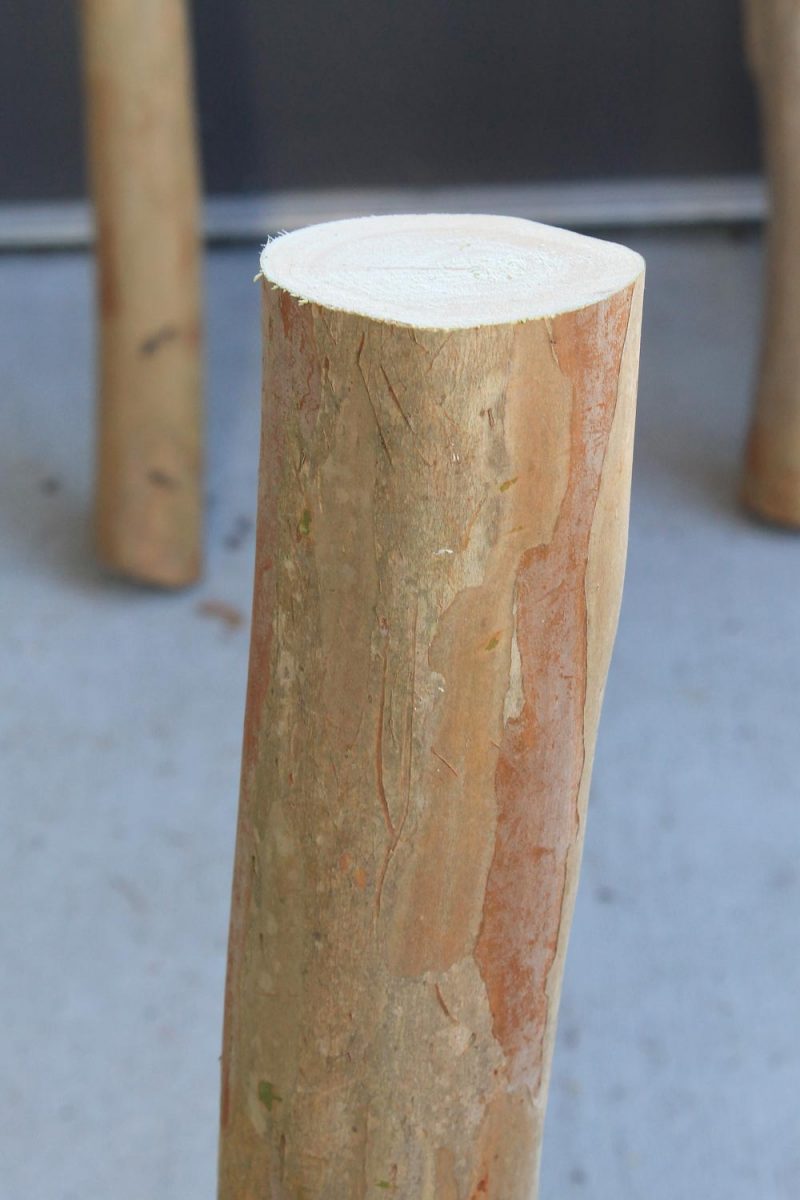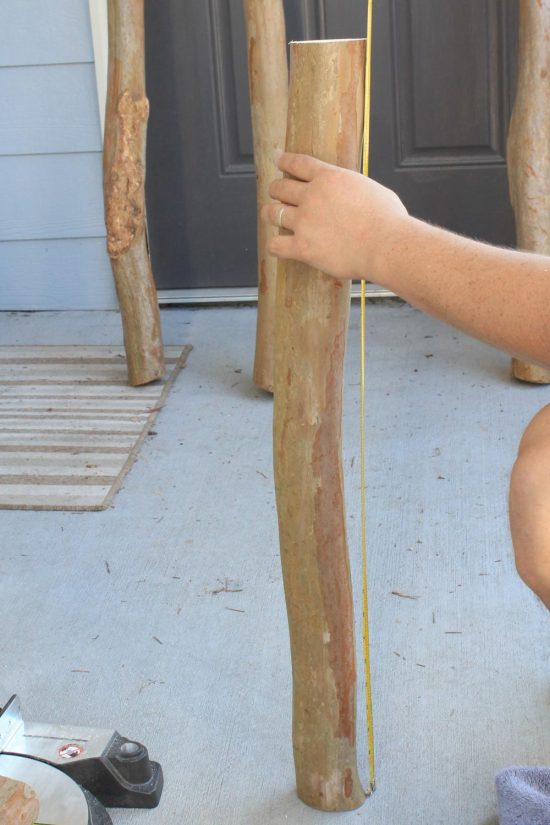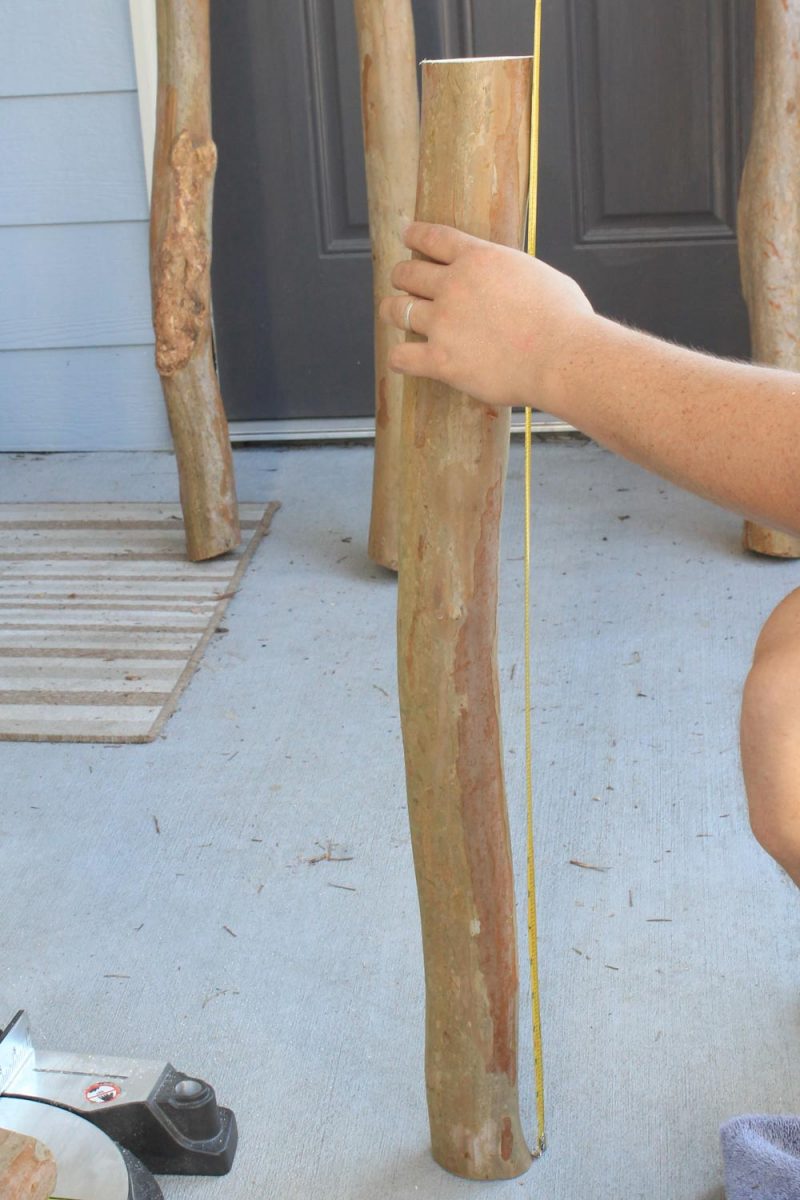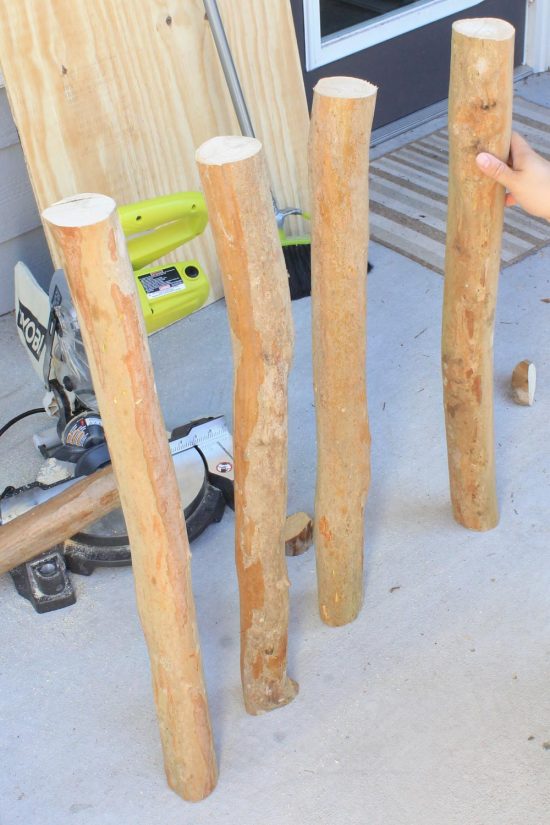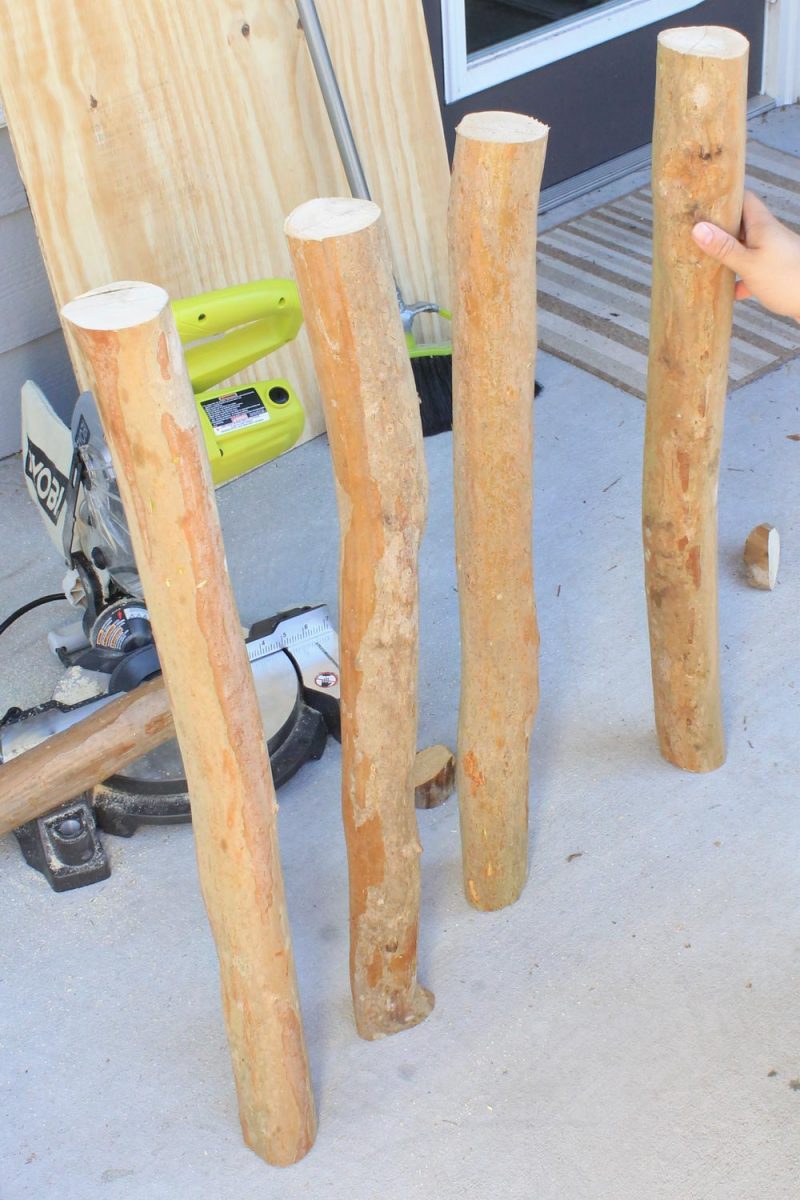 8. Turn your desk top upside down on a work surface and place your legs at each corner.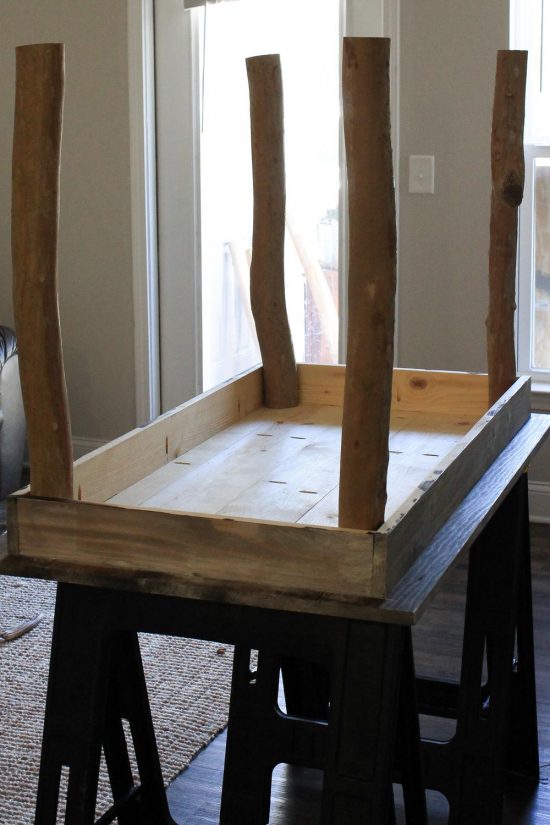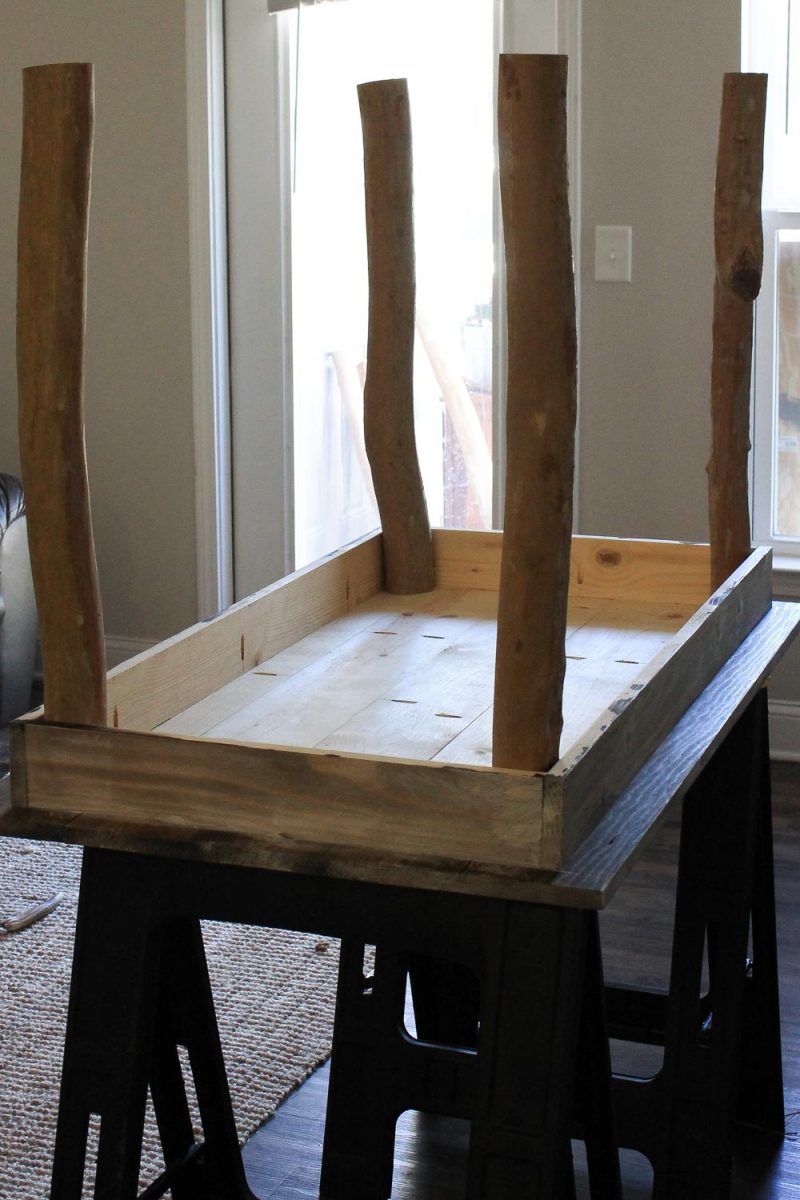 I built a small box around each corner of the legs for added support. These all needed to be measured individually because of the different thickness of each limb. Drill (2) kreg holes in each and secure to the desk making sure to not be too forceful so that the screws don't pop through. I then ran (2) 3″ drywall screws through each side of the supports.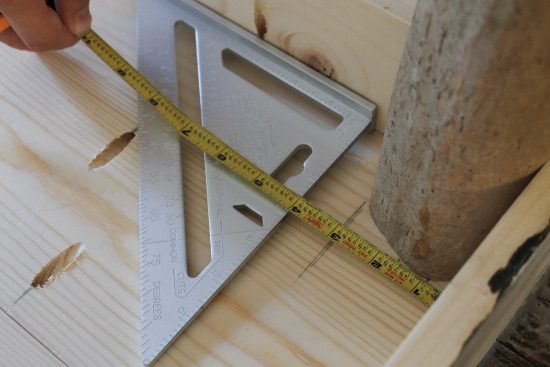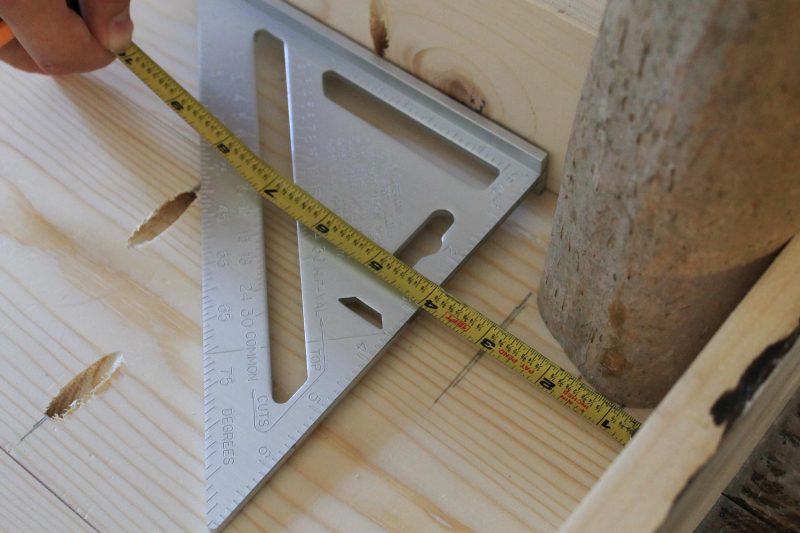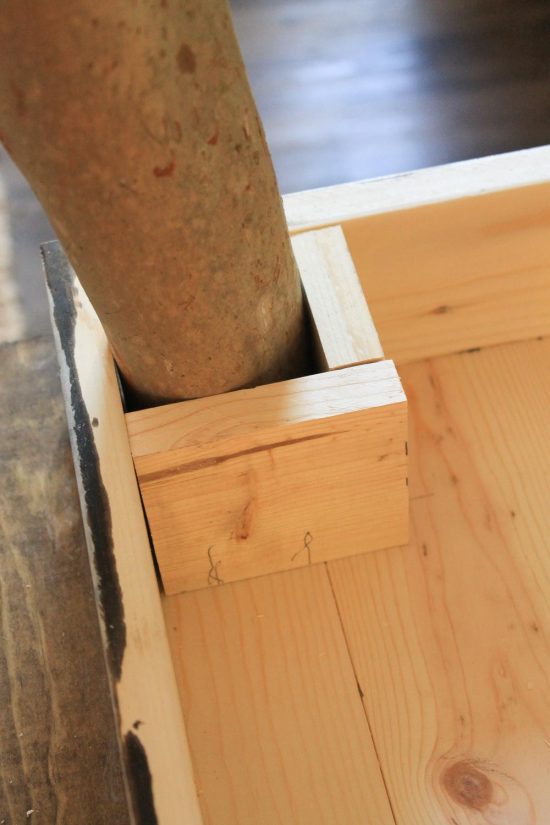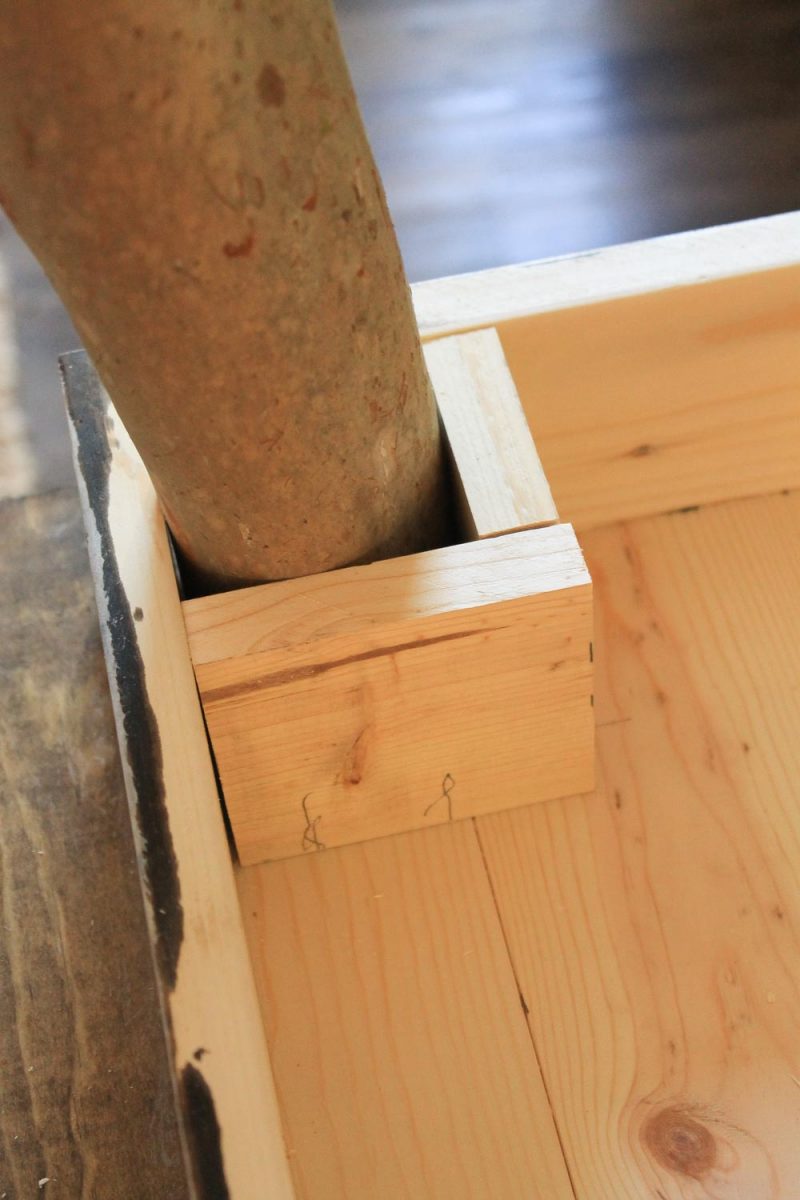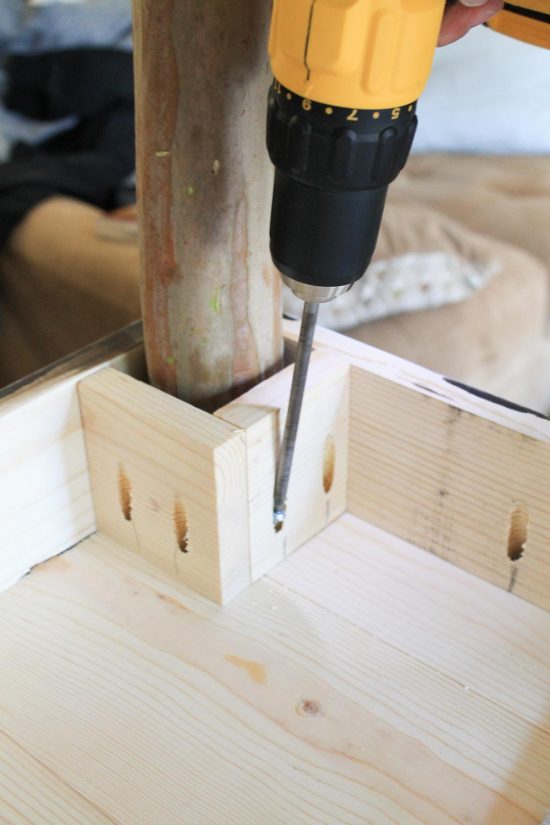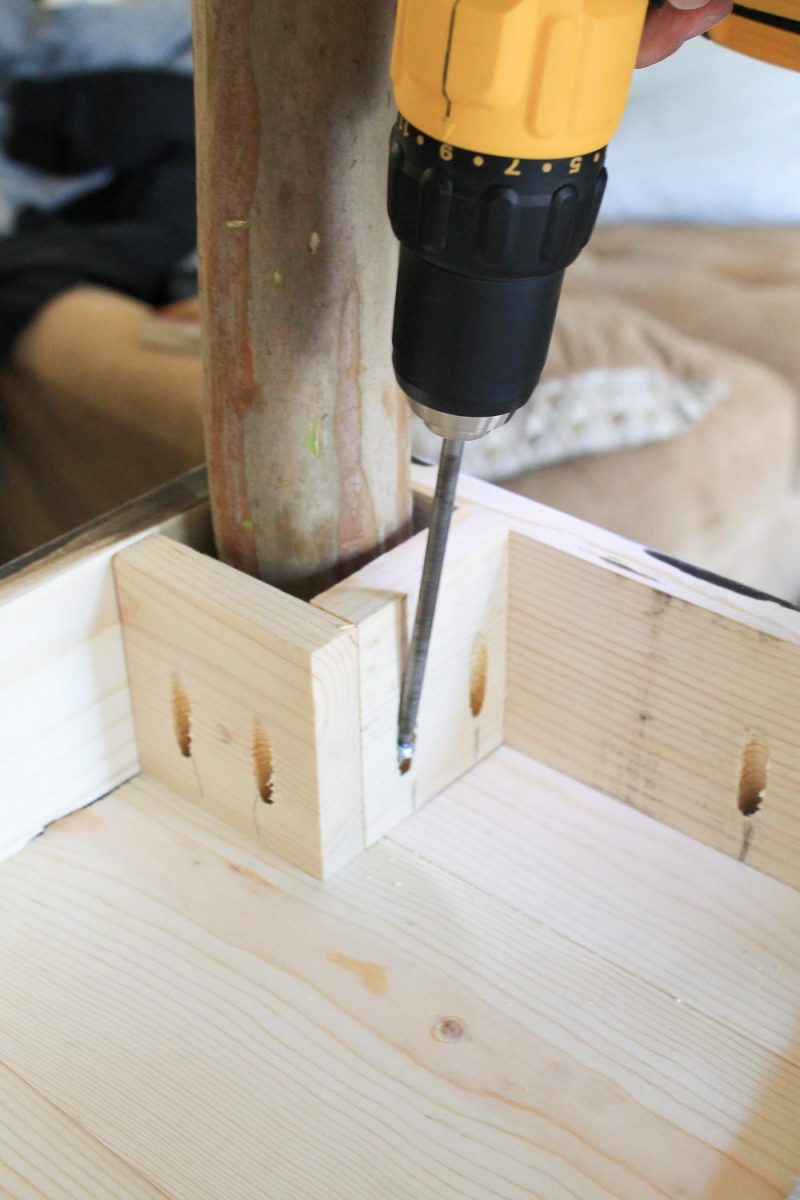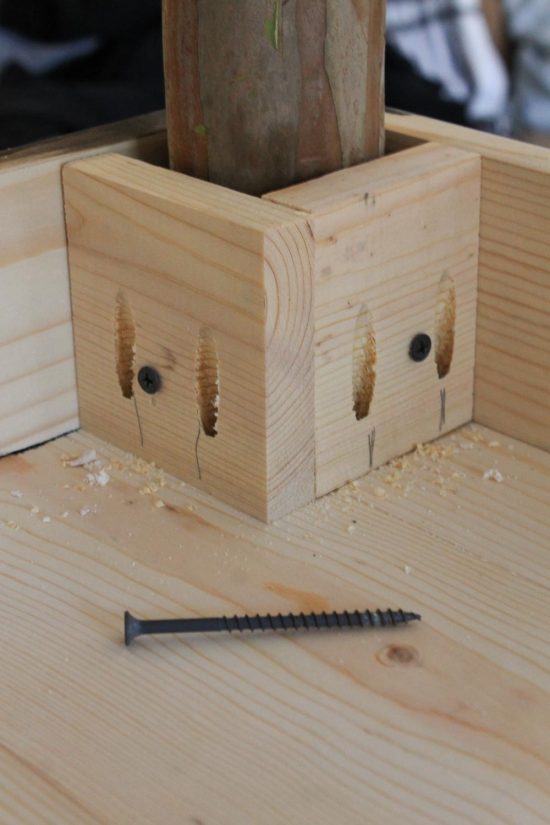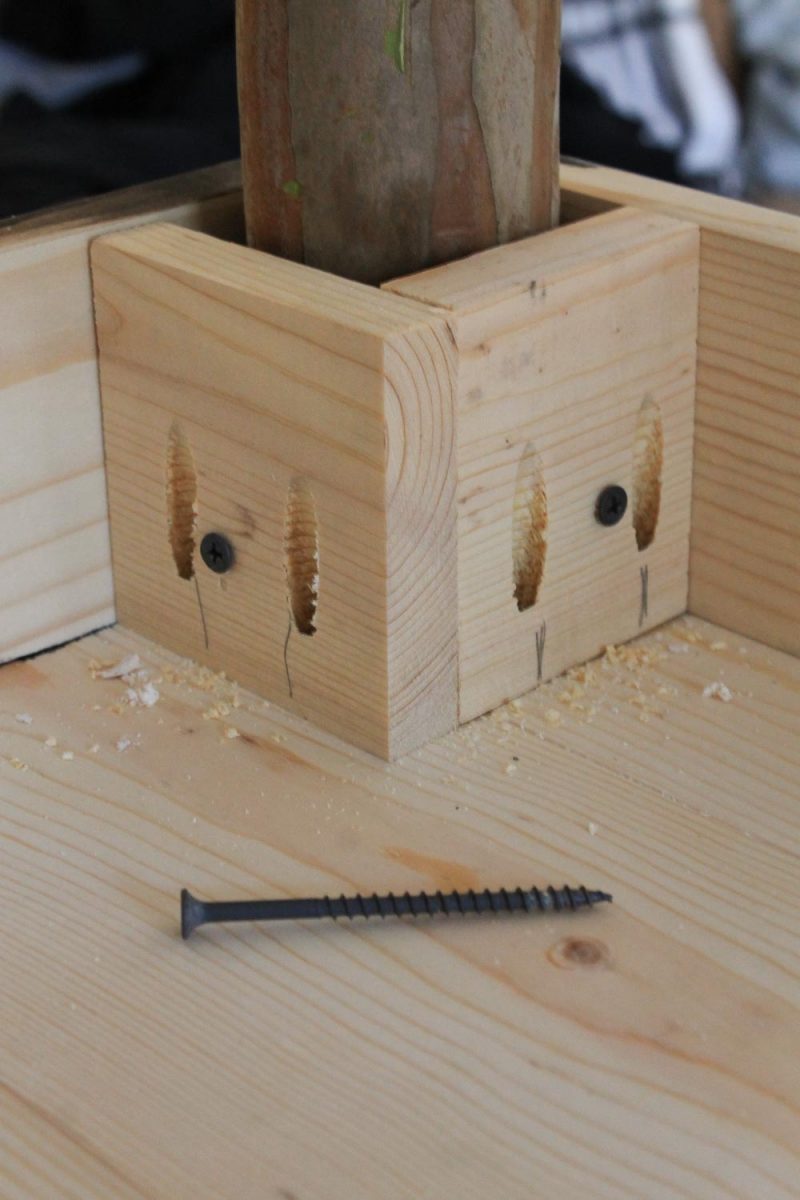 The main method of support were (4) 3/8″x2″ deck lag bolts that I attached on each leg from the side aprons. I drilled a pilot hole at approximately 2-1/2″ and attached the lag bolt and washers with a 9/16″ wrench.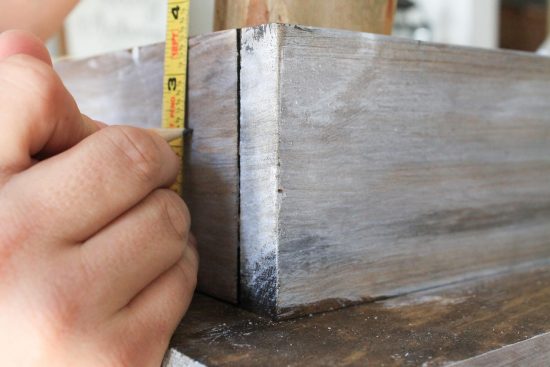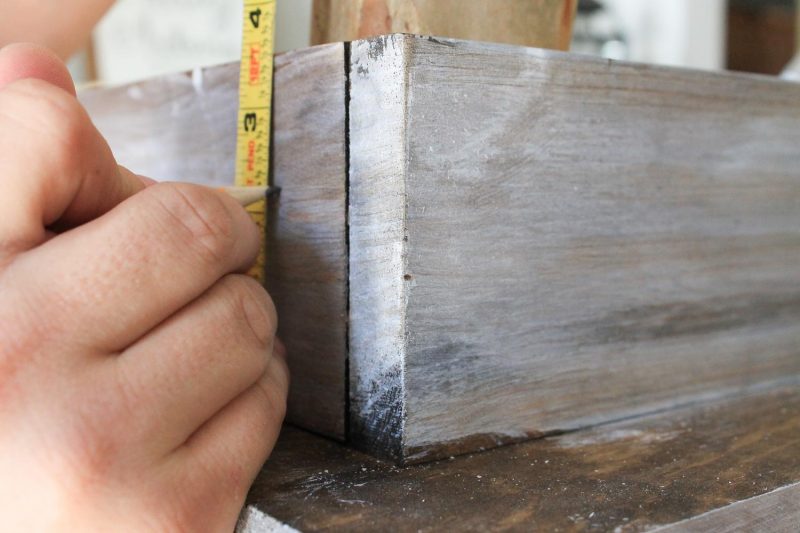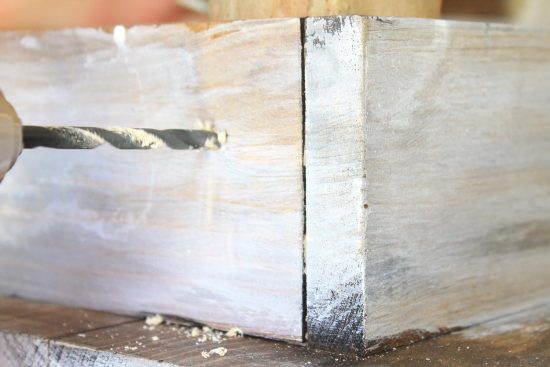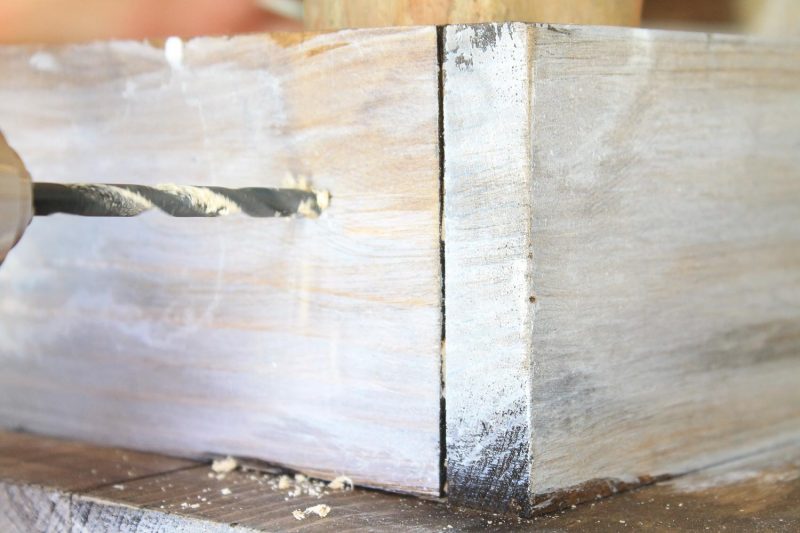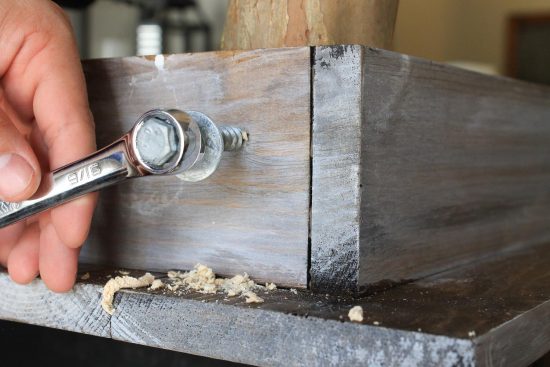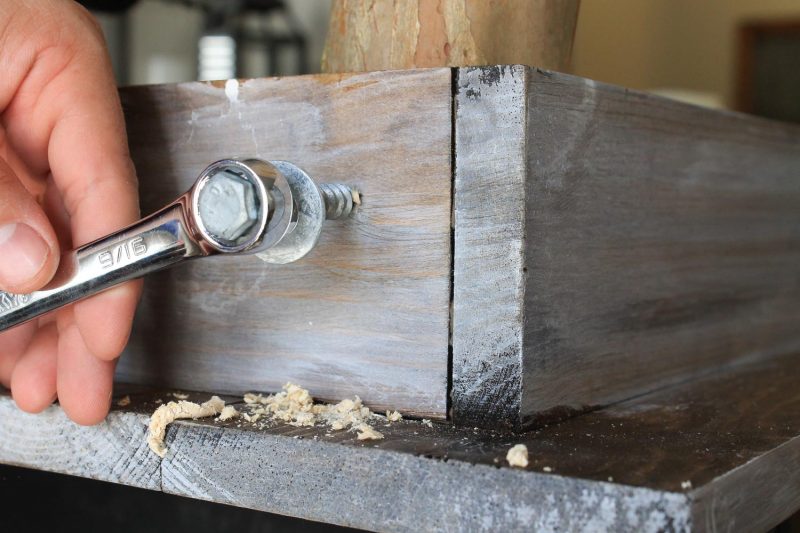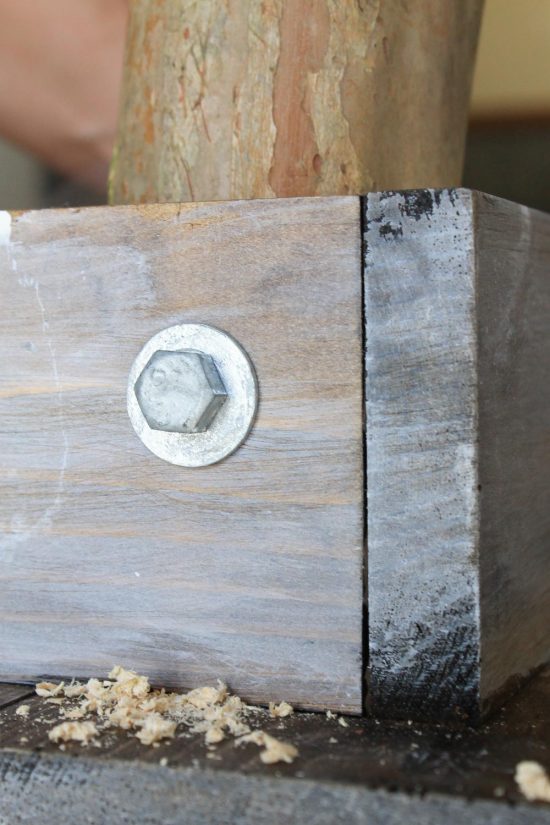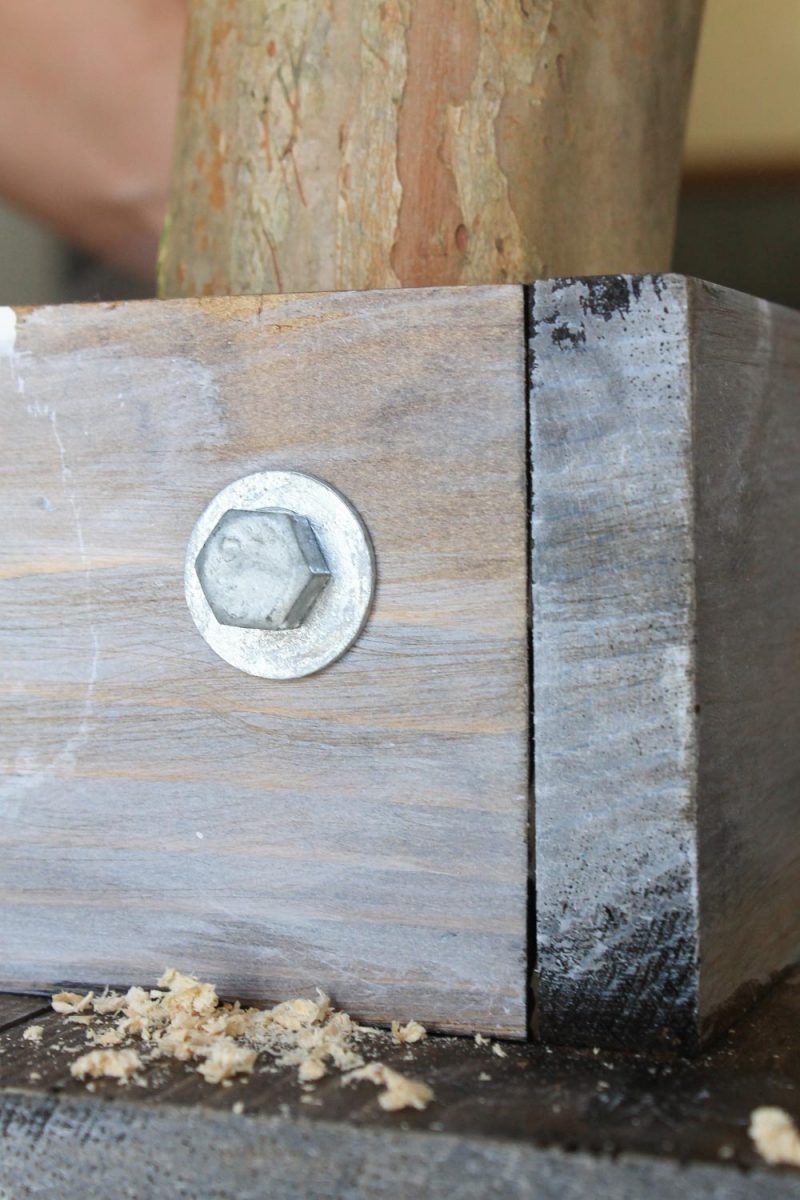 Finally the last and most fulfilling step is to flip the desk over!! Your custom one of a kind rustic tree branch desk is complete. Thank you for bearing with me as my descriptiveness hasn't fully developed since it is my first ever blog post and all. I hope you enjoy and I look forward to sharing more projects in the future. Happy Building!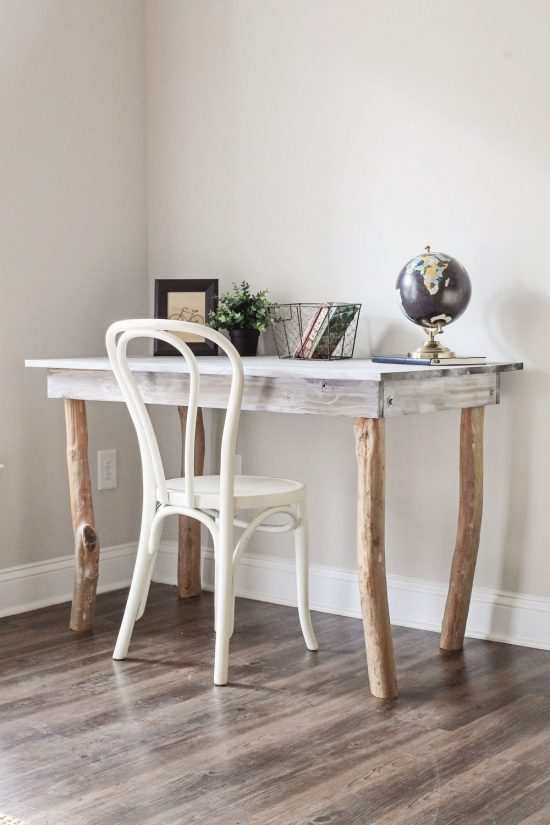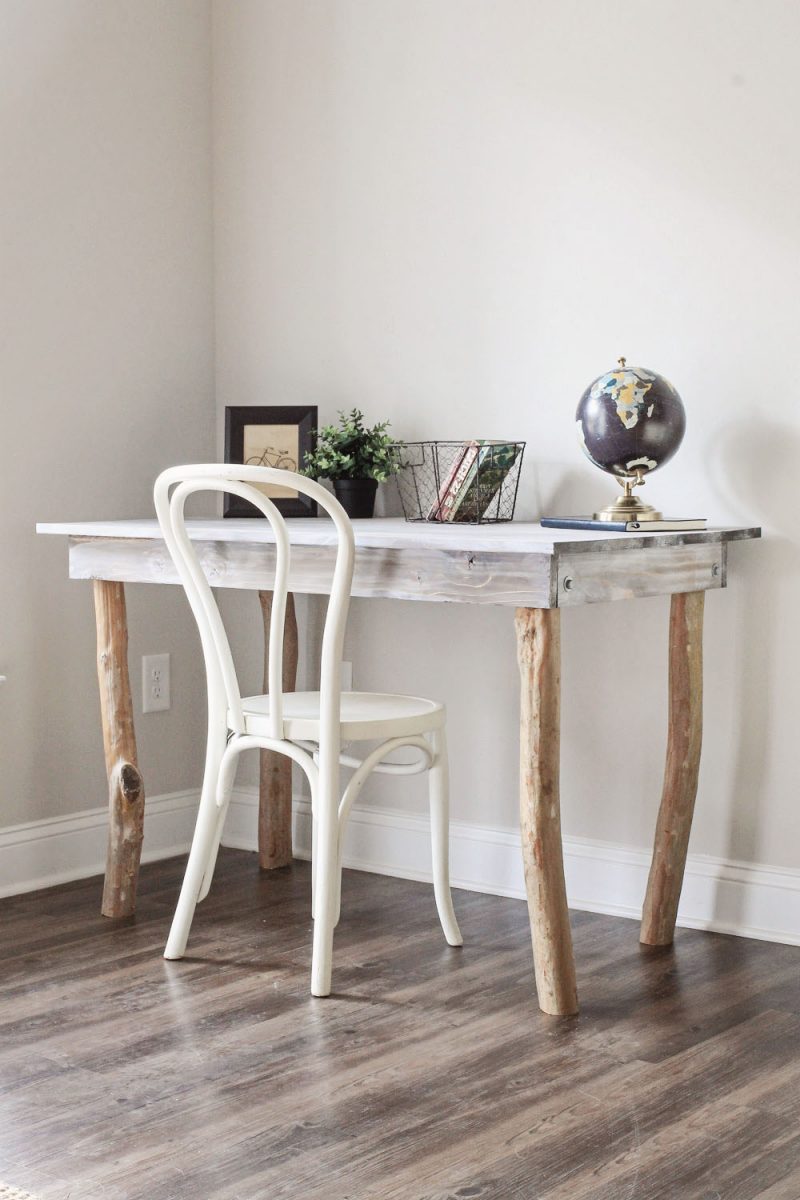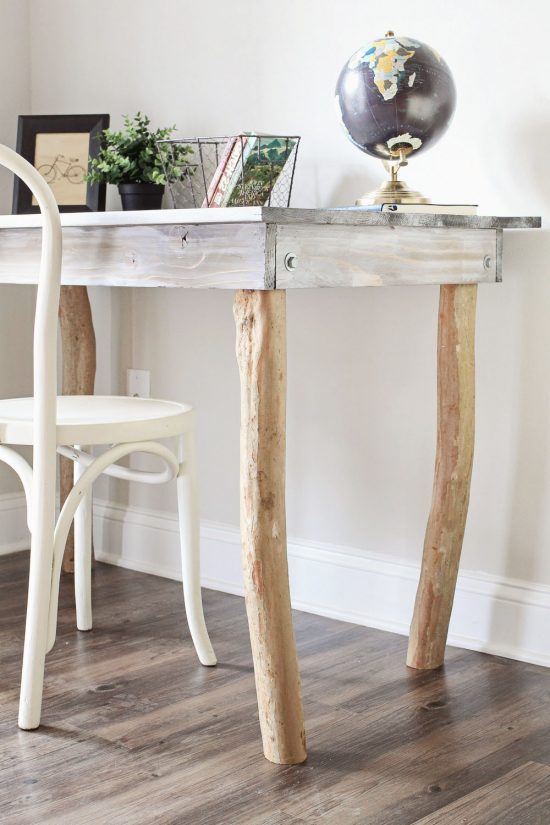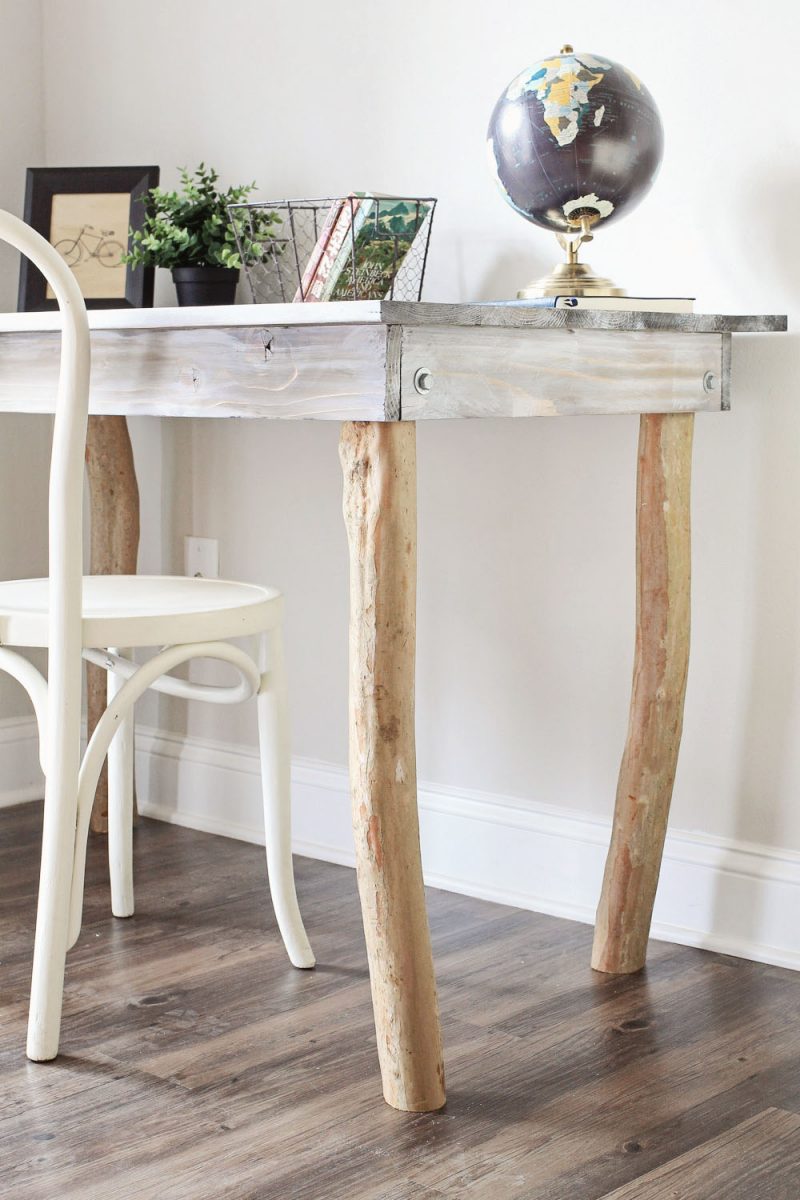 Thank you Brandon for those steps! What do you think of our Rustic Tree Branch Desk?! I really was nervous about it at first, thinking it could be a total disaster with using tree branches for desk table legs, but I think it turned out pretty cool and definitely one of a kind. Plus, I love any kind of up-cycled decor DIY project! Have you ever made any decor out of tree branches or logs? I'd love to hear about it! Follow along on Instagram or Facebook for my latest projects, as well as Pinterest!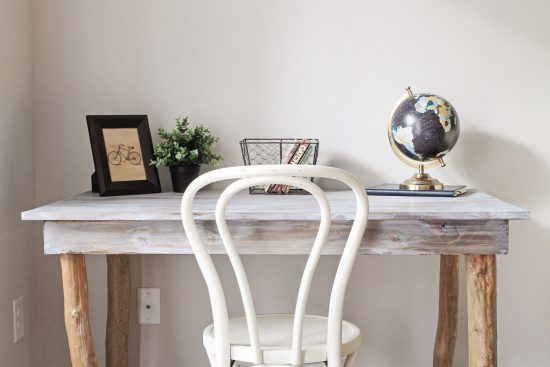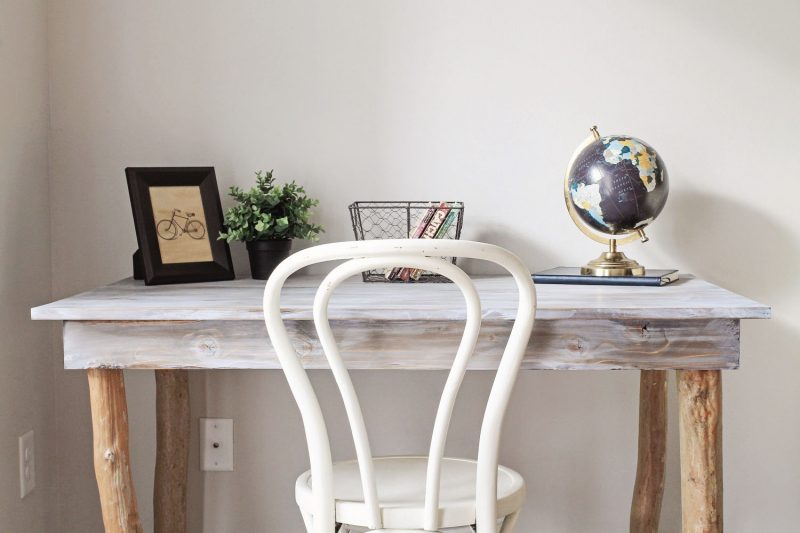 I'd love to see your version of this build! Feel free to share photos with me on Instagram, Facebook, or email: [email protected]!
Save
Save
Save
Save
Save
Save
Save
Save