Wow! I can't believe today is reveal day for our small bathroom makeover!
Six weeks ago, I shared the plans for our half bathroom remodel for the One Room Challenge.
It has been a bit crazy making over this space in six weeks, from unforeseen challenges to budget constraints, and to doing a ton of DIY projects.
Now that it's over, I'm just in love with how this bathroom makeover turned out and it was all on a small budget!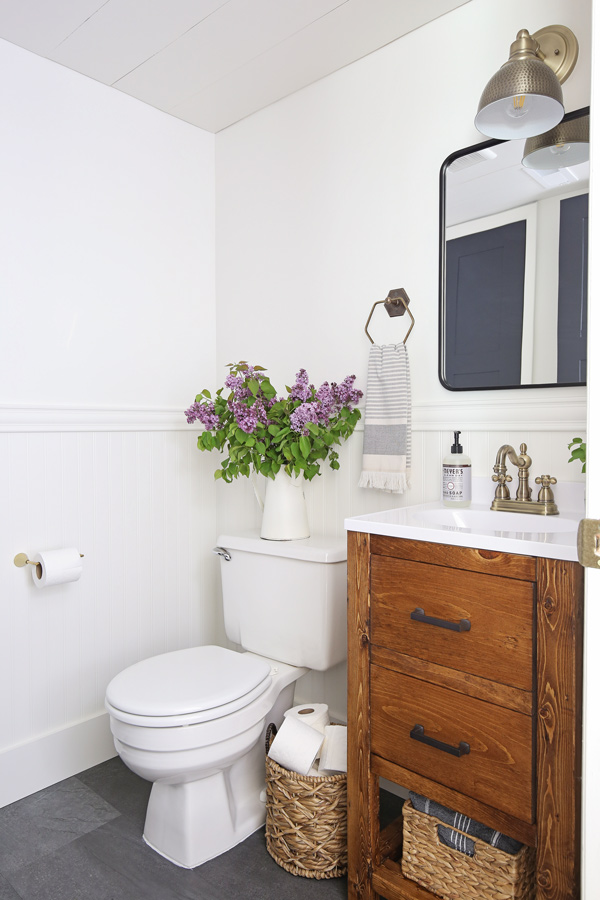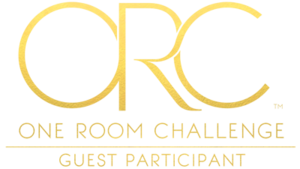 Let's take a look at what this bathroom use to look like:
Small Bathroom Makeover: BEFORE PHOTOS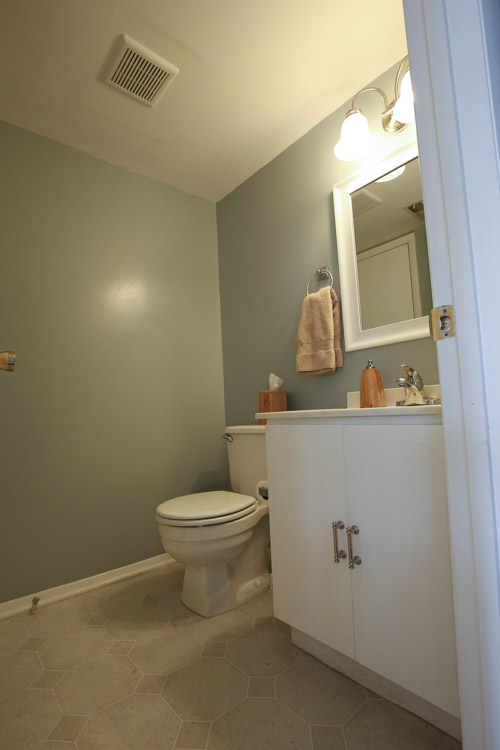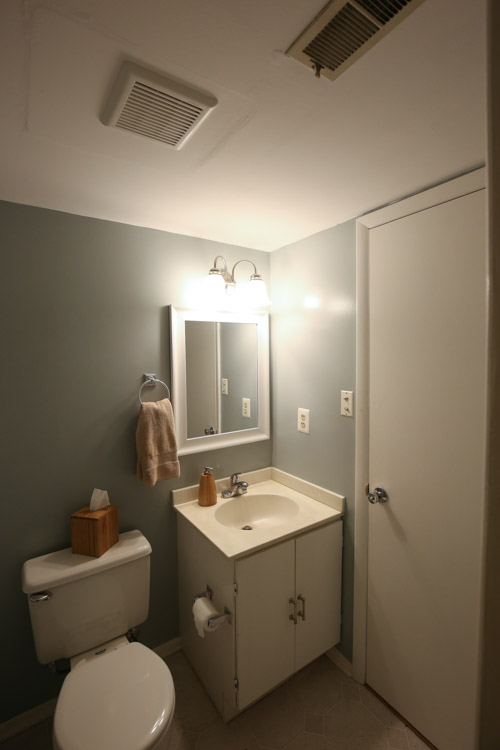 Our old bathroom was outdated, dark, and very blah. I also felt like the 1980s vanity really took over the space and was too large in scale for our 25 square foot, tiny bathroom. My goal for our small bathroom makeover was to create a classic, modern, and rustic style.
Since we were working on a small budget, there were lots of DIY projects involved. Further, I did a lot of product research to find the best looking and quality products for the space for the best price! Here is recap of the past 5 weeks and some of the major projects that took place in our bathroom remodel:
Note, this post contains some affiliate links. For more info see my disclosures here.
The room was transformed from floor to ceiling. Instead of doing wall art, I really wanted to focus on adding architectural detail and texture. I did this by installing a DIY shiplap ceiling, adding beadboard with a pretty chair rail moulding, and adding 6 inch tall floor baseboards. Then, I unified all the architectural character by painting everything a fresh, white color (Alabaster by Sherwin William in Satin).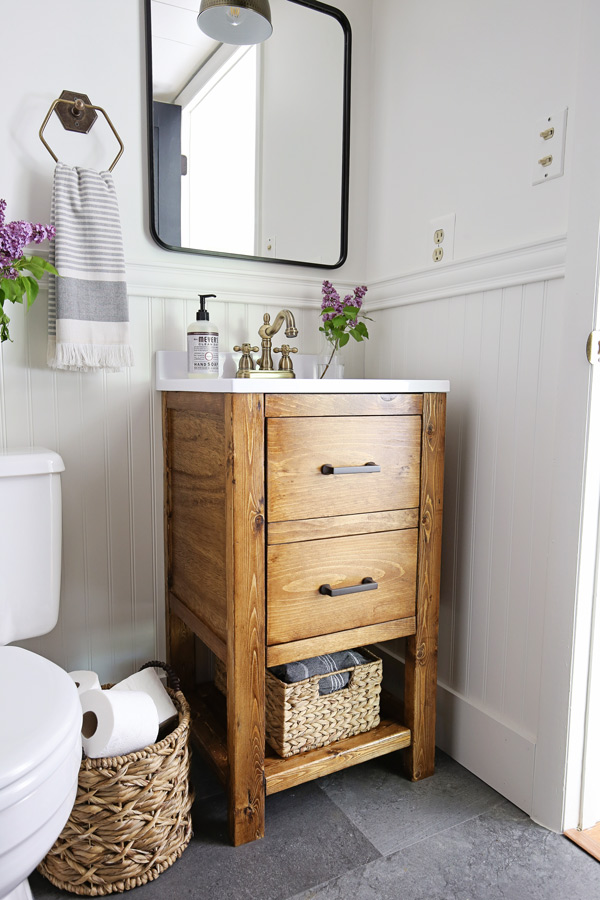 Another architectural change which enhanced the character of this '80s builder grade bathroom was updating the two flat, hollow doors in the room. I added trim and painted the doors black (Black Panther by Benjamin Moore in Semi Gloss) to contrast all the white. I love how charming these architectural changes made the room feel!
The next big transformation was the flooring. We replaced the flooring with new slate gray, luxury vinyl flooring, which brings a modern and rustic feel to the room.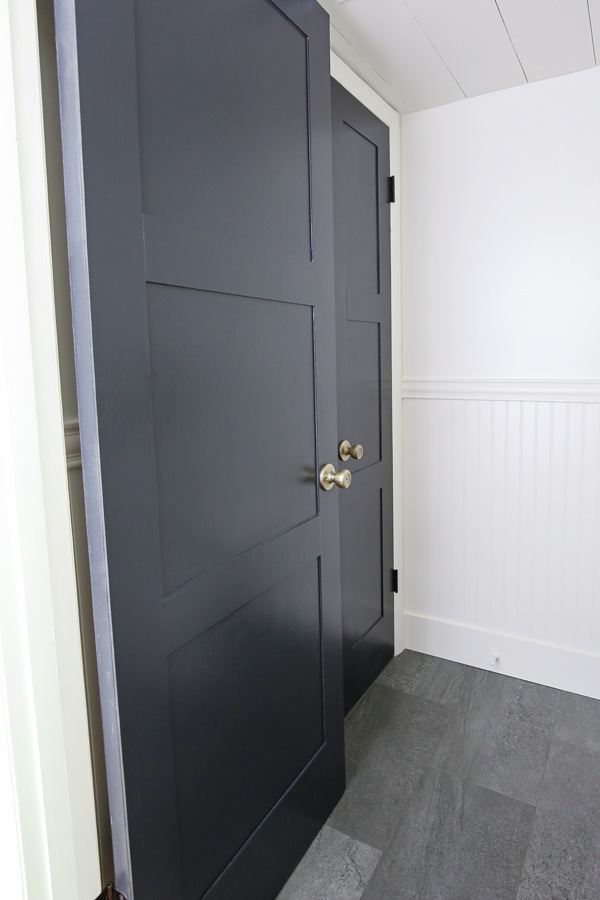 Once the major elements like the flooring, walls, and ceiling were transformed, I was able to focus on one of the main features of the room, the DIY bathroom vanity, which is my favorite part of the room! This DIY bathroom vanity cost me about $65 to make (including hardware)! Major savings for this bathroom renovation since bathroom vanities are expensive!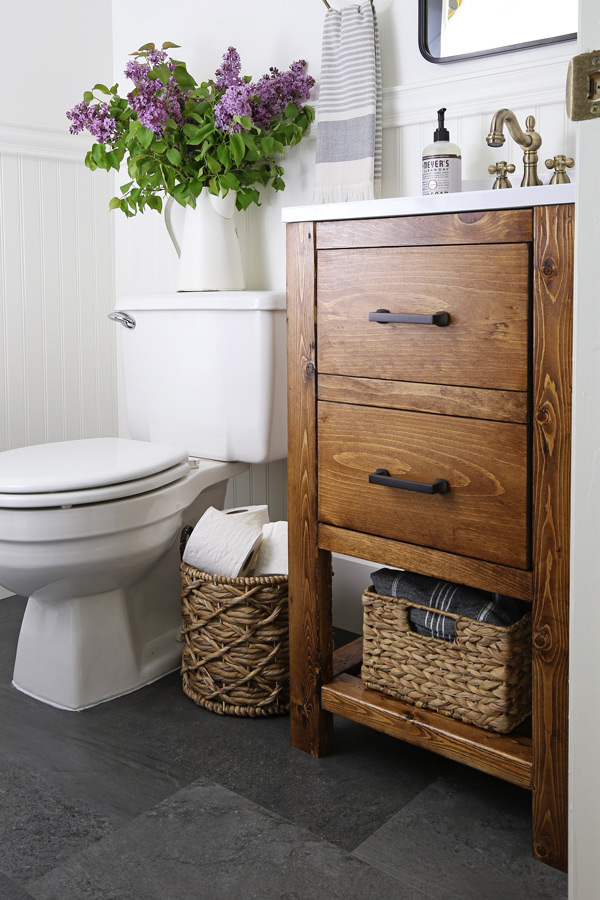 I love the cute, little sink (similar here) and adorable, modern vintage faucet in antique brass (comes in other finishes too) that I paired with the DIY vanity! The faucet was a bit of a splurge, but oh so worth it! I loved mixing antique brass and black metals in our bathroom.
Overall, I feel like the scale of our new DIY wood vanity, sink, and faucet fit the room so much better than the old '80s vanity. And I love how the wood vanity really warms up the space and balances out the white and black details.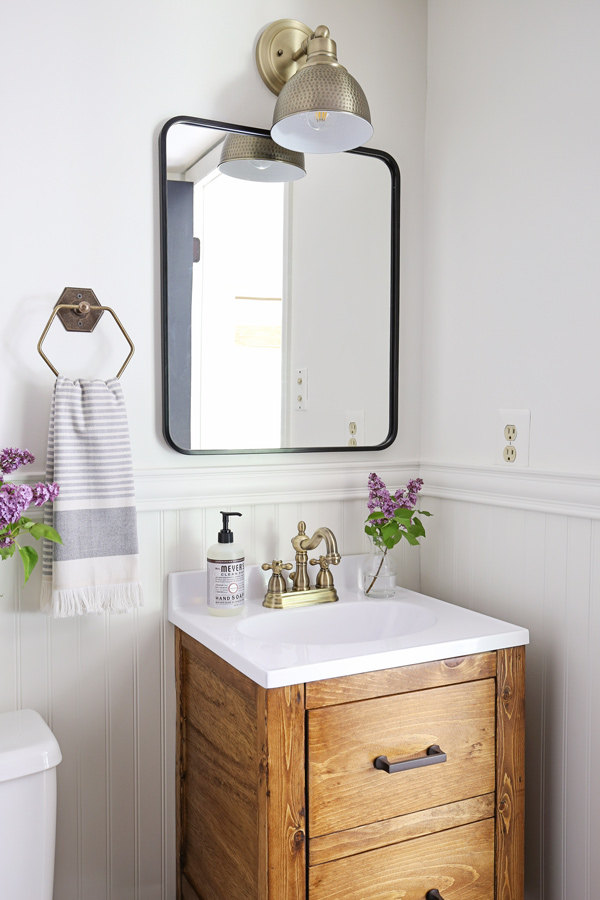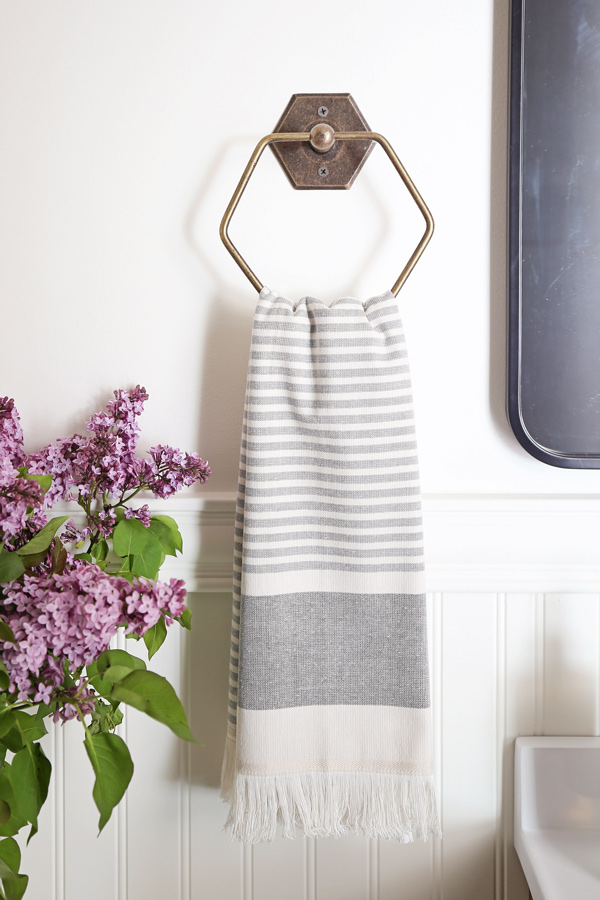 Ok, let's talk about the budget since I keep referring to how this half bathroom was totally renovated on a small budget. The average full bathroom makeover can easily cost thousands of dollars. My goal with the makeover was to stay under $500. Of course, let's be honest, I went over budget…ha! There were many surprise expenses, like extra caulk, paint rollers, a new P-Trap, new door hinges, replacing door casing, etc and they all added up! Fortunately, it was nothing major.
I don't have an exact final number, but this bathroom renovation ended up costing around $650. I'm certain our bathroom makeover has increased the house value much more than that and its been a good investment! Further, I've been dreaming of making over the space for years and it has been well worth the wait and expense!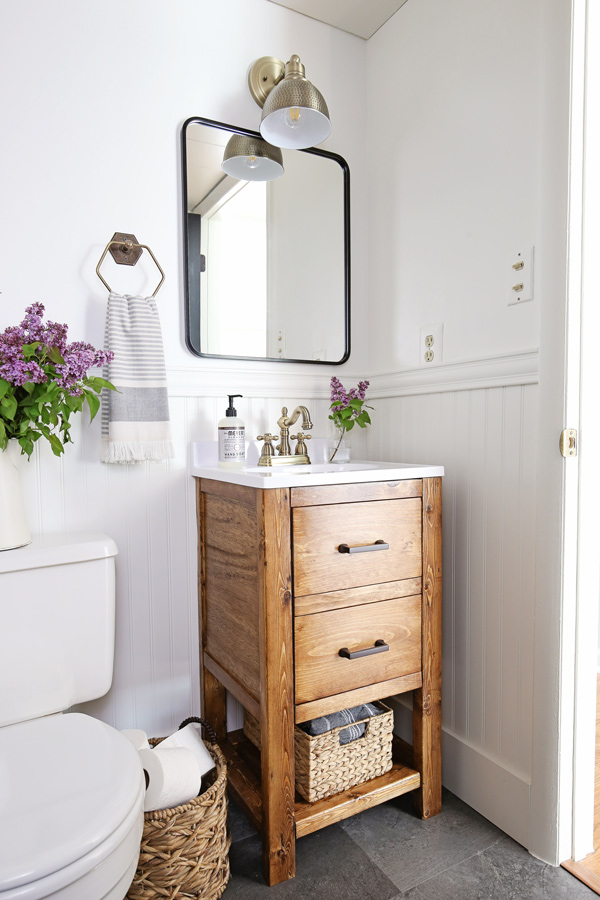 We couldn't have made this space over on a budget without putting in a lot of effort and DIY skills. Also, I couldn't have completed the renovation as well or within the 6 week time frame without the help of Brandon (my hubs)! I am so thankful for his help and him putting up with all my DIY dreams haha!
Here's one last before and after side by side comparison: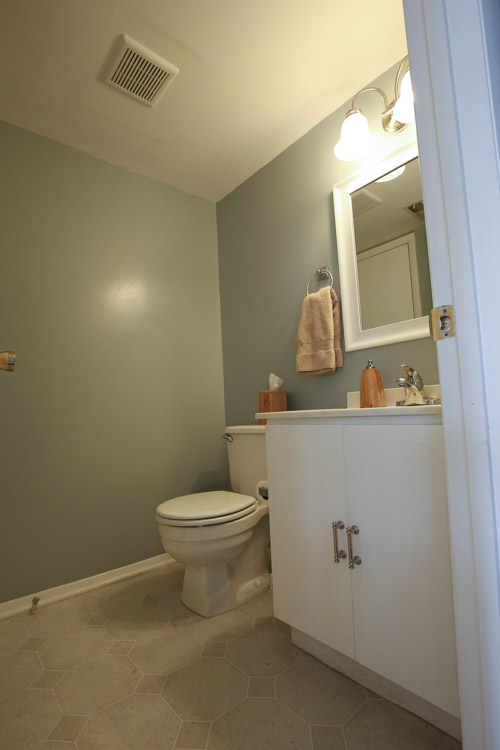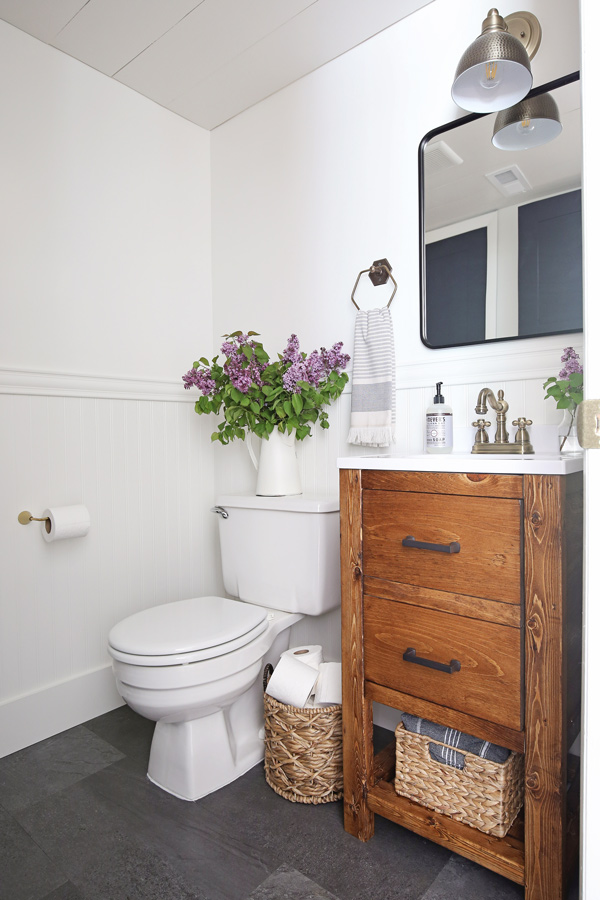 What do you think of my small bathroom makeover?! Are you planning any makeovers anytime soon?! I'm going to be taking a break from full scale, room makeovers for a bit and plan to focus on some smaller projects!
Thanks again for stopping by! And check out all the other amazing One Room Challenge participants room makeovers here!
Follow along on Instagram and Pinterest for my latest projects and sneak peeks!
Small Bathroom Makeover Sources

DIY PROJECT LIST:
Paint Colors Used:

Ceiling, Walls, Beadboard, & Trim – Alabaster by Sherwin Williams in Satin
Doors – Black Panther by Benjamin Moore in Semi-gloss