We are hosting a summer cookout at our house this weekend and I wanted to go ahead and get some patriotic decor up for the 4th of July which is a few weeks away already! I love the 4th of July, it's such a laid back, fun, summer holiday! I decided to make a DIY 4th of July banner and update our kitchen farm table with some festive touches!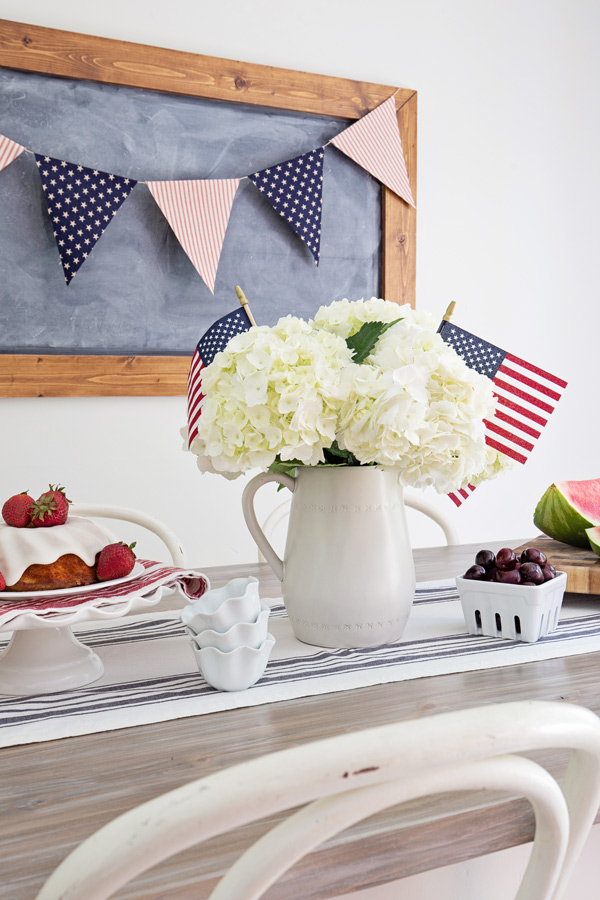 Note, this post contains some affiliate links for convenience.
When it comes to decorating for the 4th of July, I love to do a more rustic look instead of the common, bright red and blue decor. I did this by using more muted red and blue colors for the table linens and banner.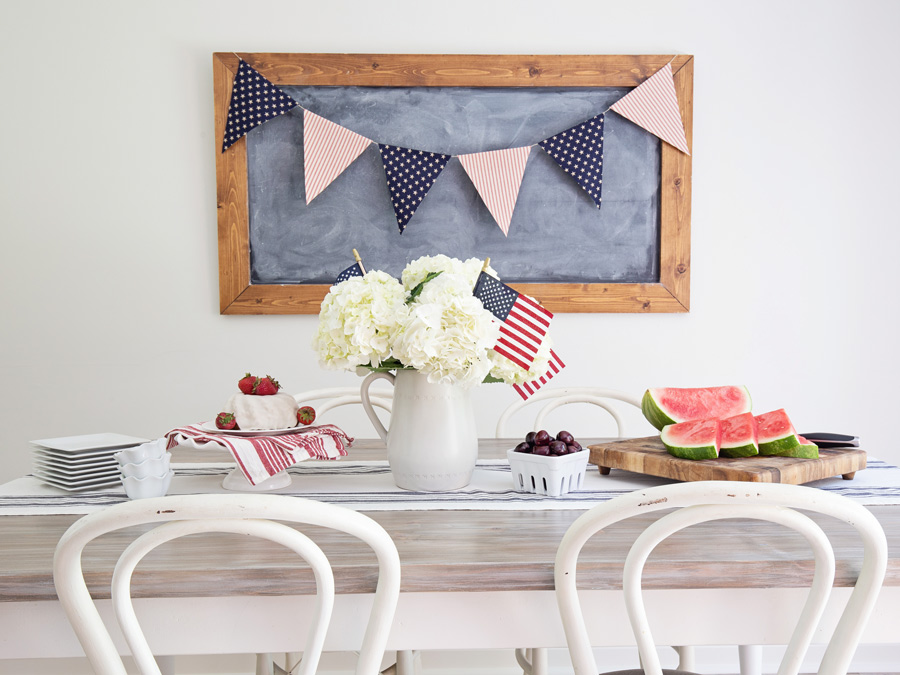 Also, I definitely like to keep it more simple too since I don't want a ton of decor to store. So, I choose to use more natural elements that are red and also double as good party treats: watermelon, strawberries, and cherries!
For our table centerpiece I filled a pitcher with fluffy white hydrangeas and little American flags that I bought as a 3 pack in the Target dollar spot section.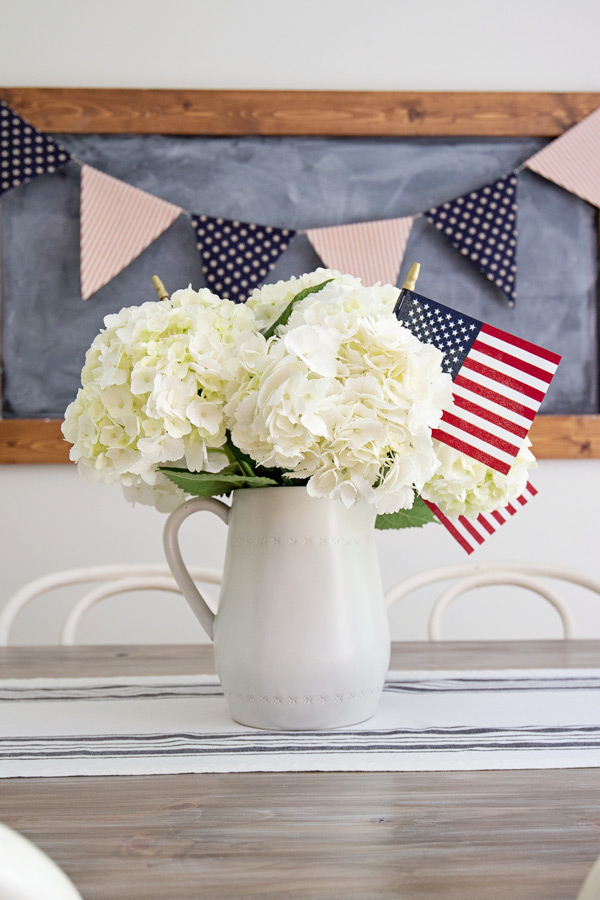 Originally, I was going to do a tutorial for the 4th of July banner, but the method I used took way too long, and I would do it differently if I did it again. So, I will save the tutorial for another time and different banner!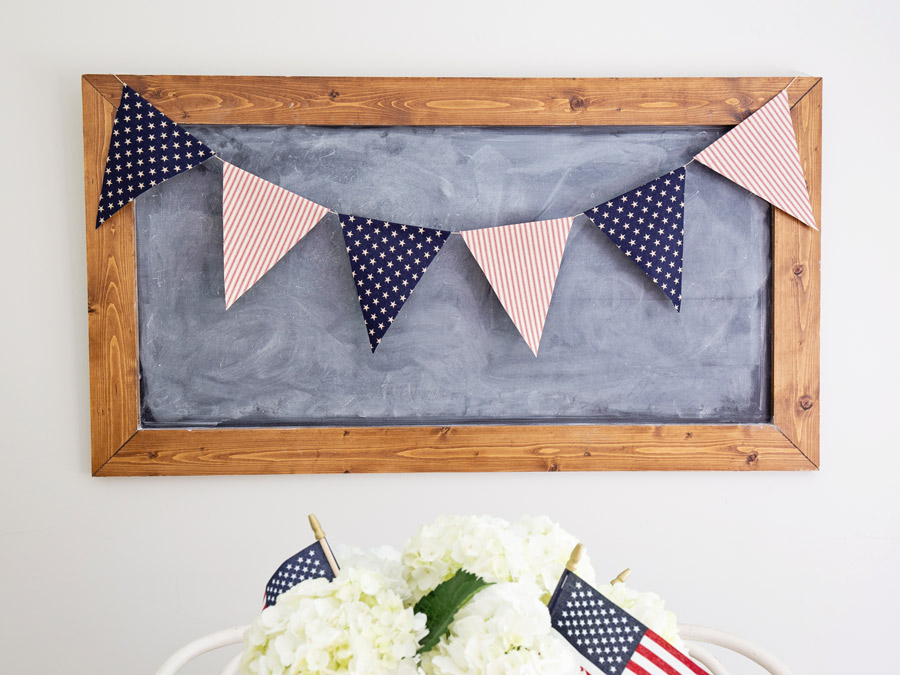 I do love how the banner turned out though. I used leftover french red ticking fabric (similar here) from from my DIY Christmas stockings and bought some star fabric at the craft store for a few dollars. I hung it on our oversized chalkboard but I think it would look really cute on our shiplap accent wall in the living room and I may it move it there after our cookout.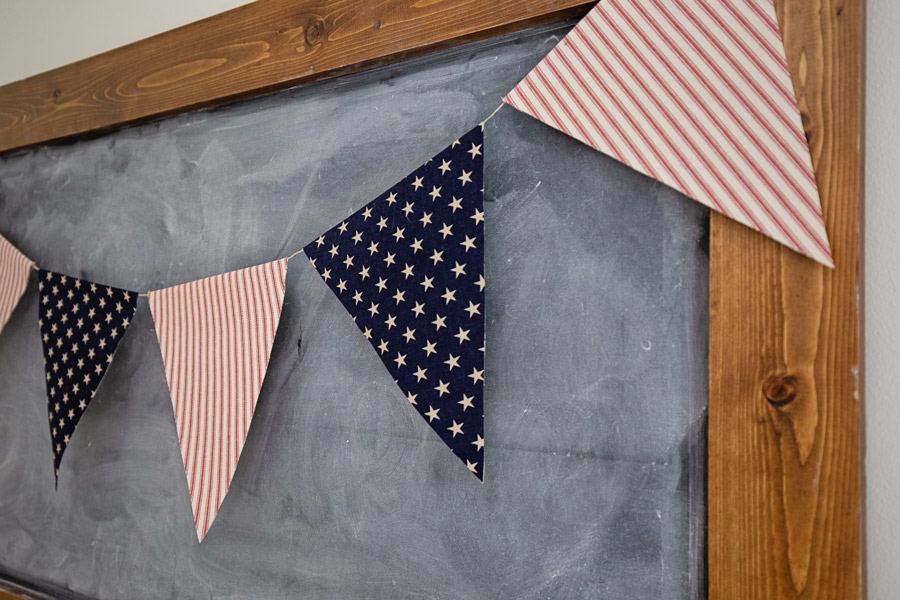 Overall, I love how it turned out, sweet and simple! Now I have to get to cleaning and cooking for our cookout! My least favorite parts haha! Although, I do love baking 🙂
Are you hosting a 4th of July party soon? Last summer I shared five easy 4th of July party decor ideas as well as a free 4th of July calligraphy printable if you want to check it out!
Thanks for stopping by, you can follow along on Instagram, Facebook, and Pinterest for my latest projects!
Source List: