This week I am continuing my intro to woodworking series and sharing about woodworking tools for beginners!
There are 5 essential woodworking tools for beginners that I think are needed to get started with woodworking. In case you missed any prior posts in this series, I shared how I learned woodworking, as well as 6 easy tips to get started with woodworking if you want to check those out too!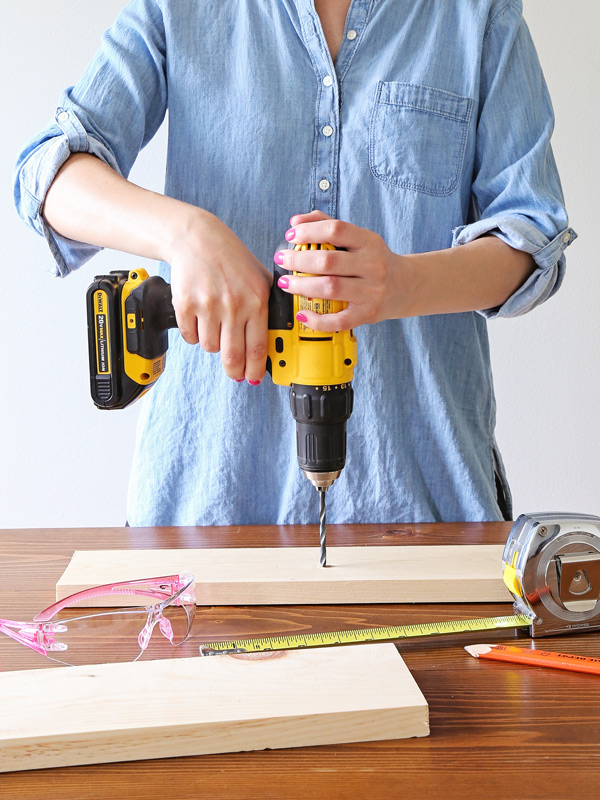 I think it's important to just learn how to use the most essential woodworking tools when you are just getting stared. Once you learn how to use the essentials, you will feel much more comfortable learning how to use other tools.
Further, tools are an investment and can become expensive to purchase a lot a once. So, just purchasing a few of the most often used tools is a good place to start budget wise as well.
The following 5 tools I use for the majority of my DIY furniture builds and home improvement projects. Also, in other DIY build plans and projects, you will see these tools being used over and over again.
One more thing to note is that I am assuming most people already have common household tools like a tape measure, screwdriver, and hammer, which are also often used in woodworking. So, I'm not including those in my top 5 list below, but those are very important to have as well! Side note, learn how to read a tape measure the easy way here!
*Most importantly, always review the tool manual and safety guide for your tools!*
Note, this post contains some affiliate links. For more info see my disclosures here.
5 Woodworking Tools for Beginners
1. Drill
A power drill is like your BFF woodworking and home improvement project tool! I use it in almost every single DIY project. It's used for drilling holes with different size drill bits in wood, but can also drill holes through drywall, vinyl, plastic, metal, and other surfaces.
It also uses a screwdriver bit tip to quickly screw and unscrew screws. There are all sorts of different bits for drills that can do other tasks too, from drilling pocket holes to tightening hex nuts to inserting special screws into wood, and more.
We've had our DeWalt power drill for several years and we love it, it works great for many types of projects, and I highly recommend it.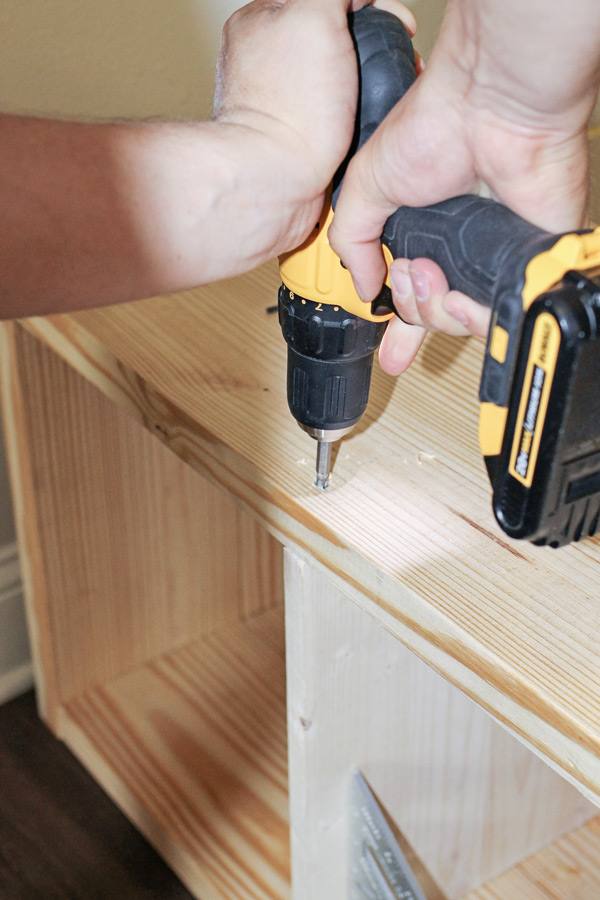 2. Miter Saw
Miter saws are another very important tool as they are used to make very precise wood cuts, which is necessary for woodworking. I think the miter saw was one of the scariest tools for me to learn when I first started, but once you learn how to properly use it, it's not scary anymore!
There are many different sizes and types of miter saws available, from compound miter saws to sliding miter saws, which can all handle cutting different wood sizes, different thicknesses of wood, and different angles. The prices can vary greatly as well depending on the features you want. This Lowe's article is a good resource covering the different options available for miter saws.
I currently own a Hitachi 12-Inch Dual Bevel Miter Saw with a Laser as well as a mini Ryobi miter saw. They each offer different features for what I've needed them for, but they have both been great. I do plan on upgrading to a high quality sliding miter saw in the future once I've saved up enough!
Miter saws come with a standard saw blade that's usually a lower tooth blade which results in a more rough cut. I think it's important to upgrade to a higher quality and higher tooth blade for woodworking which results in finer wood cuts with less tearing of the wood.
Also, make sure you always wear safety googles when operating a miter saw! I bought these cute pink safety googles that I wear!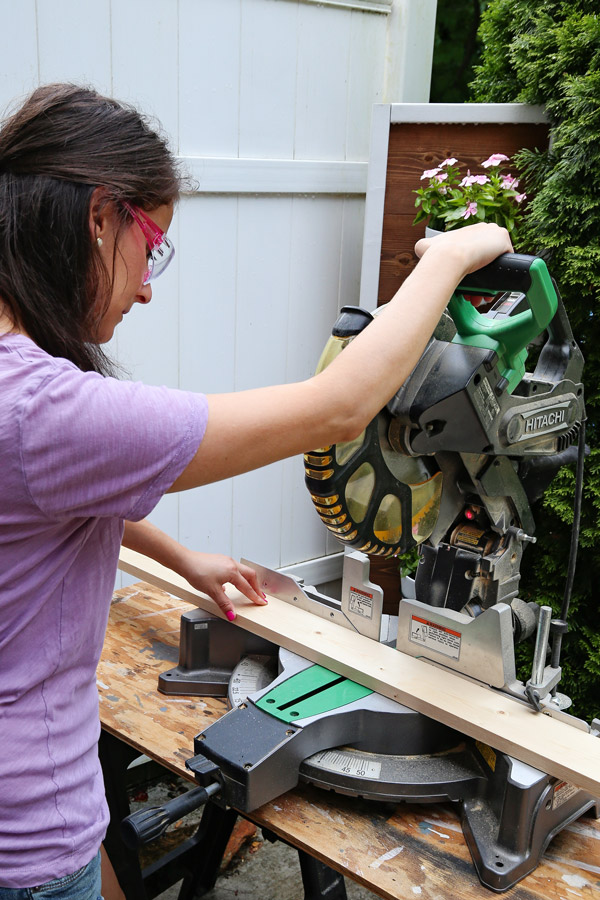 3. Kreg Jig
The Kreg Jig is by far my favorite tool ever and really made woodworking much simpler and more possible for me! The Kreg Jig is used to join pieces of wood together with pocket holes and Kreg screws. Check out my how to use a Kreg Jig post for a step by step tutorial and video tutorial on how to use it!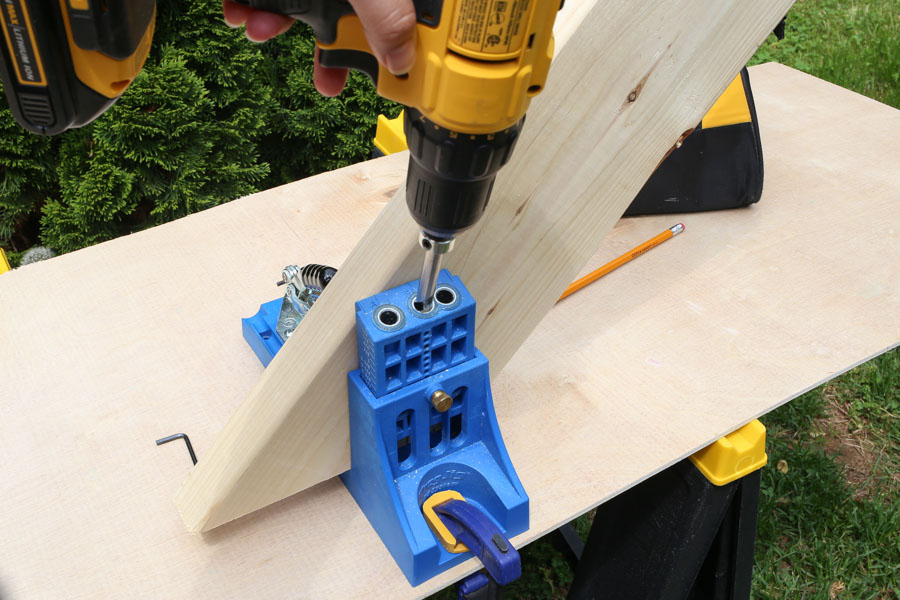 4. Sander
A power sander is used to sand wood with sandpaper quickly and make it smooth. It's essential for creating a beautiful wood finish in woodworking. It works much faster than hand sanding!
In my how to sand wood post, I cover how to sand to wood with a power sander. I use this orbital sander for the majority of my sanding.
5. Brad Nailer
A brad nailer is used to join two pieces of wood together with fine brad nails. A brad nailer is often used for trim work in home improvement projects as well as with wood glue in DIY furniture projects.Brad nails can be used for multiple different DIY projects though!
Brad nail holes can easily be hidden with wood filler or spackle and they are much smaller than screw nails.
I use this brad nailer and I love the cordless feature. Occasionally I have to add WD40 to the tip part when nails get stuck though.
That's it for the 5 essential tools. I do want to mention one other tool that's not essential nor a power tool, but it's really helpful:
Clamps
You can get started with woodworking without using clamps, but they will make your woodworking experience so much easier and more accurate. That's why I think they are one of the best woodworking tools for beginners.
Clamps help to hold wood in place so you can attach wood pieces together exactly where you need them without them moving. Once you start using clamps, you will quickly realize how amazing and useful they are for woodworking!
My favorite clamps are the Irwin bar clamps and I have them in multiple sizes.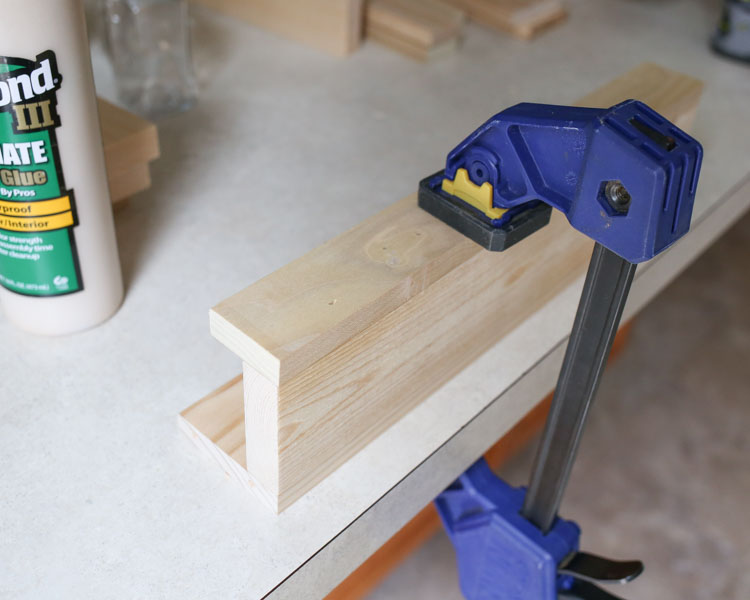 Well those are the 5 tools that I think are essential woodworking tools for beginners!
Remember to always review the tool manual and safety guide for your tools!
Check out the how to use a Kreg Jig tutorial for learning how to use it for projects. And for the other tools, I recommend watching YouTube videos on how to use them and then just trying them out yourself for how to actually learn how to use them. There are lots of videos on specific models of tools too.
Once you've started to learn how to use the tools, go ahead and start using them in real DIY build projects! See my round up of beginner woodworking projects that only use these beginner tools. So, you can actually start building and practice using the tools! It's the best way to really master them.
Finally, once you've learned how to use these beginner tools, try learning how to use some other tools. I've shared my favorite DIY woodworking tools here.
Follow along on Instagram, Facebook and Pinterest for my latest projects, fun updates, and sneak peeks!
Check out the other posts in the Intro to Woodworking Series: