Wow, I am super excited to finally be sharing the news about a huge project that I have been working on for nearly 8 months, basically since the beginning of the year! And that I have been dreaming about creating for years!
It's our new, comprehensive digital course to help you get the DIY woodworking skills you need to start creating a home you love on a budget!
P.S. From now until Saturday, August 19th at 11:59pm eastern, get an extra $50 off of the launch sale price with this coupon code at checkout: EXTRA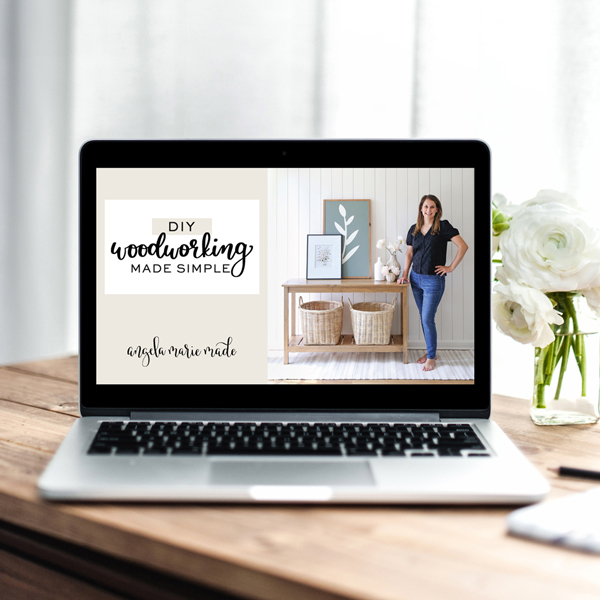 For years, readers and subscribers have been asking for guidance and help on how to get started with DIY and woodworking, this has been a major struggle for beginners. And so many others who have tried DIY, have asked for more help with the basics and how to make a project turn out better and look professional.
I've created some blog posts and videos to help but it was never the full picture. There are just so many details and important steps to cover and I always knew a step by step course was the best way to solve this problem.
It has been months of hard work and putting all our other DIY projects on hold to get this course created to the level that I wanted it to be. I really took the time to think through my proven process for bringing projects to life and turn that process into a simple, step by step process for a course to learn DIY woodworking foundational skills that are needed to get started building amazing DIY projects.
I am so proud of how this course turned out and I truly hope that it is life changing and helpful for others who want to get started with DIY woodworking! Knowing how to DIY, build furniture, and create home projects is incredibly rewarding in so many ways, both monetarily and personally.
Get all of the details and enroll today for DIY Woodworking Made Simple!
P.S. From now until Saturday, August 19th at 11:59pm eastern, get an extra $50 off of the launch sale price with this coupon code at checkout: EXTRA