In our living room, we are currently using my DIY farmhouse coffee table in front of our couch for our coffee table. I really love the warmth and functionality it adds to the space. Yet, we are highly considering replacing it with a tufted ottoman instead!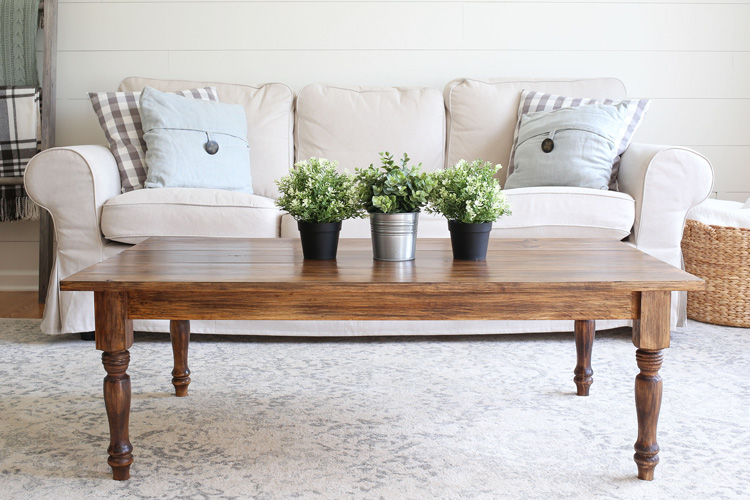 So, you may be wondering why we would replace our new coffee table that I just built. Well, there are a few reasons. First, Brandon thinks it's too big and annoying to move around. Second, Chance (our pup) bumps into it frequently and it has hard, pointy corners, which I worry about him hurting himself. And third, I love the wood but there is going to be wood mixed into other parts of the space so it may be too much wood for me. I know I'd love the look of a modern, stylish ottoman coffee table instead.
If I'm going to buy an ottoman though, it really needs to be on the more affordable side as I finish up my living room makeover and try to stay right on budget! I did a lot of online searching and found some good options!
Specifically, here are the ottoman qualities I was looking for:
rectangle shape
available in gray or cream colors
tufted top
wood base and legs
Affordable (around $200 or less)
Note, this post contains some affiliate links. For more info see my disclosures here.
Here are my favorite options I found (all of the photos below are clickable shopping links):

Which one do you like best? I've narrowed it down to ottoman #1 and ottoman #4! I really love the legs and shape of #1, but I was leaning more towards a gray color. It does come in gray but it's $38 more and it's already the most expensive one out of them all. I really like #4 as an alternative gray option and it's priced under $200! I do wish the legs were a little thicker though.
Decisions, decisions!
I can't wait to finish up this living room makeover! Follow along on Instagram and Facebook for my latest projects, fun updates, and sneak peeks!