I'm super excited about today's post on how to build a DIY bar cart! This project has been in my head for months and the plans on how I was going to actually build it changed forms many times.
Basically, I wanted to make a DIY wood bar cart that really looked like a custom, higher end bar cart and that was also a bit rustic.
I am thrilled at how it turned out after changing my mind so many times about the design of it!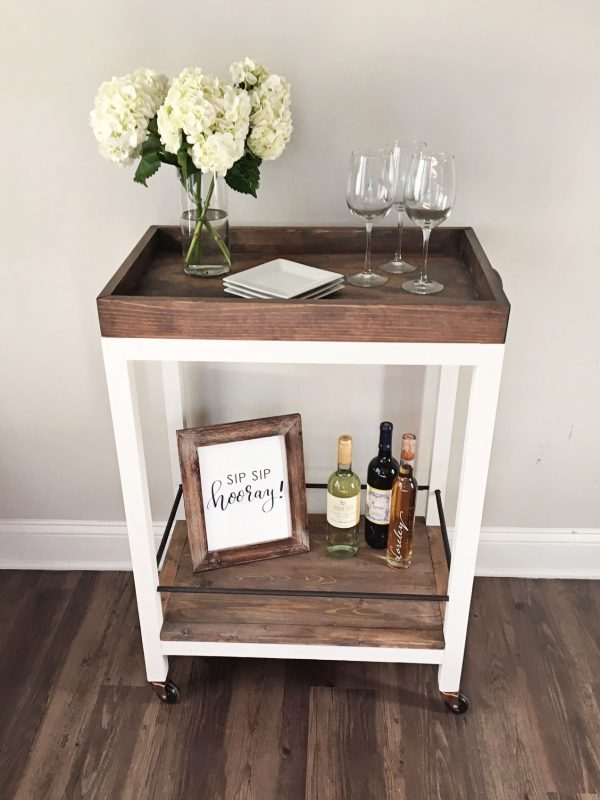 This DIY bar cart was a little more time consuming to build, but definitely worth it in the end, especially for the amount of savings! It cost me less than $50 in building materials to build, whereas other similar bar carts retail around $150+. Note, I did have the paint and stain on hand already for the finishing, so that is not included in the material cost.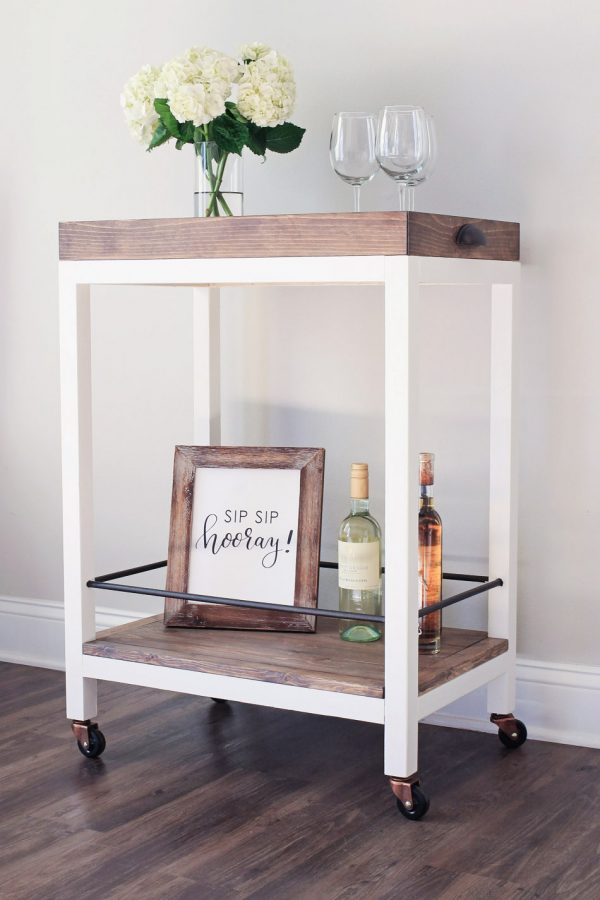 Below are the steps on how I built this bar cart. Also, Ashley from Handmade Haven created some awesome, 3D plans of the build, which you can check out here!
And what I love about this bar cart is that it can also be used as a DIY coffee bar cart!
Note, this post contains some affiliate links. For more information see my disclosures here.
How to Build a DIY Bar Cart:
Materials
(3) 2×2 @ 8ft furring strips
(1) 1×2 @ 8ft
(1) 1×4 @ 8ft
(1) 1×3 @ 8ft
(1) 2ft x 2ft @ 3/4″ thick pine plywood
(2) 3/8″ round wood dowel rods @ 4ft
2 1/2″ and 1 1/4″ Kreg screws
1 1/4″ Brad Nails
Wood Glue
2″ Wood Screws
(2) Cabinet pulls
1. Make your bar cart frame cuts from the 2x2s
I used 2×2 furring strips for the frame of my bar cart. This saved me a ton of money, but try to choose really straight 2x2s and make sure you sand them really well since they are a more rough grade of wood. Make the following cuts:
4 pieces at 30.5″
4 pieces at 22.5″
4 pieces at 14″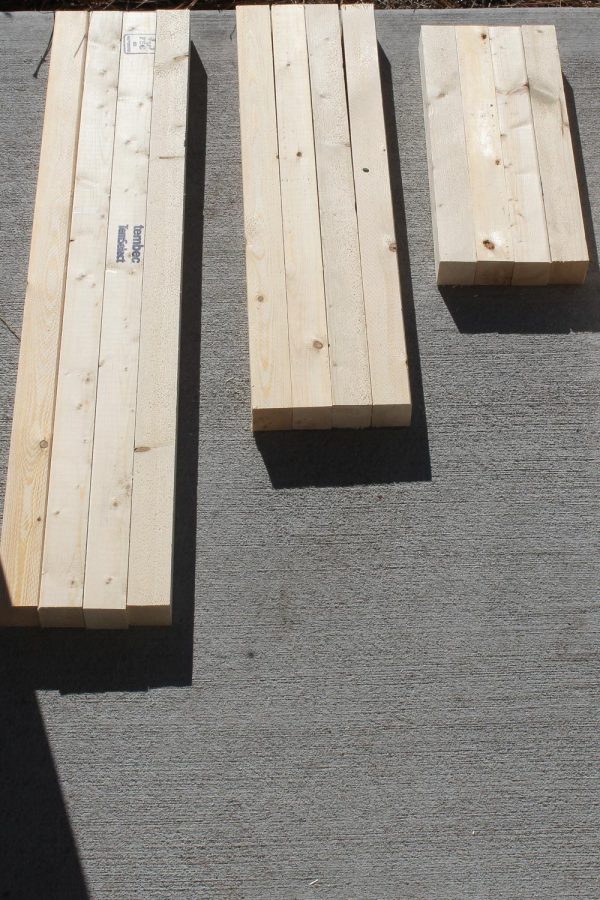 2. Drill pocket holes and Attach frame pieces
Lay out how your frame is going to go together (shown in 1st photo below). Use two of the 30.5″ 2×2 pieces for your sides and two of the 22.5″ 2×2 pieces for the top and bottom of the frame. I placed my bottom frame piece 3″ up from the bottom of the side pieces since this is what the bottom shelf of the bar cart will sit on.
Mark where your pocket holes need to go, one on each end of the two 22.5″ pieces (make sure you do them on the bottom side of your 2x2s so they don't show). Then, drill your pocket holes with a Kreg Jig (available here too). *Tip: See my how to use a Kreg Jig post for an easy, step by step tutorial and video tutorial on how to use the Kreg Jig!
Use 2 1/2″ Kreg screws to attach the frame together.
Repeat these same steps for the other side of the frame.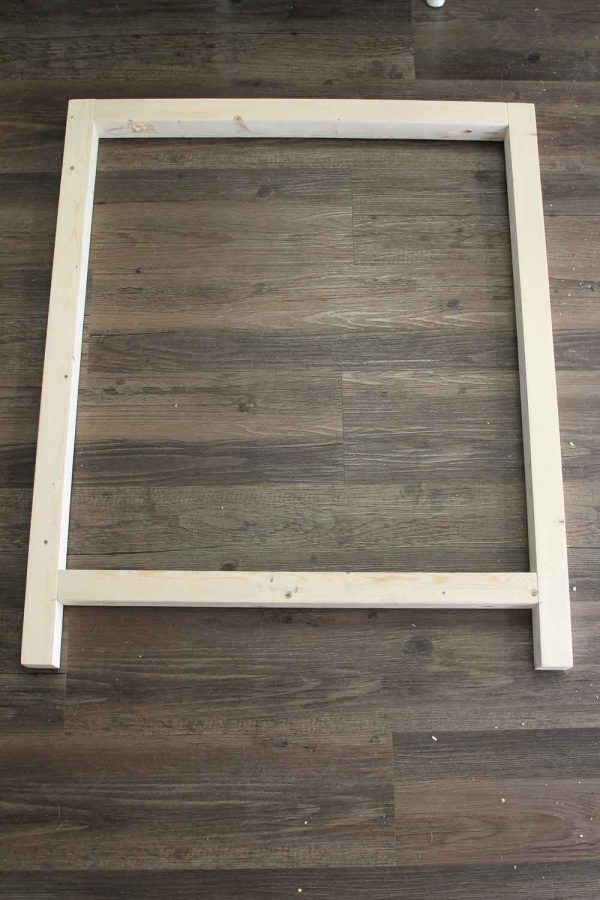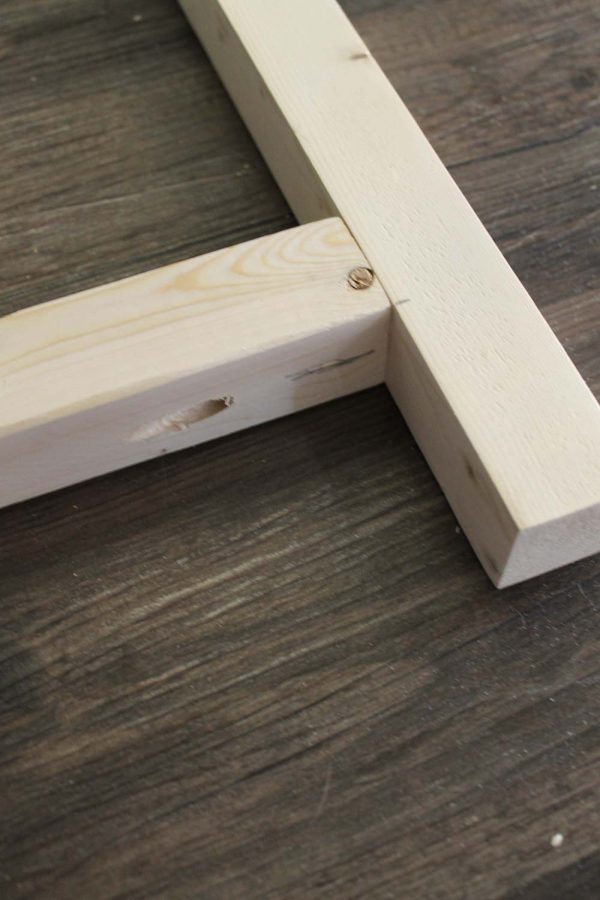 We used a scrap piece of 2×2 to help keep the pieces even as we drilled them together.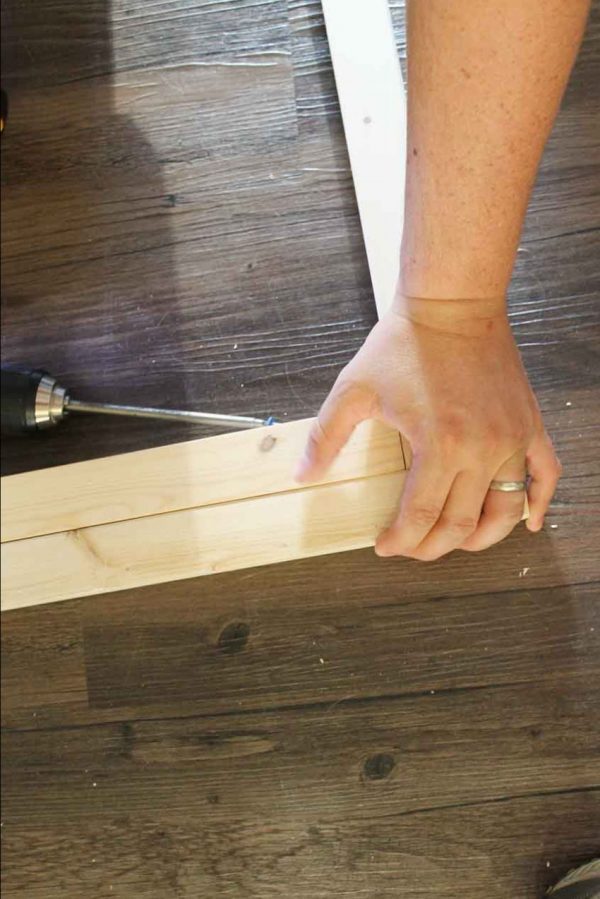 3. Finish assembling the DIY bar cart frame
Drill one pocket hole on each end of your four 14″ 2×2 pieces.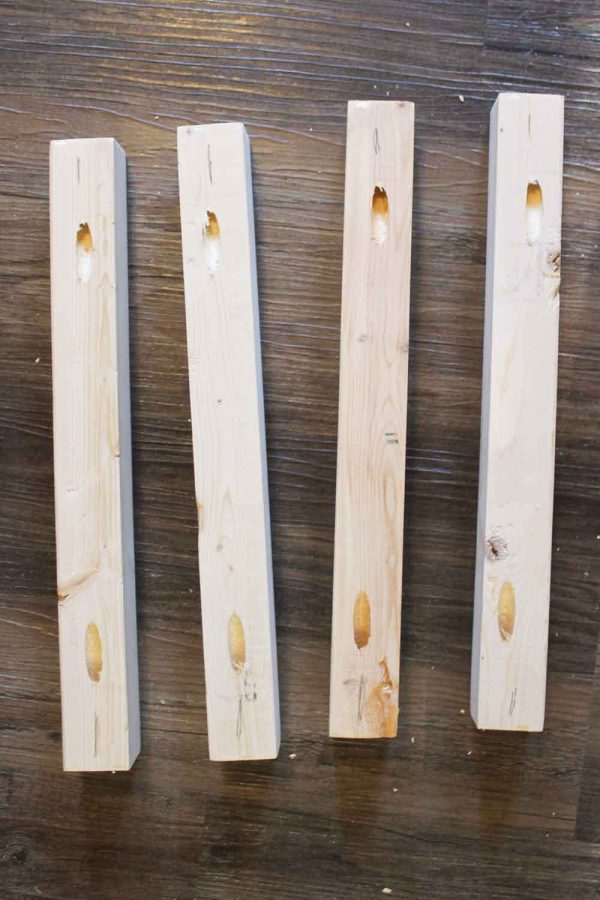 Add two of your 14″ 2×2 pieces to the bottom of one frame side and to the top of the other frame side using pocket holes and 2 1/2″ kreg screws. The pocket holes can be either on the inside or underneath part of the 2x2s as you attach them, either way they won't show.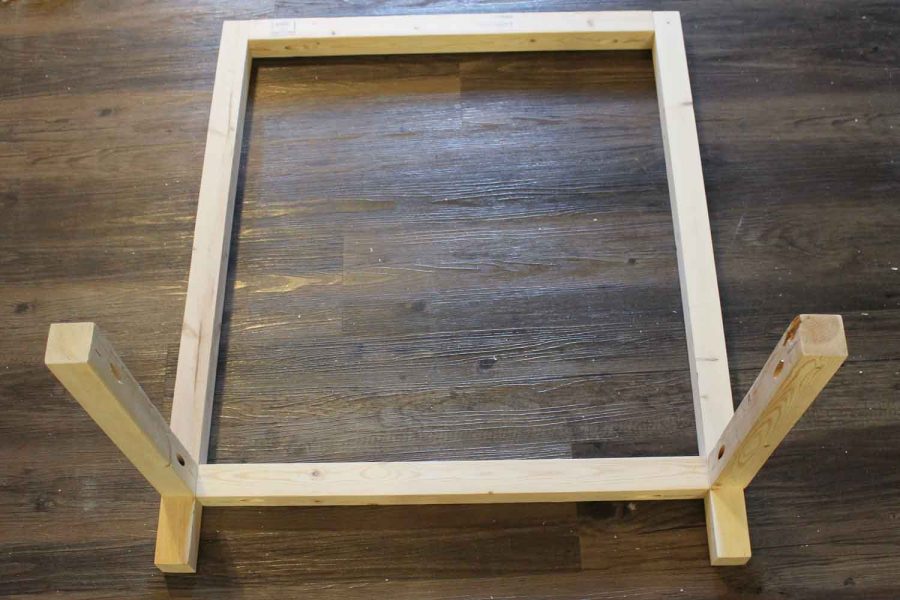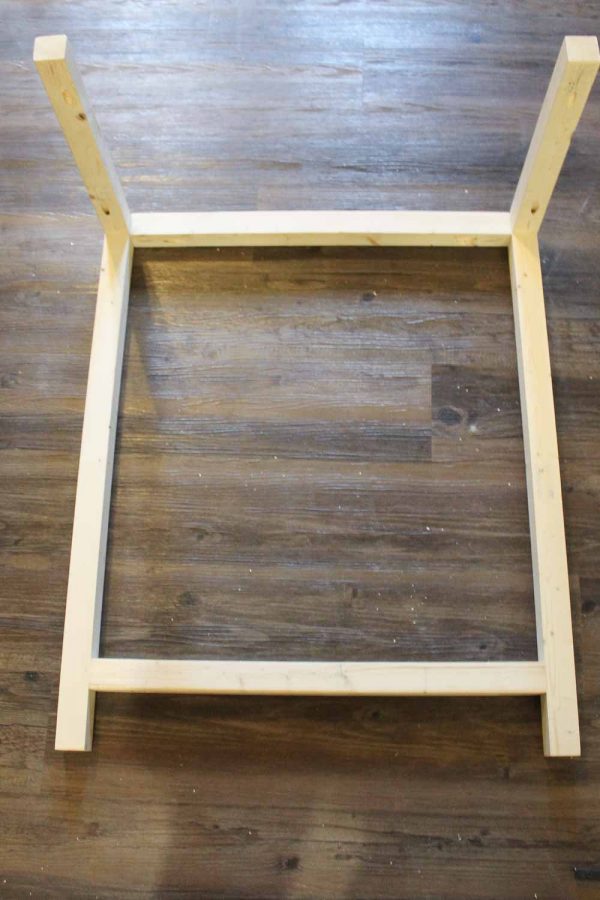 Now attach your two frame pieces to form the final bar cart frame. Note, when attaching the frame on the short 14″ sides, the long kreg drill bit to drive screws into the pocket holes, is too long with a standard drill. I had a smaller square tip drill bit that I used instead for this part.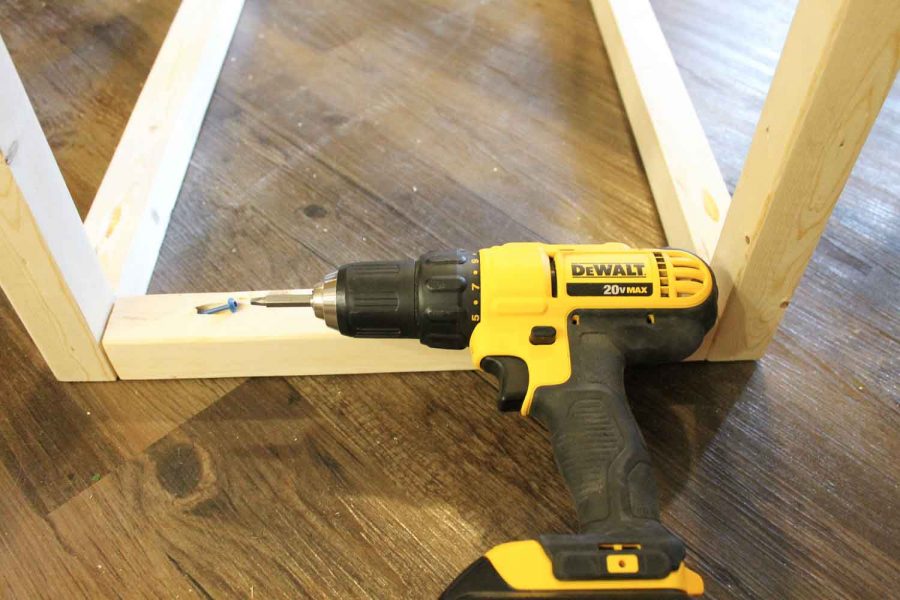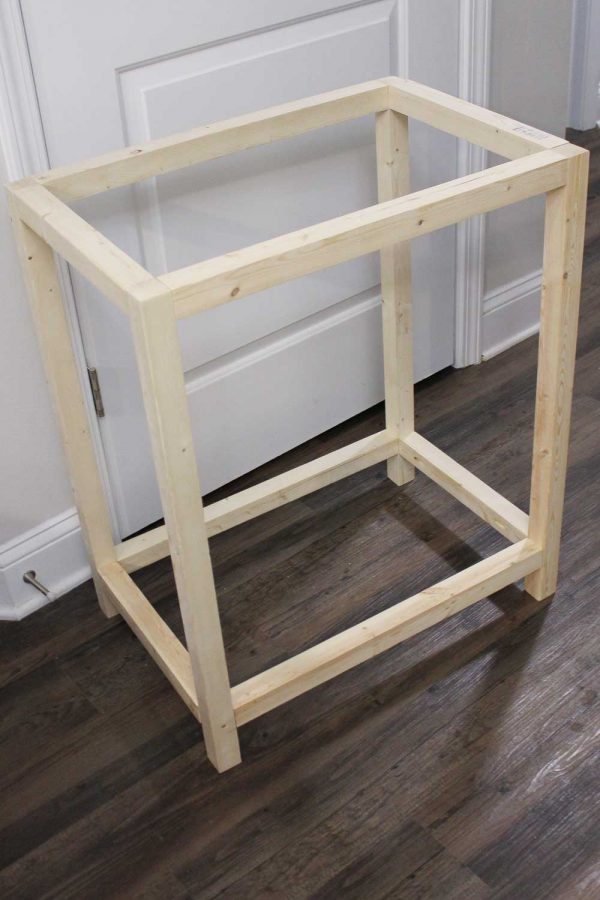 4. Make the bottom shelf of the DIY wood bar cart
Cut your 1×4 into four 24″ pieces. The cuts don't have to be perfect for this step.
Then, line up your 1×4 pieces and drill pocket holes as shown in the photo below and attach with 1 1/4″ kreg screws. To get a perfectly straight edge on each side, use a circular saw and trim each side, so that the final length of your shelf is 22.5″ (the width should be 14″ already from your attached four 1x4s).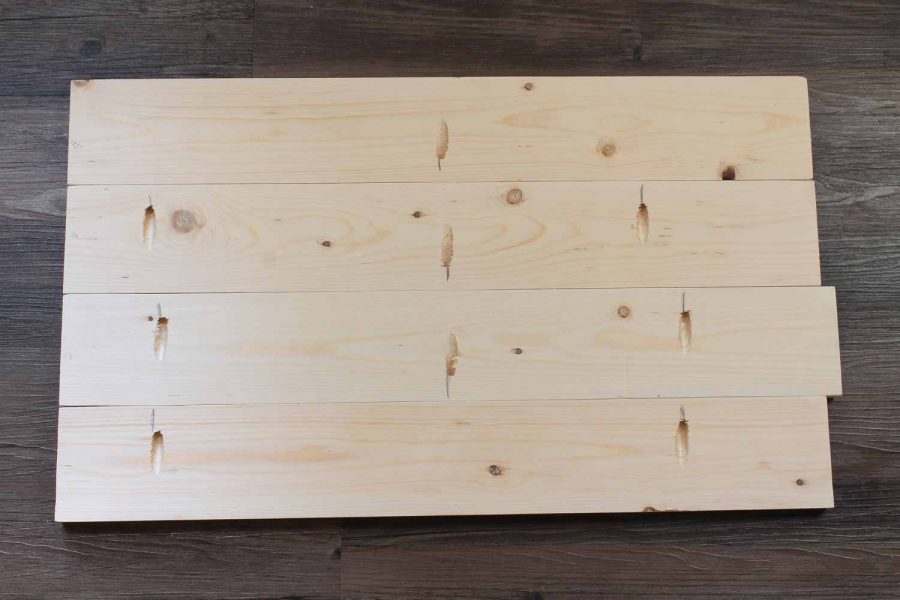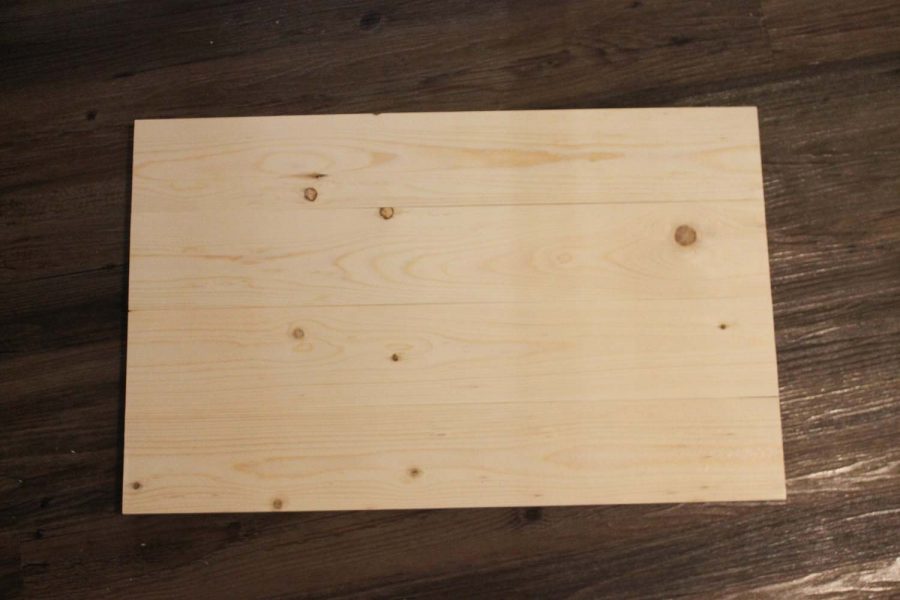 Next, cut two 1×2 pieces at 22.5″ and two at 14″. These pieces are going to be attached to the sides of your shelf piece as shown in the photos below. But, before you attach them to the shelf, make sure they fit snugly between the frame sides, you may need to sand them down slightly to get a better fit (I had to do this for two of them).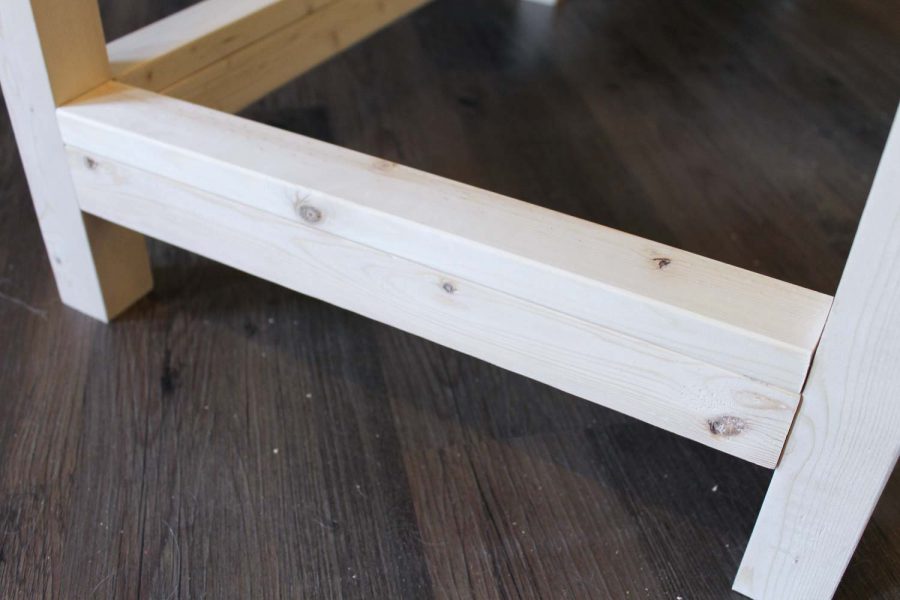 Add two pocket holes to the bottom shelf sides as shown in the below photo and attach 1×2 pieces with 1 1/4″ Kreg screws. Flip over and your bottom shelf should like the 2nd photo below! Go ahead and place the bottom shelf on the lower frame and make sure it fits well but don't attach it yet to the frame.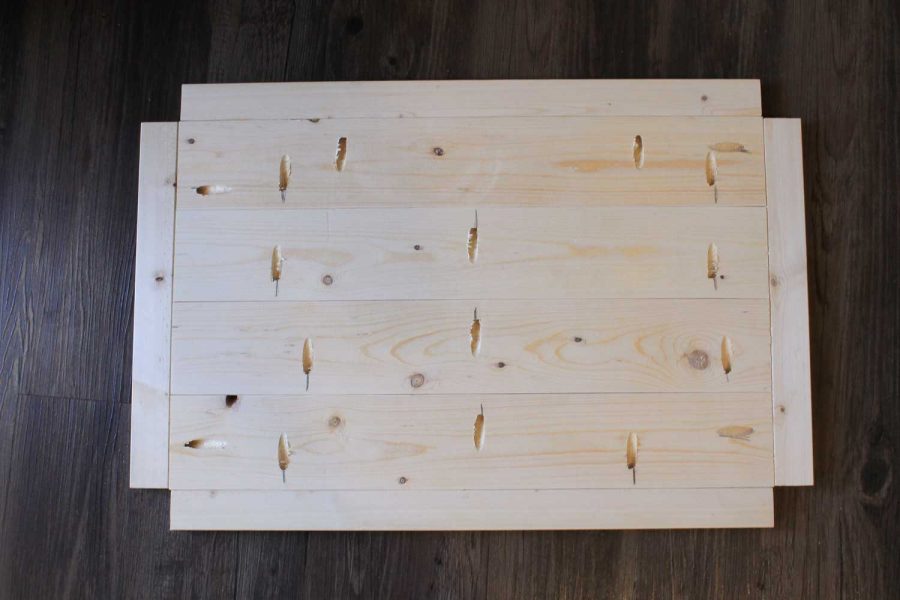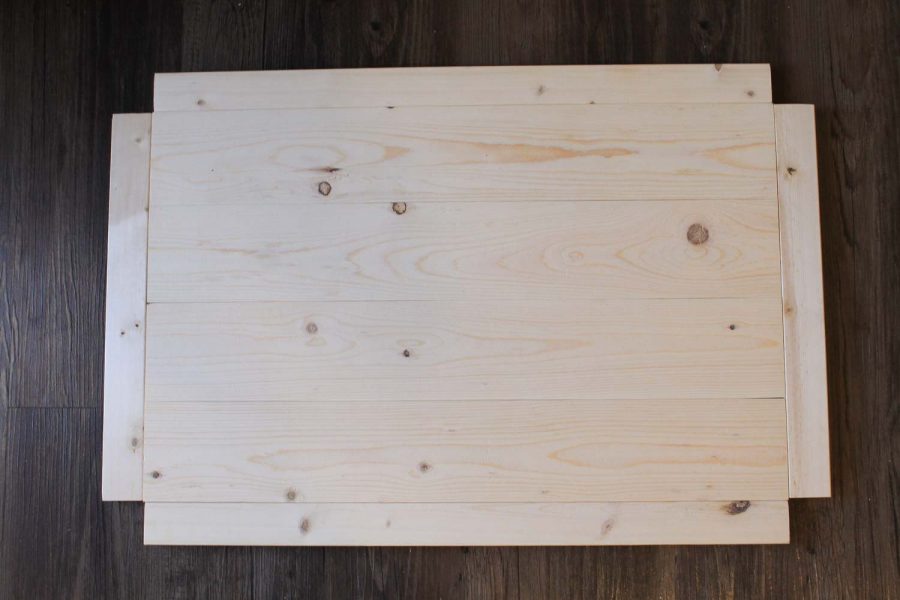 5. Make the top tray shelf of the bar cart
Using a circular saw, cut one side of your 2ft x 2ft plywood piece to 15.5″ so that the final size is 24″ x 15.5″.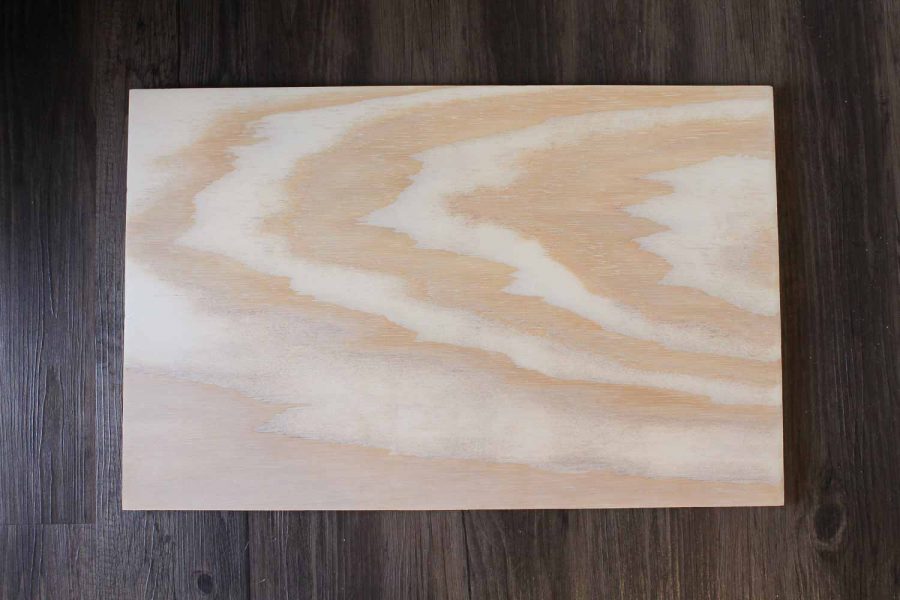 Next, for joining the sides of the top tray shelf, you can either do straight cuts or 45 degree angled cuts. I chose to do the angled cuts to make the bar cart look a bit higher end even though angled cuts are bit more challenging. Either way cut two 1×3 pieces at 25.5″.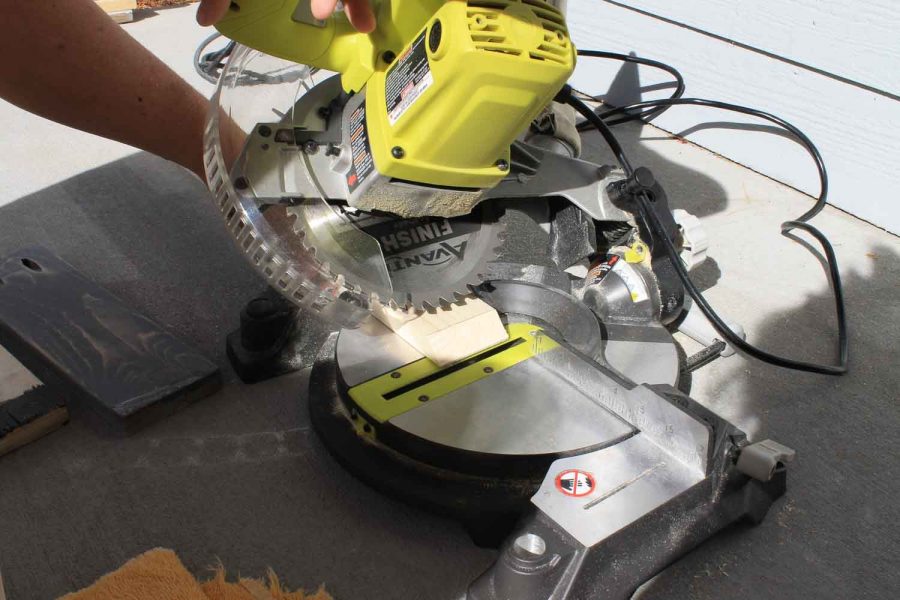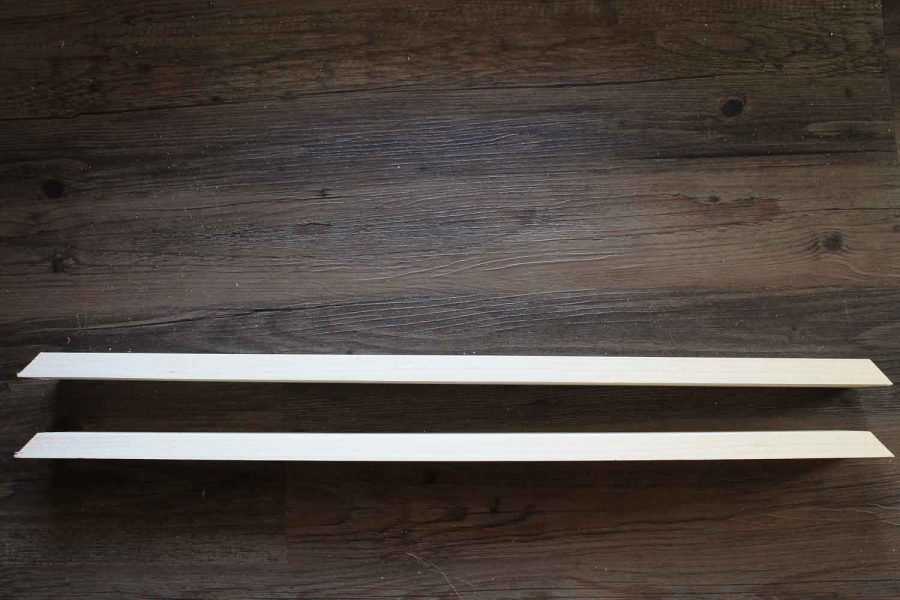 Attach the two 25.5″ pieces to each long side of the plywood using a brad nailer and 1 1/4″ brad nails. If you did angled cuts, make sure the inner angles on the ends are lined up correctly to the plywood edges before nailing.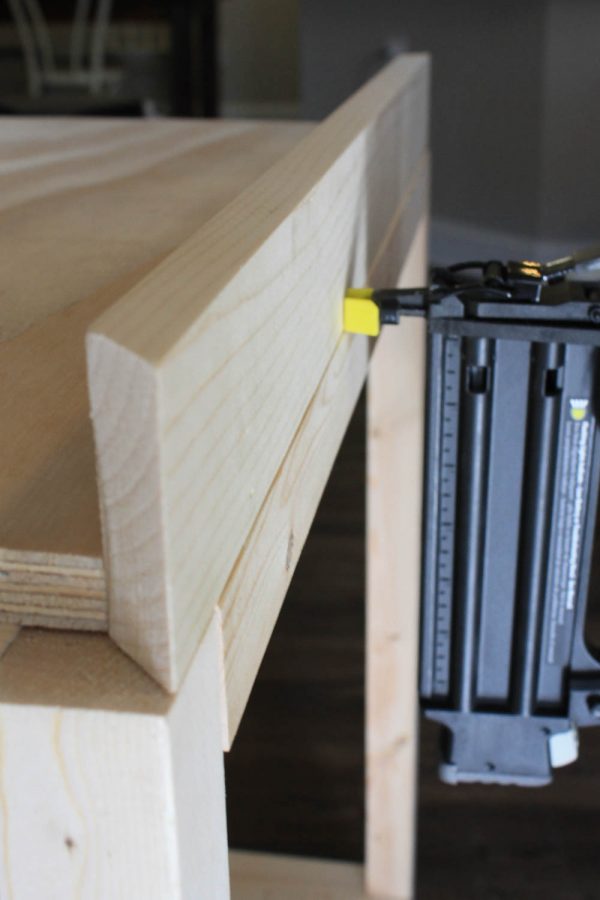 Now measure the exact width for your two side pieces. It should be just about 17″ but mine was off by 1/16″ so I adjusted my cuts accordingly. It's always good to measure twice and cut once! Then, attach your two side pieces with brad nails to complete the top shelf tray of the bar cart! Also, for these side pieces I put brad nails along the bottom edge and side edges to make it more secure.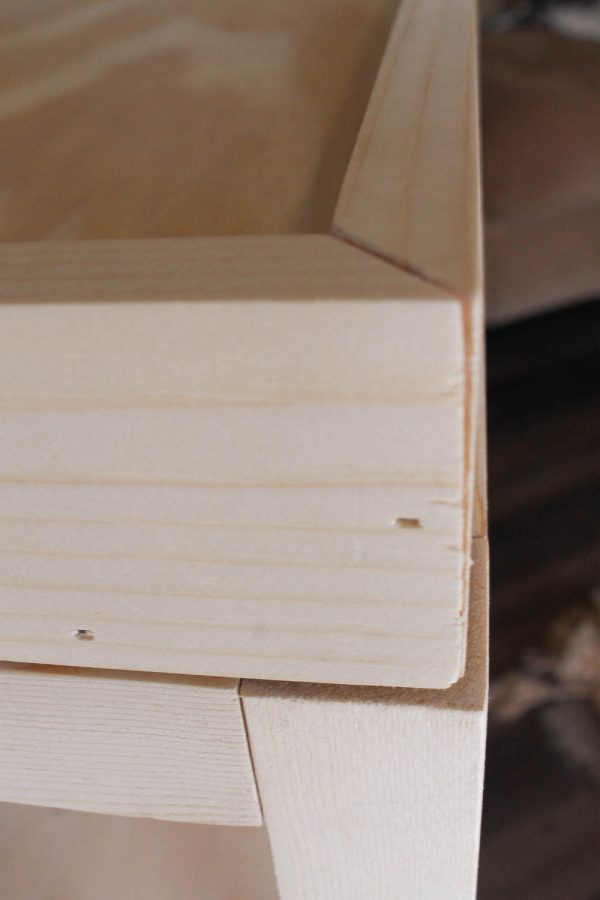 6. Prepare dowel rods
Cut the 3/8″ dowel rods as follows: two pieces at 23.5″ and two at 14.5″.
Then, mark the center point on the inside edge of the 2×2, 4″ up from the bottom shelf (on all inside edges for a total of 8 marks).
Use a 1/2″ drill bit and drill 8 holes where your markings are. Note, I first drilled a 1″ deep hole and then 1/2″ deep on the opposite side and continued this pattern until I finished all 8 holes. I marked 1″ and 1/2″ on a scrap dowel piece to test my depths for each hole to make sure I drilled deep enough (2nd photo below).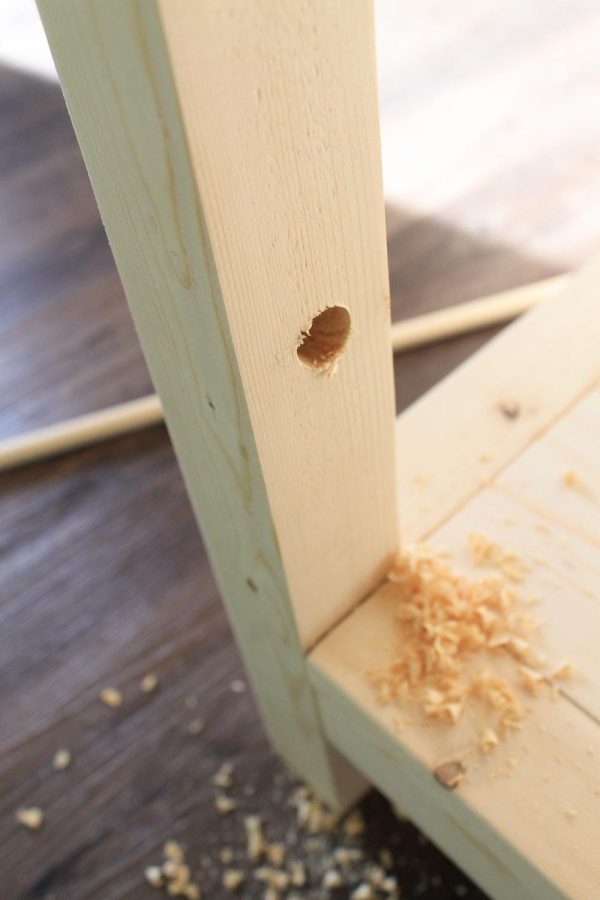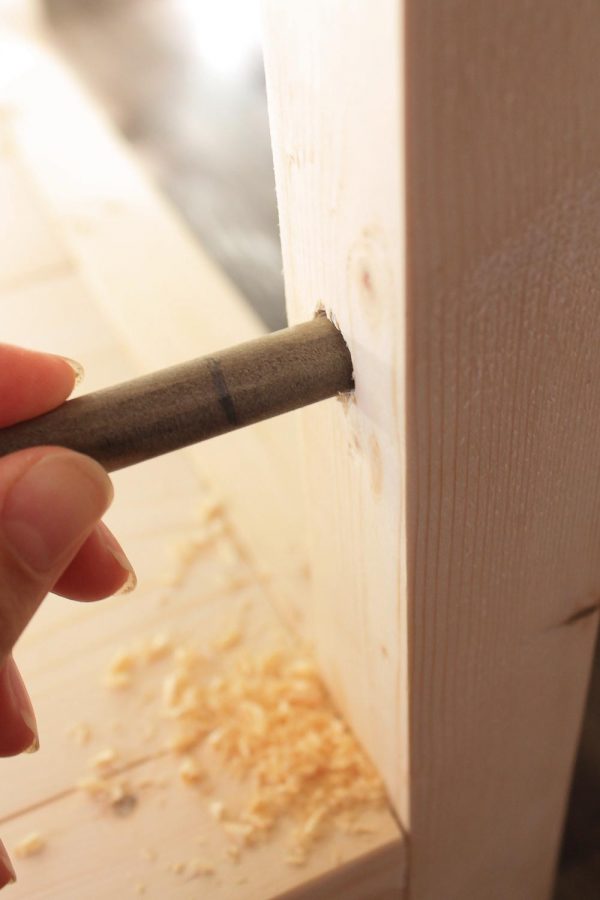 Go ahead and add your dowel rods to the holes to make sure they fit properly. It works best to put them into the 1″ deep side holes first to get them in. If you are having trouble getting them in, trim off 1/4″ or so more but be careful not to trim too much off.
Alrighty, your DIY bar cart is built! Now time for all the finishing touches to complete the bar cart!!!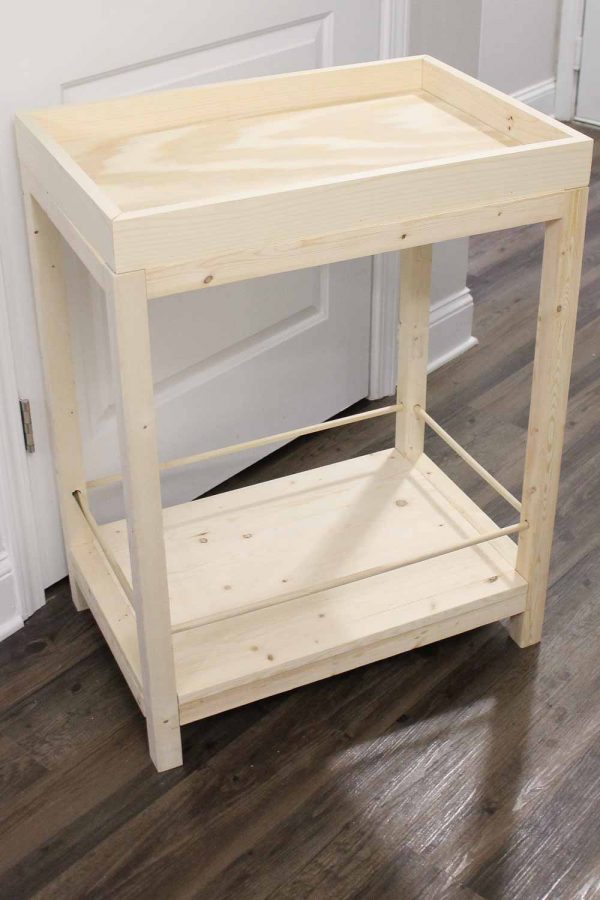 7. Paint bar cart frame and fill holes
If you'd like to have a cleaner look use wood filler to fill holes on the top tray shelf over the brad nail holes. I also used this light spackle to fill any wood knots/cracks in the frame that is getting painted. If you are staining the frame, use wood filler. Sand where needed to prep the frame for painting (or staining). Then, paint (or stain) the frame. I chose to do a white frame for the bar cart.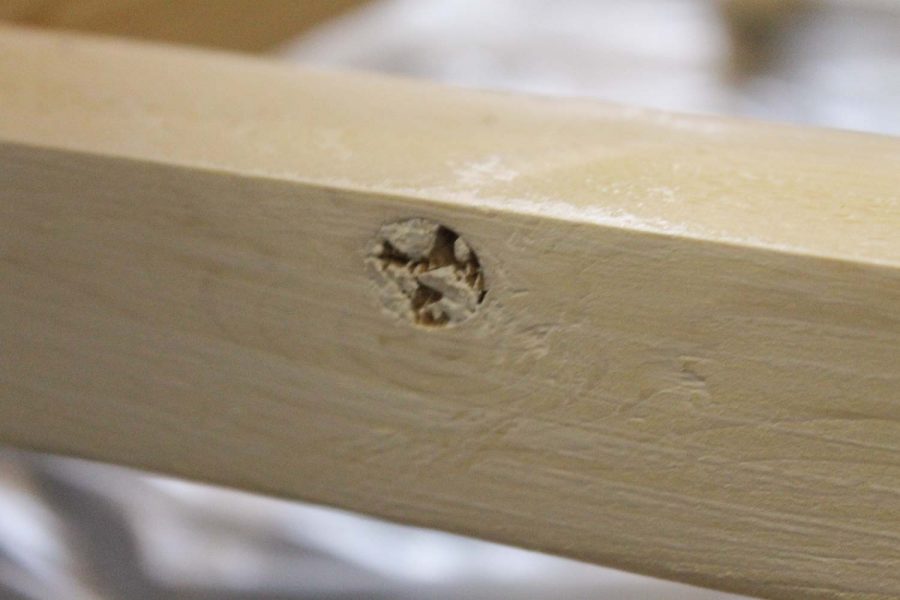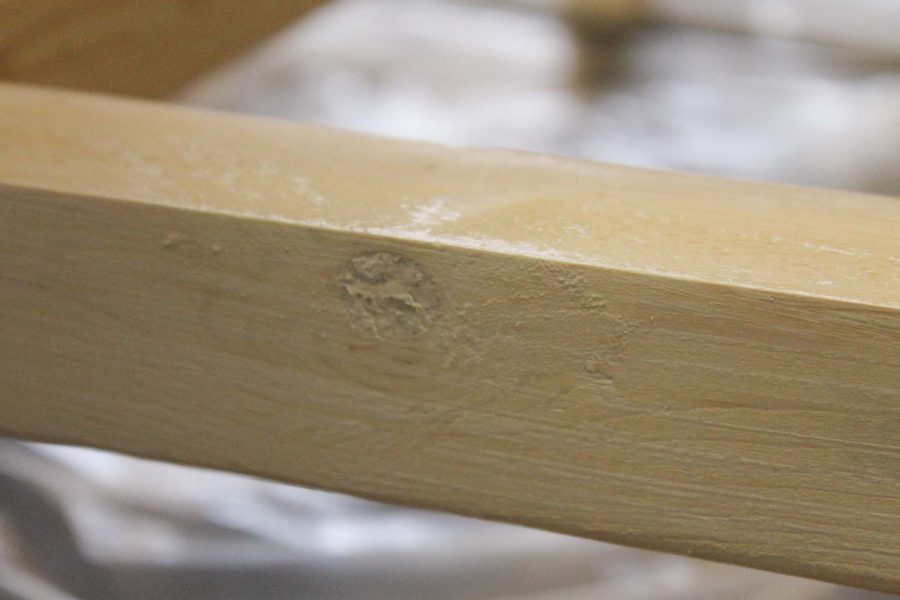 8. Attach caster wheels to bar cart frame
I bought these adorable 2″ casters at Lowes. They come two to a pack and each caster has a spiky metal piece that you need to remove from the caster.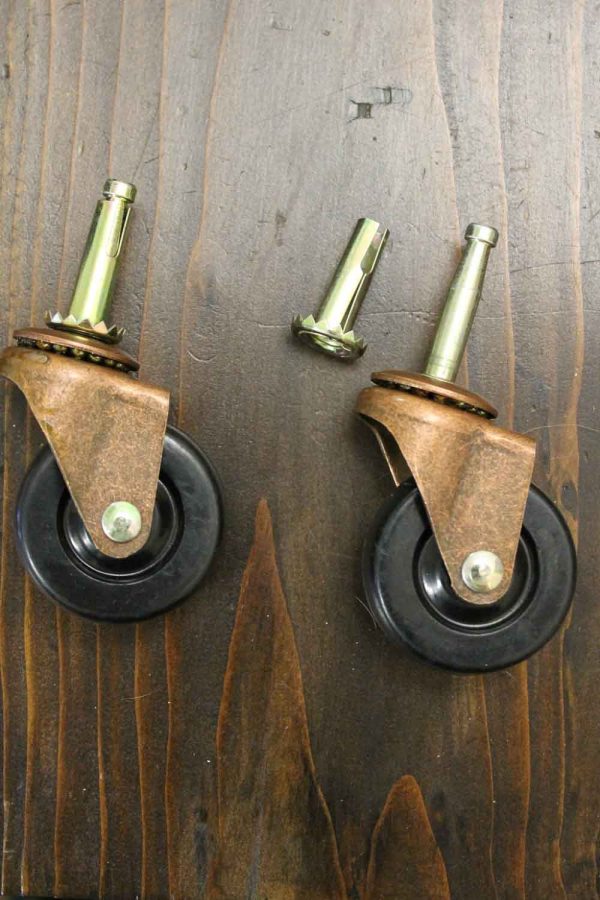 Flip over your bar cart frame and drill a 1/2″ hole in the middle of the bar cart leg bottoms. Make sure to drill the hole a little bit deeper than the length of the spiky metal piece. Then tap the spiky metal piece into the hole with a hammer until the spiky part goes into the wood.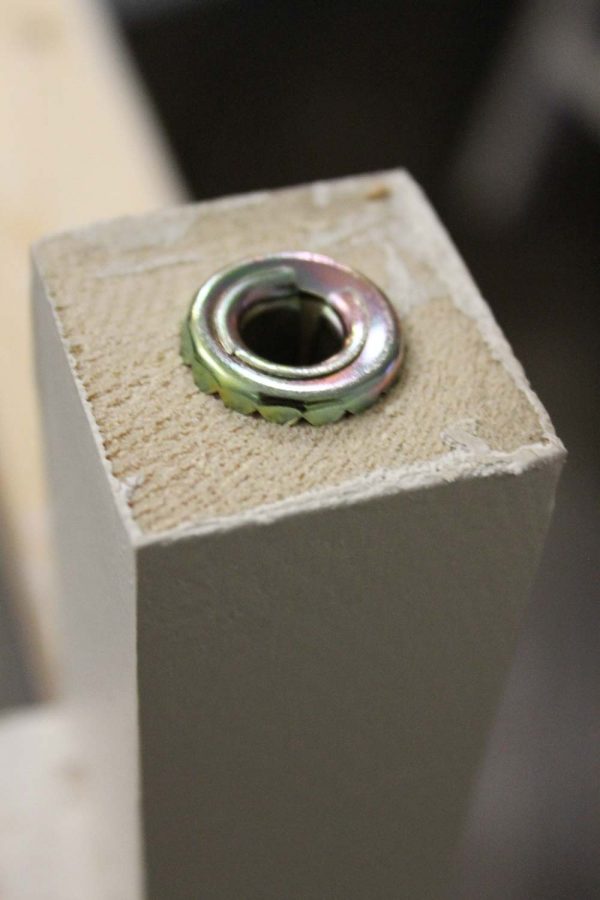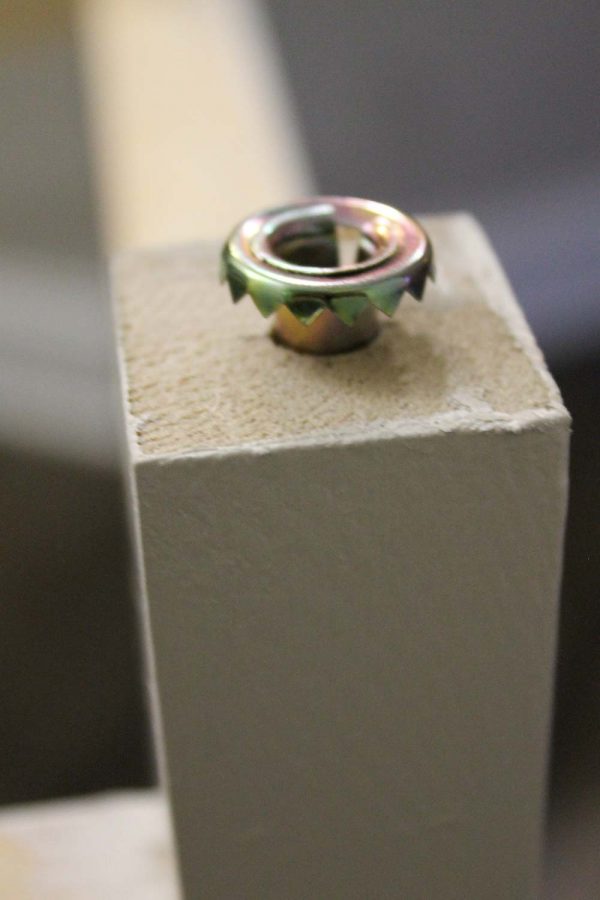 Next, place your caster wheel into the metal hole and it should click into place. Repeat for all sides.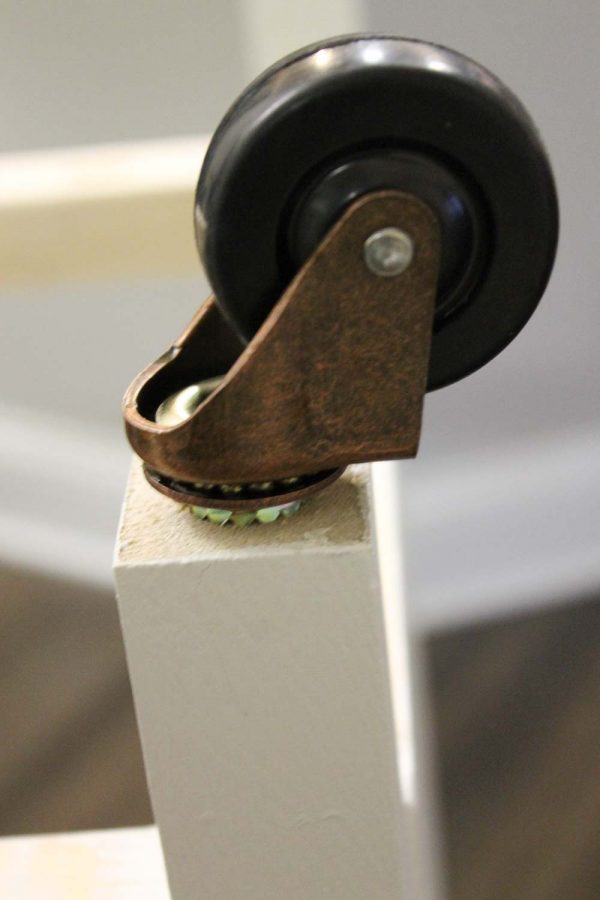 Flip your bar cart frame back over and now your bar cart has caster wheels!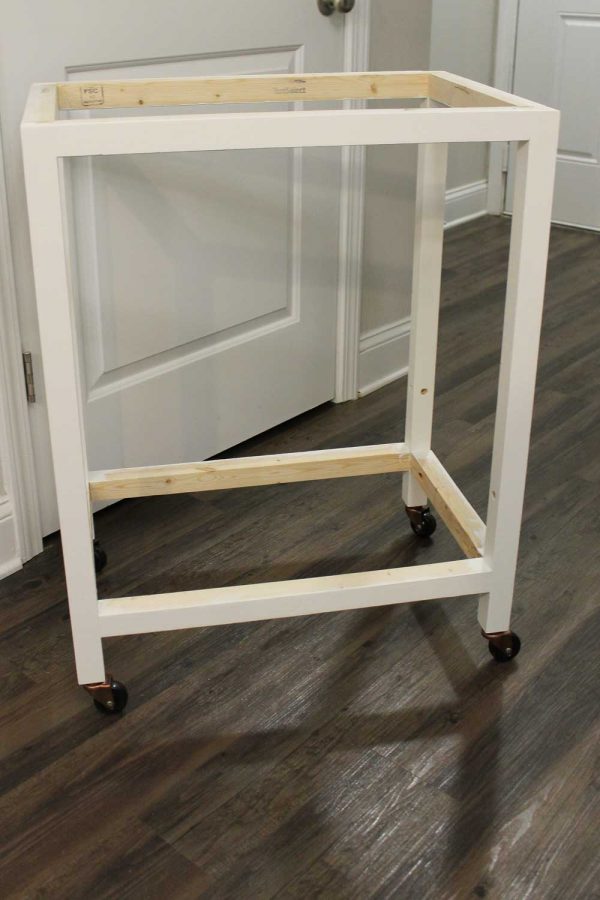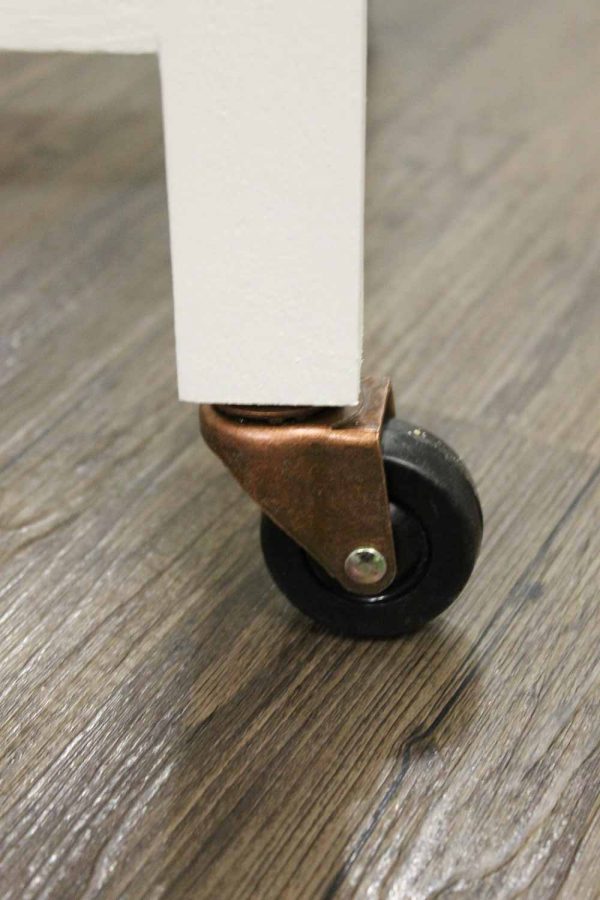 9. Stain and finish the top tray shelf and bottom shelf of your bar cart and attach to bar cart frame
Stain your top tray shelf and bottom shelf. I used one coat of Minwax Dark Walnut and then applied one coat of Annie Sloan White Wax, but finish however you'd prefer! For help on how to stain wood for a beautiful finish, check out my how to stain wood tutorial.
This was actually my first time using wax and I am in love with the end result of it! I definitely will be using wax again!
Finally, spray paint your round, dowel rods. I used Rust-Oleum Oil Rubbed Bronze.
Next, attach your bottom shelf with wood glue to the bar cart frame.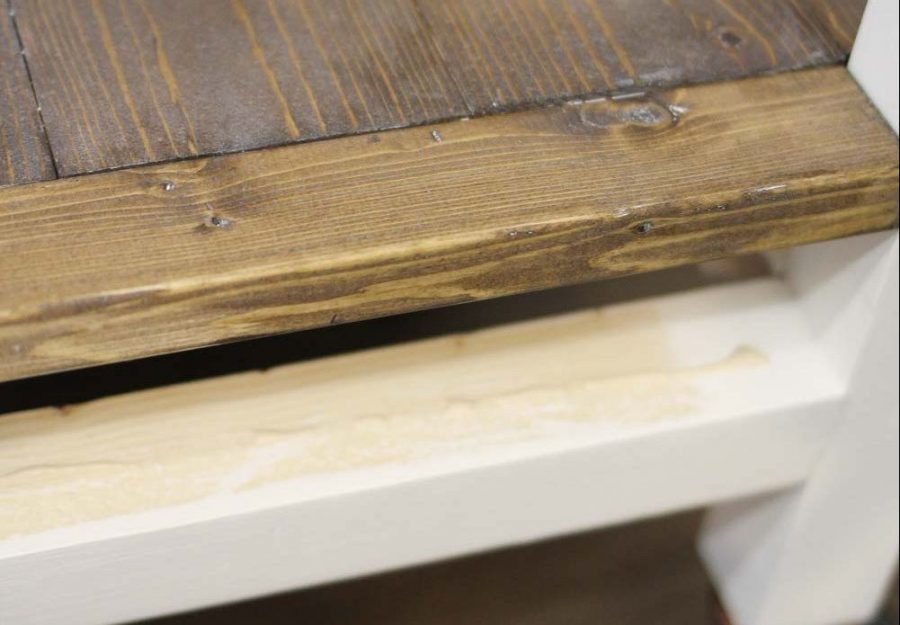 Then, add a little bit of wood glue to the dowel rod ends and attach them as well to your bar cart.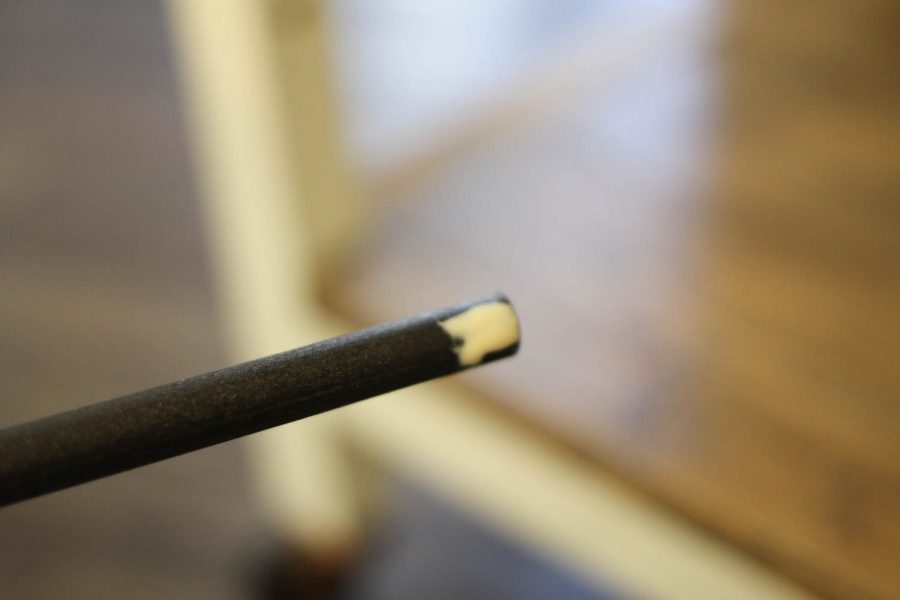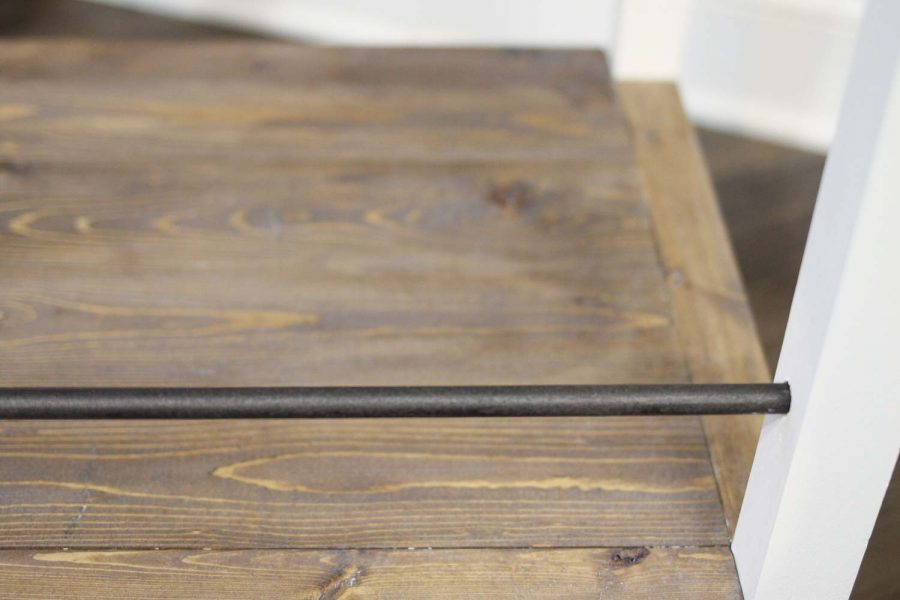 10. Attach top tray shelf to DIY bar cart.
Attach your top tray shelf to your bar cart with 2″ wood screws from the bottom side. It's best to drill pilot holes first about 3/4″ from the inside of the bar cart (so it goes through the frame and plywood piece of the tray, not the side 1×3 edges). Also clamp the tray down while drilling. Lastly, add cabinet pulls on each side of your top tray shelf!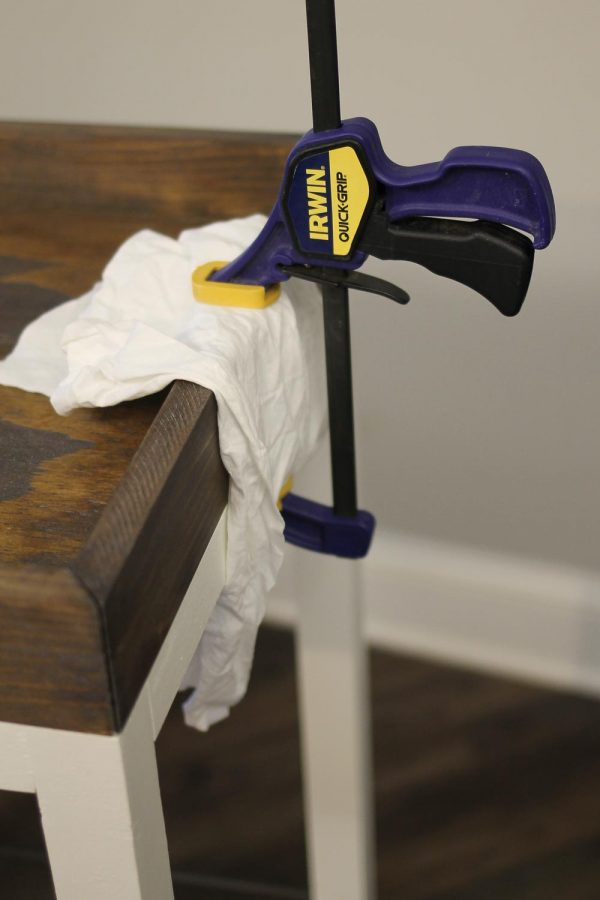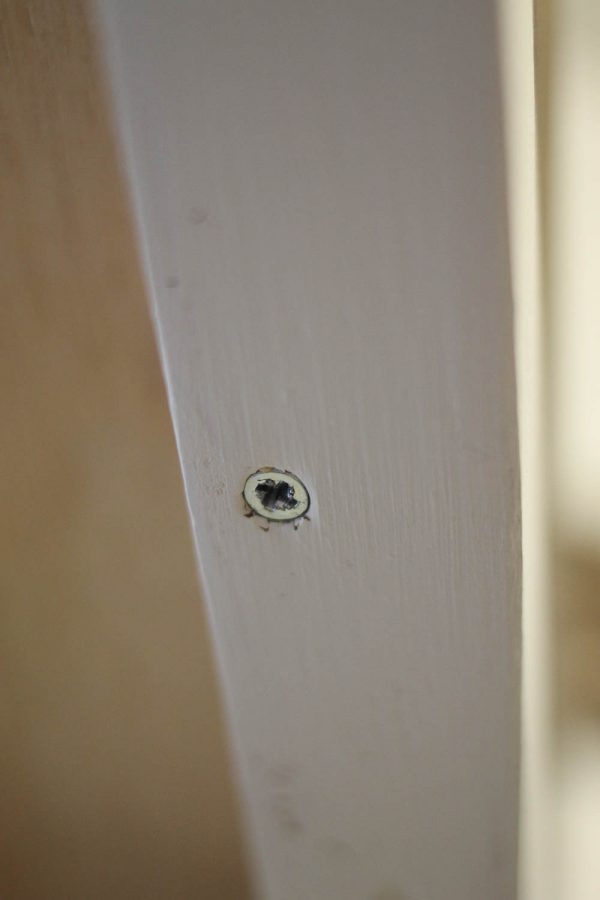 Now your DIY Bar Cart is complete!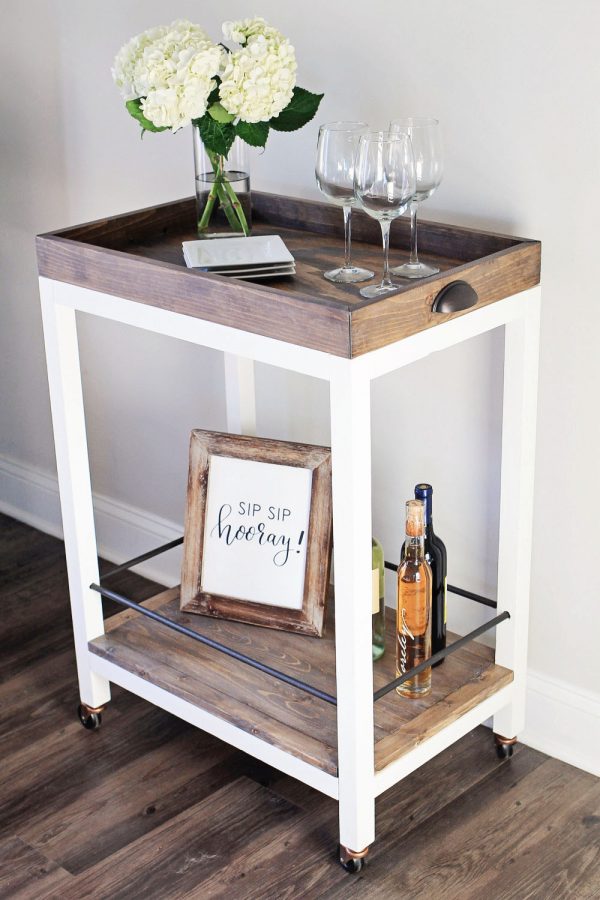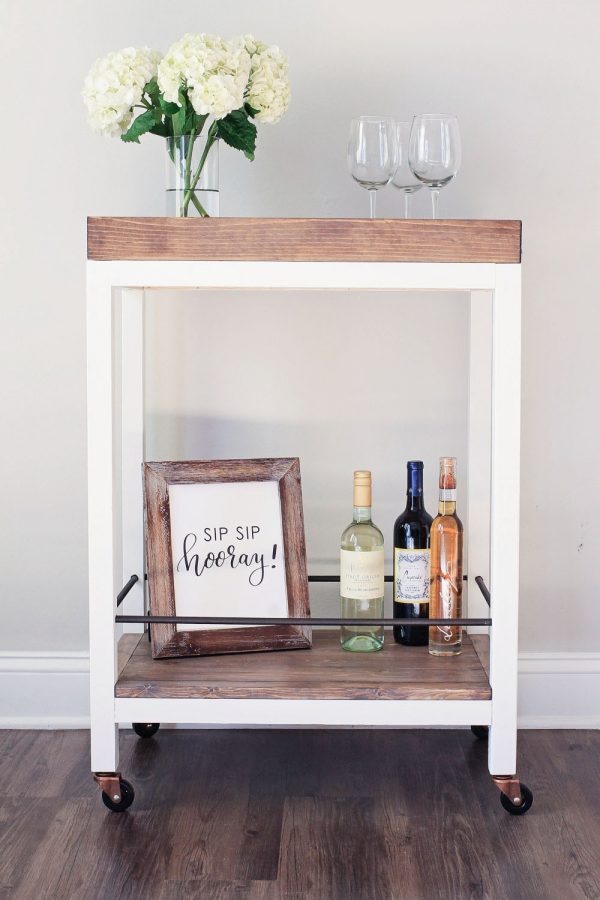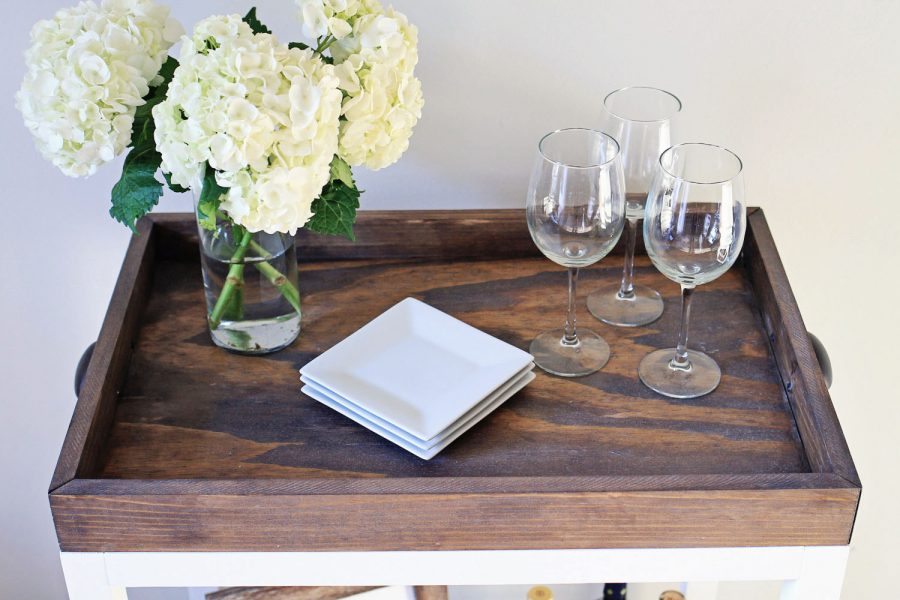 What do you think of my DIY Bar Cart? I love that it can be used for so many things, including a DIY coffee bar cart too!!
I'd love to see photos of your version of this build! Feel free to share with me on Instagram @angelamariemade, Facebook, or e-mail pictures to [email protected]!
P.S. You can find the Sip Sip Hooray printable in my shop here!
Follow along on Instagram or Facebook for my latest projects, as well as Pinterest!
Save
Save
Save
Save
Save
Save
Save
Save
Save
Save
Save
Save
Save
Save