While planning the office makeover for my mom, I knew that I wasn't going to be able to make any DIY furniture builds due to the limited time.
To save time but still make a big impact in the space, I did an IKEA Billy bookcase hack with shiplap instead!
The IKEA Billy bookcase has long been a popular piece to use for custom built-ins which looks great.
However, I wanted to use the piece mainly for storage and as a focal point in the office, but I did not want to create any built-ins with it.
Since the bookcase is very simple, I decided to upgrade the piece and make it more cohesive with the office makeover design.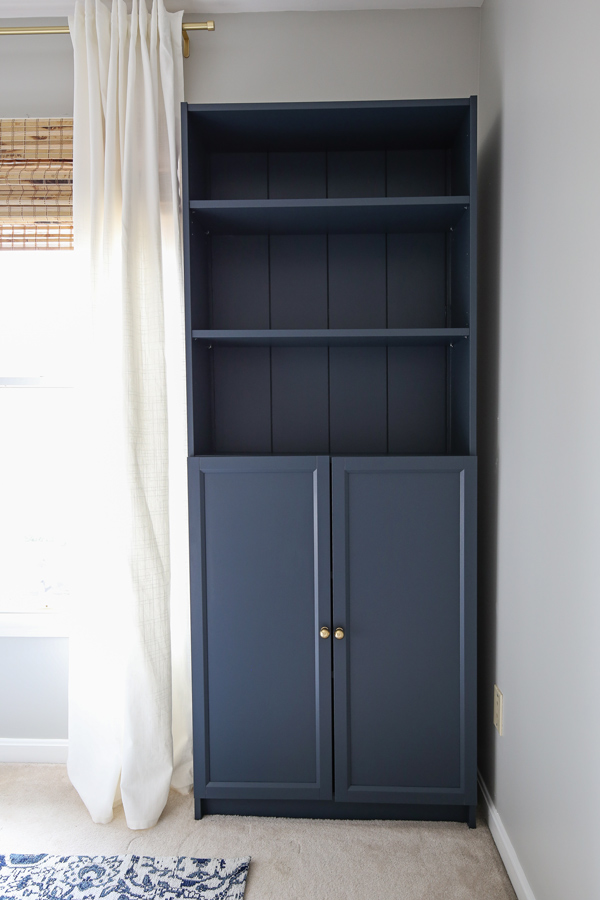 I did this by painting the bookcase with a rich, navy blue grey color, adding shiplap boards as the backing, and using beautiful, brass knobs on the doors (the doors were also from IKEA)! The step by step tutorial is below!
BEFORE PHOTO via IKEA: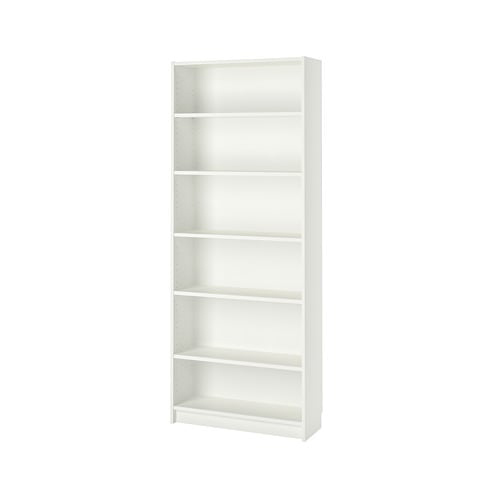 AFTER PHOTO: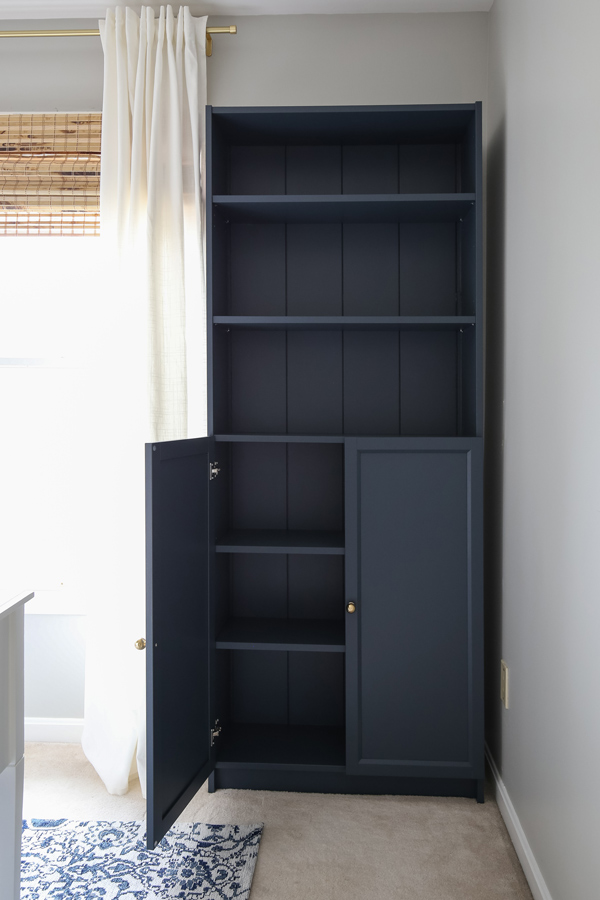 Note, this post contains some affiliate links. For more info see my disclosures here.
Billy Bookcase Hack with Doors and Shiplap:
Materials Needed:
(2) IKEA Oxberg Doors (optional)
(2) Brass Cabinet Ball Knobs – similar here (optional)
(4 or 5) 7.5″ x 8ft Shiplap Boards or Tounge and Groove Boards*
1 1/4″ Brad Nails
Paint – I used Blue Note by Benjamin Moore (eggshell) in their ben line
Paint Roller and Paint Brush
Inexpensive paint brush for primer (I used this one)
Caulk (optional)
*See step 2 for details on shiplap boards
1. Assemble Billy bookcase using the included IKEA directions
Begin by assembling the bookcase using the directions included in the box. But, do not add the cardboard backing that comes with the bookcase and don't add the shelves yet either.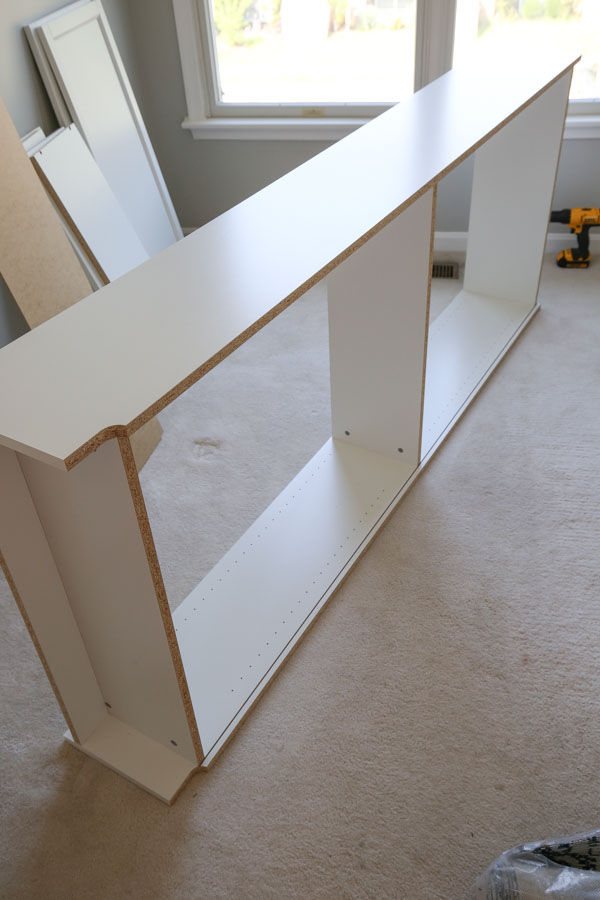 2. Add shiplap boards to back of bookcase
When I initially measured for the opening on the back of the bookcase it was 30″ wide. I picked out four 7.5″ wide shiplap boards which I found at Lowe's. These are the boards I found in the store but I can't find them online: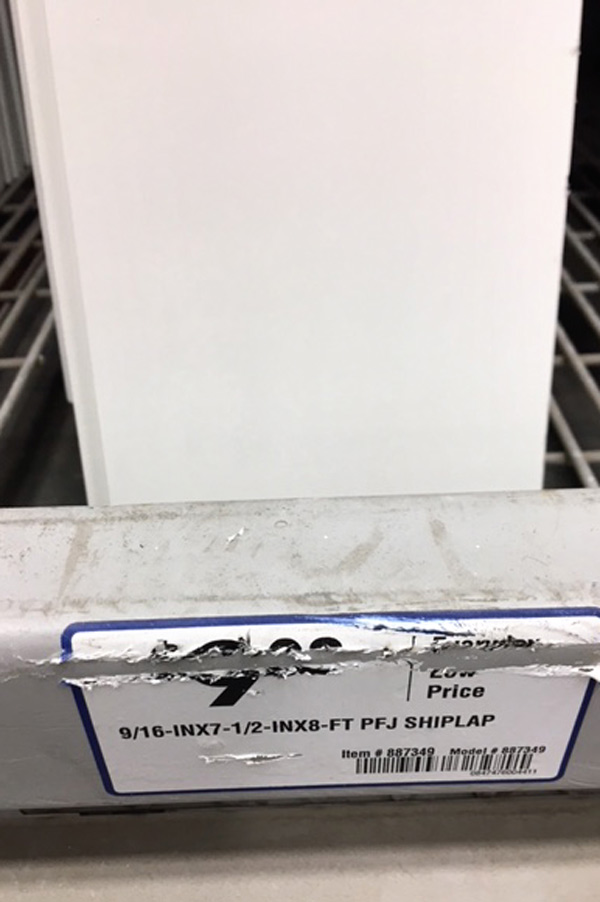 I love using these pre-primed boards as I explained in my how to paint shiplap tutorial because they make the finishing process quicker!
When I placed the four boards face down on the back of the bookcase, there was about a 1″gap! Ugh! I was expecting a perfect fit since 4 boards at 7.5″ equals 30 inches. But I didn't account for the tongue and groove part which overlaps each board a little bit.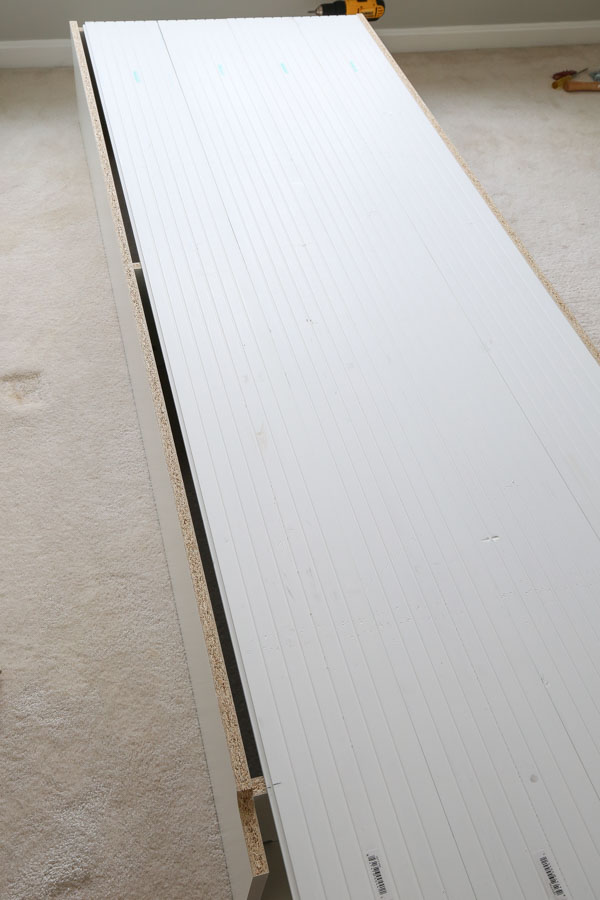 You can get a 5th board and rip it down to a 1″ width to cover the gap. However, I didn't want to spend another $10 or go back to the store. So, we used our circular saw (you can also use a miter saw) and cut off the excess length on the 4 boards that needed to be cut off anyway to fit the back of the bookcase. This left me with 4 boards at about 20″ each.
We then stacked these boards and cut off about 1″ from one side of them using a circular saw.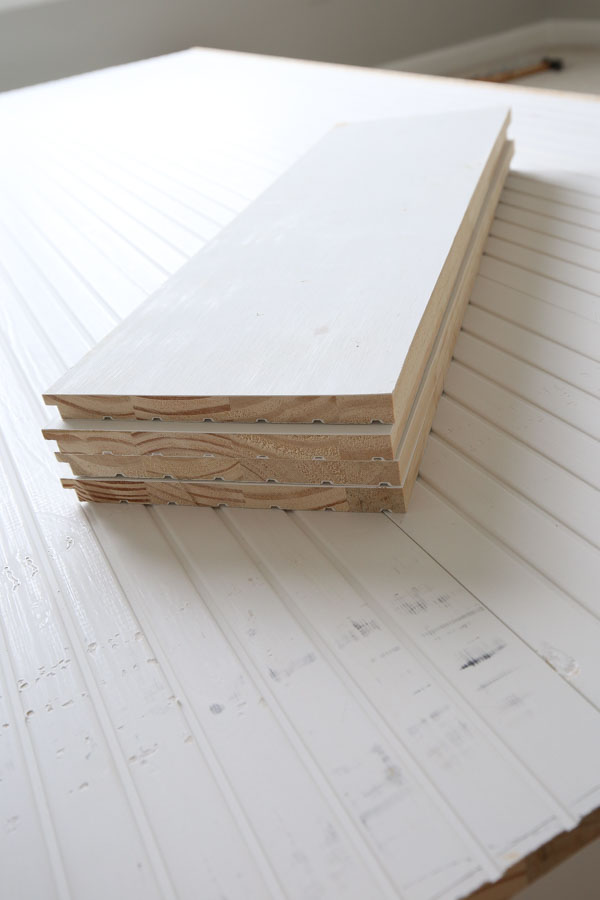 I slid them into the gap to cover it. I used a little wood glue on the groove edge to hold them in place.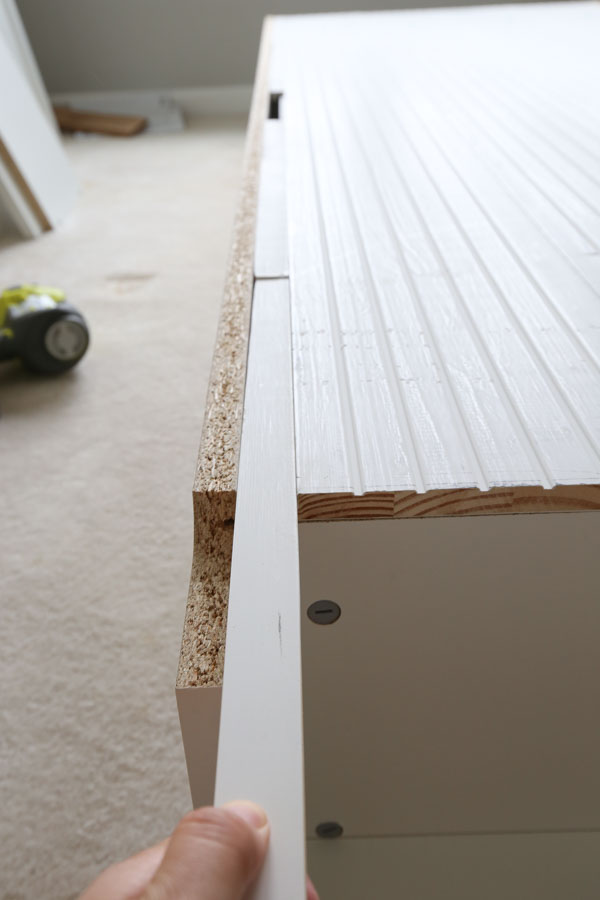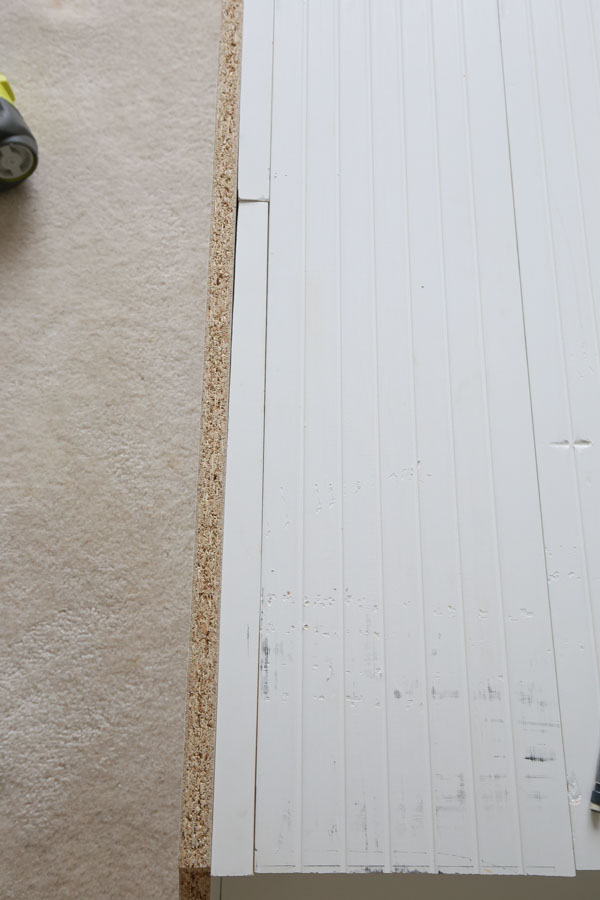 This method ended up working great for us! If you want to use this same method, make sure you measure the exact size of your gap so the pieces fit perfectly. But, you can also just get 5 boards and rip the 5th board width to size as well.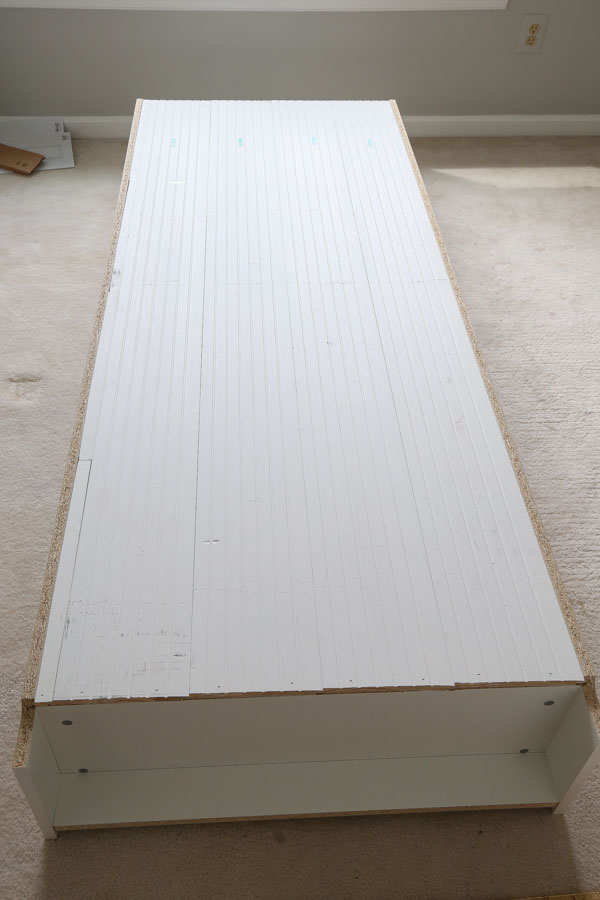 Finally, I attached all of the shiplap boards to the bookcase back with 1 1/4″ brad nails along the bottom, top, and middle edges using a brad nailer.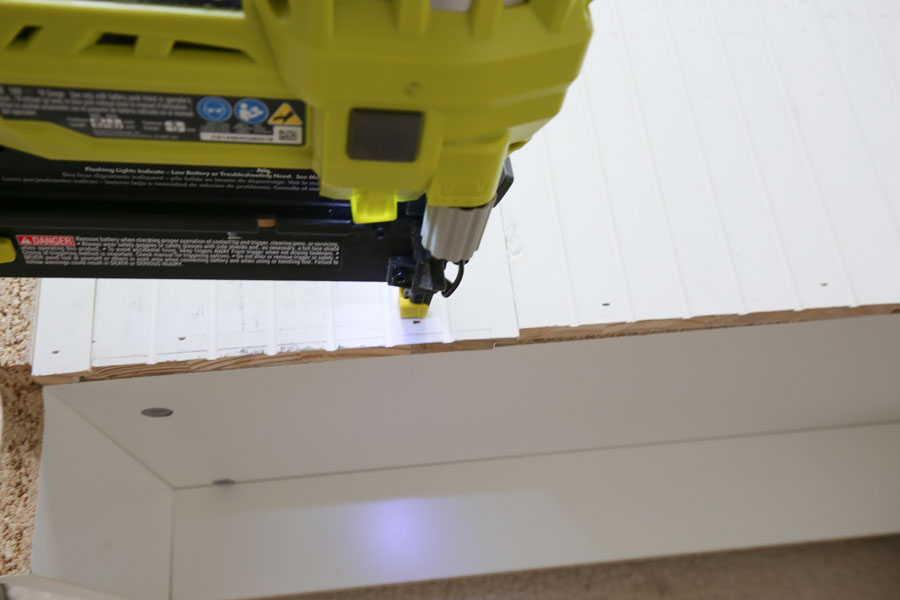 Go ahead and stand your bookcase up!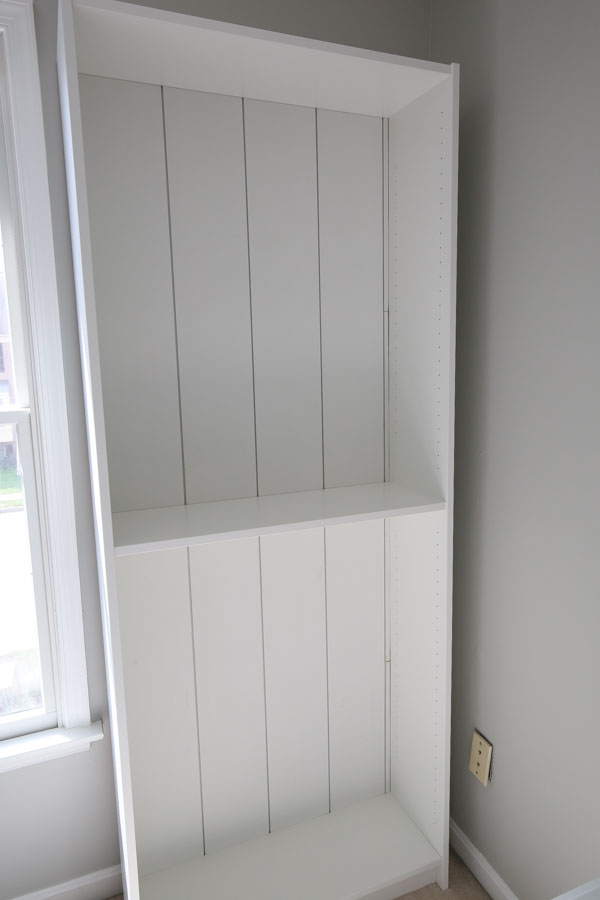 3. Prep bookcase and shiplap for primer and paint
If you used the same method as I did in step #2 and you have a small gap along the side corner like I did from the custom cut board (shown in 1st photo below), go ahead and caulk it for a smooth transition line. It will look much better once painted!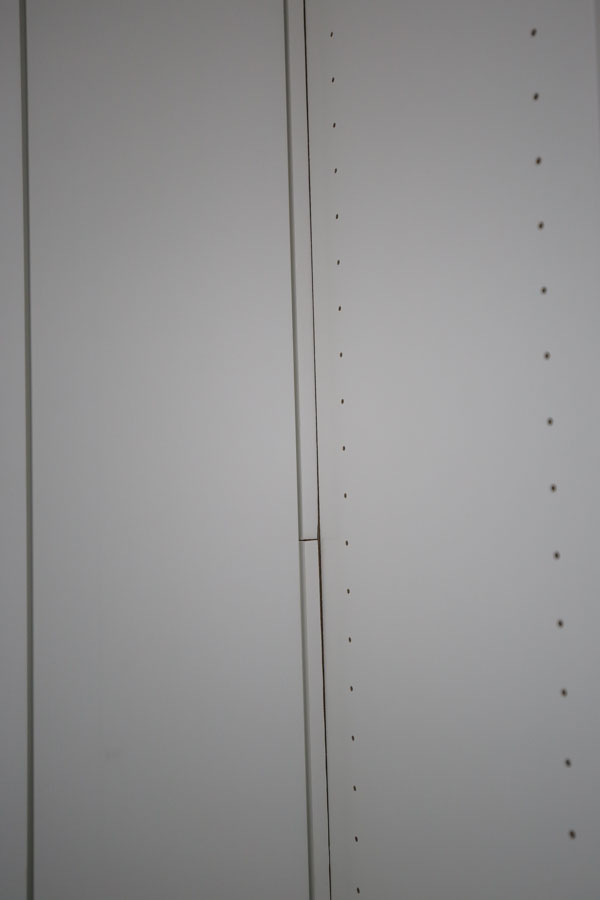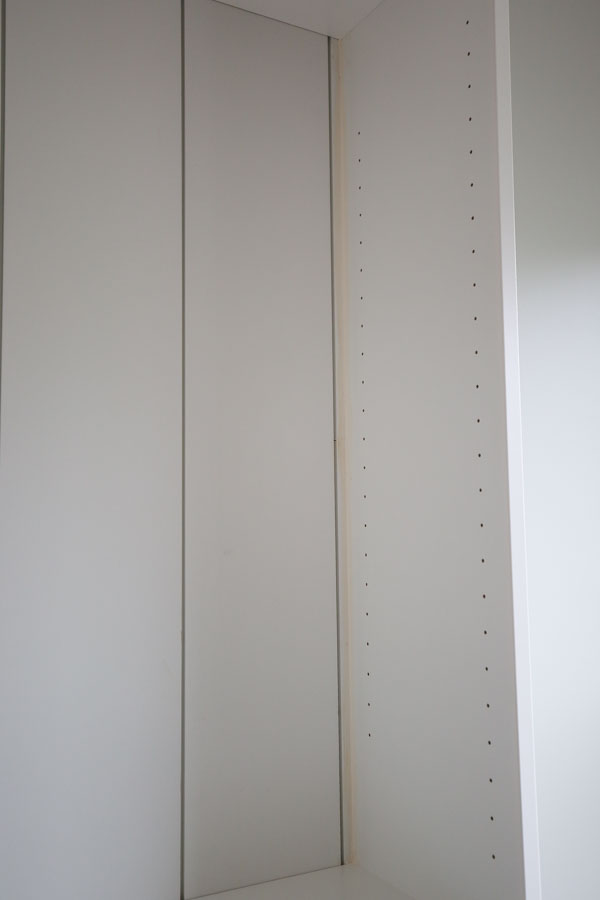 4. Prime IKEA Billy bookcase with shiplap boards
Prime your IKEA Billy bookcase with a shellac, oil-based based primer and let it dry. I used this primer. Because the surface of the bookcase is laminate and almost like plastic, you need an oil-based primer to prevent peeling of the paint and to provide coverage.
First, I primed all the corners and places I couldn't reach with a roller with a cheap, $1 chip paintbrush that I could throw away since I was using an oil based primer and didn't want to have to clean a good brush with mineral spirits. Then, I rolled over the rest of the bookcase with a roller and the primer. You do not need to prime the shiplap boards if they came primed already like mine did.
5. Paint IKEA Billy bookcase hack
After priming, go ahead and paint your Billy bookcase with 2 coats of paint. Use a high quality paint brush for all the places you can't reach with a roller, like the corners and shiplap board gaps, then roll the rest!
Note, it's easier to paint the shiplap gaps as the boards are installed as explained in my how to paint shiplap tutorial. But, I forgot too and just painted after the install of the shiplap.
I used Benjamin Moore Blue Note paint in eggshell. I absolutely love this color, it's so rich and beautiful! Also, I used the ben line of paint by Benjamin Moore since it's more high quality which I've founds helps with the adhesion process when painting furniture as well as lasting better long term.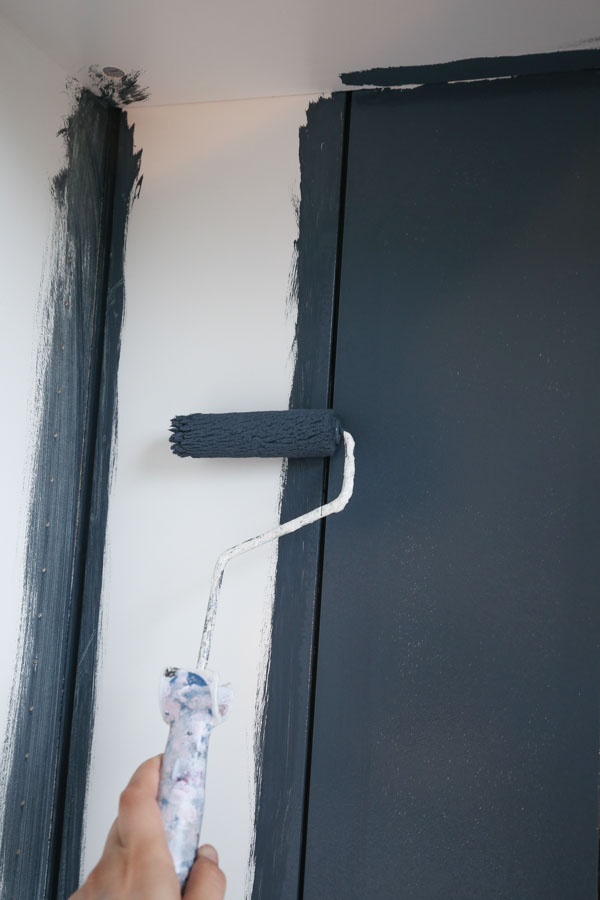 Also, if you are adding the IKEA Oxberg doors, make sure to paint those too! Once everything has been painted, let it sit for a few days for the paint to cure.
Finally, add your doors and shelves per the IKEA directions. After adding these pieces I did have to do a few paint touch ups! Lastly, I added these gorgeous, brass cabinet ball knobs (similar here) to the doors. I had to use a drill to drill through the partially pre-drilled holes that were already on the doors.
Once the bookcase was in place and all finished, we went ahead and secured it to the wall with the anchor hardware that came with the bookcase. I love how it turned out! I think adding the shiplap, rich paint color, and beautiful brass knobs really helped to transform the piece and make it a lovely focal point in the room!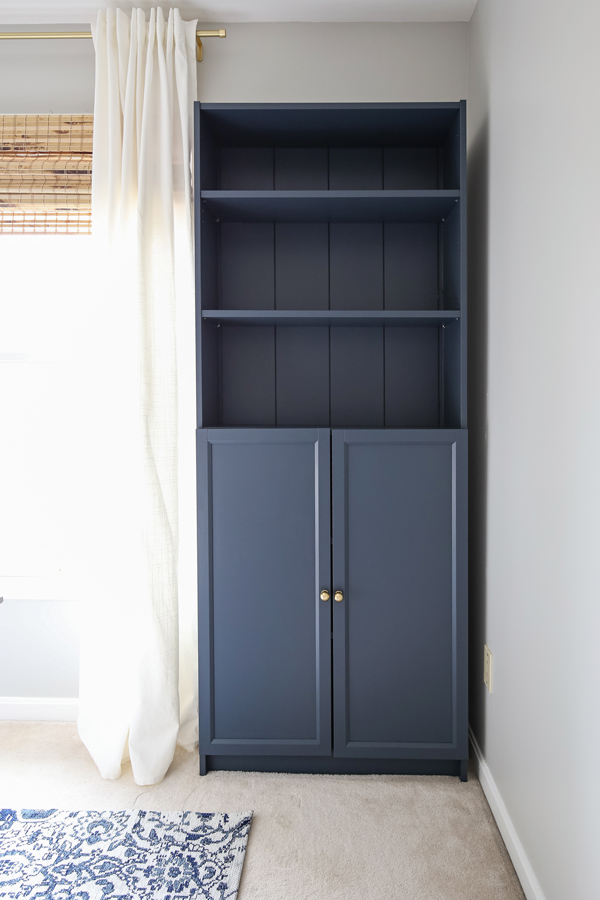 I think it would have looked great without the doors too which would have really showed off the shiplap!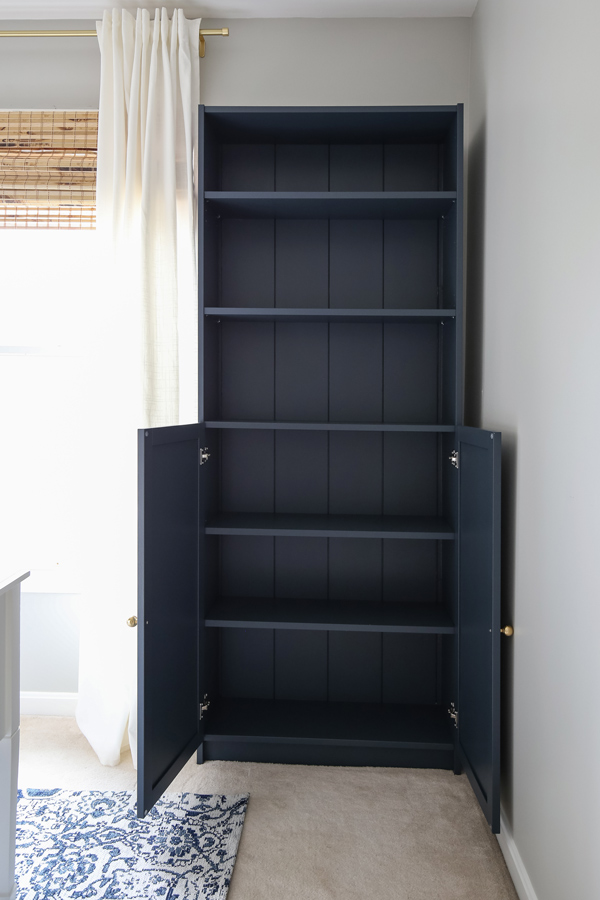 The final office reveal is coming up next and I can't wait to share it with you all! Follow along on Instagram or Facebook for my latest projects, as well as Pinterest!