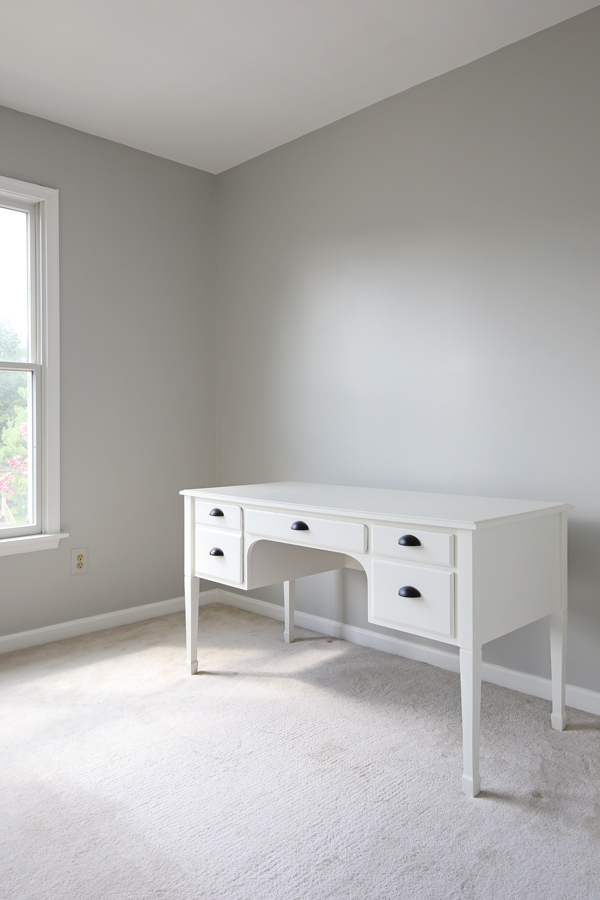 Well the past few weeks have been crazy around here! As I shared in my latest post, we have officially moved out of our house. We are currently staying at my mom's house for a few weeks, then Brandon's parents house, before moving back to Charleston mid-September.
While staying at my mom's house, I am giving her office a much needed makeover! Due to the fact that I now have less than 2 weeks to finish it, I am hustling to get it all finished, and I'm running behind on my weekly blog posts! So, today I just wanted to share what my plans are for the space as well as what progress I've made so far.
Since there isn't much time for this makeover, it's going to be all cosmetic updates, and I'm staying clear of any DIY furniture builds or big projects. I will say that this is my first makeover that I haven't had to pay for, so that makes it even more fun! Although we are still working on a budget!
Here's a look at the room after we decluttered all the papers that were taking over the space. Notice the "Angela" trash can from my childhood days?! I can't believe she still had that and was using it too haha!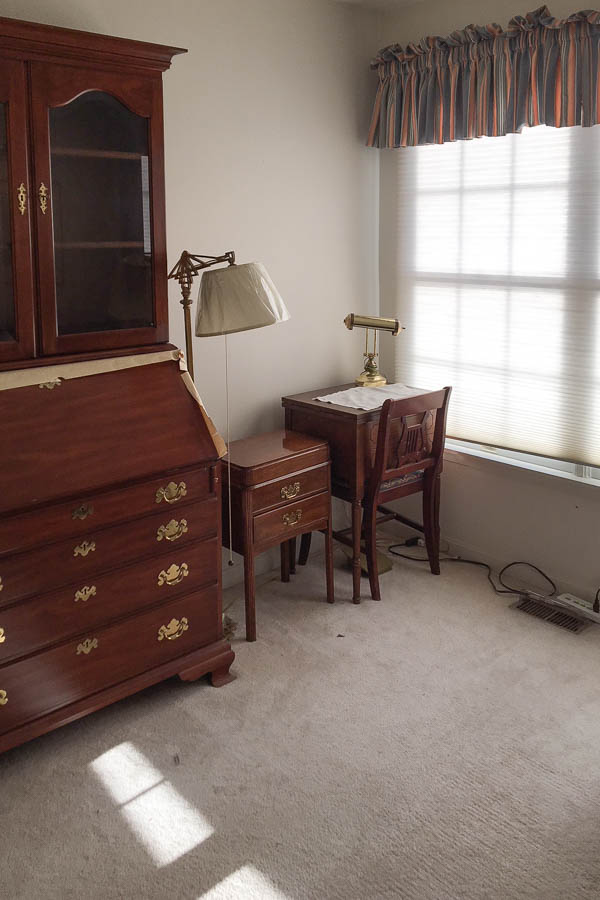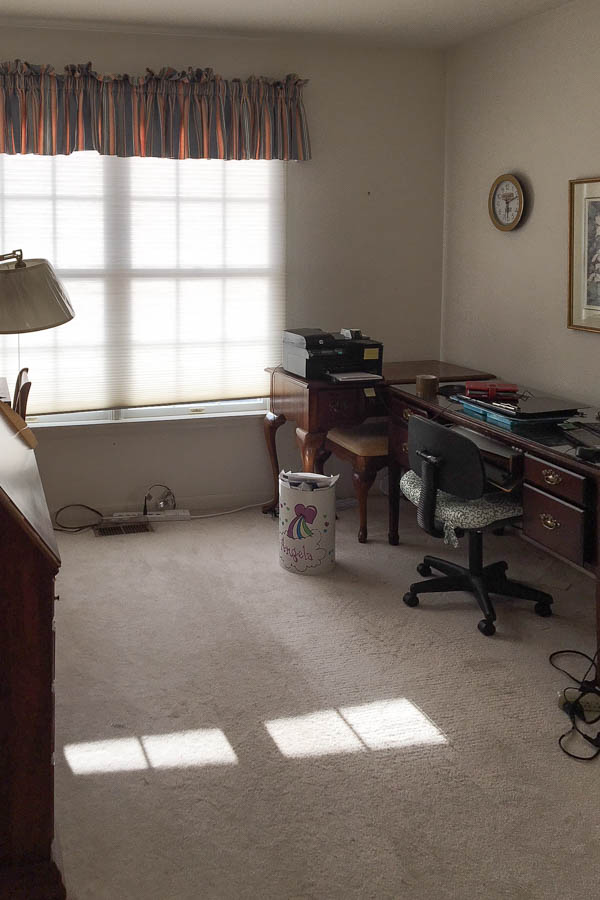 Note, this post contains some affiliate links. For more info see my disclosures here.
I think that my mom had way too much furniture crammed in this room. Our first step was to eliminate any unnecessary pieces and focus on a more efficient (but pretty) storage solution as well as a better layout.
My mom loves blues and I love greys which led me to pick out a color palette of blue grey colors. I went a little overboard with picking out paint swatches at the paint store! It's always good to have lots of options though right?! The lighting on this photo is not very good but there were so many pretty colors.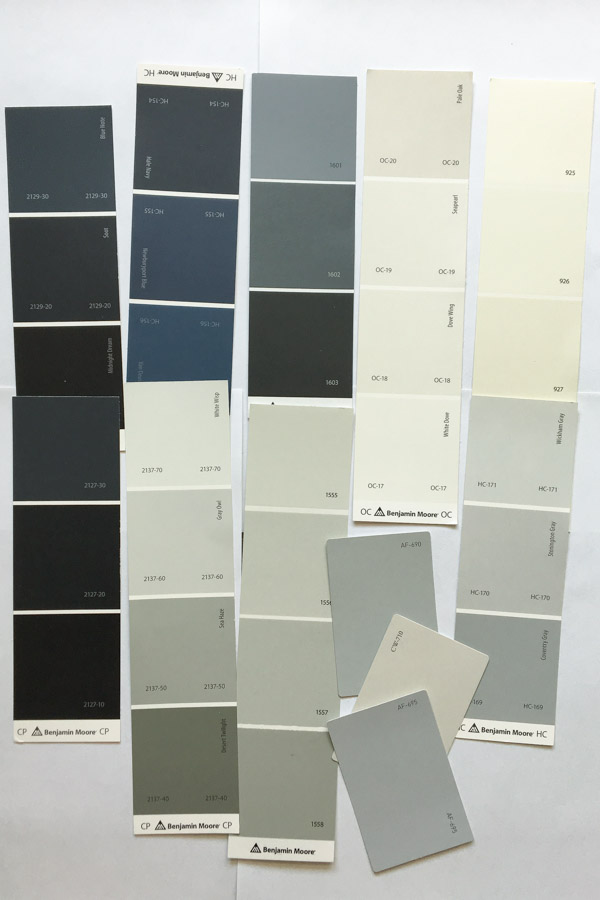 I really want to create a classic, beautiful office with some modern touches. Here is a mood board of the vibe I am going for at this point: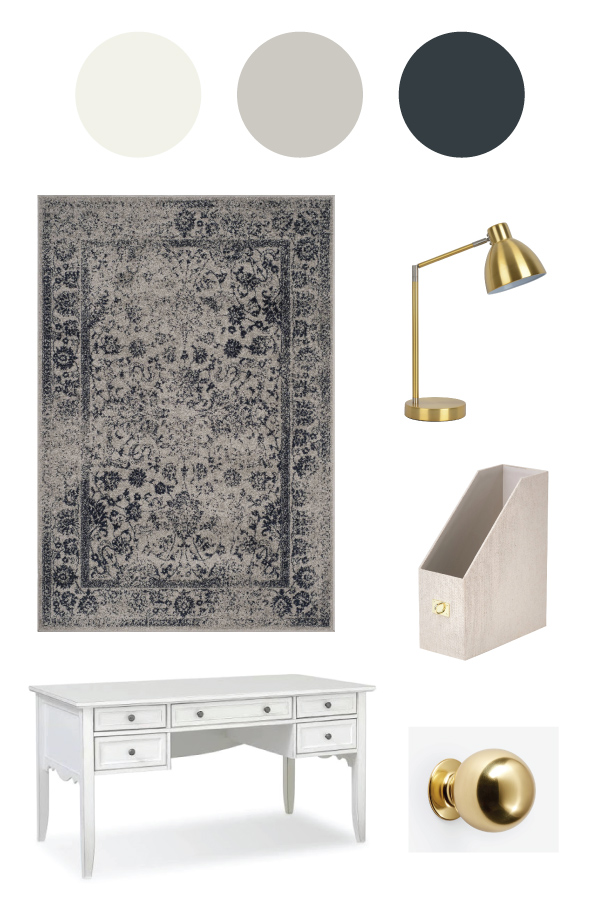 Paint Colors Above:
White Dove (Benjamin Moore), Dolphin Fin (Behr), Blue Note (Benjamin Moore)
Shopping Link Sources:

Office Progress
The first project I tackled was giving my mom's desk a makeover with some fresh paint! Here is a before photo: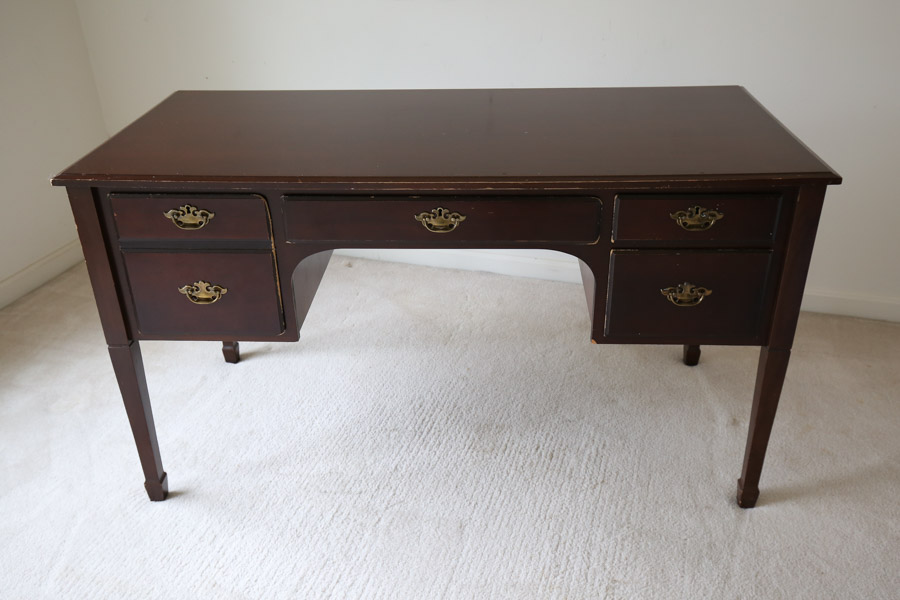 First, I wiped the desk down then primed it with an oil based primer. Next, I painted it with 2 coats of White Dove by Benjamin Moore in an eggshell finish. Finally, I replaced the hardware with these oil rubbed bronze cup pulls which worked well to hide the keyholes in the drawers.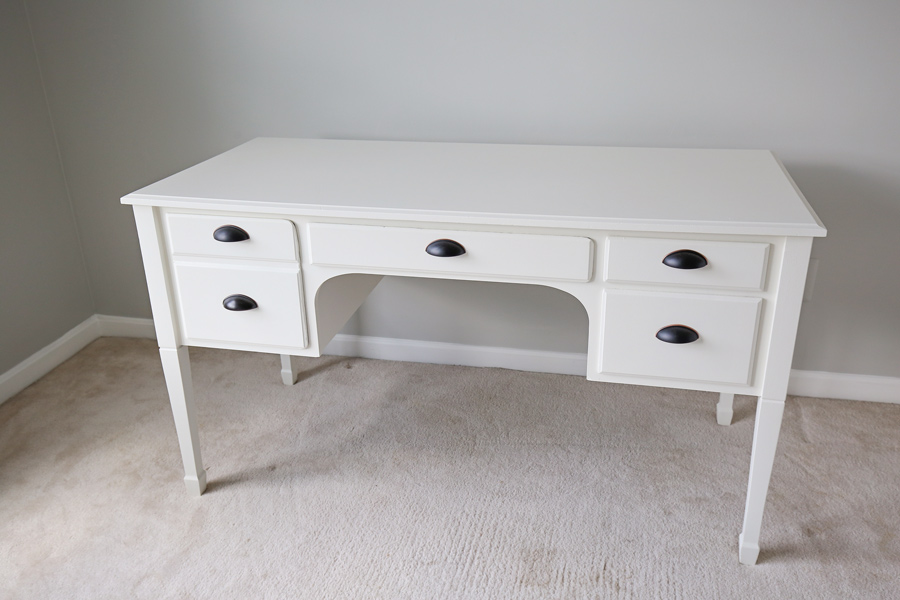 We spent the weekend painting the room in Dolphin Fin by Behr (eggshell finish) and Simply White by Benjamin Moore (semi-gloss) for the trim. This office desperately needed fresh paint and it has already made a huge difference!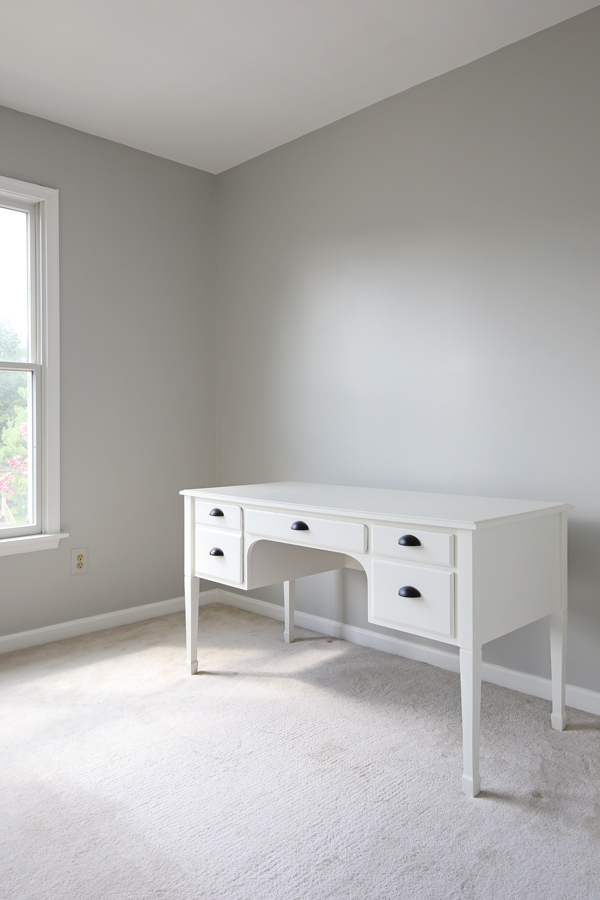 This week I need to finalize the decor for the room as well as one DIY project I am doing for the space. It's actually an IKEA hack with the Billy bookcase. I'm really excited about it and all the great storage it's going to add. I will share sneak peaks of it on Instagram stories as well as all the DIY details about it next week on the blog!!
Be sure to follow along on Instagram, Facebook and Pinterest for my latest projects, fun updates, and sneak peeks!