One of my favorite ways to update a piece of furniture or cabinets in a room is by adding beautiful hardware, whether it be pulls or knobs. It can be a really cost effective way to update a piece and add style to a room, those small details really make an impact!
Note, this post contains affiliate links for convenience.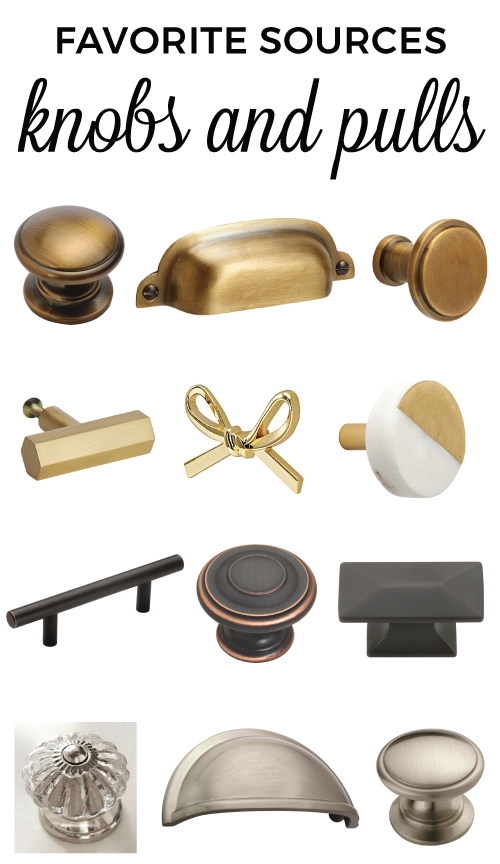 Click on images for shopping links:

Originally, I was thinking of sharing my favorite budget-friendly hardware sources, but to be honest, it's hard to define budget friendly hardware sometimes. If you only need one cabinet knob, then splurging on the perfect $20 knob is pretty affordable, but if you need 20 knobs, then you may want something less expensive! Further, it can take a lot of searching sometimes to find the perfect cabinet knob or pull in the right color or size you want, so I've decided to share 15 of my favorite places to shop for hardware!
1. HOME DEPOT AND LOWE'S
These are the most obvious stores to look for hardware, they have a wide selection with good prices and carry a lot of hardware in stock at local stores as well as online. I really like the Martha Stewart line at Home Depot!
I love Anthropologie's wide selection of unique and pretty hardware. They are a bit on the more expensive side, so they are perfect for more statement pieces
3. ETSY
Etsy is also another place to find really cool and unique hardware, as well as vintage hardware! I could search for hours on Etsy, so I try to have an idea of what I'm looking for before I begin my search!
4. POTTERY BARN

I love the classic hardware options that Pottery Barn offers. Although they don't have the largest selection, everything they do offer is on point!
5. WAYFAIR
Wayfair has a really large selection of knobs and lots of search options! Many are affordably priced and very stylish! It's my new go-to source for hardware!
6. CB2
I love the modern hardware options that CB2 offers. They have some stunning pieces, I especially love their marble hardware options!
I grouped these two giant online resources together because I like to search them for hardware that I want to hopefully get a deal on or need to buy in large quantities.
8. TARGET
I recently discovered Target carries cabinet hardware in stores! It's a small selection, but another great option.
RH is definitely pricey, but they carry beautiful, high quality hardware and definitely worth the splurge for a special project!
10. LAND OF NOD

Land of Nod has really cute hardware for nurseries and kids rooms, but you could totally use some of the hardware in other rooms too!
And here are some more places I like to look:

12. HOBBY LOBBY (huge, awesome selection in store and don't forget to use their weekly coupon!)
13. JO-ANN FABRICS (several in-store options and weekly coupon too!)
14. WORLD MARKET

15. PIER 1 IMPORTS


Well I hope this large list of hardware sources is helpful for you when need to find the right knobs or pulls for your furniture or cabinets! Are there any other places you like to find cabinet hardware that I didn't mention? Feel free to share in the comments!
Follow along on Instagram and Facebook for my latest projects and sneak peeks!
Save
Save
Save
Sharing is caring!