Over the past few years, I've started to become much more aware of all the toxic chemicals that exist in so many of the everyday products that I've been using in my everyday life for years. From beauty and skincare products to personal care products to household cleaning products. As I've educated myself more, I've started to transition our home to more chemical free living.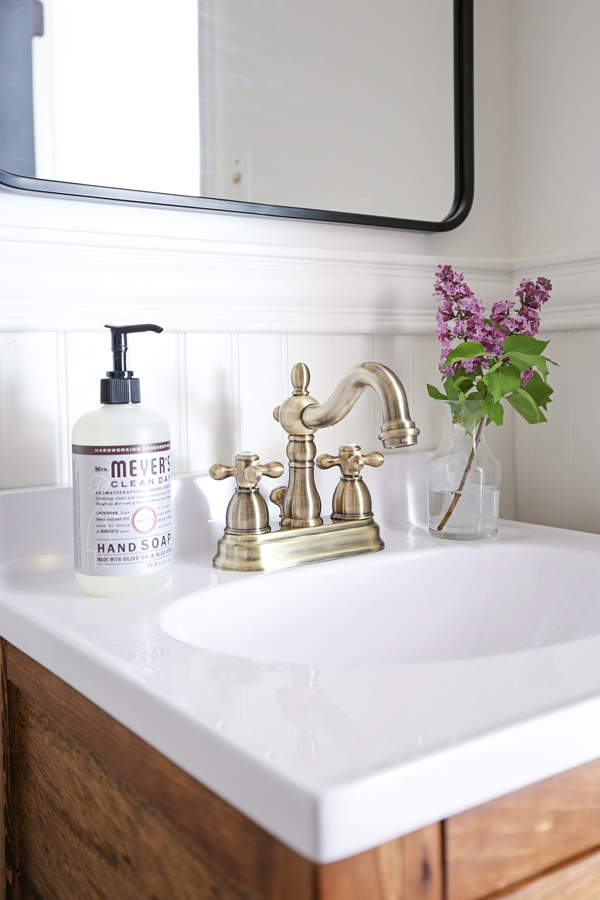 Note, this post contains some affiliate links. For more info see my disclosures here.
Not only have I focused on more natural personal and household products, but I've also tried to eat more natural, organic foods and less processed foods to live a more natural ingredient focused life. Although, today I'm just going to discuss the household products.
I know this natural living topic is a bit different compared to my normal decor and DIY posts. But, I'm really passionate about it and thought it might be helpful to share in case anyone else is interested in learning more for their own home! By using less toxic chemical products in our home and using more natural products, I feel much better about the products I'm using to keep our house clean.
I will say that we haven't gone through every single chemical product in our home and trashed it immediately. But, as we finish using each product, I make sure to replace it with a more natural product, hence it's more of a slow transition! And I'm excited to share some of our favorite, more natural products we've started to use.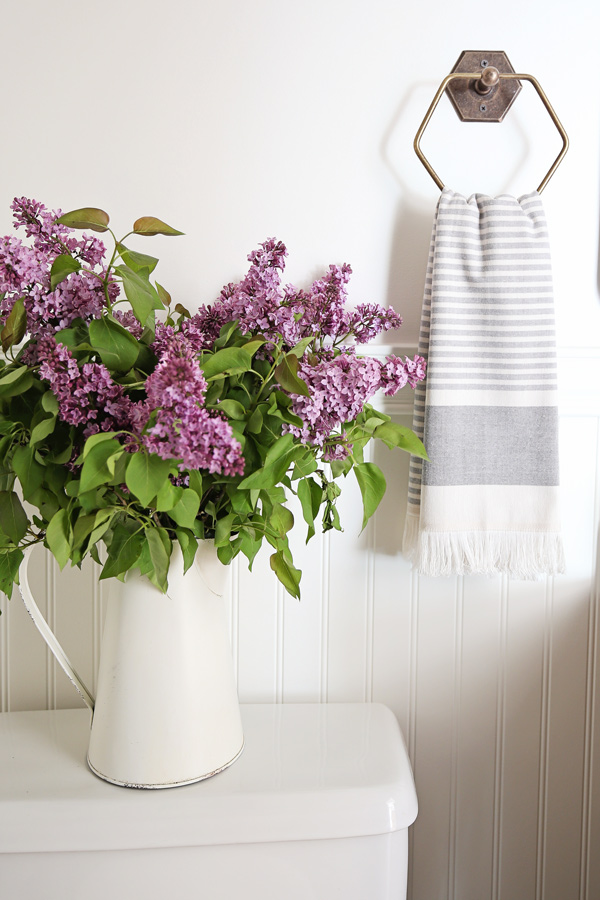 Before I share those products, I want to share one of the ways I've started to educate myself on this topic because I'm no expert! Have you heard of ewg.org or the Environmental Working Group? They are a non profit helping people to live healthier and in a healthier environment.
I first learned about EWG a few years ago from my sister in law and it has been a helpful resource ever since then. So, now whenever I want to buy a new household product, beauty product, or anything else related, I check out the ratings of the product on their site to make sure I'm staying clear of anything with a high hazard ingredient score.
You can research household products here and cosmetic products here. One tip though when searching, you need to have the spelling/punctuation exact when you do a search. For example, searching for "Mrs Meyers" shows zero results whereas "Mrs. Meyer's" provides the correct results.
Ok so here are my top favorite household products that are more naturally formulated that I've been using:
1. Seventh Generation Dish Detergent and Seventh Generation Dish Soap
Dishwasher detergent and soap is pretty boring to me to go shopping for and in the past if it was a good price and smelled nice, I'd buy it. I was shocked to learn how many hazardous ingredients are in some of the basic dishwasher detergents and soaps. I mean it's soap, it shouldn't be that bad haha! I love that the Seventh Generation dish detergent has an A score and is plant based with no bleach or dyes.
2. Mrs. Meyer's Multi-Surface Cleaner
Mrs. Meyer's products are one of the first more plant friendly products that I started using a few years ago. Their multi-surface cleaner smells so nice (especially the lavender scent) compared to the standard surface cleaners I use to use which always smelled so chemical-y to me. I use this for everything from cleaning the bathroom to our kitchen surfaces.
3. Everyone Soap and Mrs. Meyer's Hand Soap
I love both of these brands of soaps! I've been using the Everyone bath soap for awhile and they also have hand soaps too. And I love how gentle the Mrs. Meyer's hand soap is on my sensitive skin on my hands, especially in the colder, dryer months.
4. Wool Dryer Balls
Wool dryer balls are relatively new to me, I've been wanting to try them out for awhile and finally just purchased this brand of Dryer balls. I've learned how harsh dryer sheets can be, so I'm hoping dryer balls will be a good solution. I haven't used these long enough to know yet, but I'm hopeful they will be a good alternative. They certainly smell nice with the lavender infused essential oils!
5. Seventh Generation Laundry Detergent
Whenever I work out or sweat, my skin becomes sensitive to my clothes that I'm wearing. With the Seventh Generation detergent, my skin condition has definitely improved! My previous fragrance free detergent I was using had an F score! No wonder it was irritating my skin despite the fact that it had no fragrances!
There are more products I could share, but these are my top favorites I wanted to share about. It's definitely a work in process. I still have a lot more work to do with transitioning my make up and skincare products to be more natural ingredient based which seems to be much more challenging for me!
I'm thinking about making some DIY cleaners or detergents or dryer balls, which I think would be fun to try! Have you tried making any DIY cleaners?!
Have you switched to more chemical free living too? I'd love to hear any of your favorite natural products as I'm always trying to learn about more! Feel free to share with me in the comments below or on Instagram or Facebook!