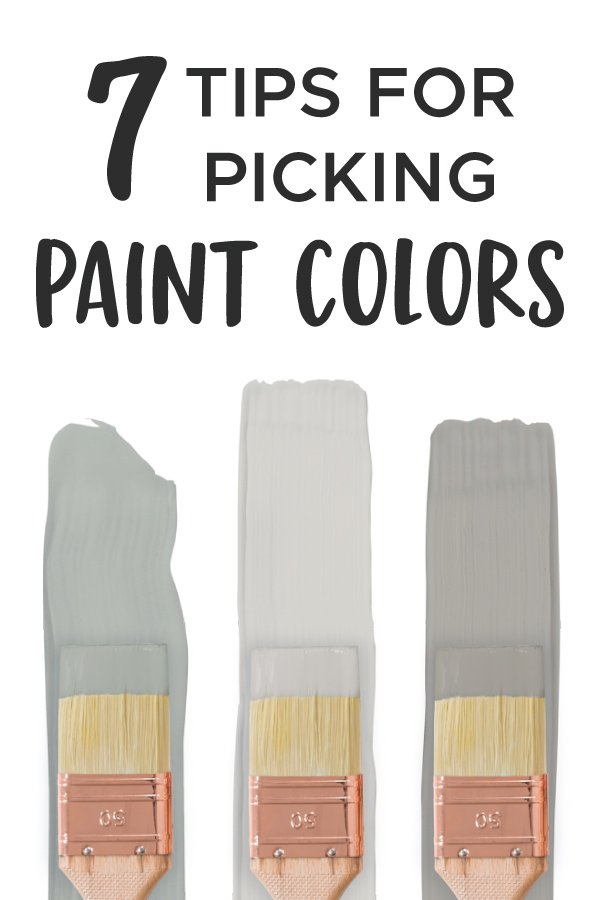 Picking paint colors for your home can be one of the most fun and most frustrating parts of home improvement! Can you relate?!
I'm definitely not a trained designer in this field. But, after going through the process a lot, of picking paint colors and then painting walls and furniture, I've learned a few things that have helped make it easier! And I'm sharing my 7 top tips for how to pick paint colors below!
This past weekend we painted our living room with a soft, light gray (Classic Gray by Benjamin Moore). So, I will be using this room as an example for explaining some of my tips and how I picked the color!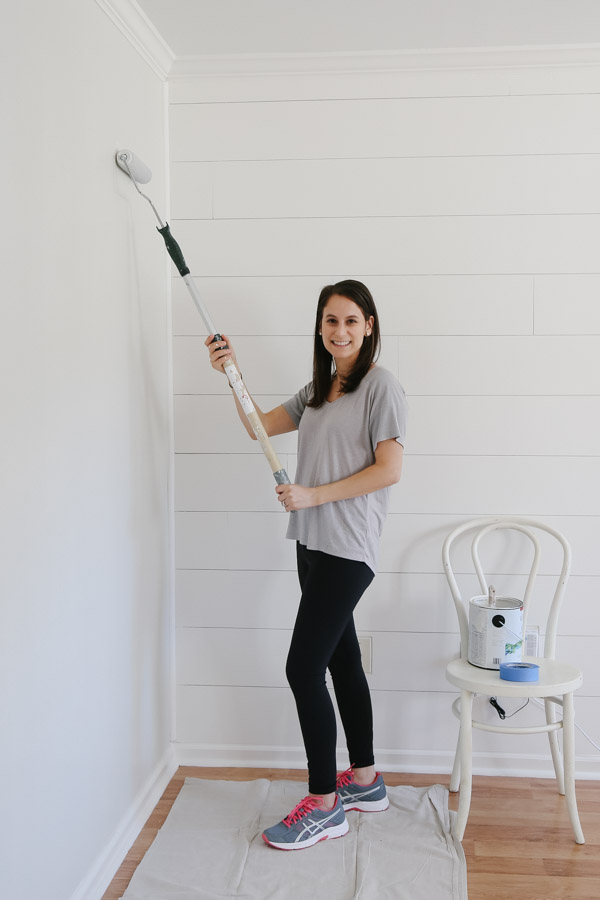 5 Tips on How to Pick Paint Colors
1. Get paint samples (the most important tip)!
One of the first steps I take when starting from scratch with a room is taking a look at Pinterest to see what colors I am drawn to for the room I want to paint. After I have a few colors in mind, I go to the paint store and get paper paint swatches of those colors AND I take a look at any other similar color paint swatches.
Next, I bring all the paint swatches home and look at them in my actual space that I'm painting. I try to narrow down the paint color options to around 5 to 7 colors.
Once I have the paint colors narrowed down, I then get actual paint samples from Lowe's or Home Depot, which have the least expensive samples (around $4 each). You can get almost any brand of paint color (including Benjamin Moore, Farrow & Ball, Sherwin Williams, etc) at Lowe's and Home Depot in their line of paint. They have a computer database of most of the paint color formulas of these other brands.
Ok, what I think is the most important step is to go ahead and paint these samples on the wall in the room that you are painting. You can also paint the samples on pieces of cardboard or poster board if you prefer.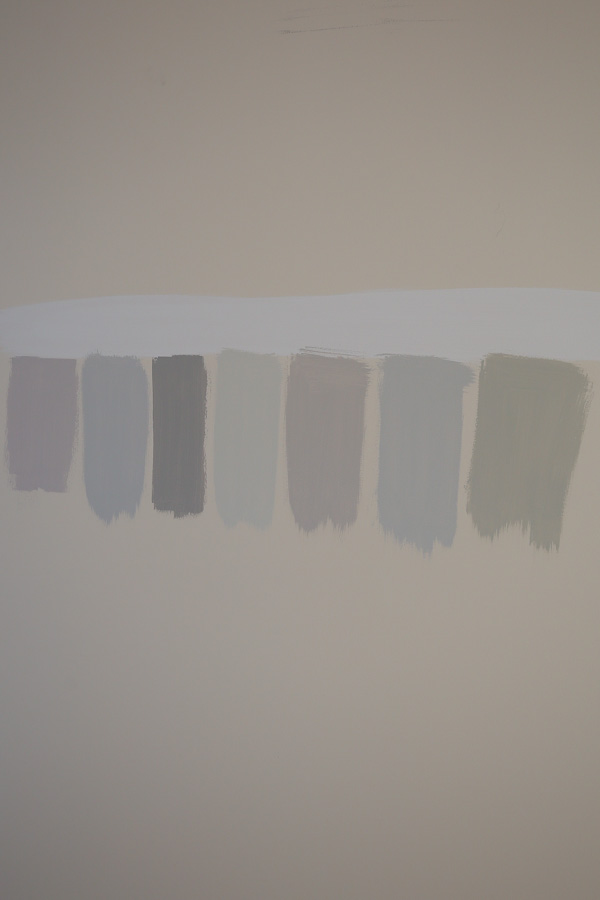 It's also good to add the paint sample colors to different walls in the room as the paint can look different depending on how the light hits it. And make sure you let the paint samples dry!! As paint will always dry a little bit darker than when it's wet.
Now look at the photo below, the paint colors are listed in the same order as the photo above. See how different they look on the wall vs. an online photo of the color swatch? That's why it is so important to spend the money and time to actually test out paint samples in your space! I've tried skipping this step a few times and I always end up wasting more time and money because I picked the wrong paint color based on a paper swatch or online photo only.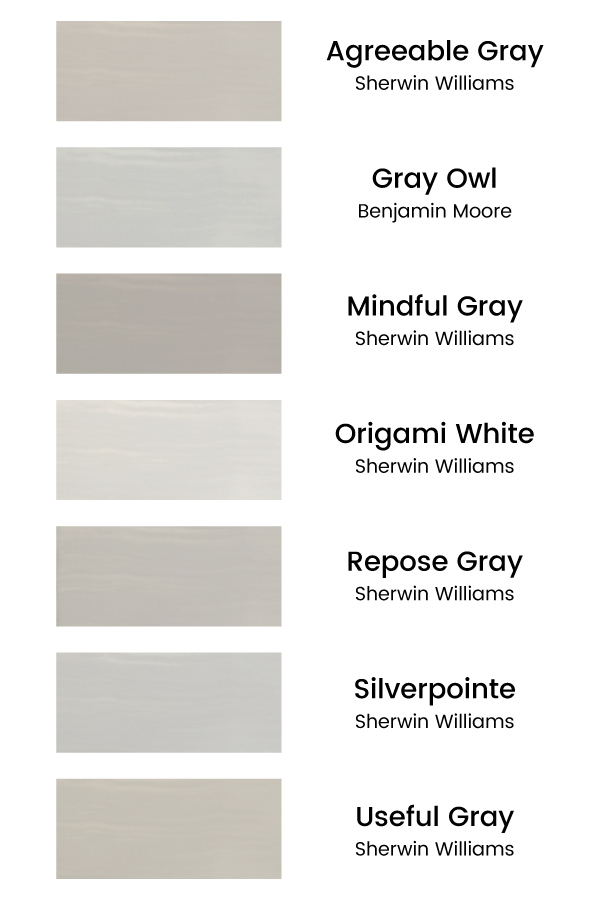 2. Compare paint samples against the trim color
When adding the paint samples to the wall, go ahead and add the trim paint next to the samples as well (my trim paint is white – Simply White by Benjamin Moore). Ultimately, this is the color you want to compare your samples to as the current wall color can really throw off the hue of the paint samples. I think it's one of the most challenging parts of picking paint colors since the current wall color is everywhere and it's difficult to ignore!!
Look at the paint samples at different times of day and see which paint color you are liking best at all times of the day.
3. Consider painting 2 colors on the walls
Alright, not to make this process even more confusing, but if you really like two colors, say one dark color and one light color, consider doing both of them! It can look really awesome to do one paint color as an accent wall or feature wall.
In our current living room and our previous living room I added a white painted shiplap accent wall and the rest of the walls we painted gray.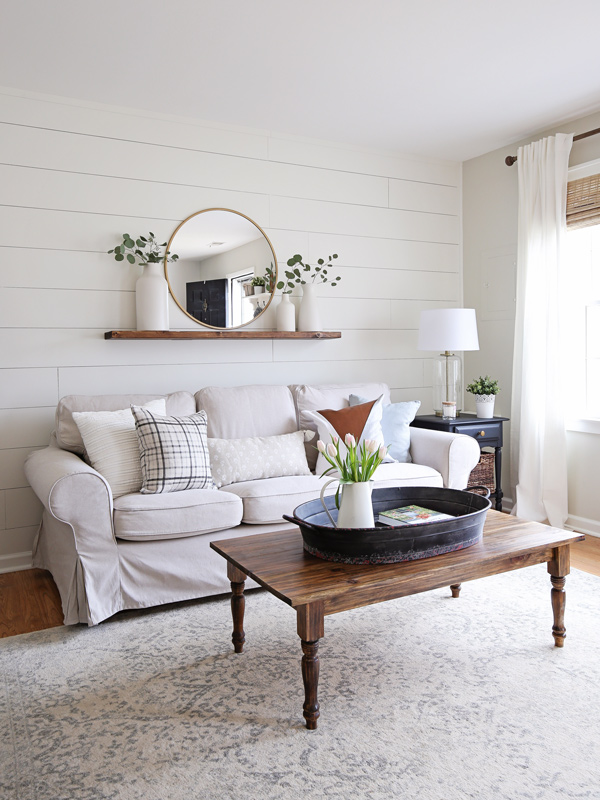 You don't have to do shiplap or anything fancy though, just using a different color paint on one wall looks great! It's a great place to try a dark, bold or bright color if you are too nervous to add it to the whole room!
4. Get more paint samples if needed
If you don't love any of the colors that you've picked out, that's ok! Figure out why you're not crazy about them and what you would like better.
For example, in my 7 paint samples, I wanted a grey color that was light like the 4th color in from the left below (Origami White by Sherwin Williams). However, I wanted it to be a little more grey and less of a hint of green.
So, I went back to my paint swatches and found a color that matched those qualities (Classic gray by Benjamin Moore), got a paint sample of it, and added it to the wall. It's the last color on the far right below.
5. Consider furniture, flooring, and decor when picking paint colors
To help figure out what paint color to select, I think it's important to consider the color of your furniture, decor, and flooring. You may even want to do this as one of the first steps.
For example, if your flooring has a lot of grey tones in it, it's going to be harder to pick the right shade of gray paint that compliments it. Or if you have a grey colored couch, well that's going to look a bit flat against a gray wall. So, you may want to go with white paint or a dark navy or green, etc.
To see what works best, compare the paint sample to your flooring and furniture fabrics. We are getting new floors, so that is a factor I've been using in my decision making.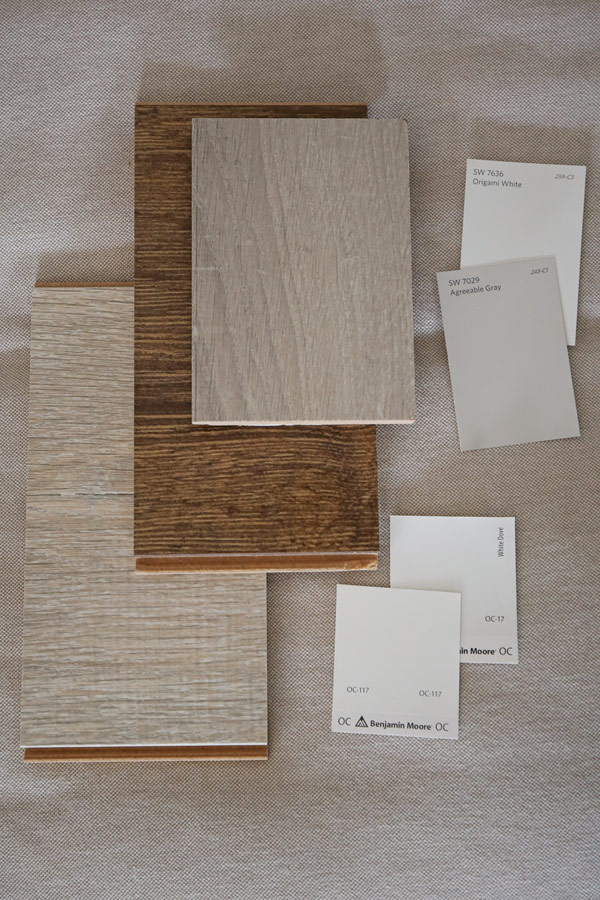 Also, think about how the paint color will make the room feel along with the decor you are going to add. For example, a white painted wall may feel simple and plain at first. However, if you add the right style furniture, decor, flooring etc, this can offset those initial feelings and really balance out the room and the white serves as a perfect backdrop for the look and feeling you may be wanting to achieve.
This step is definitely a more personal preference of your design aesthetic rather than an exact science! But, the key, no matter your decor style, is to make sure everything flows together and is complimentary of each other!
6. Narrow paint colors down and paint bigger samples on the wall
Once I narrowed down my paint colors to two colors, I painted larger samples on the wall. The 2 light gray colors to the right of the trim paint in the photo below shows this. Although, I recommend painting even larger samples than this!
I narrowed it down to Classic Gray by Benjamin Moore (top right) and Origami White by Sherwin Williams (bottom right).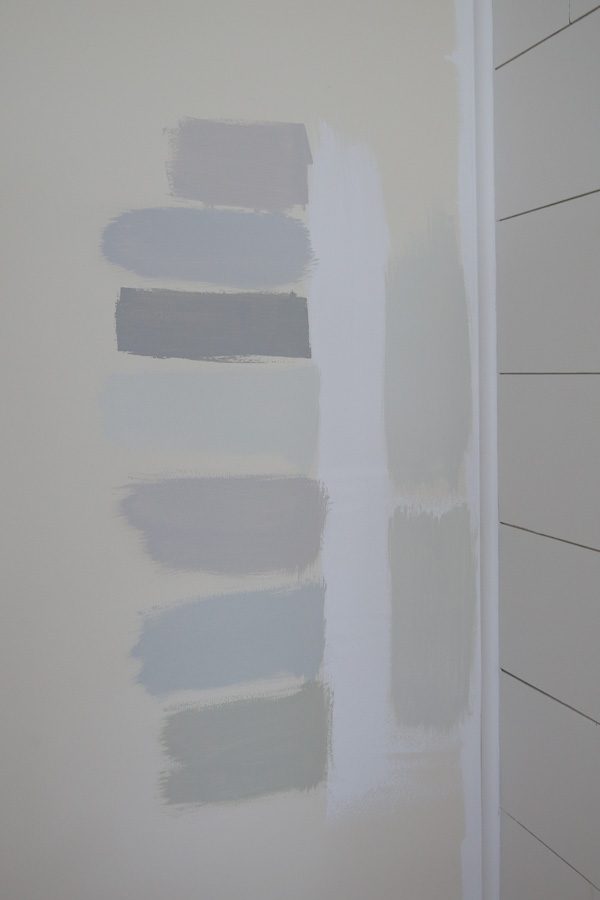 7. Re-paint the room if necessary
Once you decide your final paint color and actually paint your room, you will finally know for sure if you chose the right paint color! If you're unsure about the color after painting the room, give it a week and live with the color to see how you feel over time.
No matter how many tips you follow or samples you try, sometimes you may just not like the color once it's up on the wall! Trust me, this has happened to me a few times! It's just really hard to know for sure until the entire room has been painted!
If you don't love it, it's just paint and can be easily re-painted! Luckily it's pretty inexpensive to do unless you are paying someone for the actual painting part. But, it's worth it in my opinion to re-paint it to a color you love and will enjoy living with everyday.
Below is an example where this happened to me. For our master bathroom makeover in our old house, I went with a dark gray, which I loved on the wall sample, but once the whole tiny bathroom was painted with it, it just felt like the room was even smaller and the color looked almost black/dark navy.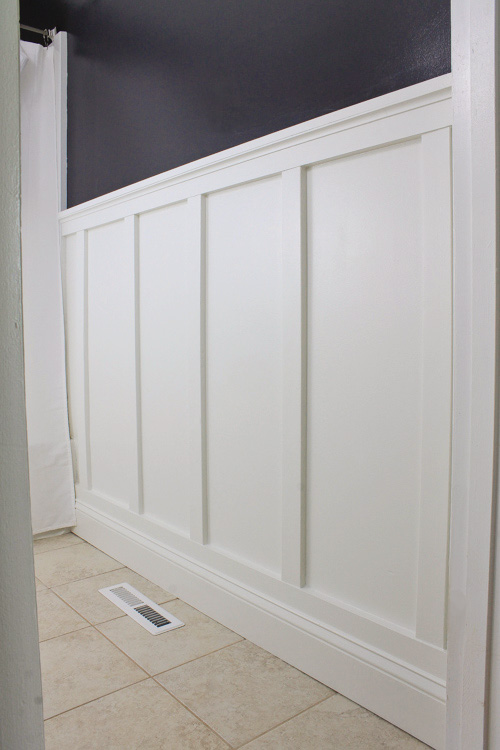 So, I switched gears, and tested out several light gray colors. We ended up painting over the dark gray with Dolphin Fin by Behr and it was PERFECT! Can you tell I really like light gray…ha!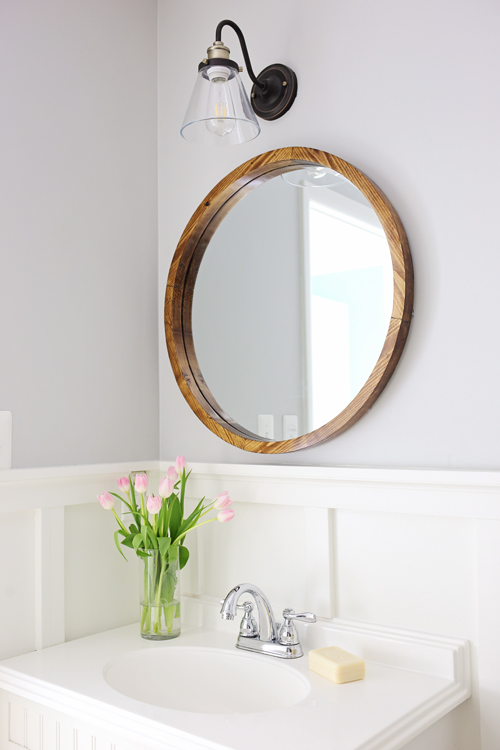 Back to our current living room, below is a photo of one of the walls painted with the Classic Gray. It was tough to get a photo showing the true color as it is in person.
I loved the paint color at first, I mean it was so much better than the old yellow beige color! But, to be honest after a few days of living with it, I'm not sure it is the final color I want, haha! Of course it works out this way in a post where I am sharing it as the example on how to pick paint colors! We will be leaving it this way for now though!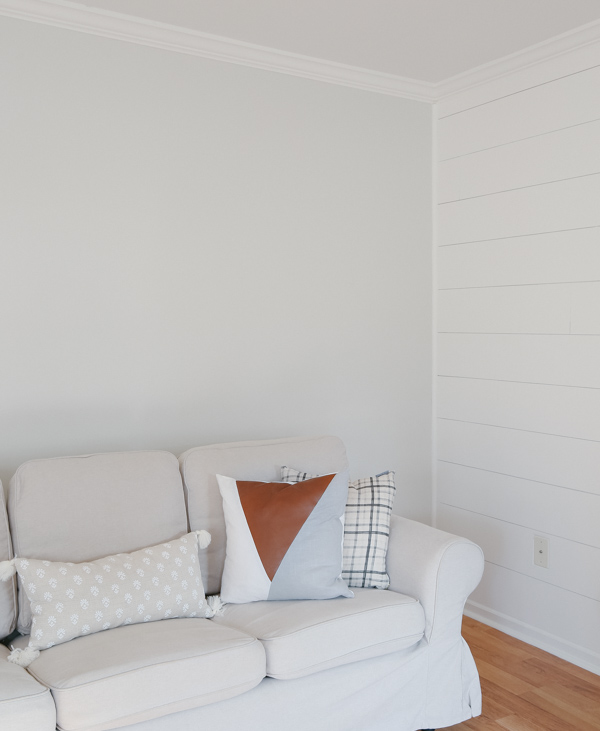 What I've learned about home renovating and decorating is that it just takes time to get a room (and the paint colors) just right, especially when you are doing it yourself. It's difficult to rush and it's a process that evolves over times, especially as trends and tastes change.
I hope these tips for picking paint colors are helpful! No matter what, go with what you love and feel best about in the end! I will be sharing more posts on painting soon, including favorite paint colors and how to actually paint a room!!
Follow along on Instagram and Facebook for my latest projects and sneak peeks!
Sharing is caring!