Learn how to make a DIY coat rack shelf with shaker pegs!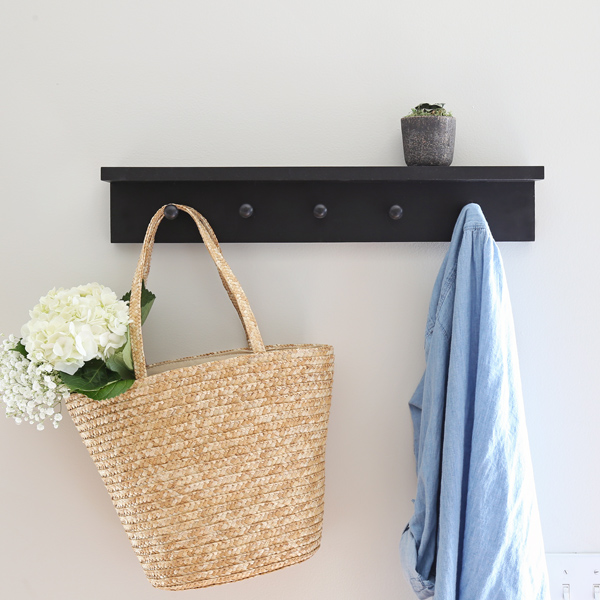 This DIY shaker peg rail or coat rack is a super easy project and you only need three tools, a miter saw, brad nailer, and a drill!
It can be used for hanging keys, jackets, purses, dog leashes or other items for entryway organization! You can also easily adjust the size if you want to make it larger.
We used a 1×4 board to build this coat rack and five ½" thick shaker pegs.
This is our Day 8 project for the 10 Days of DIY Challenge & Giveaway going on right now, don't forget to enter the giveaway here!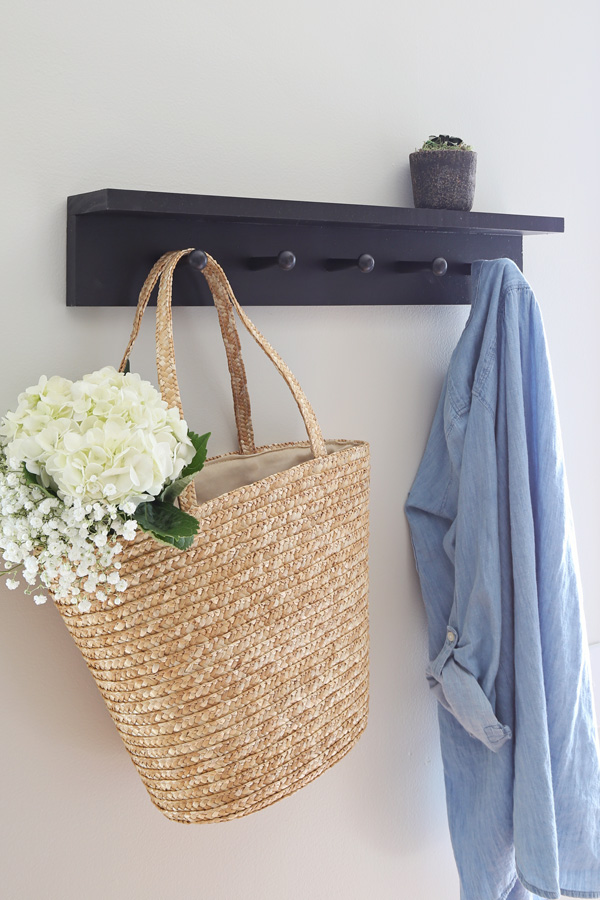 Note, this post contains some affiliate links. For more info see my disclosures here.
How to Build a DIY Coat Rack with Shaker Pegs:
Materials:
(1) 1×4 @ 6ft pine board
1 1/4″ Brad Nails
Primer
Paint
1/2″ Drill bit
Tools:
Video Tutorial: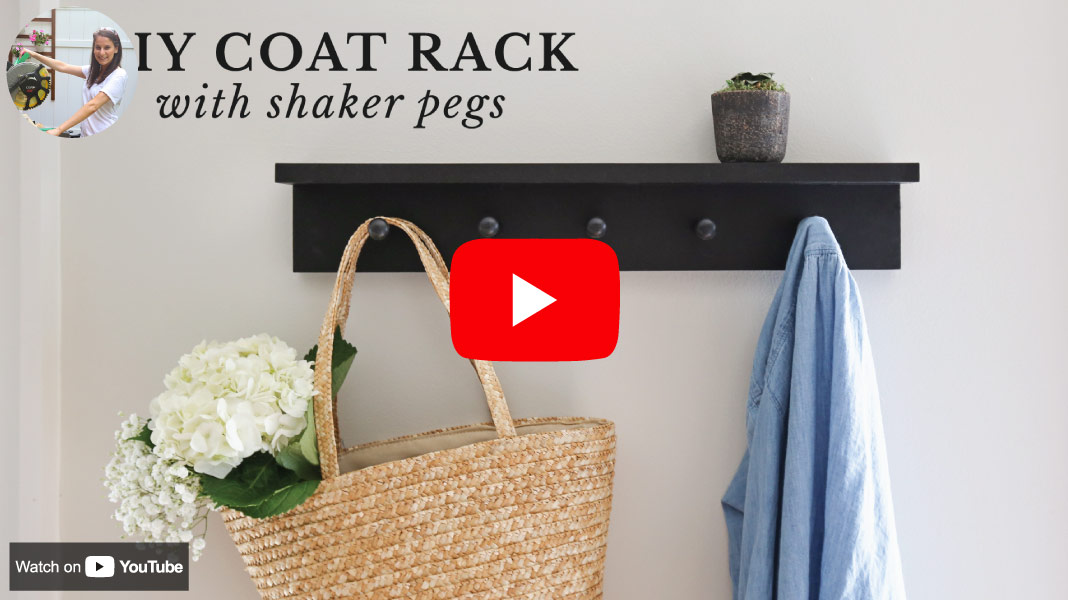 Subscribe to my YouTube Channel here!
1. Cut two boards from the 1×4
Use a miter saw and cut two 1x4s boards to 25″ long.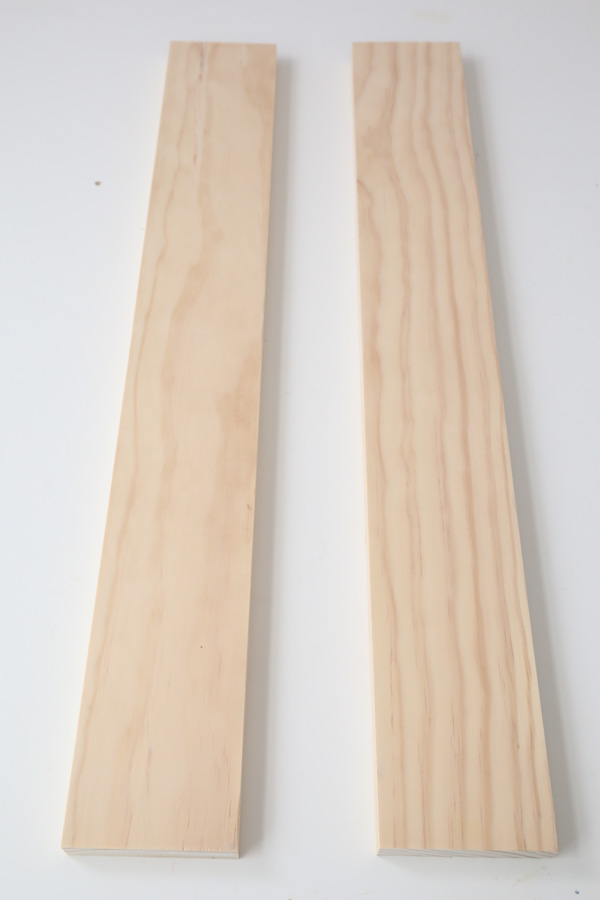 2. Mark and drill holes for the shaker pegs
First draw a line with a pencil along the center point of one of the 1x4s. Then, mark a hole for each of the 5 shaker pegs along that line. Start at one end and mark 3 3/4″ then 4 1/2″.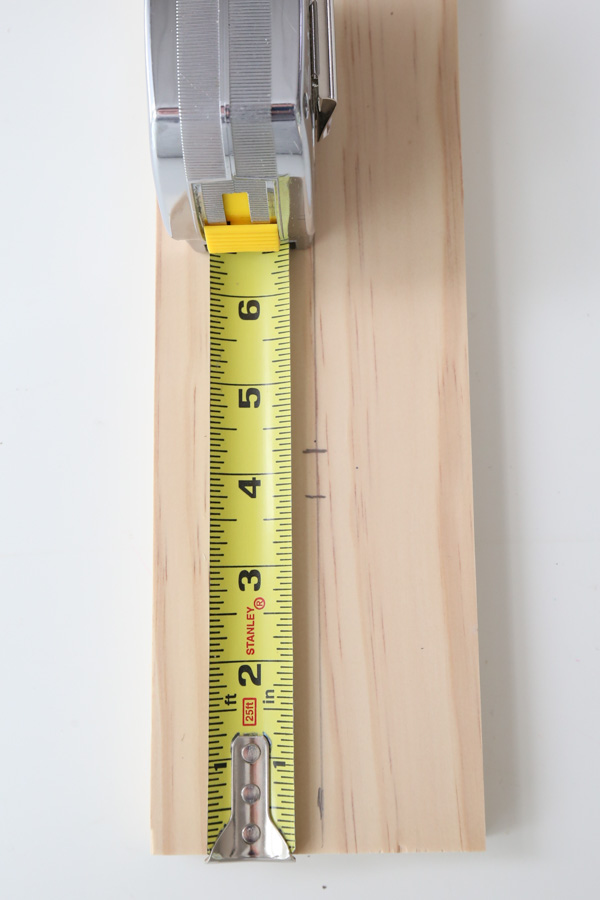 Continue this process until all 5 holes are marked.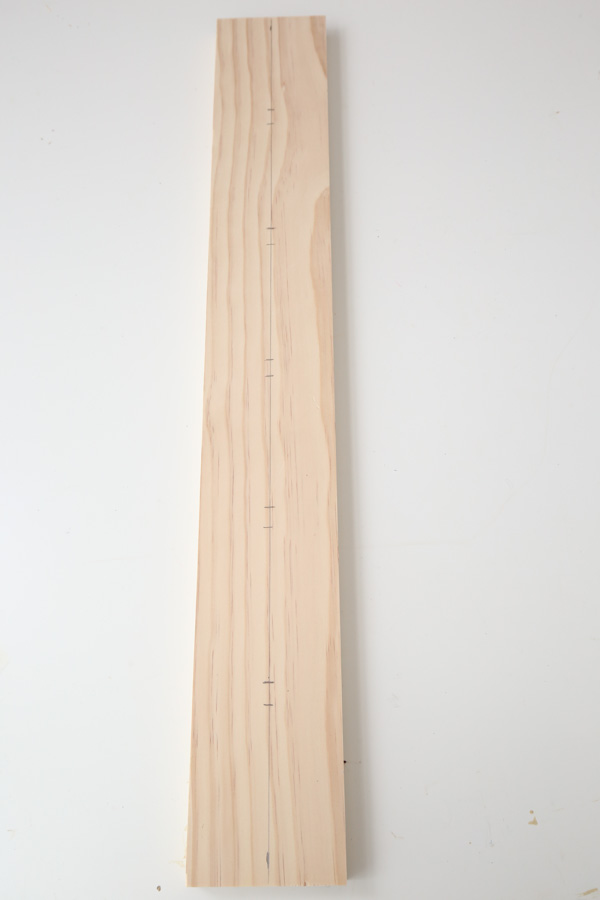 Next, use a 1/2″ drill bit and drill the 5 holes for the shaker pegs. Drill the holes almost all the way through the 1×4. It's ok if some holes go completely through.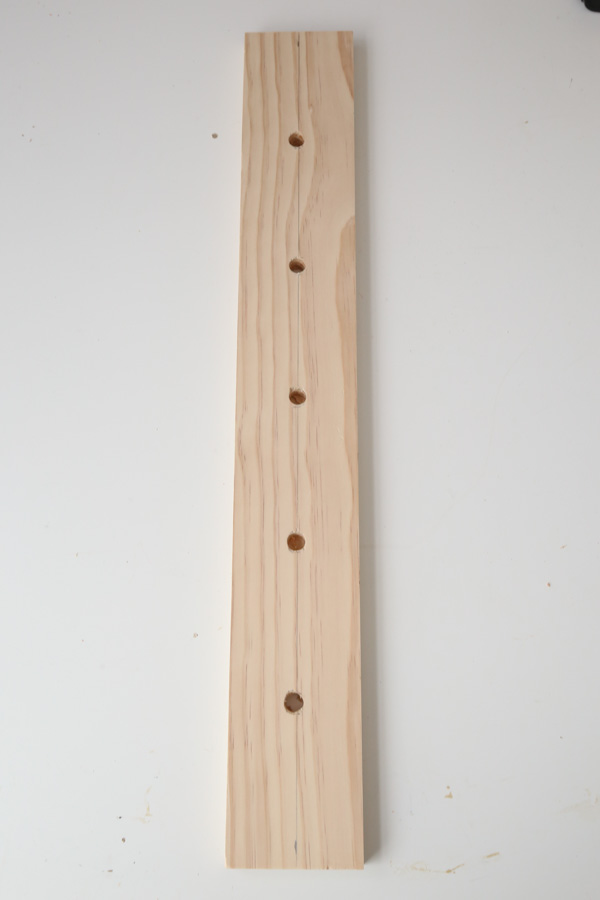 Test a peg in each hole and make sure it will fit. You don't want the pegs loose but you do need to be able to get them into the hole with a snug fit.
3. Attach shaker pegs to coat rack
Start with the first peg and apply a little bit of wood glue around the bottom of it. Then insert the peg into the hole and hammer into place. Wipe away any excess wood glue immediately with a damp paper towel.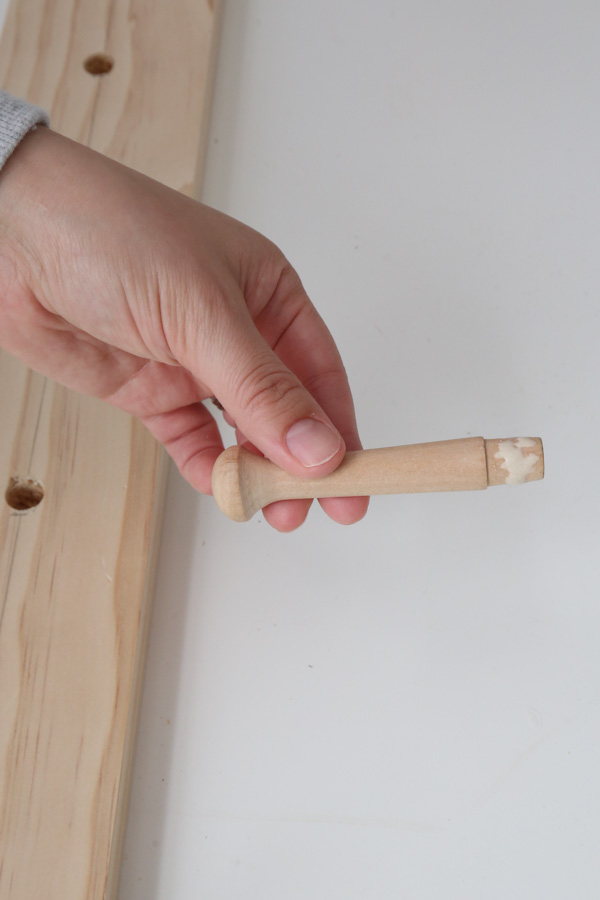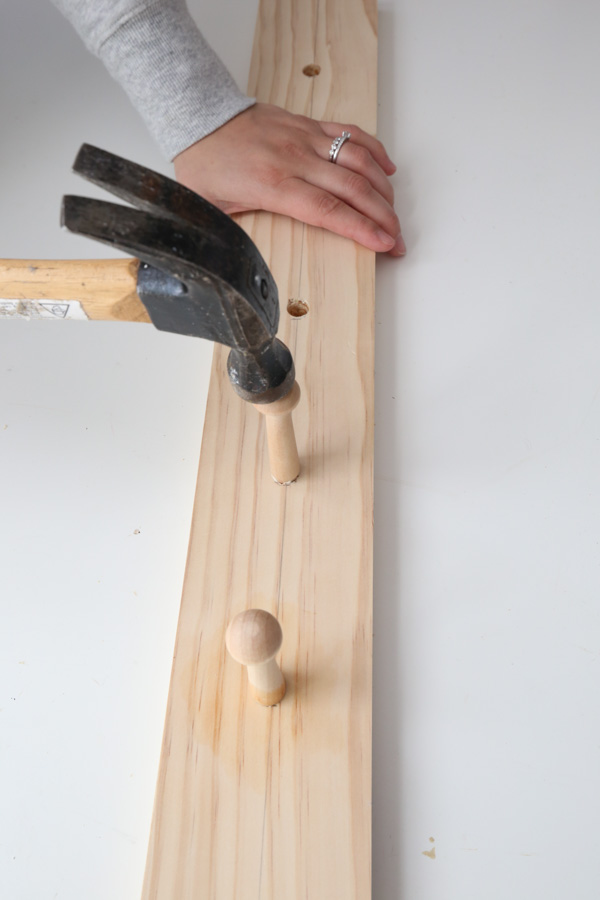 Repeat this process for the rest of the shaker pegs.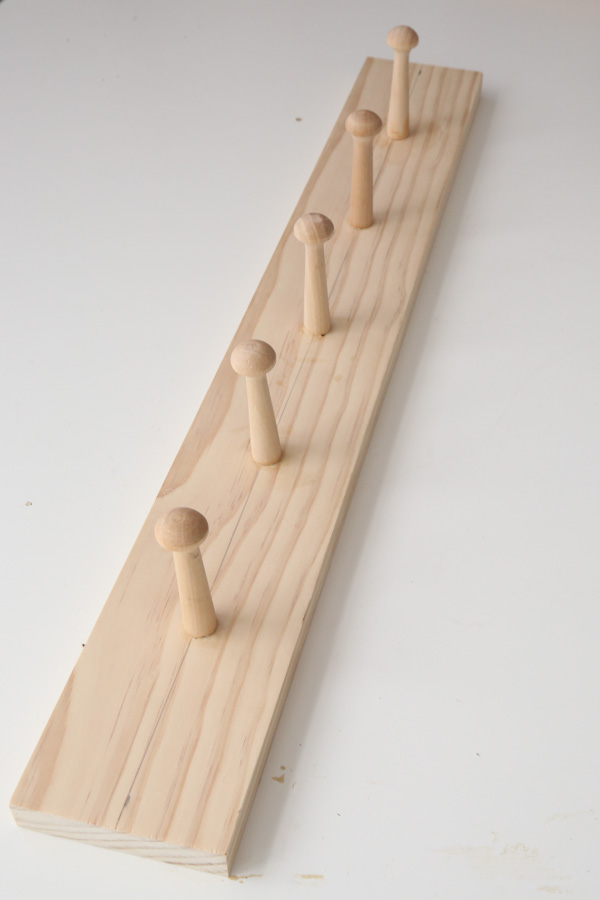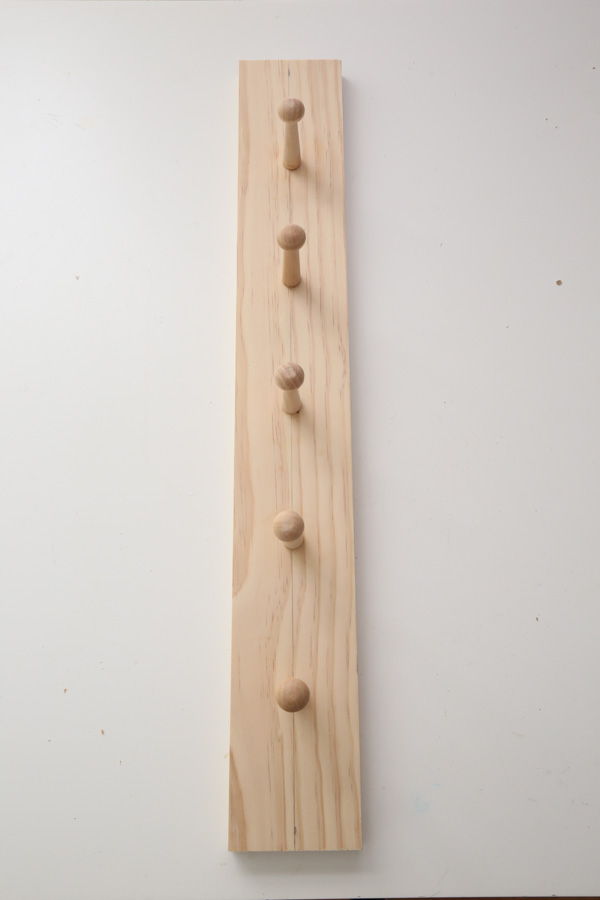 4. Attach shelf to coat rack
Apply wood glue along the top edge of the board with the pegs. Then, attach the other 1×4 perpendicular to it with 1 1/4″ brad nails to form the top shelf of the coat rack. Use clamps to help hold everything in place.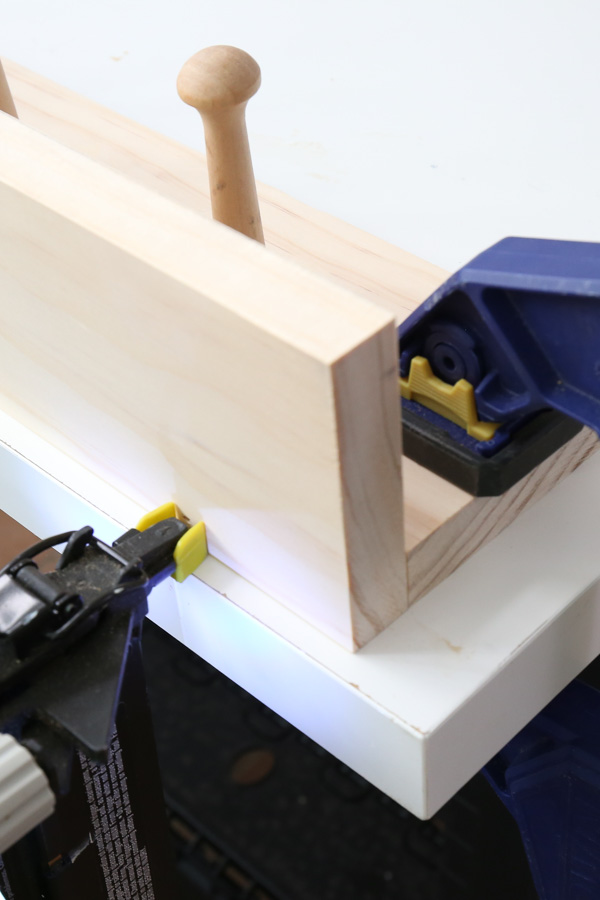 5. Prime and Paint the DIY coat rack with shaker pegs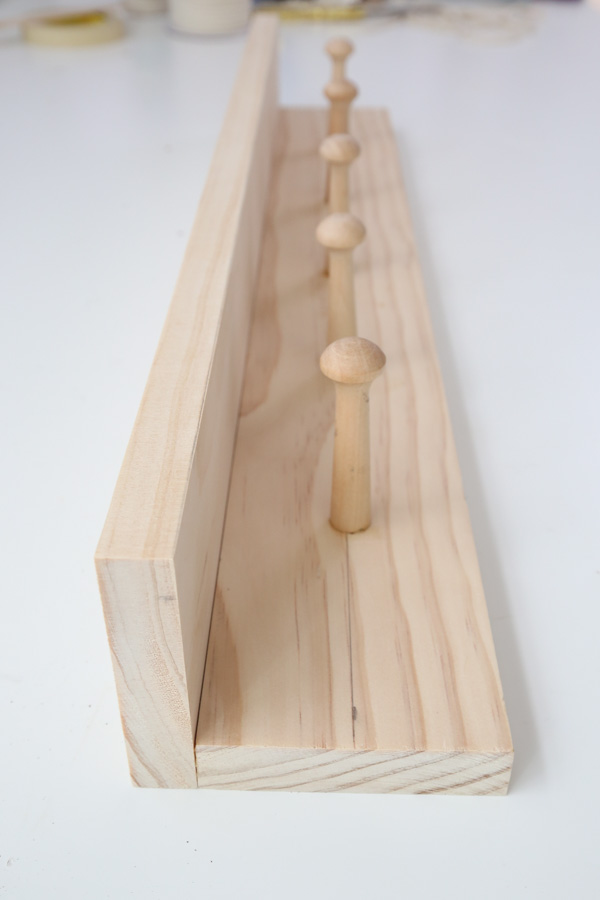 Now the DIY coat rack shelf is built and it's time to paint or stain it. We chose to paint ours Tricorn black by Sherwin Williams. We started with a coat of primer followed by two coats of paint.
Super easy!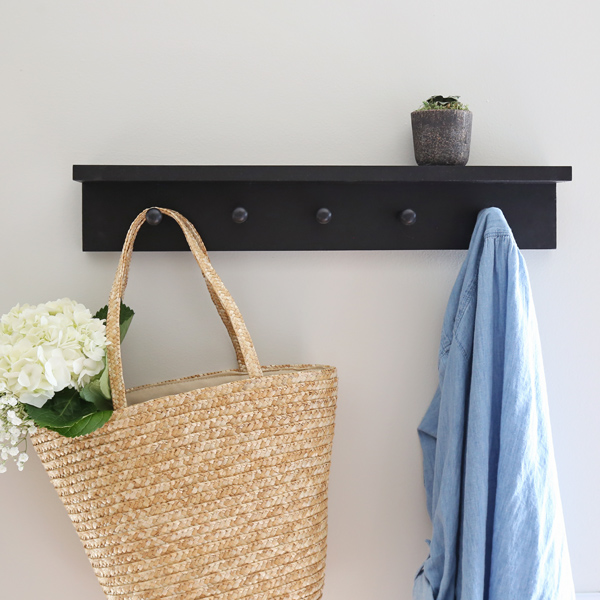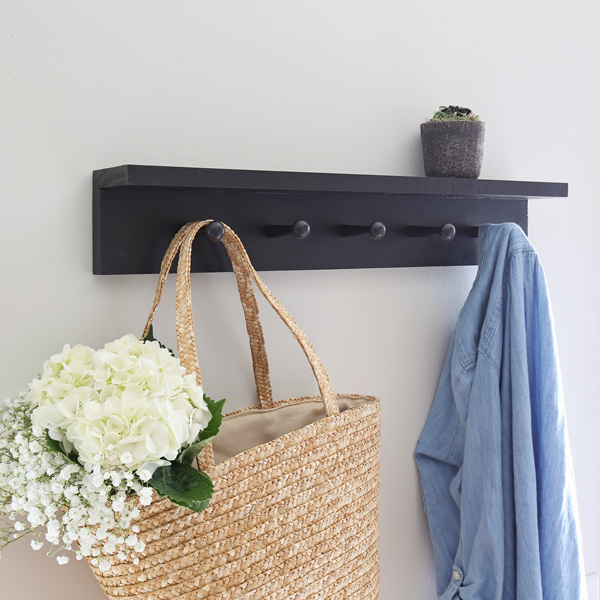 What do you think of our DIY coat rack? It's been great for helping to keep our entryway organized!
Make sure to join our Woodworking for the Home Facebook group and share this project there if you make it! Or tag me on social media @angelamariemade or #angelamariemade!
Don't forget to enter our holiday giveaway and check out all of the other fun projects in our 10 Days of DIY Challenge & Giveaway!
Follow along for my latest projects and sneak peaks on Instagram, YouTube, and Pinterest!
Want to save for later?! Pin it here: