My DIY makeup vanity is finally finished! And I'm excited to share the tutorial details on how to build this makeup vanity!
Originally, I wanted to do an X leg style vanity, but once I started building it, the building methods involved started to get a bit too complex and I like to keep things more simple.
So, I modified the plans to do an X style back instead. I do still love how it turned it out despite all the changes and challenges!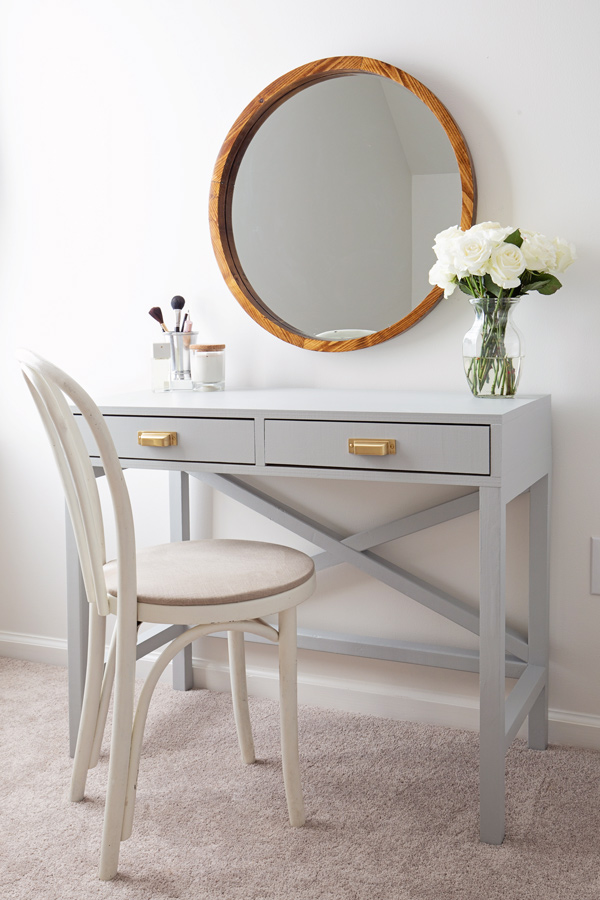 A little back story, ever since I started wearing makeup back in my teen years, I always had a makeup vanity. In fact, I kept the same one for at least 18 years… Here is a photo of it: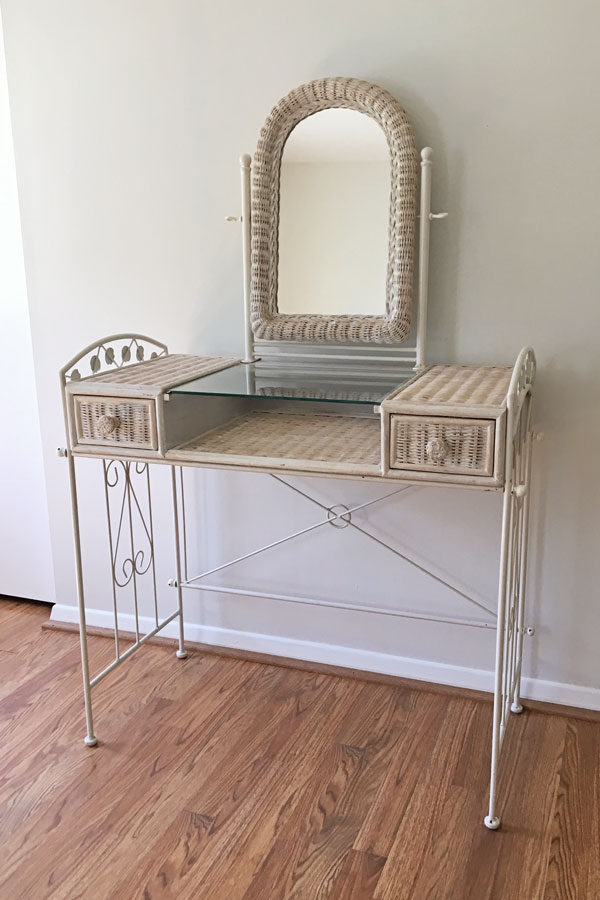 Note, this post contains some affiliate links. For more info see my disclosures here.
Not the most stylish makeup vanity, but it was very functional! When we were getting ready to move back to Charleston earlier this year I decided to sell it since I'd been wanting to build a makeup vanity that was more my style.
Cost of the DIY Makeup Vanity
My new DIY makeup vanity cost me only about $70 in building materials! I did splurge on some beautiful, brass drawer pulls which were totally worth it and really elevated the look of this makeup vanity! So, total cost with building materials ($70), paint ($15), and drawer pulls ($24), came to $109 for me!
The final measurements of the DIY makeup vanity are 30″ tall x 36″ wide x 17.5″ deep.
How to Build a DIY Makeup Vanity: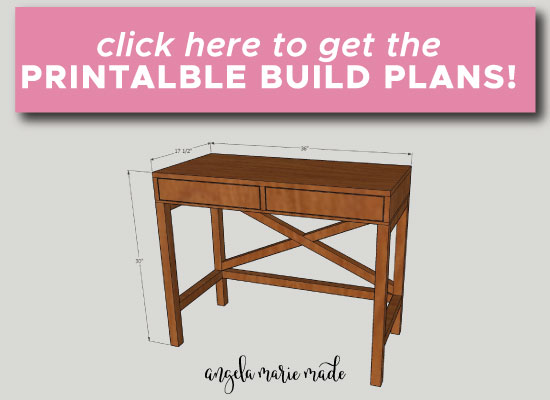 Materials:
(2) Drawer pulls (I used these drawer pulls– similar here)
(2) 16″ Drawer slide packs (I used these drawer slides)
(1) 2ft x 4ft plywood @ 1/4″ thick
(4) 2×2 @ 8ft**
(2) 1×3 @ 6ft
(2) 1×4 @ 6ft
3/4″ and 1 1/4″ and 2″ Wood screws
1 1/4″ and 2″ brad nails
(2) 1/8″ wood shims or wood paint stirring sticks
Light spackle (optional if painting)
Tools:
Drill
Clamps
Tape Measure
*3/4″ thick plywood may be used instead, but the panels do have a nicer edge finish and the one linked above only needs one cut! Make sure to pick a very straight panel board!
**To keep costs low, I used 2×2 furring strips for the base. Make sure to pick very straight boards and boards with minimum cracks. It makes a huge difference when trying to build and finish the makeup vanity.
1. Make lumber cuts for the makeup vanity
Click here for the printable build plans of the cut list and building steps!
Use a miter saw and make the following cuts from the 2×2s:
4 pieces @ 14 1/2″
4 pieces @ 25″
2 pieces @ 33″
Make the following cuts from the 1x4s:
1 piece @ 34 1/2″
2 pieces @ 17 1/2″
1 piece @ 16 3/4″
Use a circular saw or table saw and cut the 6ft panel board in half:
*Note that the panel board's actual width is 17.5″ wide, not 18″ wide (which is the nominal size). If using plywood, cut two boards to 17.5″ wide x 36″ long. ***Make sure to measure your panel board's actual width in case it is a slightly different measurement than 17.5″ wide. If that's the case, adjust your cuts for that actual measurement!

2. Build makeup vanity top
Add 2 pocket holes along one side of each of the 1x4s @ 17 ½″, the 16 ¾″ board, and the 34 ½″ board. Then, add pocket holes on each end of the 1×4 @ 34 ½″ and on one end of the 16 ¾″ board.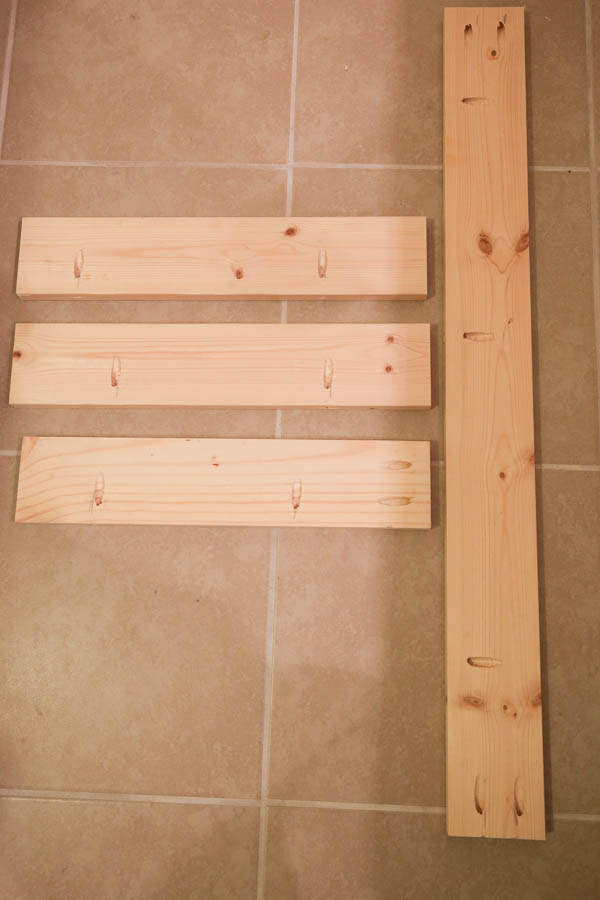 Attach the two 1x4s @ 17 1/2″ on top of one of the 17 1/2″x 36″panel boards along the sides using 1 1/4″ Kreg screws. Then, attach the 34 1/2″ 1×4 piece along the backside and to the side boards with Kreg screws (as shown in below photo).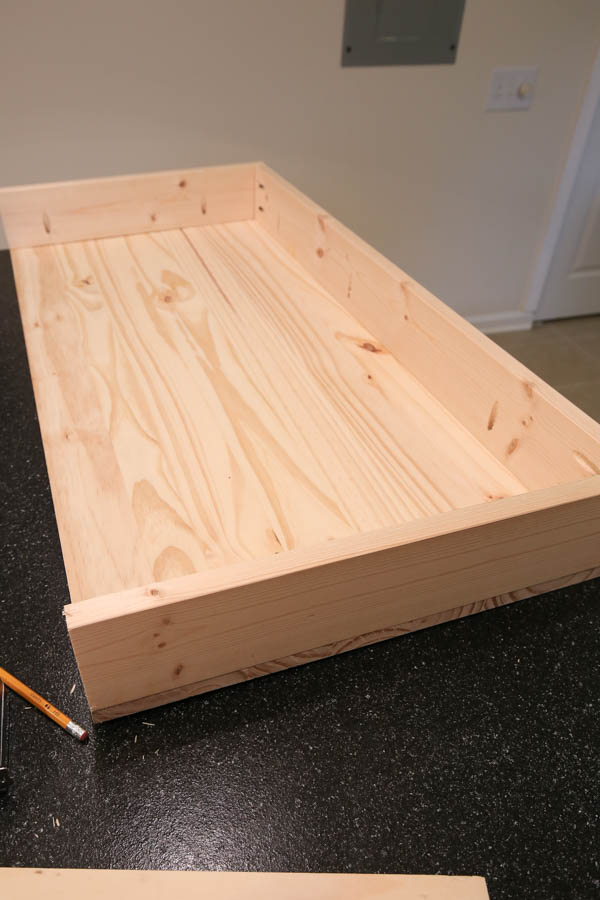 Next, add the 16 3/4″ 1×4 board in the middle of the panel board using Kreg screws. Note, it helps to use a clamp to hold it in place while attaching.

3. Attach drawer slide hardware for DIY makeup vanity
Flip the makeup vanity top over. It's time to assemble the drawers! This was actually my 2nd time making drawers. My first time was for my DIY office storage bookcase. Both times I've used these drawer slides which are easier to install compared to other drawer slides I've tried.
When I was first learning how to build drawers, I followed this drawer tutorial from Shanty 2 Chic. I used this method again for these drawers with a few modifications that I will share below. Definitely check out their tutorial so what I show below makes sense!
***Follow the drawer slide instructions included with your drawer slides for installation. Below are the steps I took to install my drawers. These steps may vary depending on the drawer slides used***
First, use a scrap piece of 1x wood that is flush with the outer edge and draw a line where the inside edge hits the side wood piece. This line is where you will line up the drawer slide to as shown in the below photo.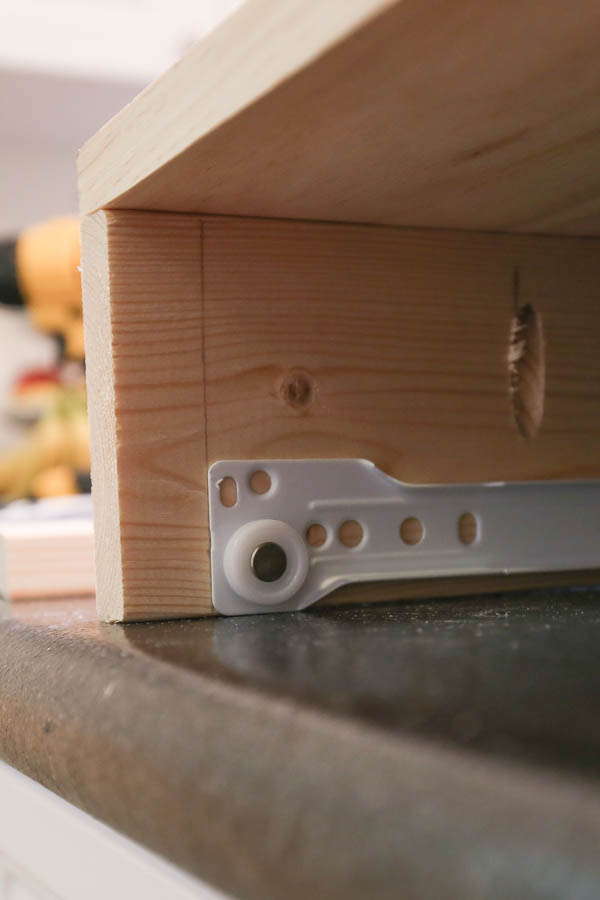 Clamp the first outer drawer slide in place on the left side. It helps to turn the vanity on its backside for this part. Then, drill 3 pilot holes at the front, middle, and back.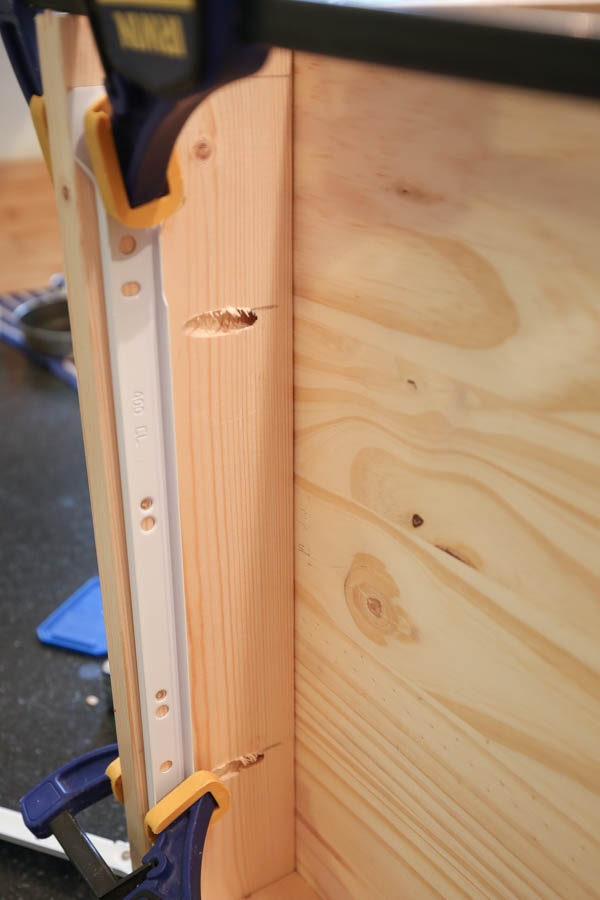 Attach drawer slides with a drill and the included screws.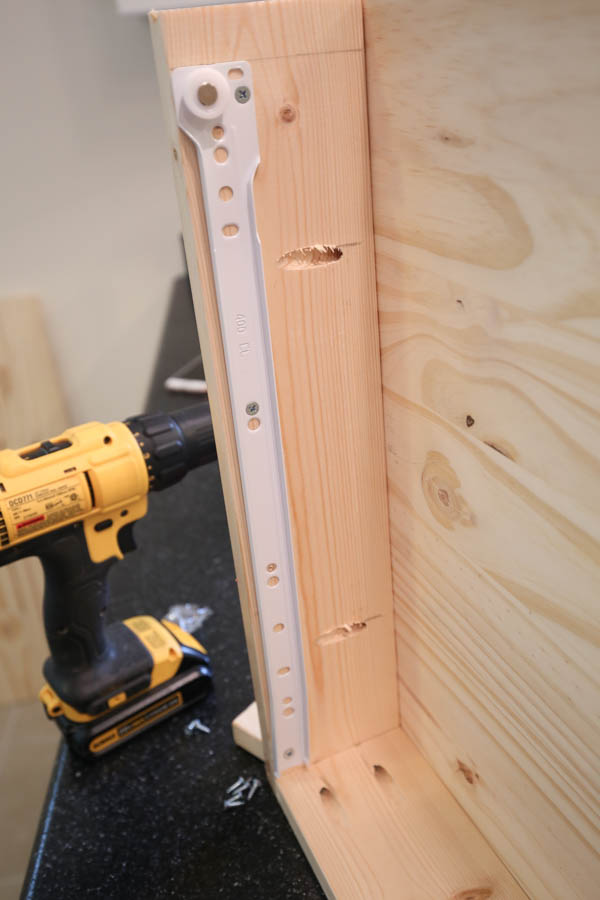 Repeat on the other sides so you have all 4 drawer slide outer pieces attached to the makeup vanity. Make sure the drawer slides are level when attaching!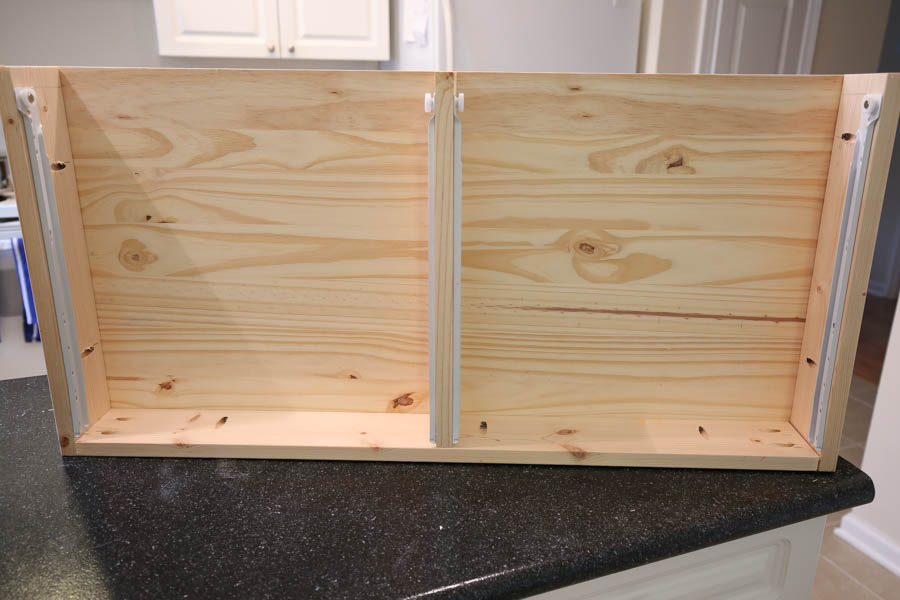 Now attach the second 17 1/2″ x 36″ wood panel piece on top of the makeup vanity top to complete the makeup vanity top part. Attach with 1 1/4″ wood screws along the sides and back edge. Make sure to drill pilot holes first!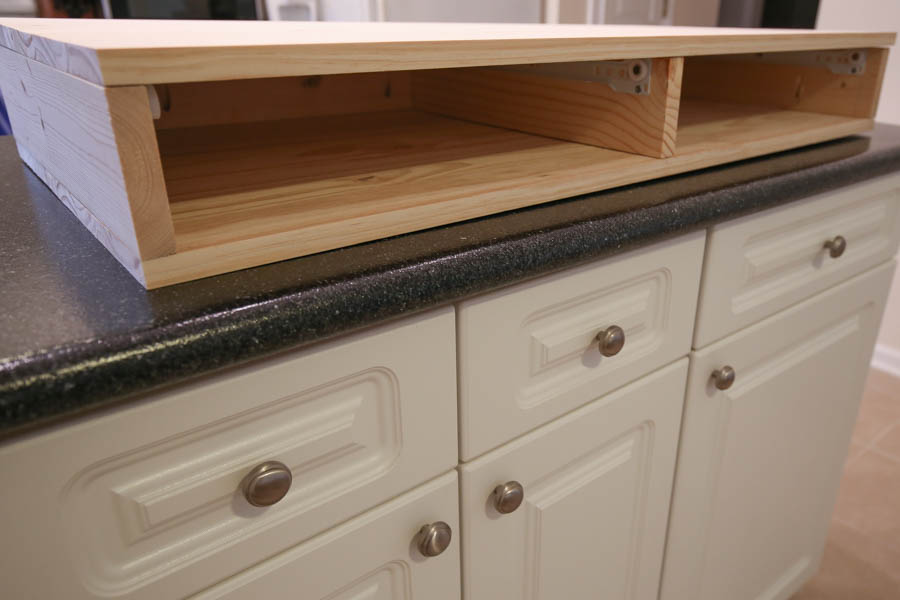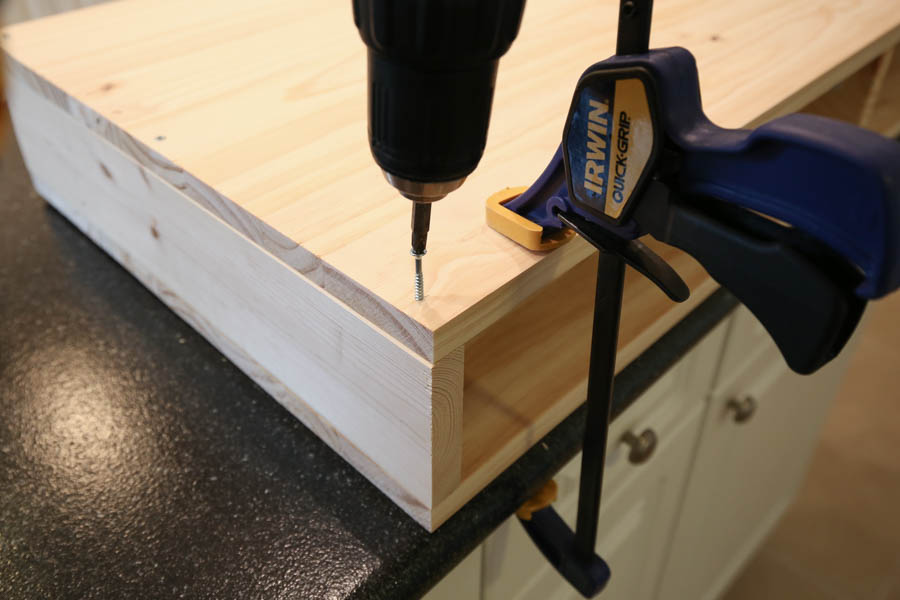 4. Build two drawer boxes and add drawer faces
Place the inner drawer box slides on the attached outer box slides. Measure the exact distance between the drawer slide pairs as it may vary from my dimensions. Mine was just about 16″ wide. Cut the 1/4″ thick plywood board to size for your drawer bottom. The depth should be 15 3/4″ deep. So, my final drawer box dimensions were 15 3/4″ deep x 16″ wide and that's what I cut my plywood to.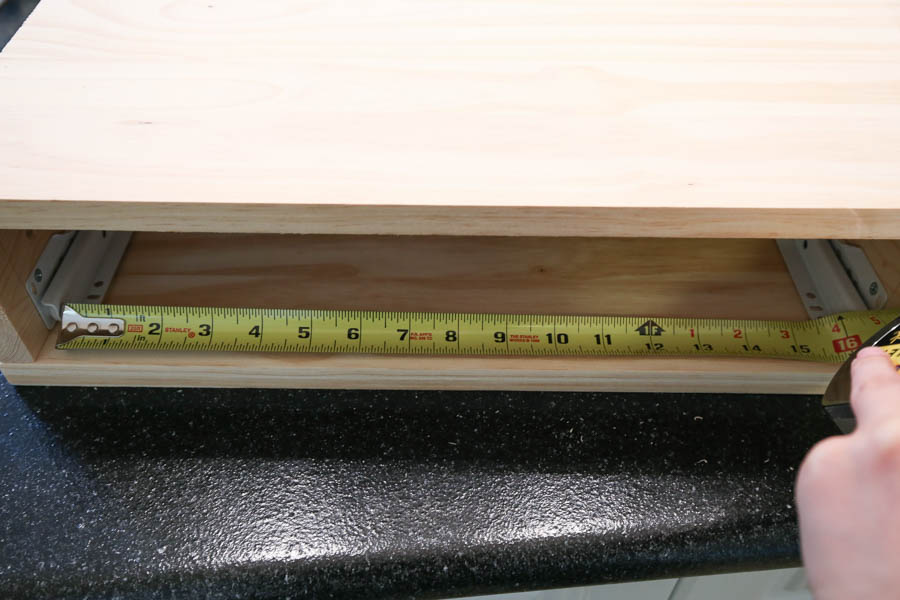 Make sure your plywood board fits in the drawer opening: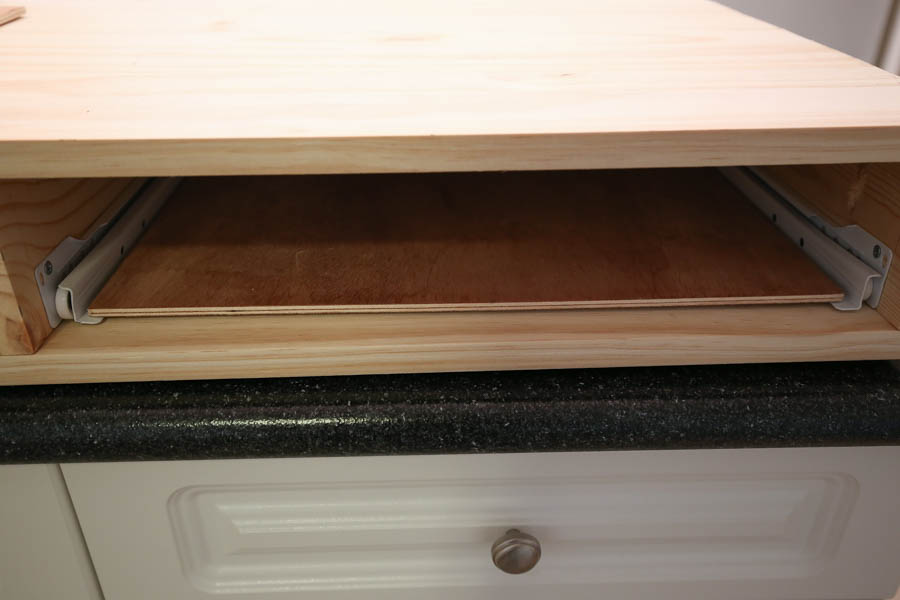 Repeat this process for the other drawer opening as the dimensions may vary slightly.
Then, build the drawer box frames to the exact same size as the plywood drawer bottoms using the 1x3s. Attach drawer box frames together with pocket holes and Kreg screws as shown in the below photo: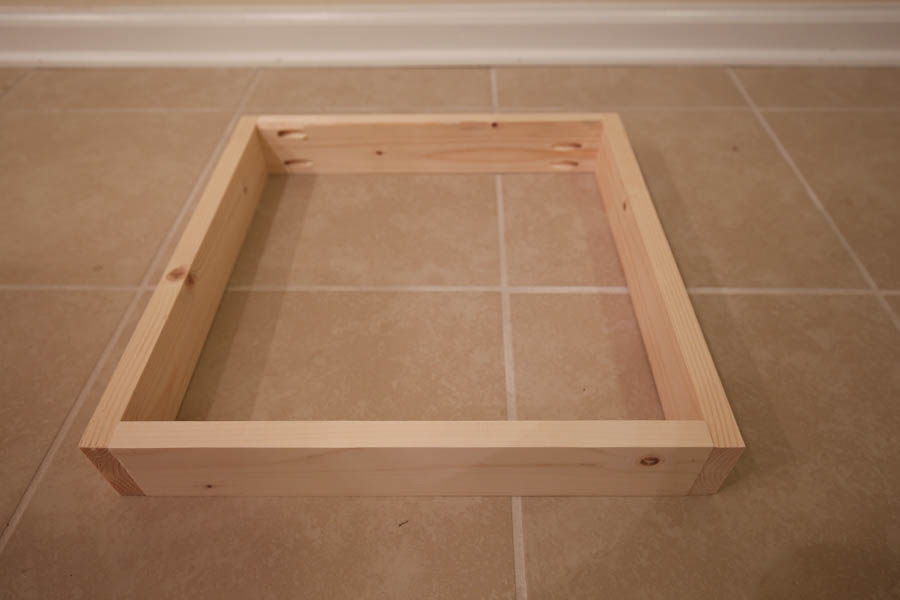 After the drawer box frames are built, attach the plywood drawer bottoms to them with 3/4″ wood screws (drill pilot holes first).
Finally, add the drawer box slides to each side with the included screws. To make my drawer sit properly in the vanity, I had to add a screw to the front and middle of the bottom side of the drawer and then one to the back, side of the drawer box (shown in the 2nd photo below).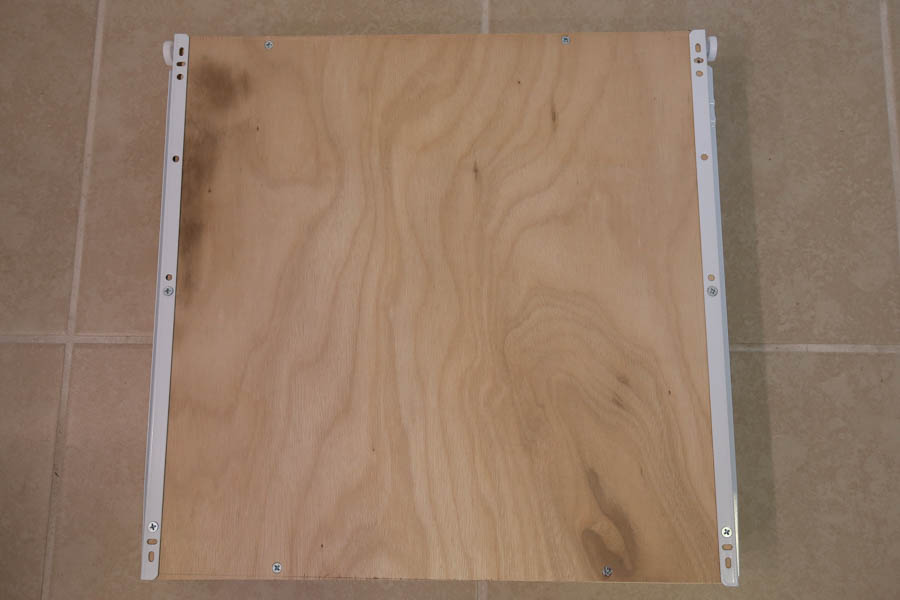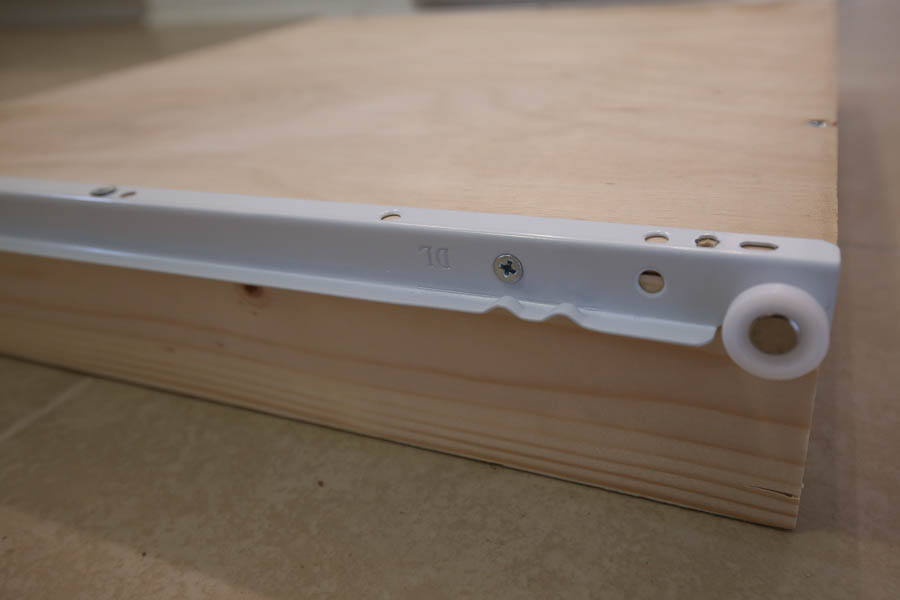 Insert the drawer boxes into the makeup vanity on the slides and ensure they fit properly.

Now it's time to finish off the drawers with the drawer faces. Use a table saw or circular saw and straight edge and trim 1/4″ off along the side of the remaining 1×4 so it is 3 1/4″ wide.
Then, measure the exact opening of your drawer opening and subtract at least 1/8″. This is to determine the length of your drawer face cut. I don't like huge gaps on my drawer sides, so I just took 1/8″ off, but you can do up to 1/4″ if you want. Cut drawer box faces to size with 3 1/4″ wide wood using a miter saw.
To attach the drawer faces to the frame, I like to use a paint stir stick (or 1/8″ wood shim) to make sure my gaps are even and the drawer face is where I want it.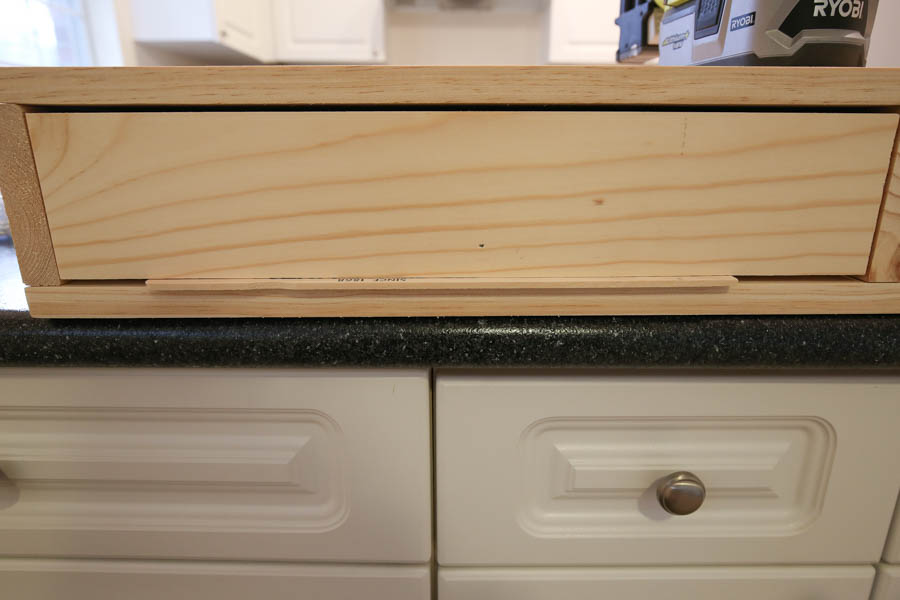 Then, attach with wood glue and 1 1/4″ brad nails and brad nailer. I like to do just one nail in the front, and then the other nails from the back.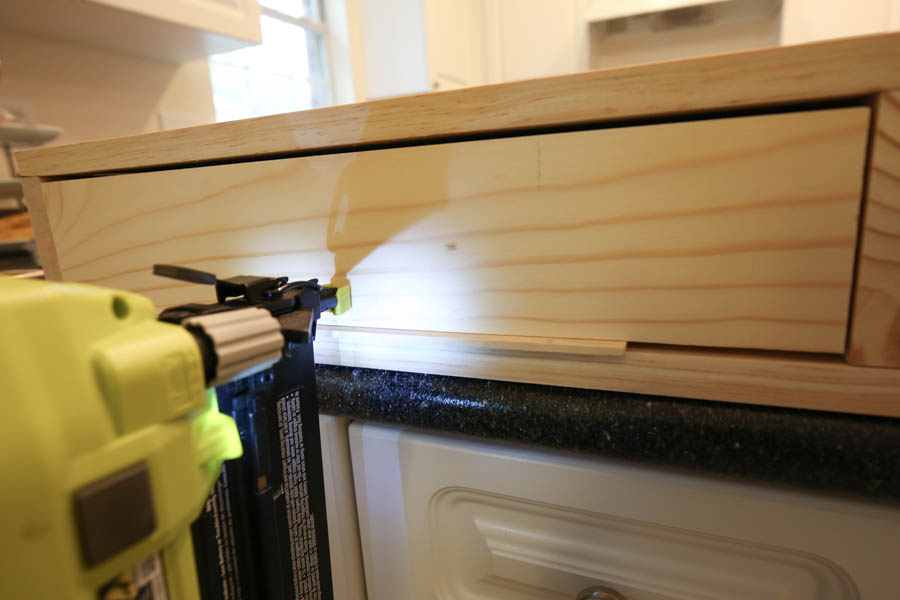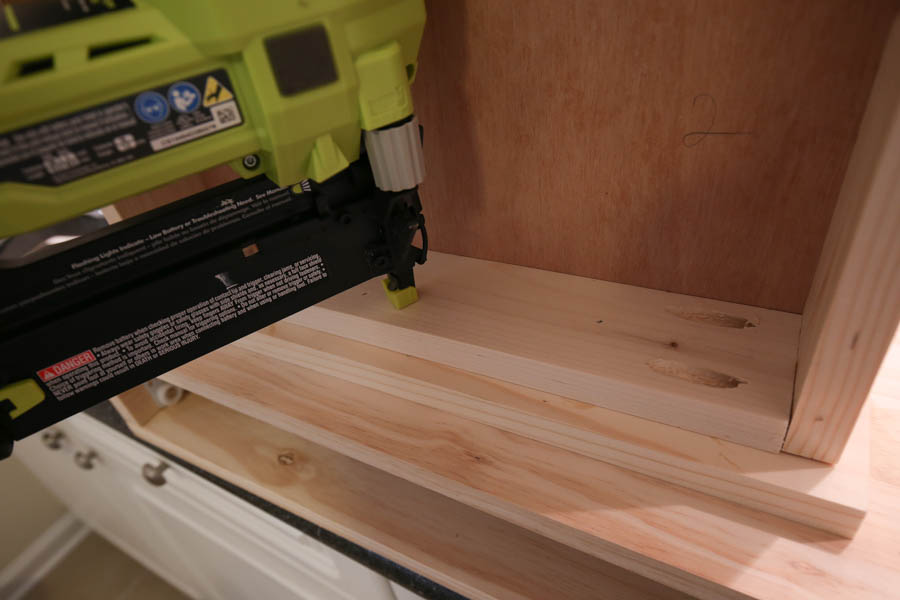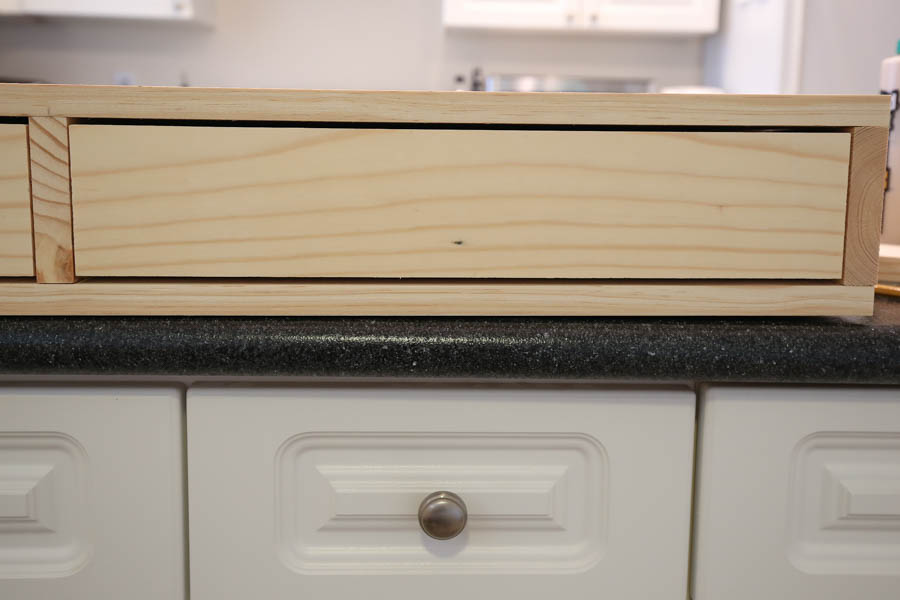 5. Build the base of the DIY makeup vanity
Add pocket holes to one side of the four 2×2 pieces @ 14 1/2″. Don't forget to adjust the depth settings on your Kreg Jig for the thicker wood!
Assemble the two sides of your DIY makeup vanity with wood glue and 2 1/2″ Kreg screws as shown in the below photo with two 25″ 2x2s as the sides and two 14 1/2″ pieces as the top and bottom supports. Make sure to attach your bottom board 6″ up from the bottom of the two 25″ boards (shown in the 2nd photo below).
Repeat for the other side.
Next, attach the vanity base frame side to the bottom of the makeup vanity top using wood glue and 2″ wood screws. Make sure to drill pilot holes first. Repeat on the other side.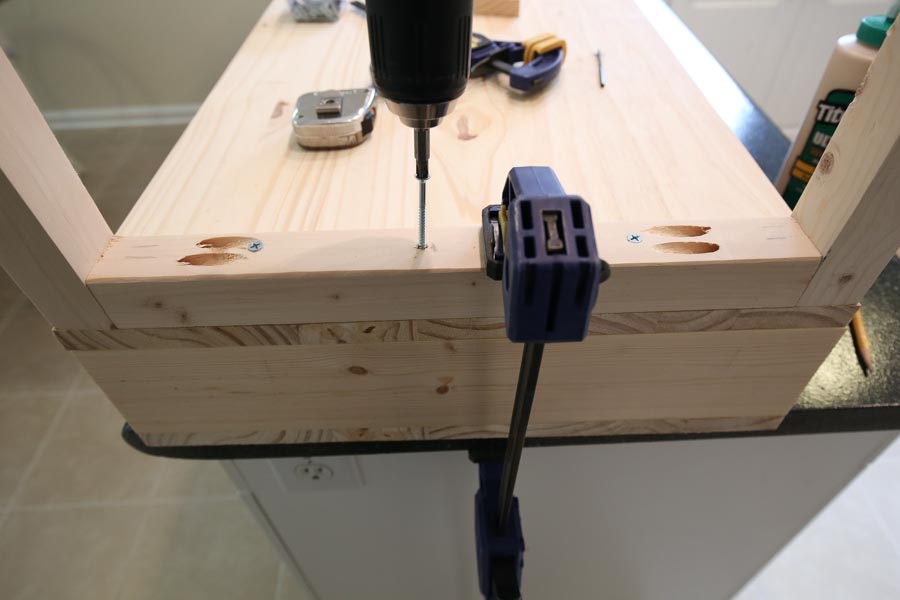 Then, add pocket holes to the sides of the two 33″ 2×2 pieces.
Add one 33″ board along the top back of the makeup vanity bottom with wood glue and 2″ screws. Then, add 2 ½″ Kreg screws to that same board to connect it to the side legs.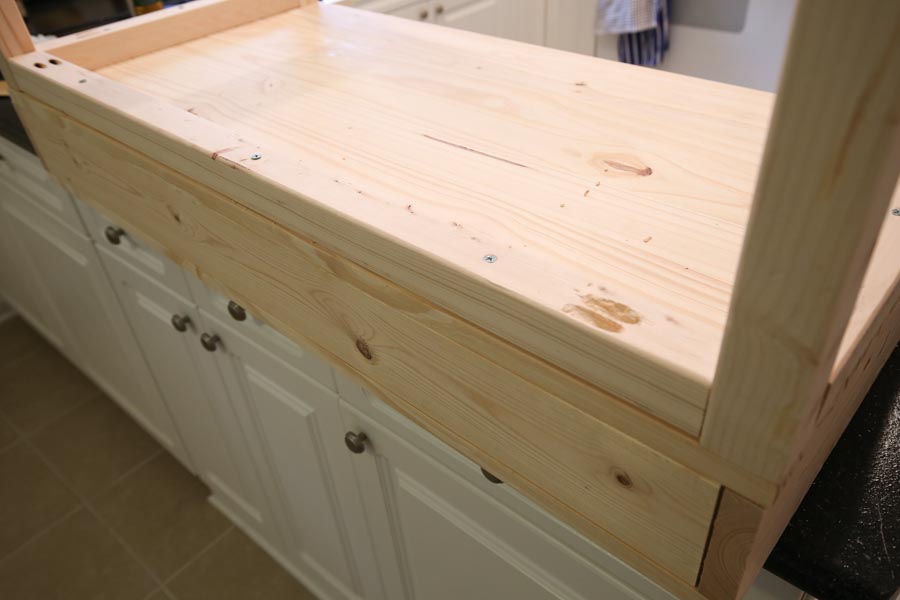 Attach the other 33″ board with Kreg screws so it aligns with the bottom side boards that are 6″ up from the ground.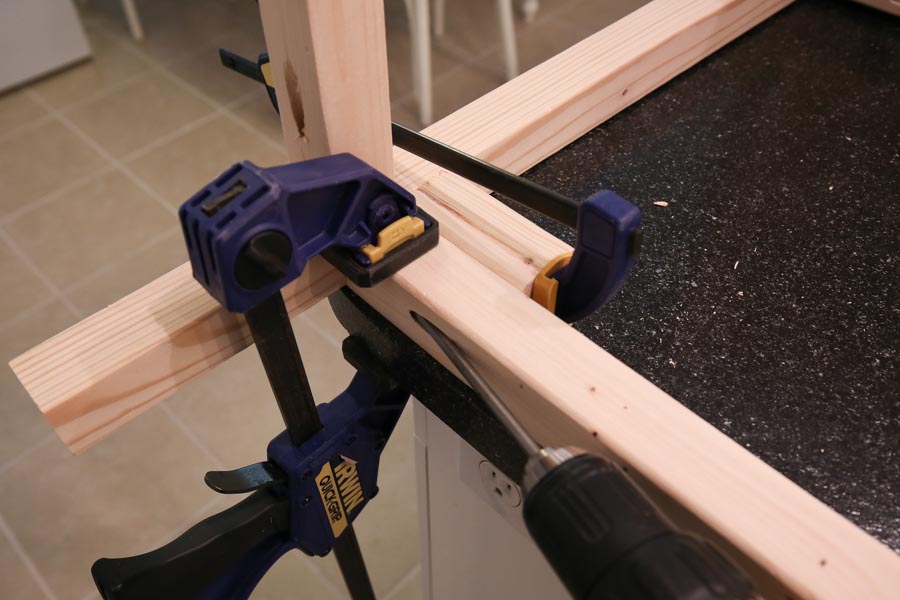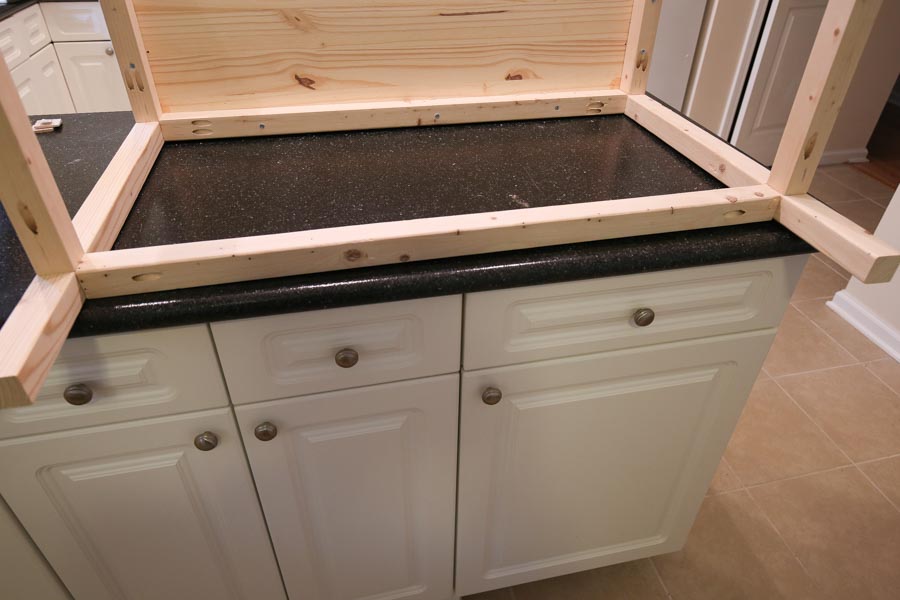 Yay! The structural part of the makeup vanity is now built. It's time to add the X-style back! Make the following angled cuts from the remaining 2×2 boards:
36″ from long point to short point with 22.5 degree angles
18″ from long point to long point with one angle at 22.5 degree angle and the other angle at 45 degrees
18 1/2″ from long point to long point with one angle at 22.5 degree angle and the other angle at 45 degrees
See the below photo showing how to assemble the X-style back. Use wood glue to attach everything together.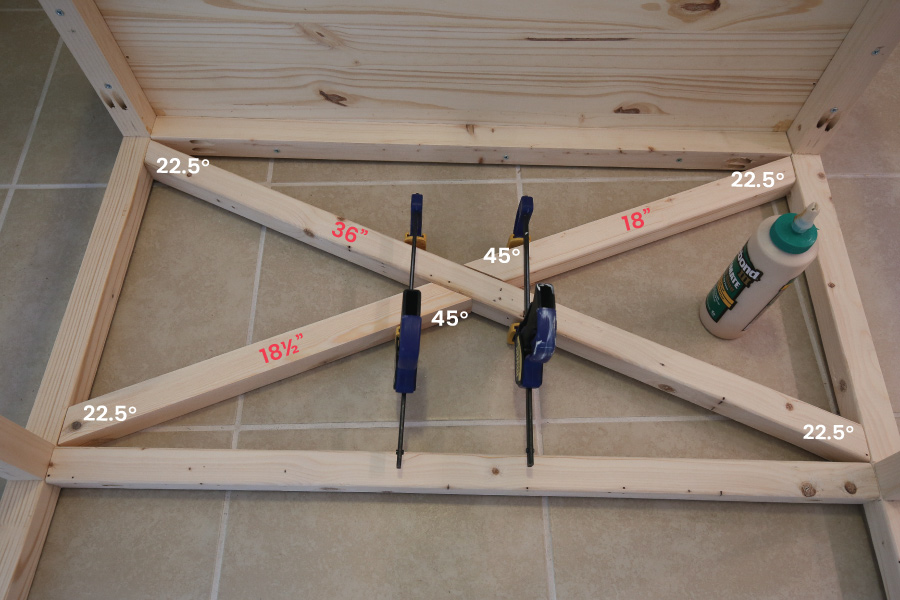 Secure the sides of the vanity to the X frame with 2″ brad nails from the sides. Allow glue to dry for 30 minutes.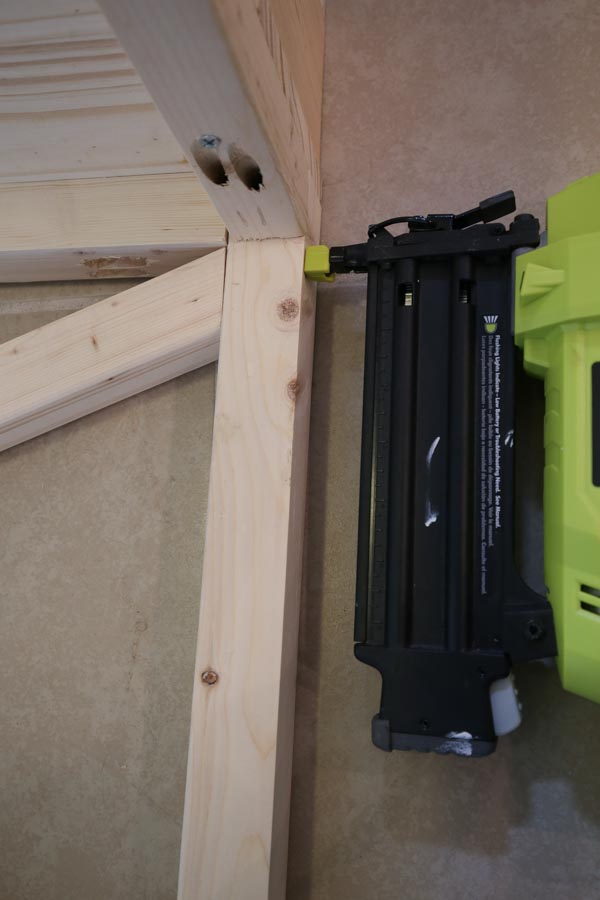 Your makeup vanity build is complete! Yay!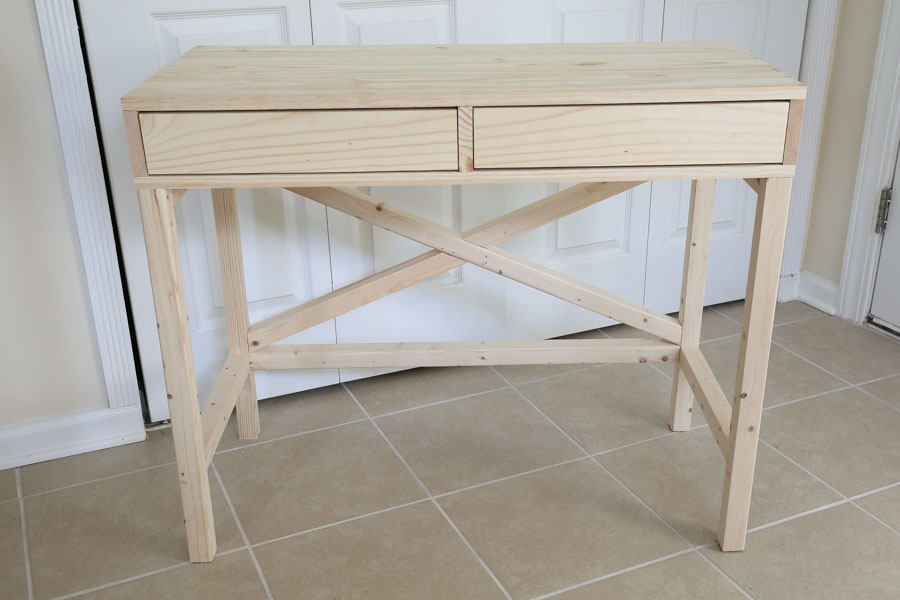 5. Prep for finishing and paint or stain makeup vanity
If you are painting your makeup vanity, go ahead and fill any nail holes or gaps in with a lightweight spackle. If you are staining the vanity, you can use wood filler or leave as is for a more rustic look.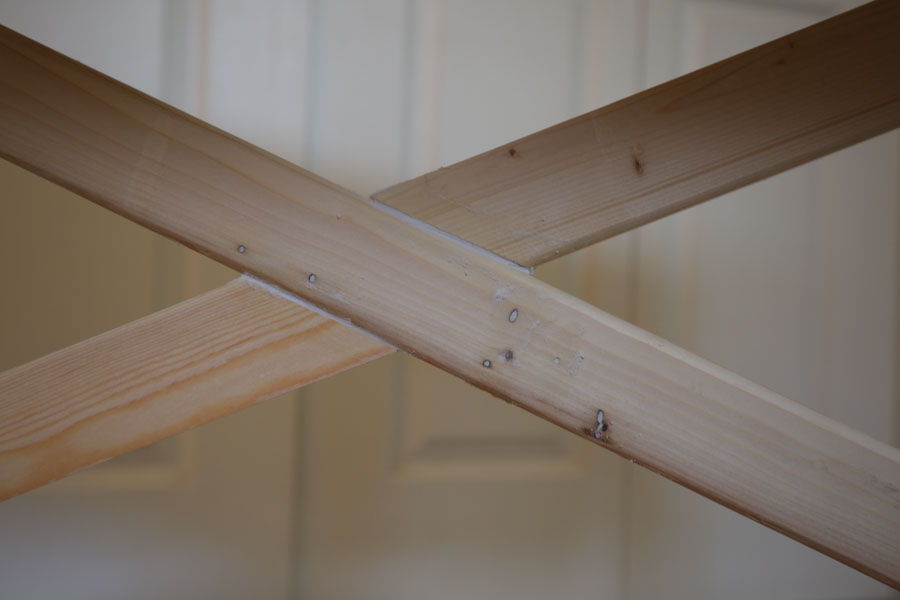 Then, sand the vanity where needed and wipe clean. And finish it off with paint or stain! If painting, make sure to prime the wood first.
I chose to paint my piece in Windstorm by HGTV home for Sherwin Williams. I LOVE the color, it's the perfect soft gray color! I did a satin sheen so it will be more wipeable if makeup or lotion gets on the surface.
Finally, add your drawer pull hardware! I used these gorgeous brass drawer pulls. And then enjoy!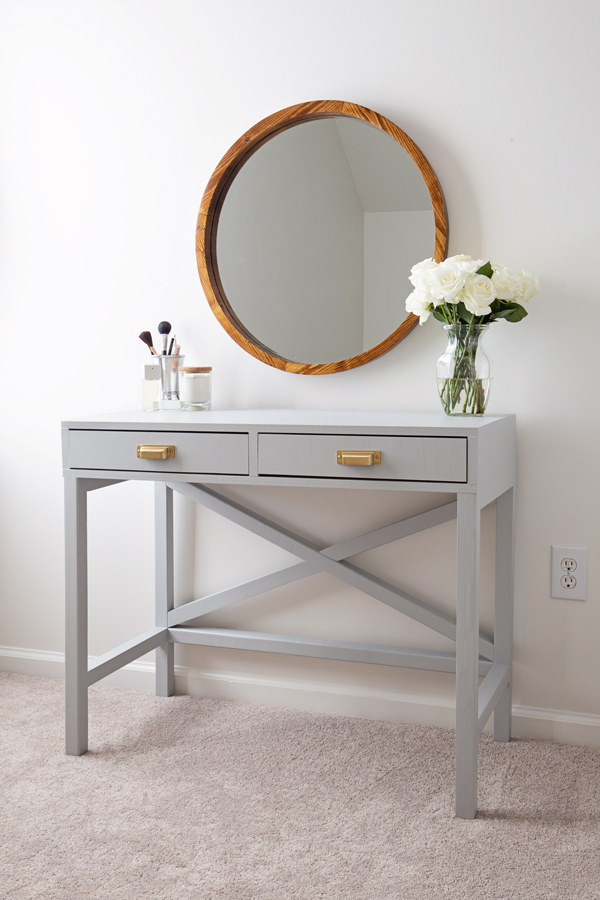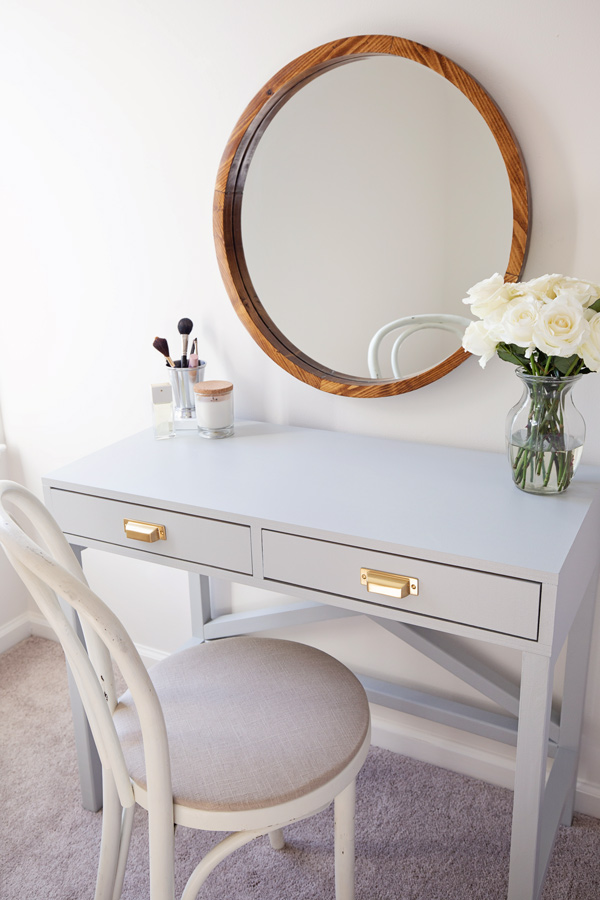 I hung my DIY round wood mirror above the vanity and I love the combo of the two together! Also, I lined the drawers with this pretty drawer liner.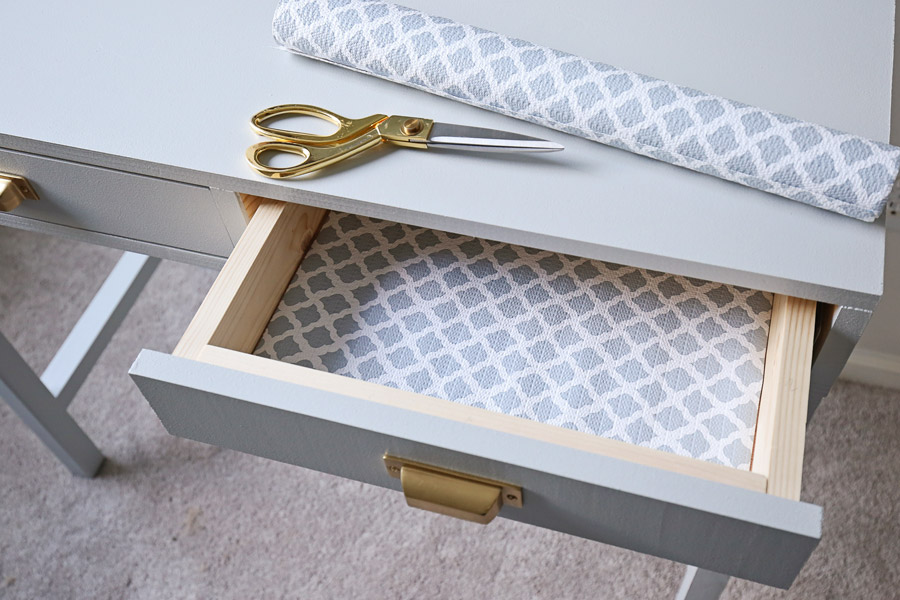 I'm so happy my DIY makeup vanity is finished! Now I don't have to sit on the floor and do my hair and makeup anymore! Despite the challenges I faced during building, it was totally worth it!
What do you think?! I hope this tutorial on how to build a makeup vanity has been helpful! I'd love to see your version, tag me on Instagram or send me a photo if you build it!
Follow along on Instagram and Facebook for my latest projects and sneak peeks!