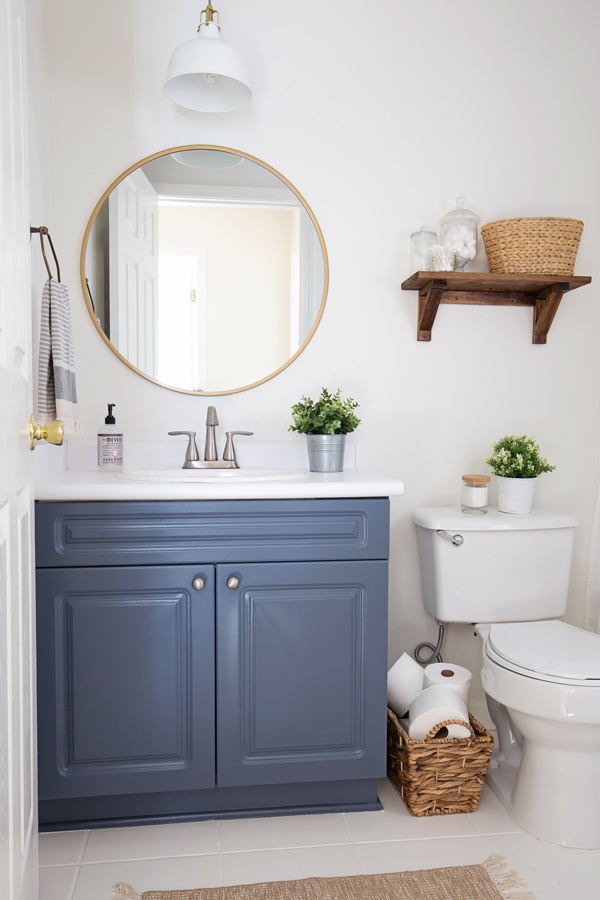 Back in October, I challenged myself to a $100 budget bathroom makeover for our master bathroom. Our master bath was the room that was bothering me the most looks wise and functionality wise.
I really wanted to completely gut the bathroom and add beautiful, new everything! Yet, that vision was going to cost a few thousand dollars to do it right, even with DIYing most of it. So, we decided to put off the full renovation for 6-12 months.
To make the space more functional and less bothersome, I gave it a little makeover and my goal was to not spend more than $100. I love to do budget bathroom makeovers, like our master bathroom makeover and our half bathroom budget makeover, both at our first home. However, both of those makeovers cost at least $500 plus some more…
So, was I able to keep the budget under $100 with this mini makeover?! Honestly, no, haha! I have the full budget breakdown and sources at the bottom of this post, but I ended up spending $124, which is still pretty good! Originally, I planned on selling the old mirror that I replaced, which would have put me under budget with the offsetting revenue but I never got around to it.
Let's take a look at the before and after photos for a $124 bathroom makeover transformation!
Before Makeover: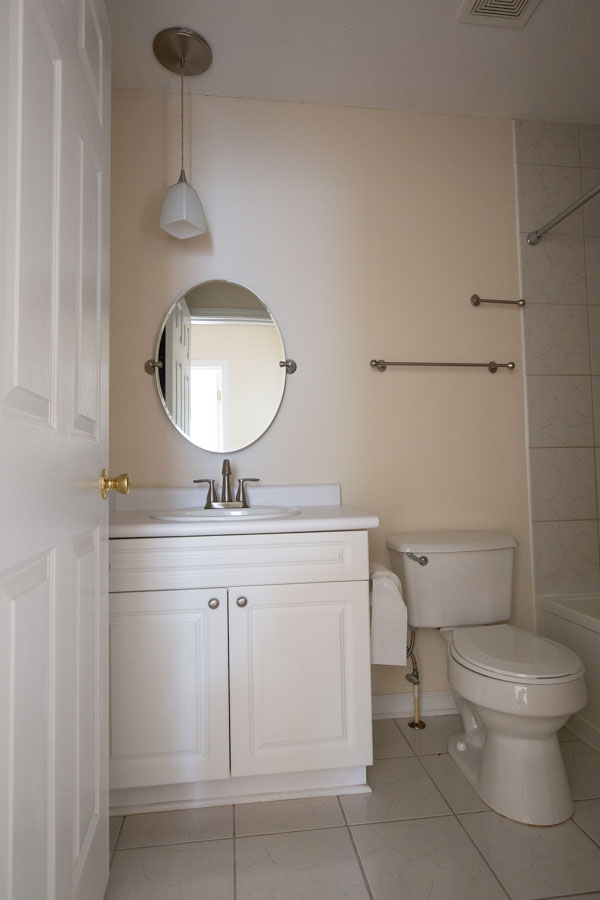 After Makeover: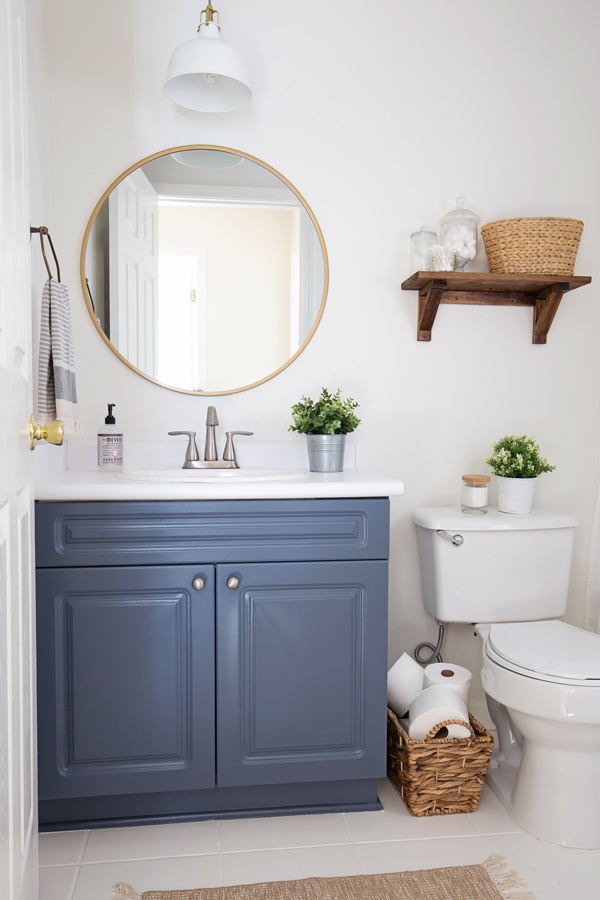 Note, this post contains some affiliate links. For more information see my disclosures here.
I think this mini bathroom makeover turned out pretty good for the tight budget! So, how did I do it for just $124? Well, let me share my top 5 tips!
5 Tips for a budget bathroom makeover:
1. Shop your house and use what you already own
This is my #1 tip for any makeover really. The original mirror in this bathroom really bothered me. However, I really couldn't afford a new mirror with my $100 budget, they are pretty expensive. So, I used my round, gold mirror that I already owned from our modern rustic living room makeover at our last house. It instantly made the room look better!
Secondly, I already owned our white shower curtain. And the shower bar was already in the bathroom when we moved in, so I hung our shower curtain on the bar, then raised the shower curtain bar much higher. This was an easy, free fix to help make the space appear larger and it covered most of the ugly shower tile.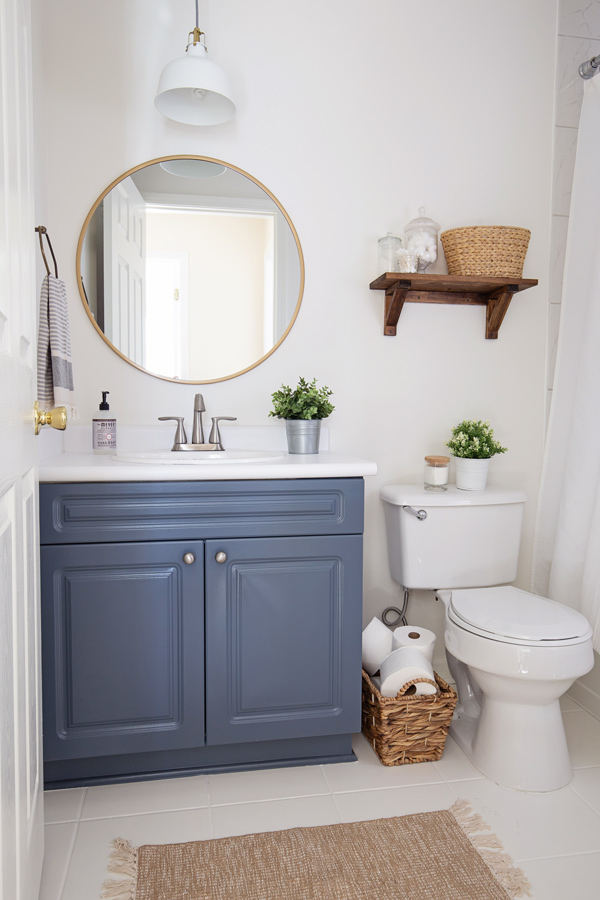 2. Sell items you don't want or need in the bathroom
As I said before, I planned on selling the oval mirror that came in the bathroom. Although, I didn't get around to it for this makeover, I have sold many pre-owned items in the past to put towards offsetting my new makeover expenses.
3. Add fresh paint wherever you can
Oh yes, the power of paint! Most of this space was transformed with a fresh coat of paint. I shared how to paint a bathroom vanity after I painted our vanity a fresh, dark blue. We added a fresh coat of paint (white dove by Benjamin Moore) to the walls. And I painted the bathroom tiles in the same white dove paint color.
When you can't afford a new vanity, floor tile, wall tile, wall treatments like shiplap, board and batten, etc, a fresh coat of paint is great budget friendly alternative! You can buy a gallon of it for as low as $22 at your home improvement store!
4. Research stylish, but budget friendly decor
I really wanted to replace the light fixture in the bathroom, so I spent a decent amount of time and searched high and low for a cute, yet affordable pendant light. Amazon had some really cute options, but they were still a little pricey at around $50-$60, which would have taken over half of my $100 budget.
Then, I came across this pendant light at IKEA and it was perfect! It had a touch of gold to match the mirror, I loved the shape, and it only cost $27, score!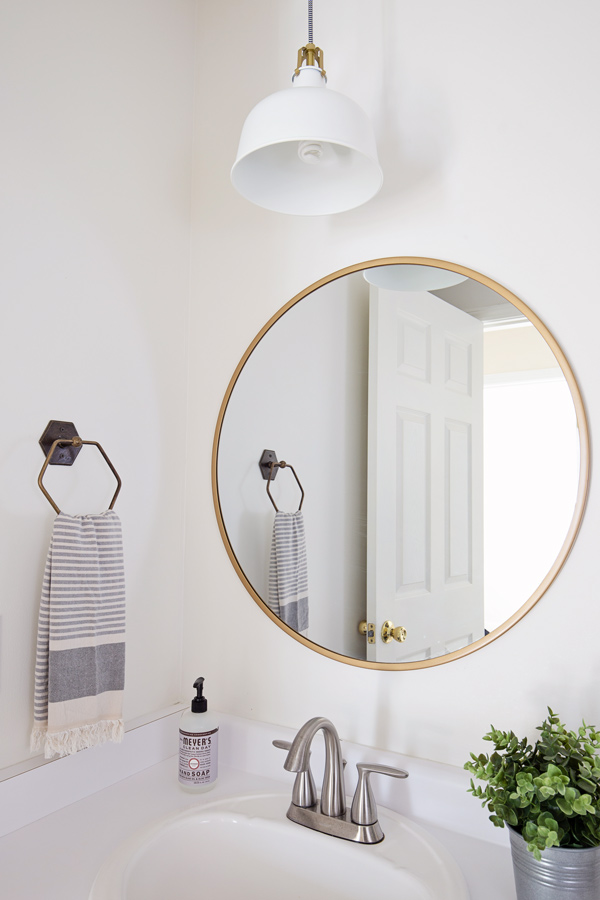 Also, I found a cute, small, $8 basket at Home Goods for holding toilet paper and covering up the ugly pipe for the toilet. And I found this low priced, jute bath mat which adds so much texture to the space, matches the TP basket, and looks great on the white painted tile floor.
These stylish, yet inexpensive decor items, help to bring the space together looks wise as well as functionality wise too!
5. Add functionally to the bathroom with inexpensive solutions
Speaking of functionality, the original setup of this bathroom was super annoying and not functional. The hand towel holder was hung partially behind the door and was falling off the wall. And the two odd size towel bars above the toilet barely held two towels, the towels would hit the toilet when hanging from them, and towels were difficult to reach after showering.
I removed all off the towel hardware and filled the holes on the wall from them. I added these two cute brass wall hooks for towels on the opposite wall where they were close to the shower and didn't hit anything.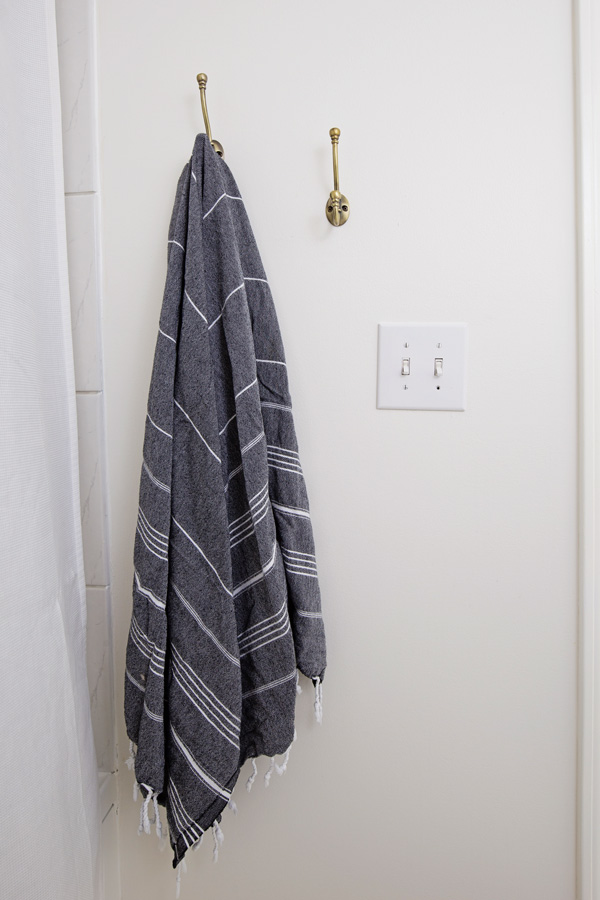 And I found a cute, gold, hand towel holder for 50% off from Hobby Lobby. It's actually the same towel ring I used in our half bathroom budget makeover.
Lastly, I built a wood shelf for some extra storage over the toilet. I used scrap wood I already had on hand, plus a $1 furring strip to build the shelf. I used these shelf plans from Ana White and modified them a little bit for a smaller shelf.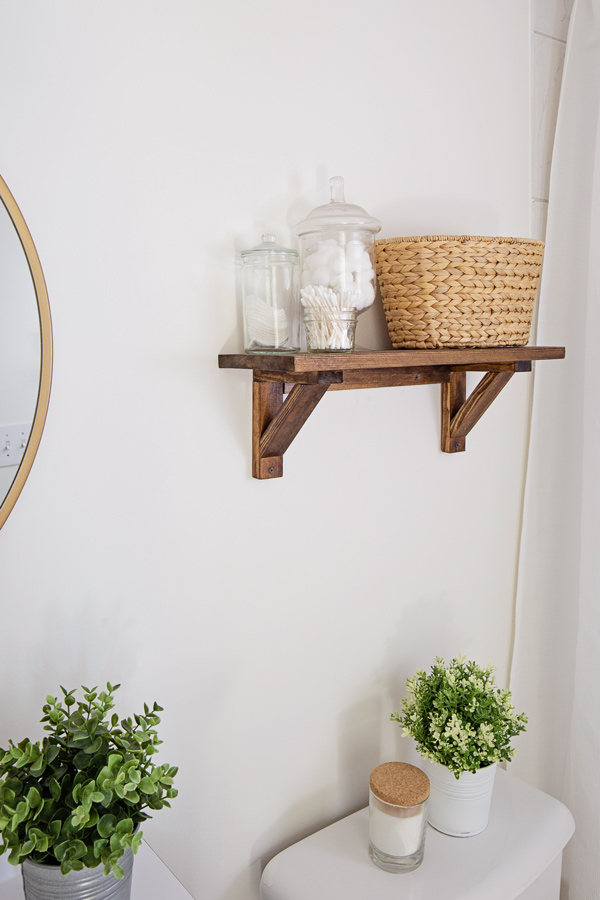 Side note, if if you'd like to see how to make floating shelves with metal brackets instead, check out my DIY floating shelf brackets post.
As explained above, I put a lot of thought and time into transforming this bathroom for just $124. It's no where near perfect or my ideal bathroom, but I think it's a huge improvement from where it started. And I feel more comfortable with the style of the space and the functionality has improved greatly!
I hope these 5 budget bathroom makeover tips and my $100 bathroom makeover challenge has been helpful for you! And maybe it sparked a few ideas if you need to do something similar! What do y'all think?!
Budget Bathroom Makeover Breakdown & Sources:
Finally, here's the budget breakdown. I've tried to include all items I already owned with a $0 balance. If anything is not listed though that I missed, I already owned it.
TOTAL SPENT: $124
Well that's a wrap on this bathroom makeover, can't wait for the full reno!
Follow along on Instagram, Facebook and Pinterest for my latest projects, fun updates, and sneak peeks!