Learn how to install DIY shiplap accent walls easily and on a budget!
I'm super excited about today's post on our DIY shiplap accent walls! Ever since I fell in love with shiplap walls, I knew I wanted to add them to our home, and the perfect opportunity for them came along with our living room makeover plans. I really wanted to add some character and coziness to our living room and white shiplap walls were the solution!
Originally, I was thinking of doing the whole room with DIY shiplap walls, but decided not to because of the cost and the fact that we aren't going to be living in our current house long term.
So, a good compromise was to do two shiplap accent walls instead to create more of a feature wall.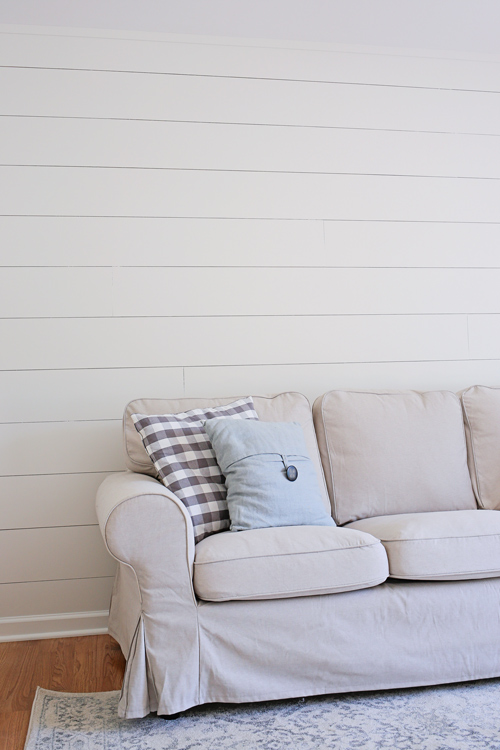 We chose the two inner walls of our town home, as if it had been originally built that way, you know how old city row homes have the inner exposed brick walls?
Keep in mind in these photos, the living room makeover is far from finished and we have a lot more decor to add still, so that's why it's a little empty!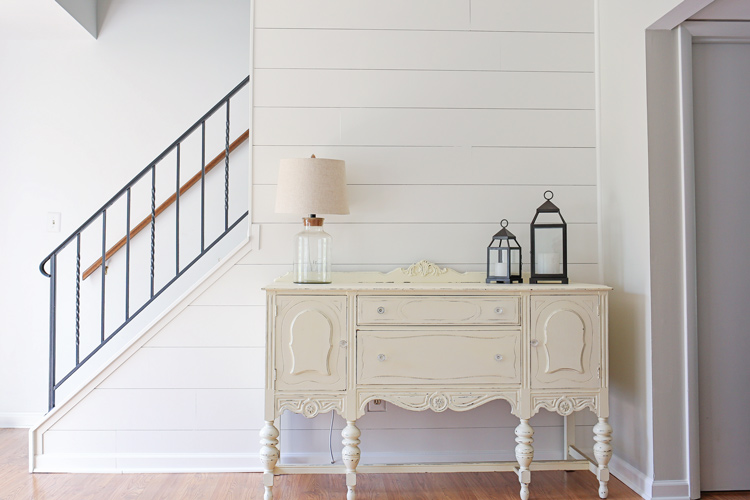 Further, to save on cost, we chose to do a faux shiplap treatment with plywood instead of the real shiplap wood boards which are more expensive. Overall, the total plywood cost of our two shiplap accent walls cost about $75! Such a great deal for the awesome impact it makes. Also, this process was pretty easy and went fairly quickly. The only part that slowed us down with this project was replacing our base molding, which you don't have to do.
Also, I've gone over the painting shiplap process below but to see a full detailed tutorial on painting a shiplap wall, check out my how to paint shiplap walls tutorial!
Note, this post contains some affiliate links for convenience.
How to install shiplap accent walls:
Tools Needed:
Circular Saw (or have your home improvement store make the cuts)
Dremel tool or jigsaw (if needed)
1. Cut plywood to size
First, measure the height and width of your wall(s) to determine how many 4×8 sheets of plywood you need based on your wall size. Then, have your home improvement store cut the sheets into 8″ strips (note, the boards will be slightly less than 8″ due to the blade width). You can also cut the plywood yourself with a ciruclar saw, but it's much easier when the store does it because they can cut multiple sheets stacked and it saves a lot of time and mess! Also, I chose 8″ strips because I wanted a thicker board look, but feel free to do more or less.
2. Remove Baseboard (optional)
You can either add the shiplap boards flush with your existing molding or remove and reuse or replace your baseboard molding for a cleaner look. Our baseboard was really outdated so we decided to replace our baseboard. To remove the baseboard, I first used a box cutter to score the caulk line along the top of it, then I used a hammer and pry bar to remove it from the wall.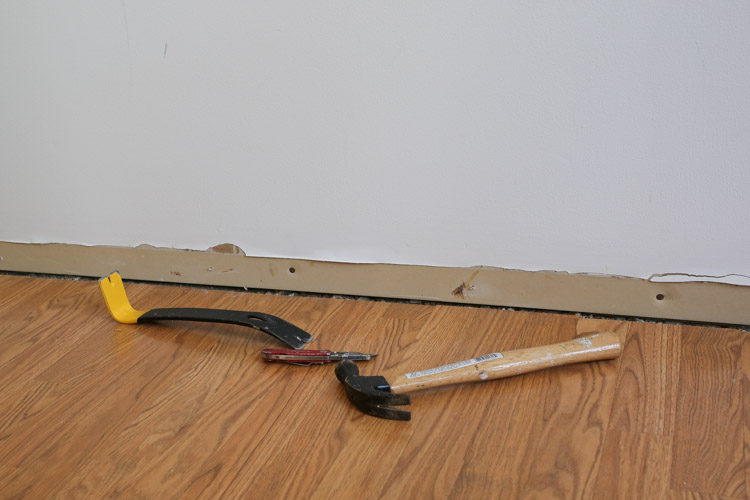 3. Mark the studs
Use a studfinder to mark the studs on the wall. You can nail the boards into the drywall in some places, but it's best to secure each one into the wall studs.
4. Attach the first board to the wall
Lay your first board down against the wall and use a level to make sure it's level before attaching to the wall. Once the board is level, attach it to the wall studs with 1 1/4″ brad nails and a brad nailer.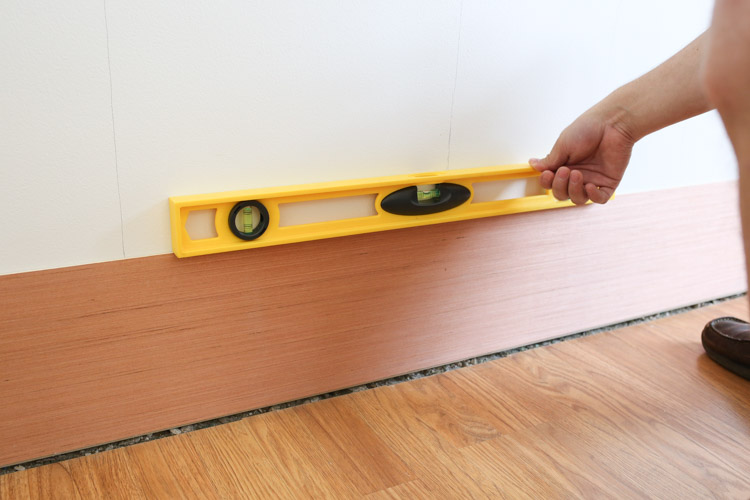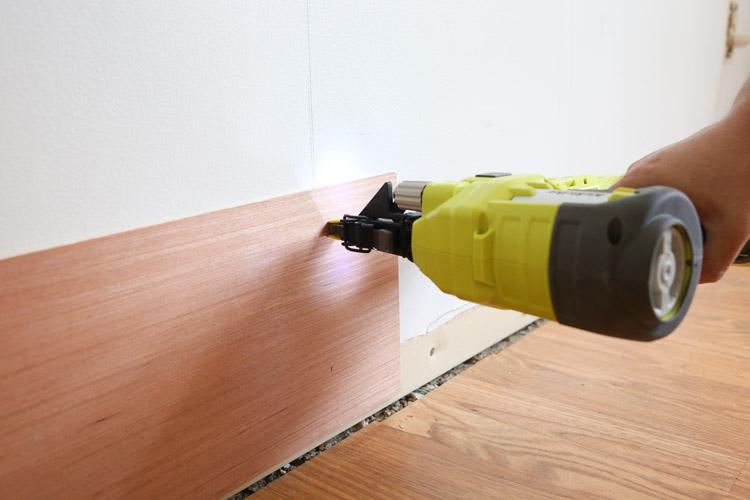 5. Measure, cut, and attach 2nd board
Because our wall was more than 8ft long (the length of the board), we had to make alternating cuts. If your wall is less than 8ft you won't need to do alternating cuts, just one length cuts.
At first, we measured from the end of the first board to the wall and then cut the second board to length using that measurement and then attached it to the wall. Note, the remaining piece of plywood from this 2nd board cut will be attached to the wall next for the second level of boards.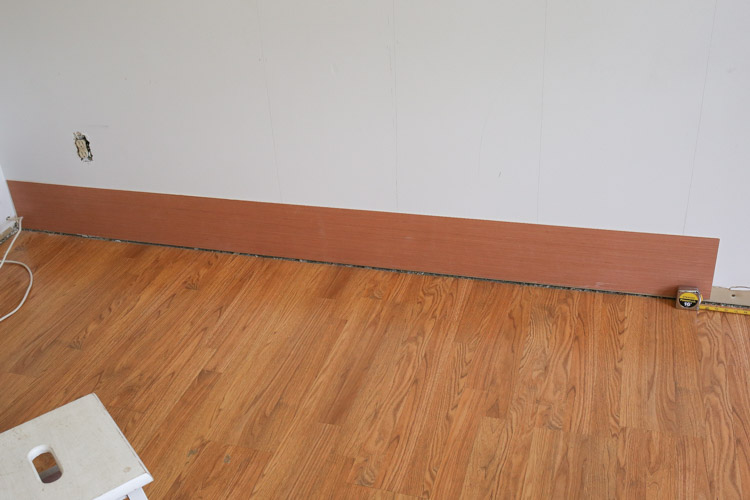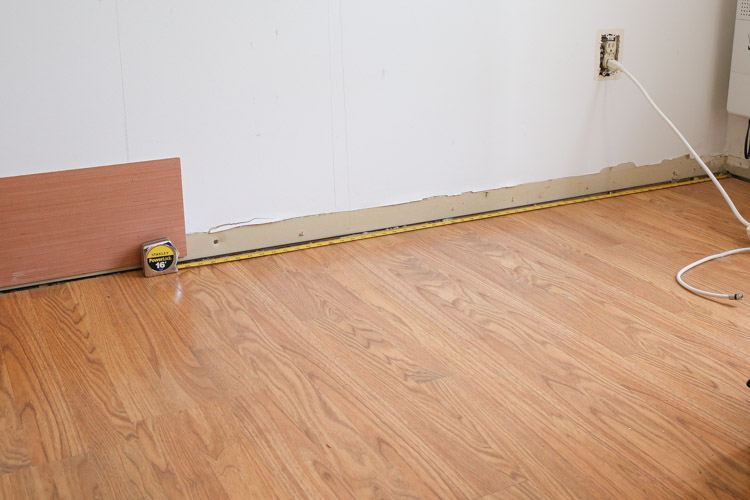 After using this measuring method, we just held the board up to the wall and marked a line on it where it intersected the board previously attached to the wall. This second method seemed to work a bit quicker. Either way works!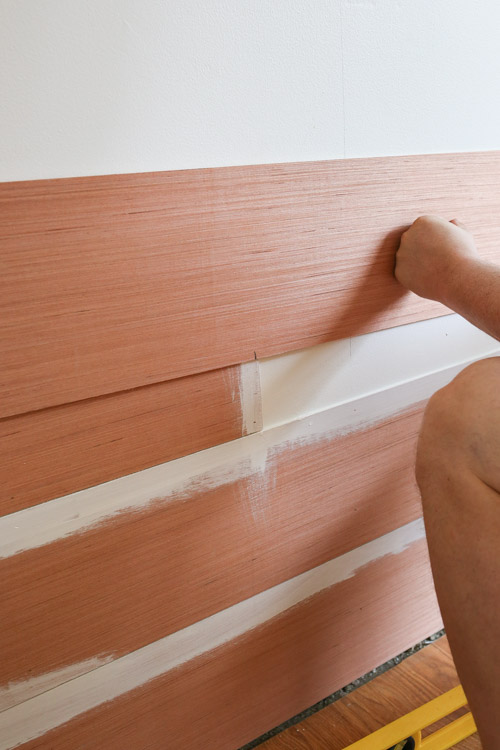 6. Paint between the boards
Since there will be small gaps between each level of boards, use a paint brush and paint the gap area between the boards. This really helps save time and effort with painting instead of trying to get in between the gaps when you paint the entire wall as I explained in my how to paint shiplap tutorial.
7. Use spacers and attach the next level of boards
Between each level of boards, use spacers between the boards to leave a small gap which provides that shiplap look! We used nickels, but anything with a similar thickness would work.
For the next level of boards, use the remaining plywood piece from your second board cut in Step #5 and attach it to the walls with a brad nailer. And don't forget the spacers between the boards as you nail the boards into the wall!
Then, add your next board (using a full 8 ft length board again). Continue to repeat the above steps until you reach the final level of boards. The process goes pretty quickly once you get going!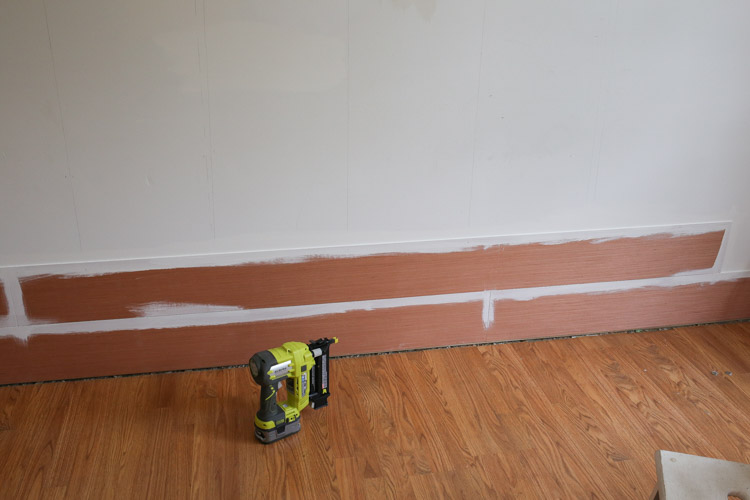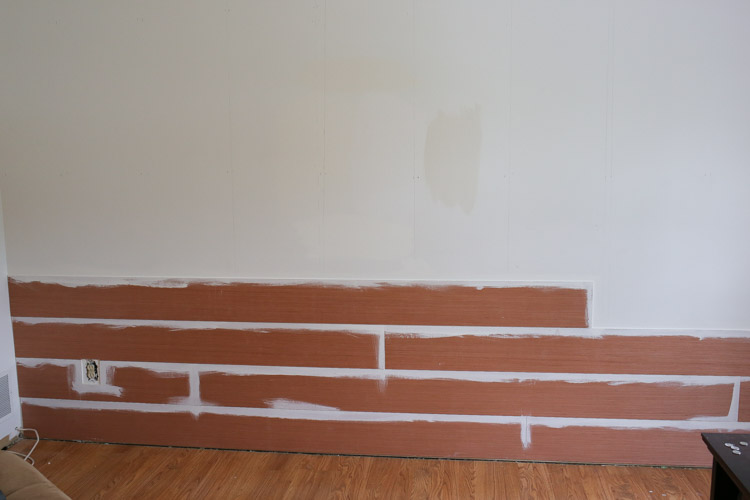 8. Make special cuts for wall outlets and angles (if needed)
If your wall has electric outlets (ours had two), measure and mark on your board where you need to cut out of it for the outlet opening. We used our handy Dremel tool for this step, but a jig saw or other similar tool would work as well.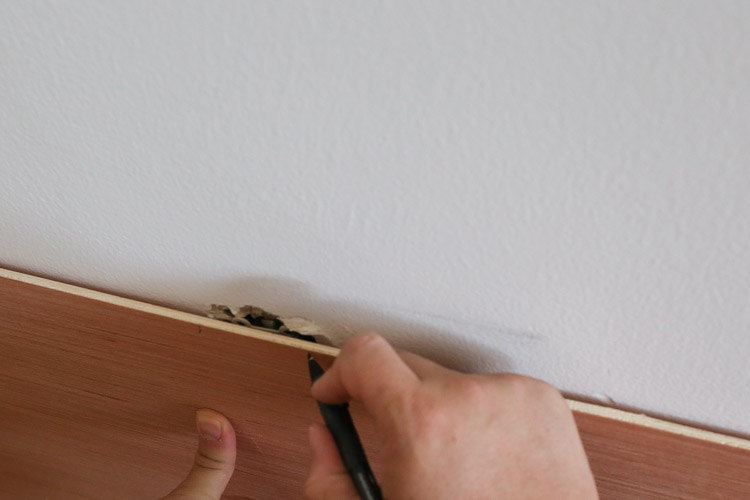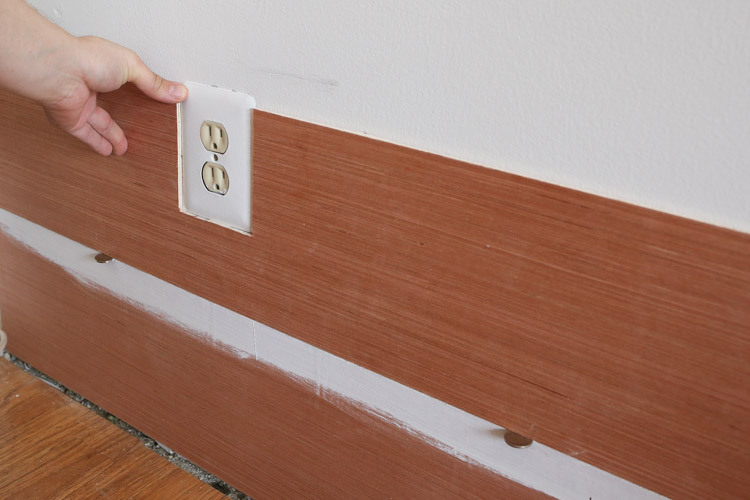 For our accent wall with the staircase, we had to make some angled cuts. Note, I forgot to take photos of this step while actually doing it, so I took the below photos after we were all done to give you a visual as to how we did this. Basically, I just held a shiplap board up to the staircase, then used another board as a straight edge to trace the angle of the staircase onto the board with a pencil. Then, I lined up my miter saw with the angled pencil line so I knew what angle my boards needed to be cut. The angled cut could be up to an inch off from the actual wall too because I then used the lattice molding to cover the angled cut edge of my board (photo 3 below).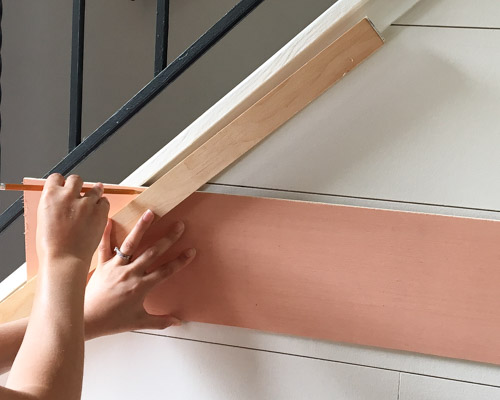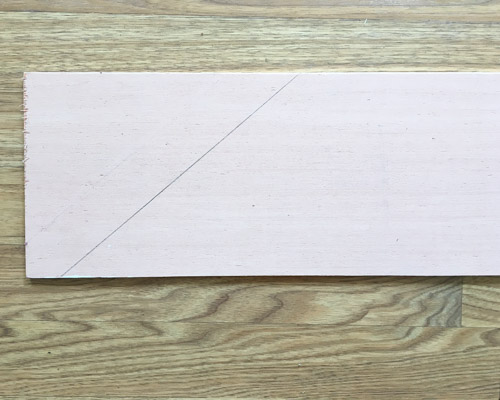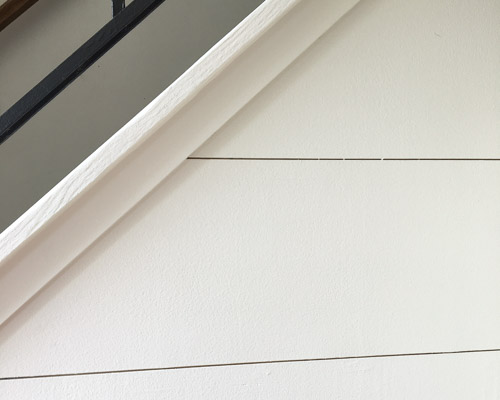 9. Finish the top level of boards
Once you get to your final top row of boards, you will most likely need to rip (cut) your board widths to size. Measure how wide your boards need to be for the final row and rip them to size with a circular saw, table saw, Dremel, or jig saw. Note, if you aren't using any type of crown molding or top trim, make these cuts pretty perfect! However, if you are unable to do that, just make sure the boards are about 1/2″ from the wall so you can cover the gaps with trim.
Originally, we planned to do crown molding and left a small gap between our final row of boards and the ceiling. We ended up nixing the crown molding plan and decided to use a thin piece of lattice trim (shown in Step #11) to frame out the top and cover the small gap between the top row of shiplap boards and the ceiling.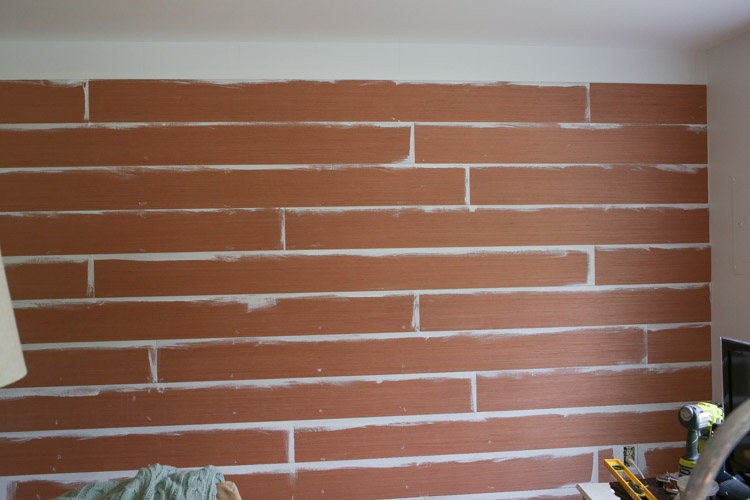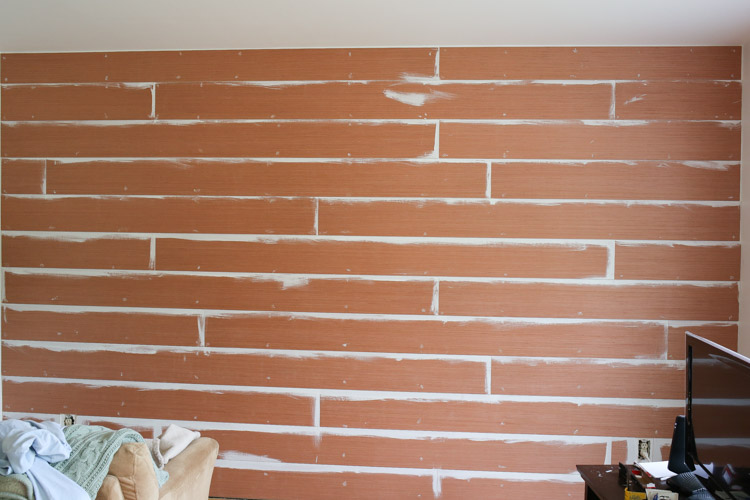 10. Spackle, Sand, and Paint DIY Shiplap Walls
Fill all the nail holes on your shiplap boards with a lightweight spackle, let dry, then sand. Next, paint the shiplap boards with a roller. It's easier to paint now before adding the trim. We used Benjamin Moore White Dove in eggshell.
*See a detailed tutorial on how to paint shiplap walls here!
11. Add all trim, Spackle, Sand, Caulk, and Paint
After painting the shiplap boards, we attached our base molding. We also chose to finish off our shiplap accent wall inside corners with quarter round for a cleaner, more finished look. And for the one wall edge (on our stairway) we used outside corner molding. We then added our top trim (this lattice molding).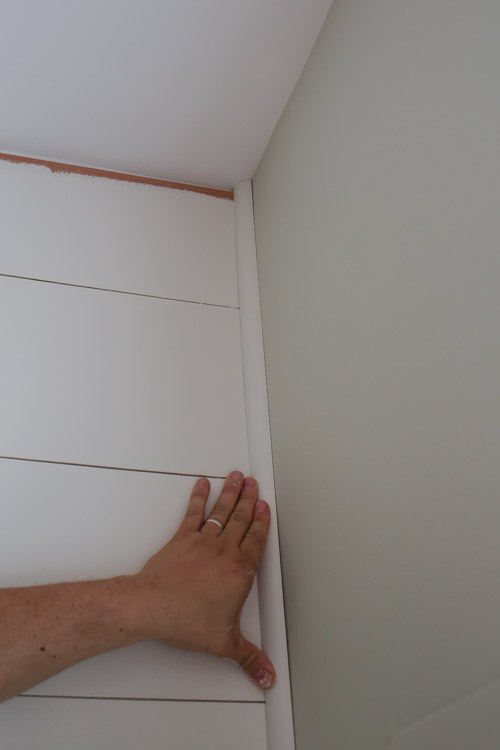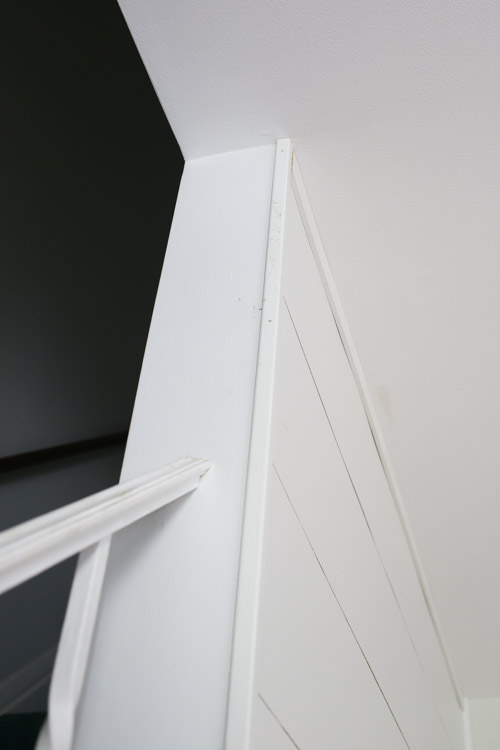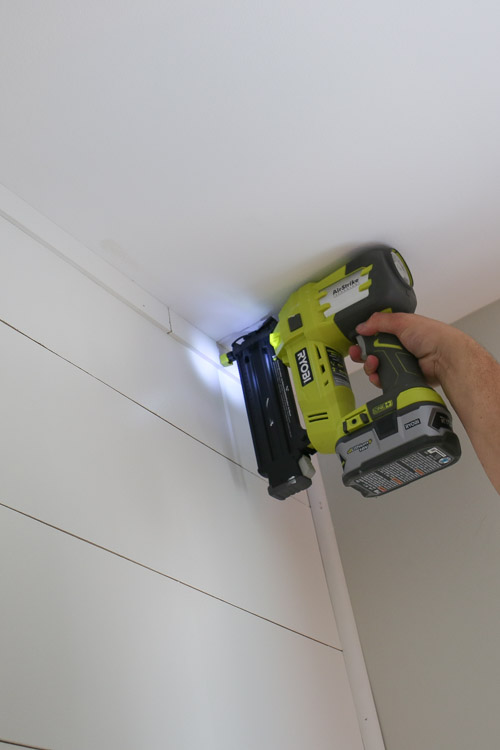 On most of the trim edges we used caulk, which really helped to give a finished look. Finally, we filled all the trim nail holes with spackle, sanded the spackle, and painted the trim. We used Benjamin Moore White Dove in eggshell for everything except the base molding. For the base molding we used Benjamin Moore Simply White in semi-gloss.
I love the final look of our DIY shiplap accent walls! It has warmed up the space so much and added just the right amount of character and feelings of comfort.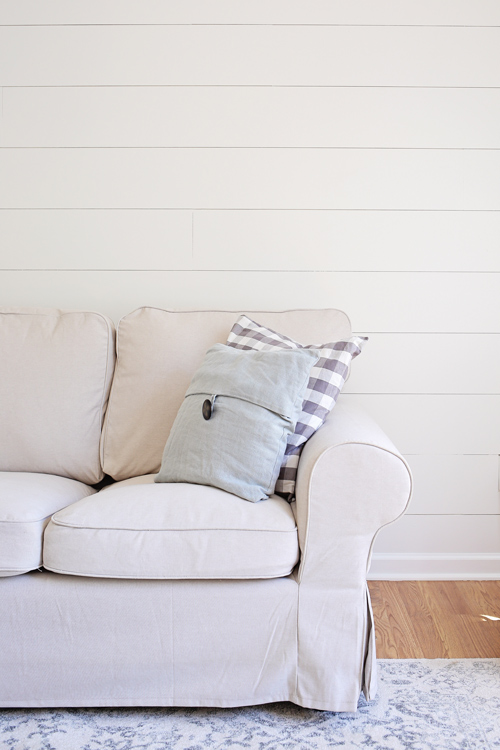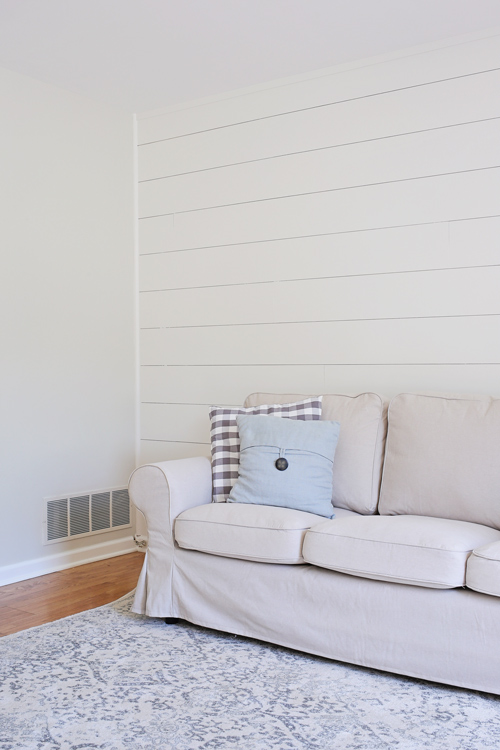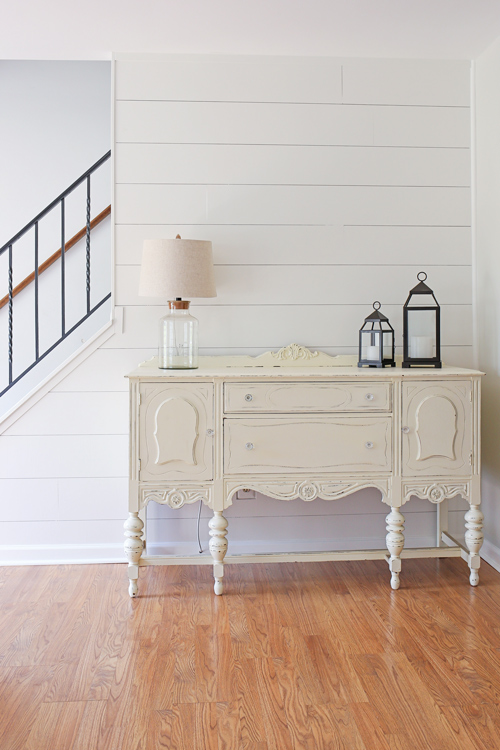 Here is a full shot of the largest DIY shiplap accent wall, just ignore those ugly cords haha! We are going to be hiding those soon.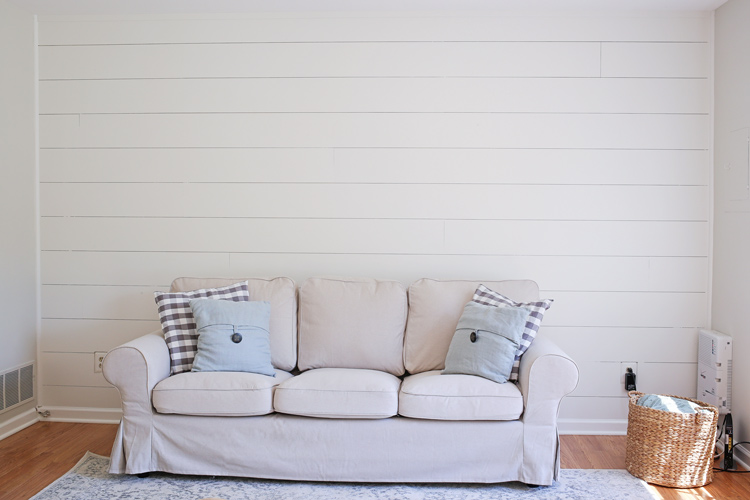 What do you think of our DIY shiplap accent walls?! I am definitely planning on adding shiplap to some more rooms in the future, it's just so beautiful, affordable, and makes a huge statement in a subtle way! Follow along on Instagram or Facebook for my latest projects and for future updates on our living room makeover! I can't wait to finish this room now!
You may also be interested in:
Save
Save
Save
Save
Save
Save
Save
Save
Save
Save
Save
Save
Save
Save
Save
Save
Save
Save
Save
Save
Save
Save
Save