Our DIY kitchen farm table was our very first "big" build. It was the prototype farm table that we built as a test farm table before we built 20+ farm tables (more on how we built this farmhouse table with removable legs and why we built more than 20 farm tables here).
I feel like our kitchen farm table has been through so much since we built it almost 4 years ago, not only have we used it for eating at like a normal kitchen table, but we've also covered it with a blanket and used it over and over as a "workshop" table haha!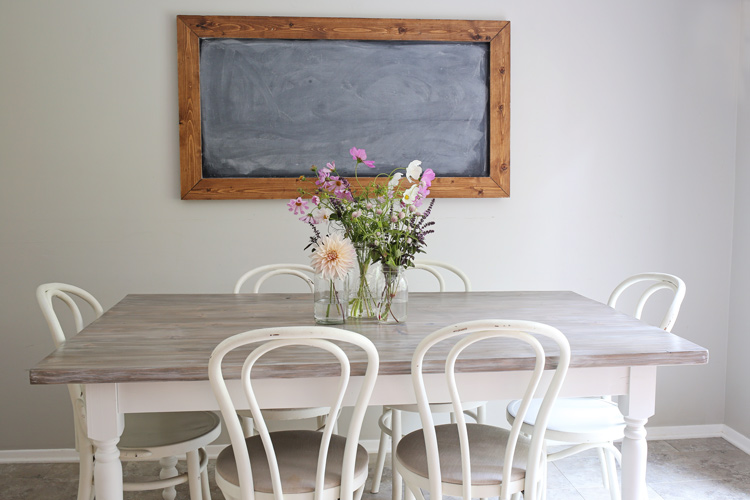 Since we've never had a place with a garage, its been our only indoor work surface option (in addition to the kitchen floor).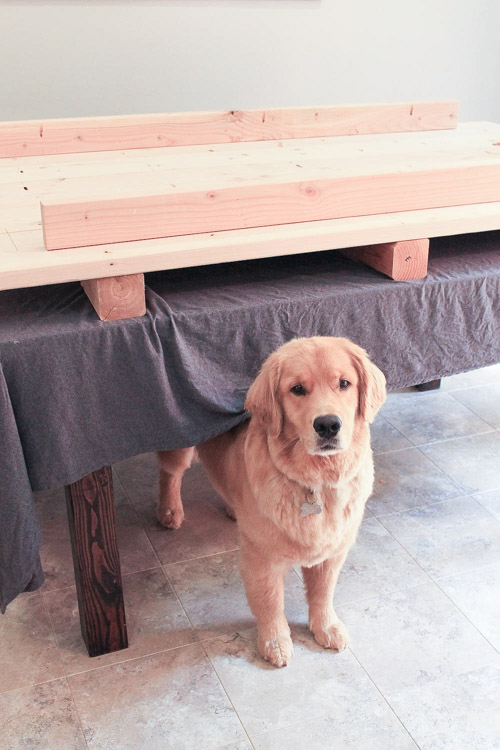 Note, this post contains some affiliate links for convenience.
Well, I originally stained the farm table Dark Walnut by Minwax and used an oil based poly to protect it. This finish has had held up really well despite all the use this table has received. However, I was really getting tired of the dark wood finish and wanted to refresh our kitchen space. So I decided to give our DIY farmhouse table a makeover! And I'm in loveeee with the transformation! Here is what it looked like before the makeover in our current kitchen (left photo) and in our Charleston apartment (right photo):
BEFORE FARM TABLE MAKEOVER PHOTOS: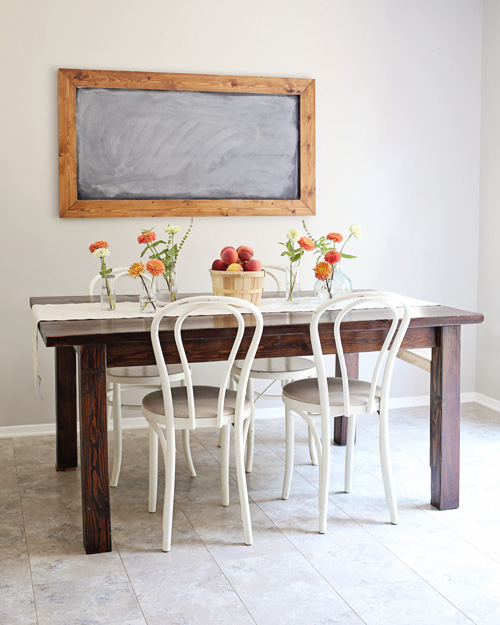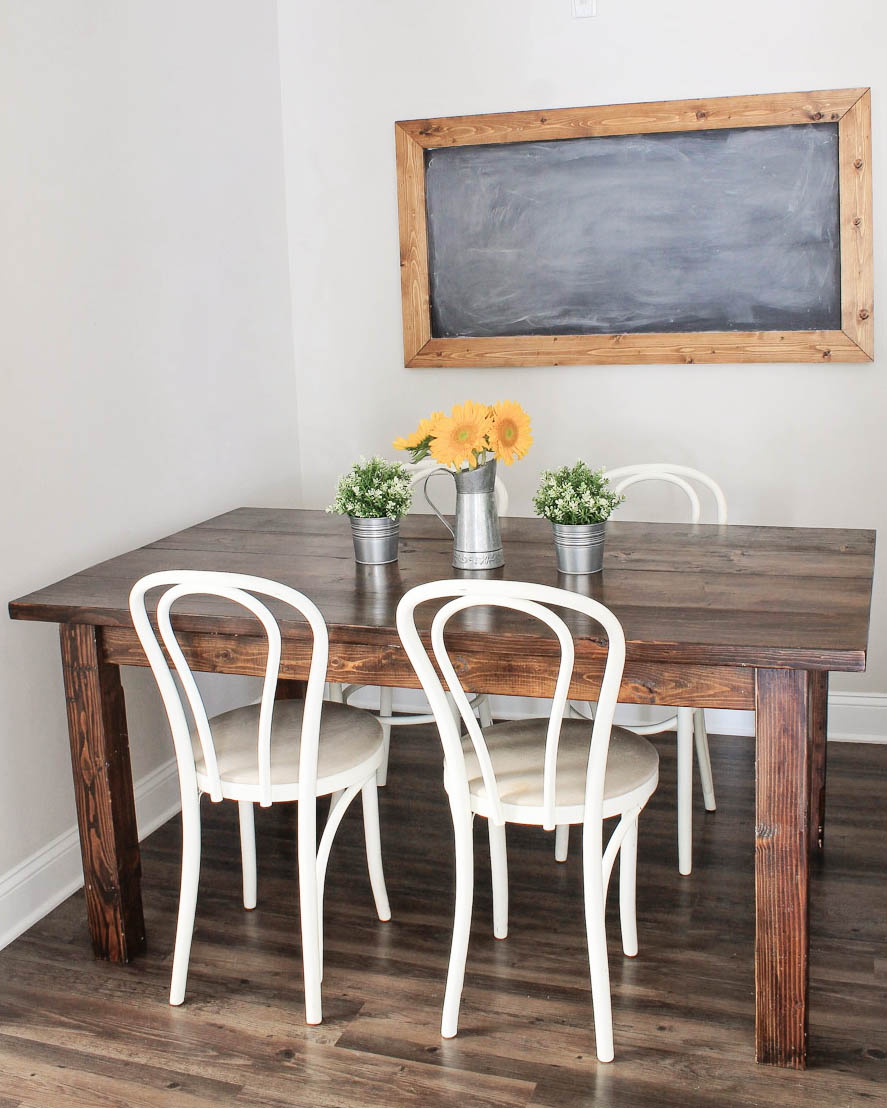 And this what our DIY farm table looks like now after its makeover!
AFTER FARM TABLE MAKEOVER PHOTOS: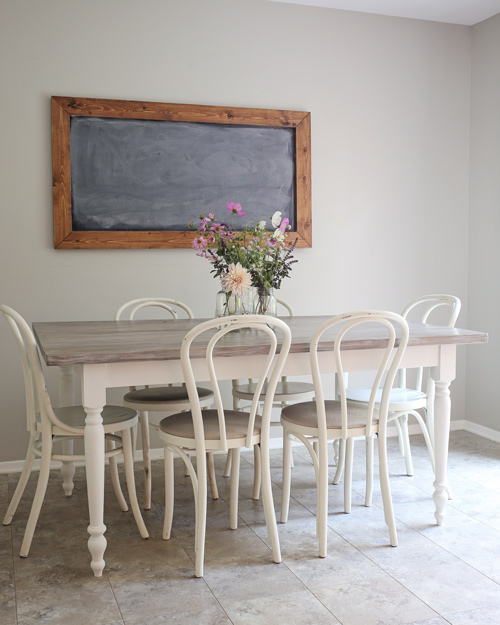 And a landscape shot: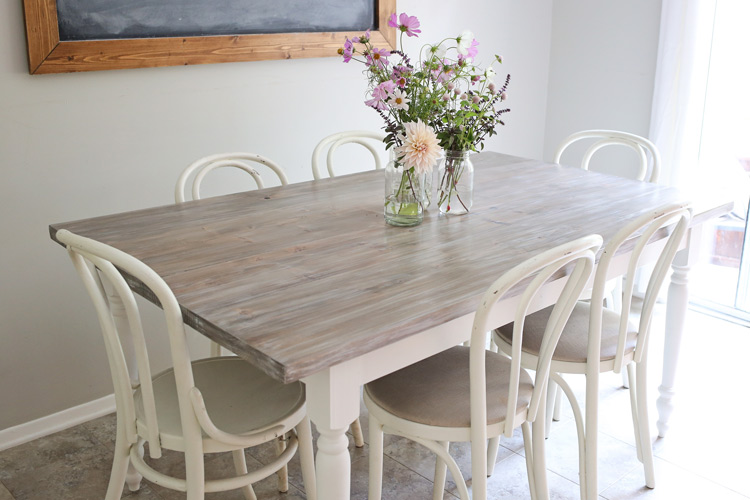 To achieve this look, the original dark walnut and poly was sanded off, back down to the bare wood.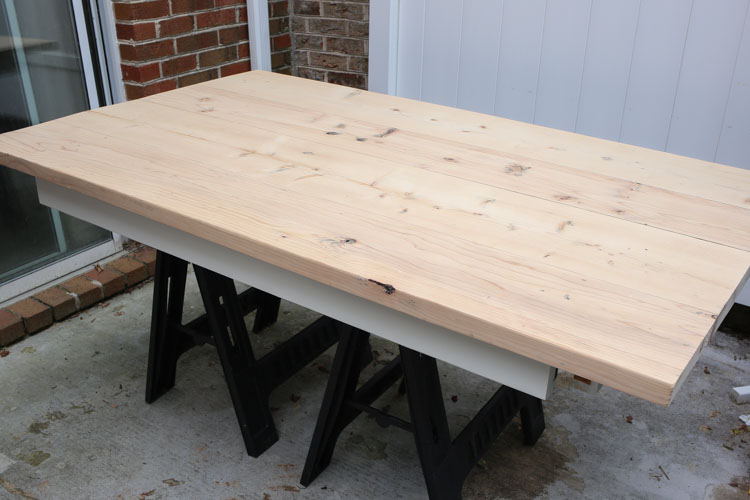 After sanding the old table top finish off, I applied a gorgeous, DIY, weathered wood finish to the table top. It looks complex, but it was actually really easy. The tutorial on how to create this weathered gray wood finish is included in Weathered Wood Recipes, which you can learn more about here!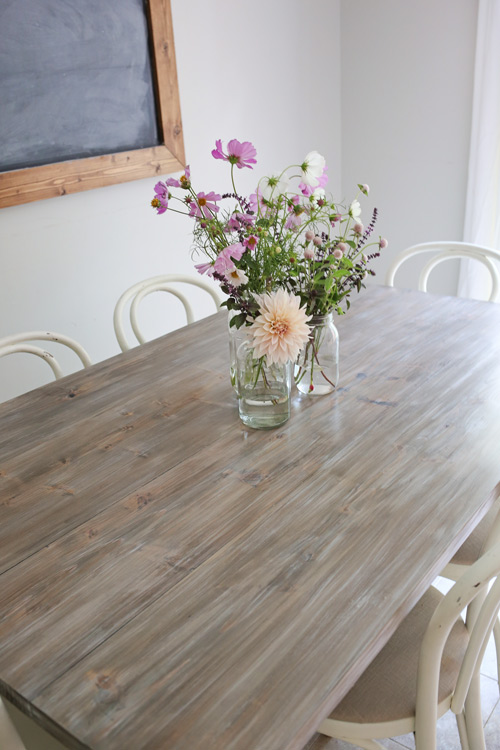 Here is a close up of the DIY weathered wood finish, I just love the earthy, warm and cool tones, with hints of greys in the finish!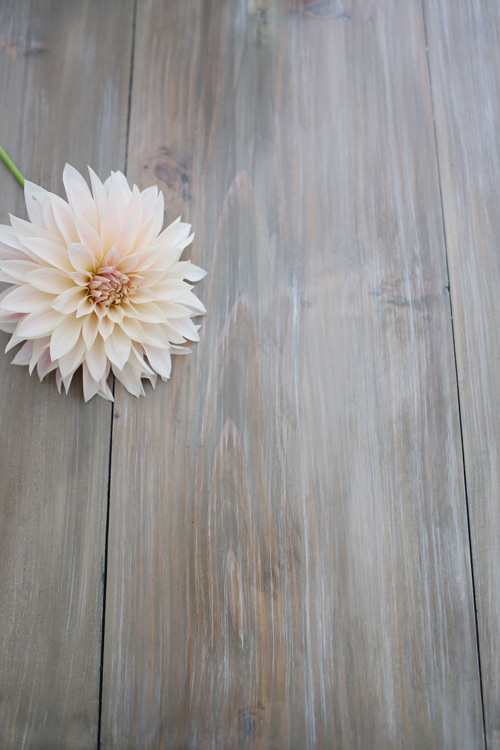 Again, the details about creating this weathered gray finish can be found here!
Next, I replaced the farm table legs with pretty, turned table legs that I bought at Lowe's for about $18 each. We chamfered one corner of each leg with a router and added holes for hanger bolts (just like in our original DIY farm table tutorial) so the legs would still be removable. Then, I primed and painted the new table legs and table apron in White Dove by Benjamin Moore.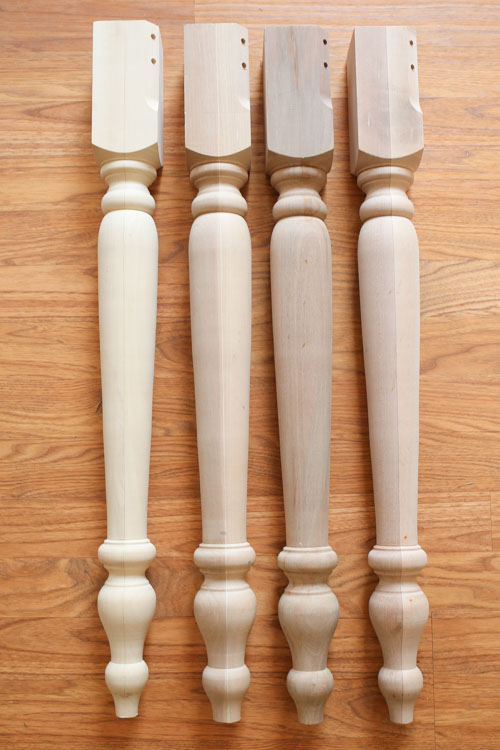 And here's a photo of the table legs all painted and assembled. The new turned, table legs really help jazz up the table and make it more of a pretty, modern, farmhouse style.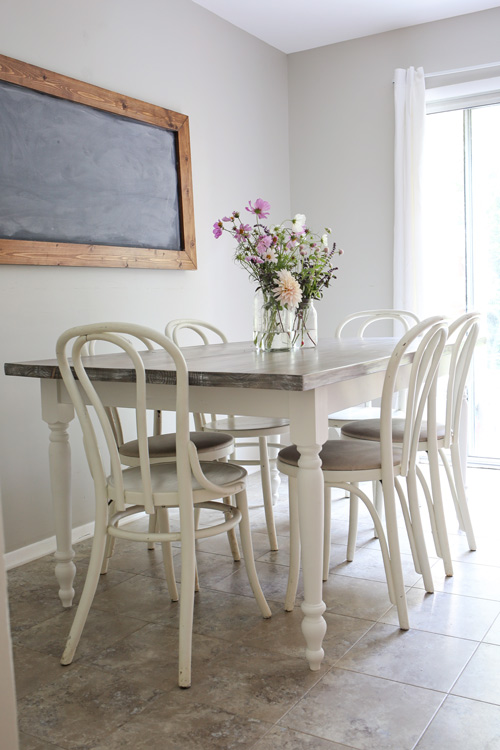 Every morning when I walk into the kitchen with the sunlight shining on our farm table, it makes me smile! I love the new look of it and I think it really looks like a brand new table, except I didn't have to spend lots of money to buy a new one or spend more hours building a new table! Love the magic of a good 'ole makeover! What do you think of the farm table makeover? Is there a table you have already that could use a makeover?
Thanks again for following along on my DIY adventures! Follow on Instagram and Facebook for my latest projects, fun updates, and sneak peeks!
Save
Save
Save
Save
Save
Save
Save
Save
Save
Save
Save
Save
Save
Save
Save