When I started grad school, Brandon and I moved into our first apartment together and it was the first apartment we had both ever lived in since college (we both moved back home after college).
Our first apartment was a small, basement apartment in the Washington DC metro area and it seriously lacked closet space.
It only had one tiny, under the stairs closet and that just wasn't going to suffice for my storage needs, let alone Brandon's needs too!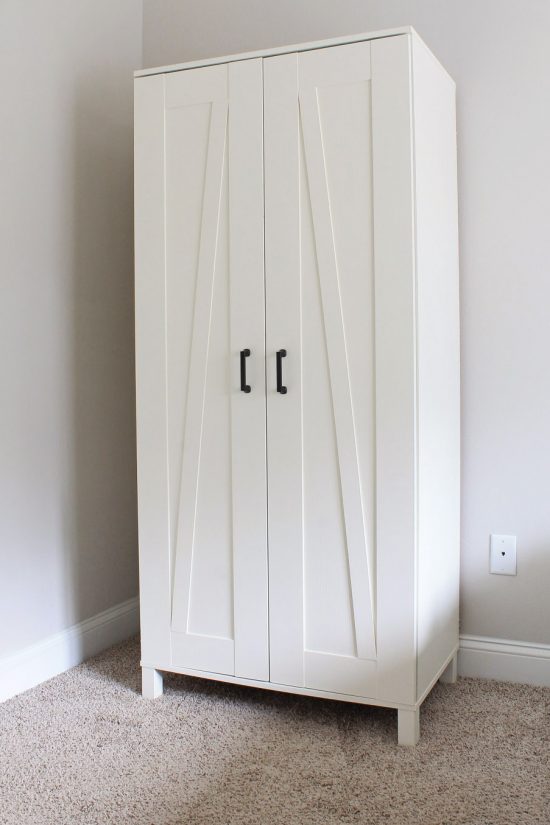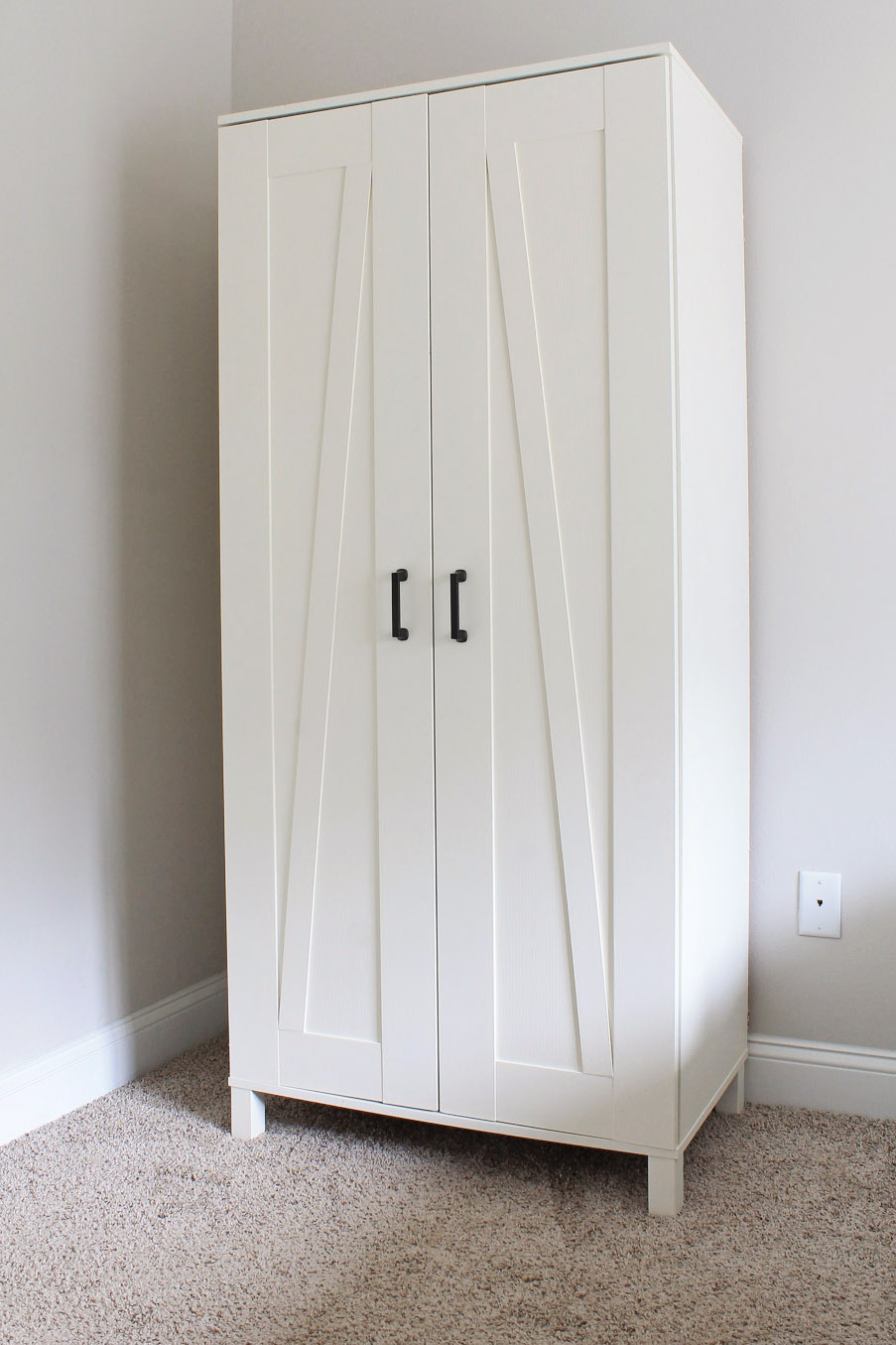 And can you believe it, I actually still have a photo of that tiny closet: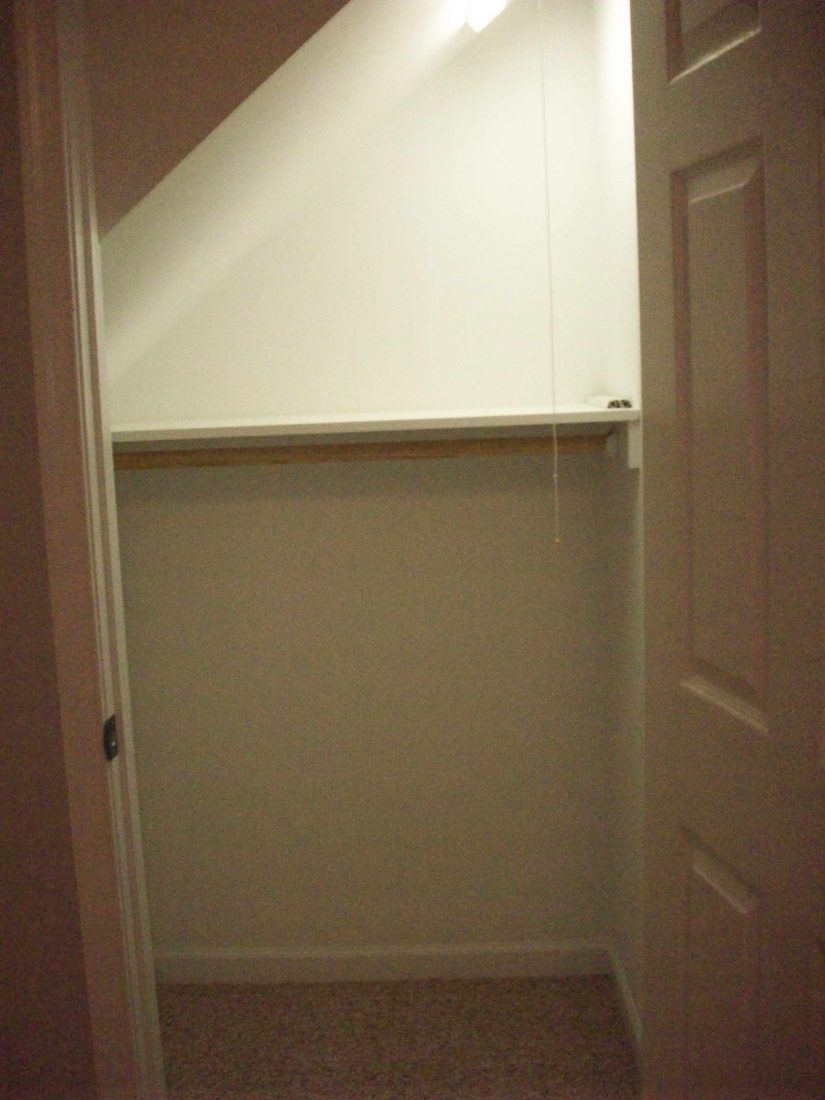 Since I was in grad school and funds were low, I started searching Craigslist for a wardrobe and kept coming across some great deals for IKEA wardrobes and I really wanted one! The problem was since they were such a great deal, every time I contacted the seller, I was too late, the wardrobe had already been purchased by somebody else! Obviously they were super popular, but they also came up a lot on Craigslist, so I started checking Craigslist multiple times a day. This tactic worked out because I scored an Aneboda IKEA Wardrobe for $35 (they retail for $99) and it was practically brand new and already assembled!
Eight years and 4 moves later since that tiny apartment and I am still using my IKEA wardrobe for storage! It's currently in our bedroom in our Charleston apartment. A few weeks ago I realized how shabby it was starting to look and how it's just not my style. It needed a makeover aka IKEA hack time!
Here is the before photo of my IKEA Aneboda wardrobe and as you can see the cardboard backing was missing a chunk (courtesy of our last move):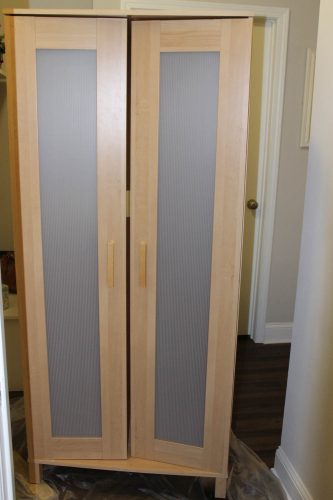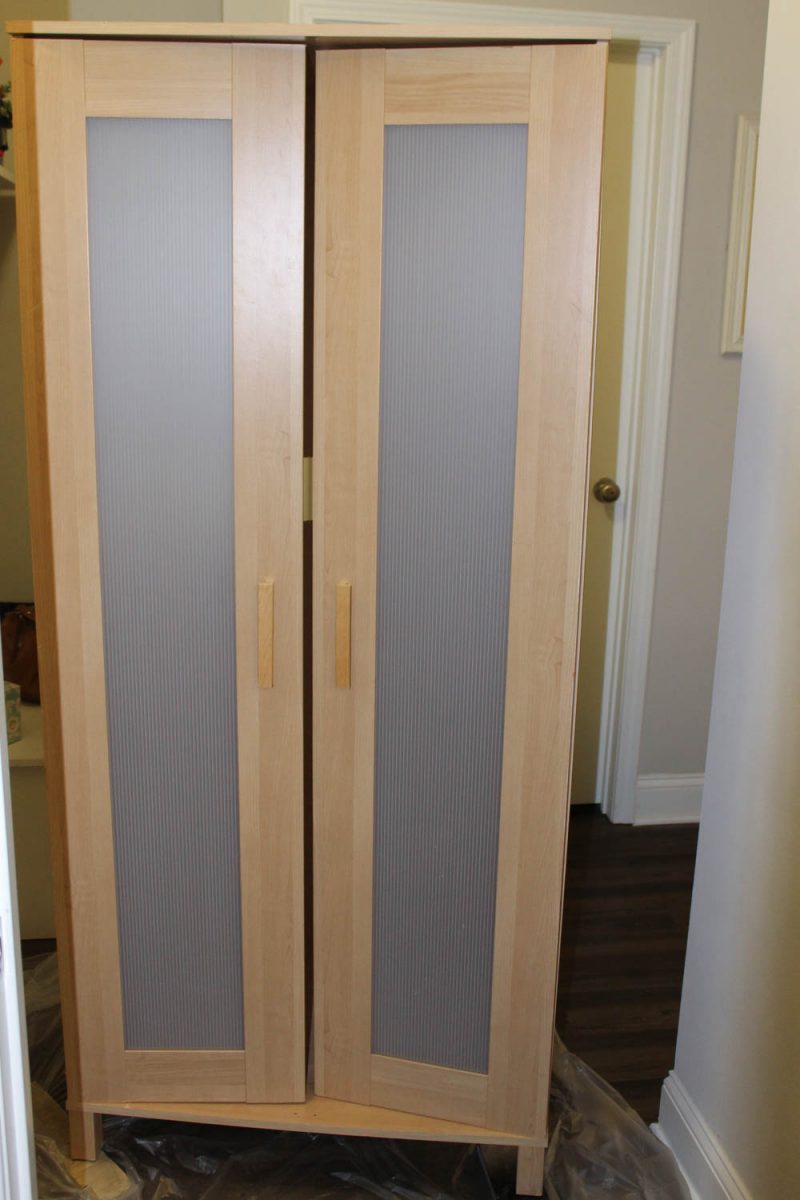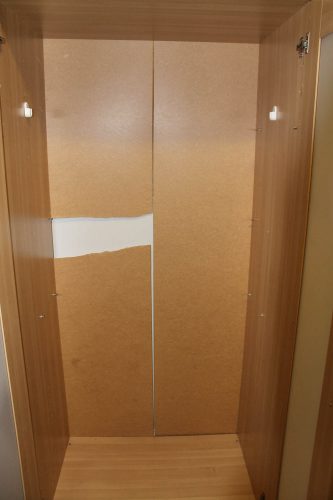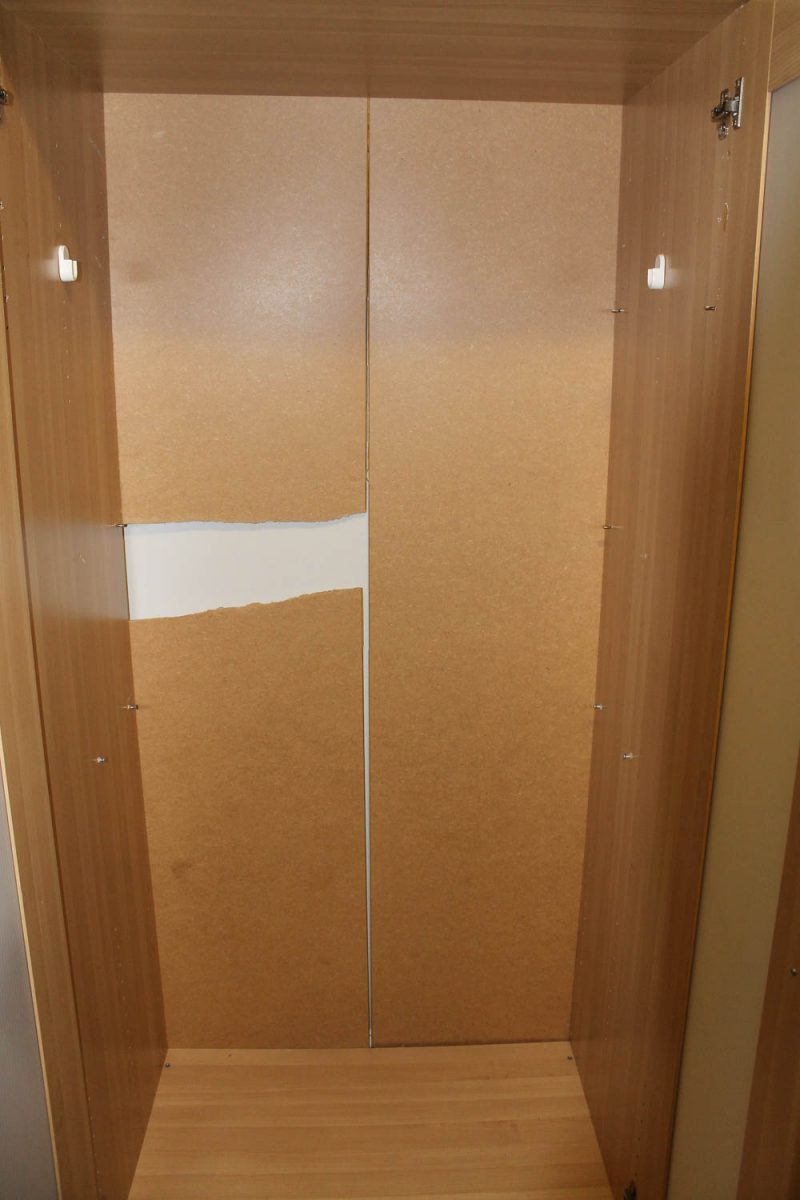 Note, this post contains some affiliate links for convenience.

Here are the steps I took to turn my IKEA Aneboda Wardrobe into a farmhouse, cottage style wardrobe:
Materials Needed:
Paint, paint brush, & roller
Inexpensive paint brush (for primer)
(1) 4ft x 8ft sheet of plywood, 1/4″ or less thick
Fabric 67″ long and at least 31″ wide
Staple gun and 1/4″ nails or strong glue
3/4″ screws or 1″ nails (for backing piece)
(2) Cabinet Pulls (I used these pulls)
1. First, I prepared the wardrobe for painting by removing the backing, doors, and pegs. I sanded any loose wood particles too.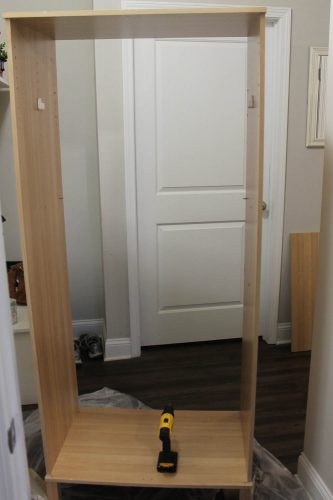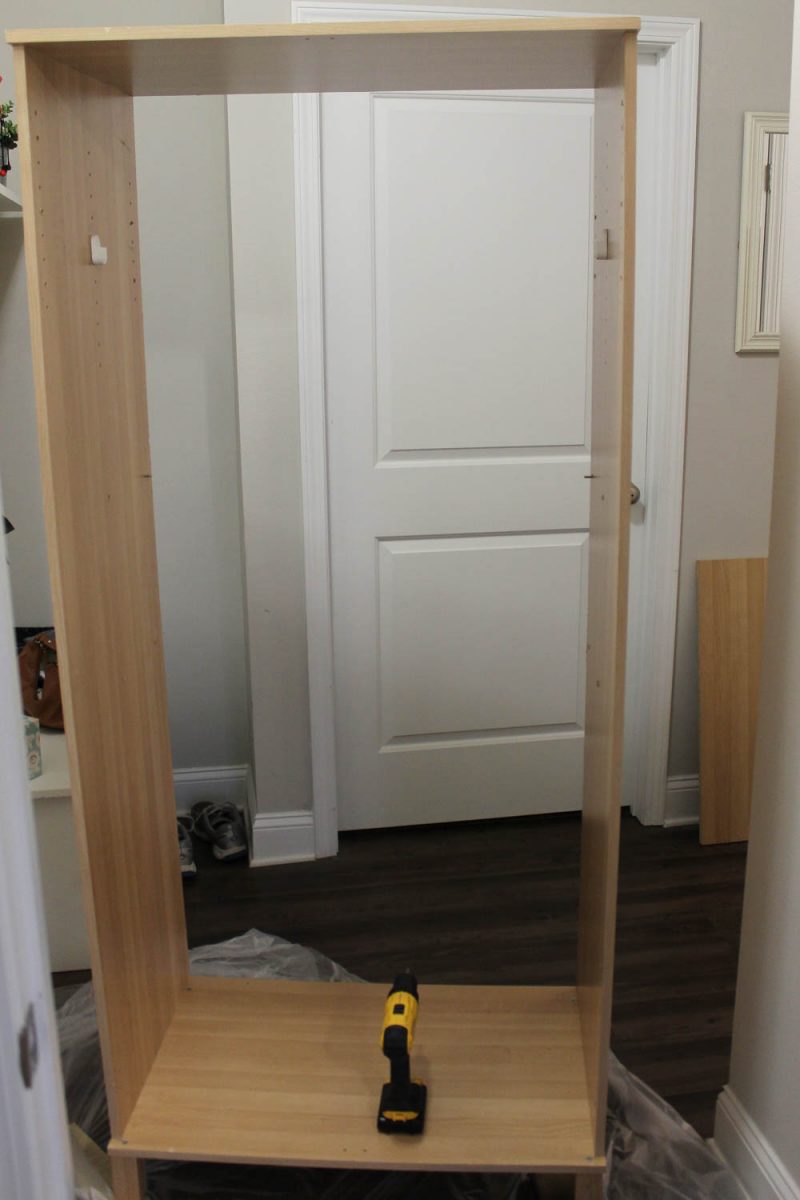 2. Prime your wardrobe with a shellac based primer. Because the surface of the wardrobe is very shiny and almost like plastic, you need an oil-based primer to prevent peeling of the paint and provide coverage. I used this primer. First I primed all the corners and places I couldn't reach with a roller with a cheap, $1 paintbrush that I could throw away since I was using an oil based primer and didn't want to have to clean a good brush with mineral spirits. Then, I rolled over the rest of the wardrobe with a paint roller.
I added a second coat of primer on the clear, middle, piece on the doors. I was glad to cover that part up, I couldn't stand it!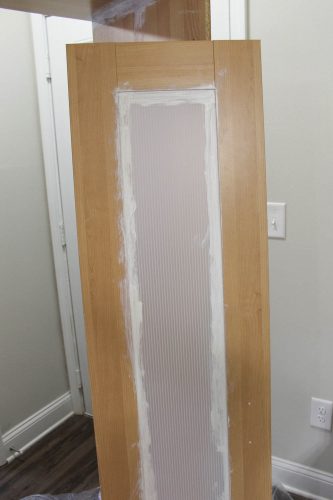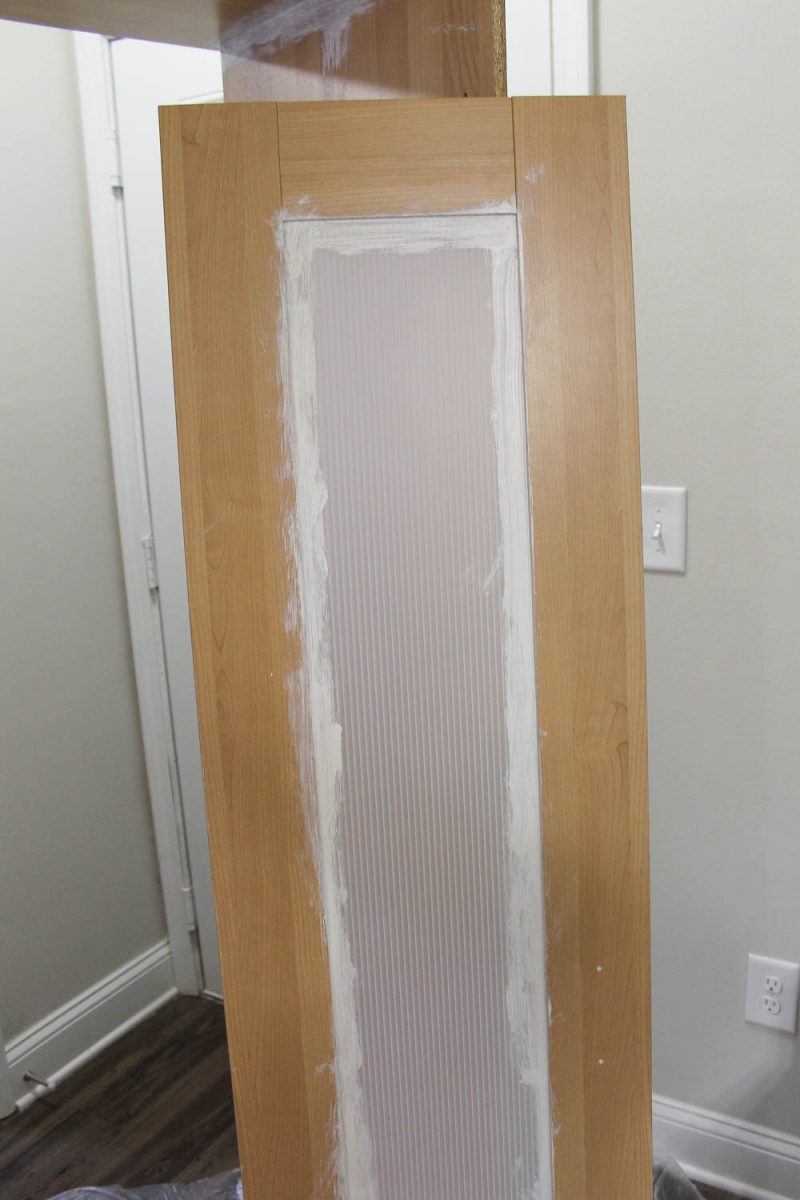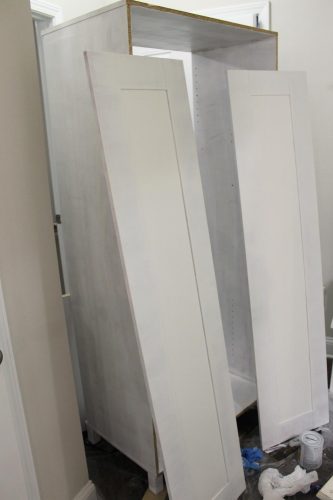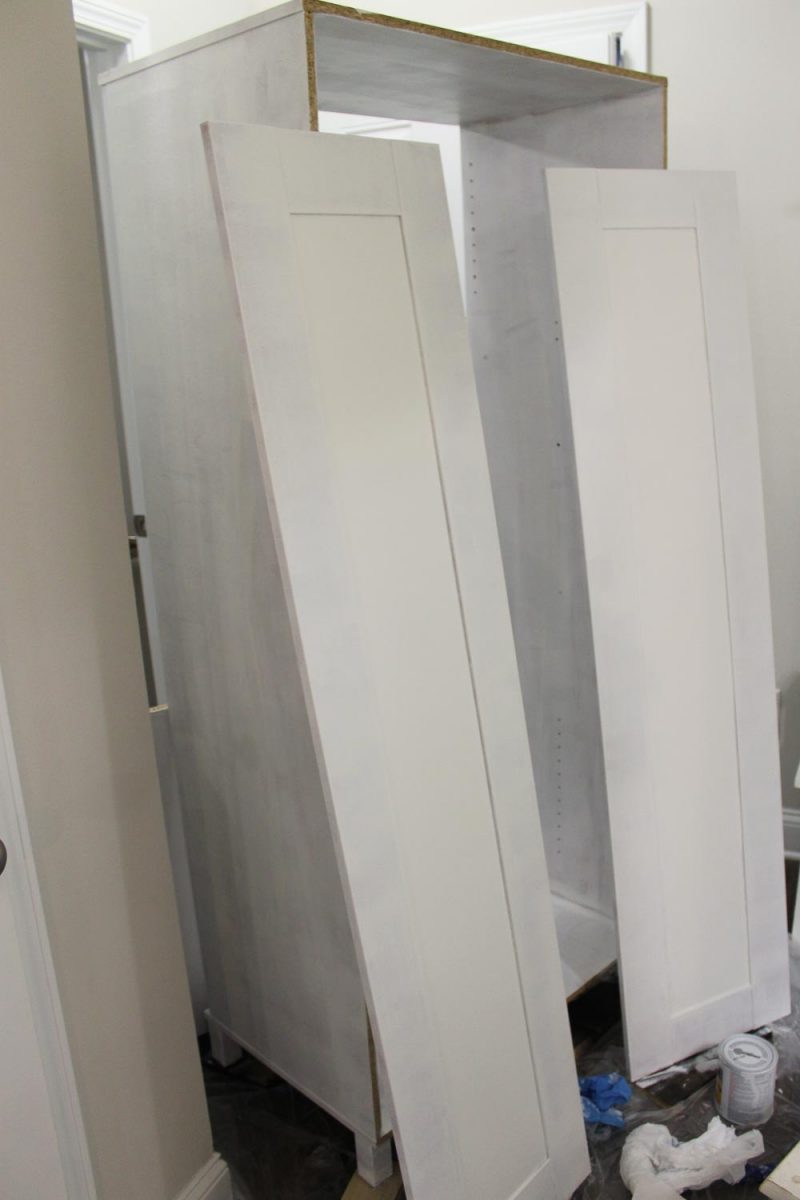 3. Make the following cuts with the 4x8ft sheet of plywood (or have your home improvement store make the cuts for you when you buy the plywood):
One piece at 66.5″ x 31.5″ (for the backing)
Two pieces at 66.5″ x 2″ (for the doors)
4. Now it's time to add the 2″ plywood strips to the doors. I was inspired to do these pieces angled on the doors when I saw this photo from Shanty-2-Chic. I loved how it makes a statement, but is still simple enough for this wardrobe makeover and makes it more like barn doors.
Clamp your 2″ plywood strips to the doors at an angle and then using a straight edge, mark the angle line with a pencil. Then, use a miter saw and make the cuts for your angles.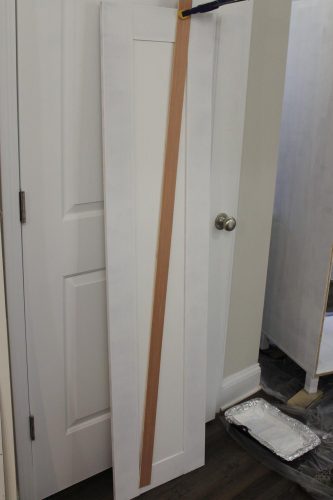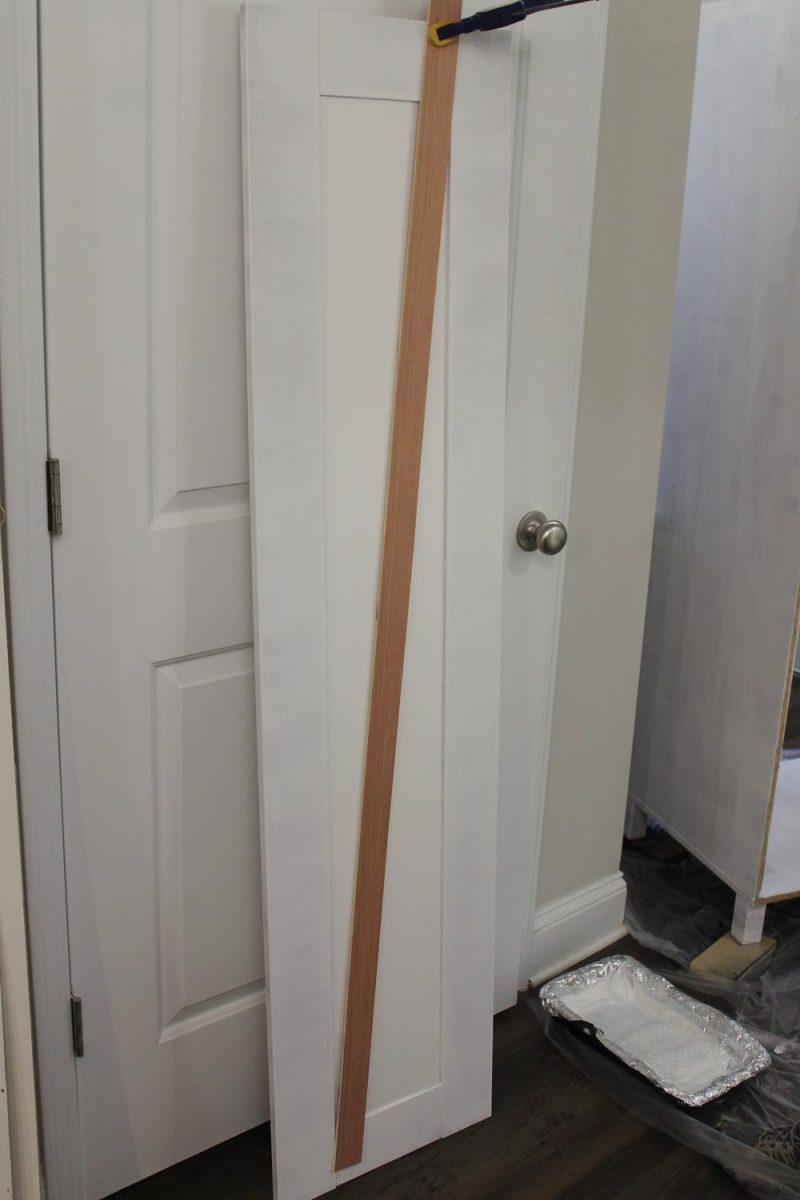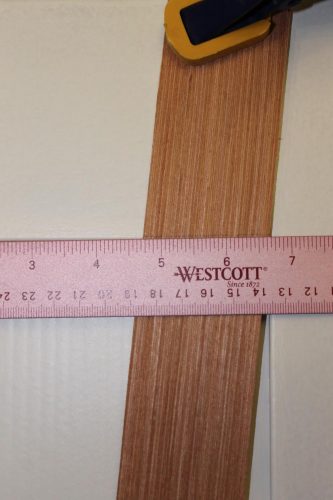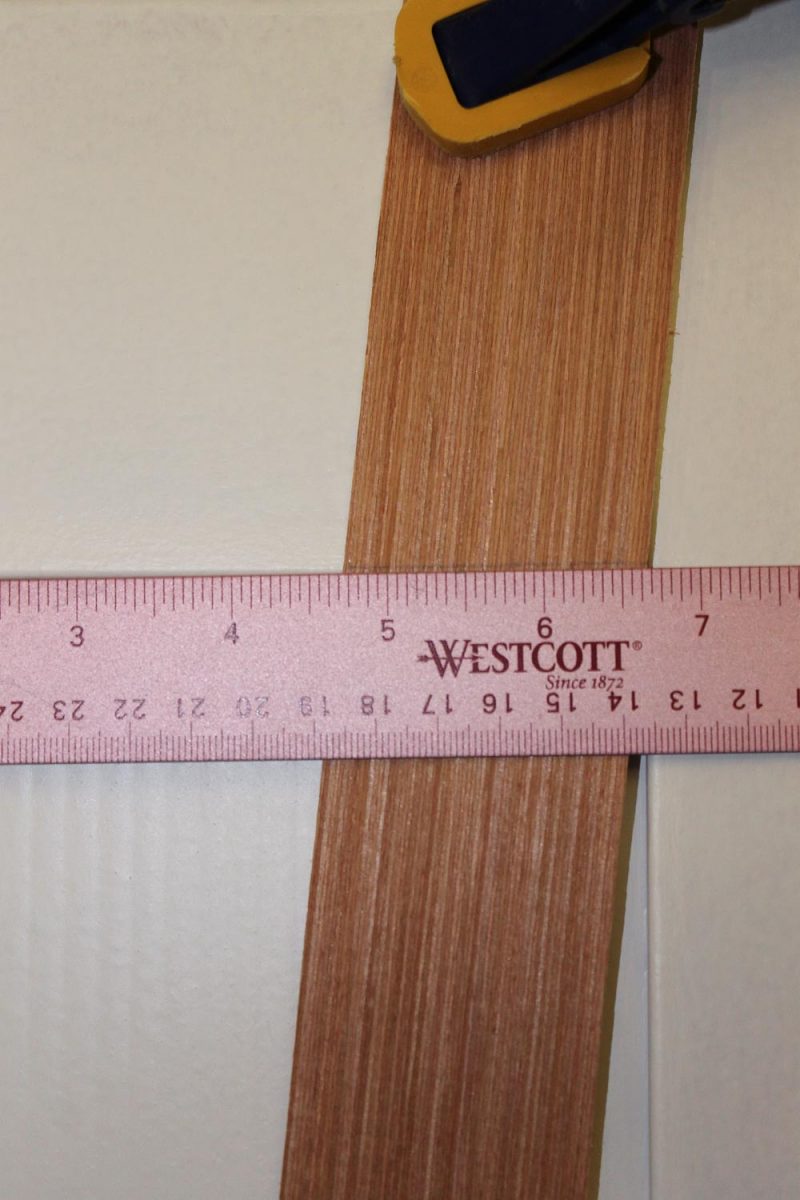 Then, attach your strips to the doors with Liquid Nails and place something heavy on top of them while the adhesive sets.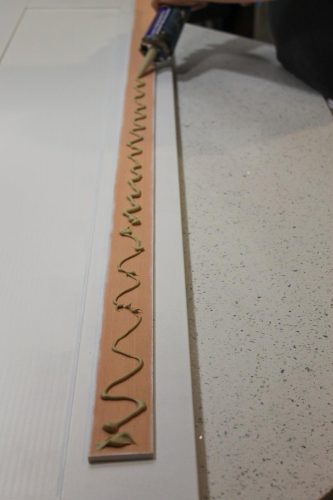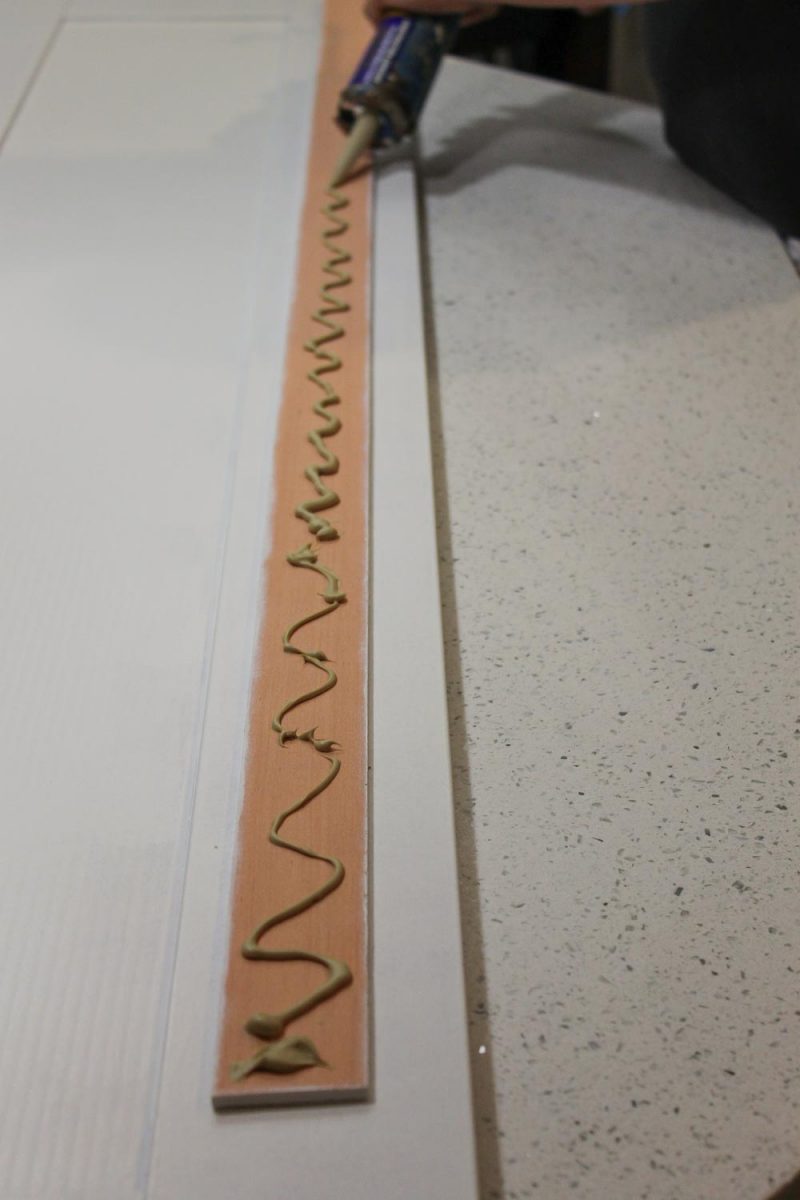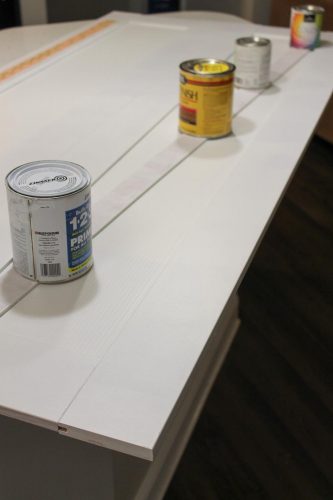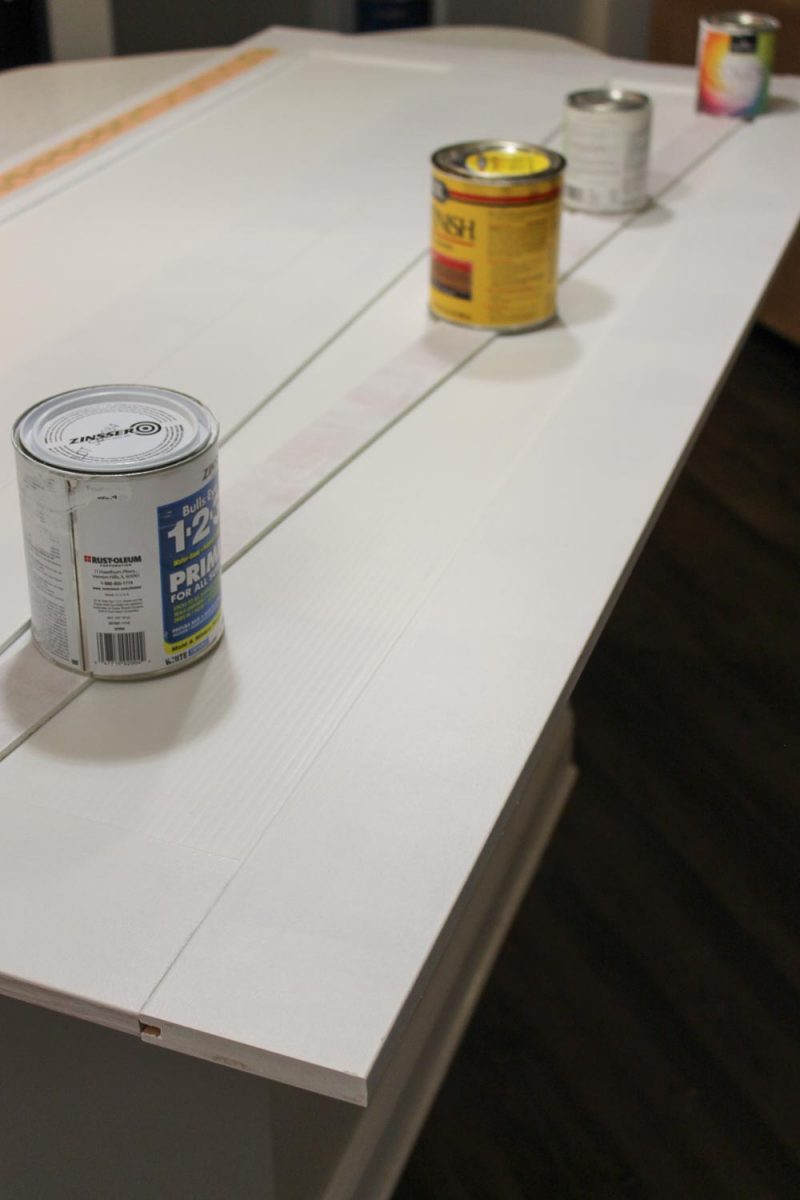 You may need to add caulk or spackle where the angle hits the door if there are any gaps. Sand the area and retouch up with primer if necessary.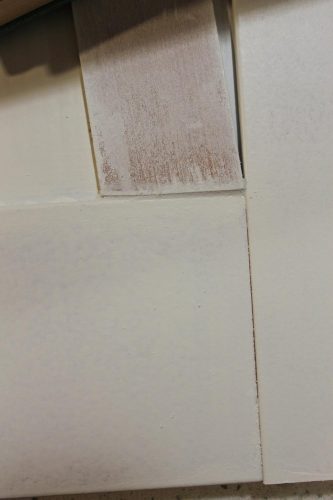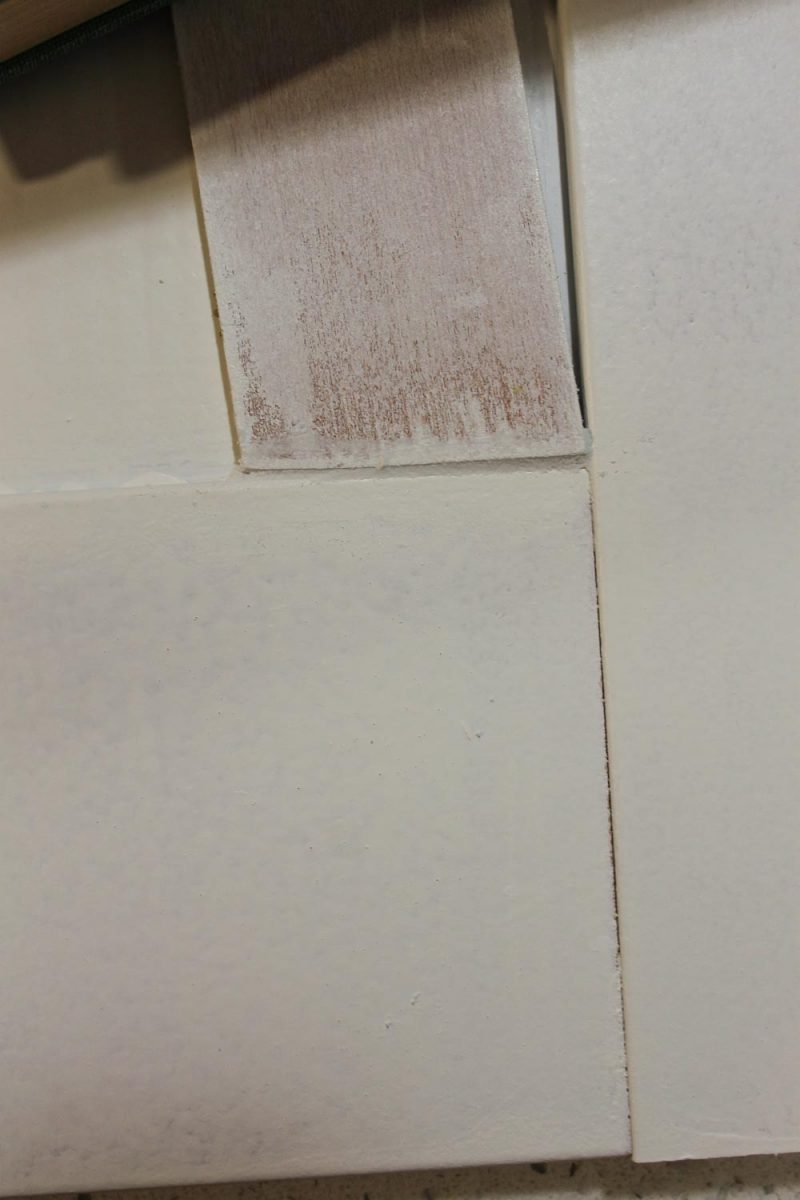 5. PAINT!!! Paint the wardrobe and doors. Again use a brush (high quality) for all the places you can't reach with a roller, then roll the rest! I used Benjamin Moore Ivory White paint since I had it on hand already.
6. Add your fabric to your 66.5″ x 31.5″ backing piece. To do this I laid mine out on the floor and ironed it flat on top the board. Then, I attached the fabric with a staple gun and keeping the staples right along the edge of the board. And then I trimmed the excess fabric off. If I had to do this again, I may have wrapped the fabric over the back of the board and stapled to the back for a cleaner look. You could also use a strong glue instead to attach the fabric.
After your fabric is attached, attach the backing piece to the wardrobe with 3/4″ screws or 1″ nails (make sure fabric side is on the inside). It works best to lay the wardrobe down on the ground for this part.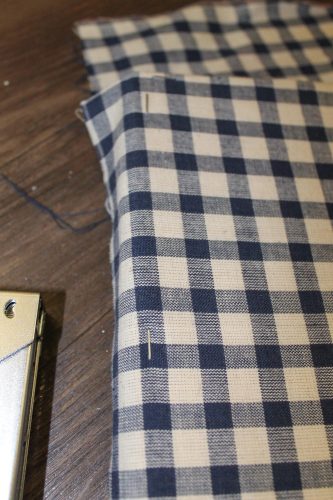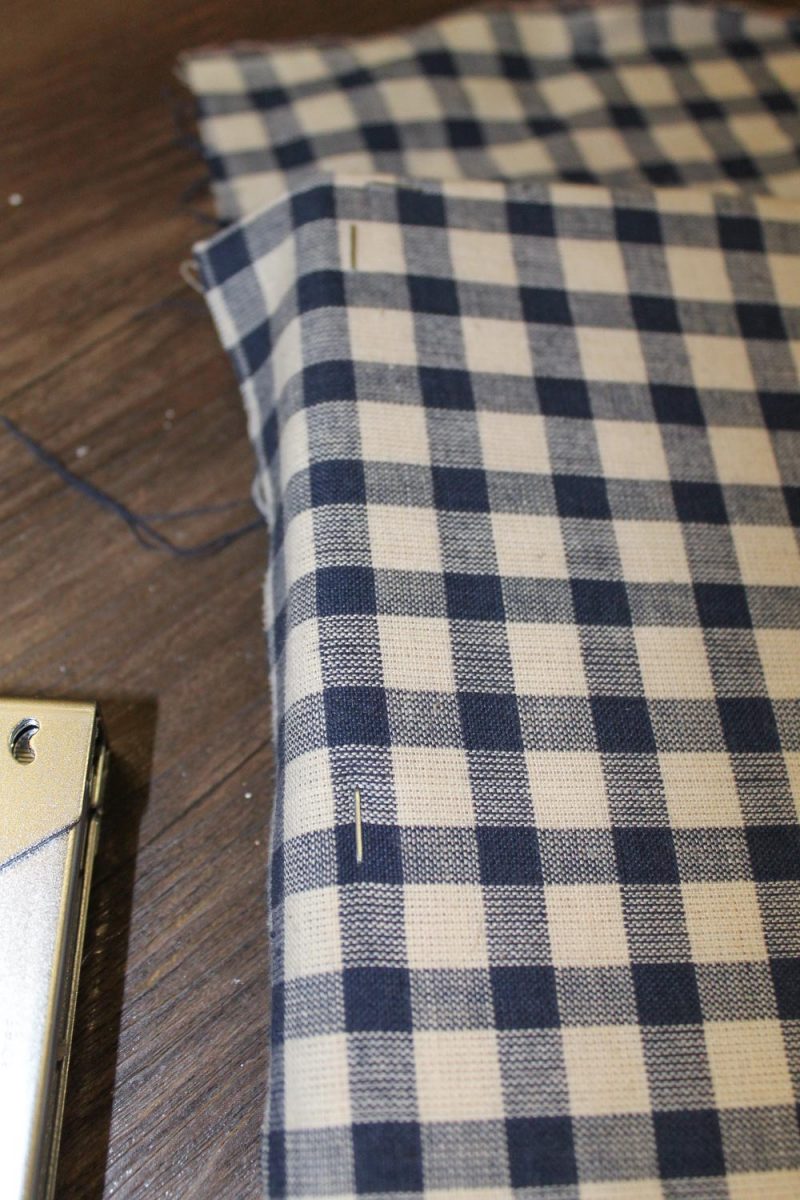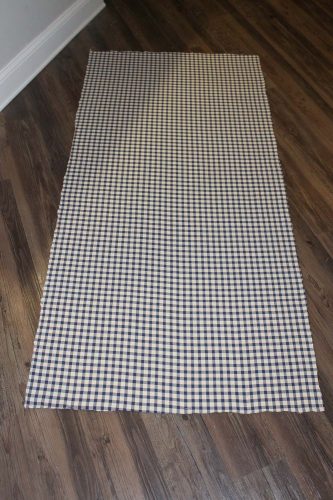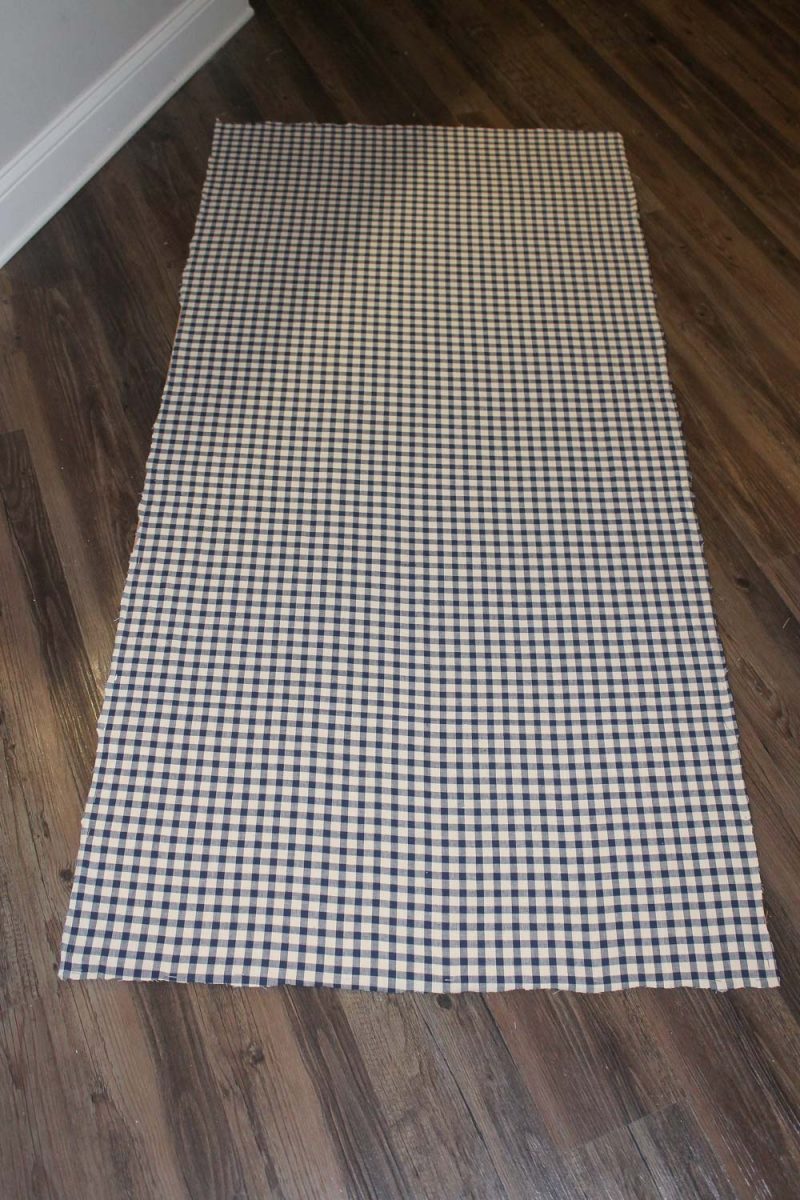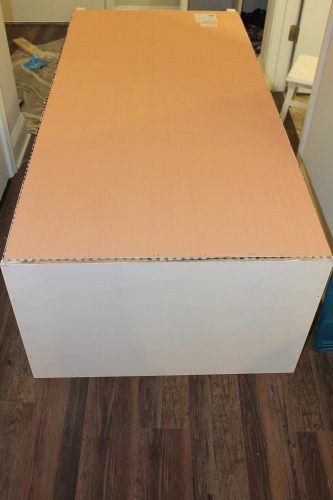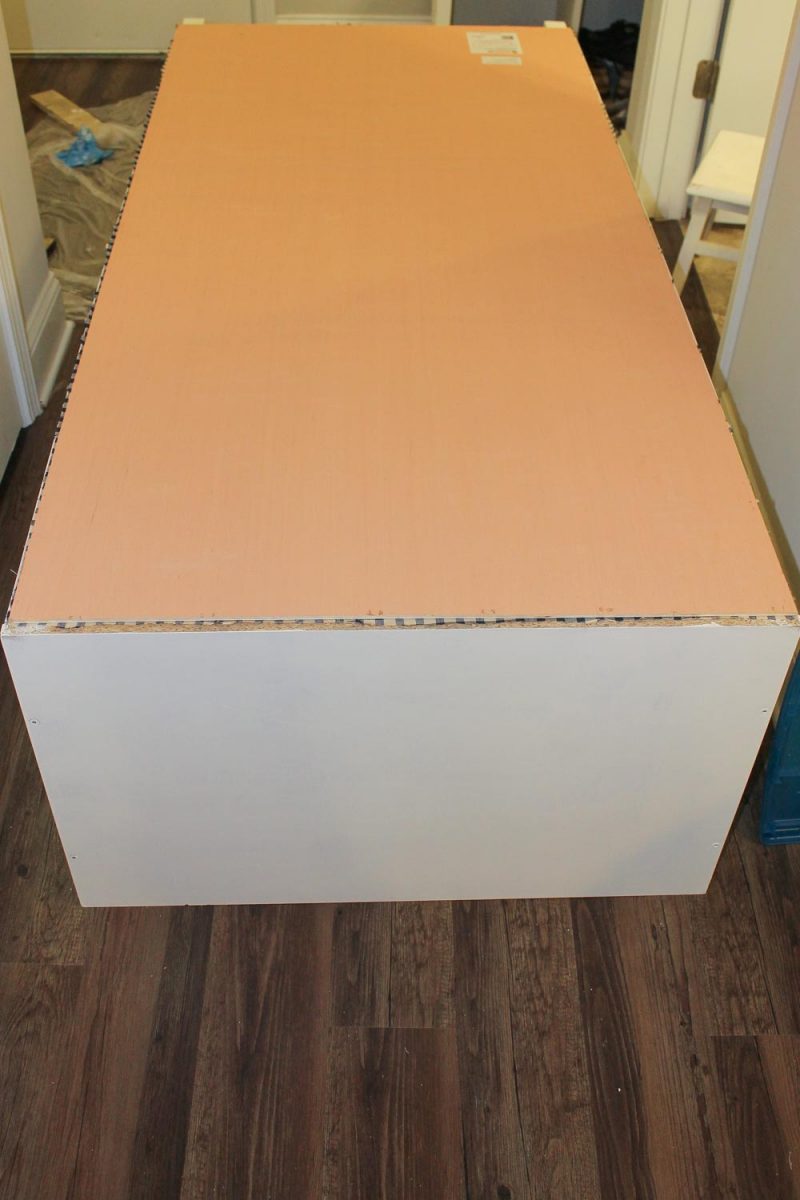 7. Finally, put the wardrobe back together: add your hardware and re-attach your doors. I love these cabinet pulls I used!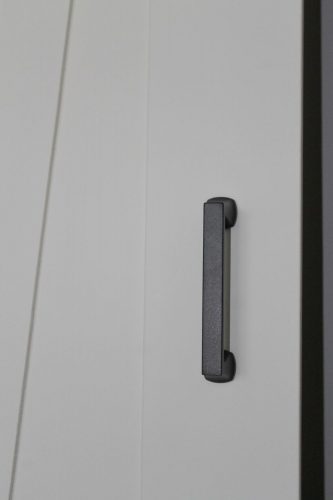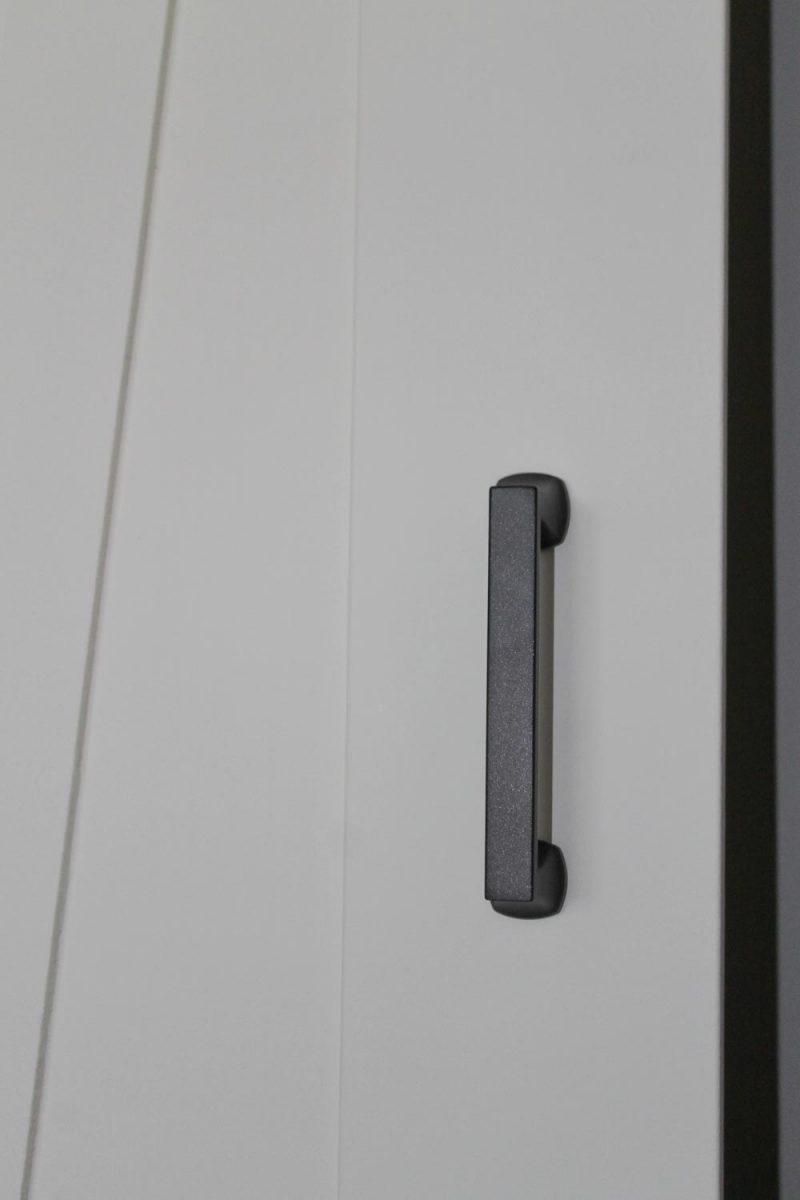 Your IKEA wardrobe hack is complete and your IKEA wardrobe has been transformed into a custom, barn door style look! It's amazing what some paint and simple hacking tricks will do! I could of gone further and added molding and such, but I wanted to keep this project more simple and under $50.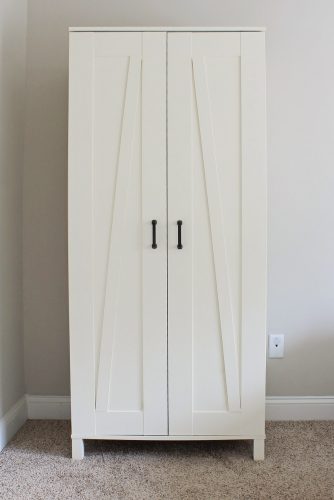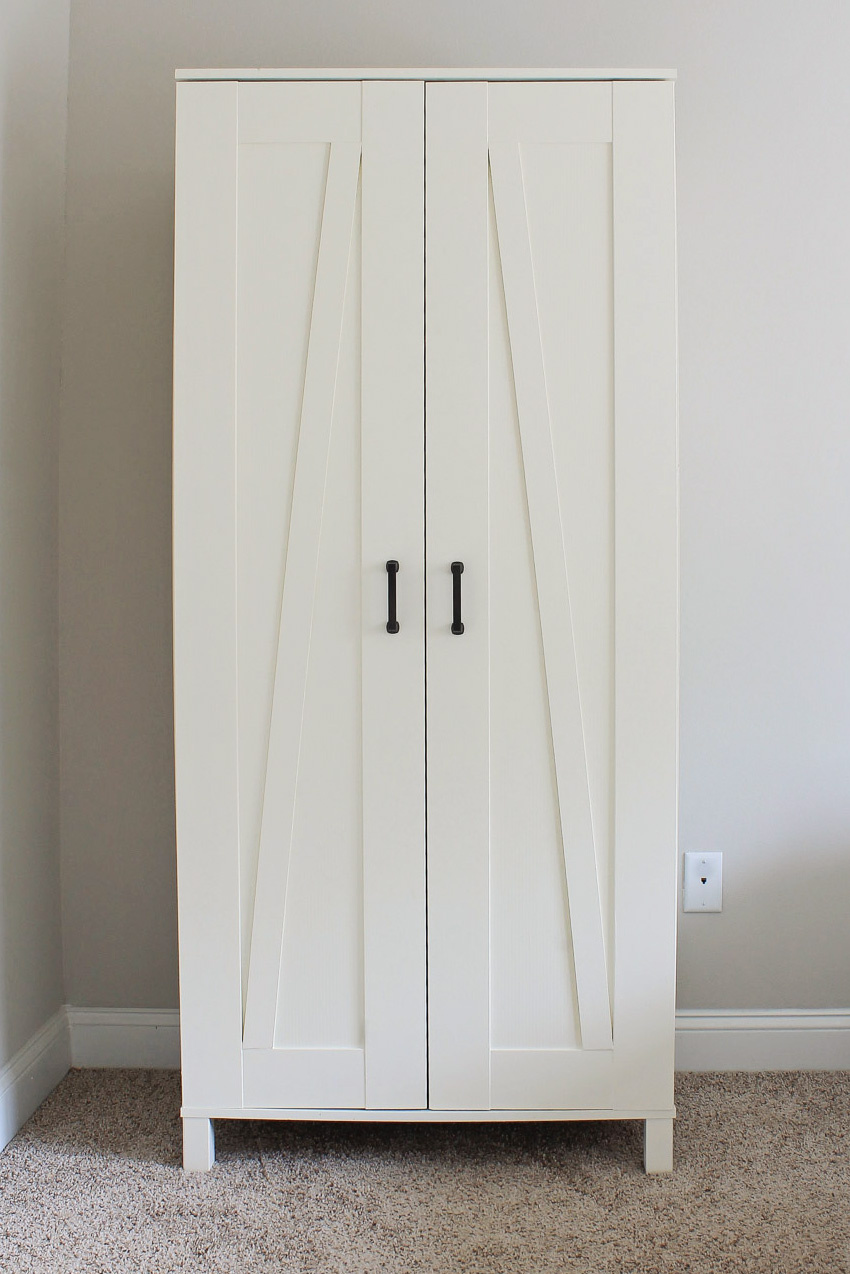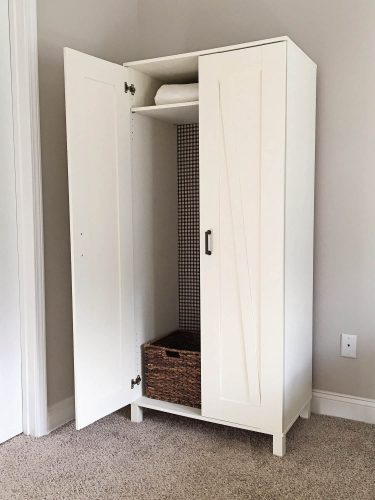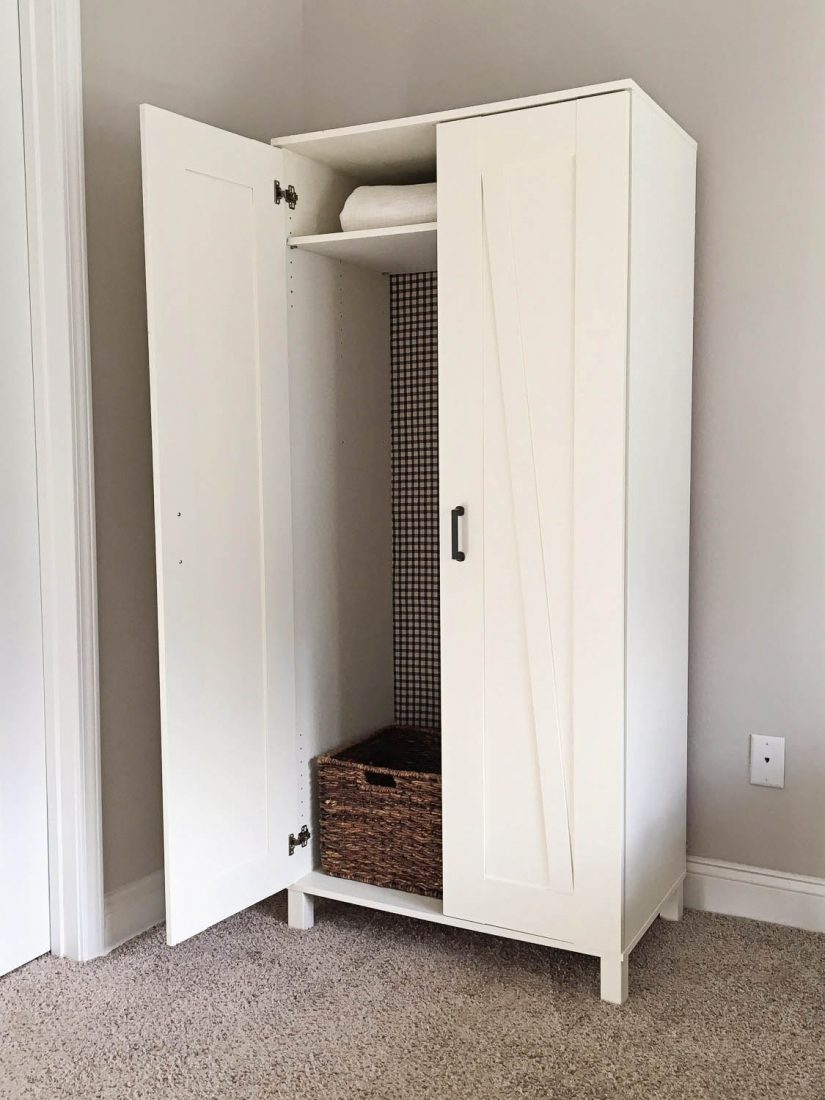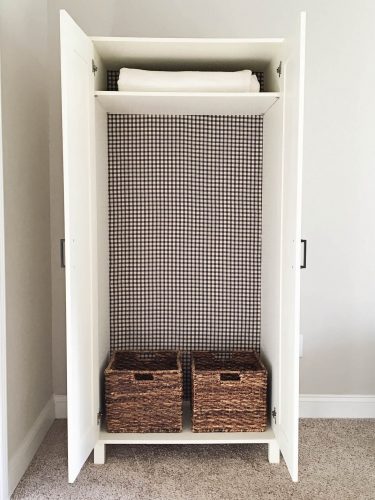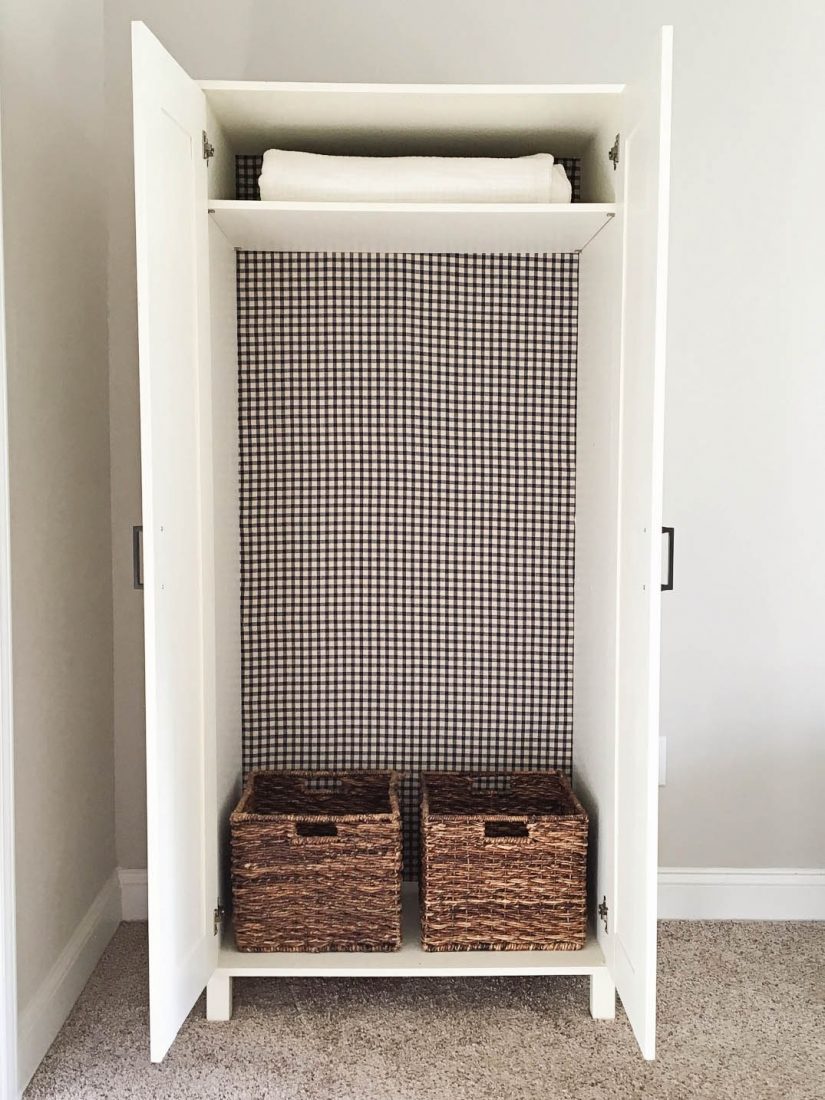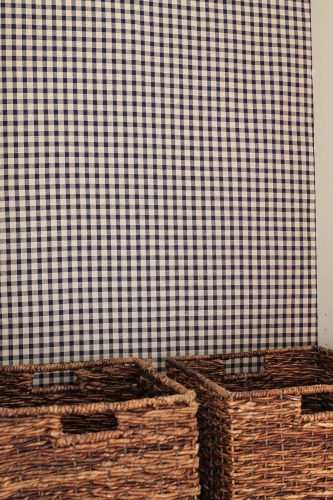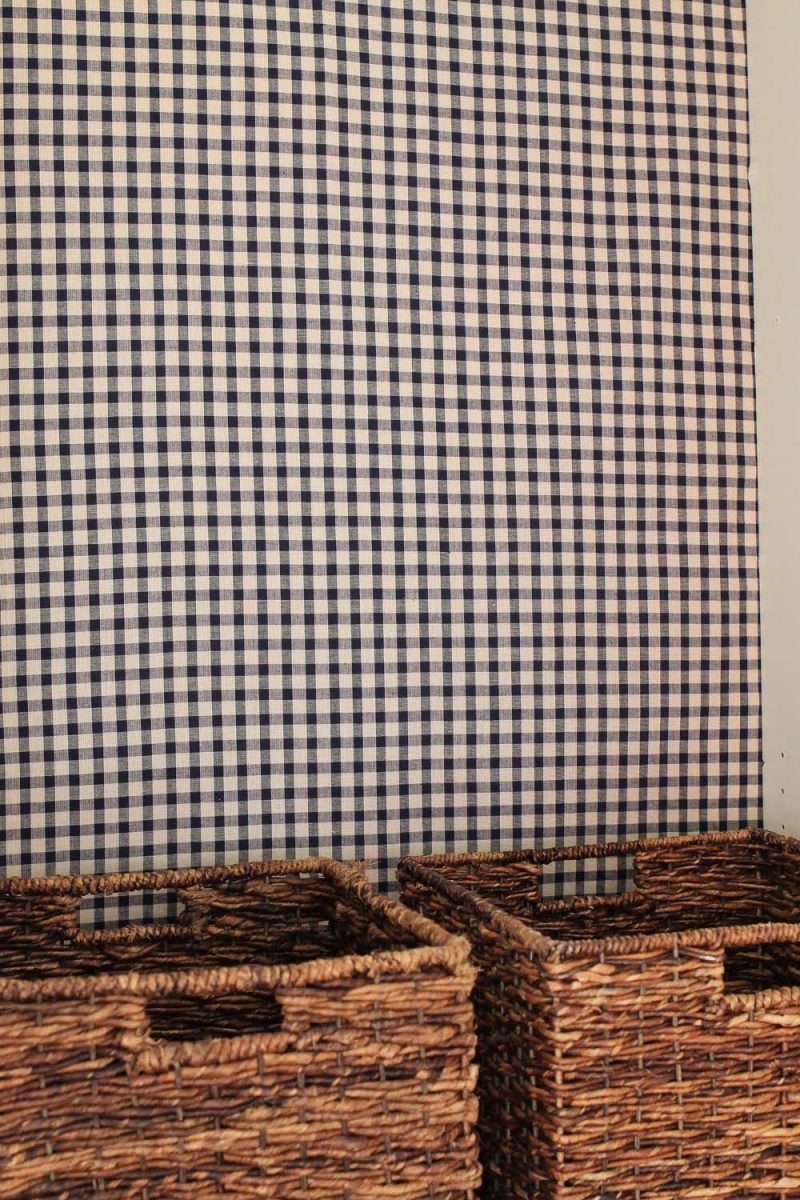 Have you ever completed an IKEA hack before? This was my second IKEA hack and I'm loving the result! I have two more bedroom pieces from IKEA and now they look funny next to this lovely wardrobe makeover…I may have to do some more IKEA hacks in my future…!
Thanks for stopping by! Follow along on Instagram or Facebook for my latest projects, as well as Pinterest!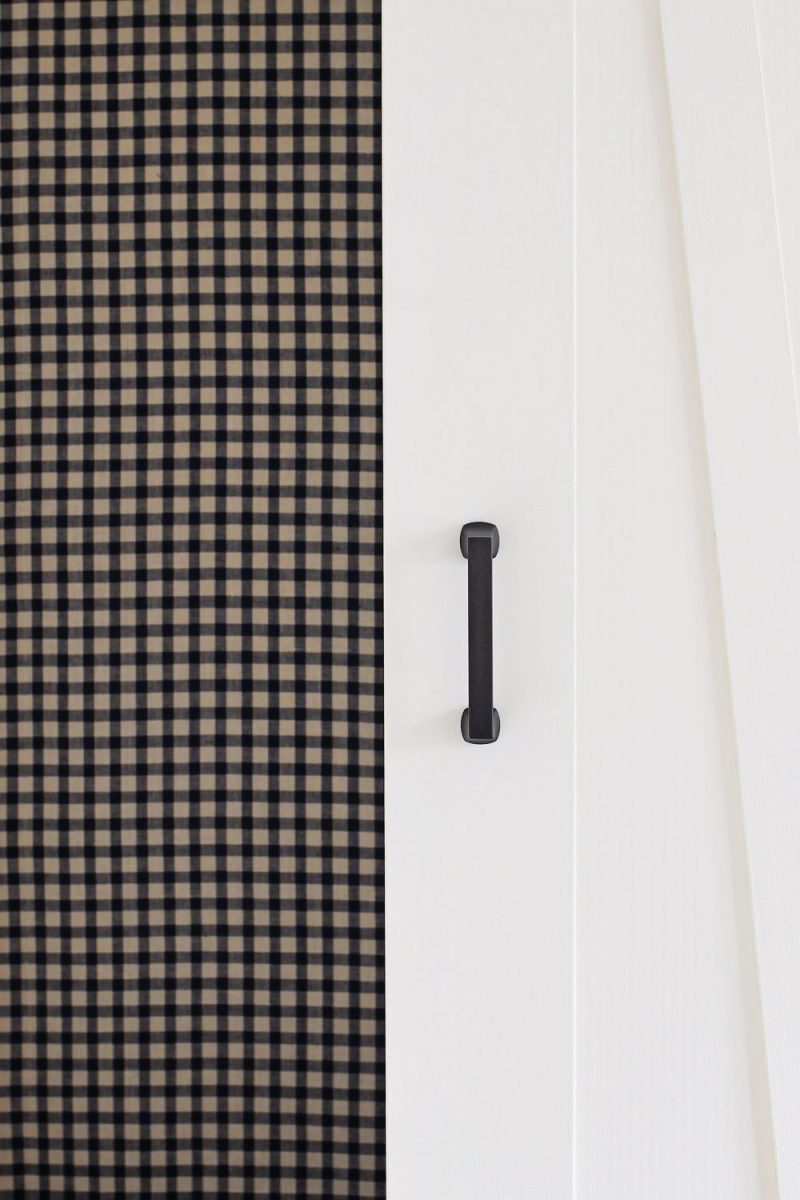 Save
Save
Save
Save
Save
Save