When I started woodworking and DIY furniture building I had to make an investment in woodworking tools. My goal when purchasing tools is always to find the best quality tool for a reasonable price. Further, I try to ensure it's going to be a tool I know I will use a lot and it will be very helpful. Below I've rounded up my favorite DIY woodworking tools that I love using all the time for my building projects and recommend for most woodworking projects!
Note, this post contains some affiliate links. For more information see my disclosures here.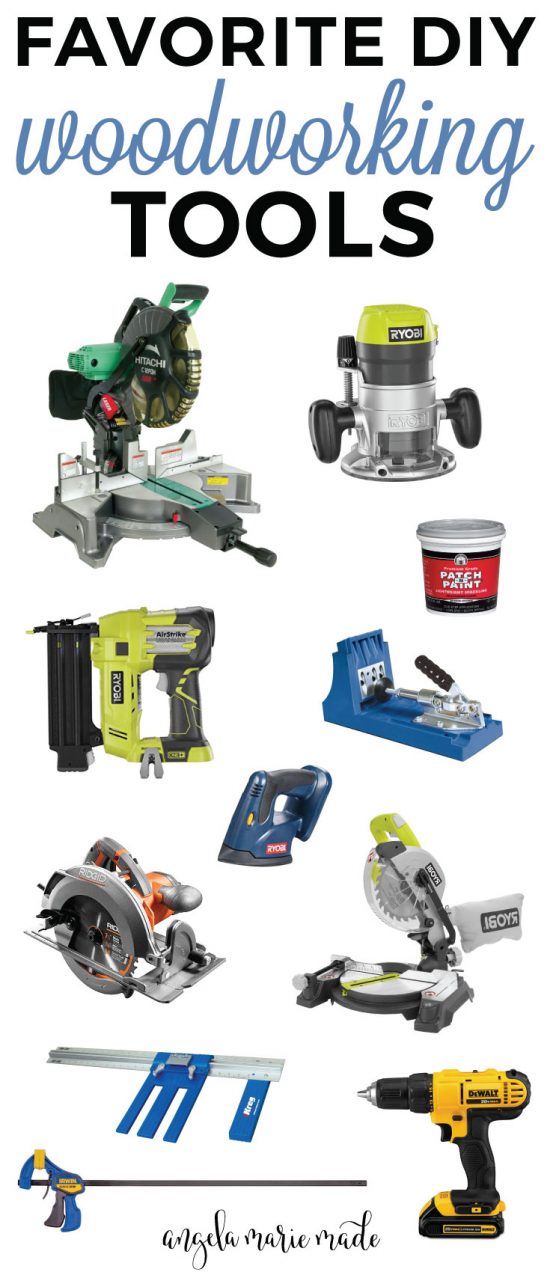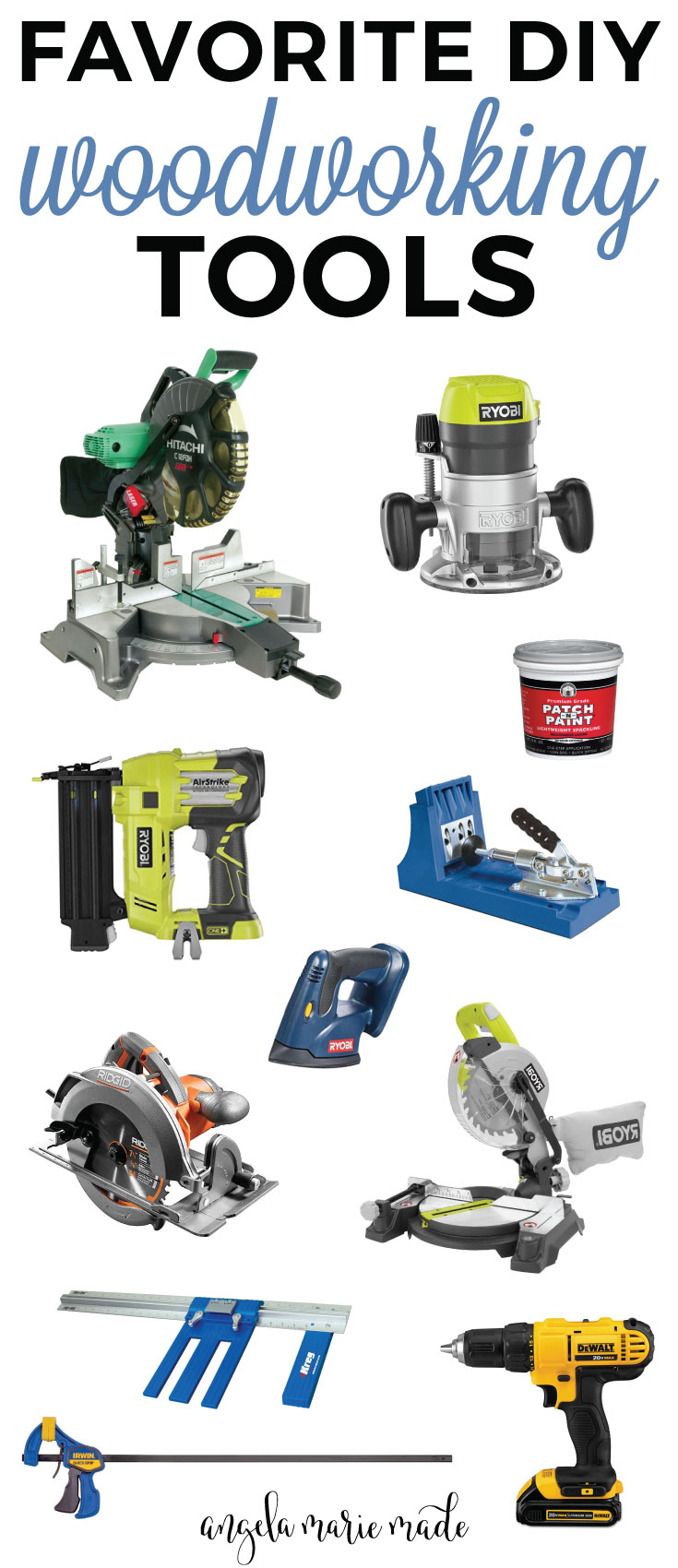 Sometimes referred to as a chop saw, my miter saw makes my building and woodworking life so much easier! You can cut wood with an old fashioned saw but if you are going to do any kind of woodworking, a miter saw is essential for making accurate, quick, and clean wood cuts. I use my miter saw for pretty much every woodworking project and it's definitely one of the best tools to purchase. This miter saw is great because I can do everything from basic straight cuts to fancy, angled, crown molding cuts and it easily cuts through many depths of wood, including 4x4s, and the laser works great too.
I do recommend replacing the standard blade that comes with any miter saw with a finer tooth blade like this since it will make your cuts even smoother and finer!
I know I just listed a miter saw in tool #1 above, but I also invested in this mini miter saw by Ryobi when we moved into our apartment because I needed a miter saw that was easy to move around (since I currently don't have a backyard or garage) and would easily fit in our little patio shed. I highly recommend starting with this mini saw if you don't have much space, your on a tight budget, just do light woodworking projects, or any other reason that a mini, less expensive miter saw would provide. It cuts wood up to 2×4 in size, so it's still super handy for many of my smaller projects.
3. Circular Saw
Whenever I'm building something that requires ripping (cutting) down plywood or making any kind of longer cut that is too wide for my miter saw, I get my circular saw out to take care of the job.
4. Drill
A power drill is another essential tool to have for most DIY projects. I've used this drill for several years now and it has provided me with the power I need for all my drilling and screwing needs. It's actually the first drill I learned how to use! I love the handy bag it comes with too!
5. Kreg Jig
I can't even begin to tell you how awesome a Kreg Jig is for woodworking (unless you already know)! It's one of my favorite tools ever! There are lots of ways to build furniture and join pieces of wood together, but a kreg jig allows you to do so super easily and creates a strong joint too through the use of pocket holes. It has allowed me to build really simple to really complex pieces and I have used it on most of my building projects.
6. Router
Routers are really cool tools! You may not need it as often as some other tools on this list, but they can do everything from cut custom molding, cut edges and grooves in wood, carve designs, create wood joinery, and more. Routers are very versatile tools and you can do some fun, advanced woodworking techniques with them and they really aren't hard to learn how to use.
7. Rip Cut Straight Edge Guide
When Brandon and I first started woodworking, we had to make large rip cuts with our circular saw for several projects where cutting across long pieces of wood or plywood was necessary. Of course they needed to be perfectly straight cuts! We didn't have the room or budget for a table saw, so we actually created our own DIY straight-edge guide out of wood. However, I later discovered this Kreg Rip Cut (similar here) which is a super handy and simple tool for ensuring accurate rip cuts (and it's less than $30). We still use our DIY straight edge guide since it works great too, but had I known about the Kreg Rip Cut at the time, I would have bought it immediately and saved us the hassle of DIYing it which took a lot of time and effort.
8. Clamps
There is nothing more frustrating than trying to build something and your project or work piece keeps moving out of place. The solution: clamps! The Irwin quick-grip clamps work great and make DIY life much easier. I recommend starting out at least with a few smaller sizes and eventually building up a collection with larger sizes.
Whenever I need to do some quick, light sanding, I grab my cordeless corner cat sander. It also is really useful for quickly distressing the edges when I'm finishing my woodworking projects.
10. Brad Nailer
A brad nailer is another functional tool I use often for attaching small pieces of wood trim or moldings to finish off my projects. I also use it whenever I need to attach a lighter piece of wood to my project (for example the 1/4″ thick plywood backings). This cordless brad nailer by Ryobi is great because I don't have to worry about any cords or connecting it to a noisy air compressor.
Ok so I know spackle and wood filler aren't really tools, but they are a wonderful solution for hiding any imperfections in my woodworking project builds. If there are any nail holes, wood cracks, or molding gaps I don't want to show, I fill them with light spackle if I'm painting the project or stainable wood filler if I'm staining the piece.
I hope this list was helpful and I will continue to update it as needed! Do you have a favorite woodworking tool that isn't on this list? Feel free to share in the comments below! You can follow along on my latest projects and behind the scenes on Instagram and Pinterest!
Save
Save
Save
Save
Save
Save