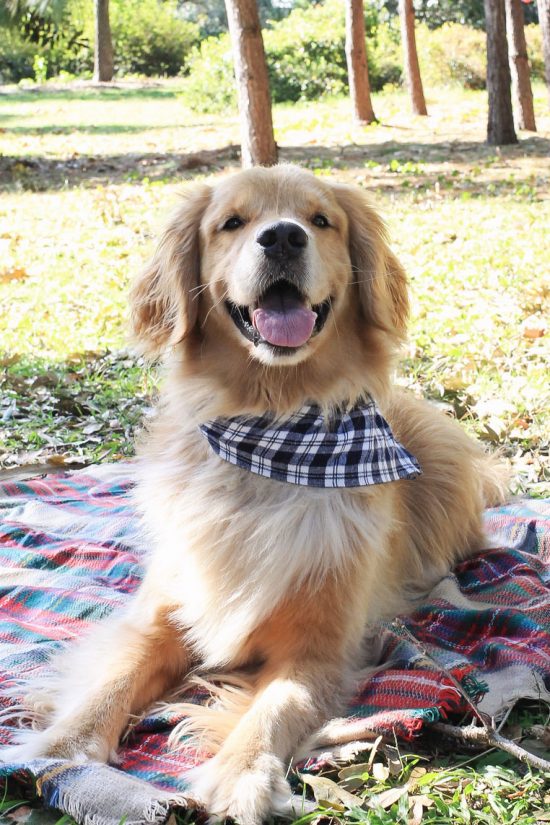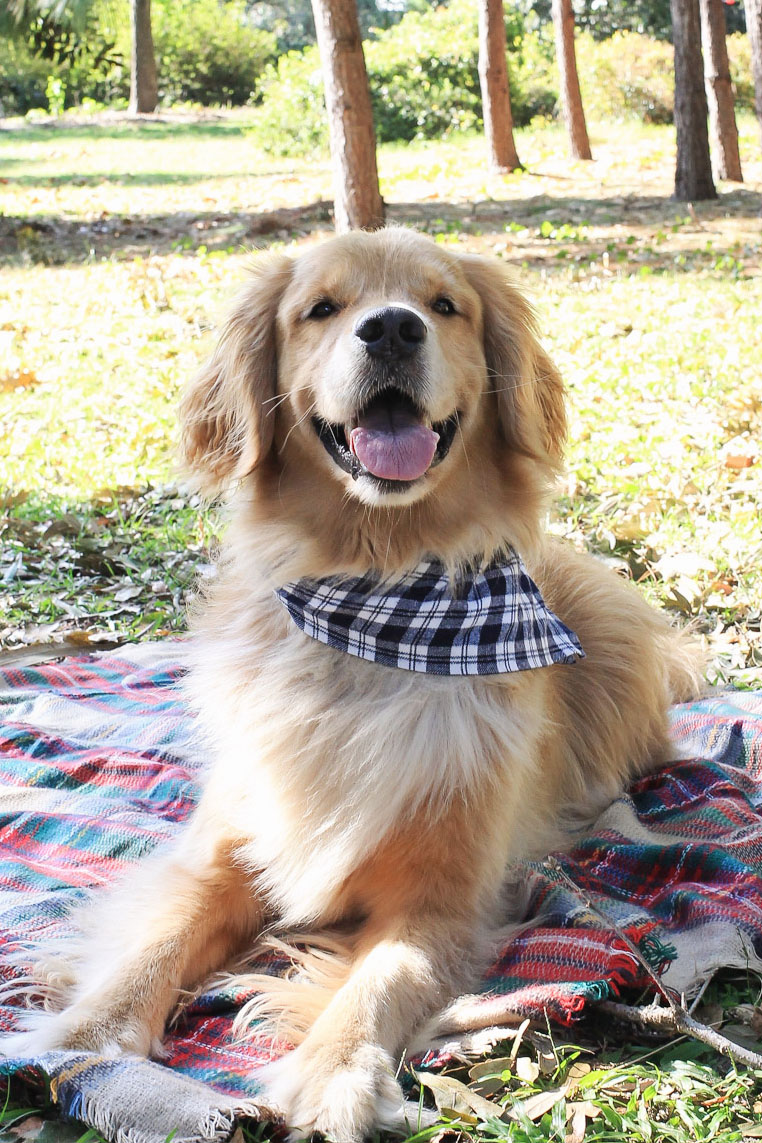 Hi friends! I know its been over two weeks since I've posted, its been crazy because last week we had to evacuate our home due to Hurricane Matthew (we live in Charleston, SC). We were out of town for nearly a week and it threw me way off track with my project and to-do list. But I am back this week with a fun, easy DIY craft project: No Sew Flannel Dog Bandana DIY.
I love all things flannel in the fall and I really wanted our dog, Chance, to have his very own flannel bandana to wear this fall and winter. It turned out pretty cute and I plan on making some more in more fall-ish colors! It was also really inexpensive to make!
Here are the supplies and steps you will need to make this No Sew Flannel Dog Bandana:
Note, this post contains some affiliate links. For more information see my disclosures here.
Materials:
Flannel Fabric – at least 25″ x 25″ (you can do a few inches less or more if your dog is really big or small)
3/4″ Hemming tape (I used Heat 'n Bond Super strength)
Iron
Fabric cutting scissors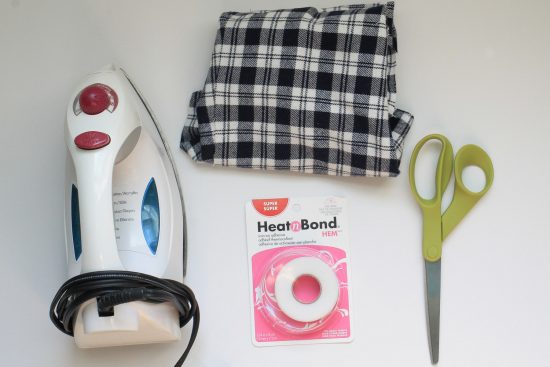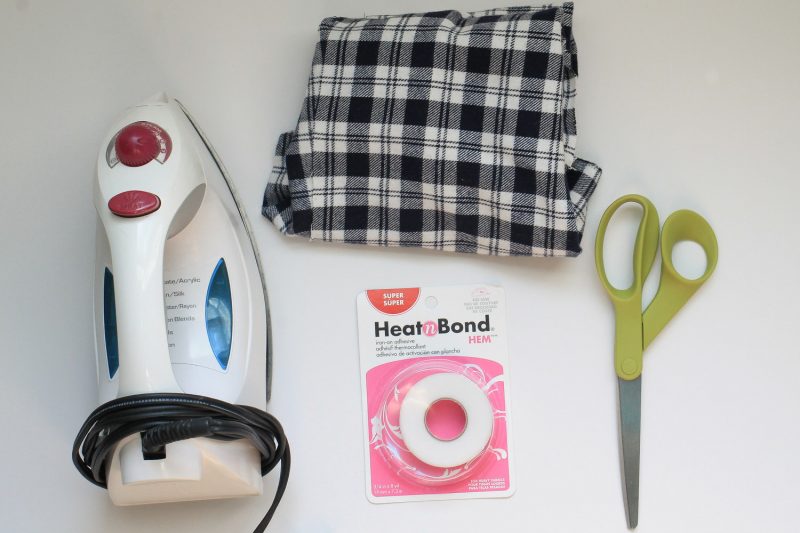 1. Wash and dry your flannel fabric
Note, your fabric may shrink an inch or two all the way around after it goes through the washer/dryer, but I've included extra fabric in the measurements above to account for this possibility.
2. Iron the flannel fabric and cut to size
Iron your fabric and cut off any loose fabric strings on the ends. Then, cut it to 20″ x 20″. Again you can do a few inches less or more if you have a smaller/larger dog. Chance is medium sized and a regular size bandana fits him great, so that's what I based these measurements off of. A standard bandana measures 18.5″ x 18.5″ and we need 1.5″ extra fabric on all sides for the hemming tape, which is 20″ x 20″ total.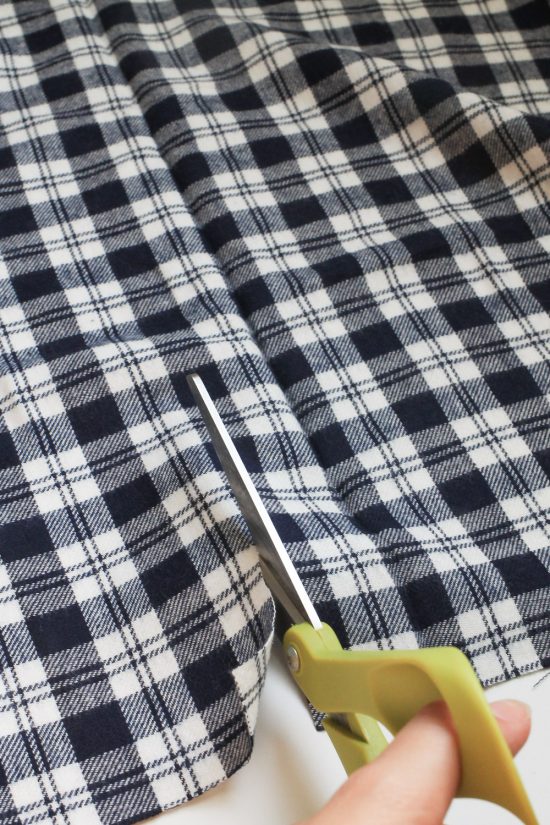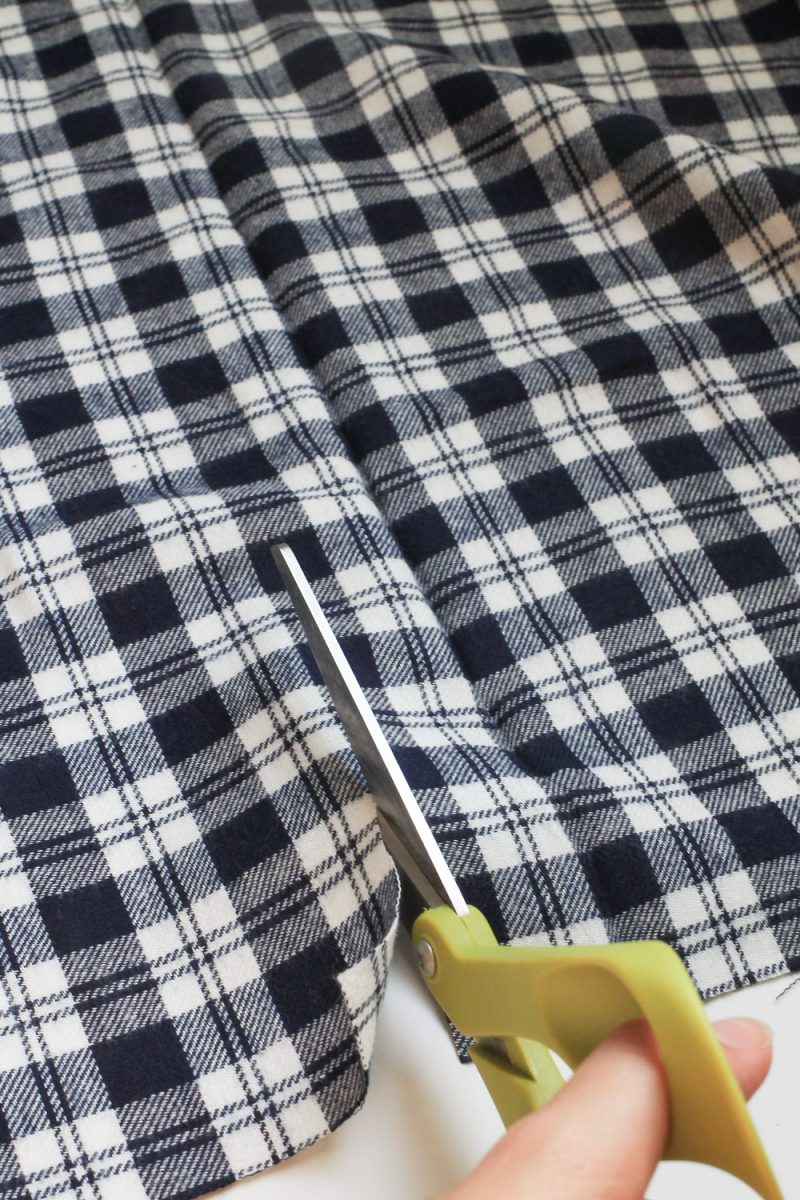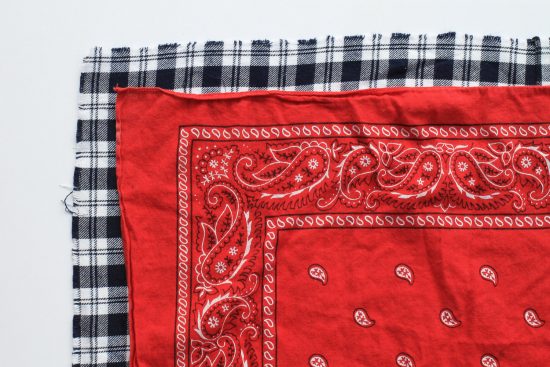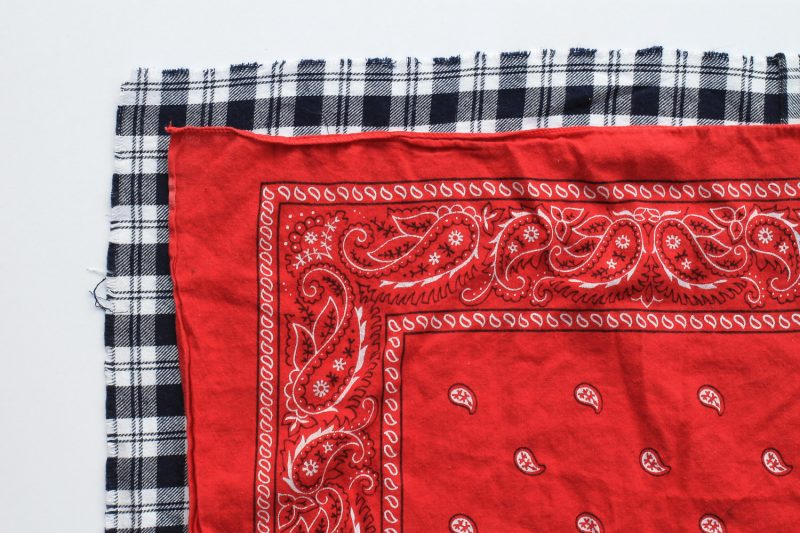 3. Add the hemming tape to all sides of the flannel fabric
Place a piece of hemming tape on one side of the flannel fabric about 3/4″ in from the edge. Fold the edge over the tape and iron over it with a medium high heat set iron. Hold the iron for about 3 seconds, lift up and hold down again for several more seconds. Flip the fabric over and iron from the other side over the edge. Now you have your first edge seam! Repeat on the remaining edges.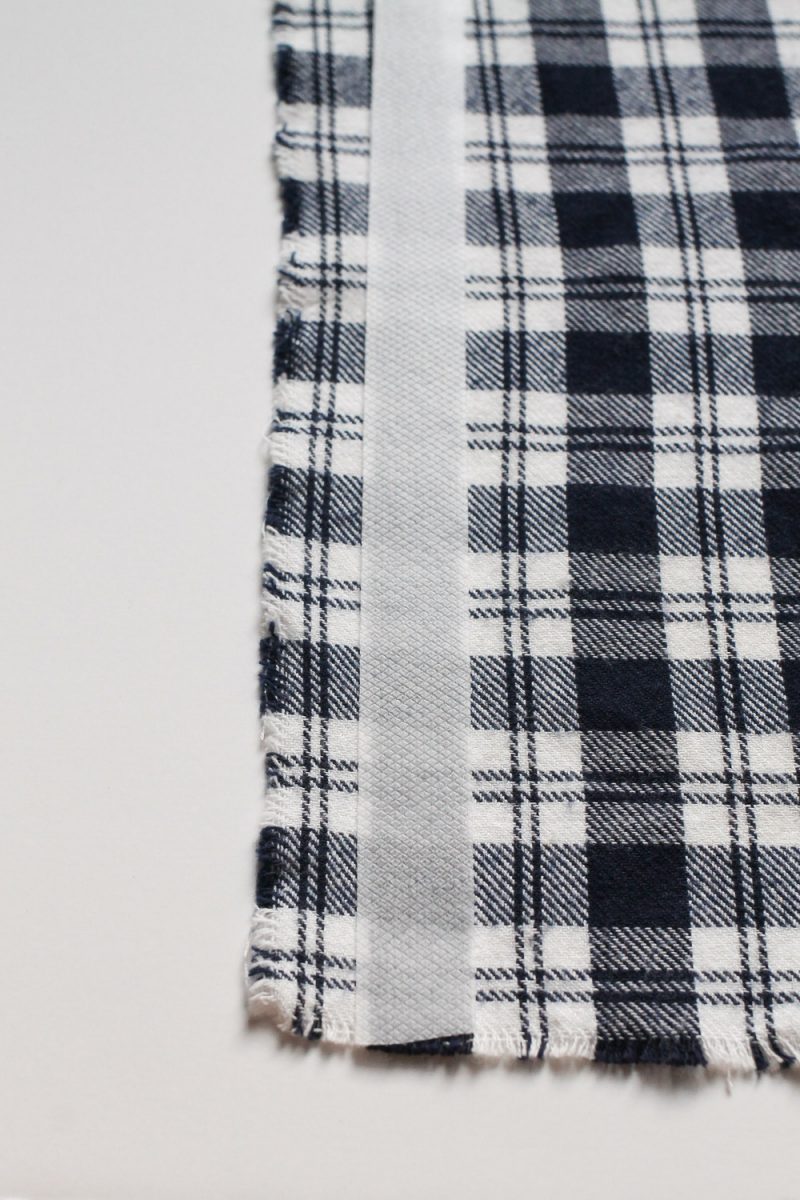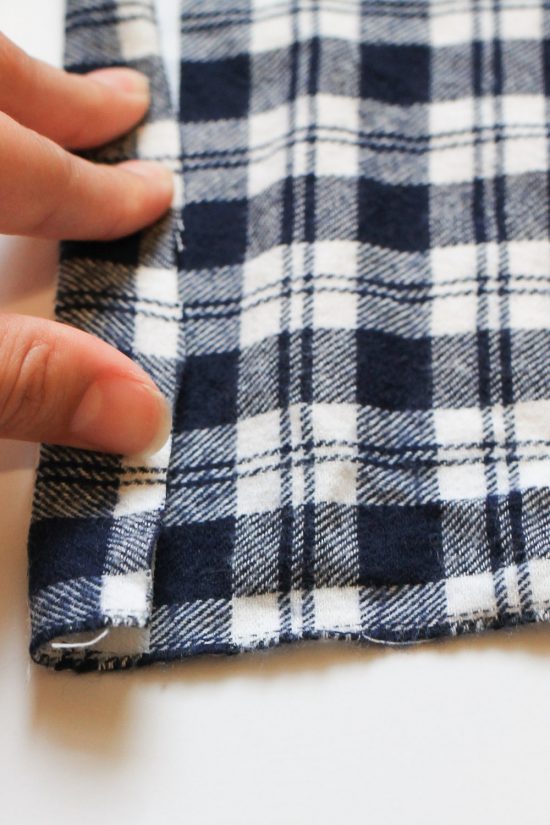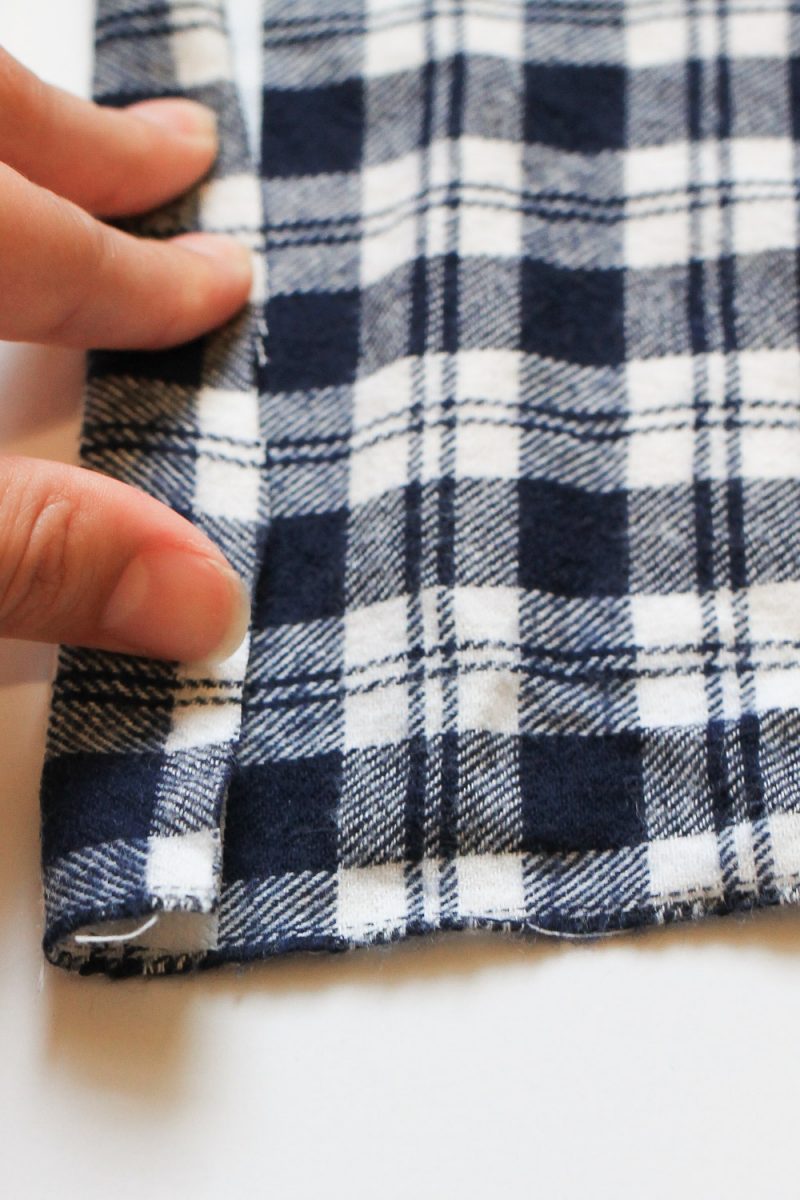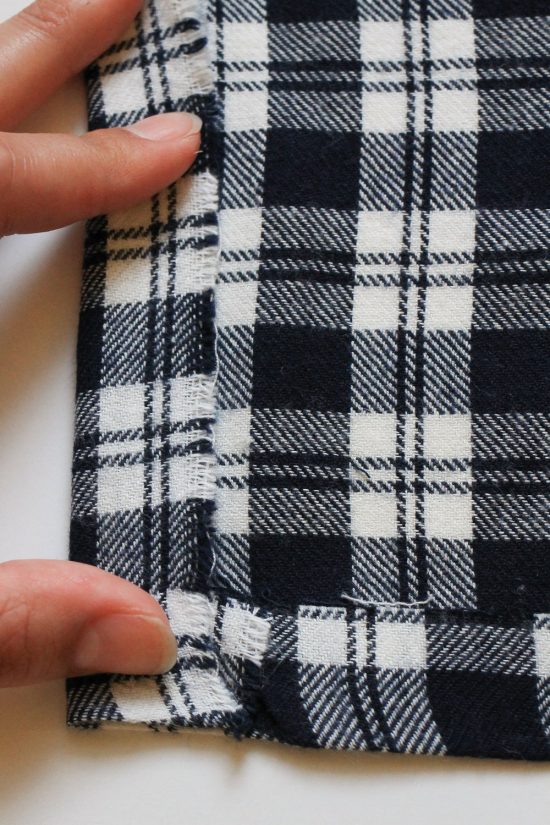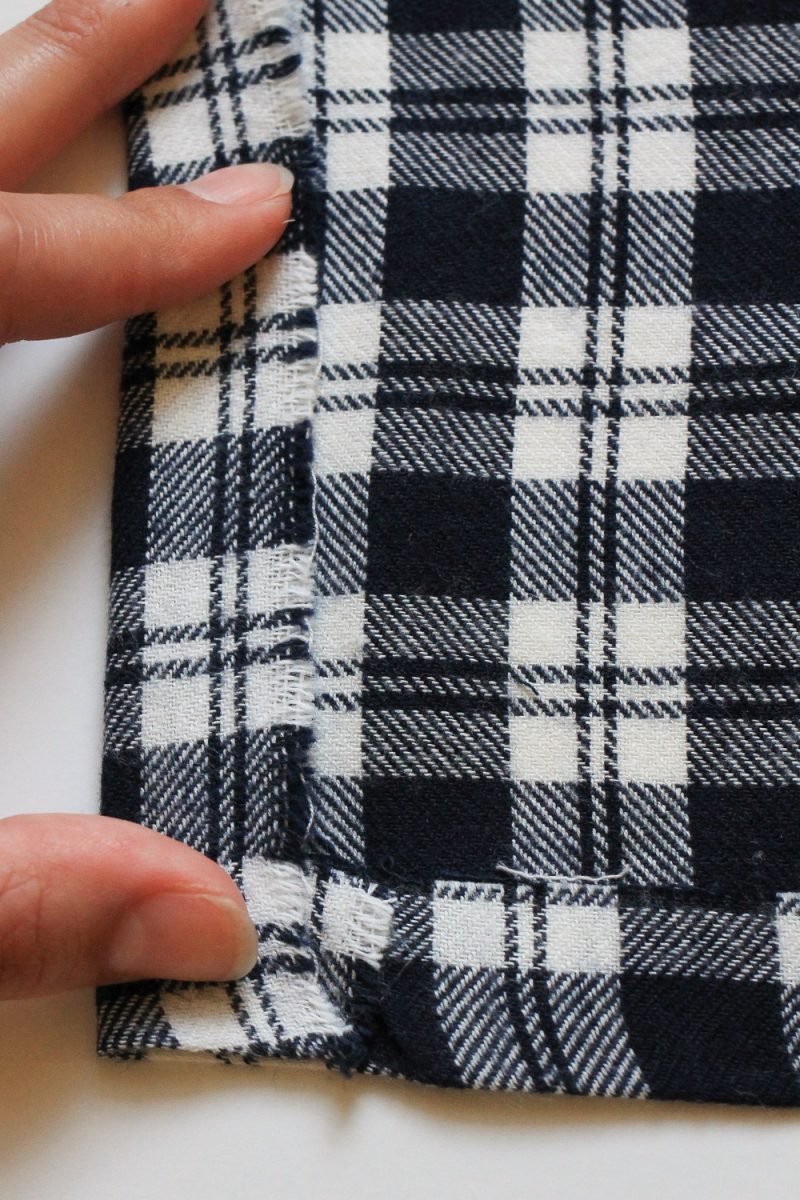 4. Fold one corner to the opposite corner to create a triangle
Fold one corner of your flannel bandana to the next to create a triangle. Iron the crease. Then, fold the longest side of the triangle over 1 – 2 times and iron the creases down again. Your No Sew Flannel Dog Bandana is complete! Tie around/over your pup's collar and enjoy!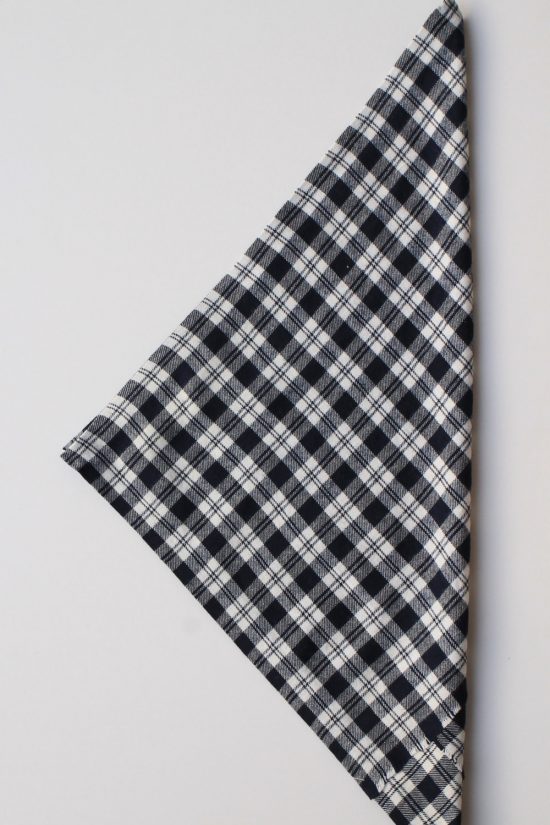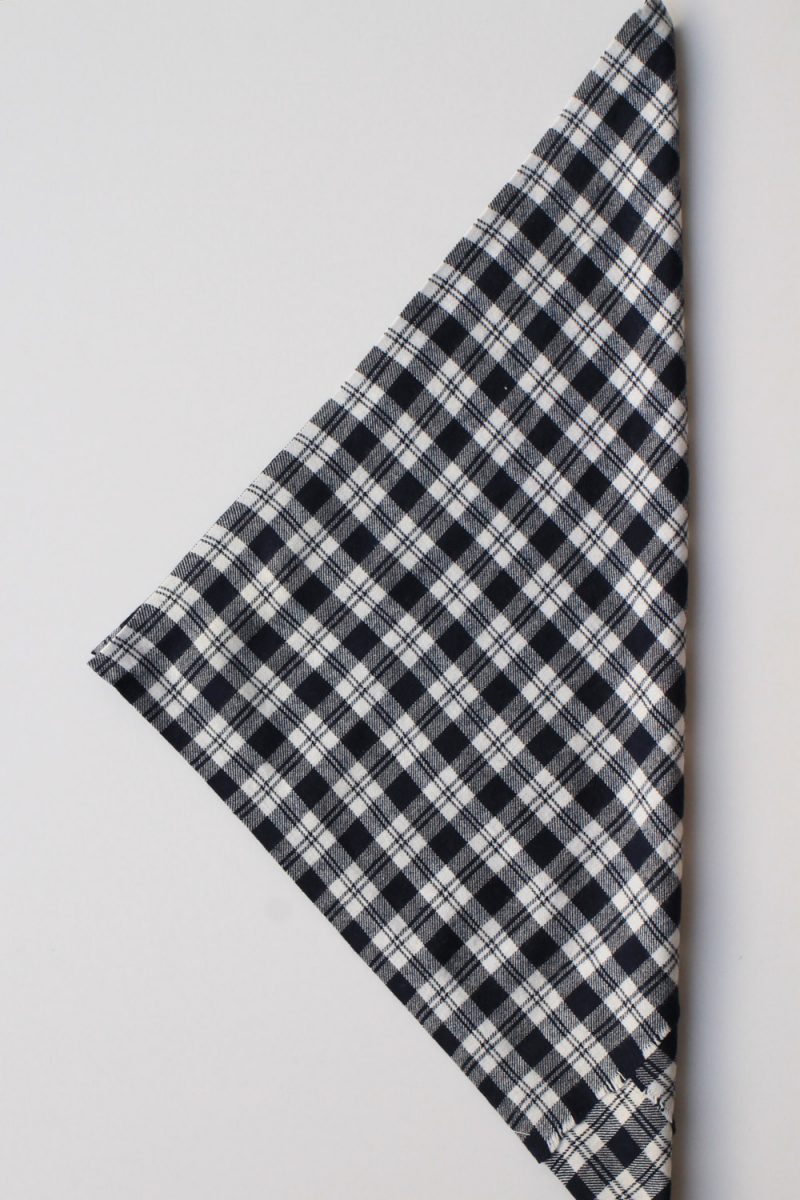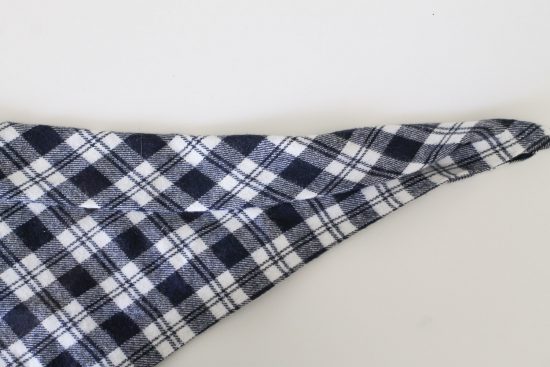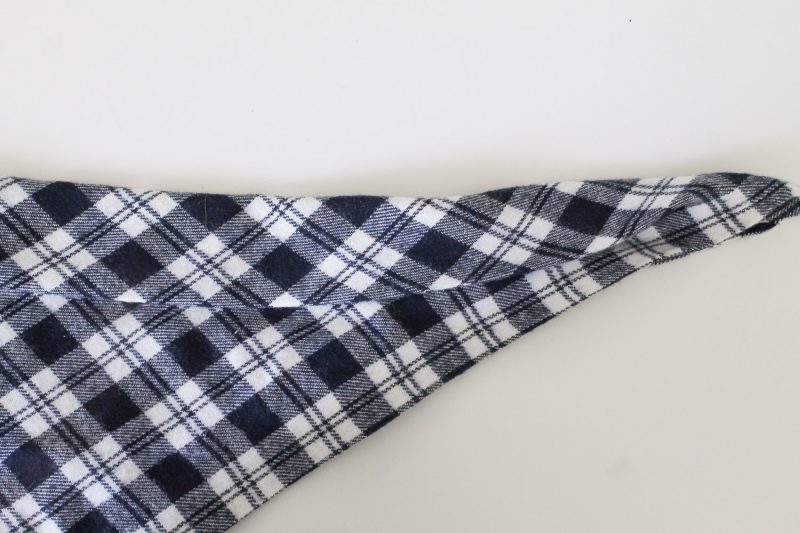 Chance loves his new flannel bandana! What do you think about his no sew flannel dog bandana?! Do you like dressing up your pets for the different seasons or Halloween?! I'd love to hear! Follow along on Instagram and Pinterest for my latest projects, fun updates, and sneak peeks!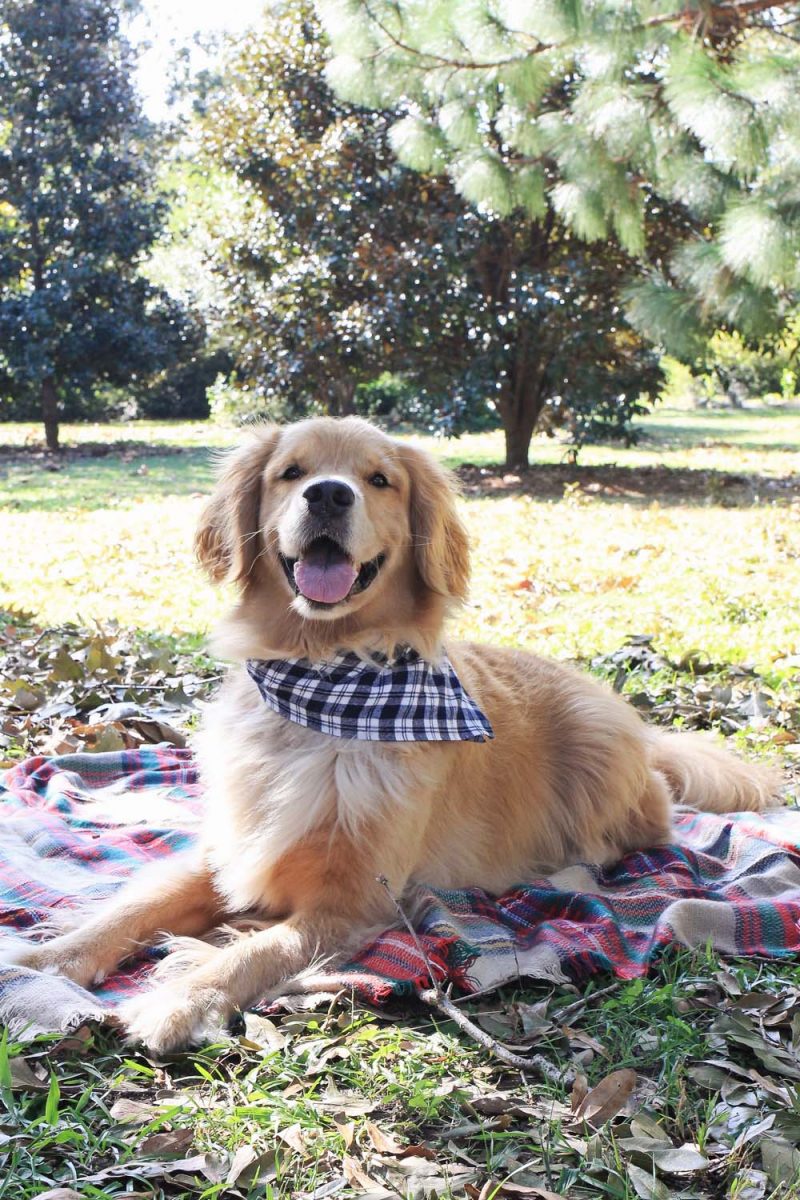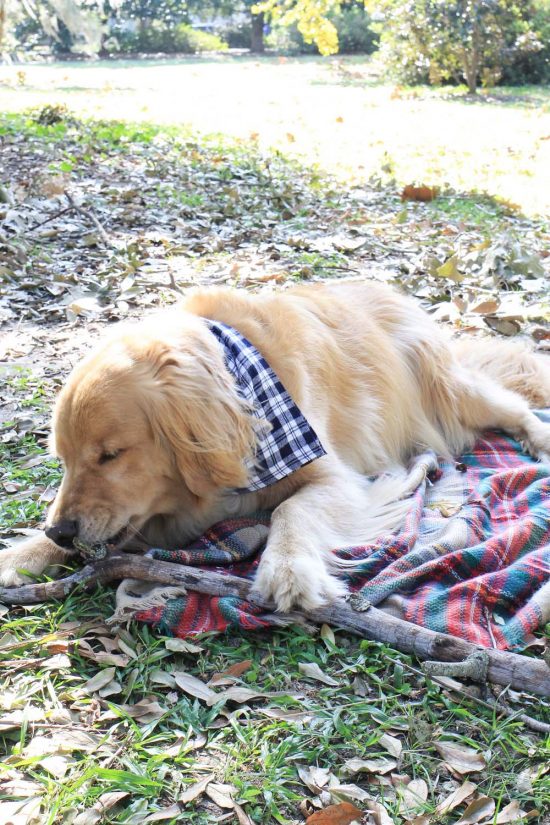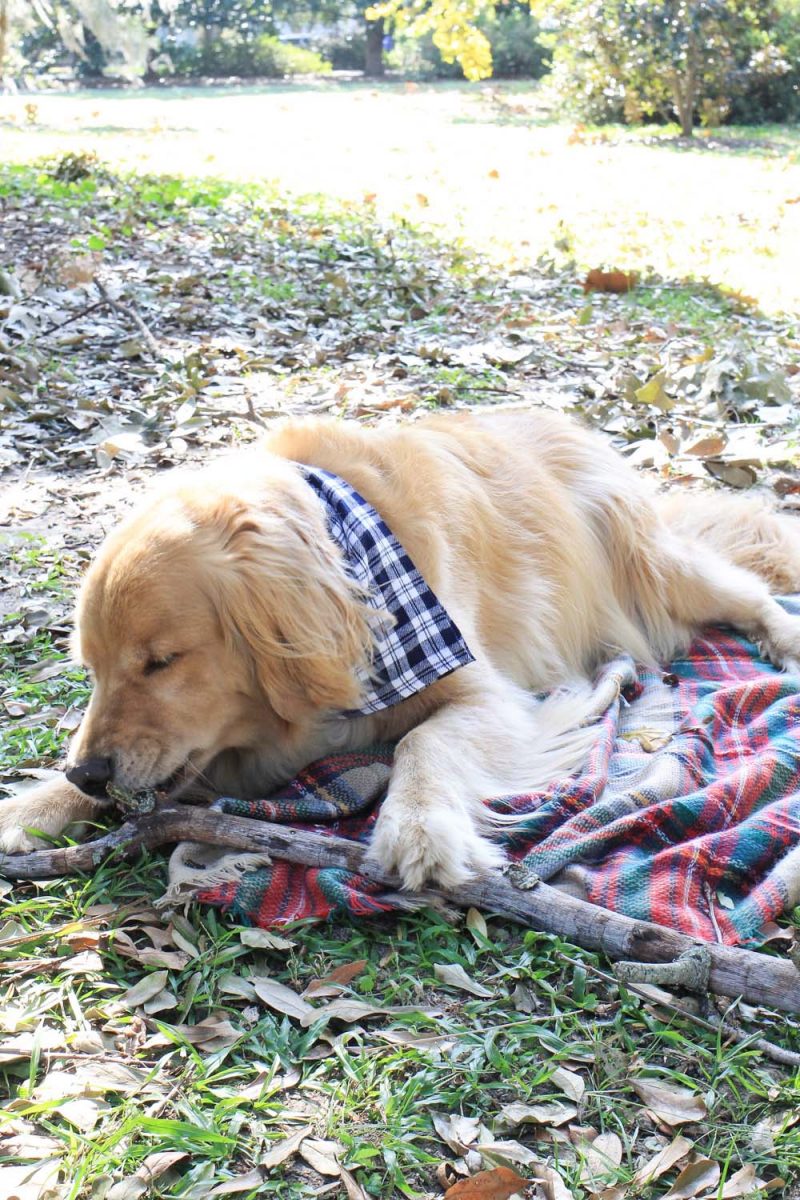 Save
Save
Save
Save
Save