Let me begin by explaining the story behind this Round Wood Mirror DIY and how it came to be!
While planning the design for our master bathroom makeover I knew I wanted a round wood mirror above the vanity because it would be the perfect statement piece to help add style and function to our tiny bathroom!
Specifically, I wanted one with a thin wood frame because it just fits my style perfectly.
I can be really indecisive when it comes to design decisions, but I knew exactly what I wanted for this mirror and so I searched everywhere for a thin framed wood mirror (and it also had to be 22″-26″ in size).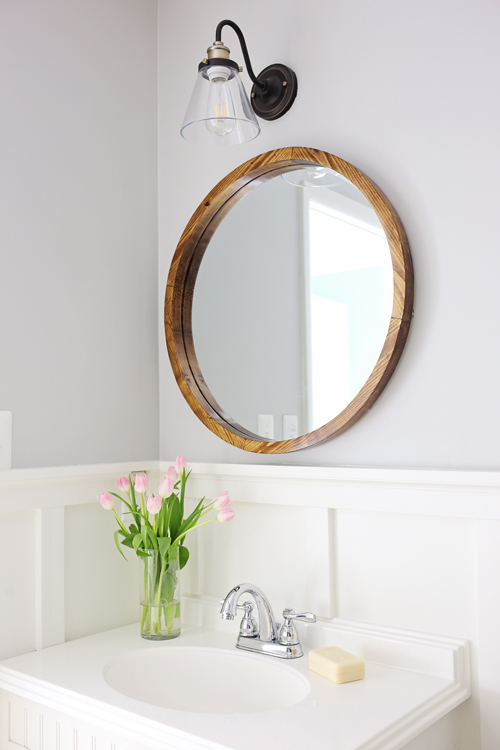 I found a few that fit what I was envisioning, except they were all $300-$500. Ugh not budget friendly!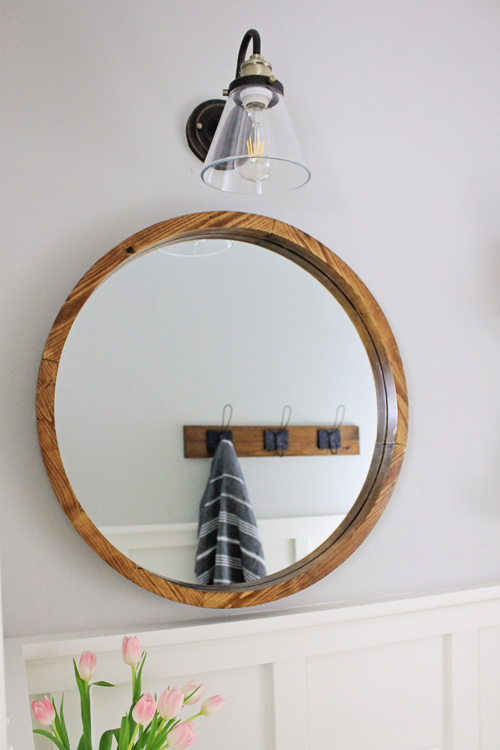 I swayed back and forth in my mind with trying to decide what to do. Idea 1: I could buy a thin framed metal mirror for around $100 but it wouldn't be wood. Idea 2: I could build a wood framed rectangle mirror pretty easily for really cheap…but it wouldn't be round… Ok Idea 3: Build exactly what I want, a round wood framed mirror… who am I kidding, that sounds so complicated and time consuming, why do I get these thoughts in my head? Out of my stubbornness to change on what I wanted, and with one week left until the bathroom reveal and a zillion other things to do, I started researching how to cut wood circles and came up with build plans to make my dream mirror come to life!
And my plans worked! Also, this mirror cost me less than $50 to make! Amazing! I bought the mirror (similar here) on sale for $35 and the frame materials I needed to buy cost less than $15. The final size of this mirror is 25.5″ x 25.5″.
Here are the steps on how to build a round wood framed mirror:
Note, this post contains some affiliate links. For more information see my disclosures here.
How to build a Round Wood Mirror
Tools:
Drill
1/4″ or 1/2″ shank Straight Router Bit
3/4″ or 1/2″ thick scrap wood/plywood or circle router jig
Note: Before building, review all steps below. There are many tools you can use to cut a circle out of wood, including a router, jig saw, circular saw, etc and there are many ways to join wood pieces together. I have chosen the below tools and steps based on ease of use and my preferred methods.
1. Cut the 2x6x10 to size
First let me show you my diagram I created in Adobe Illustrator in order to determine what size my wood frame cuts needed to be for a 24″ mirror. So, if you're using a different size mirror, this is a good way to determine your measurements.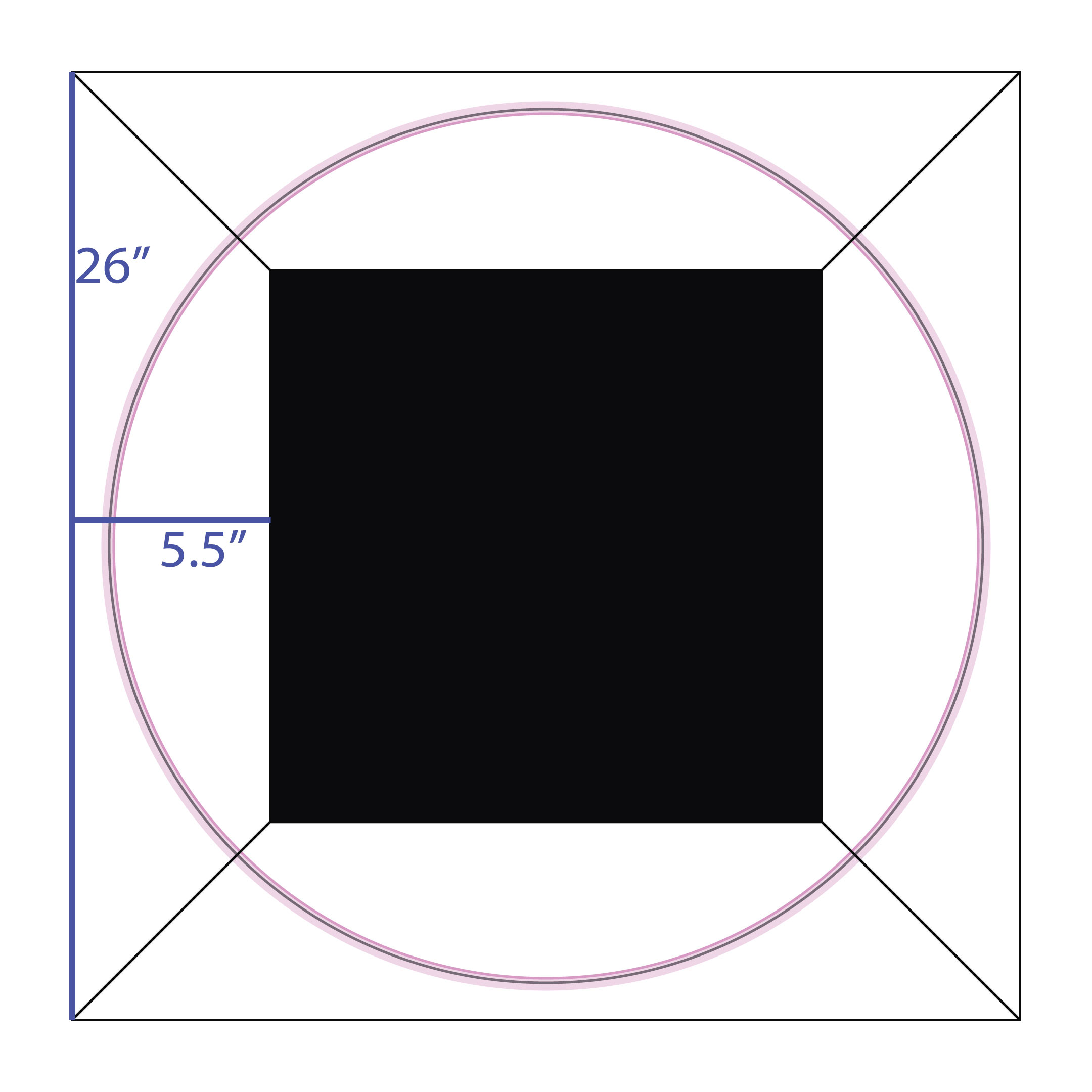 Using a miter saw, cut four wood pieces 26″ long with 45 degree mitered ends from your 2x6x10 lumber (which is already 5.5″ tall).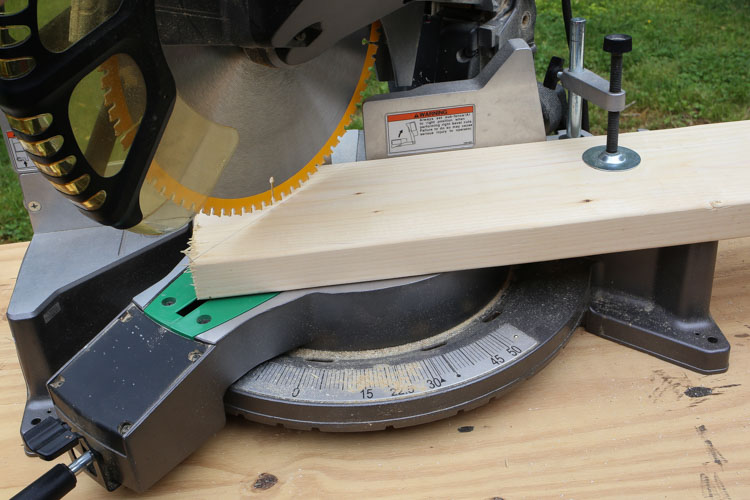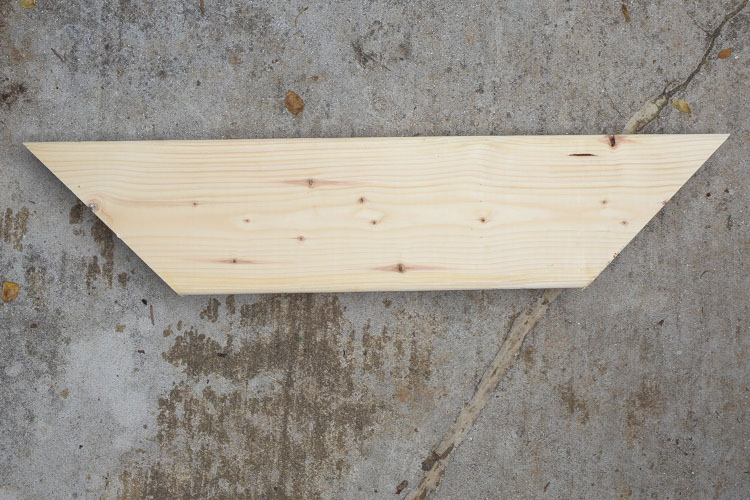 2. Mark & Drill Pocket Holes
First, layout your four wood pieces in a square and then lay your mirror on top centered and trace its shape onto the wood with a pencil.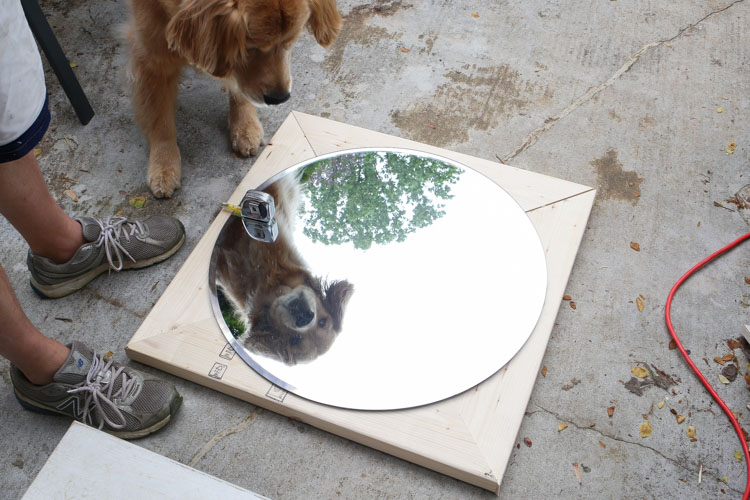 Chance loved looking at his reflection in the mirror on the ground haha!
Anyways, after tracing my mirror shape onto the wood, I measured and marked about 7/8″-1″ from my mirror edge on each corner. And then I marked a line (towards the inside of the square) 1/2″ from my mirror tracing line. These markings were used to help me visualize the thickness of my wood frame so I could determine where to drill my pocket holes.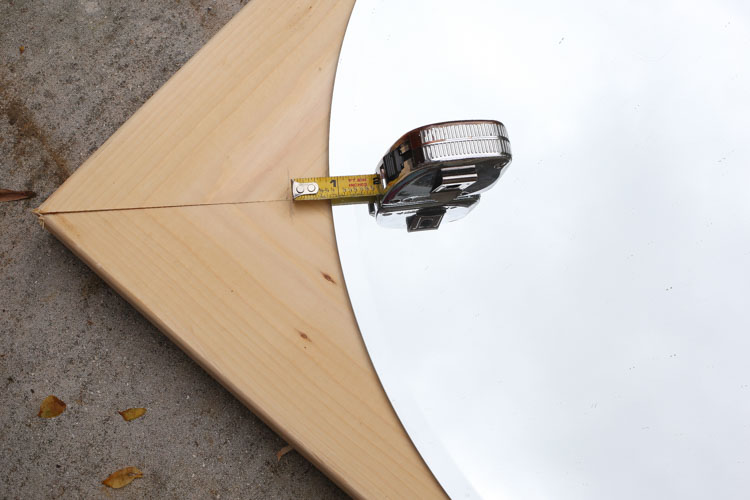 Next, mark a line in the center of those two lines to mark where your pocket holes need to be drilled for your Kreg screws. Finally, drill your pocket holes with the Kreg Jig.
Note that it's really important to drill these pocket holes exactly centered in the middle of your frame because two of my pocket holes were too close to the edge and the pocket holes ended up showing some after I cut my circle frame and I had to fill them with a lot of wood filler! Also, I just used 1 pocket hole per corner.
*Tip: See my how to use a Kreg Jig post for an easy, step by step tutorial and video tutorial on how to use the Kreg Jig!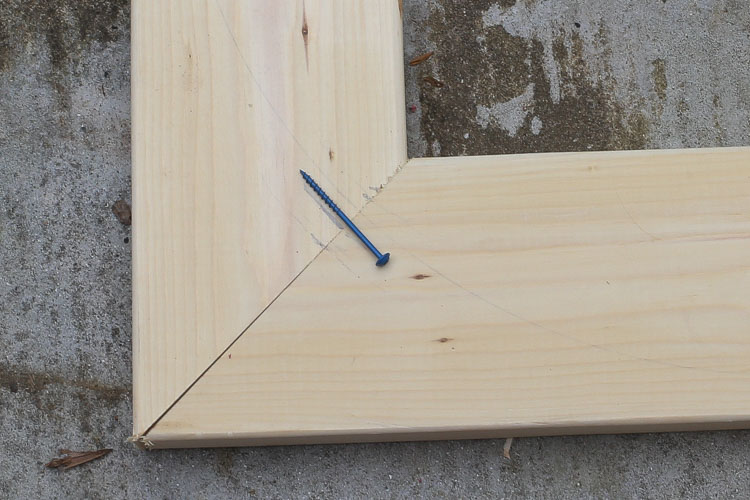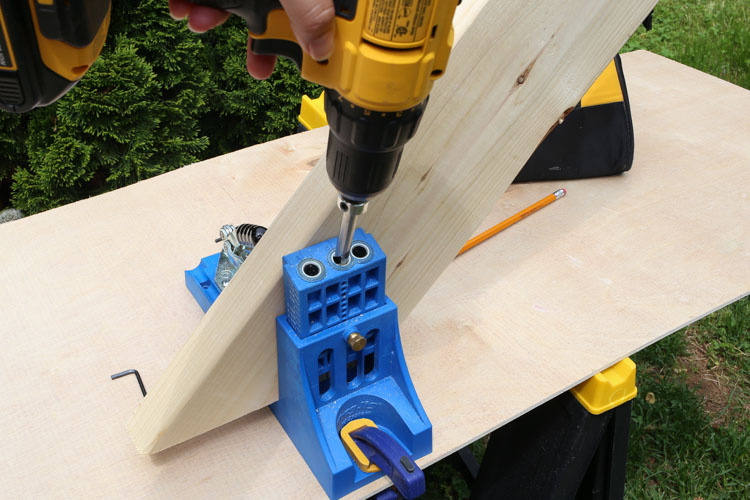 3. Attach frame together with Kreg Screws & Wood Glue
Attach your square frame together with 2 1/2″ Kreg screws and wood glue. Use a generous amount of wood glue, I could have used even more than what I have shown in the photo below.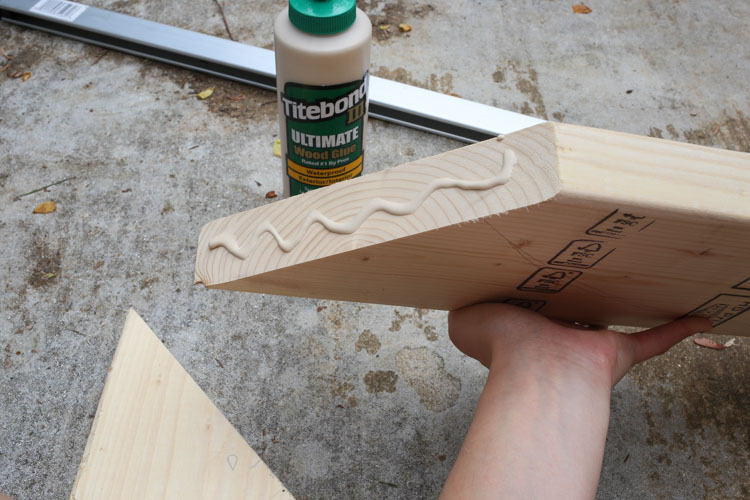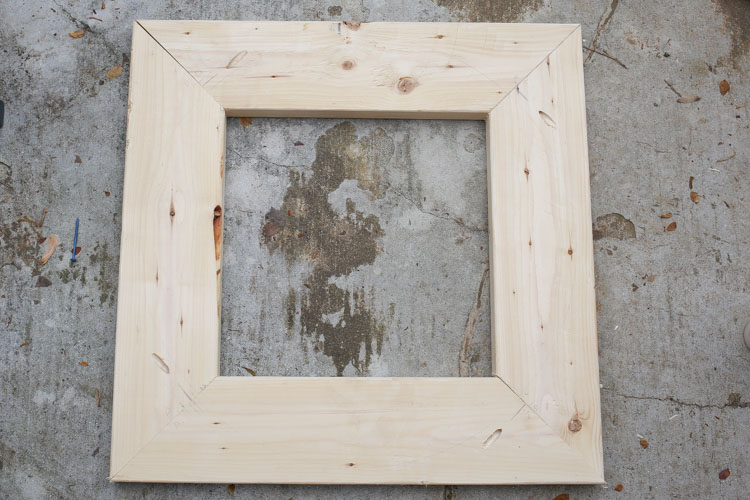 4. Prepare a router circle jig
You will need to make a circle jig for your router or you can buy a router circle jig like this one if you don't want to make one or you want to save time and effort. I chose to make my jig out of some scrap 1×6 wood that I cut to about 17″ in length. You could also use plywood that is 1/2″ or 3/4″ thick.
Mark and drill a circle out of your wood circle jig for your router bit.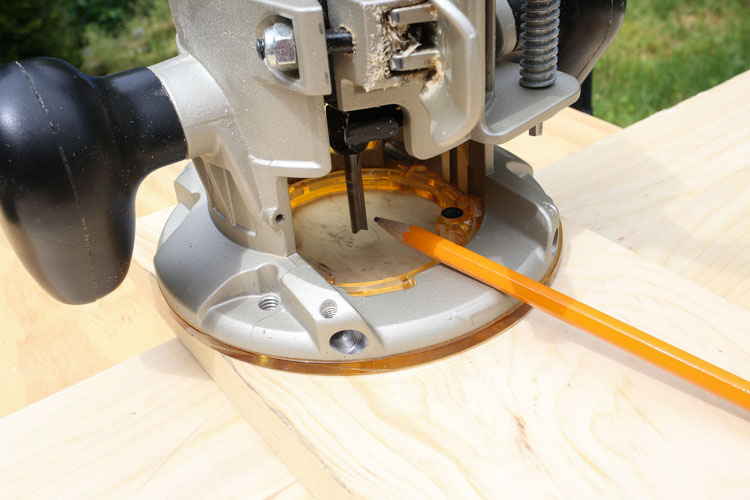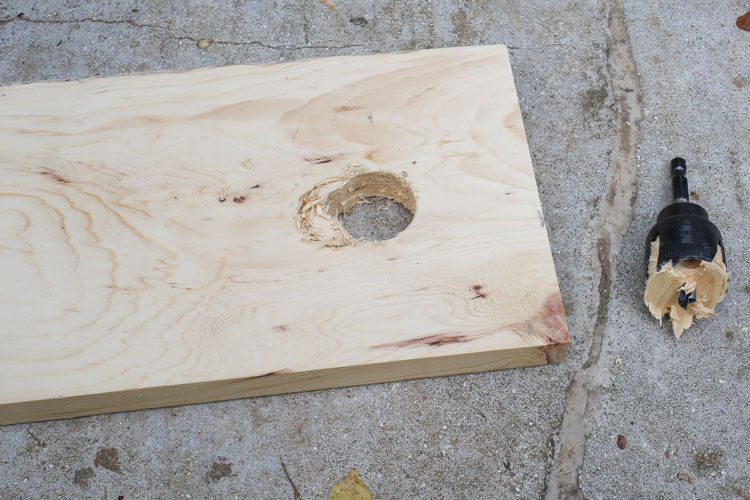 Next, secure your router down to your jig with screws.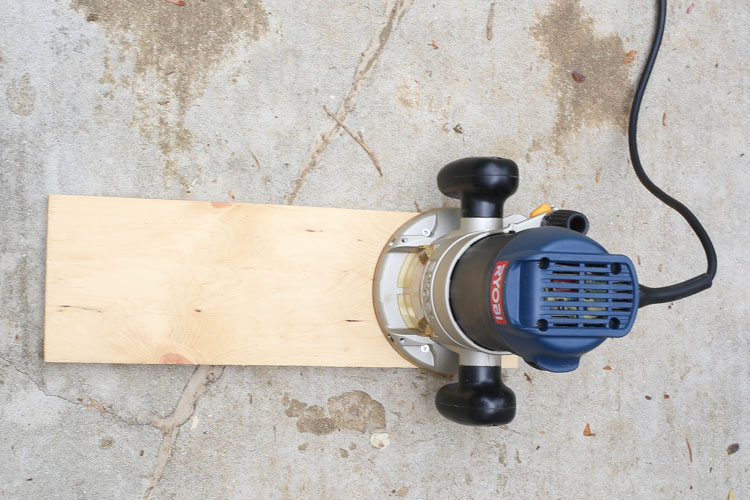 Finally, secure a scrap piece of 2×6 to the center of your work surface. I secured mine with a screw that I counter sunk below my wood surface so it wouldn't stick up.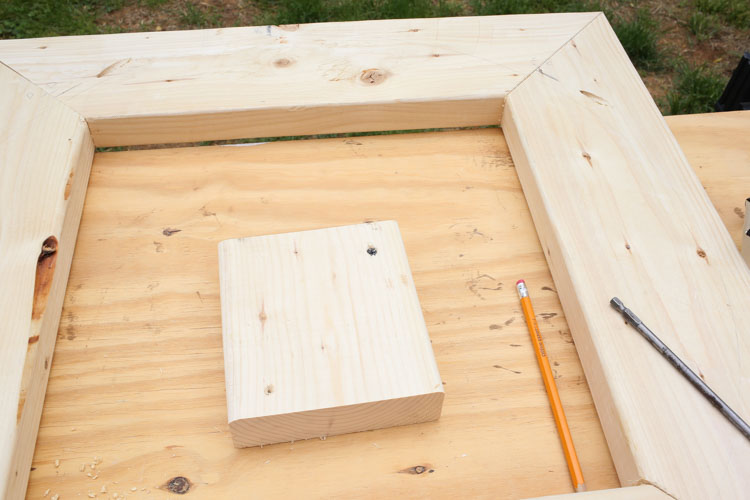 5. Prepare circle jig for cutting the circle frame
This is one of the trickiest parts of this tutorial and you may need to adjust your measurements compared to mine to ensure an accurate circle cut. I wanted my final frame size to be 25.5″ tall, so using some geometry terms here, if my circle diameter is 25.5″, my radius (for my circle jig) should be 12.75″. Therefore, from my router bit to where my jig needed to be secured should be 12.75″ but I also had to account for my 1/4″ thick router bit.
So, I drilled a small pilot hole 12 5/8″ from my router bit (on the bottom side of my jig).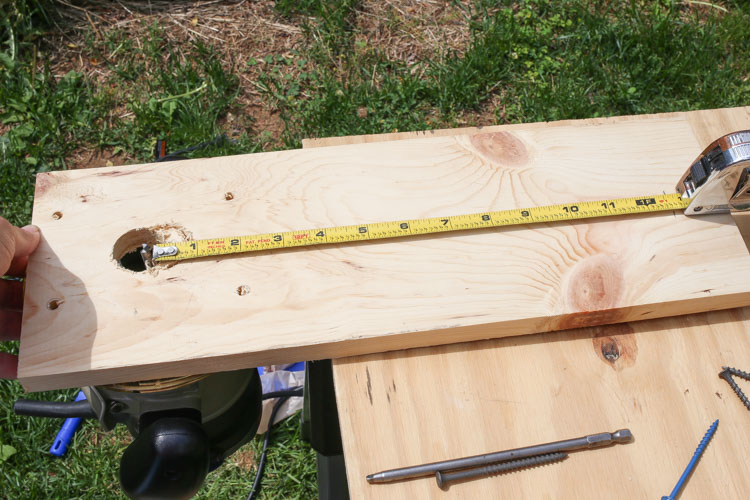 Then, I drilled a screw through that pilot hole into the center point of my work surface (which was the center point of the opening of my square frame).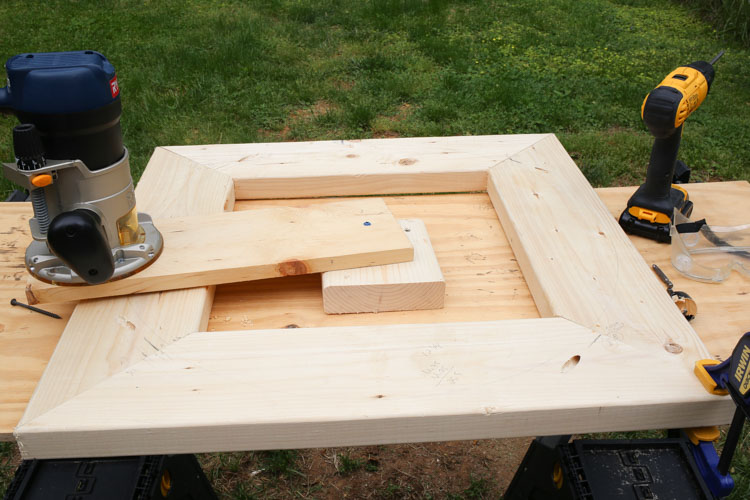 The circle jig is all set up now! To ensure all my math and measuring was correct, I checked to make sure my router bit lined up with where the top edge of my circle frame needed to be.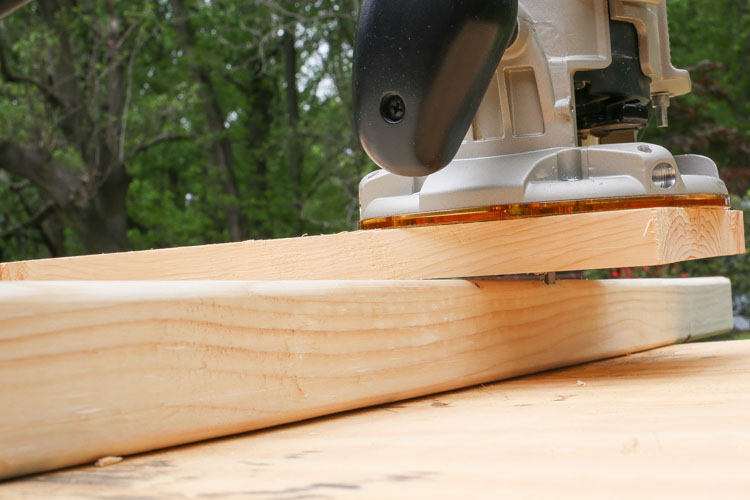 6. Cut the circle frame with router
Before cutting, I secured my square frame onto my work surface with counter sunk screws into the section I was going to be discarding.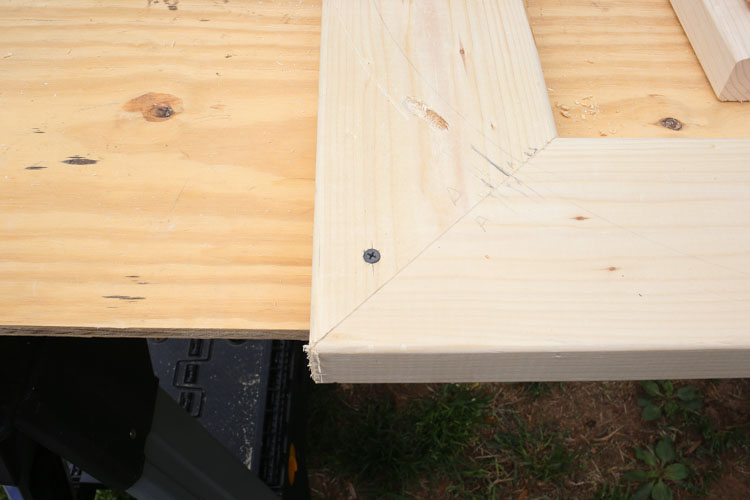 Make sure your router bit is only exposed about 1/4″ deep and begin making very shallow circle pass cuts in your frame. After each pass or two, lower the depth of your router bit another 1/4″ – 1/2″ deep and make deeper passes. I had to use a vacuum to suck up all the sawdust between passes (there was a lot of it)!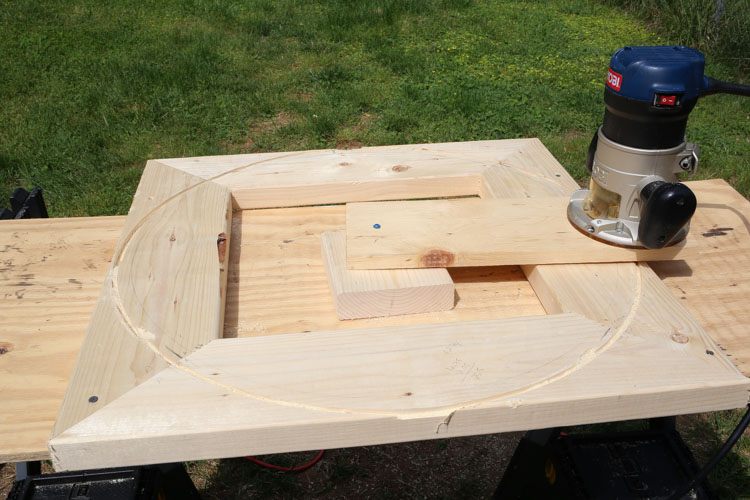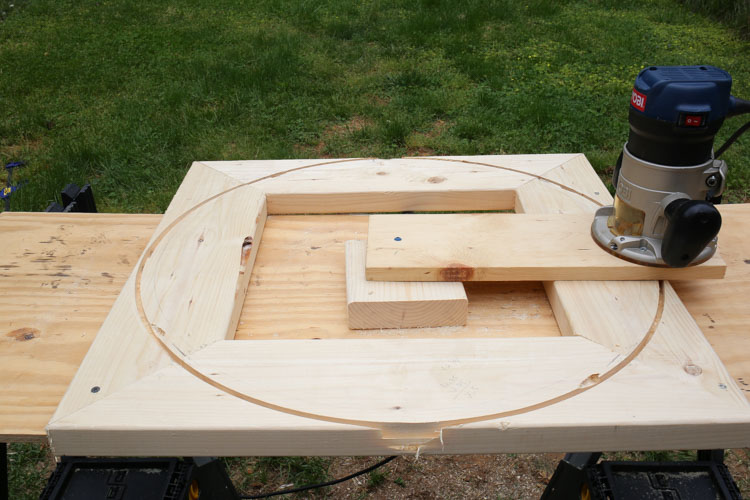 And here is a little video showing this part in action!

The outer edge of the round mirror frame is complete!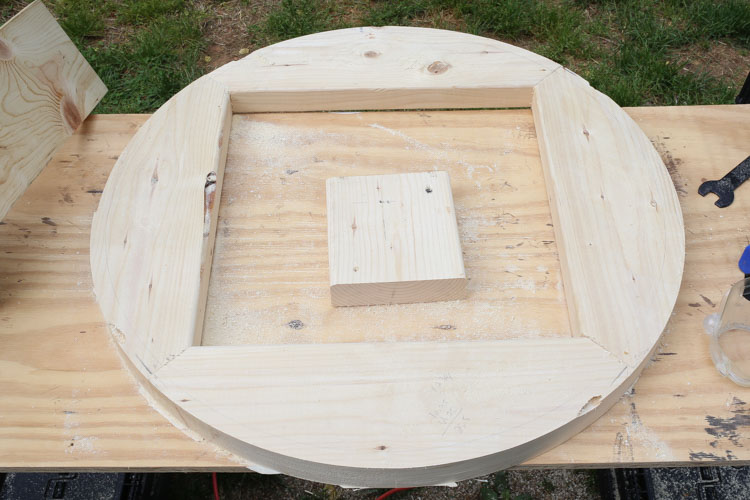 Next, cut the inner edge of the circle using the same steps as step #5 except that you want your radius or distance between your router bit and screw center point to be about 1″ to 1.5″ less, so around 11 5/8″ but again test it out by lining up your router bit to make sure it is going to cut exactly where you want your inner frame edge to be. My final frame thickness was 1″ thick.
And here is the round wood mirror frame all cut out of the wood: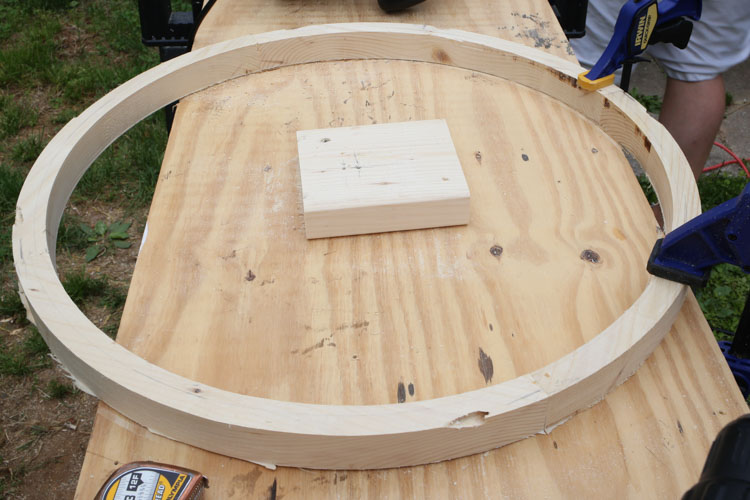 7. Cut a rabbet in the back of the round mirror frame
Using the same methods as step #5 and 6 above, cut a shallow rabbet (about 1/4″ deep) in the back of the round mirror frame (like you would would see on the back of a picture frame) for your mirror.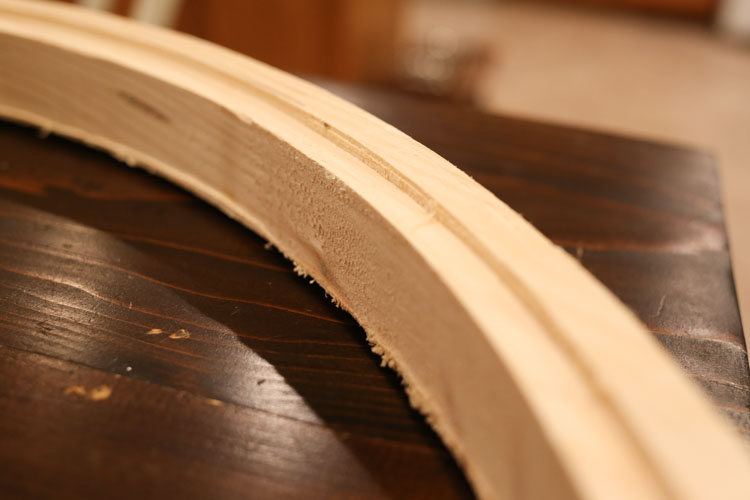 8. Finish your round wood mirror DIY!
Before staining your mirror, make sure you sand it really well! I used both my orbital palm sander and corner cat sander. I also fillled my pocket holes that were too close to the edge and showing, as well as the 4 cracks where my circle frame was connected with stainable wood filler which worked wonderfully to conceal those imperfections!
For finishing I used a pre-stain wood conditioner, this stain color, and this polyurethane. For more tips on staining wood for a beautiful finish, check out my post here.
Finally, I attached my mirror to the back of my frame into the rabbet with screws and mirror clips. I do plan on using my Dremel or drill to notch out some shallow holes for the mirror clips to go into and sit flush with the back of the frame soon so they aren't showing when resting against the wall. Also, the mirror came with pre-attached hanging hardware which we used to hang it on the wall.
I'm just in love with the end result!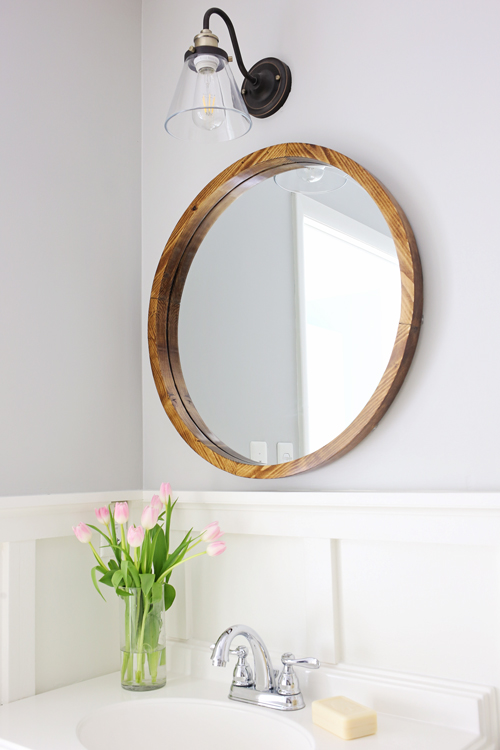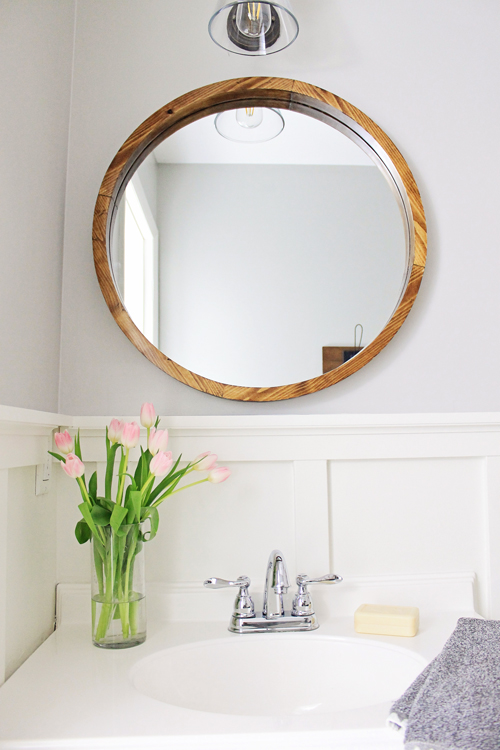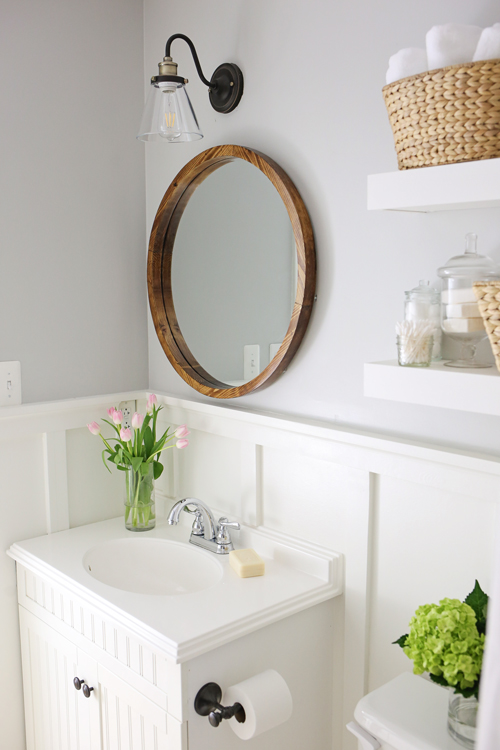 What do you think of our round wood mirror DIY? Do you want to build one for your home?! If so, I'd love to see photos of your build! Feel free to share with me on Instagram @angelamariemade, Facebook, or e-mail pictures to [email protected]!
Thanks for stopping by!
As always you can follow along with all of my DIY and home decor adventures on Instagram and Facebook.
Save
Save
Save
Save
Save
Save
Save
Save
Save
Save
Save
Save
Save
Save
Save
Save
Save
Save
Save
Save
Save
Save
Save
Save
Save
Save
Save