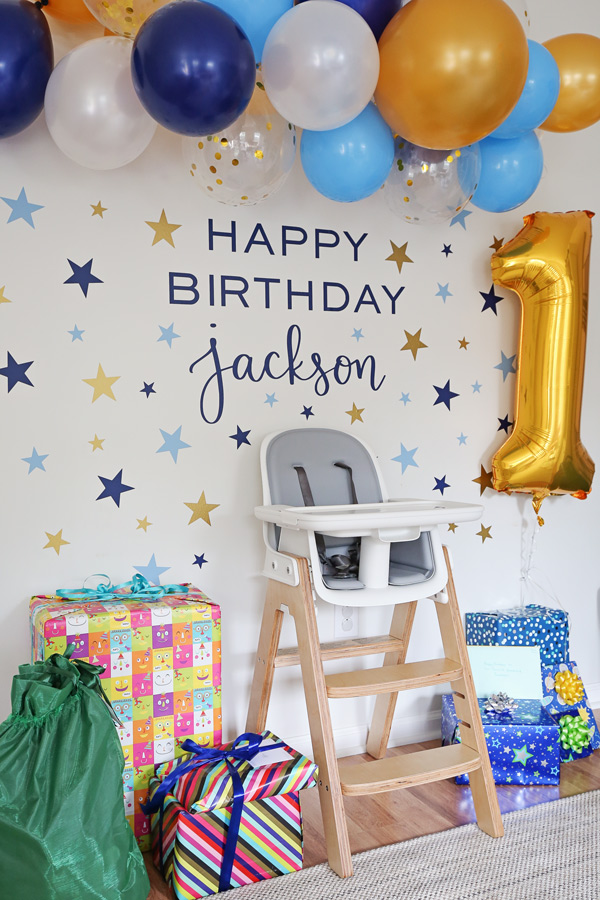 My baby boy turned one year old last week! It seems like just yesterday we were bringing him home from the hospital and I was sharing about our new little guy here on the blog! Our world has changed so much and has been filled with joy and love like nothing else ever since!
Even though this past year has sped by, I've been thinking about Jackson's first birthday party for months! Although, it was a bit different than I originally pictured, with what's going on right now, we still had a small party to celebrate with family!
And of course I still had to do a birthday theme and fun decor to celebrate! I decided to do a twinkle twinkle little star theme because it was one of Jackson's favorite songs since he was a newborn. Plus, it was a fun and easy theme to decorate for with custom colors, basically stars in any color palette that I wanted!
It all started with the custom invitation that I designed and used my hand lettering for the calligraphy.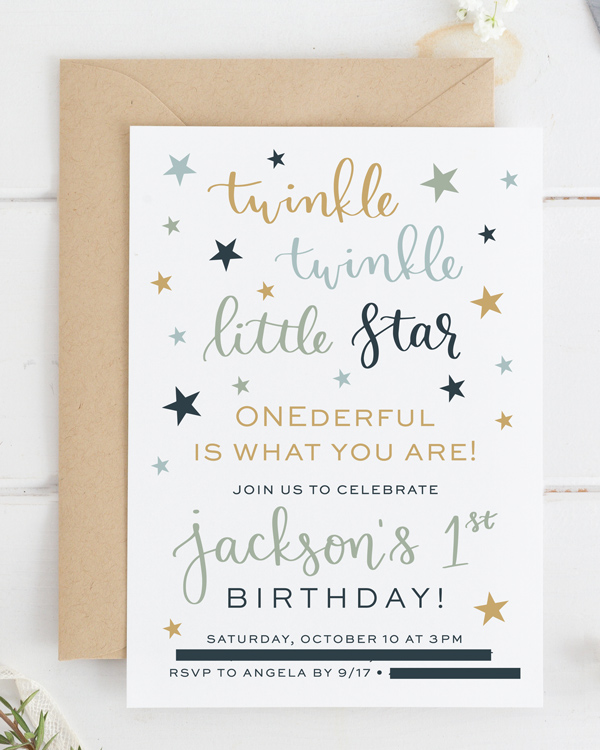 Note, this post contains some affiliate links. For more info see my disclosures here.
Then, I envisioned a starry backdrop wall with a happy birthday sign above his highchair (that I love and it's so easy to clean, perfect for cake) for the focal point of the party decor!
I used my Silhouette Cameo to make the decals and navy, gold, and blue grey vinyl. Vinyl is the best for these types of things because it's easily removable and looks awesome too!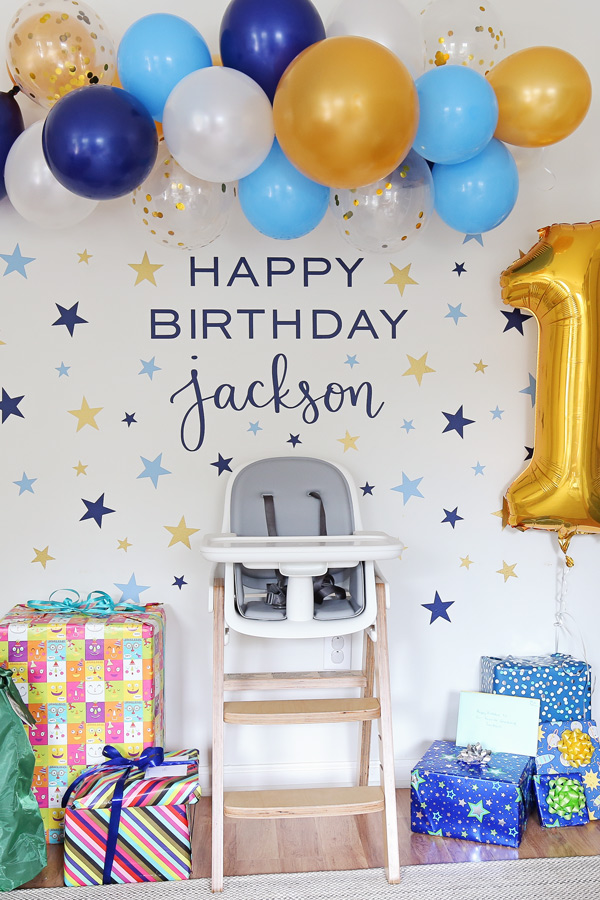 I don't actually have a specific how to video on making wall decals but I am thinking about adding one soon if others are interested in seeing one!
We added a balloon garland and #1 balloon from Cannonborough Collective to add even more fun decor to the wall! I loved it and Jackson has been loving playing with the floating #1 balloon for the past week!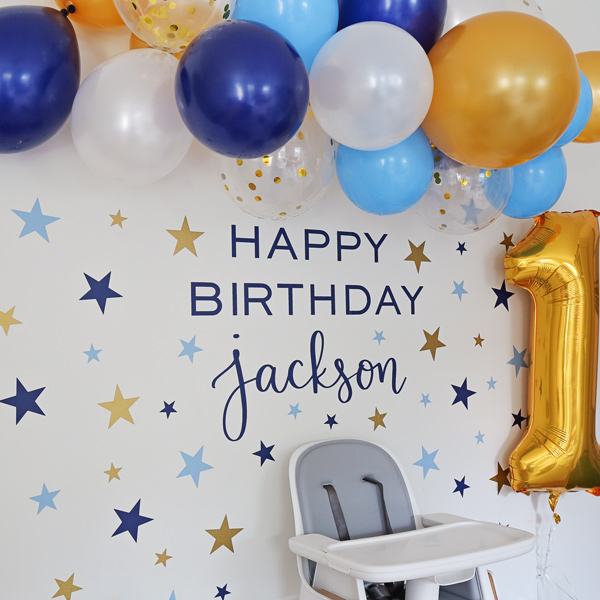 For party favors, I ordered sugar cookies from The Frosted Palmetto to match the theme. They were super adorable!!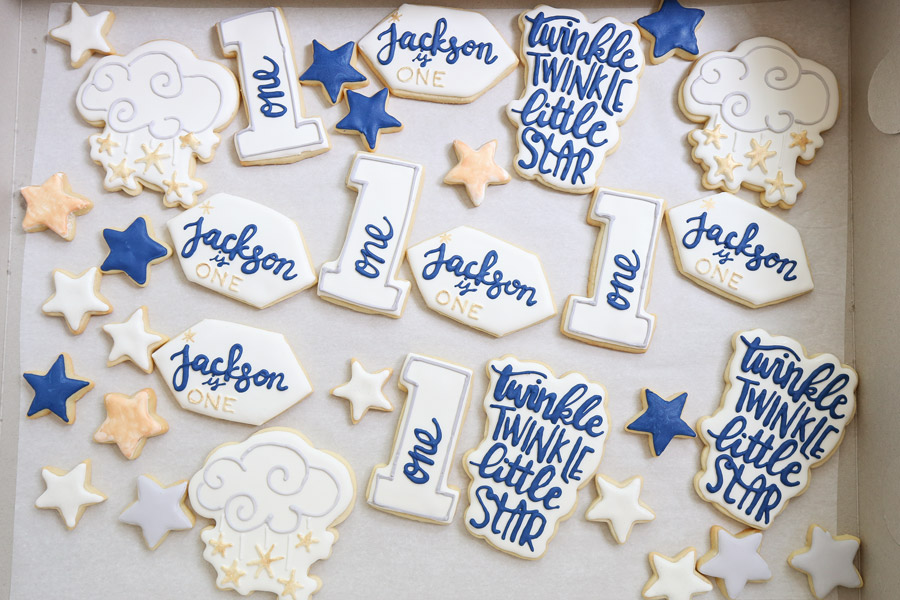 I made custom tags to go with the them.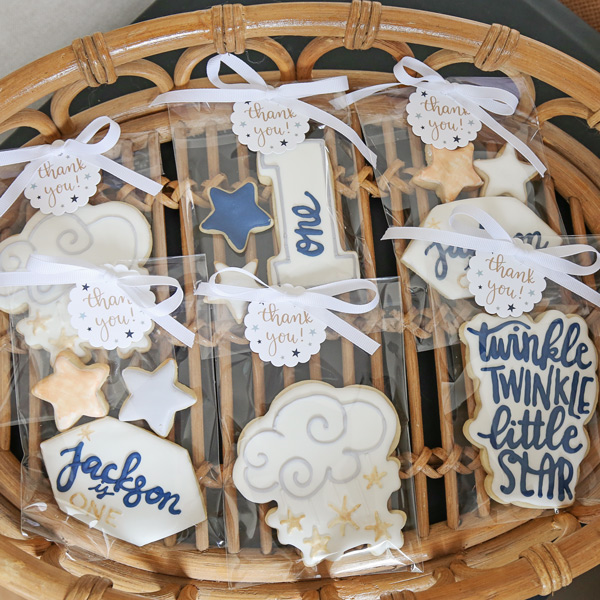 We ordered a cake and cupcake for Jackson from Sugar Bakeshop, we kept it simple and yummy. I also added my twinkle twinkle print in the party theme colors to go next to the cake!
I found these cute starry napkins in the party palette colors and some cute gold star paper cups too!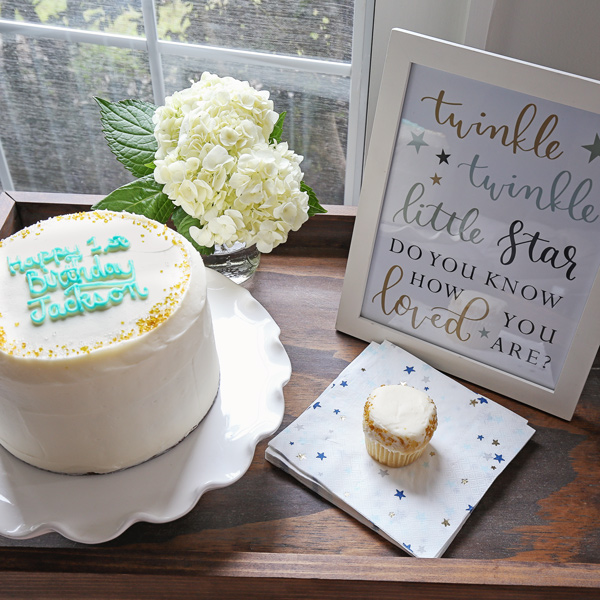 Lastly, I added a photo month banner on our barn doors, with all of the month photos that I had taken over the past year!
Overall the party decor was a success! Most importantly though, Jackson loved it all! I loved watching him open his gifts and eat a cupcake for the first time (he loveddd it, especially the yummy frosting).
Even though we are super busy with projects for the blog these days, I am happy we were able to do the party and still decorate and make it special for our baby boy!
Follow along for my latest projects and sneak peaks on Instagram, YouTube, and Pinterest!