I have several bathroom remodel projects going on right now for the One Room Challenge, but our vinyl flooring installation is finally complete!
Yay! This has really been a turning point for the renovation.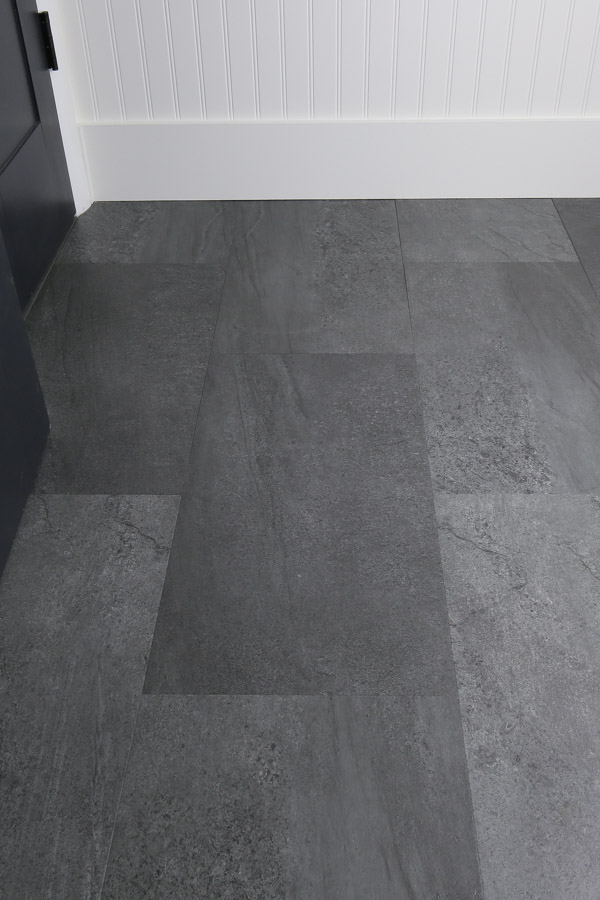 If you've missed any of the past projects, you can check out the prior weeks here:
ORC Week 1 – Half Bathroom Design Plan and Before Photos
ORC Week 2 – DIY Panel Door, Demo, and Flooring
ORC Week 3 – Shiplap Ceiling DIY
Note, this post contains some affiliate links. For more info see my disclosures here.
In my week 2 demo post, I shared about our flooring dilemma. Basically, we couldn't use the ceramic tile I originally wanted to use due to the condition of our sub-floor and existing flooring without spending a lot of time and money to get the sub-floor properly prepared.
The only option I had due to these factors was to use vinyl flooring that could be installed over the existing floor. I looked high and low for a beautiful vinyl flooring that looked just like real slate stone and wasn't cheap or tacky looking. Fortunately, I discovered a luxury vinyl plank tile from Adura Max that looks really similar to real slate. And I love it!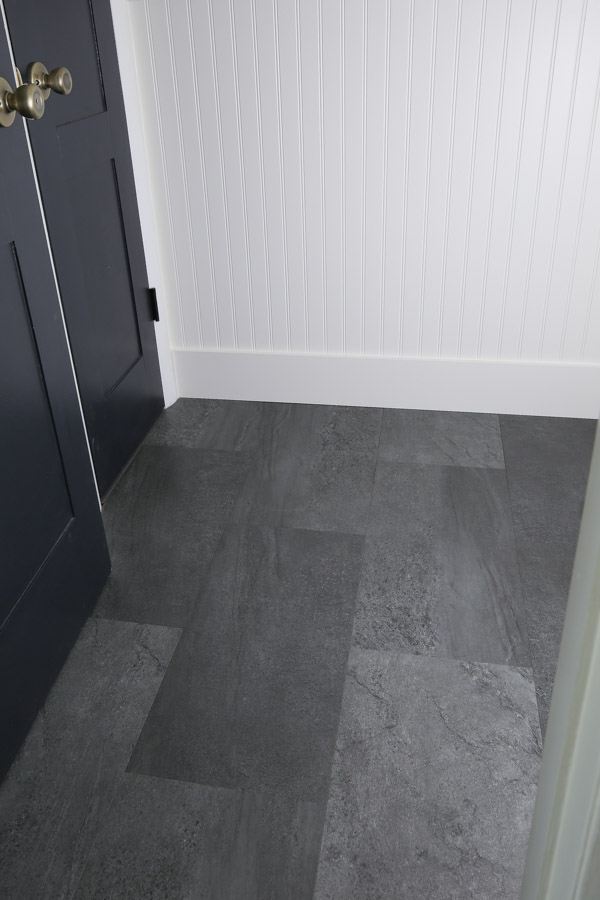 Note: check out my 5 bathroom flooring options on a budget guide and luxury vinyl plank vs laminate flooring for more bathroom flooring options!
Although the luxury vinyl is on the more expensive side of vinyl tile, it's totally worth it for the quality, look, and ease of installation. It's budget friendly compared to other stone flooring options. We have vinyl flooring throughout most of our house and it's the nicest vinyl tile I've ever seen or used, so I'm happy and relieved that it worked out!
This luxury vinyl plank tile was relatively easy to install. It's a floating vinyl floor, which is nice because no glue or sticky adhesive was involved. I wish I took more photos of the process, but we were on a roll with installing it, so I don't have a full tutorial post for the install. But, it basically installs right over the existing floor. Here's a photo I took on my phone during the install process: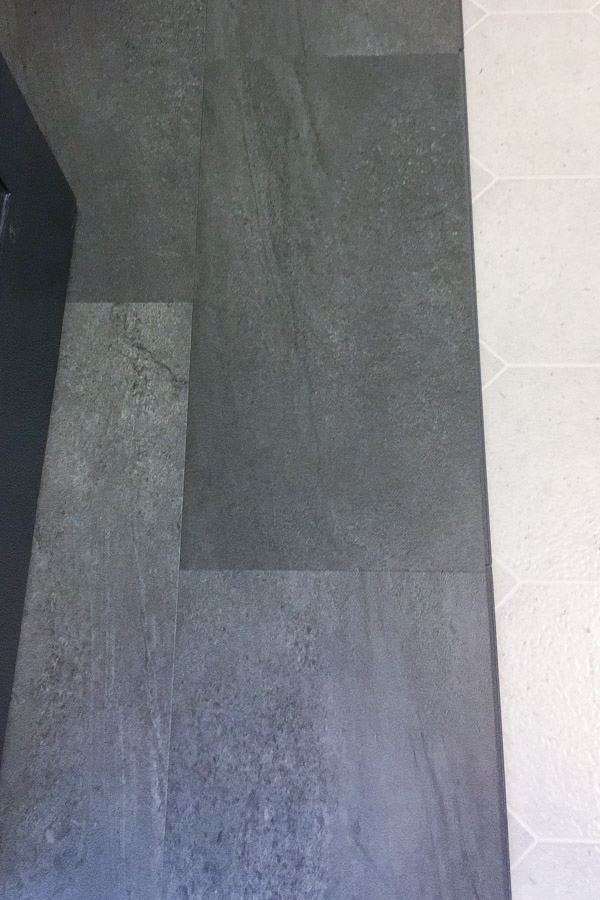 The vinyl tiles interlock together with a tongue and groove concept. You just lay one tile down and angle the next tile into the first tile and interlock them together. The hardest part was interlocking a tile into the tile above it and next to it.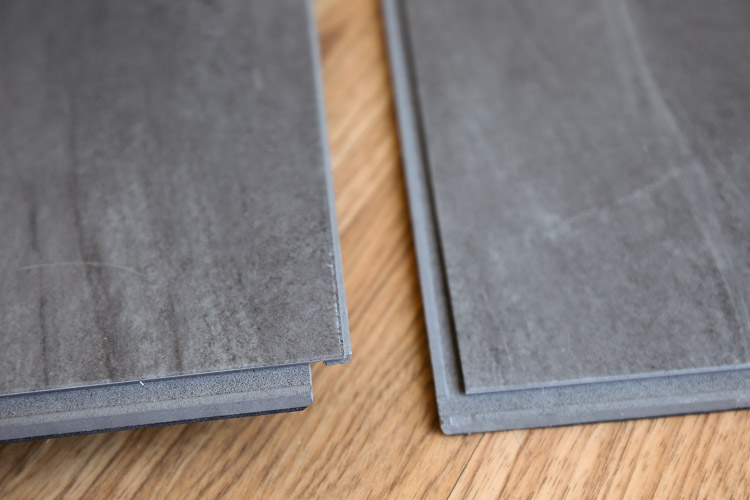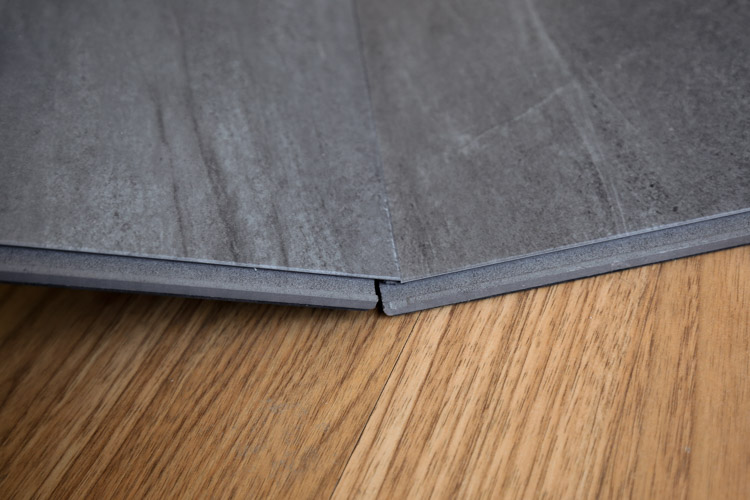 Also, we made all of our vinyl tile cuts with our Dremel tool since the material was thicker compared to other vinyl. It cut really easily with our Dremel, but you could also use an inexpensive jigsaw.
I love the look of our new, slate vinyl tile and it really has helped to transform our bathroom already! You can see in the photos a peek of our new beadboard walls that are almost finished! I'll be sharing a tutorial for installing them next week! Here is a progress photo comparison: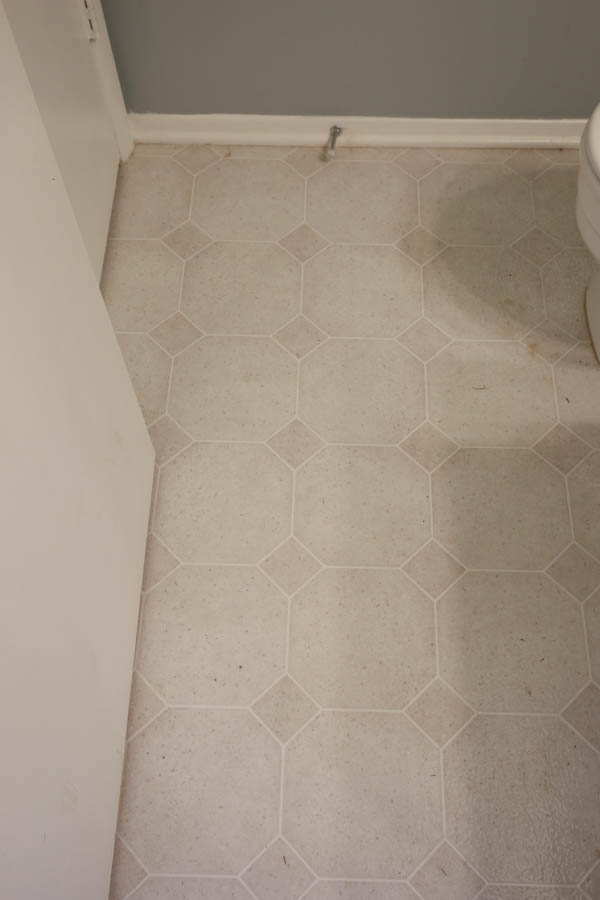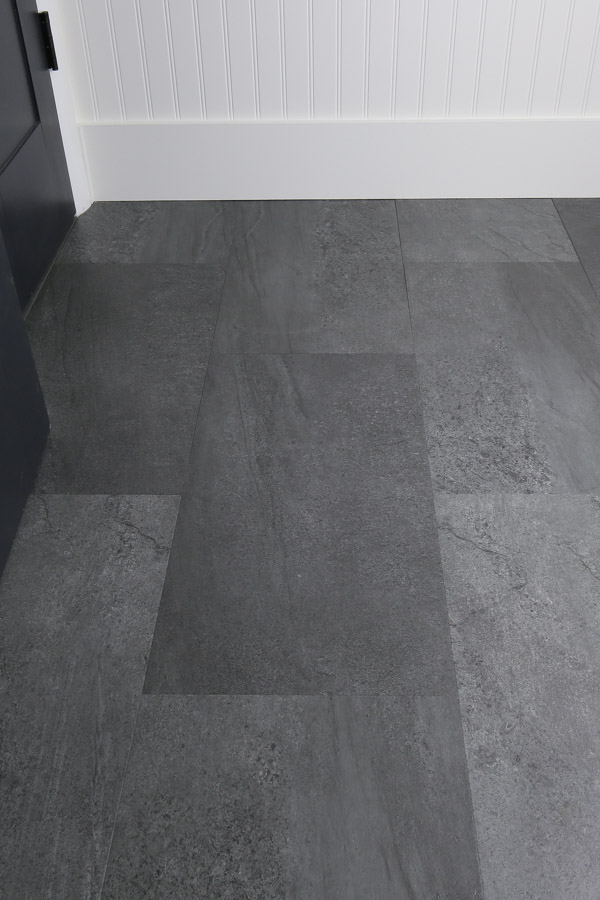 Don't forget, if you are interested in other flooring options for bathrooms, check out my 5 bathroom flooring options on a budget guide and luxury vinyl plank vs laminate flooring too!
Follow along on Instagram and Pinterest for my latest projects and to stay up to date on our half bathroom renovation! Also, check out the other ORC participants rooms here and see how their rooms are progressing!