Learn about luxury vinyl vs laminate flooring pros and cons and which one we used for flooring throughout our new house!
When we bought our new house the very first thing we did before moving in was have new flooring installed.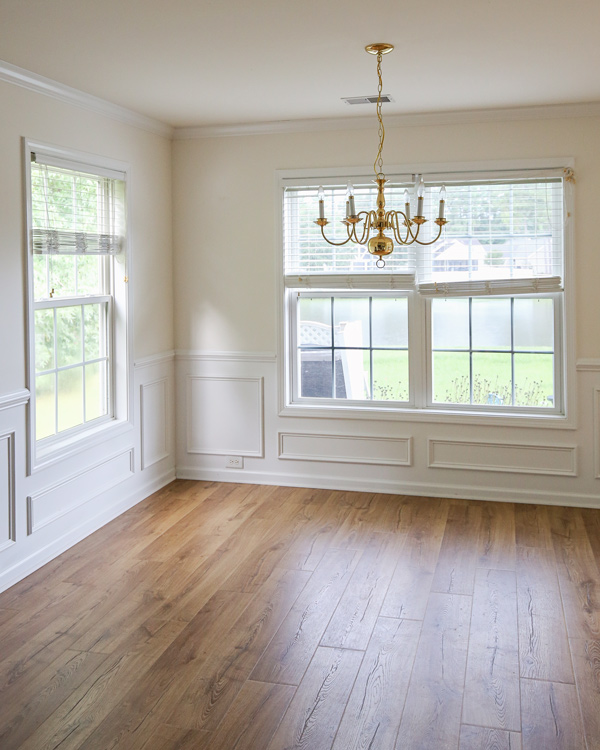 Originally, the home was mostly old white carpet that was not in good shape so we had it removed. And the entryway had outdated flooring which was removed.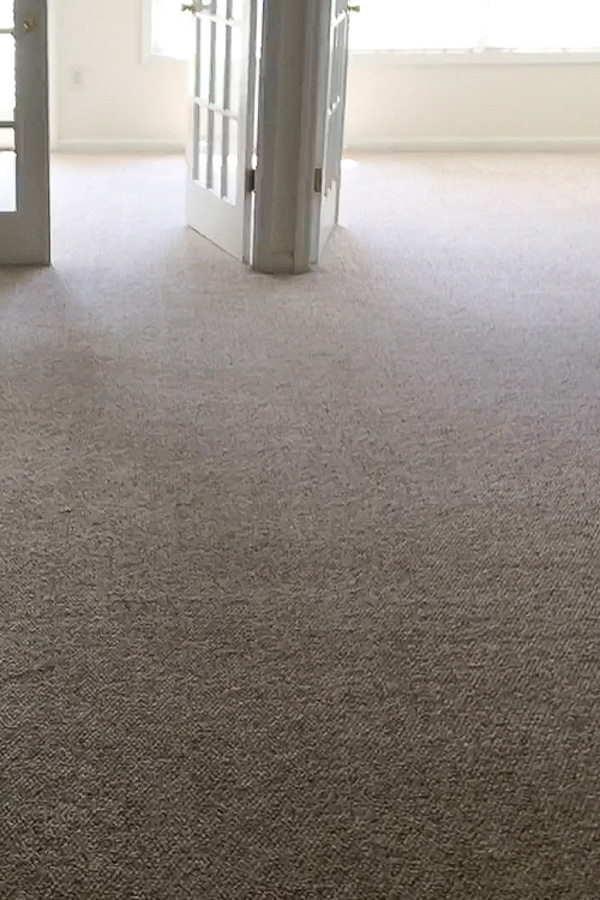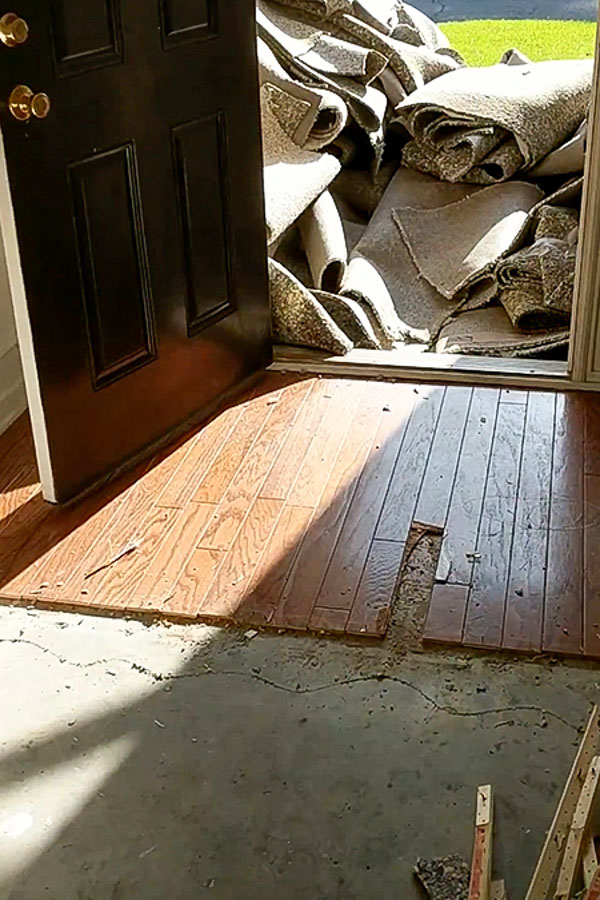 The kitchen and laundry room had outdated, cheap vinyl sheet flooring and our new flooring ended up being installed on top it.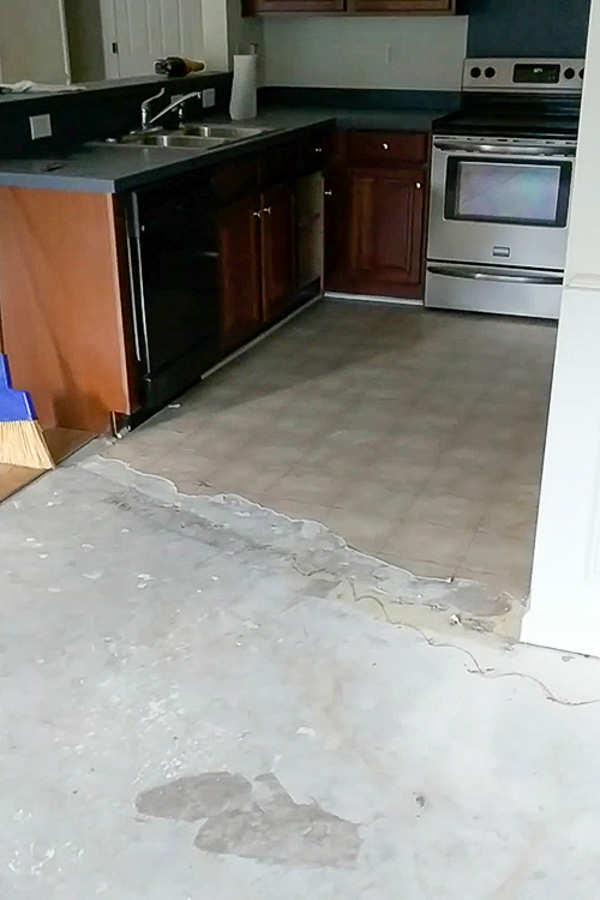 The cost of new flooring for a whole house and the professional installation of it is expensive and a huge investment (thousands of dollars). So, I knew I needed to do thorough research to make the best choice for the type of flooring for us.
I quickly ruled out real wood and engineered wood due to the higher cost. My final options were luxury vinyl plank or laminate flooring because they both offer durable and affordable options that look like real wood.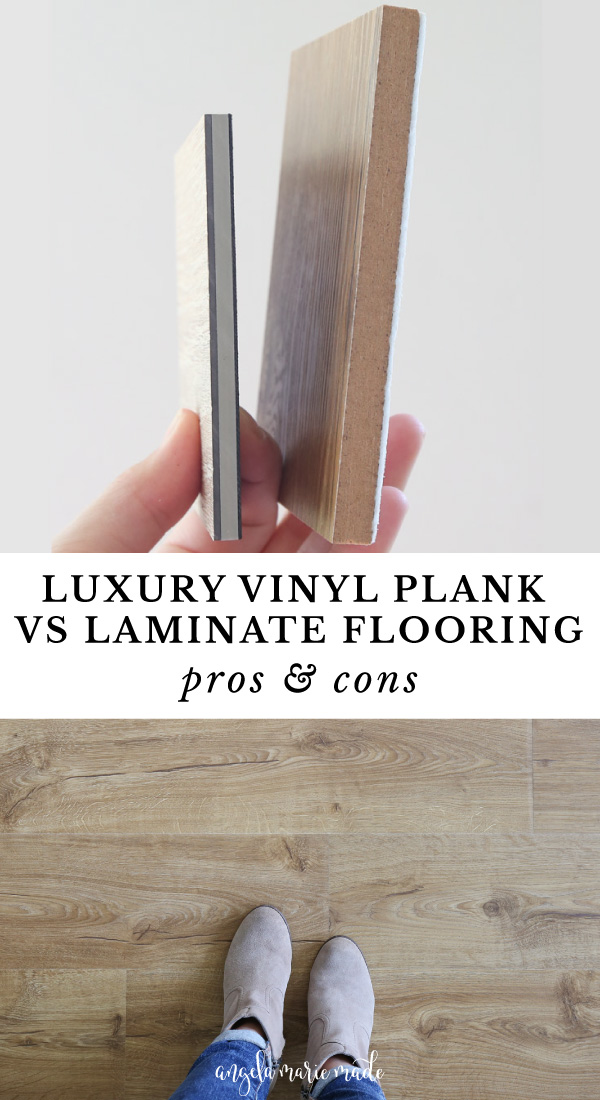 I've used both luxury vinyl floors and laminate flooring before in our previous homes. We used laminate flooring in our son's nursery makeover and you can see my Pergo laminate flooring review for more details.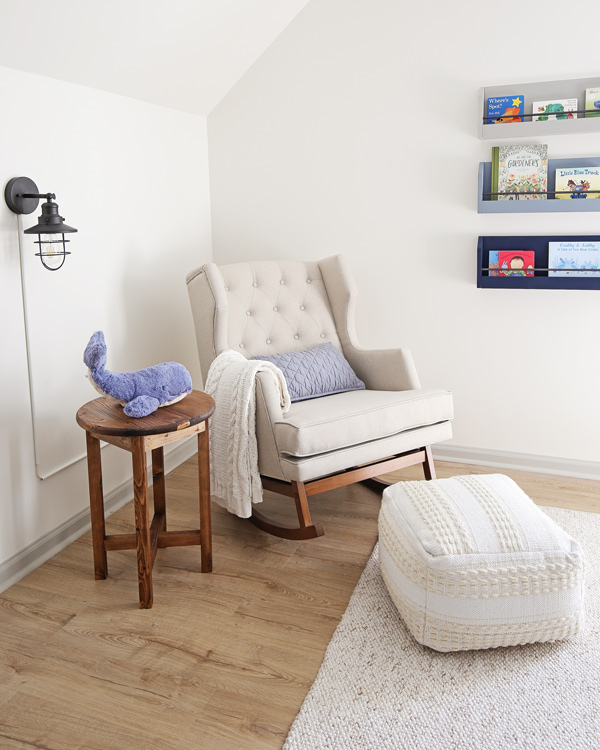 Then, in our first home we used luxury vinyl tile that looked like real slate in our guest bathroom makeover.
After doing a bunch of research, I learned a lot and I want to share what I learned in case you are thinking about the two flooring options for your home.
So, I will provide an overview of both (including the differences and similarities), along with luxury vinyl vs laminate flooring pros and cons, and which one we decided to use throughout our new home.
LVP vs Laminate Flooring Video:
Subscribe to my YouTube Channel here!
See a video overview of LVP vs laminate and more views of our new flooring here!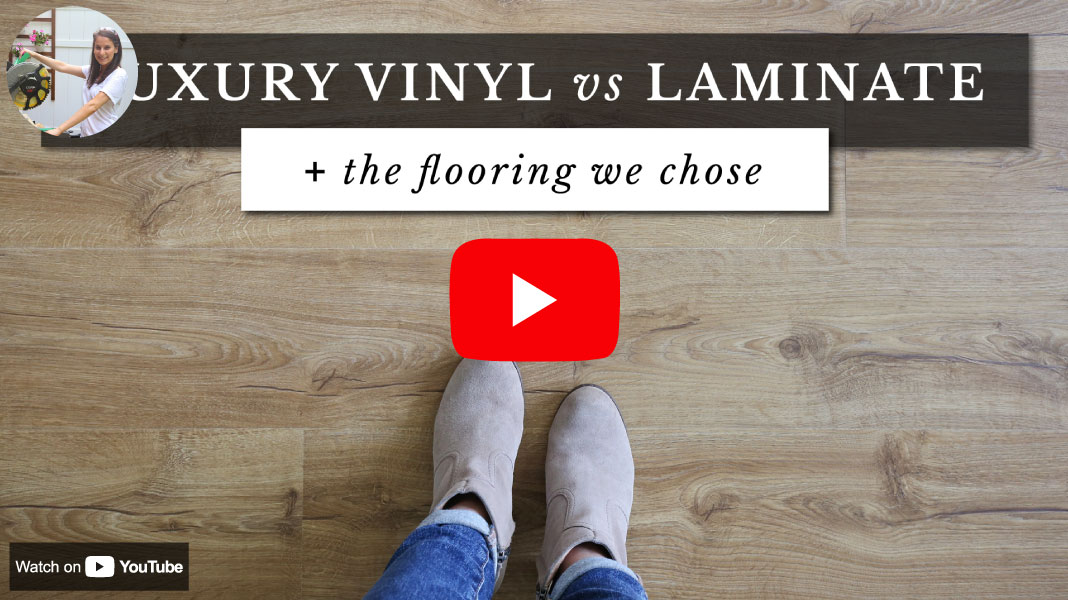 The Major Differences and Similarities between Laminate and Vinyl Flooring
One of the key differences between laminate and luxury vinyl plank (LVP) flooring is the type of core. Laminate flooring has a wood byproducts core (like MDF or HDF) .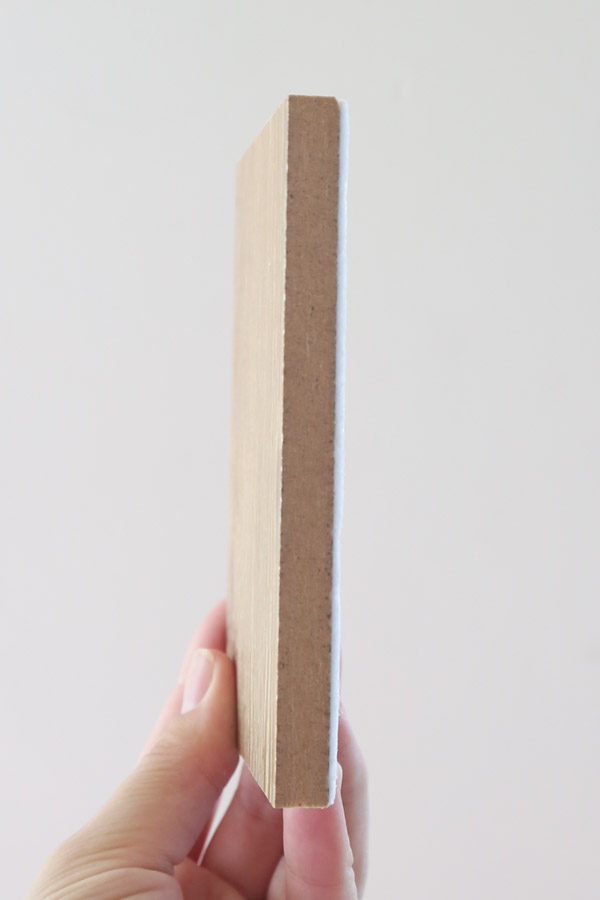 Luxury vinyl has a solid vinyl core made of synthetics (plastics).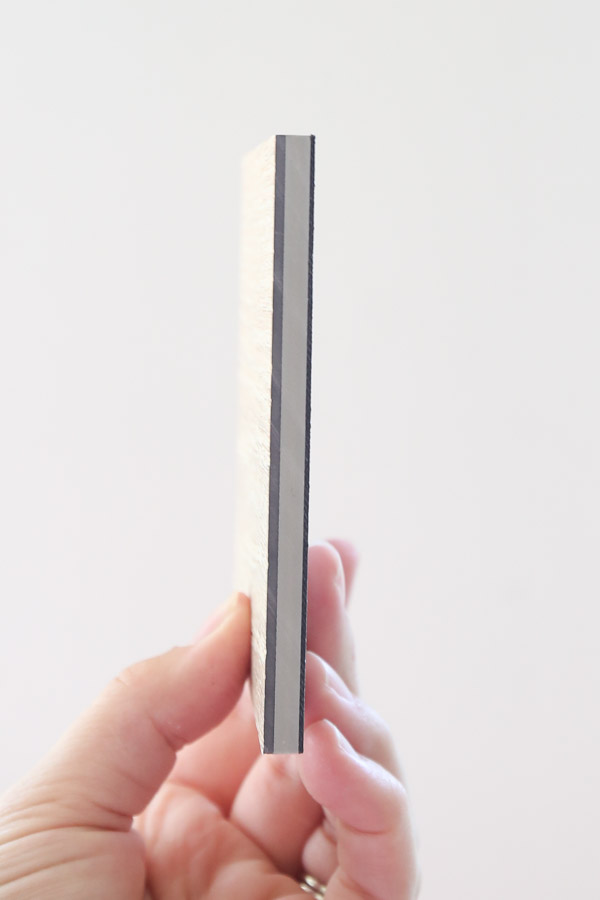 Note, this post contains some affiliate links. For more info see my disclosures here.
They both have some level of wear layers or scratch resistance and printed images on the top layer to make them look like real wood or stone. The underlayments and protective coatings on each can vary depending on the type and brand.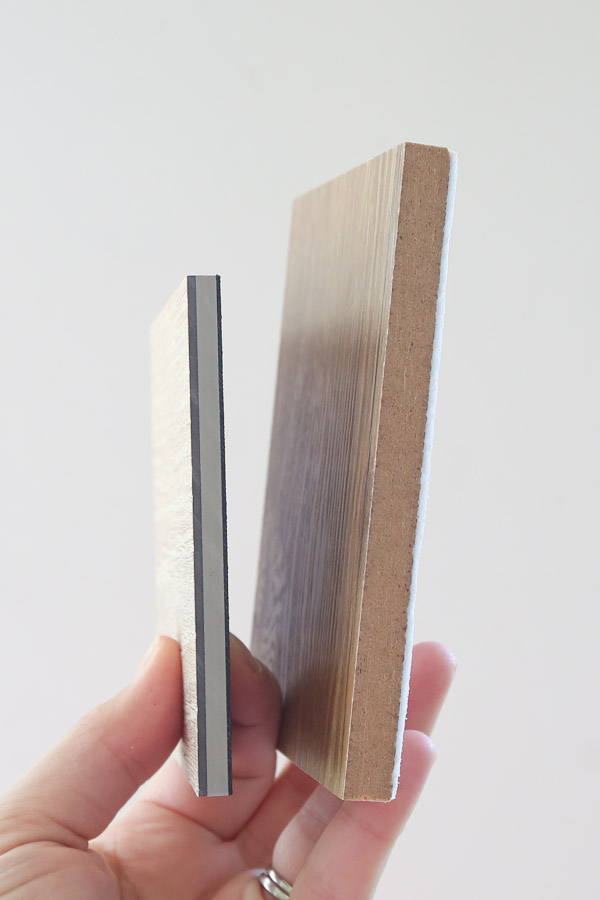 Laminate floor is usually a floating floor that is installed with interlocking tongue and grooves (click and lock). Luxury vinyl can also be floating or it can be glued down.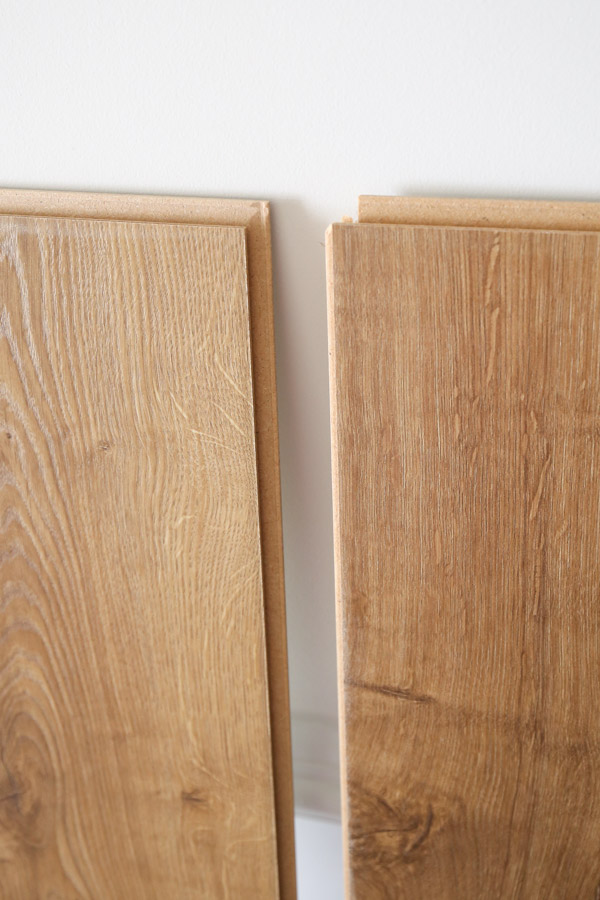 Both have options available that can be installed over existing flooring. We were able to have ours installed over the old sheet vinyl in the kitchen and laundry room but we did have to remove our carpet.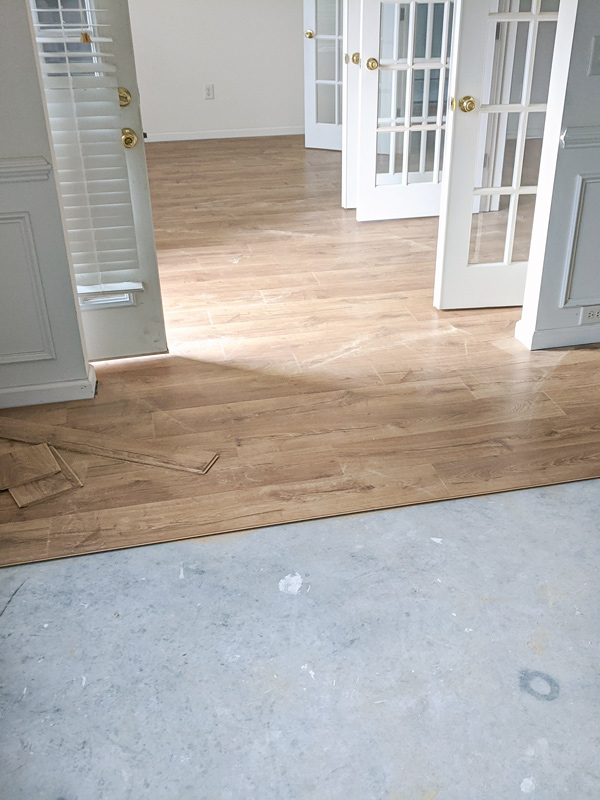 Both offer durable and waterproof or water resistant options for flooring in your home.
Cost of Laminate vs LVP
The cost for both are more affordable compared to engineered hardwood and real hardwood floors. There are so many varieties of each though, that you can find less expensive LVP than laminate and vice versa.
However, based on the higher quality features I wanted for our floors, I found that laminate flooring was more affordable vs. the luxury vinyl.
Waterproof and Water Resistant
One of the big features of luxury vinyl plank that I kept seeing in my research is how LVP is 100% waterproof. But I don't think that is a 100% accurate term haha!
Although the material that makes up LVP is waterproof, there are less expensive luxury vinyl planks that are only water resistant and not actually completely waterproof. For example, this more affordable TrafficMaster Luxury Vinyl Plank is only water resistant.
The same thing happened when I was researching laminate floors, except that most articles said that laminate is not waterproof because of its wood composite core. But, there are actually higher quality laminate floors that are waterproof, like this Pergo laminate flooring.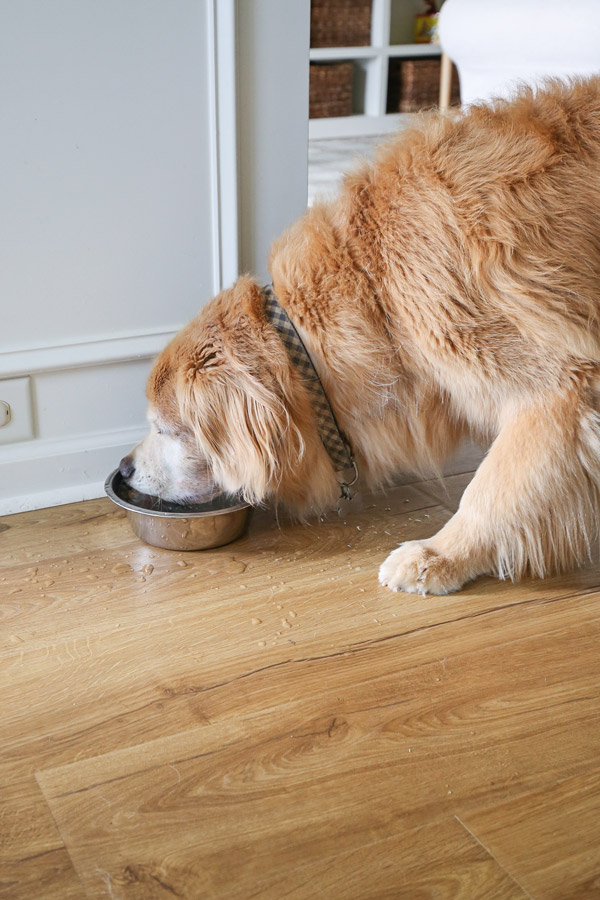 So, just be careful when you are selecting flooring, no matter what kind, that it actually says that is waterproof if that is what you want!
Either way both flooring types have good waterproof options for high water prone areas like kitchens, laundry rooms, and bathrooms. I included them both in my bathroom flooring on a budget guide.
Off Gassing
Off gassing is the amount of chemicals or VOCs released from new flooring from the cutting and installation process. Sometimes you can smell it, sometimes you can't.
Honestly, off gassing of flooring was not something I initially thought of when looking for our new floors. But, a reader pointed it out and I started to research it and realized it's a difficult thing to find info on as a consumer.
You may see terms like phthalate and formaldehyde free or FloorScore Certified. But both LVP and laminate still have off gassing, it just varies on how much by the product.
I came across this really helpful guide to non toxic flooring which has additional guides on non toxic laminate floors and non toxic luxury vinyl too which goes into much more detail about which flooring brands she found were less toxic.
Durability
Both luxury vinyl planks and laminate planks are durable. So they are pet friendly, kid friendly, and scratch resistant. Again the level of durability will vary greatly by the brand and quality level. This is where reading customer reviews helps a lot!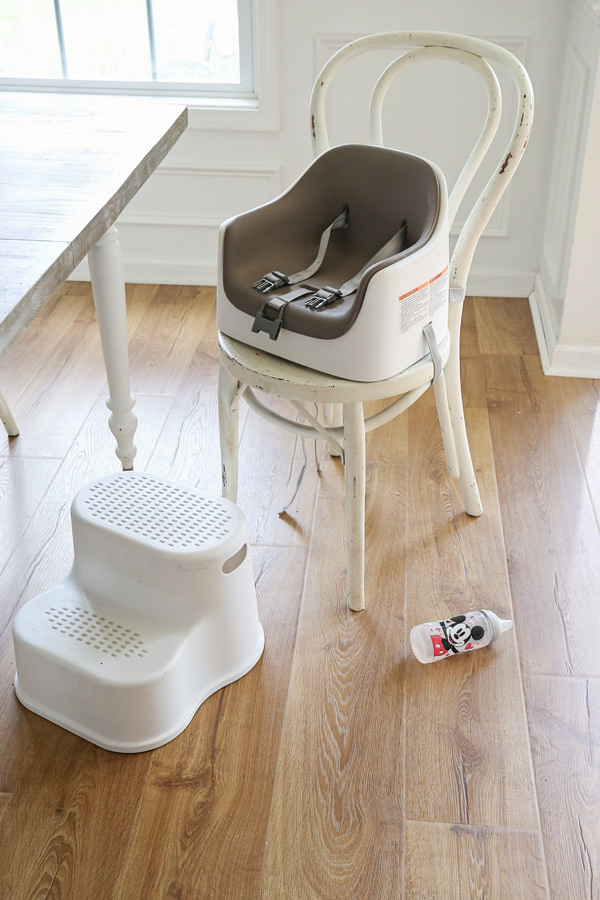 If you like summary charts, here are the pros and cons of each:
Luxury Vinyl vs Laminate Flooring Pros and Cons:
Pros of LVP:
Many waterproof options due to being made of all synthetic material
Many options that look just like real wood or stone
Affordable compared to real wood and engineered hardwood
Durable and scratch resistant
Easy installation (can DIY or hire out)
Pet friendly and kid friendly
Can be longer lasting than laminate (depends on type/brand)
Great for resale, LVP is a very trendy word in real estate
Cons of LVP
Can be more expensive than laminate for comparable features
Some options look fake and plastic like
May have higher VOCs or an off gassing odor to it at first (varies by brand)
***
Pros of Laminate Flooring
Many affordable options and can be more affordable than LVP
Many options that look just like real wood
Waterproof and water resistant options
Durable and scratch resistant
Easy to install (can DIY or hire out)
Pet friendly and kid friendly
Cons of Laminate Flooring
The wood composite core of laminate is not waterproof and can swell if exposed
Some options look more fake
May have higher VOCs or an off gassing odor to it at first (varies by brand)
The Laminate Flooring we Chose and Why we Picked it over LVP
My final two high quality flooring options that I picked were the Lifeproof Luxury Vinyl Plank and the Pergo Outlast Laminate Flooring. Both are great choices with comparable features, good reviews, beautiful color options, waterproof, and very durable.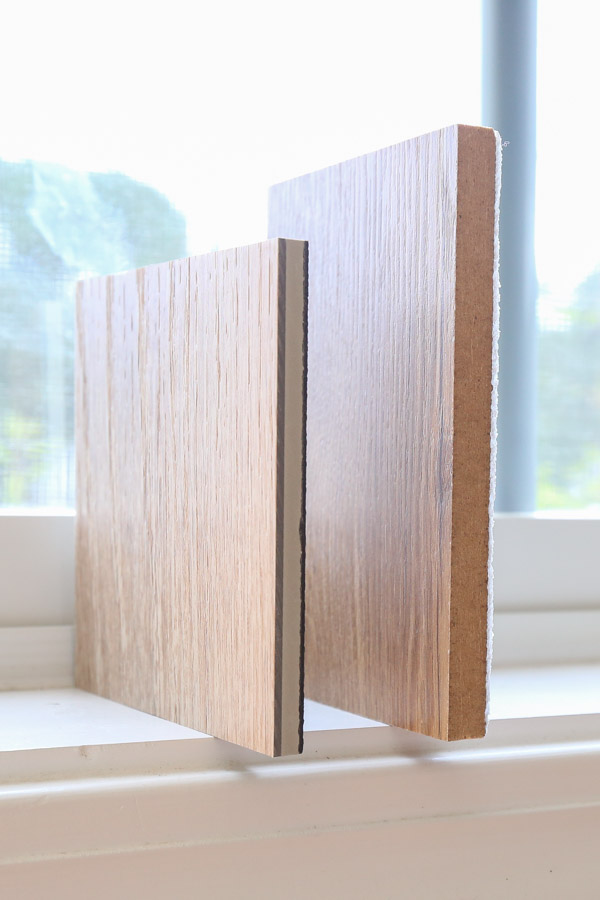 I decided to go with the Pergo Outlast Laminate Flooring in Marigold Oak ultimately because of the more affordable cost and the fact that I could get very comparable features as the LVP, including being waterproof.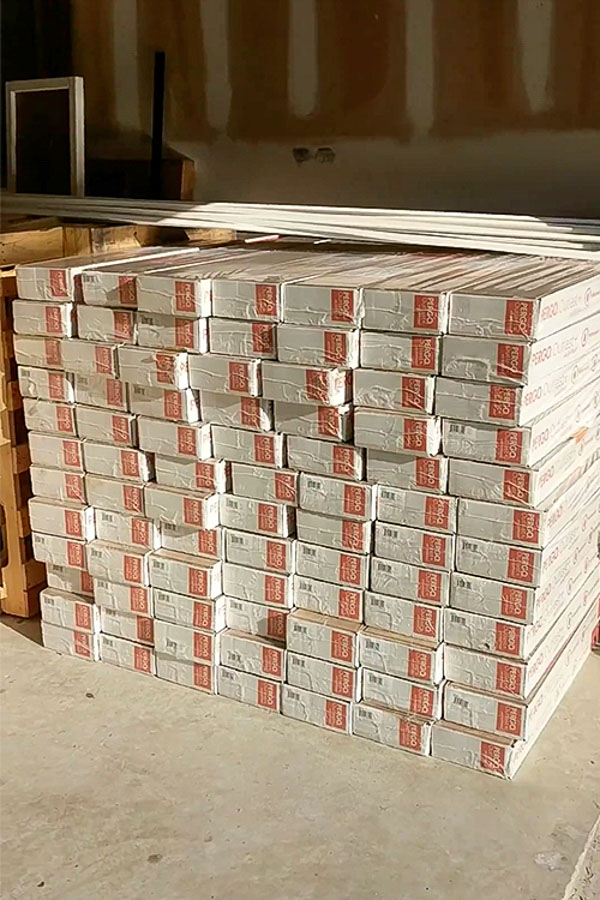 $2.99/sq. ft. vs $3.29/sq. ft. adds up quickly when you are buying thousands of square feet and paying by the square foot for installation! Plus just looking at the flooring you can't easily tell the difference, they are both beautiful and have authentic wood looks.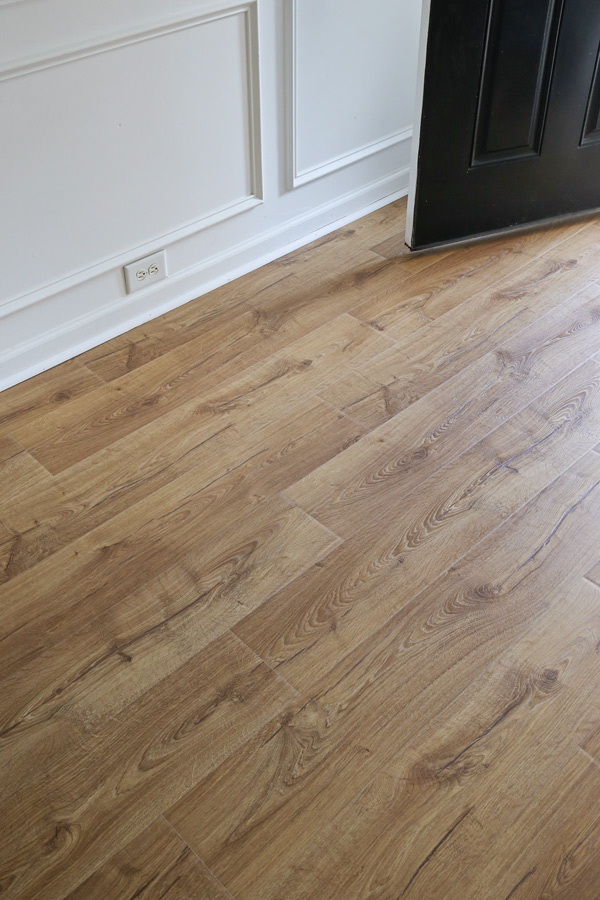 Further, we have actually used the Pergo Outlast before in our previous home (in the Vienna Oak color) and really loved it and the durability. You can see my previous Pergo Outlast review here.
This time around though we hired out the installation instead of DIYing it since it was for our whole house! One of the nice features is that it comes with attached underlayment so that made the install process quicker and less expensive.
I selected different samples at the store and loved the Marigold oak color in the natural and artificial color of our home.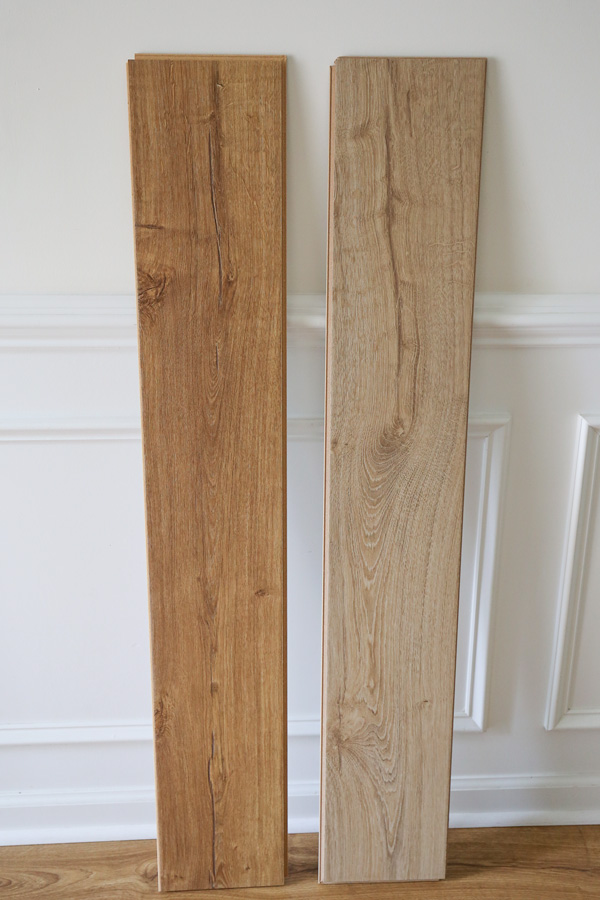 I love that it has texture and character marks, along with a wide plank too, it really looks authentic.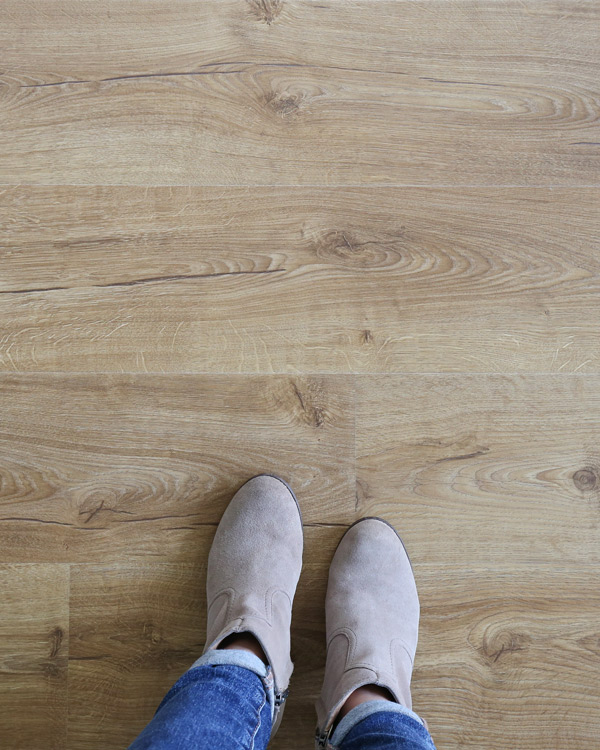 After it was installed, it instantly improved the look and quality of our entire home and I was very happy both with the color and look.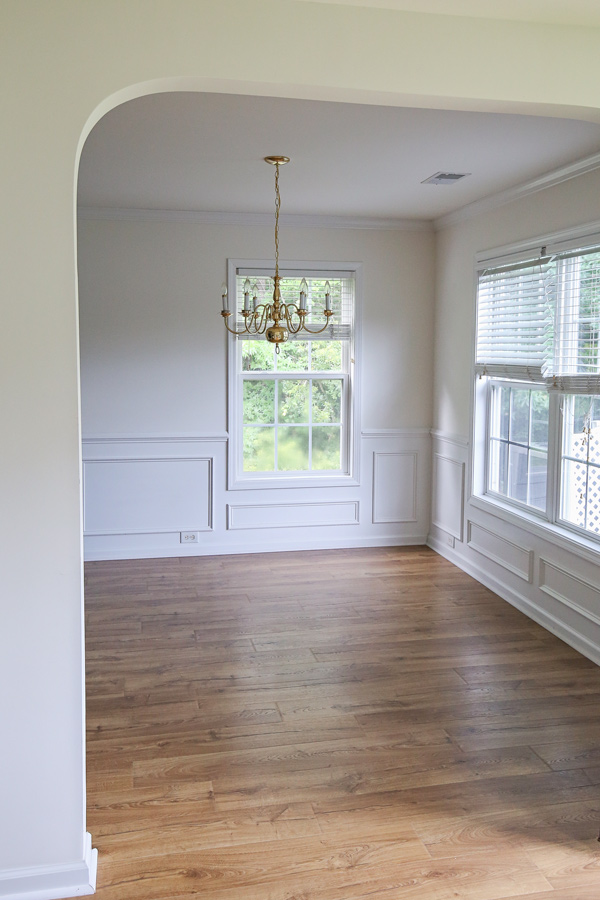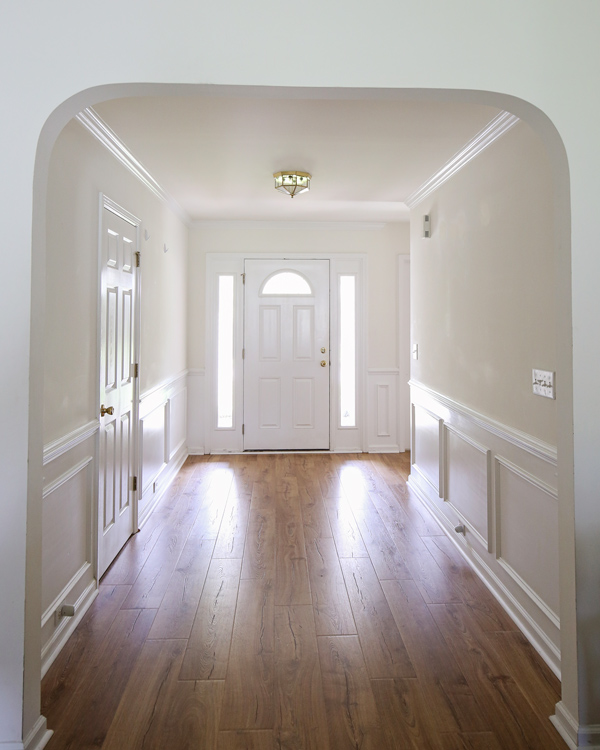 I just love how it looks with our living room rug too!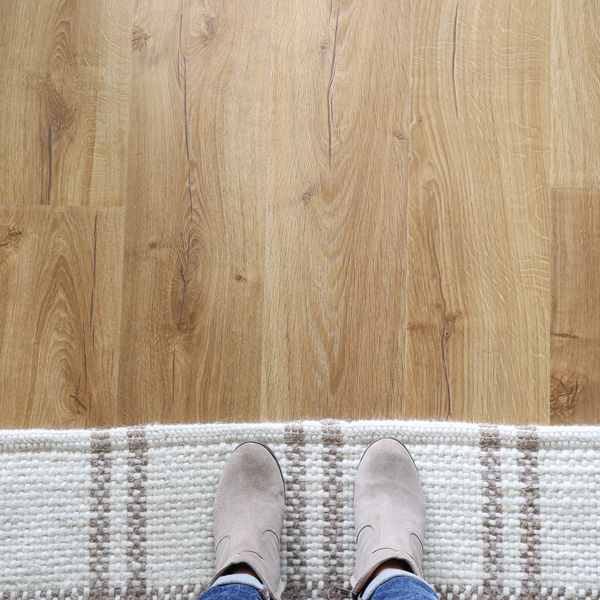 Although we did not install it in our bathrooms since I want to use tile in the bathrooms but we installed it everywhere else including all of our high traffic areas: the kitchen, laundry room, bedrooms, closets, entryway, etc!
It has only been a few months of living with it but so far it has been extremely durable, scratch resistant, and waterproof. We are rough on our floors, especially with a dog and a toddler, and it has been great and still looks like new!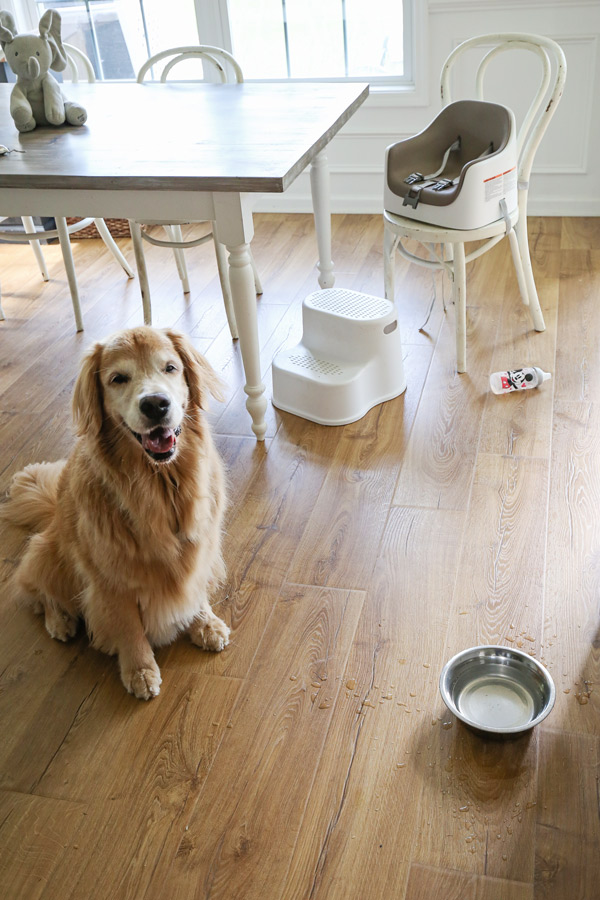 I will have to do a one year review for it when the time comes!
I hope this luxury vinyl vs laminate flooring pros and cons and explanation of why we chose laminate flooring has been helpful and saves you time when you are researching for new flooring!
Don't forget to check out the LVP vs laminate flooring VIDEO too!
Follow along on my new home projects and sneak peaks on Instagram, YouTube, and Pinterest!