Chalk paint is awesome for many reasons, including no priming, low odor, and for achieving a beautiful matte or distressed finish! I really do love using it on many kinds of projects. I've always used Annie Sloan chalk paint in the past because it's really high quality and works amazingly. However the price is pretty high, usually around $35-$40 for a quart!
Note, this post contains some affiliate links. For more info see my disclosures here.
Recently, I finally tried Rust-Oleum's Chalk Paint. I decided to try two colors, Linen White and Charcoal Grey, on two different types of projects. And it's officially become my new go-to chalk paint! I thought it would be helpful to share a Rust-Oleum chalk paint review of my experience, including the pros and cons.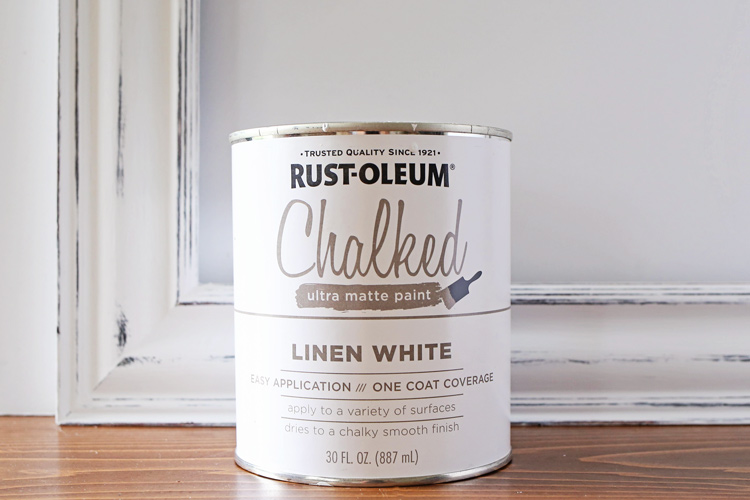 Most importantly, although Rust-Oleum chalk paint has become my new go-to chalk paint, it's still not my favorite chalk paint! My favorite chalk paint is still Annie Sloan chalk paint, however, you just can't beat the price of the Rust-Oleum (less than $18 for a quart) and it has lots of other good features too.
My first project, with Rust-Oleum Chalked Paint Linen White, was a 16×20, black, picture frame. I wanted the frame to be distressed and let the black show through.
The second project, with Charcoal Grey, was painting my DIY Rustic TV stand. I wanted a chalky matte finish but no distressing.
Here are the pro and con observations I made after using the chalk paint:
PROS OF RUST-OLEUM CHALK PAINT
Distresses easily and nicely just like other chalk paint
No priming needed, good coverage, but I did need at least 2 coats for both colors/projects
Lots of pretty colors to choose from
Best price for the quantity and quality – less than $18 for a quart
Very easy to find and buy, both online at Amazon and home improvement stores
Results in a beautiful, matte slightly chalky finish – a lovely chalk paint texture
CONS OF RUST-OLEUM CHALK PAINT
It scuffs up extremely easily, even just touching it with oily fingers leaves marks. This was more of a problem on my TV stand with the dark charcoal paint where I didn't want any distressing. I think adding a sealant such as wax or a water based poly would help prevent this, however that does take away from the beautiful matte look
It's very thin and makes handling it with a paint brush a little harder
Does not cover up spackled nail holes and other touch ups well
Dries streaky in some areas, but a second coat helps to fix this
As you can see from the cons, this chalk paint isn't perfect. I definitely liked using it more with my distressed picture frame than on my TV stand. So, I will remember that for future projects. Still despite the cons, it has some great pros too and I will definitely be using it again!
Hope this Rust-Oleum chalk paint review has been helpful if you are planning to use chalk paint on some future DIY projects! If you have used the Rust-Oleum chalk paint before, do you have any other pros or cons you'd add to this list? Feel free to share in the comments!
Follow along on Instagram and Facebook for my latest projects and sneak peeks!