Learn the 3 best techniques on how to distress wood and furniture using paint!
There are many ways how to distress wood with paint. I am sharing the 3 best and easy techniques to make distressing your wood project or furniture simple and beautiful!
Each of these methods will provide a unique distressed wood look, whether it's subtle or bold, you can achieve that look you want! The key elements in each of these three methods are sandpaper and paint!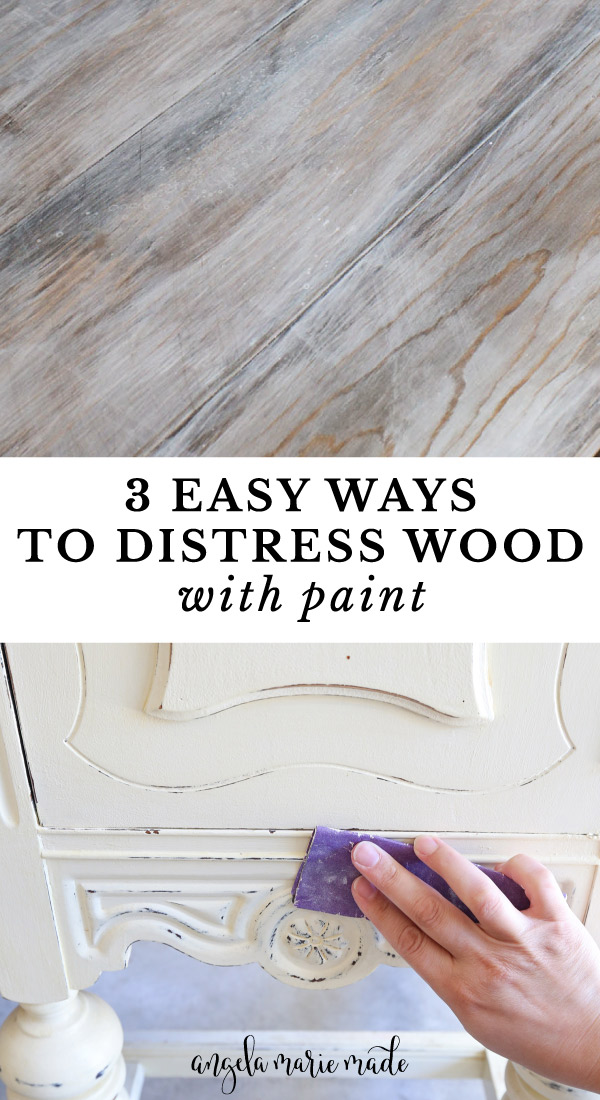 How to Distress Wood and Furniture with Paint Video:
Watch the video tutorial on these 3 easy methods for distressing wood with paint!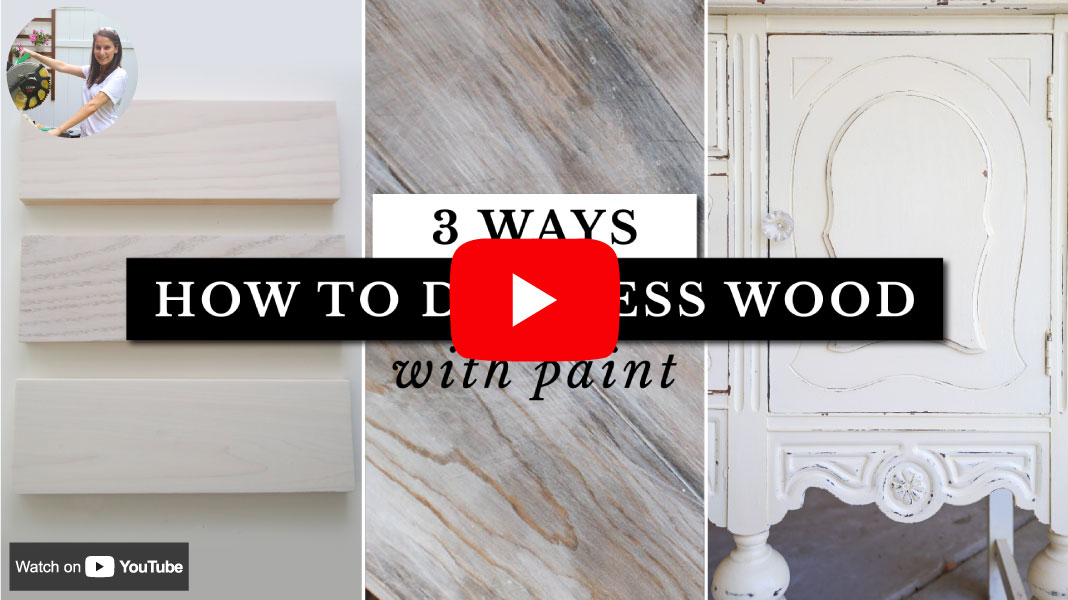 Subscribe to my YouTube Channel here!
Note, this post contains some affiliate links. For more info see my disclosures here.
1. Weathered Wood Look with Paint and Stain
The first (and my favorite) way is creating a weathered wood look. It's perfect for making new bare wood look old or just giving that distressed wood look to wood furniture or a wood home project like an accent wall!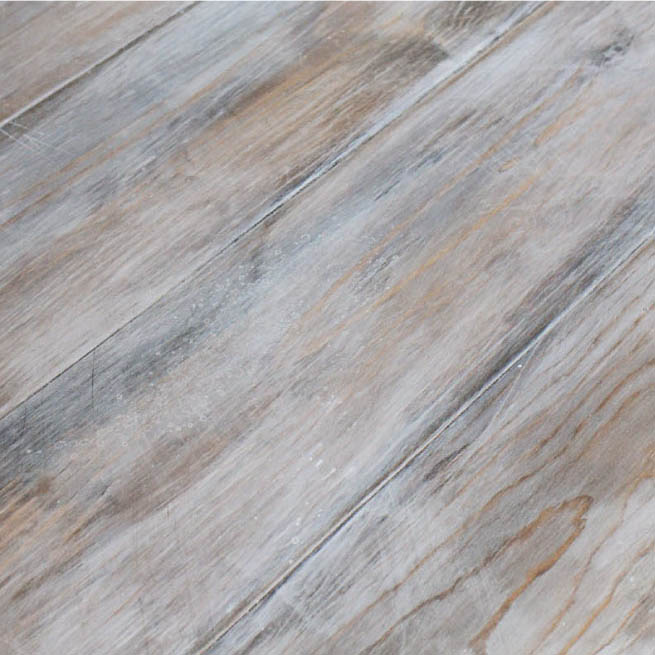 The first step is to stain your wood (or start with wood or furniture that is already stained). I prefer to use wood stain in a classic color but you can also use a grey wood stain too!
Then, you apply a white wash or color wash (paint diluted with water) over the stained wood. Or you can dry brush paint over the stained wood.
Any kind of paint can be used, but I prefer to use latex paint. Latex paint comes in endless paint color options, is durable, and easy and cheap to obtain at hardware stores, so that's why I think it is the best paint for this method!
The last step (which is the magic distressing wood part) is to distress the finish with sandpaper. I prefer to hand sand with a 120 grit sandpaper or sanding block to achieve the best control over the final look and not take off too much of the finish at once.
See my how to sand wood tutorial to learn all about sanding and different ways to sand. And check out how to stain wood for wood staining basics!
Distressed Grey Paint Finish: Grey Wash Wood
The first time I used this weathered wood method was when I was trying to achieve a distressed grey paint finish. This weathered wood grey finish was achieved by creating a grey wash wood look on our wood desk top. I also used this finish on our easy DIY entryway bench.
My favorite weathered wood finish ever was our DIY farm table top finish which is featured in my Weathered Wood Recipes eBook: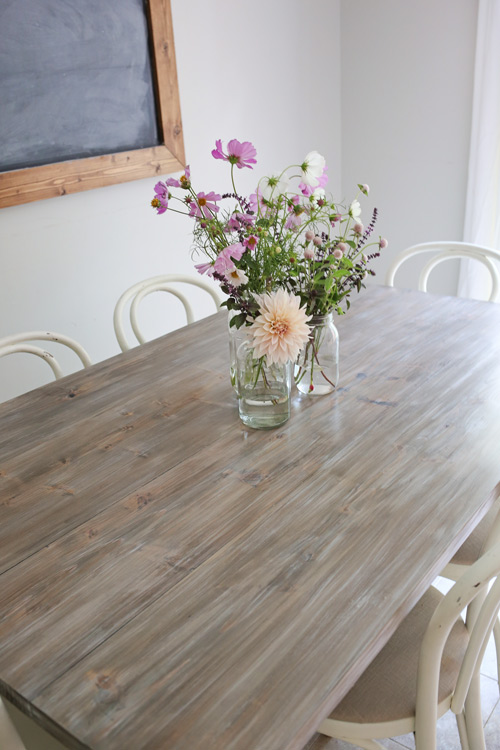 But you don't have to do the weathered gray look, there are endless distressed look wood finishes you can create with this weathering technique.
For example, we did a more natural weathered look using black paint to distress the wood on our DIY coffee table.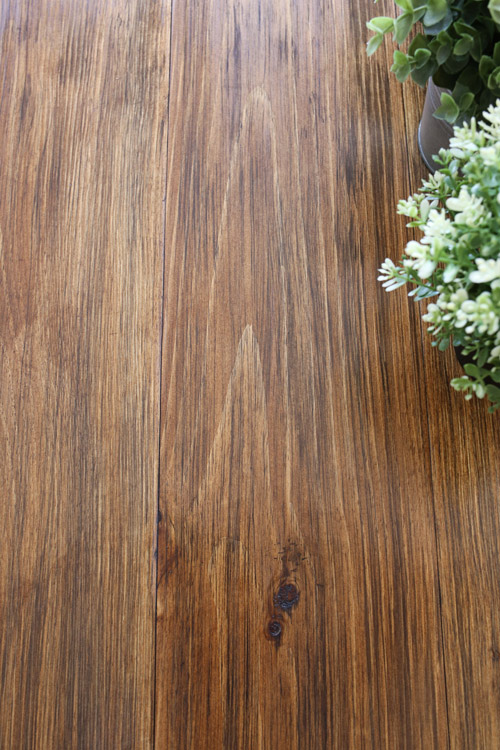 For more ideas and easy weathered wood tutorials, check out my Weathered Wood Recipes!
2. How to Distress Wood with Chalk Paint
The second best way how to distress wood with paint is to use chalk paint!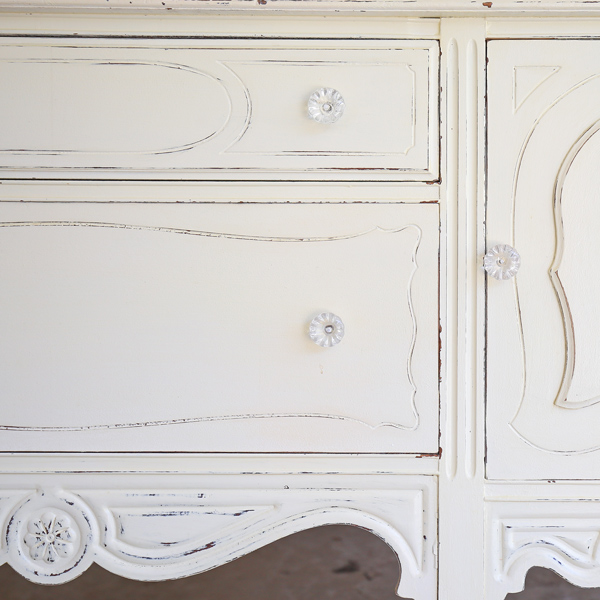 This method works best if your base finish on your piece of furniture is another paint or finish that is solid and you don't care if the wood grain shows through. The chalk paint method provides a lot more paint coverage.
If you want the wood grain to show through then use the weathered wood method in method #1 above.
How to Distress Wood with Chalk Paint
My favorite chalk paint project is our vintage buffet. I found it on Craigslist and it's original finish was a mix of dark wood stain and black paint: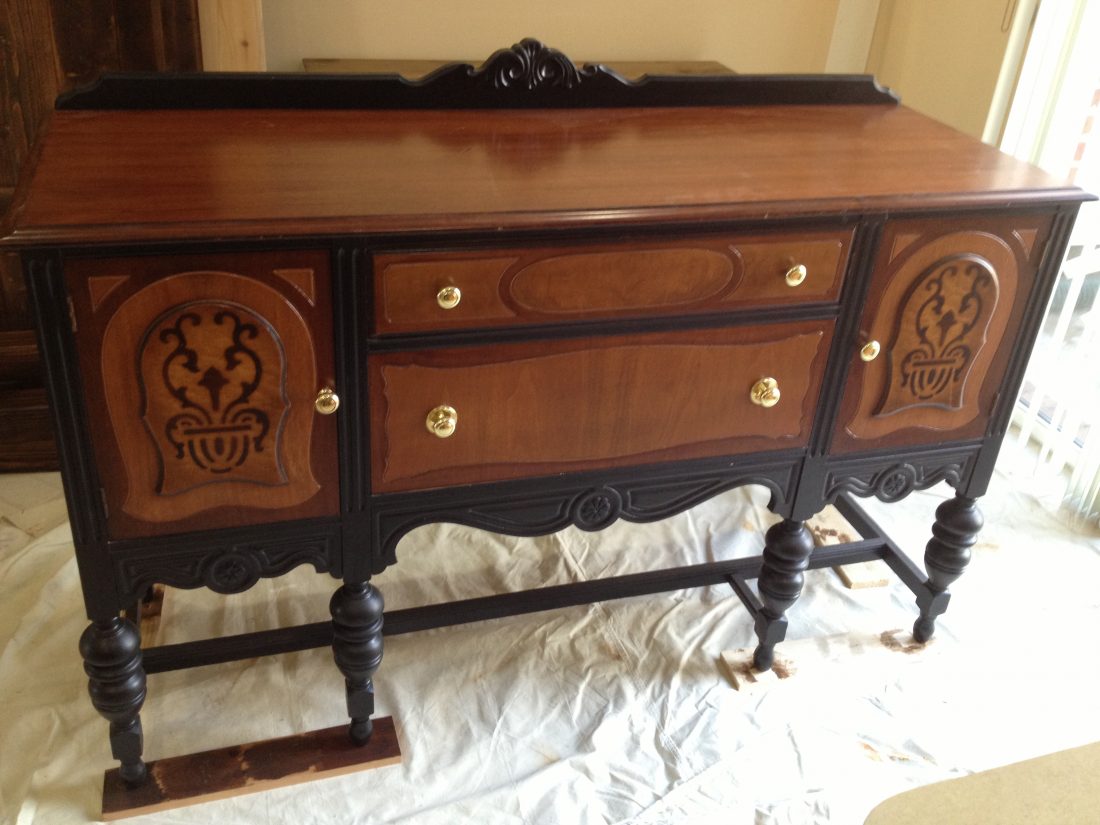 I painted it with Annie Sloan's Old White chalk paint and distressed all of the edges by hand sanding with sandpaper.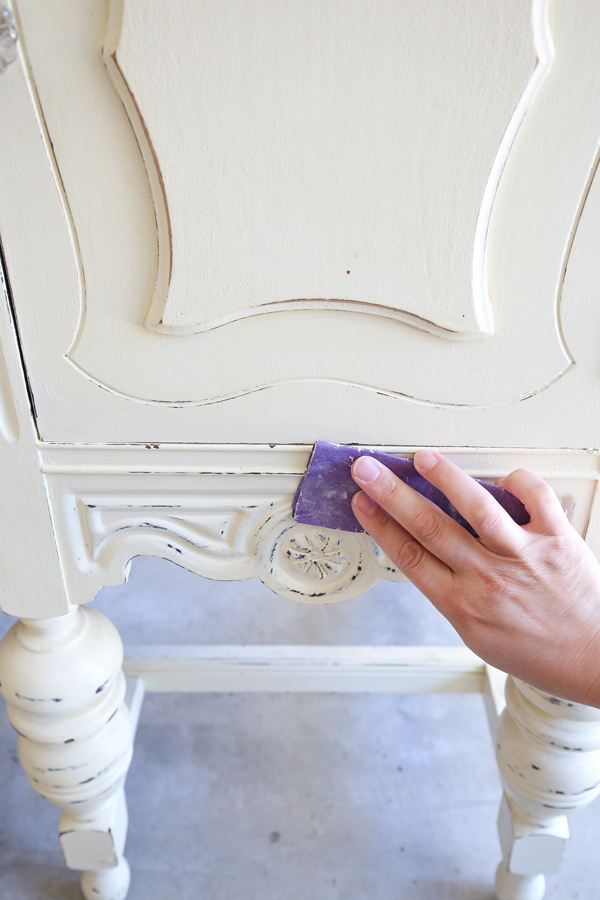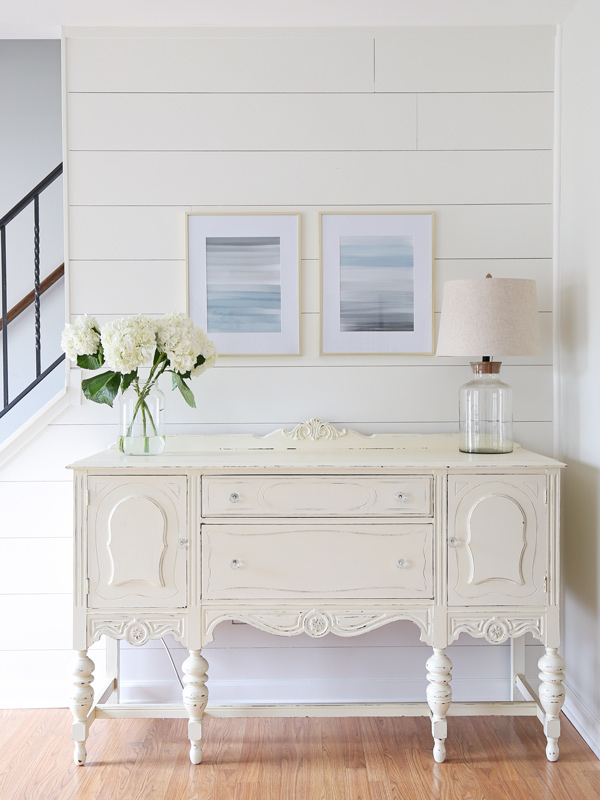 If you want to do two color distressing with chalk paint and you don't have wood with a finish on it already, you would just paint or stain the first coat and allow it to dry. Then, do a second coat and or third coat with chalk paint. And finish off with hand sanding.
Chalk paint really is that simple to use and it comes in many different colors! You don't need to prime your wood or furniture, you can just get right to the painting!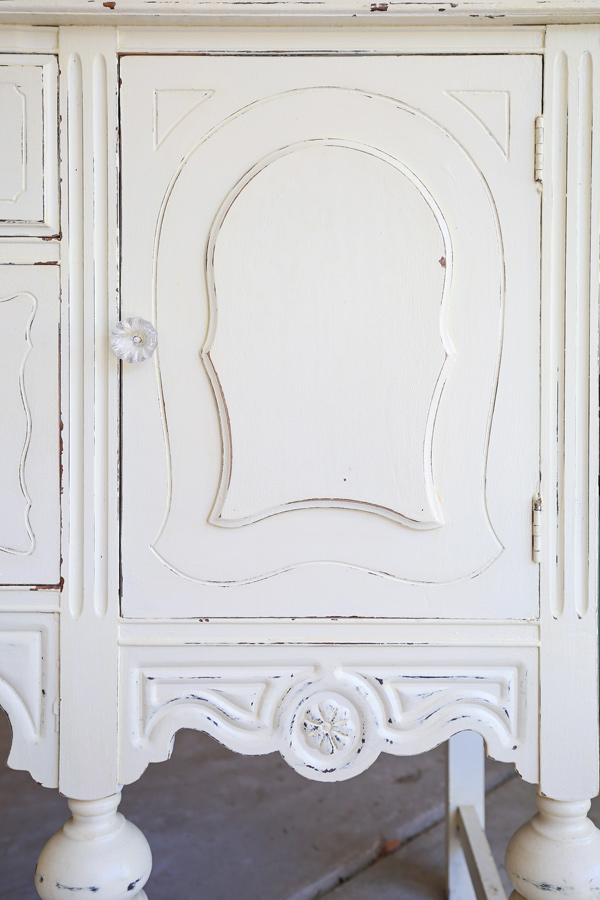 I love using Annie Sloan chalk paint, the quality is excellent. However, my favorite go to chalk paint that is easy to find and more budget friendly is the Rustoleum Chalked Paint.
The chalk paint method works awesome on furniture and decor projects too like distressed picture frames: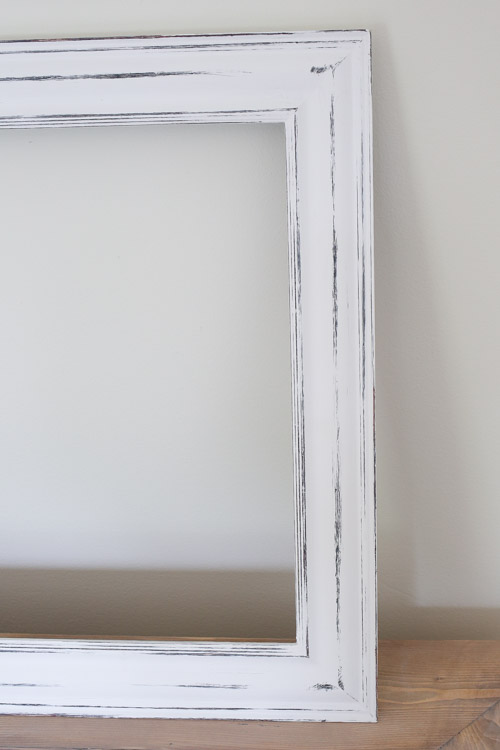 3. How to Distress Wood: Whitewash Wood with Paint
The third best way to distress wood with paint is to whitewash wood with paint. It looks beautiful over raw wood but you can use it over stained wood too (as described in method #1). I especially love how it looks over white oak!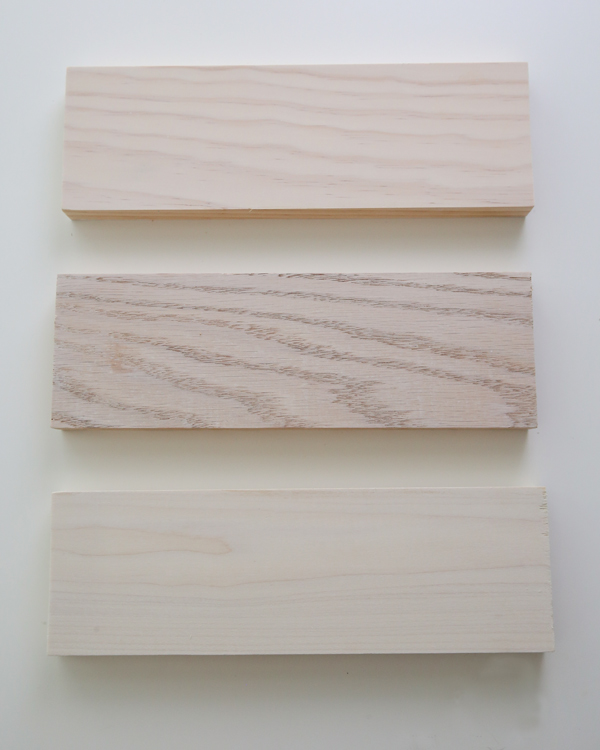 Water-based paint is best to use, so latex or chalk paint are great options to use for this method.
Whitewashing wood is super easy, you just mix white paint with water, paint the wood with it, and then wipe it into the grain of the wood with a rag. See my how to whitewash wood tutorial to learn more details on the process!
I love the whitewash look for a more subtle or light distressed wood look. I used it on our crate side table for a quick and easy project!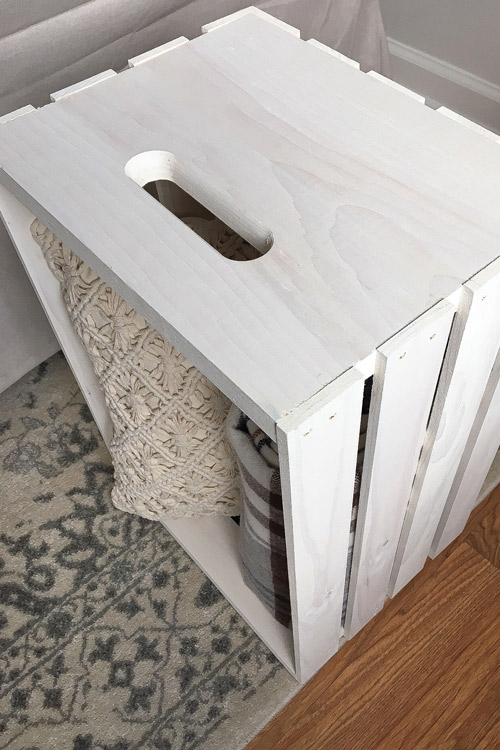 Further, you can use different paint colors to do a color wash finish instead of white wash!
And that's a wrap on these three easy methods on how to distress wood with paint. Whether you want to create a weathered wood look, distress with chalk paint, or keep it simple with a whitewashed wood, all of these distressing techniques are beautiful for your next wood DIY project or furniture project!
The key to know how the distressed wood look will look on your own project is to test it out in a small, hidden area first!
Again you can see all of these methods in action in my distressing wood with paint video here!
Also, don't forget to check out my Weathered Wood Recipes for ready to go, easy and beautiful distressed wood finish tutorials!
Follow along on my latest projects and sneak peaks on Instagram, YouTube, and Pinterest!