Well today's post isn't the most exciting post, but it's definitely a practical one in the world of home improvement! I recently shared about how to update window trim here and I also shared in that post about my plans to add Roman bamboo blinds too. The bamboo blinds are finally installed, with a privacy liner and they are the exact custom size of our large living room window, all for less than $90!
Note, this post contains some affiliate links.
When I started looking for bamboo blinds to purchase, I needed a large length of 74″ x 54″ because I had to have outside mount blinds with my style of window and most places only sell a max width of 72″. I wanted one large blind and not two sets of blinds next to each other so it would be a more cohesive look and statement. Also, the blinds needed to be lined for privacy. After a lot of searching I was going to have to custom order blinds and it was going to cost several hundred dollars, which would take up most of my remaining living room makeover budget. That was not ok!
Alternatively, I decided to buy these beautiful, roman blinds (also available here in more sizes) which luckily came in many sizes, including 74″ long! The downside was that they were also 74″ wide (I needed 54″) and they were not lined.
After installing them it looked funny and they were really heavy/hard to open. Also, you could see through them clear as day at night with our lights on…we went outside to check ha! Here are before and after photos (from during the day):
Before Customizing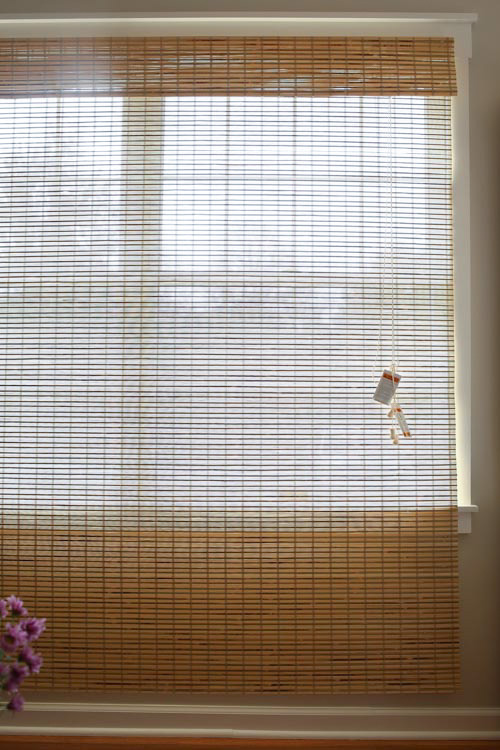 After Trimming & Adding Privacy Liner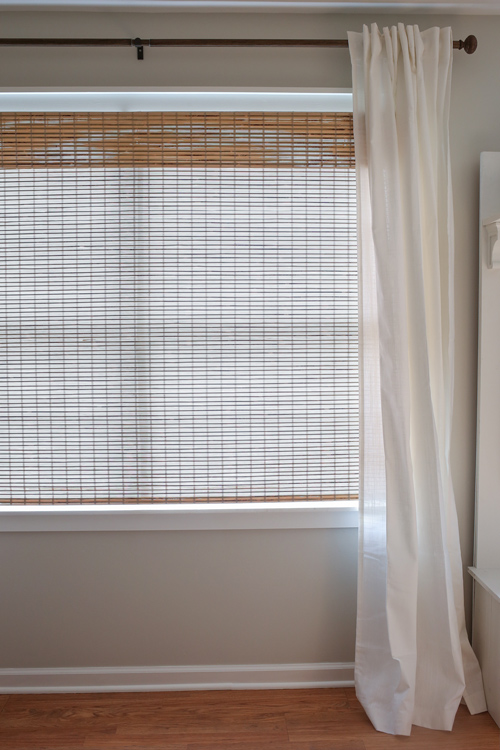 The bamboo blinds were going to have to be trimmed to size and have a privacy liner added. Below are the steps on how I customized the bamboo blinds! First up, how to trim them!
How to trim bamboo blinds to size
Materials:
1. Mark where the bamboo blinds need to be trimmed
First, while your blinds are still hanging up, mark with a marker (or a clothes pin) where they need to be trimmed. It's good to mark a little longer just in case.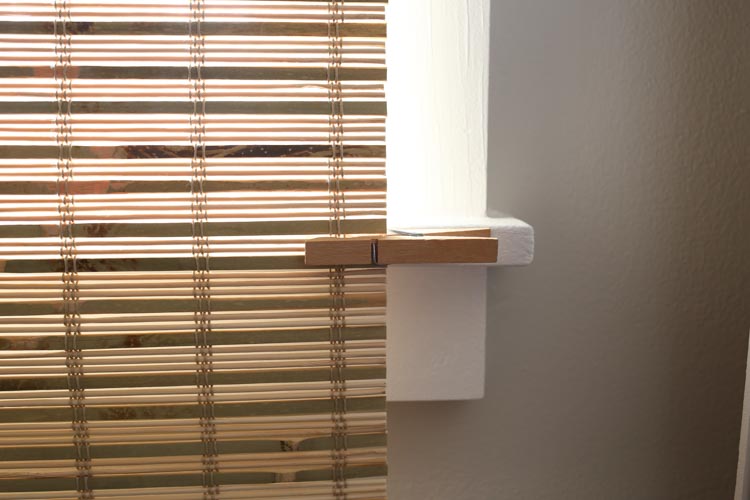 2. Lay out blinds on a flat surface
Remove the bamboo blinds and lay them out on a flat surface with the back of them facing upwards.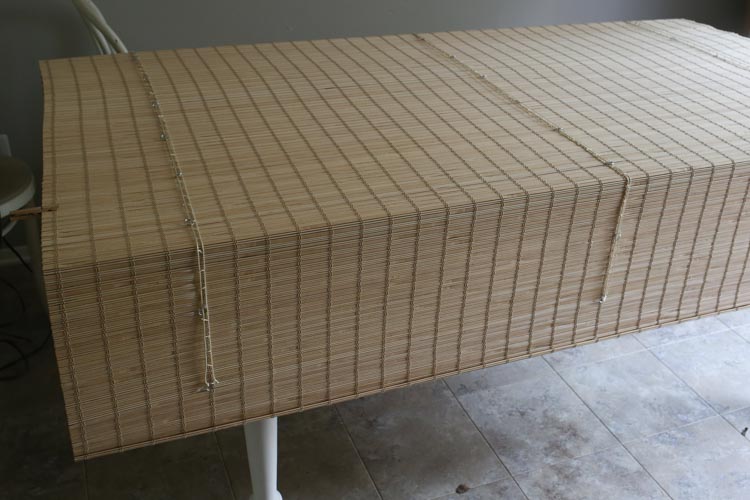 3. Cut the strings below where the blinds need to be trimmed
Use scissors and cut the excess string below where the blinds are going to be trimmed. Then tie the strings in a knot around the closest metal hoop right above where the blinds are going to be trimmed. Repeat for all 2 or 3 strings running down the back of the bamboo blinds.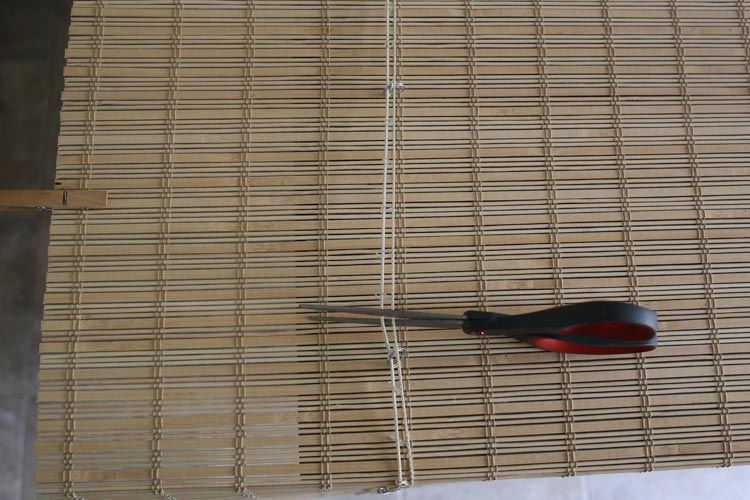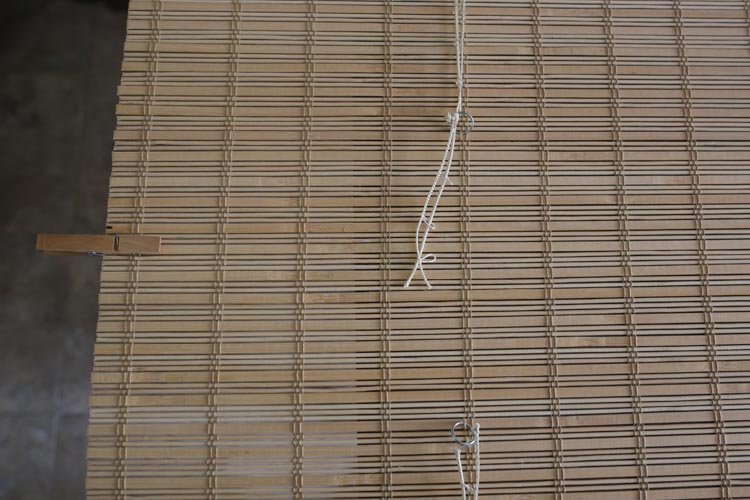 4. Add hot glue below trim line
Before I made any cuts, I took a look at how the bottom of the bamboo blinds were currently secured by the manufacturer. They had simply used hot glue and folded the ends of the blinds a few times. So, I was going to do the same with my new trimmed blinds.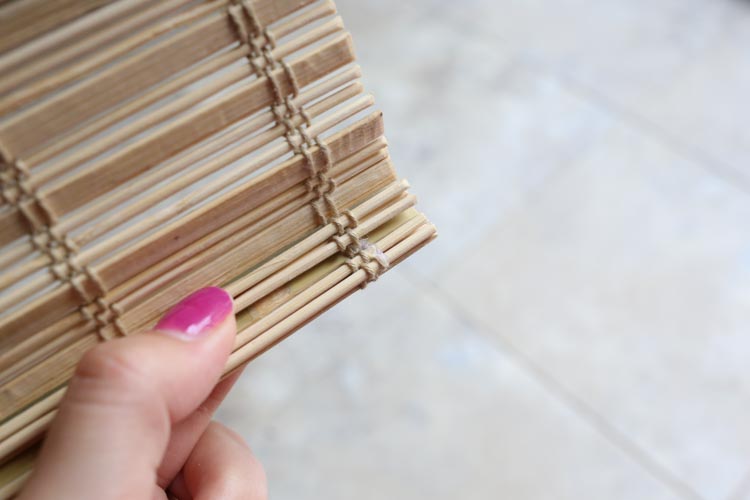 Before I cut the blinds though, I marked another "trim line" mark about 1-2″ below my actual needed trim line. That's where I was going to cut so I could fold the bottom edge twice. Then, I added hot glue all along the little strings just above the actual cut line that I was going to cut through just to be safe.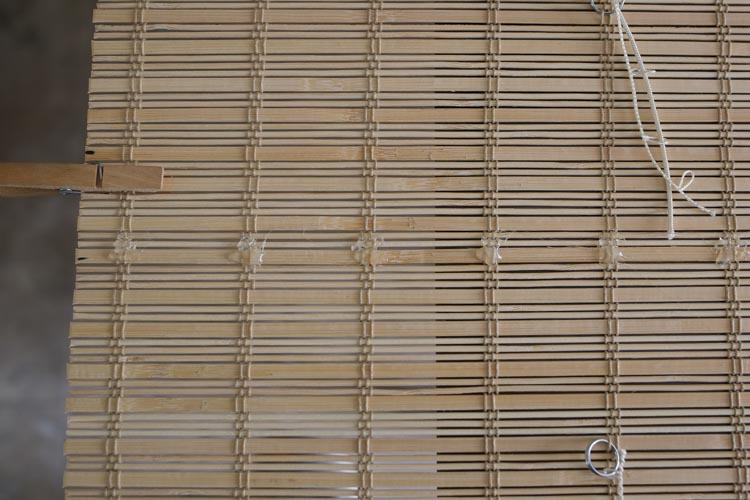 5. Cut bamboo blinds strings with scissors
Finally, use scissors and cut along your second trim line mark, make sure you are cutting between the bamboo wood slats through the little strings.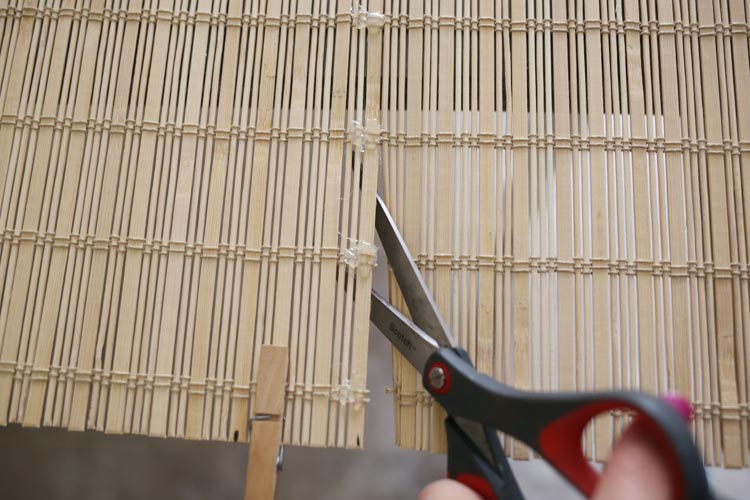 6. Add hot glue to front of blinds on strings
Flip the bottom edge of your blinds over and add more hot glue along the loose strings you just cut through for extra security. This is the front of the blinds but this part will be folded and not show.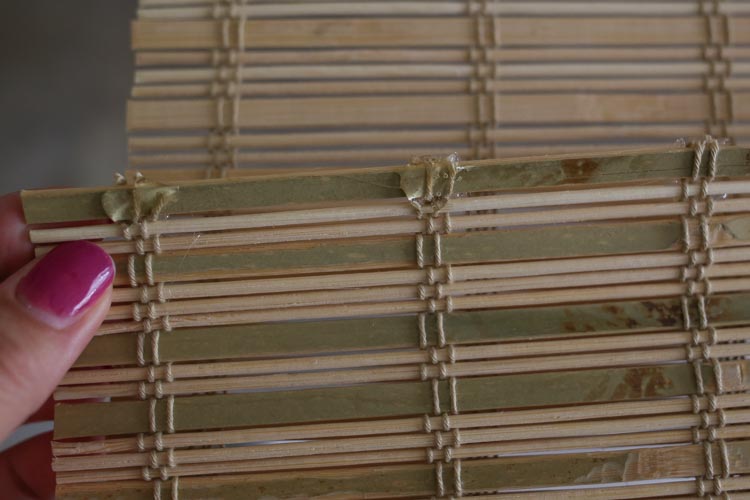 7. Fold blinds twice and add hot glue between each fold
Fold the bottom of your bamboo blinds once and add hot glue under the fold. Then fold it a second time (the second fold line should be just about where your first trim line mark was) and hot glue under the fold again. That's it! Now your blinds are custom cut to the size you need them to be!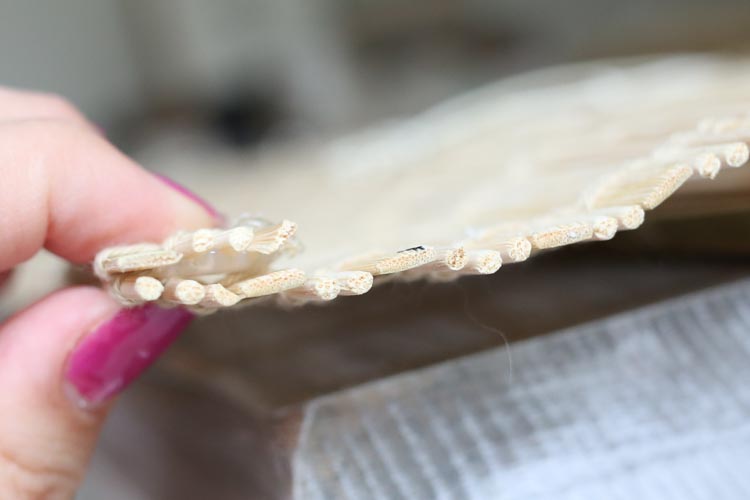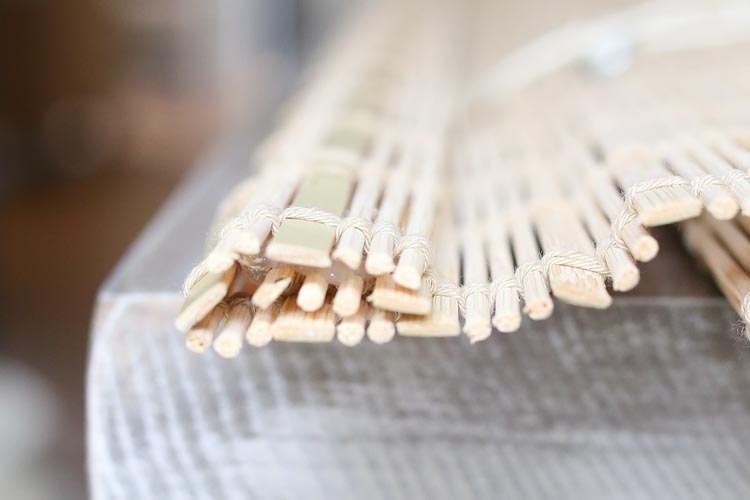 Now it's time to add that privacy liner to the bamboo blinds!
How to add a privacy liner to bamboo blinds
Materials:
Fabric, preferably white drapery lining – I used this fabric, more options here (get a few inches longer than your actual blinds size),
Xacto Knife (optional)
Hot Glue Gun and Glue sticks
Before I get started with this tutorial, let me tell you what not to do! When I bought the bamboo blinds, I knew they weren't lined, but in one of the reviews, someone mentioned you could add your own privacy liner to the blinds. I thought it would be as simple as cutting fabric out as the same size of the blinds and hot gluing the liner to the back. Well that DOES NOT work ha! It caused the blinds to bunch up when hung and open incorrectly. After some research on Google, I learned the liner needed to go under the cords on the back (oh geez)!
1. Lay out blinds over a flat surface like a table (backside up)
I realized that when my blinds were laying on the floor (how I first tried lining them) they were about 3 inches shorter than when they were in hanging position fully stretched out. So, try to do this over a flat surface where they can sort of hang and stretch out fully like a kitchen table or counter. Note, in my first few photos here I was working on the floor, but then I moved the blinds to the table.
2. Untie strings on the back of the bamboo blinds
My strings were attached to some metal key chain hooks, so I removed the string loops from the metal key chain hooks. As I removed the string hoops, I made sure to mark them with some painter's tape so I knew where to reattach the strings (you can use a marker instead of tape, I just used tape so you could visually see this step better).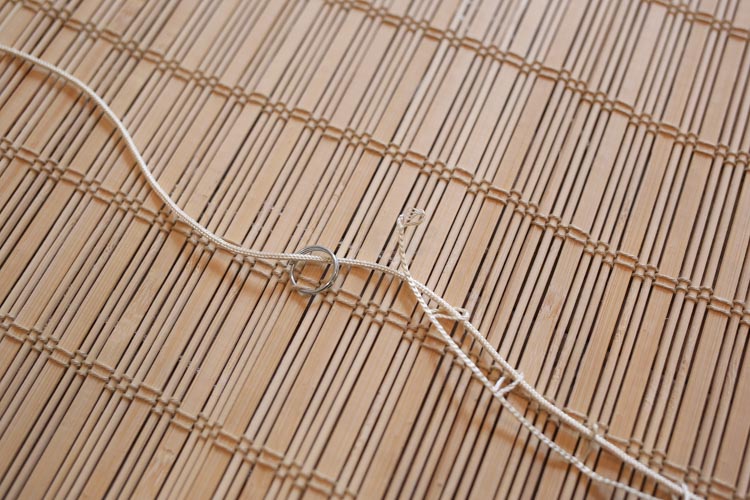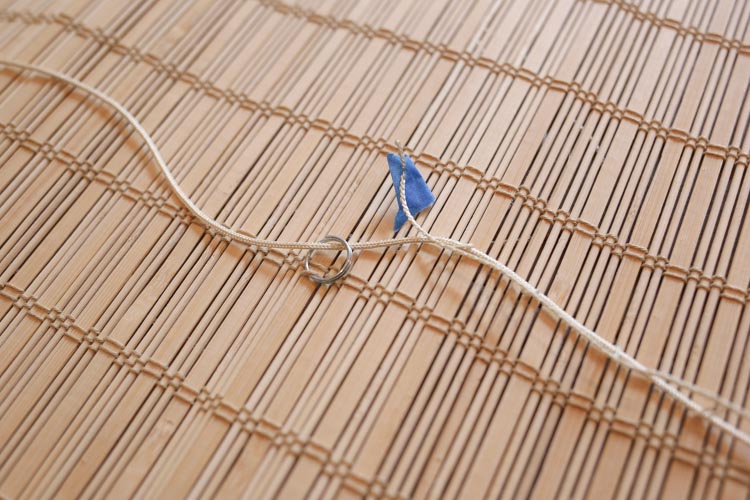 Then, after removing the string hoops from the key chain hooks, pull out the long string from the key chain hooks so the back cording strings are free from the blinds.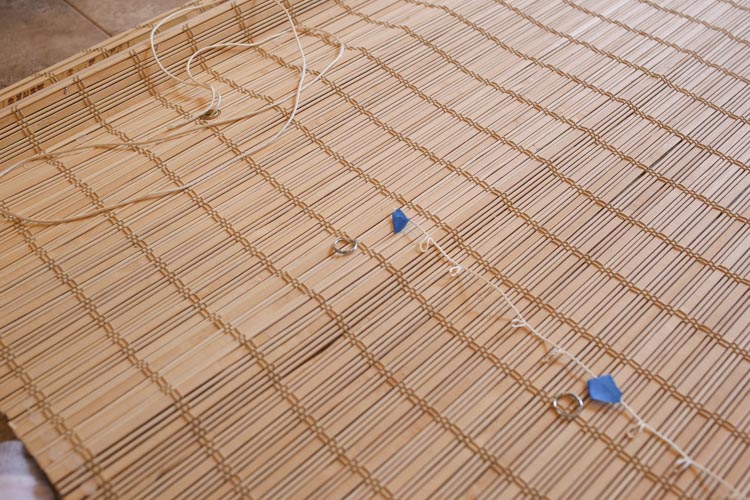 3. Lay out fabric and hot glue two sides
Lay out your fabric, stretched out flat over the blinds. Note, I worked with 2 large fabric panels instead of one large one (due to my mess up on the first attempt of this project, but I think it makes it a little easier too than working with one large piece). I lined my first fabric liner panel edge up with the middle of the blinds and top edge of the blinds, allowing extra fabric to overhang on the bottom and outside edge of the blinds.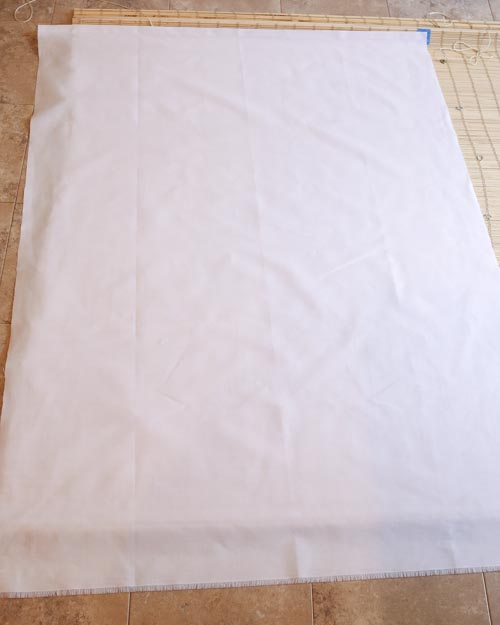 Next, attach the fabric along the top edge of the blinds with hot glue every few inches. Then, repeat along the middle of the blinds. Try not to go to heavy with the hot glue down the middle so it doesn't seep through the bamboo slats.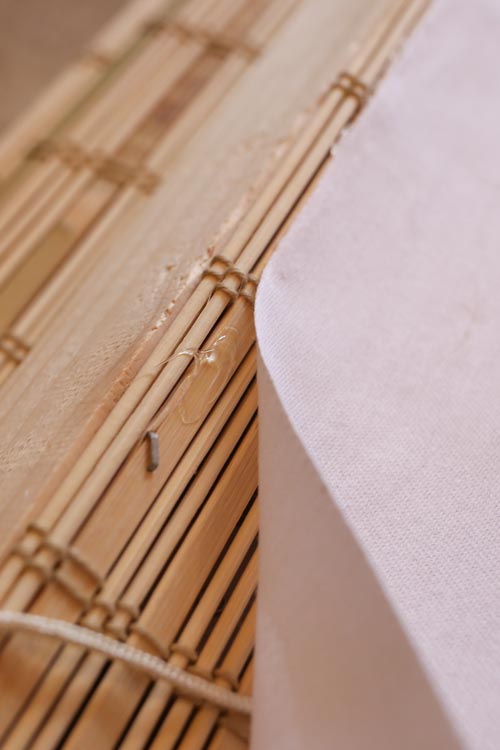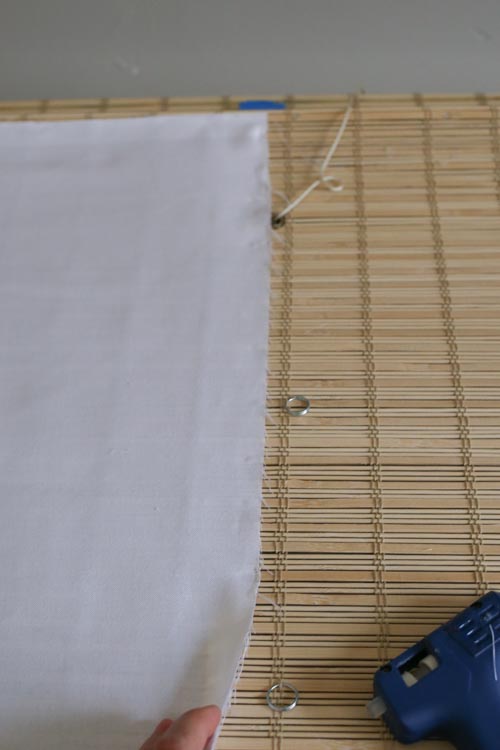 4. Poke holes through fabric for strings and hooks
Use an exacto knife or fabric scissors and poke small holes through the fabric for the string and key chain hooks to come through.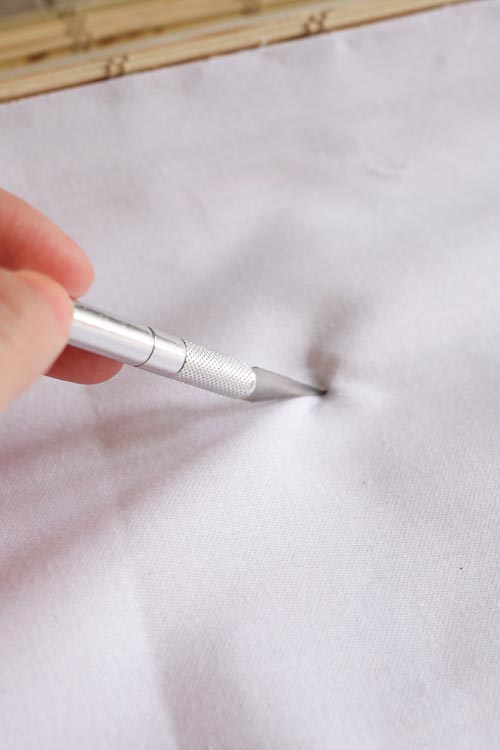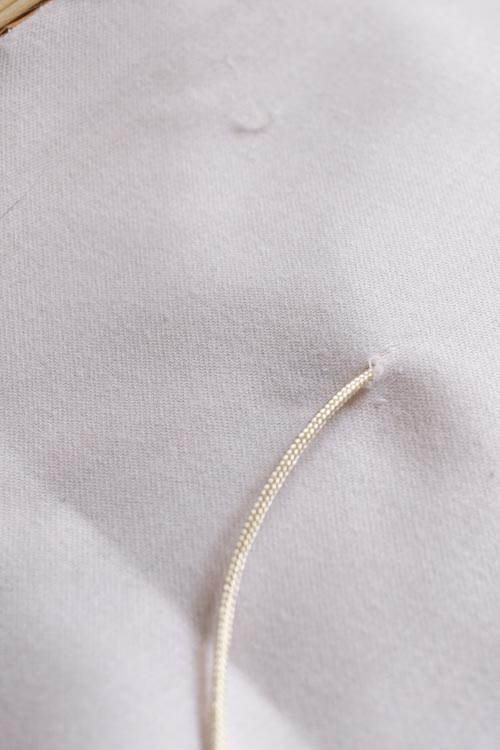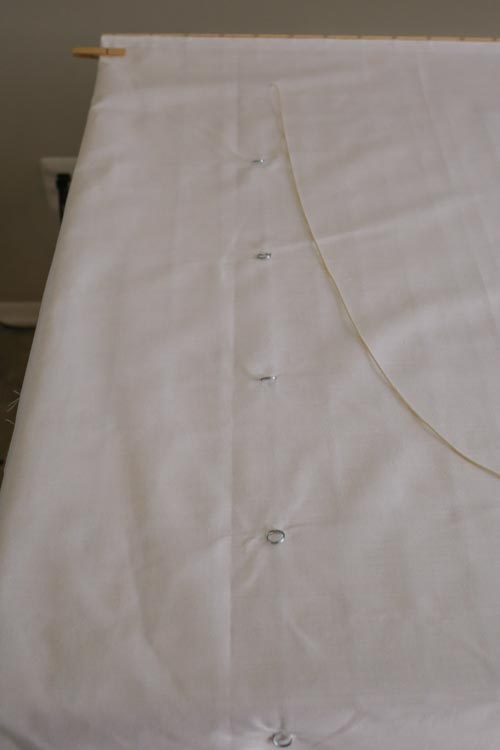 5. Thread strings back through the bamboo blinds hooks
Attach the string hoops back through the metal key chain hooks and thread the string back through, all exactly the way they were before you took them off.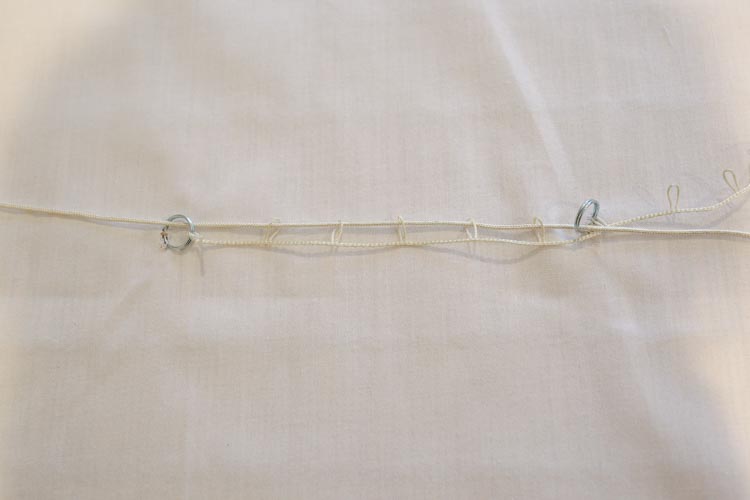 6. Trim outside edge of liner
Use a marker and mark where the edge of the blinds meet the liner. Trim about an 1/8″ inside of the lines so that there is no excess fabric hanging off the outside edge of the blinds. Now, all privacy liner edges should be trimmed to size except the bottom edge.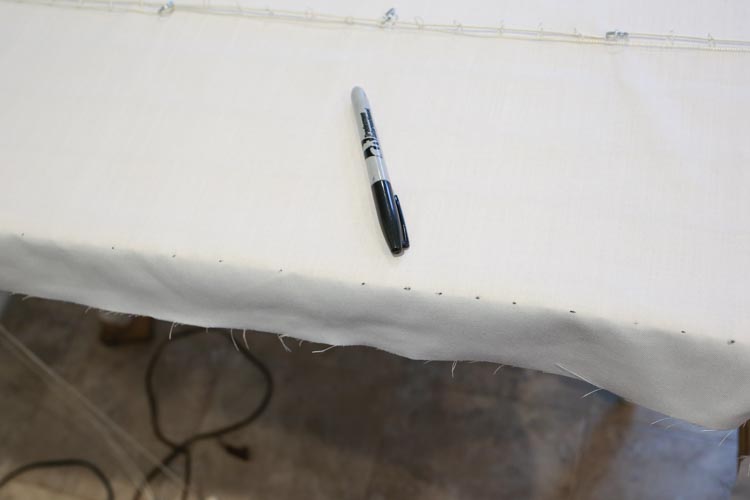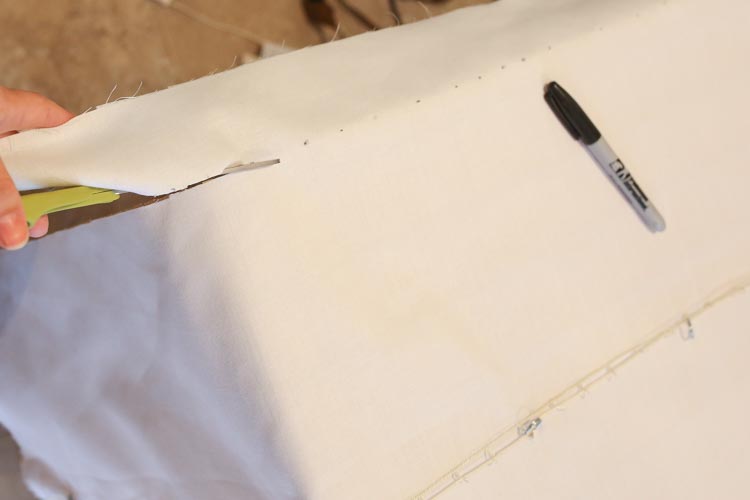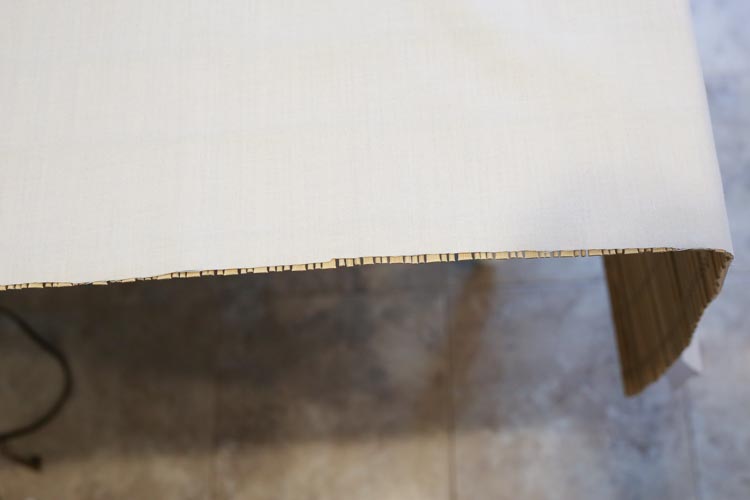 7. Repeat above steps for the second fabric panel
Repeat all of the above steps for the other side of the blinds with the second fabric panel. After that is complete, hang the blinds up and then trim the bottom edge of the fabric and then hot glue it to the back of the bottom of the blinds. You could technically do this step before hanging, but I didn't want to risk not having my fabric be long enough again.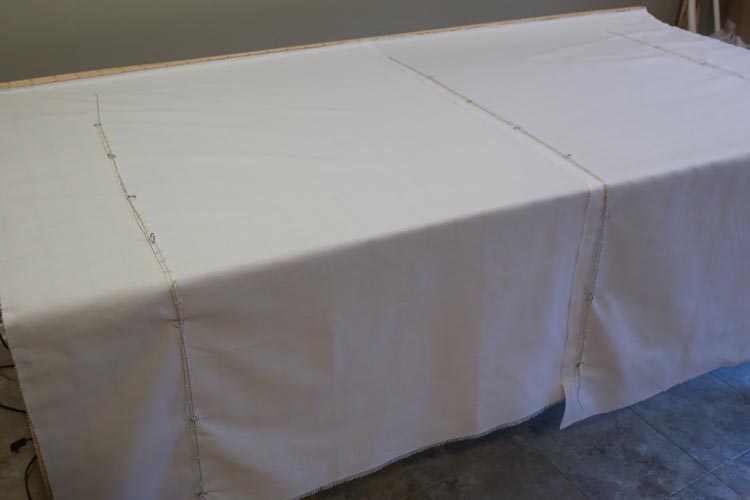 Wow! All done!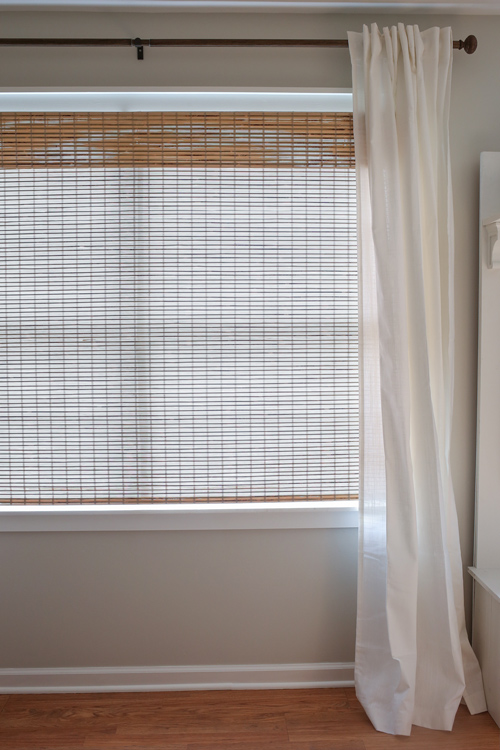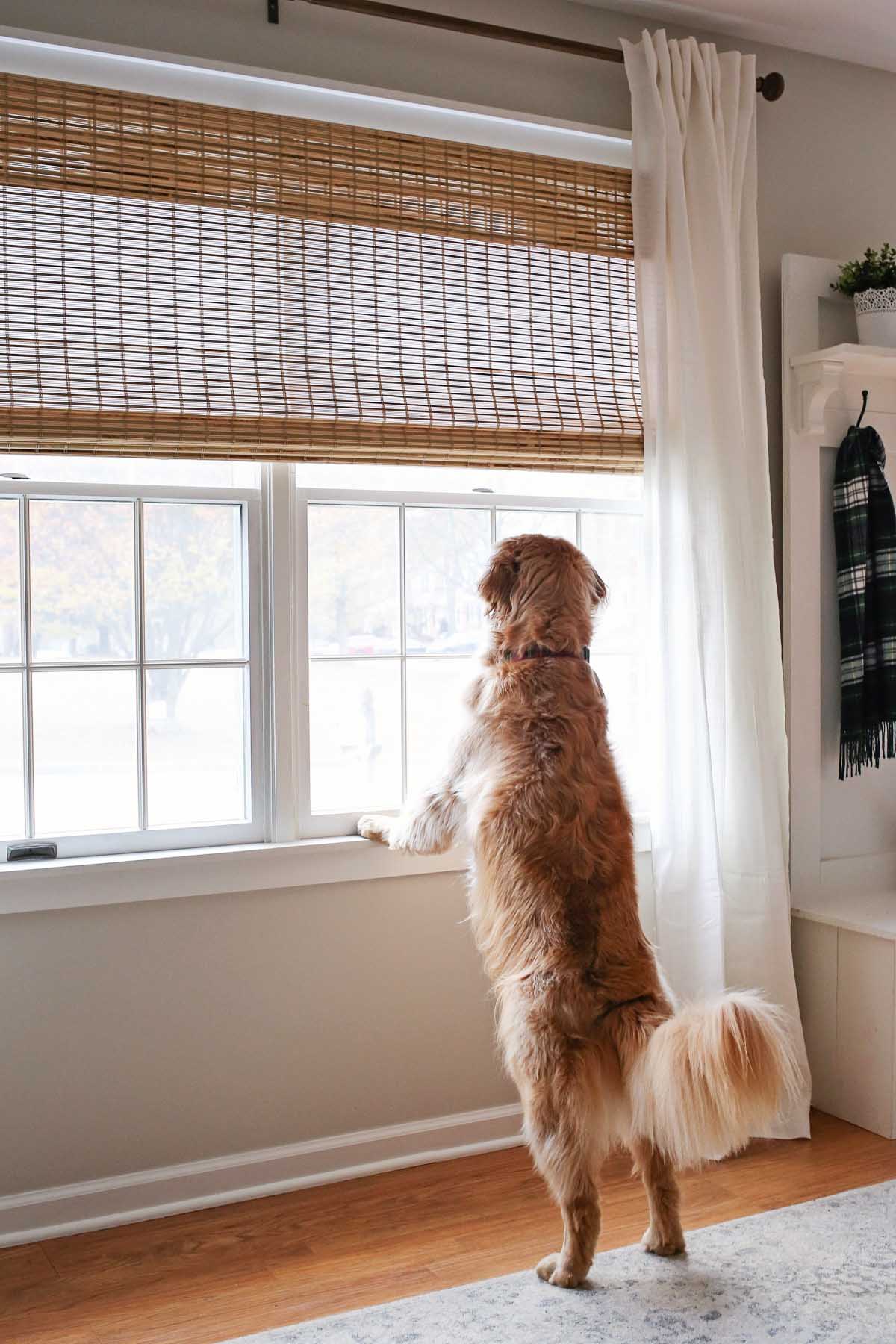 And here is a landscape photo I took at night. P.S. Blinds are really hard to take photos of haha!
I'll admit adding the privacy liner to bamboo blinds this large was not fun and took a few hours…I probably wouldn't do it again if I can avoid it ha! I am so relieved this project is complete and the blinds now function properly!
Follow along on Instagram and Facebook for my latest projects and for all the updates on our living room makeover!