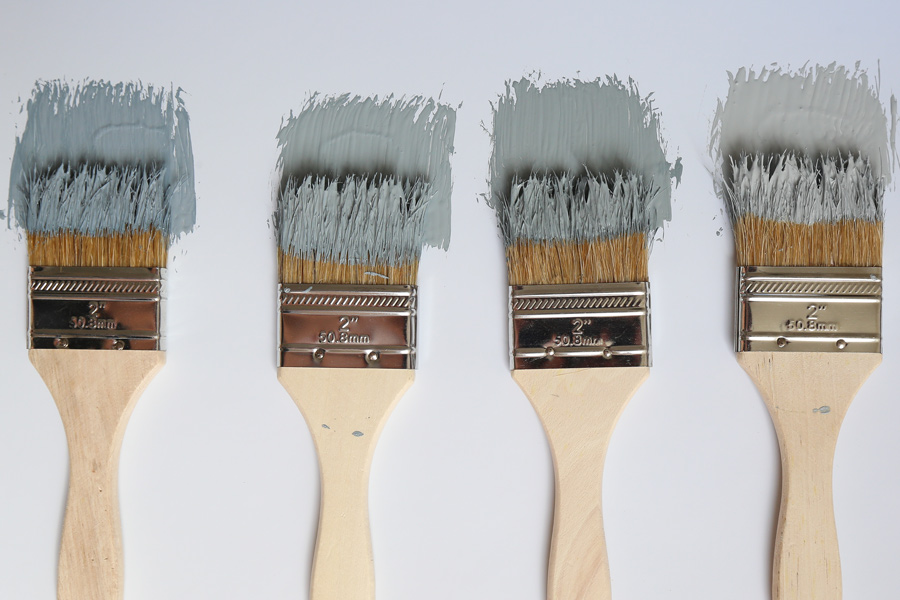 For our bathroom renovation, I've been set on doing a blue gray paint color. After looking around, I really loved the Benjamin Moore blue gray paint color options. So, I went to our Benjamin Moore paint store to look at the paint swatches in person.
This bathroom renovation is part of the One Room Challenge and it's currently week 3 of the challenge. And I really need to finalize my paint colors soon. Anyways here is a little recap of the past two weeks
ORC Week 1 – Classic & Coastal Bathroom Renovation Plan
ORC Week 2 – 5 Porcelain Tiles that Look like Marble
After checking out lots of paint swatches, I narrowed down my blue gray paint Benjamin Moore swatches to four colors that I thought were beautiful and got samples. For picking out my colors, I followed my usual process which I share in my tips for picking paint colors post if you need some help in this area!
Here are the four blue gray paint colors I sampled: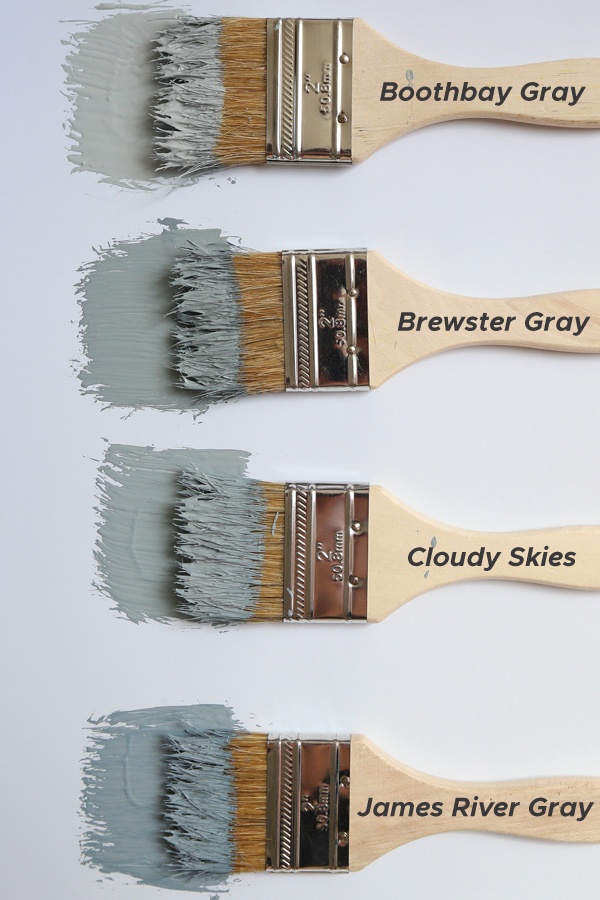 I really tried to do minimal editing on these photos so you could get a true sense of the colors if you are interested in this color scheme too. The above photo was taken in natural light. But, here are what the samples look like in my windowless bathroom on two different walls. The colors are shown in alphabetical order from left to right (the same order as the above photo):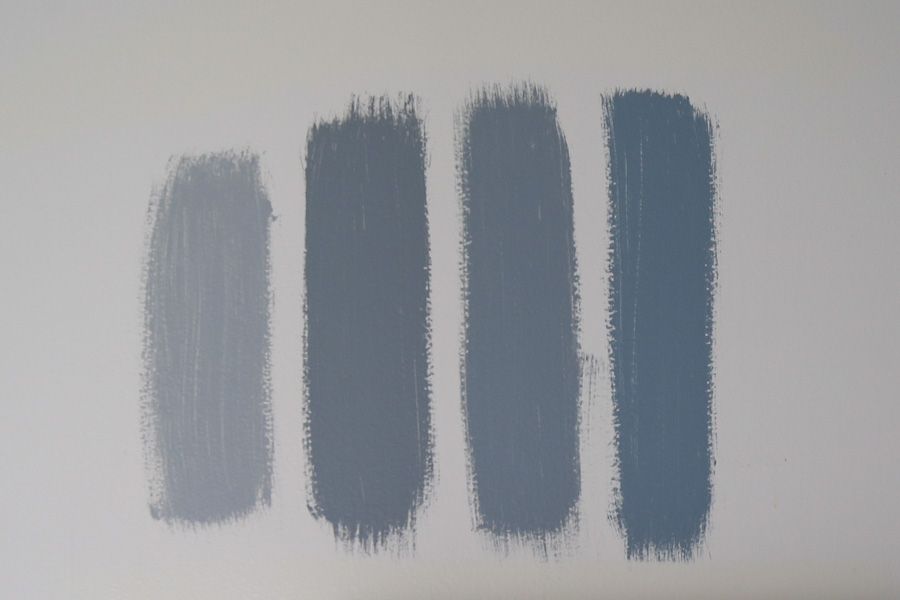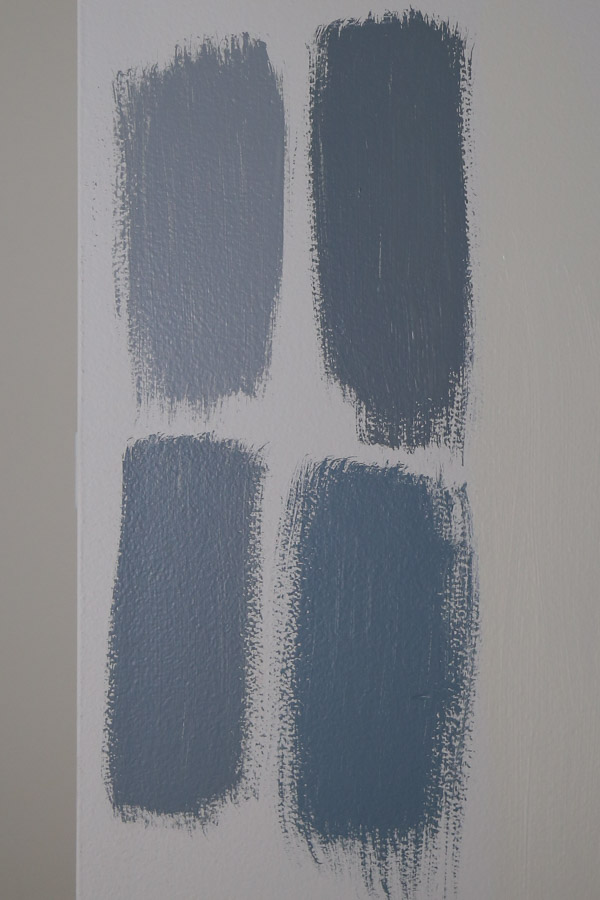 I can't believe how different they look in the two different lighting scenarios! This is why I always test out samples in my space! The blue hues in the paint definitely show more in my windowless bathroom than they do in the natural light.
After testing the colors out, I narrowed down my options to Boothbay Gray and Cloudy Skies. I'm going to be using the final color with Alabaster by Sherwin Williams. I think Alabaster is usually one of the best white paints for rooms with no natural light. I used it in my past two bathroom makeovers.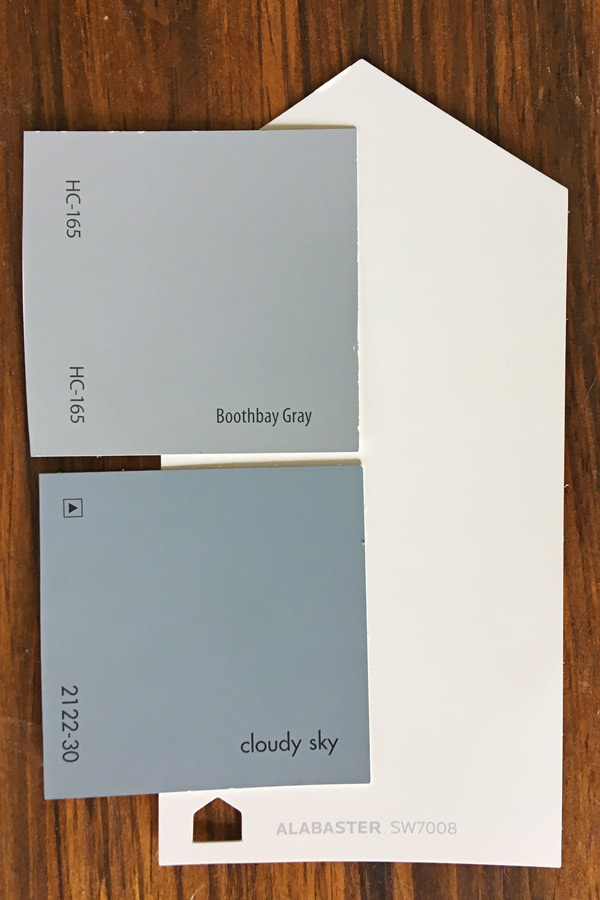 Which blue gray paint Benjamin Moore color do you like best? I'm hoping to make a final decision in the next week!
This week we are wrapping up our drywall repair and our new tub surround install. Then, we will be starting our tile install. These two projects are huge and we decided to DIY them ourselves…anyways after that we can paint!
Follow along on Instagram and Facebook for my latest projects and to stay up to date on our bathroom renovation! Also, check out the other ORC participants rooms here and see how their rooms are progressing!