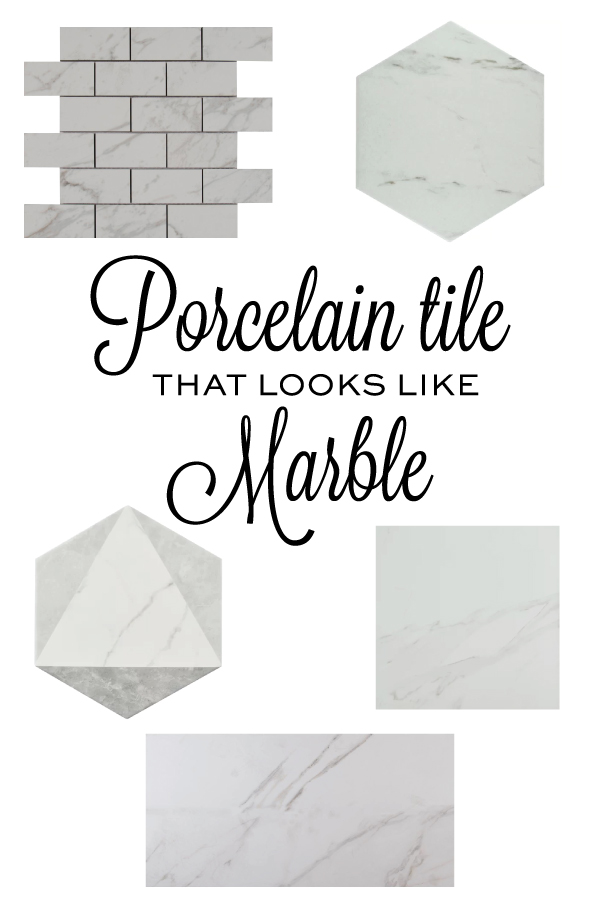 While deciding what flooring I wanted to use in our master bathroom renovation, I really had my mind set on marble tile. I quickly discovered porcelain tile that looks like marble and I knew that was exactly what I wanted to use instead of real marble.
As much as I'd love to use real marble in this bathroom, there are two main problems. First, the cost of real marble is out of my budget and really expensive. Most of the real marble tiles I was looking at started at $12/sq ft and up. However, porcelain tile that looks like marble is more budget friendly and less expensive!
Oh side note here, in case you haven't been following along, we are currently renovating our master bathroom in just 6 weeks as part of the One Room Challenge. Last week I shared our budget and design plans for the space. And I definitely need to stick to a tight budget for this space, so a budget friendly tile is essential!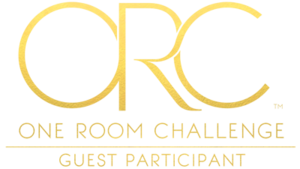 The second problem I have with using real marble is that it requires more maintenance than ceramic or porcelain tile. It typically has to be sealed on a reoccurring basis. And it's very porous and susceptible to stains, so it needs to be cleaned often and only certain cleaners can be used. Marble is just not the right material for this high traffic bathroom. But, porcelain, which is very durable, that looks like marble is a great alternative!
Note, this post contains some affiliate links. For more info see my disclosures here.
I've rounded up 5 porcelain tiles that look like marble below. There are others available online, but I like the look of these tiles the most and they have good reviews, which I recommend checking out before ordering them. At the end of this post, I'm sharing which porcelain marble tile I picked!
5 Options for Porcelain Tile that Looks like Marble
Click photos for shopping links

So, which marble porcelain tile did I pick?! Well, initially, I picked a small hexagon mosaic tile I was planning on including in this tile round up. I really fell in love with the look of it. However, after receiving the tile order I was very disappointed in the quality. Several pieces in many of the boxes were chipped and also some had a pink ink on them. From a distance they looked nice and could have worked, but all the chipping was just not going to work for me.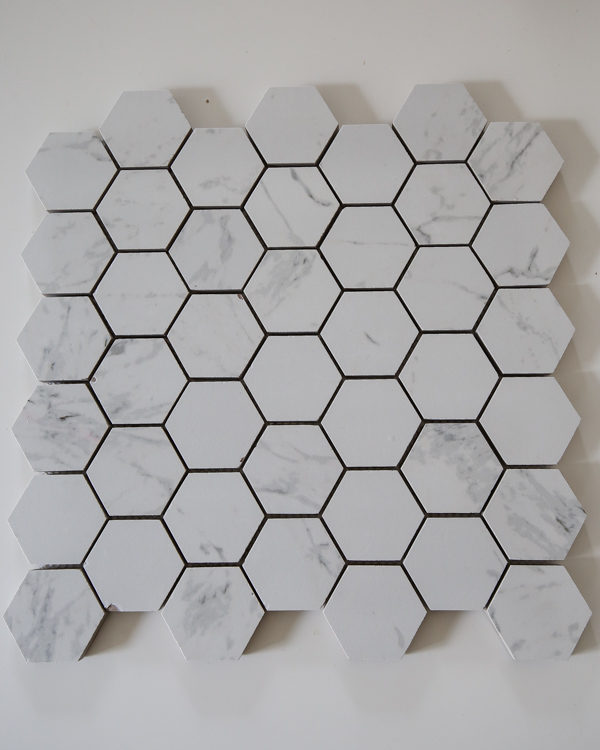 My next thought was to get the square porcelain tiles that look like marble and cut them in half and lay them in a herringbone pattern. I saw this done by A Beautiful Mess with real marble tile and I loved the look of it. Plus doing it with the porcelain tile would be super inexpensive. But, I decided this was just too much extra labor and time with our short renovation timeline.
I ended up ordering the hexagon marble porcelain tile and I'm super excited! The hexagon shape is a fun feature to mix with the classic look of marble. It has great reviews about the quality, so I'm hoping I made the right choice! I will update this post about what I think of them once I receive them and we install them!

UPDATE: I absolutely love this tile! It is a really good quality tile and looks just like real marble! There is plenty of natural looking variation in all the tiles too! To see a full review and FAQ about the tile 10 months after installing it, check out my porcelain marble tile review and video! Here is a photo of us installing it on our bathroom floor: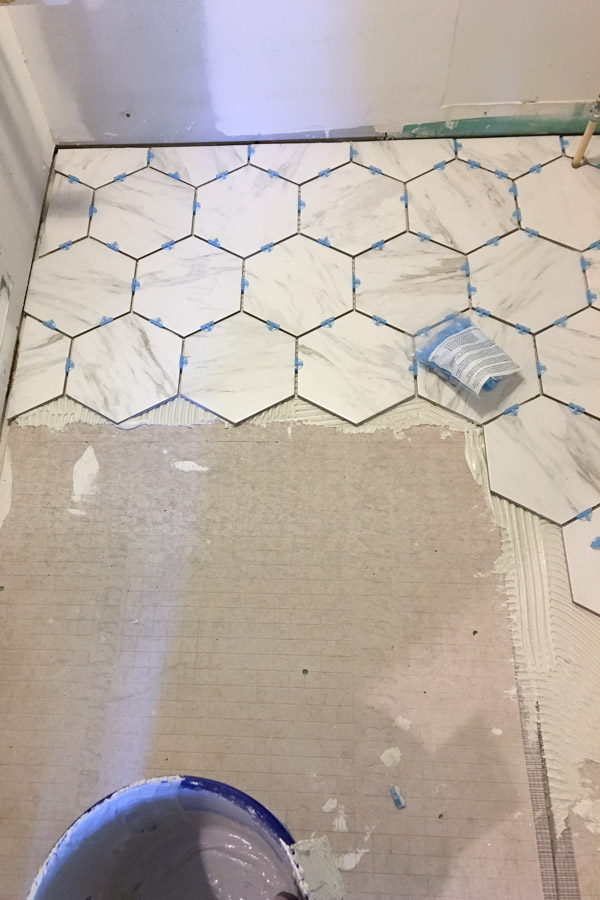 And how it looks after grouting it. We still have to buff the grout haze off of it, but I love how it's looking! I'm so happy I returned the other tile and bought this instead. I plan on using it in our second bathroom too!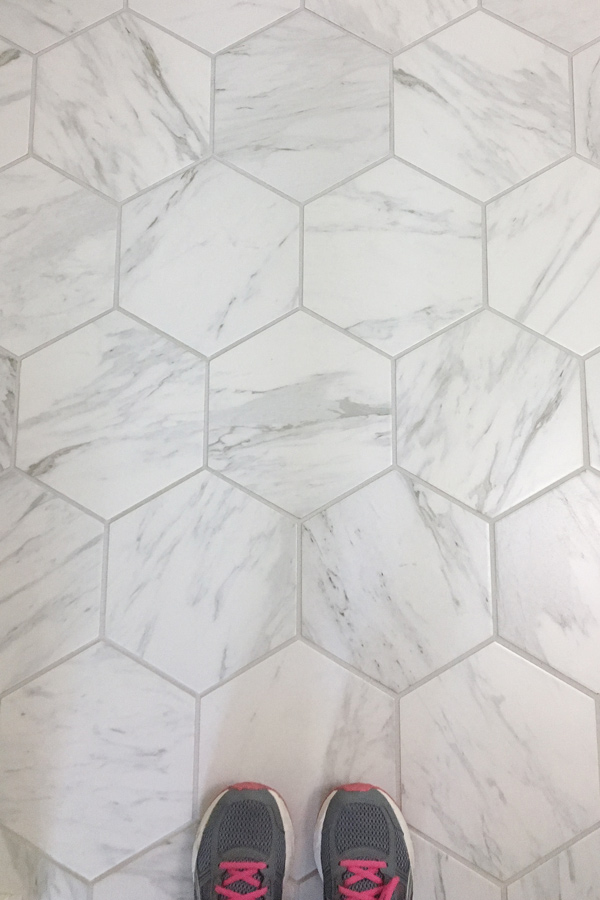 You can see the final bathroom reveal here with the tile!
Have you ever used porcelain tile that looks like marble? If so, what are your thoughts on it?
I'm hoping we get our new tiles installed soon, I think they are really going to transform the space! Follow along on Instagram and Facebook for all my latest One Room Challenge projects and updates! Also, you can check out all of the other ORC participants and their room makeover progress here!