Well hello friends! I'm super excited to share that we are going to be making over our master bathroom again in our home in Charleston that we moved into in the fall. If you've been following along, I actually gave this space a $100 budget bathroom makeover right after we moved in because I couldn't stand it!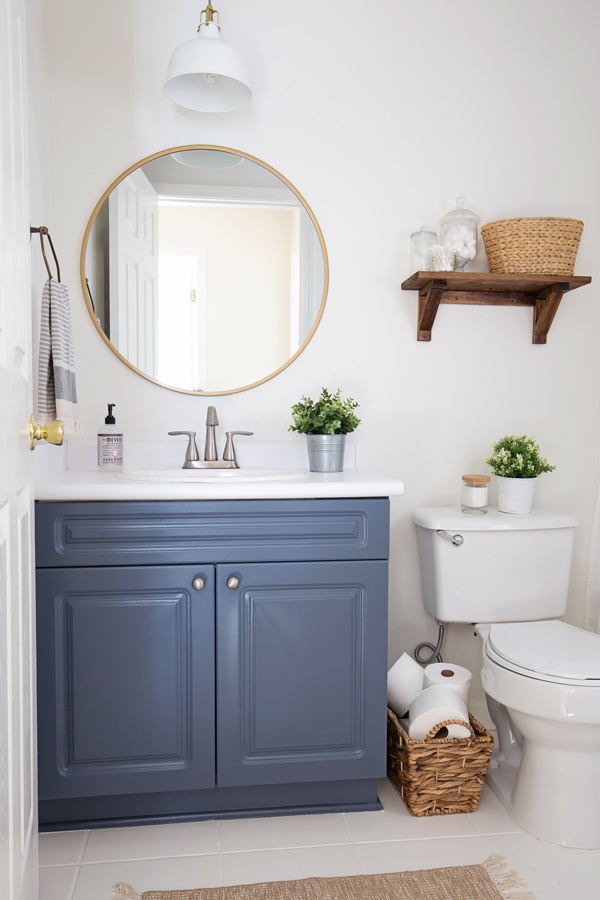 This time around though, we are giving it almost a full gut job and totally renovating the space! I'm beyond excited because this bathroom is the most used in our house and it's really small and despite the small updates I did do, it's just outdated. And our second bathroom is outdated too, so I'm looking forward to having one renovated bathroom that is functional too!
It just so happens that this bathroom makeover is happening at the same time as the spring One Room Challenge! I've participated in the last two spring challenges both with bathroom makeovers haha! The first year was a budget master bath makeover in our first home: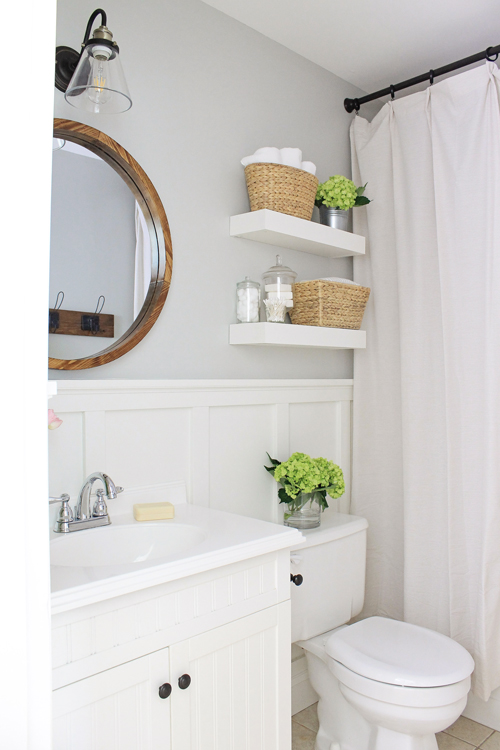 And the second challenge last year was our half bathroom makeover in our first home as well: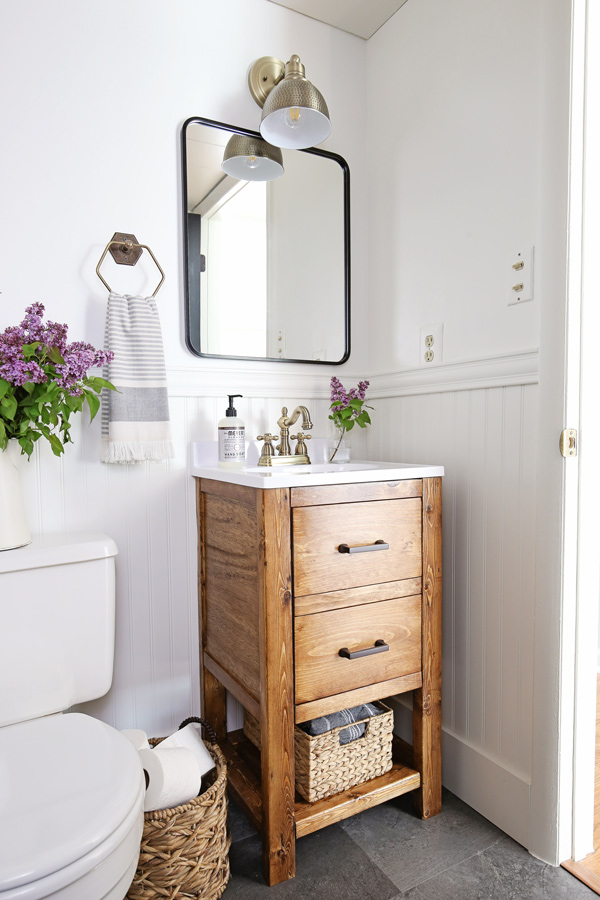 Since this bathroom renovation in our home in Charleston is going to be the biggest renovation yet, I was hesitant to do the One Room Challenge due to the 6 week timeline pressure. But, I just love the challenge of it, so I'm going to participate again! Though I know this time I have to give ourselves some grace if we don't finish on time. Especially, because this time around we are hiring out several parts of the labor process, so depending on other people is always stressful.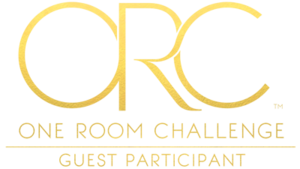 Ok, let's talk about the space and the design plan! Here is what the bathroom looked like when we moved in: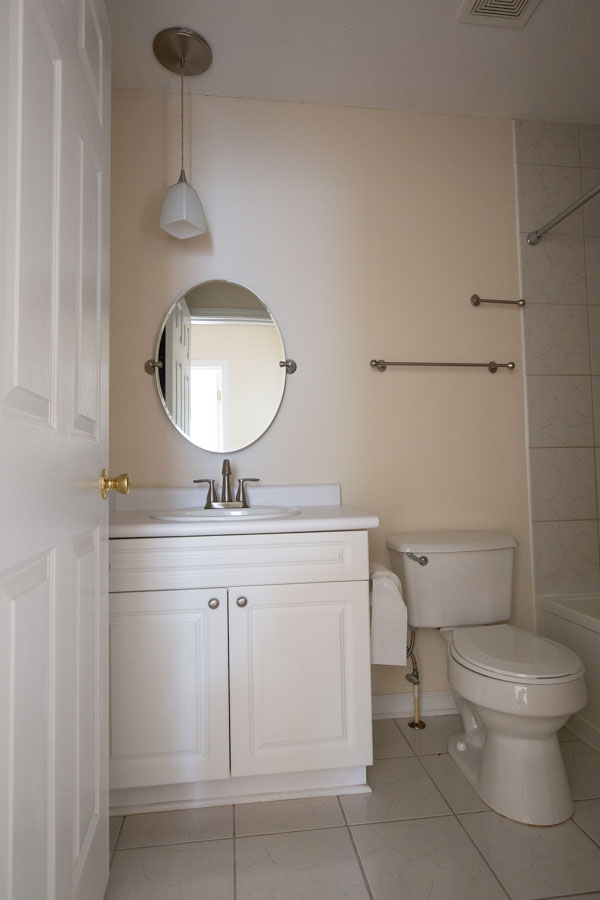 It was super bland and not functional. With the $100 budget bathroom makeover, I painted the bathroom vanity, painted the walls, painted the tile floor, replaced the mirror and light, added a floating shelf and more functional decor and hardware.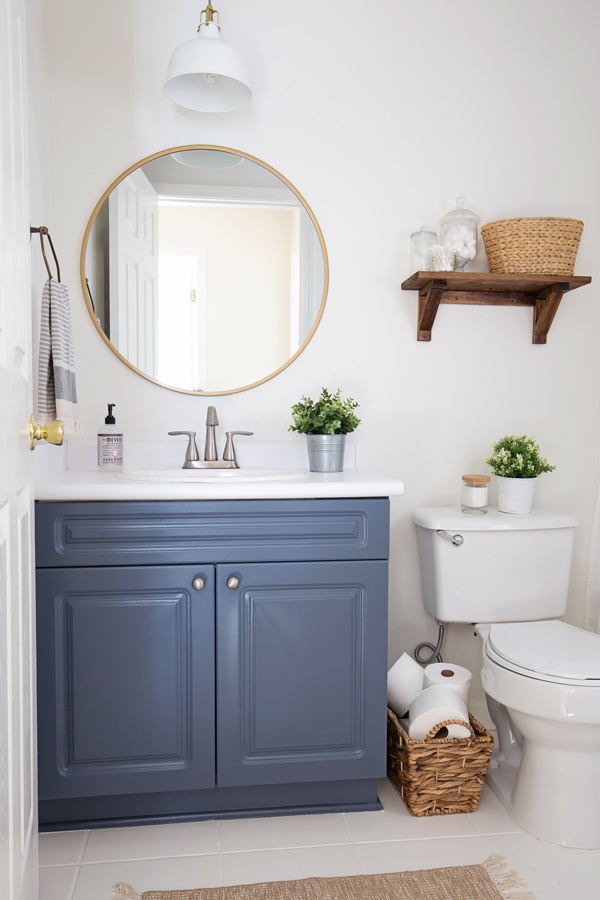 The painted floor held up surprisingly well considering the space is used a lot daily and vacuumed over frequently. However, it did start to chip around the toilet base requiring touch ups. Maybe I missed adding extra poly to that spot? And I painted the floor white, which looks great when clean but shows dirt very easily! Never again will I do white flooring in a heavily used space – lesson learned!
The plan for the bathroom renovation is to gut everything except the original tub, which we are keeping to save money and because it's in good shape. Otherwise here is the plan:
Scrape the popcorn ceiling and add fresh ceiling paint
Replace the bulky bathroom vanity with a new vanity better suited for a small space
Replace the shower tile with a tub surround and new shower faucet and handle
Move overhead pendant lighting wiring so that a light can go on the wall over the mirror
Change door so that is opens into the hallway to open up the space better
Add v-groove wainscoting to the walls and new paint
Replace tile floor with new tile
Replace the mirror, bathroom faucet, toilet, and all hardware
Build custom built in storage shelves and cabinet (see below)
Quite the renovation list for 6 weeks right?! We are hiring out the plumbing, electric, tile floor installation, and hopefully the tub surround install too. Though we do plan on doing the demo ourselves. I really wanted to try tiling for the first time but there is just too much other stuff to do.
Lastly, here is a corner in the bathroom I haven't shared before since it hides behind the door and it's a bit embarrassing to share since it's so messy!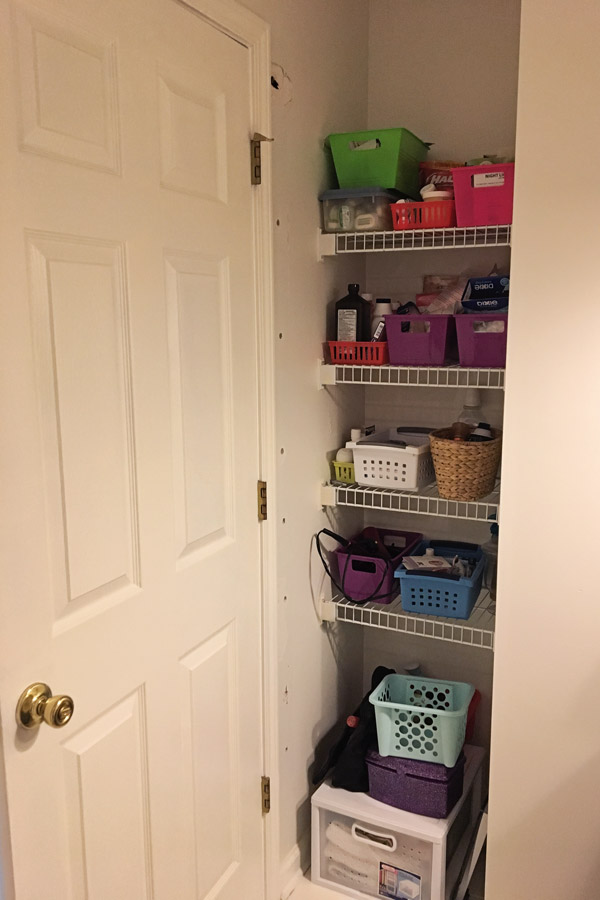 This storage nook is great except it's tough to access with the door covering it, plus it's quite the eyesore to look at with all of our bathroom supplies on it. I'm going to build a custom built-in cabinet and shelves for this space and I can't wait! This will be my first time doing a built in so hopefully it looks good ha! I hope to make it a feature point of the space and really maximize it for storage and function too!
Note, this post contains some affiliate links. For more info see my disclosures here.
Below is the mood board I have planned for this space. I'm going for a classic space with touches of coastal and modern vibes.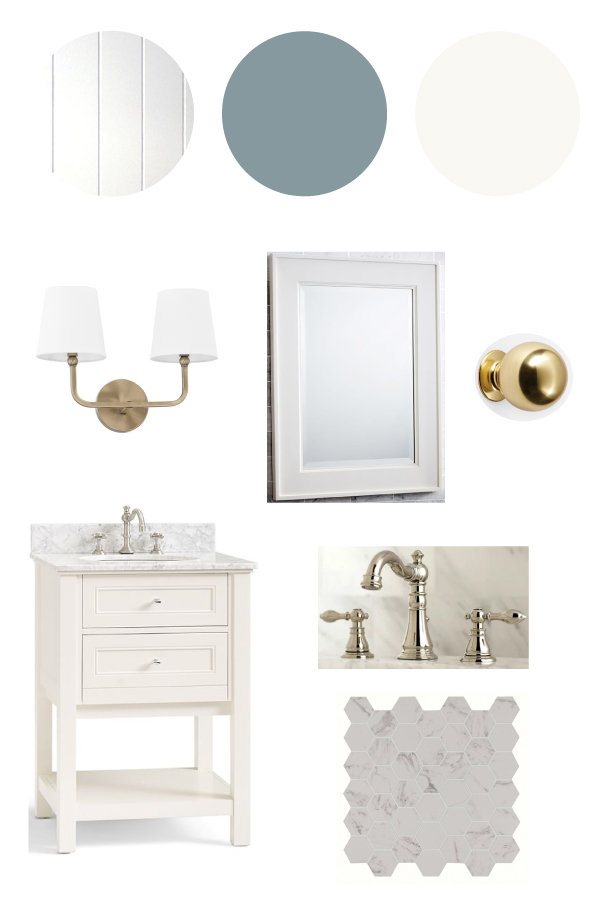 Product Sources Here:

Finally, let's talk about budget! Once this makeover is complete I will do a full budget breakdown. In the past, my bathroom makeovers have been a very small budget, ranging from $100 – $700 with lots of DIY. Well, this time there will still be plenty of DIY, but we are hiring a lot out and replacing many things, which means more expensive! We've been saving up for this renovation and the budget is $3,000 max including labor. Though, I'd like to spend closer to $2,500, but we shall see!
Alright, well that's it for now, you can follow along on Instagram and Facebook for all my latest One Room Challenge projects. I will be sharing behind the scenes on Instagram stories starting with some of the demo coming up soon!
Also, you can check out all of the other ORC participants and their room makeovers here!
Sharing is caring!