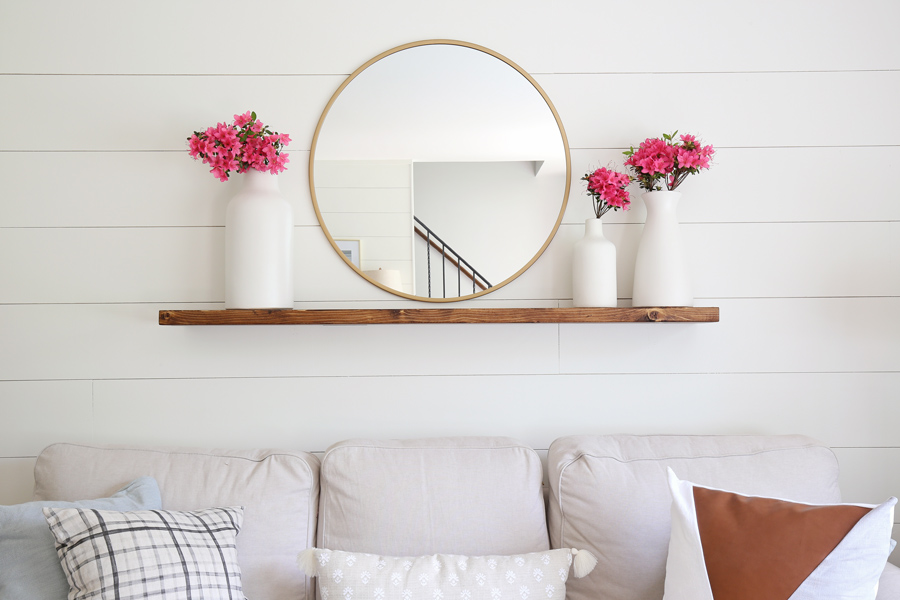 On the main wall in our living room, we added an easy DIY floating shelf with brackets. It was one of my favorite projects in our modern rustic living room makeover and is a major focal point in the room! This project was super easy and you only need one piece of wood and a set of brackets!
Note, this post contains some affiliate links. For more info see my disclosures here.
In the past I've made a DIY floating shelf with no brackets for my office makeover. But this time I wanted to keep things more simple and use hidden, heavy duty steel brackets. The advantages to using these steel brackets were that I could use them with solid wood (that's 1.5″ thick) and they were easy to install and they are easy to remove (if needed in the future). Also, I love that they are hidden which provides a more modern floating shelf look!
Note, these brackets are about 1/8″ wider than a 2×8 (which is 1.5″ wide). However, once hung on the wall it's really hard to tell unless you get up close. I decided to go with them because they are heavy duty and I only needed to buy two of them to support my longer shelf with heavier items. But, there are other floating shelf brackets available that are less wide if you prefer!
How to Make an Easy DIY floating shelf with brackets
1. Cut wood to size
First, determine how long your floating shelf needs to be. I made my floating shelf 55″ long so it was about 2/3 the size of our couch since I was installing it over the couch. If you need to make it longer than that you may need to get more than one set of brackets.
Use a miter saw and cut your 2×8 to size. Or have your home improvement store make the cut for you.
2. Sand and stain floating shelf
At this point I found it was easiest to go ahead and sand and stain my floating shelf. I used Provincial by Minwax for my stain color. I skipped the top coat since I wanted a very matte look and didn't need a sealant since the shelf is just for decor.
3. Hang brackets on the wall
First use a studfinder and determine where the wall studs are where you want to hang your floating shelf. Your brackets will need to be spread out enough to distribute the weight of your shelf. Ideally you want to hang the brackets on the wall studs. However, if the studs don't fall where you need the brackets to be then you will need to drill into drywall and use the anchors that were included with the brackets. We ended up having to drill into drywall.
Hold the first bracket up to wall where you want to install it. Make sure the bracket is level, then mark the holes with a pencil.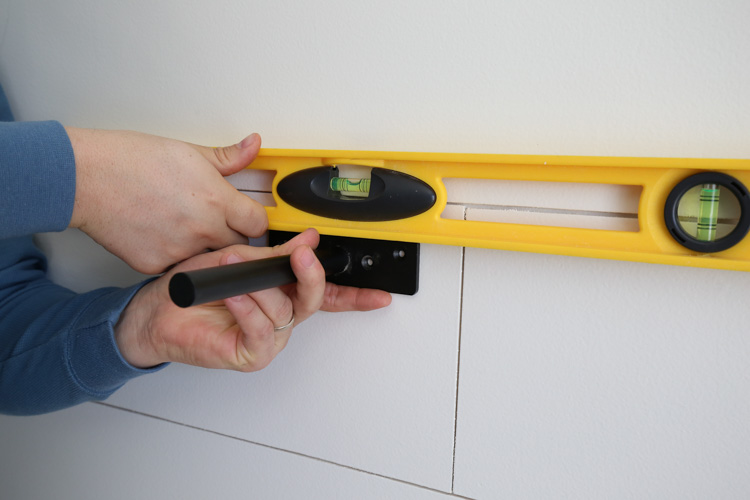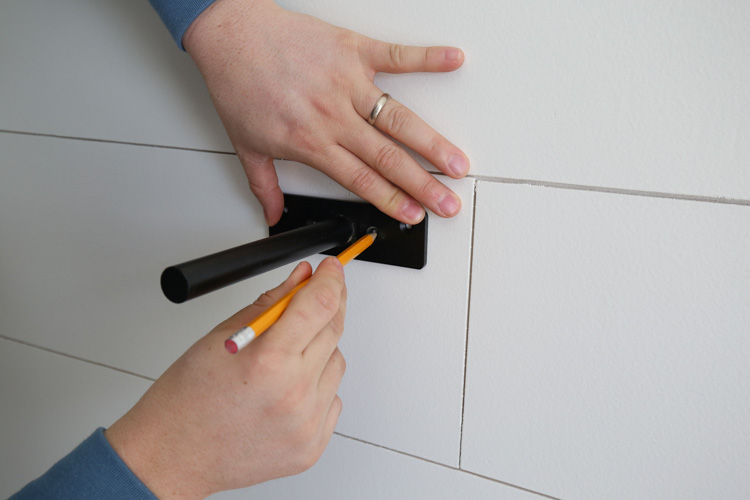 Drill pilot holes over the pencil marks. Then, tap the wall anchors into the holes with a hammer.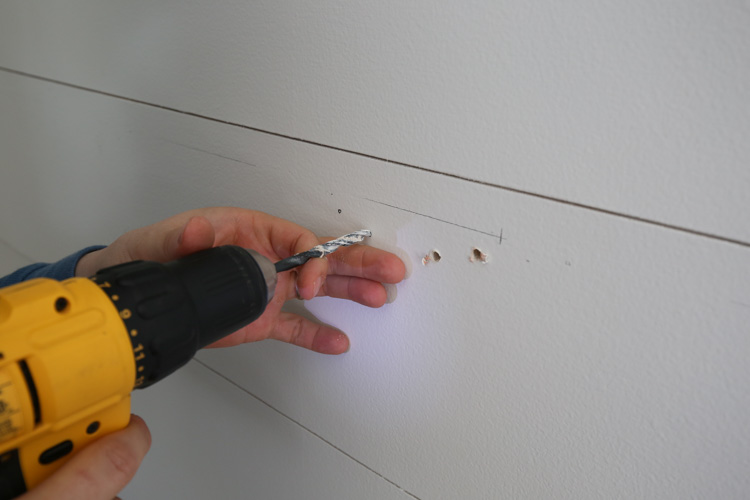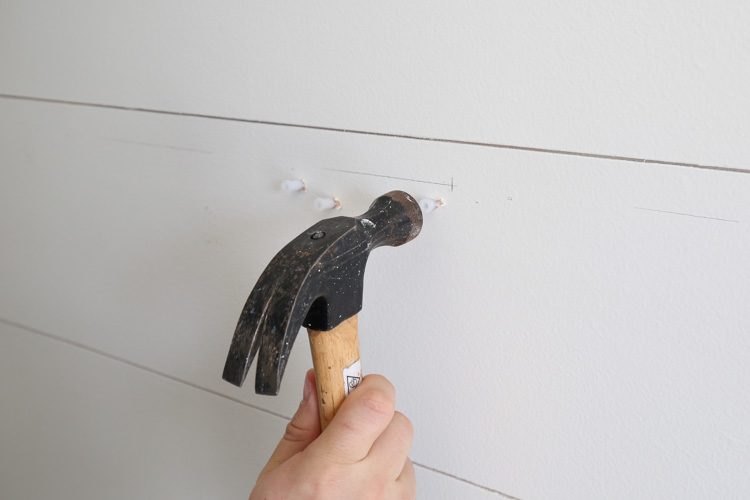 Next, install the bracket using the provided screws and drilling them into the wall anchors.
After installing the first floating shelf bracket, hold the second bracket up to wall where you want to install it. Make sure the bracket is level with the first bracket, then mark the holes with a pencil and repeat the same steps used above for installing the first bracket.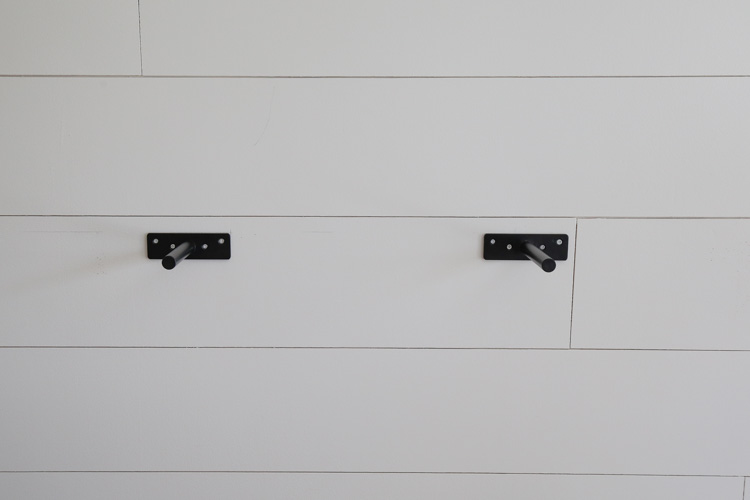 4. Drill bracket holes in DIY floating shelf
Place your floating shelf on top of the wall brackets exactly how you want it to be once installed. Mark with a pencil the center point over the bracket. Then, mark the center point of this location on the shelf edge where the holes will be drilled.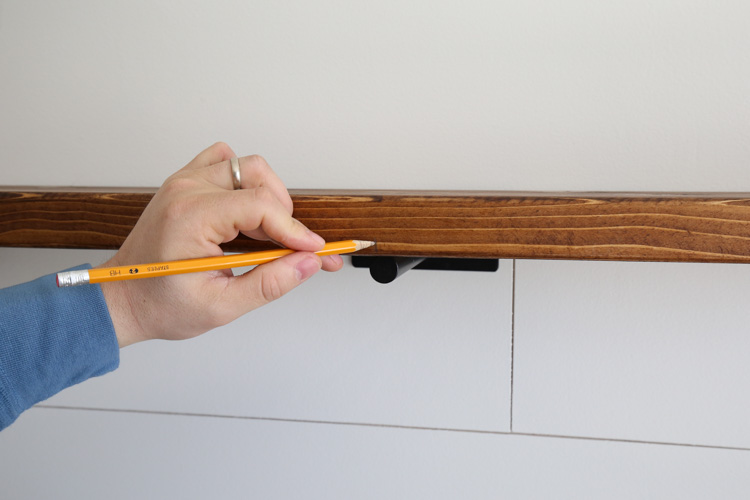 You want to drill your bracket holes about 6″ – 6 1/4″ deep to properly fit the brackets. Drill the bracket hole with the 7/8″ drill bit and use a tape measure to enure it's at least 6 inches deep.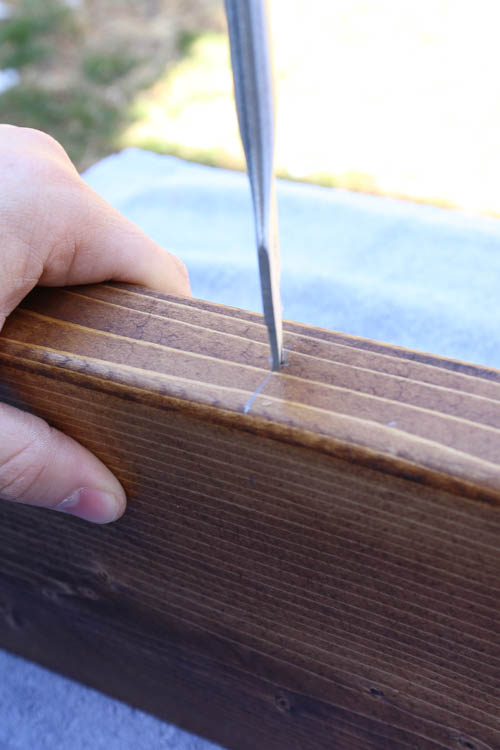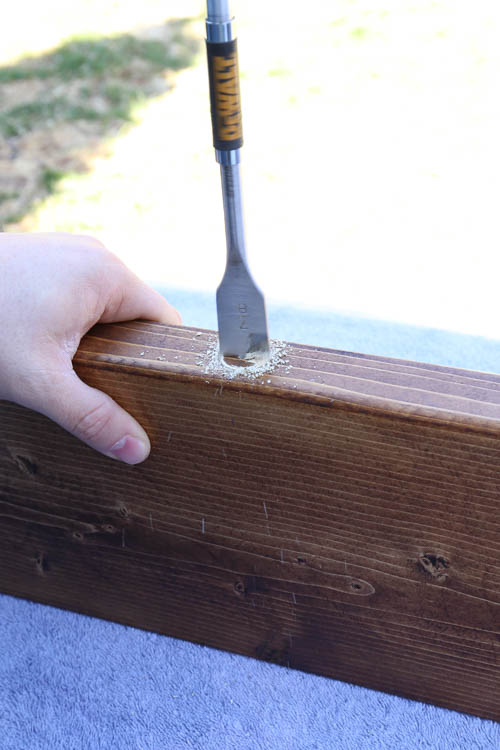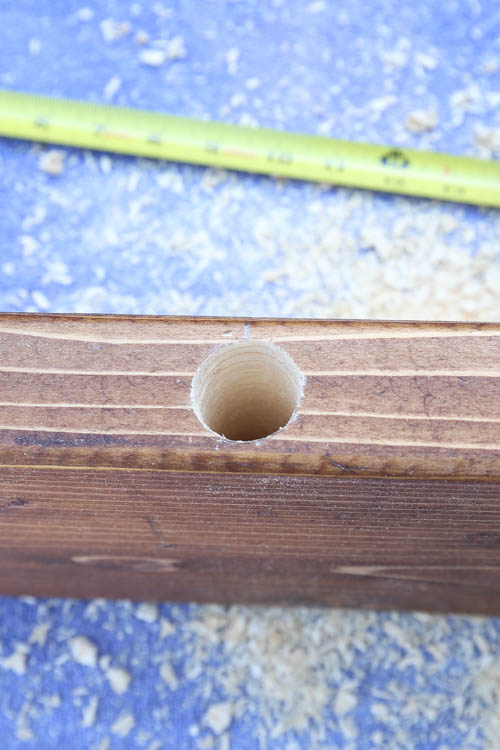 5. Install easy DIY floating shelf on wall
Carefully slide the floating shelf onto the wall brackets. And that's it! Now it's time to decorate it and enjoy!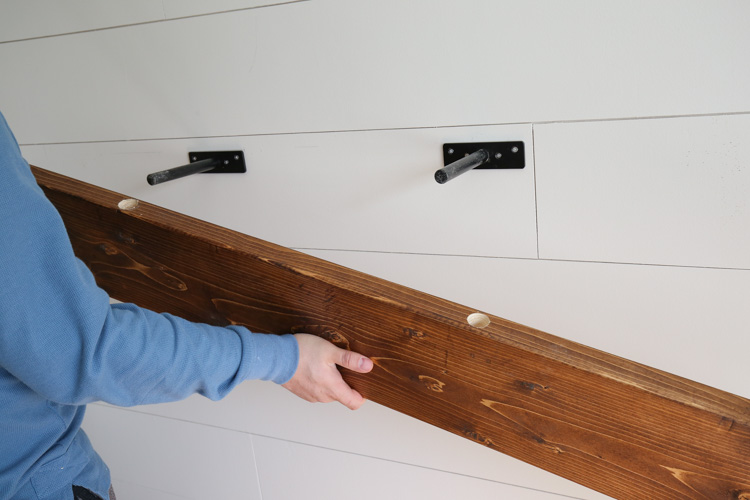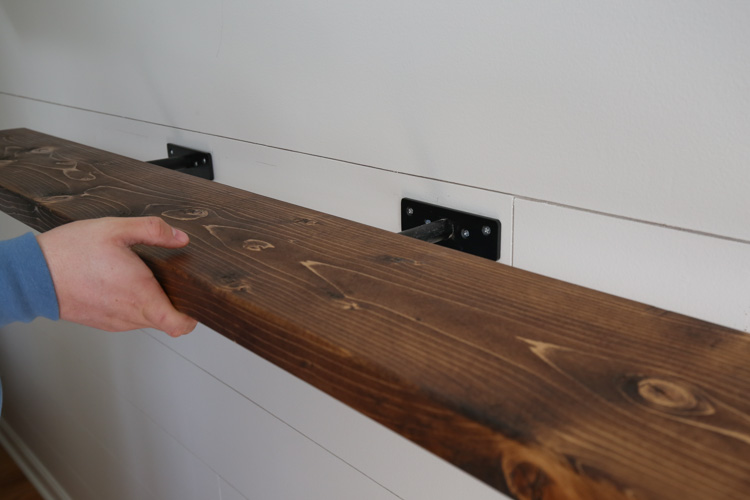 I love how our floating shelf looks over the couch in our living room! It's so fun to decorate with the changing seasons!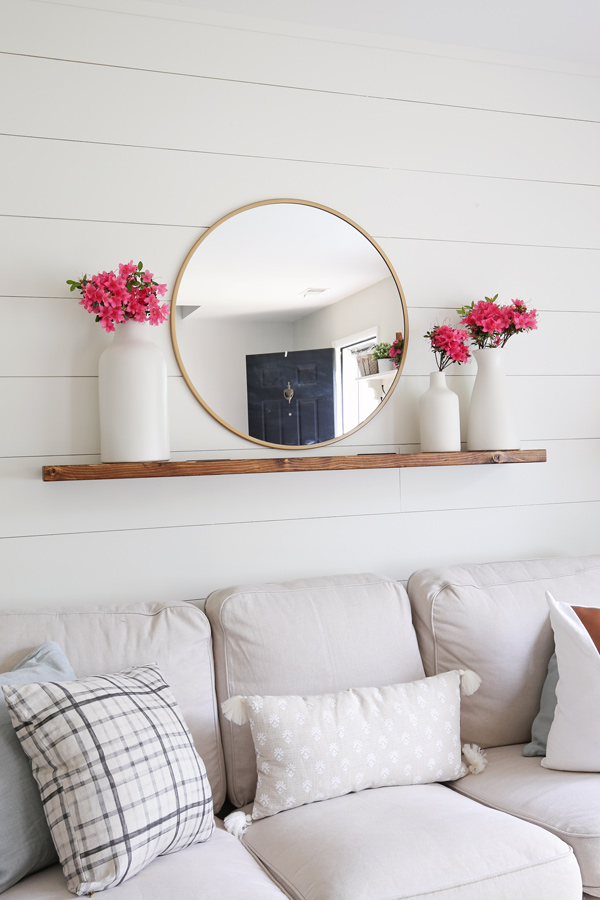 I couldn't decide if I preferred decorating the floating shelf with pink azaleas or white hydrangeas! Which do you like better?!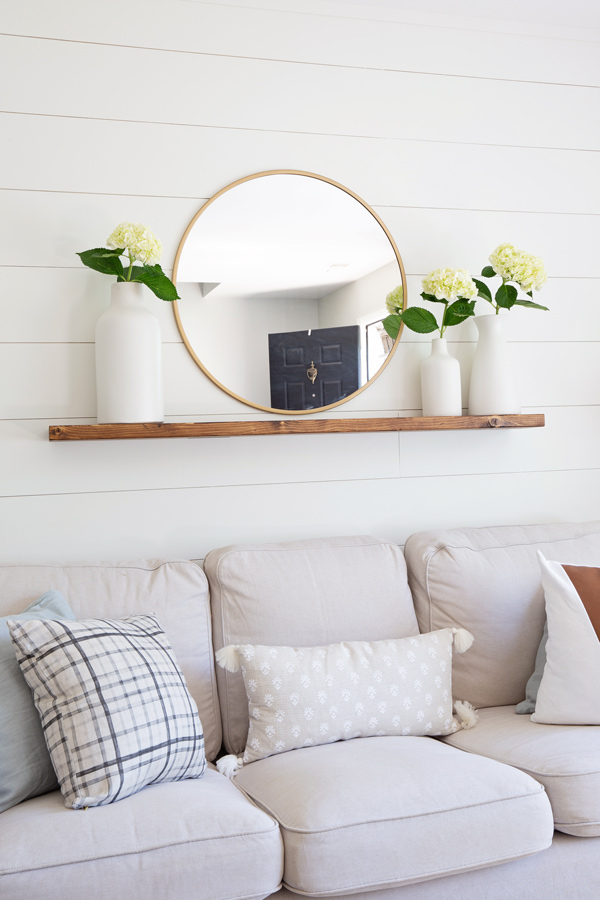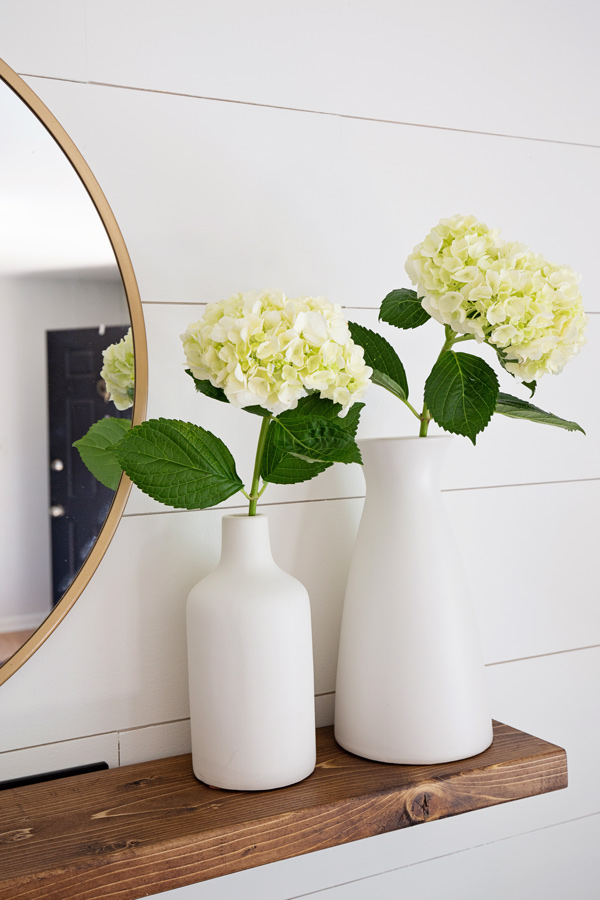 Hope this easy DIY floating shelf with brackets tutorial has been helpful! Follow along on my latest projects and sneak peaks on Instagram and Pinterest!
Get instant access to the library of FREE printables for the home!
Subscribe and get home decor tips, DIY tutorials, and access to the library of FREE printables for the home!