Learn how to paint tile floor easily and the best floor tile paint to use!
I often hear "can you paint floor tiles?" The answer is YES you can!
Two years ago I shared the how to process of painting bathroom floor tiles when we painted our old bathroom floor tile with white paint! It was quite the transformation!
Currently, we are transforming our enclosed back porch into a cute workshop and I knew painting the tile floor would look great! The floor tile in the space was just awful, it was a worn, dingy, pink tile and I have strongly disliked it since we moved in!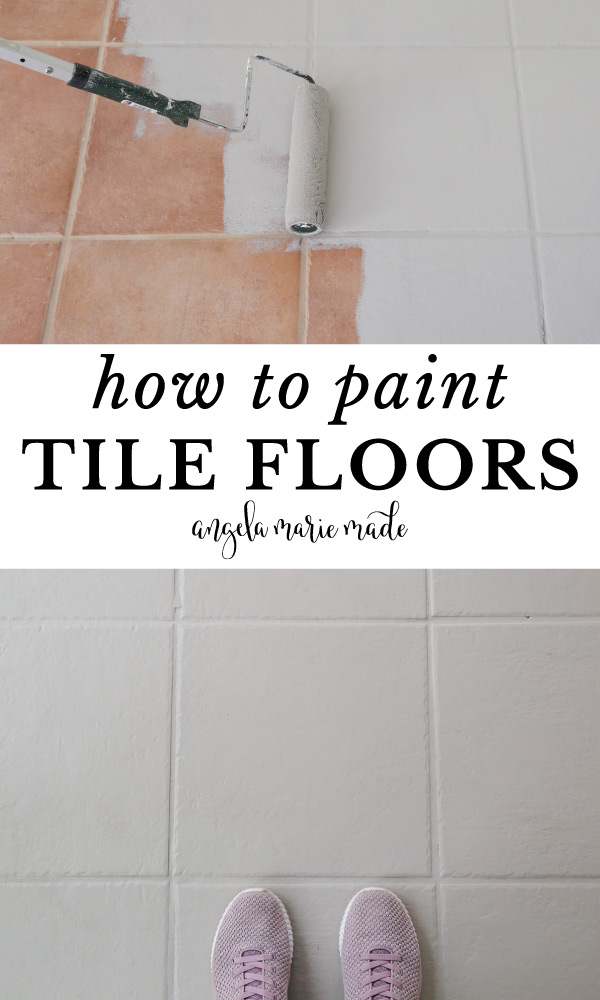 Here is a look at the floor before we painted it: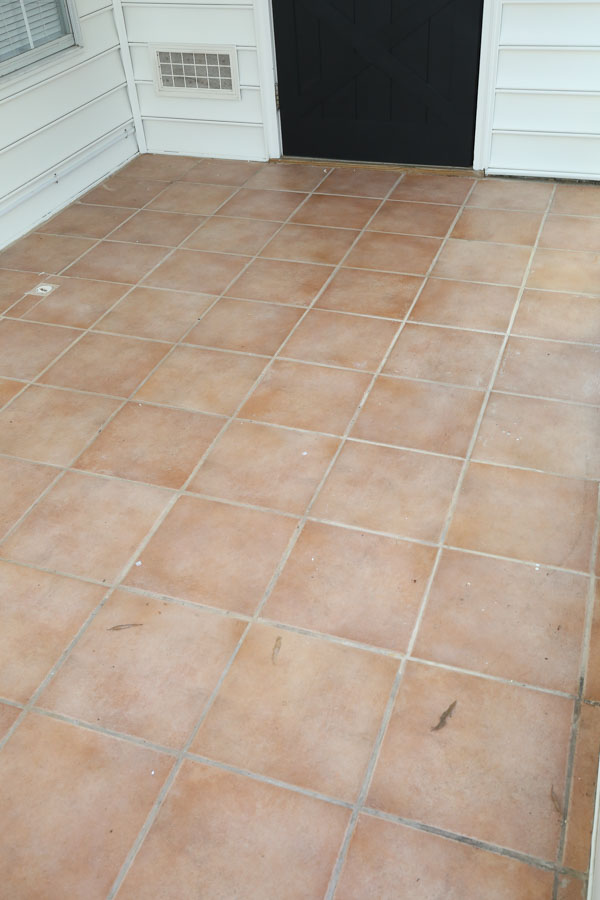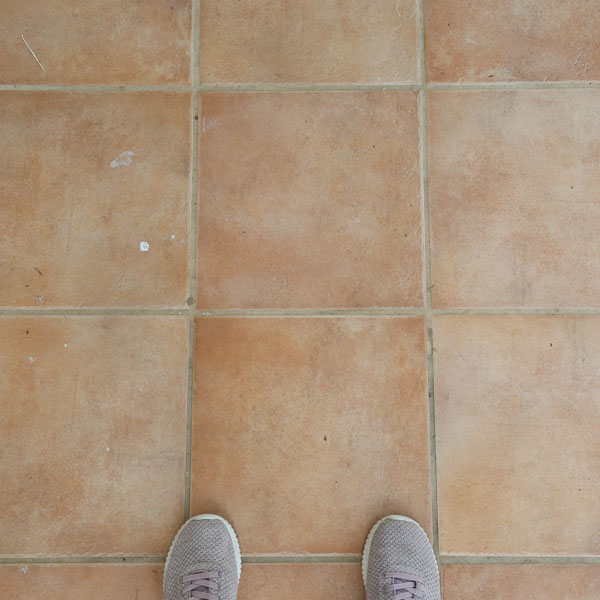 Note, this post contains some affiliate links. For more info see my disclosures here.
Floor Tile Paint to Use:
Let's talk about the best type of floor tile paint to use!
When I painted my bathroom floor tile, I used regular, interior, latex paint with a top coat of polyurethane. This definitely works, but I think it's the least durable.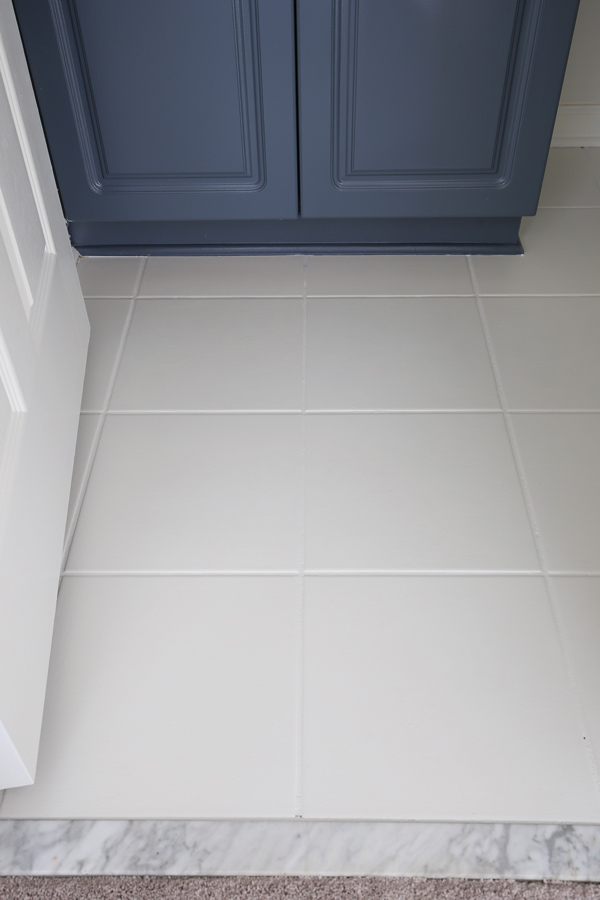 So if you're looking for longer durability, I would recommend using a paint specifically formulated for floors. Here are two well known floor tile paints:
Benjamin Moore Floor and Patio Paint
Benjamin Moore carries a floor and patio paint which would be great if you want to do an interior or exterior floor. I've heard great things about it although I have not personally tried it out. I first learned about it in this hallway makeover by Dear Lillie.
Rustoleum Floor Tile Paint
Rust-Oleum carries a floor paint in multiple color options that you apply with a top coat for interior floors. I've also been hearing a lot of good things about this paint and decided to try it out since I could easily order it through Home Depot (they tint it for you to one of the color options).
It also comes in a quart size kit with the paint and top coat if you are just painting tile in a smaller space. Also, it does not require primer.
We tried to get a few color samples at our local Home Depot for this paint but unfortunately they were unable to do samples for this paint line. And because the paint swatches online look nothing like the color in real life, I tried to find some real life color examples online!
I looked through all the review photos and also these beautiful, DIY pattered floor photos by I Spy DIY, which helped me to pick a color without a paint sample. We chose Windsor Gray with a matte top coat.
Whichever paint you decide to use, make sure to read the directions on the can first! Below is how to use the Rustoleum floor tile paint!
Painting Tile Floor Pros and Cons:
As with all paint, no matter what kind you use, it can chip over time and may need touch ups. It's not as durable as real tile or vinyl.
Dirt will show more on solid color painted surfaces compared to stenciled painted floors. Although a mid tone color does help show less vs. white paint or a dark color.
Painted floors are a great short term solution to ugly or outdated flooring! It's not the best long term solution though.
Painting tile floors is easy and budget friendly compared to replacing flooring.
One Year Review:
Update! Does painting floor tiles last? I now have a one year Rustoleum floor tile paint review of these painted tile floors and I'm answering some common FAQ about the floor one year later!
How to Paint Tile Floor:
Materials Needed:
Video Tutorial:
Subscribe to my YouTube Channel here!
1. Clean the floor tile
As I shared in my how to paint ceramic floor tile in a bathroom tutorial, as well as painting a bathroom vanity, and how to paint vinyl siding tutorials, cleaning and prepping your surface is super important!
We started by sweeping and then vacuuming our floor.
Use a degreaser cleaner to clean the floor tile. We used Krud Kutter mixed with water per the instructions on the label.
Use a scrub brush with the cleaner mix to clean the tile and then wipe clean with water and a sponge. Start at one corner of the room and work in small sections.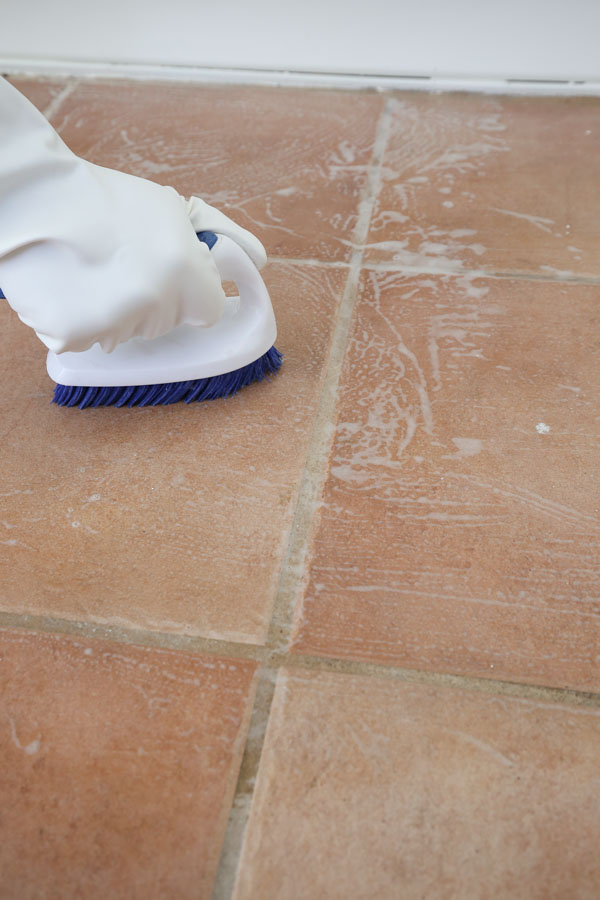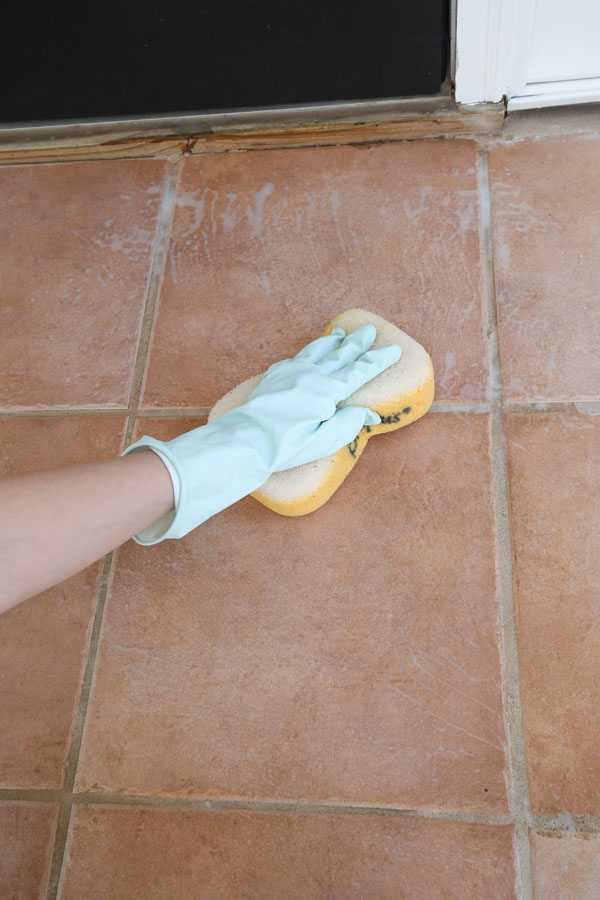 We found this worked best with two people, so Brandon would scrub one section of tile at a time and then I would wipe the tile down with water. Also, my water would get dirty pretty fast so I had to keep replacing it with clean water.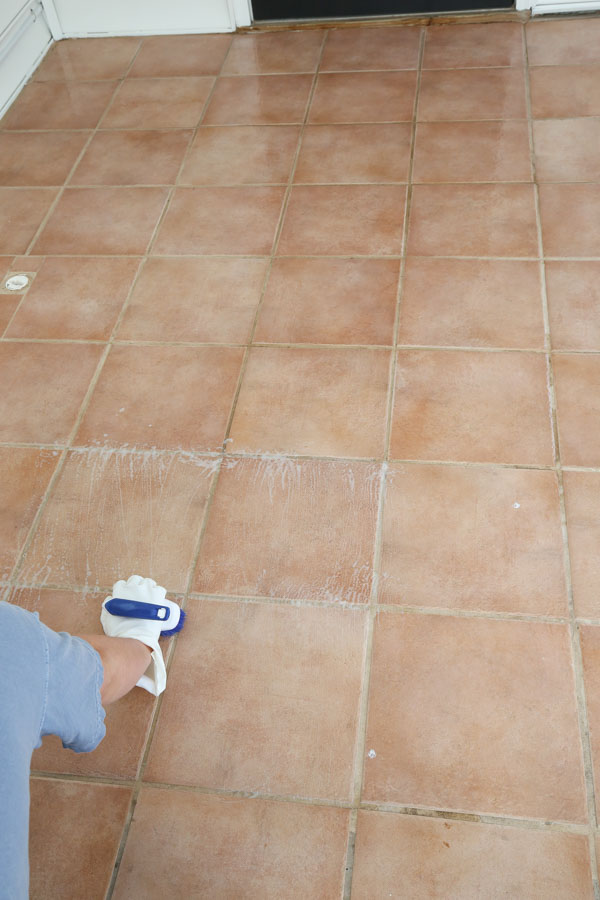 Flooring knee pads are helpful for this step too!
After cleaning, let the floor fully dry.
2. Prep for painting floor tile
If needed, use painter's tape and tape off any areas that need to be protected from paint, including the walls, doors, etc.
Brandon is really good at cutting in, so we only needed to use a little bit of tape in hard to reach areas.
3. Use paint and a brush to cut in
Mix the paint well before starting.
As with other paint jobs, when it comes to how to paint floor tile, you want to start by cutting in where needed.
Use a paint brush and cut in around the room perimeter, between the floor and wall, and any hard to reach areas. Allow the cut coat to dry.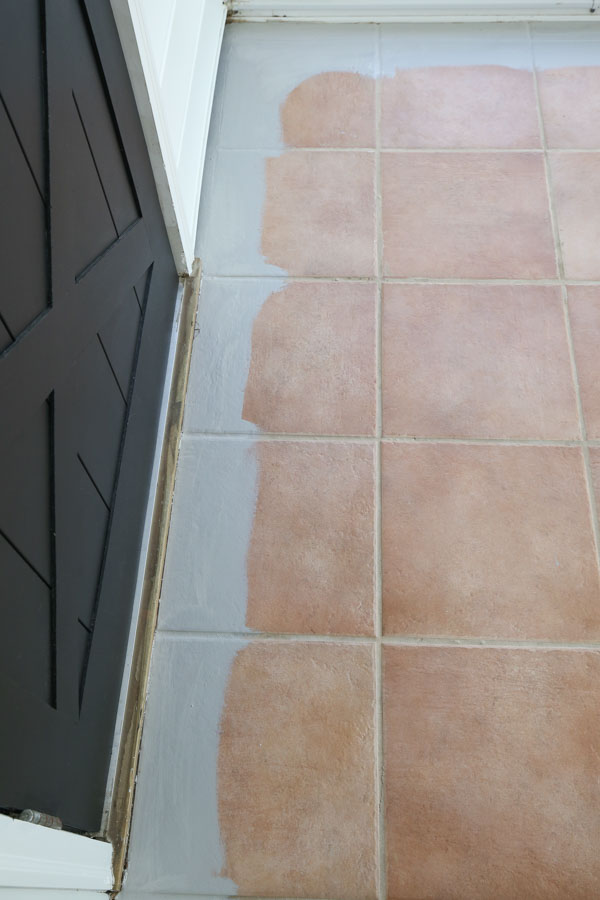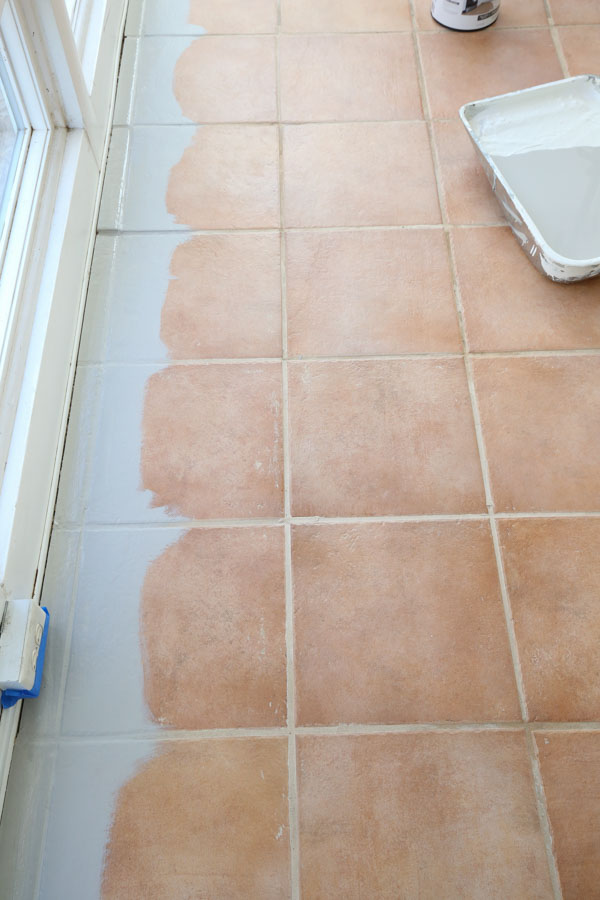 4. Paint the floor tile with a roller
Use a 3/8″ nap paint roller and extension pole to paint the tile floor! Work in small sections, about 4ft x 4ft at a time.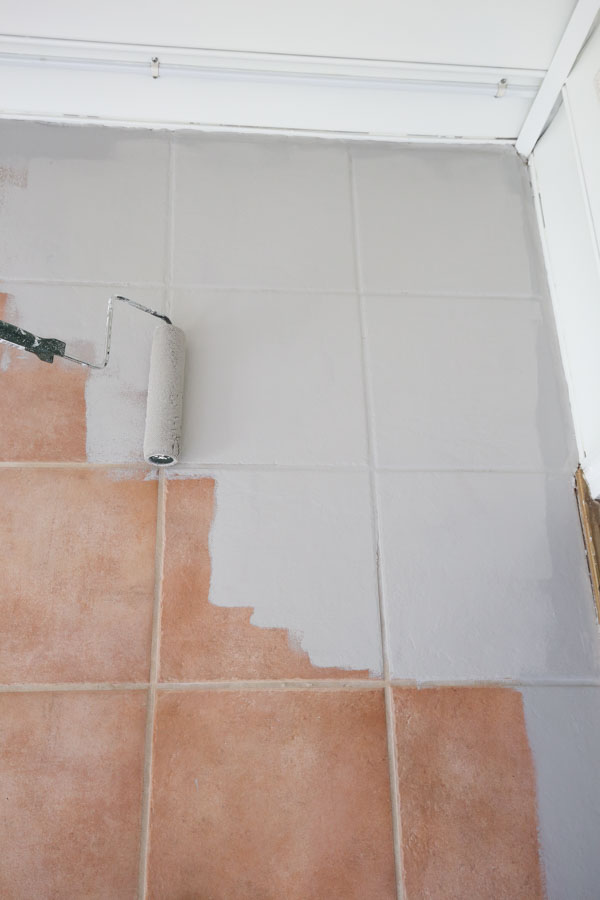 Make sure to start at one corner and then plan on rolling the last corner near your exit point for the room.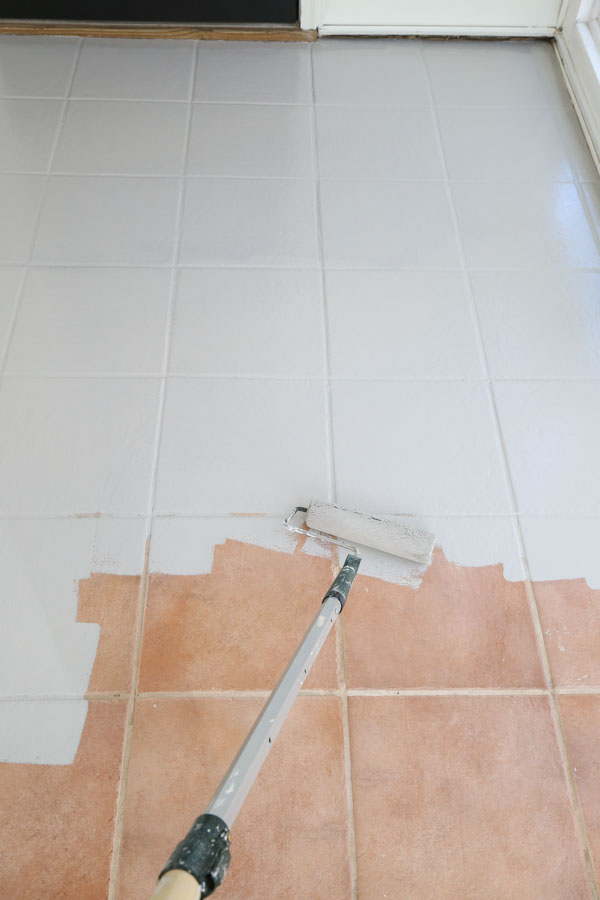 Also, make sure to get into the grout well and that all areas have a good coverage of paint. Only one coat is necessary (unless using white) which is great and this stuff does go on with thick coverage.
Per the Rustoleum floor tile paint directions, allow the paint to dry for 6 hours before proceeding to the next step of applying the top coat.
5. Apply the top coat to the floor tile
After waiting at least 6 hours after painting the floor, apply the top coat.
Note, we didn't walk on the floor at all but somehow little bits of dirt and fuzzies appeared on our floor. So, we used a Swiffer dry sweeper right before applying the top coat to avoid small fuzzies in our finish.
We wore clean socks (instead of shoes) to help avoid dirt as well during this process.
Also, the paint scuffs extremely easy before adding the top coat. So, be very careful not to scratch it. You can do touch ups if needed though.
Mix the top coat well before starting.
Use a 1/4″ nap paint roller for the top coat (which is thinner than 3/8″ nap and doesn't absorb as much liquid).
Apply the top coat the same way as the base paint coat. Start by cutting in around the perimeter of the room. Then, roll the top coat on the rest of the floor tile.
Go slow with the top coat, it streaks easily because it's very thin, so you may need to roll lightly over the tile a little more to ensure the coverage is even. You can see this in action in the how to paint tile floor VIDEO!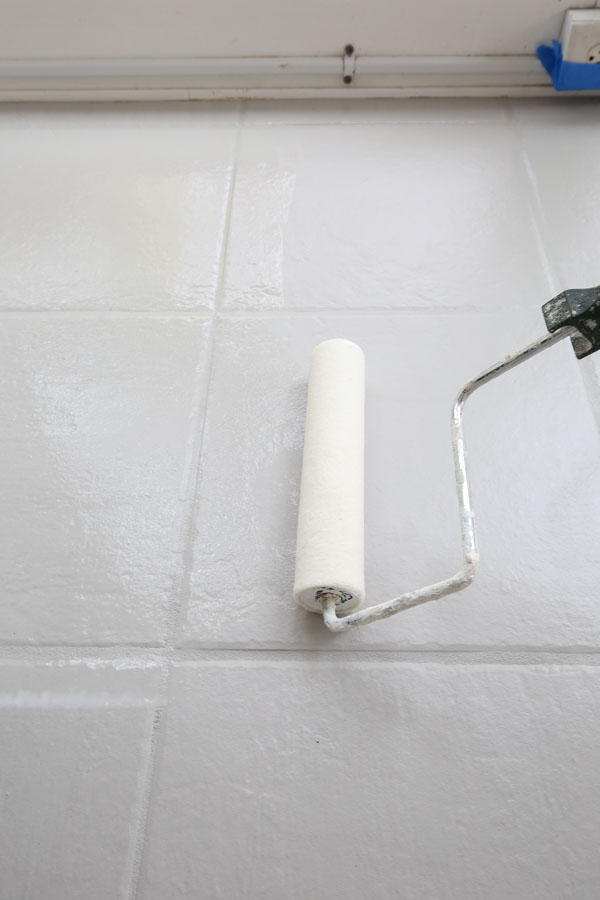 A second coat may be added (after the first coat is dry but within 24 hours of the 1st coat) for extra durability.
Again per the instructions, let everything dry for at least 24 hours before light foot traffic, allow 72 hours before adding furniture, and allow 7 days for a full cure.
And that's it for how to paint tile floor! I love how this painted tile floor turned out!
It's way better than the outdated pink tile and dirty grout we had before! It looks like a real workshop floor now and I really like the light-medium tone gray color too!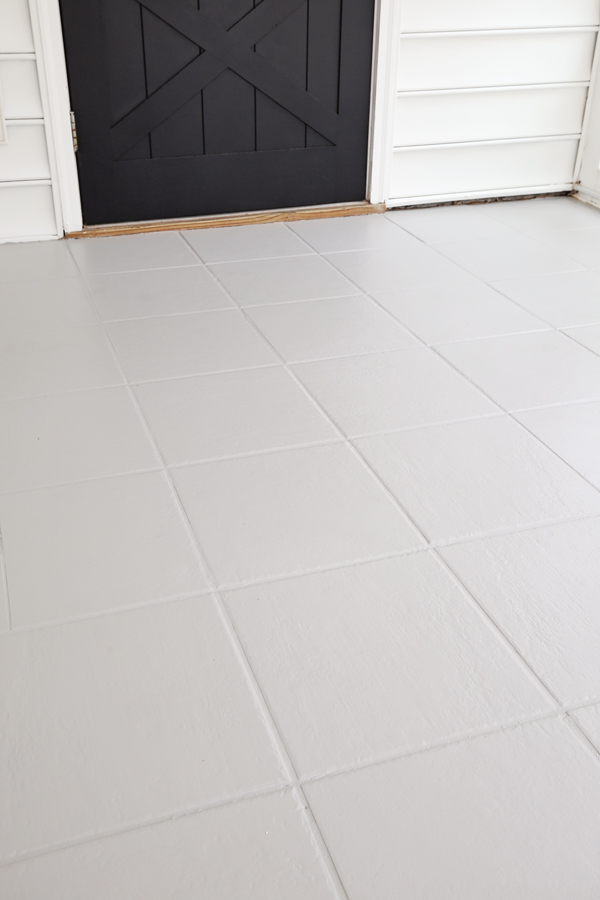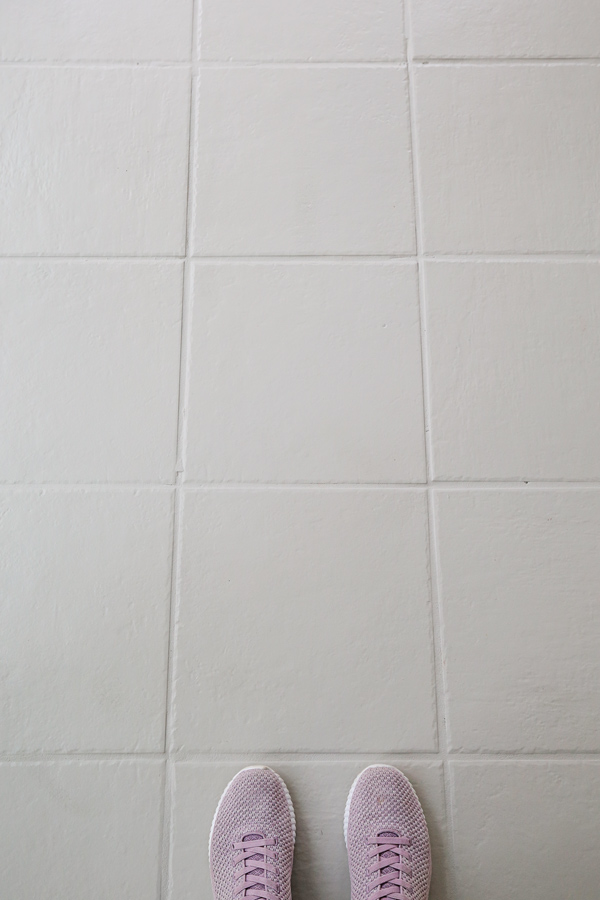 Painting Floor Tiles Before and After:
Let's take a look at the painting floor tiles before and after transformation: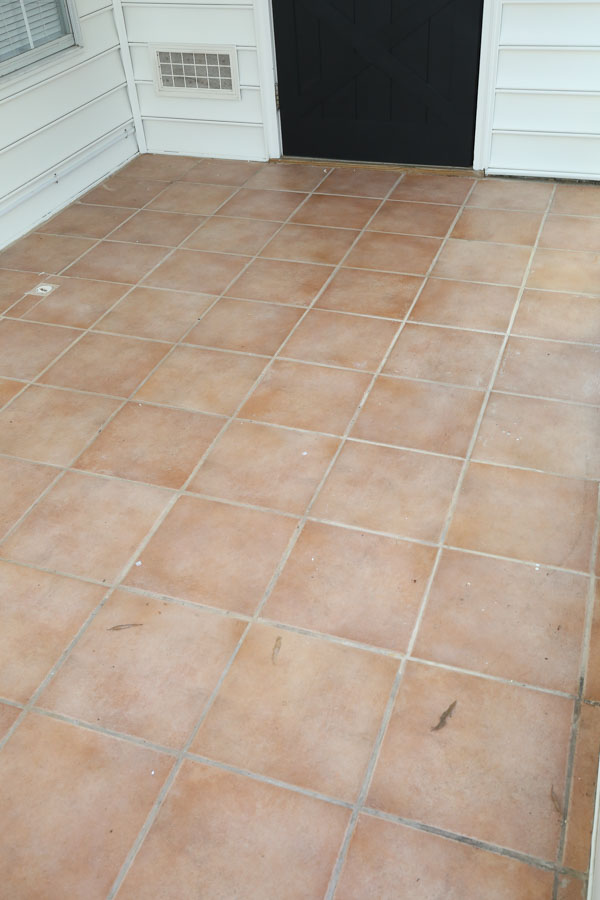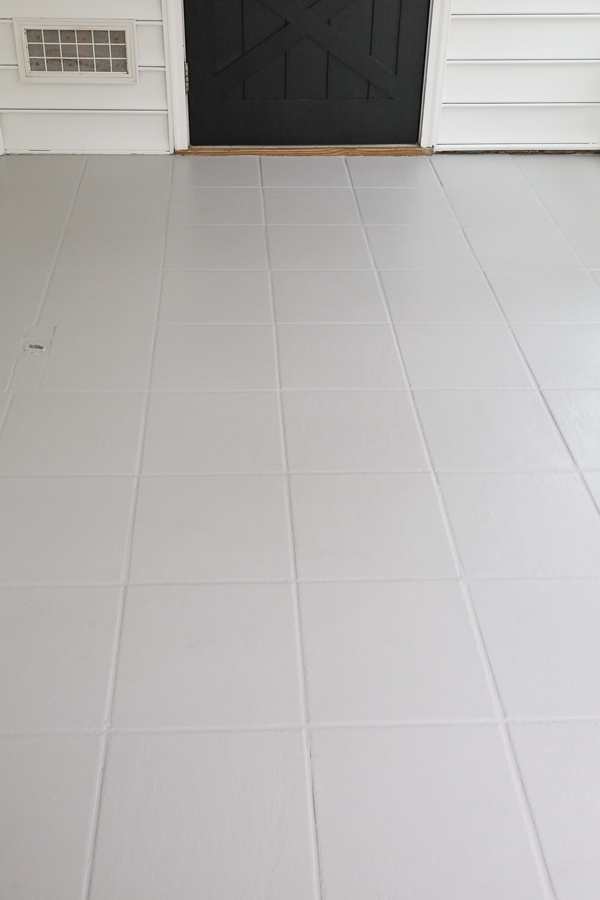 Now if anyone asks you "Can I paint floor tiles" you can tell them yes too!
In a few months I will do an update post about how our painted tile floor is holding up!
Do you have a room you want to paint tile floor?! Let me know below in the comments! And don't forget to check out the one year review, does painting floor tiles last?
Follow along on Instagram stories for sneak peeks of the progress of this space and follow along on YouTube for video tutorials of all the DIY projects I'm doing!
We will be doing a very big woodworking project next!!!