Can you paint vinyl siding? Yes! Painting vinyl siding is an easy and budget friendly way to update your vinyl siding!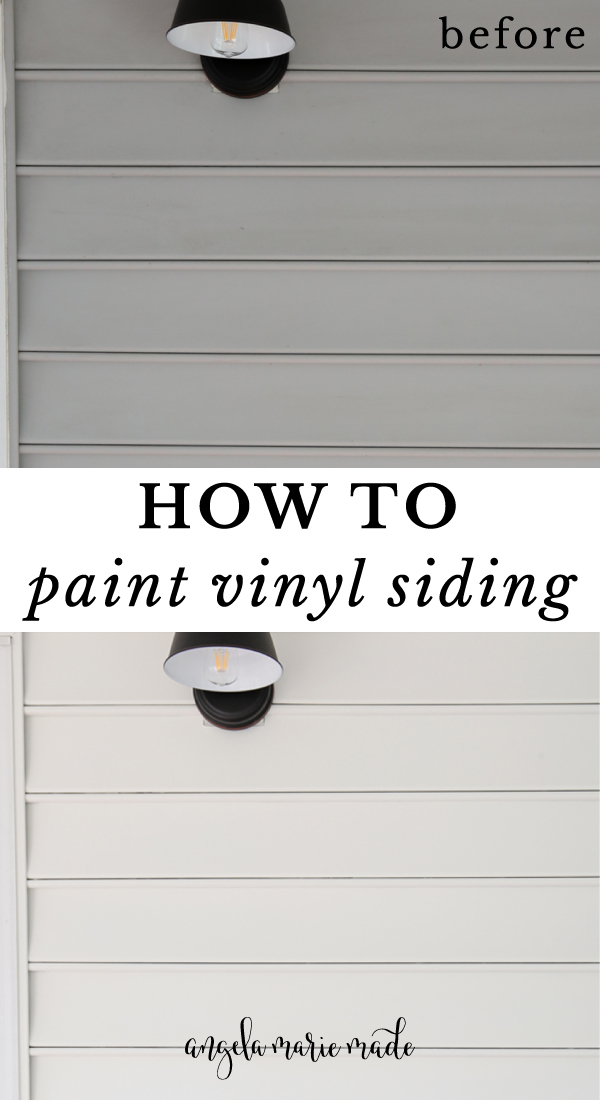 Today I'm sharing how to paint vinyl siding and how we transformed our back porch vinyl siding from a dingy, blue grey color to a beautiful, fresh, clean white!
Don't worry though, if you want to go with a darker color rather than white or a light color you can do that too as I explain below!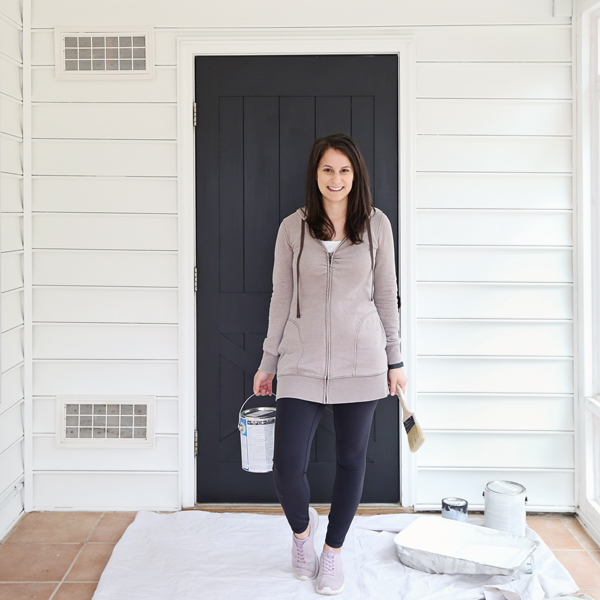 We are currently in the process of turning our back porch into a workshop area. I wanted a fresh white backdrop for filming and photos, but our vinyl siding was a blue grey color that I never really liked and it was time for a change!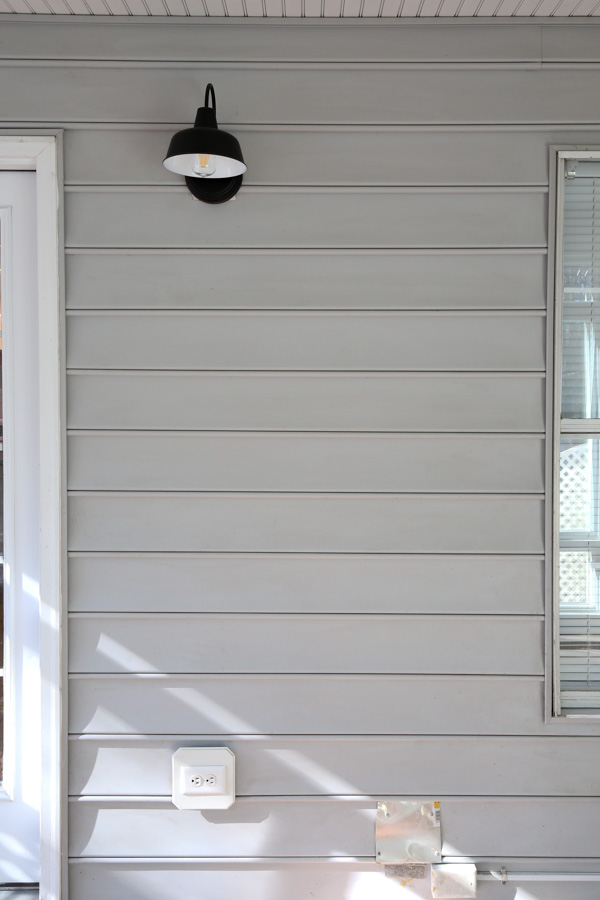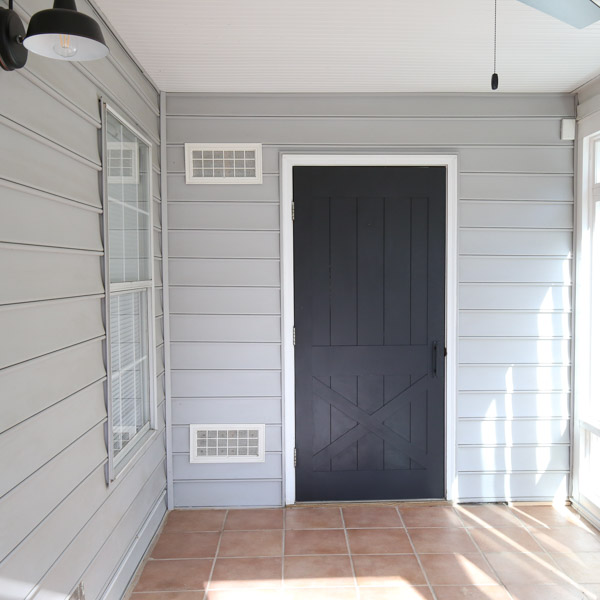 I knew vinyl siding could be painted, but I had to do some research about the type of paint to use.
The Best Paint for Vinyl Siding
There are two well know paint brands for painting vinyl siding, Sherwin Williams vinyl siding paint and Benjamin Moore vinyl siding paint. They both carry vinyl safe colors that can be used in some of their different exterior paint lines.
Sherwin Williams even has multiple vinyl safe dark color options that can be used if you want to paint your vinyl siding a darker color than the color you currently have.
When I was looking at the vinyl safe paint colors by Sherwin Williams, I was surprised by the lack of white paint color options. So, I called my local Sherwin Williams store and the paint rep explained that you can actually use any of their white paint colors for the vinyl safe option!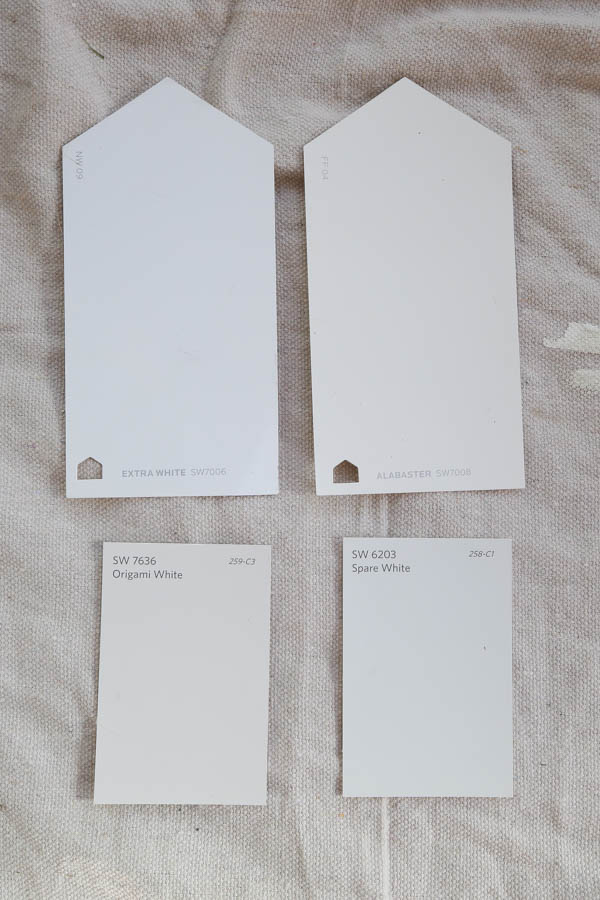 I was super excited to hear this and I ended up getting one of my favorite white paint colors, Alabaster, for our vinyl siding! We went with a satin sheen, which isn't super shiny like semi-gloss, but it's still easy to wipe down.
For the Sherwin Williams vinyl siding paint, you can get it in several of their exterior paint lines, but the paint rep recommended using Resilience and said it was more affordable compared to the others. So that's what we went with and we bought it during their sale for less than $50 for a gallon!
Note, this post contains some affiliate links. For more info see my disclosures here.
How to Paint Vinyl Siding:
Materials Needed:
***Note, if you're doing a small vinyl siding area like us, then a paint brush and paint roller can be used. If you're doing a larger area, or entire house, you may want to use a paint sprayer to make this process easier. Also, for the prep cleaning, I'd use a pressure washer for a larger area as well.
Video Tutorial:
Subscribe to my YouTube Channel here!
1. Clean the vinyl siding
Just like painting tile floor, painting a bathroom vanity, or any paint job, cleaning your surface is essential.
For the type of cleaner, it's important to use something that doesn't leave a residue, such as dish detergent, TSP, or Krud Kutter. We used Krud Kutter for painting our laminate kitchen cabinets and it works very well, so that's what we used.
Note, if using a pressure washer, only use cleaner that is safe to use with it per your pressure washer instruction manual.
Follow the directions on the label for preparing the cleaner based on how much you need and also how to use the cleaner. We mixed about a cup of Krud Kutter with a little less than a gallon of water.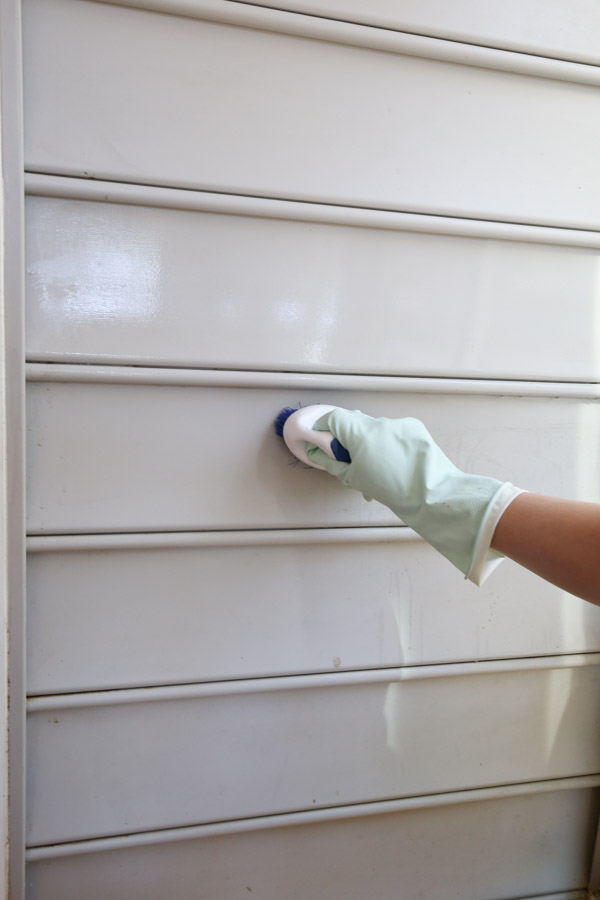 Use a scrub brush or pressure washer to clean the vinyl siding with the cleaner mix. Start at the top of the siding and work your way down.
After using the cleaning mix, wipe the vinyl siding down with water and allow it to dry.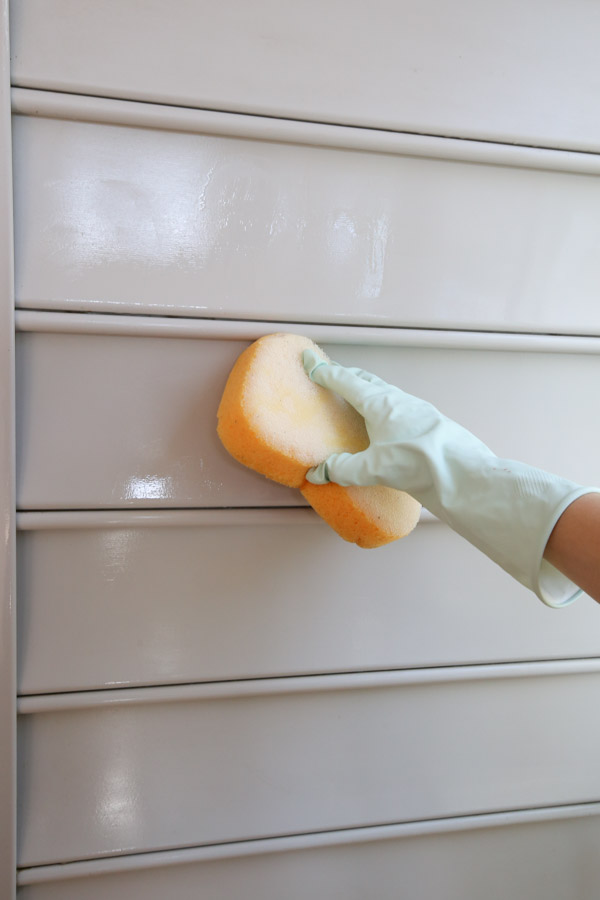 2. Prep for painting vinyl siding
Use painters tape and tape off any areas that need to be protected from paint, including the walls, floor, windows, etc.
Brandon is really good a cutting in (he use to work for a paint company in college), so we only needed to use a little bit of tape in hard to reach areas.
Also, if you're using a paint sprayer, tape plastic over any areas you need to protect from the sprayer, like windows or doors.
A Note about Primer
The Sherwin Williams Resilience paint we used does not require primer for repaint jobs, only new surfaces, so we didn't need to use any. However, check the paint specs for the paint type you use in case it does require it.
Also, see my final note about priming in step #4!
3. Use paint and a brush to cut in hard to reach areas
Start by cutting in any hard to reach areas, including the floor or ceiling (if applicable) with a paint brush. Allow the first cut coat to dry and then apply a second or third coat if needed.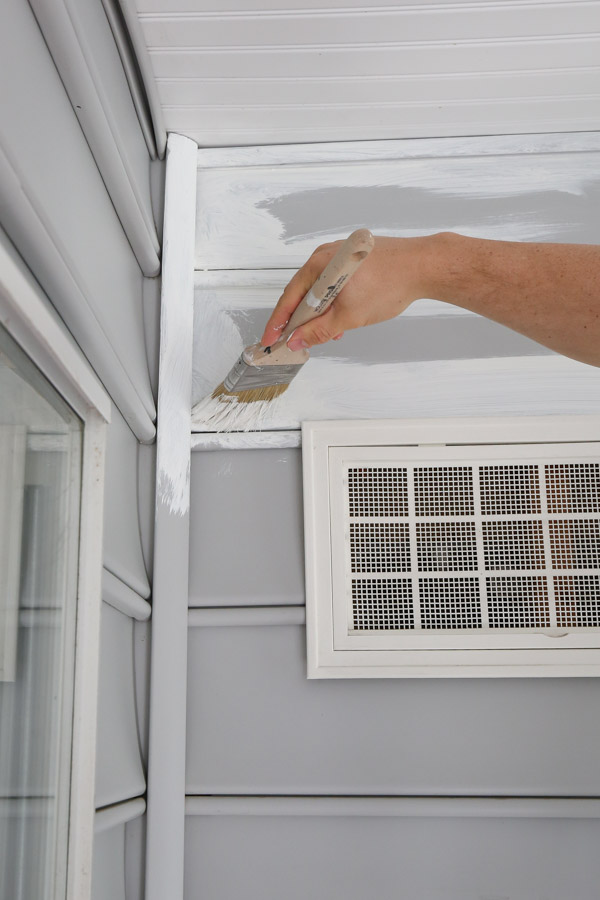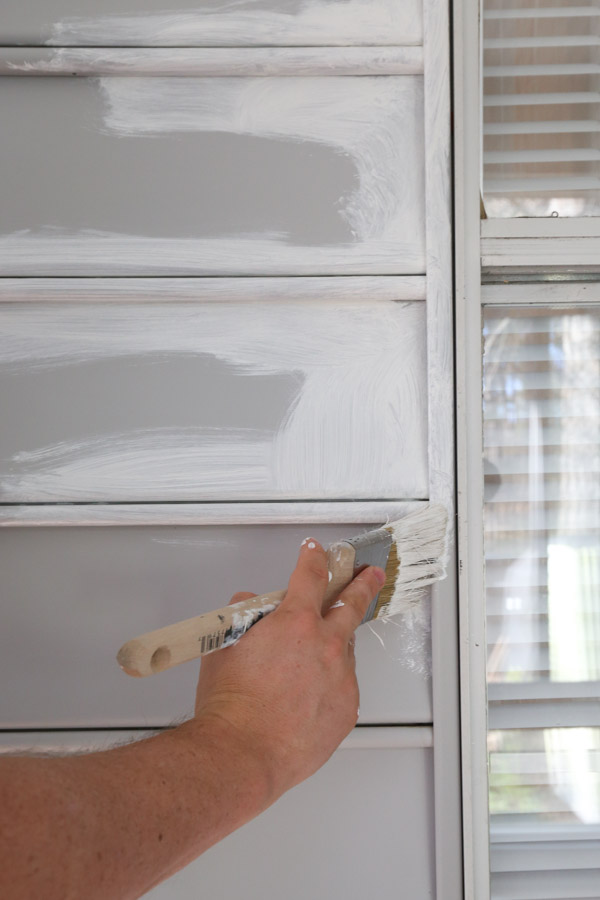 Because we were going from a blue grey color to white and didn't use primer, we ended up needing three coats of white paint for our cutting in coats.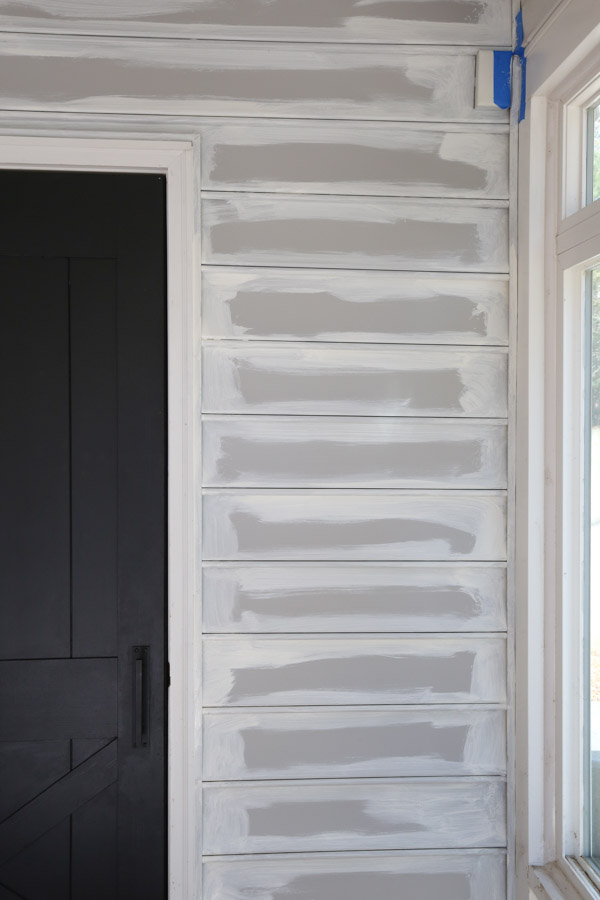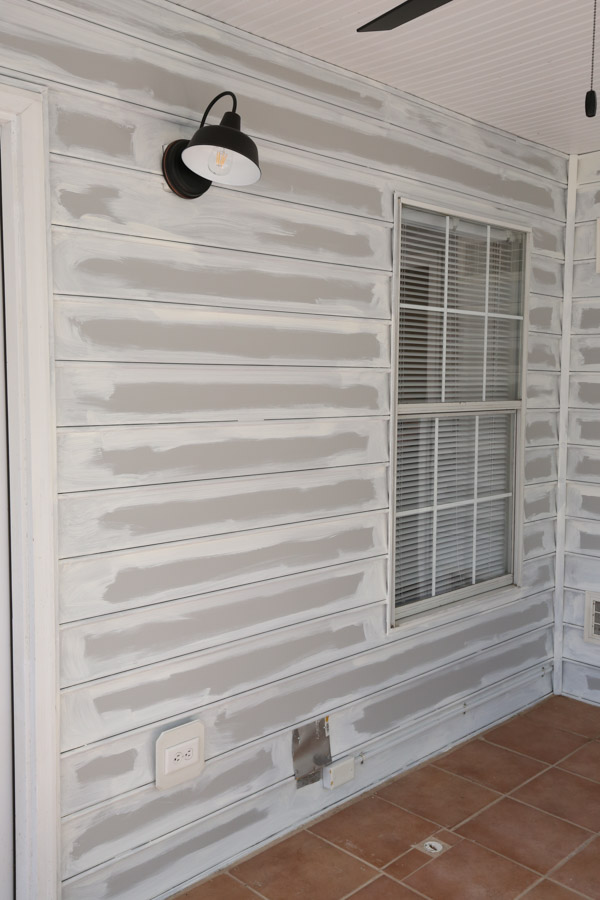 4. Paint the vinyl siding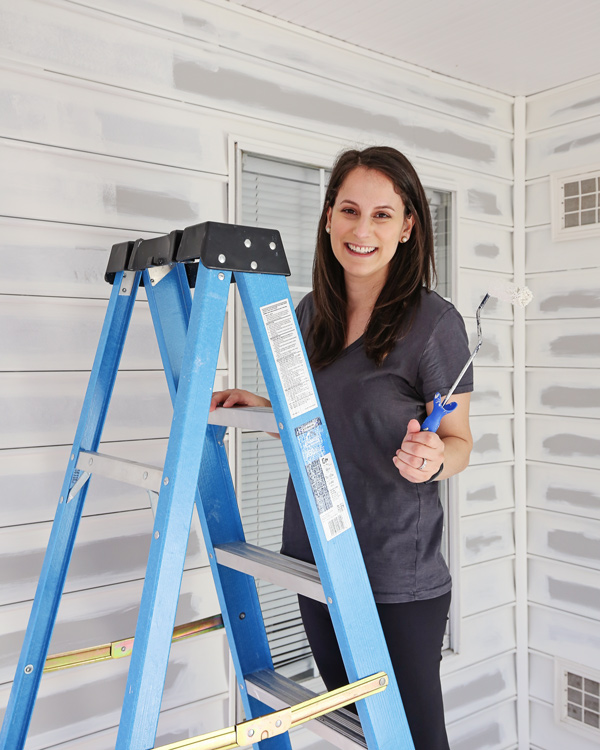 Paint the vinyl siding with a small paint roller or use a paint sprayer.
We used a paint roller for painting our vinyl siding. After the first coat of paint dries, add a second or third coat if needed.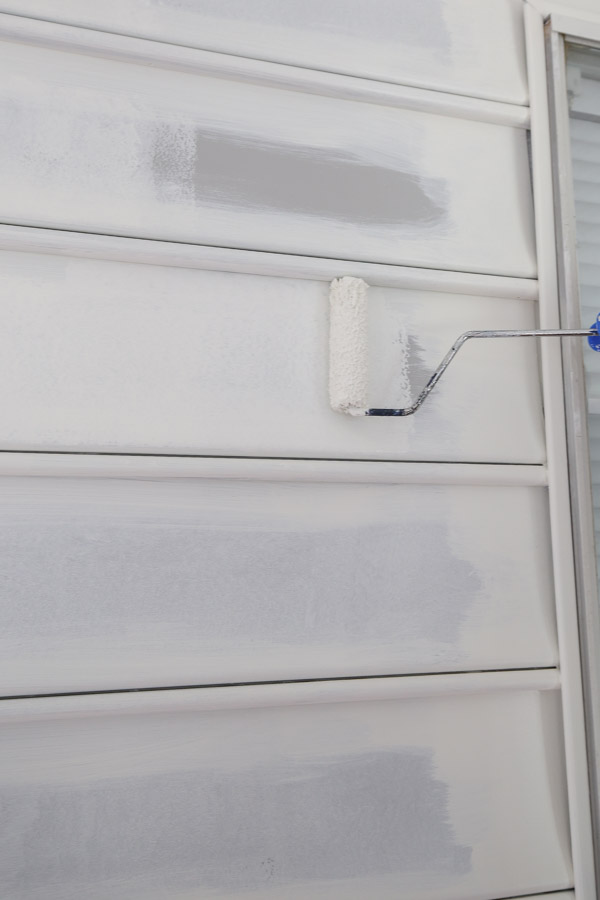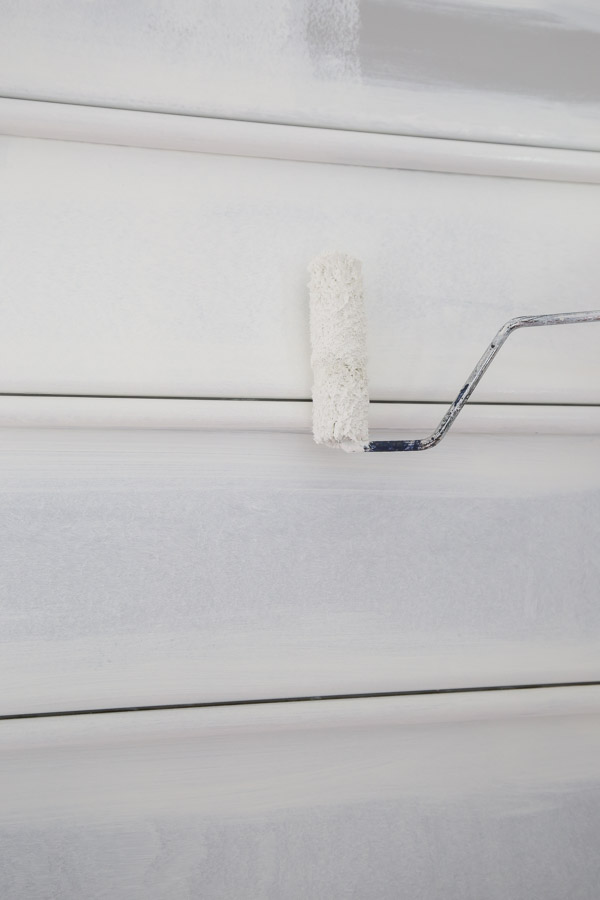 A Final Note about Primer
We ended up needing multiple coats of rolling! I was thinking we should have used a primer, even though it wasn't required for our paint type since it was a repaint job and not a new surface. Primer would have increased our cost, so it was worth the extra roll coat time to save on cost.
However, if you're doing a larger area, and going from a dark to white color, a primer may be a good idea. I would ask your local paint store which one to use with the paint you select.
Painting Vinyl Siding Before and After
OK time for the big painting vinyl siding transformation reveal!! Here is a before and after comparison: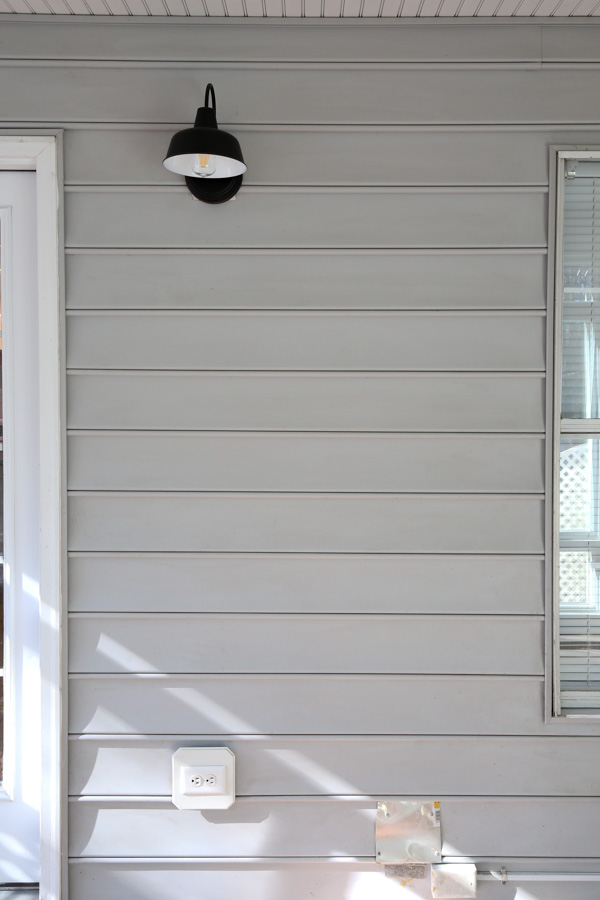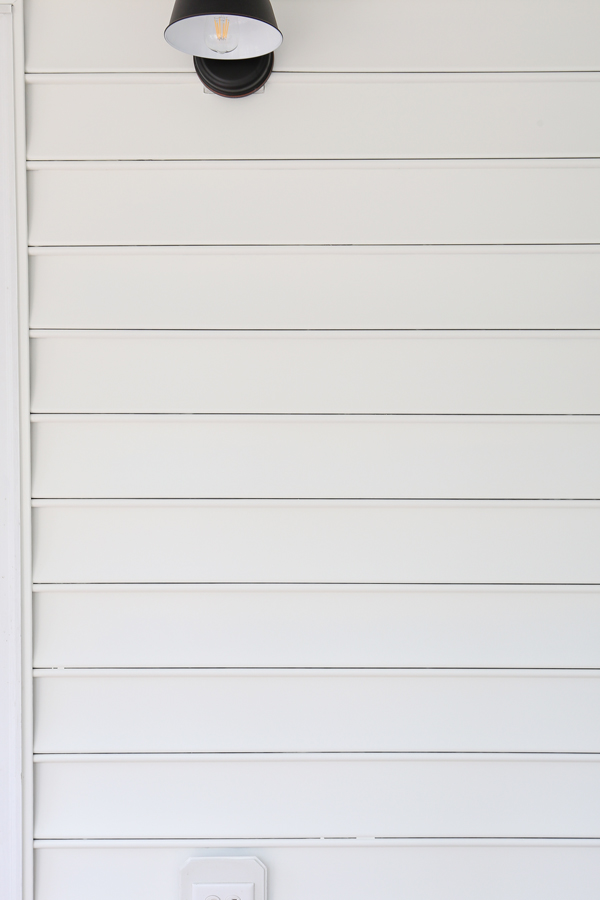 Here's the other side of the room, the lighting kept changing on me so the shade of white looks different, but you can see a better full room view on the video tutorial here!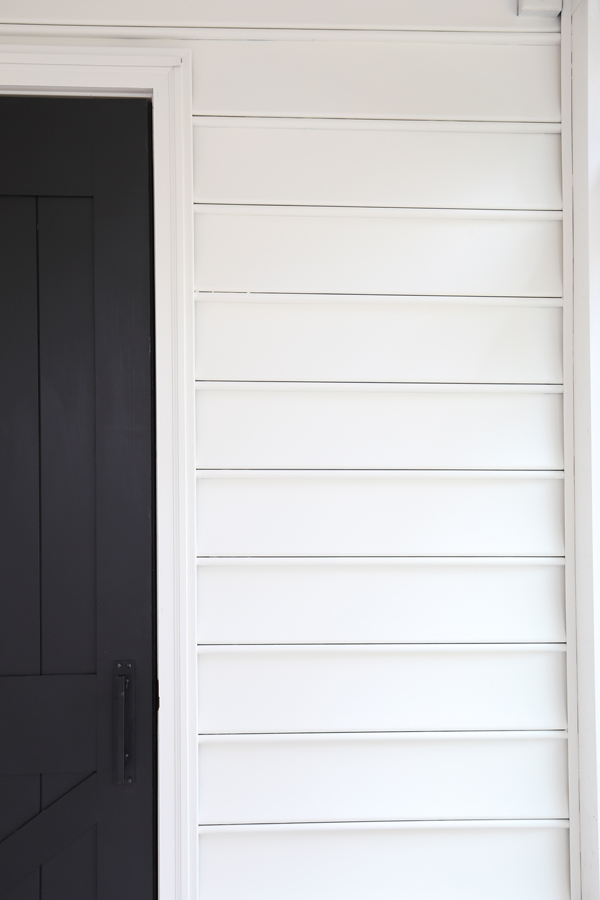 Wow I just can't believe how good this turned out, I loveeee the fresh, clean white painted siding!
It looks even prettier next to our black DIY faux barn door!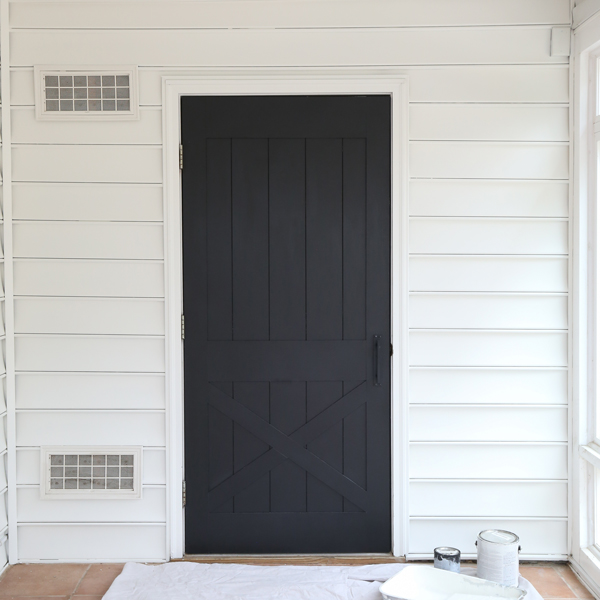 What do you think? I hope this how to paint vinyl siding tutorial has been helpful! Up next for this "workshop" transformation, we will be painting our tile floor!!! I seriously can't wait, stay tuned!
Follow along on Instagram stories for sneak peeks of the progress and follow along on YouTube for video tutorials of all the DIY projects I'm doing!