Did you know that you can paint floor tiles?! Well you definitely can and below is a full tutorial on how to paint tile floor in a bathroom!
One of the first times I remember seeing painted floor tile was for this hallway makeover by Dear Lillie. I remember thinking it looked really good though I didn't think I would ever need to do it!
So, I ended up painting my bathroom floor tiles and grout with a fresh white paint.
Originally, I planned on adding a tile stencil design over the white paint. However, I really liked how just the white paint looked. And I didn't want to put all the time and effort into stenciling, so I nixed the stencil idea.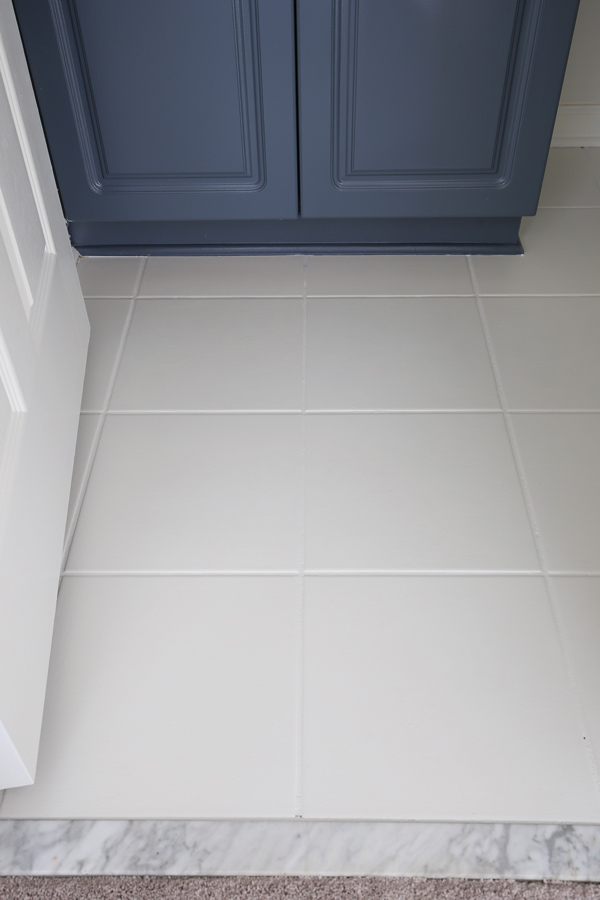 Here is a look at our old, outdated, dingy bathroom tile floor before I painted it: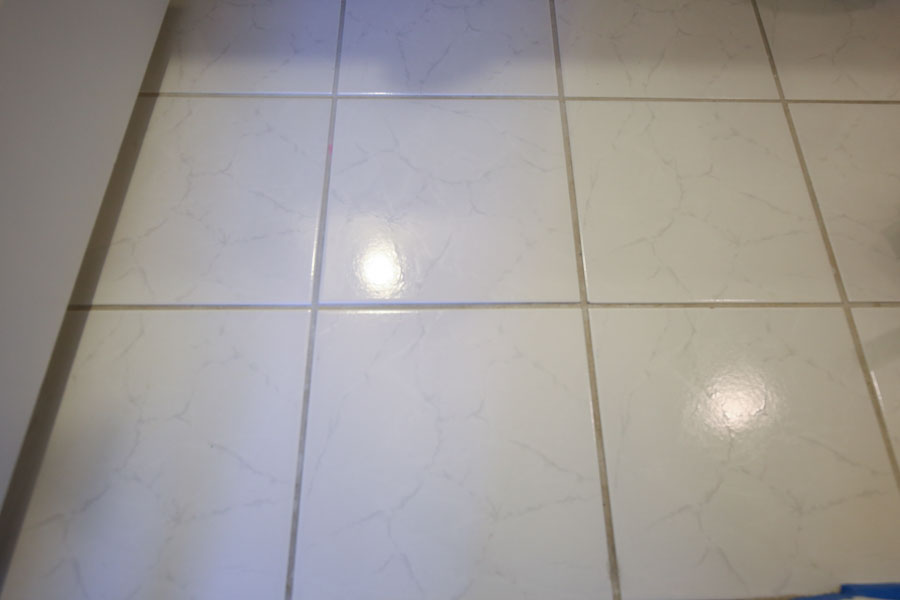 If you do choose a light or white paint color, it does show dirt a lot more than a medium color would, so keep that in mind! I used Benjamin Moore White Dove for my paint color.
I want to start off by saying that I think painting tile floors is a good temporary, budget-friendly solution for ugly or old floor tile. But, I wouldn't do it for a long term solution due to the durability factor.
We plan on replacing our old tile in the next 6-12 months, so this was a good temporary solution for us and my $100 bathroom makeover challenge I mentioned last week!
Floor Tile Paint Options:
Because this bathroom is part of my $100 Makeover Challenge, I used paint I had on hand already which was interior latex paint that I used on my bathroom walls. Adding the water based poly in Step 5 helped to add durability.
But, there is actual floor tile paint that can be used for painting tile floors, like Benjamin Moore Floor and Patio paint and Rustoleum floor tile paint, which would be even more durable, and I recommend using over regular latex paint.
See how to paint tile floor with Rustoleum floor tile paint and more info about floor tile paint! And see a step by step painting tile floors VIDEO here!
Also, I now have a Rustoleum floor tile paint review after one year of use!
Note, this post contains some affiliate links. For more info see my disclosures here.
How to Paint Tile Floor
Materials Needed:
1. Clean the tile floor
First, you need to prep your tile floor by vacuuming it and then cleaning it with a heavy duty cleaner like TSP. After cleaning the floor, allow it to dry.
2. Tape off floor trim
Use painters tape and tape off the floor trim and anything else bordering the floor like the tub, toilet, vanity, etc.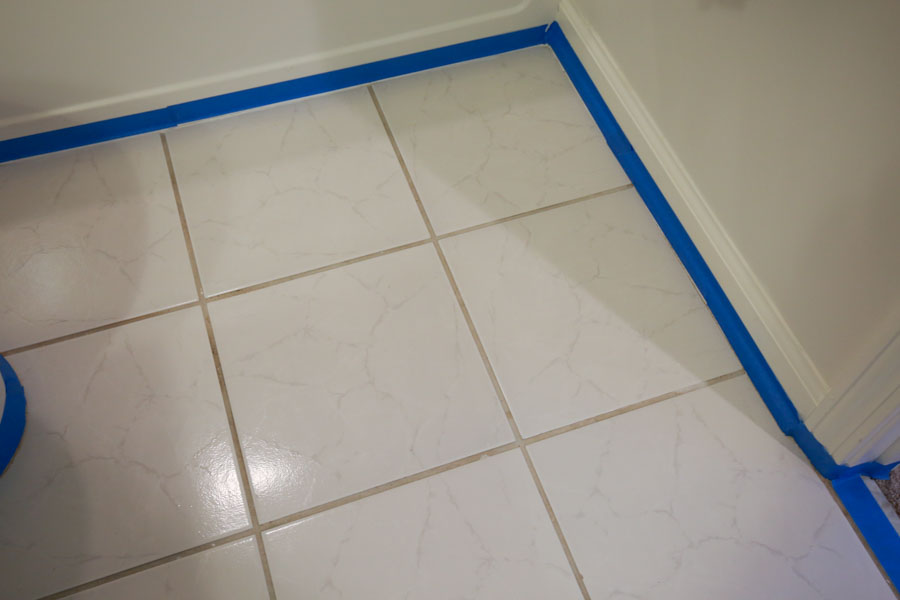 3. Prime floor tile
Use a high quality primer and prime your floor. Treat the floor like you would a wall for painting. Start by cutting in the edges along the floor trim, bathtub, toilet, etc with a paint brush. Also, the paint brush works great for priming the grout lines as well!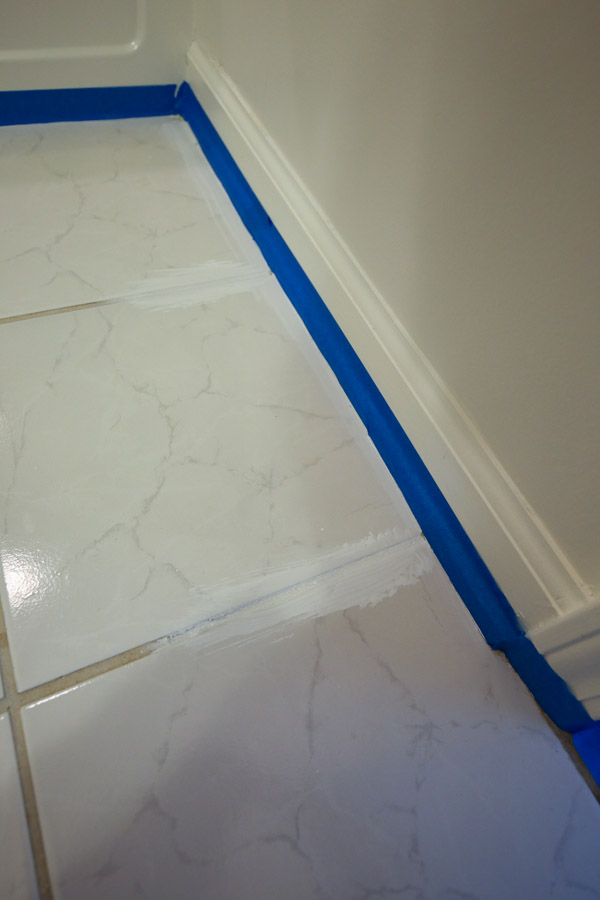 Then, go ahead and prime the rest of the floor tile with a small roller. Allow it to fully dry.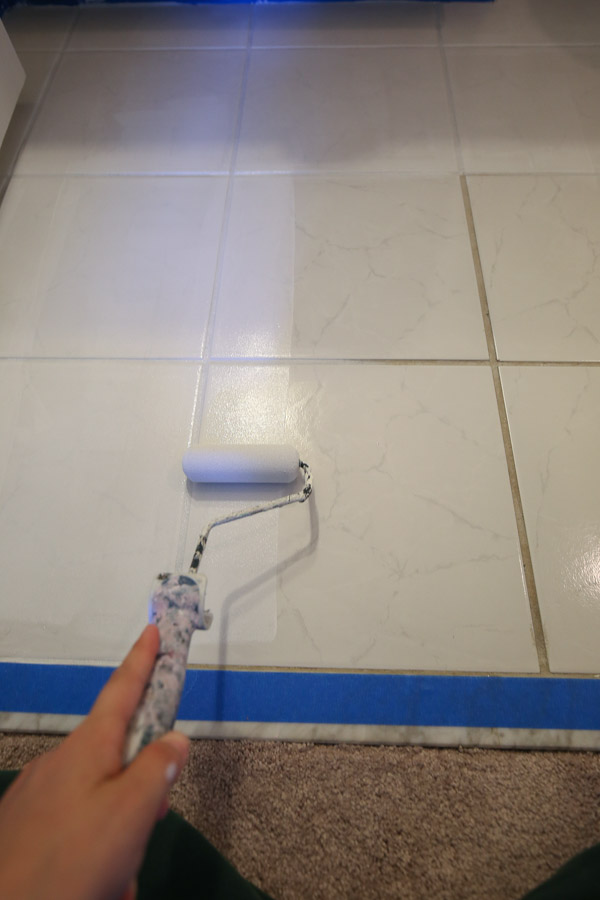 After priming, it's ok if some of the old floor tile is still showing through.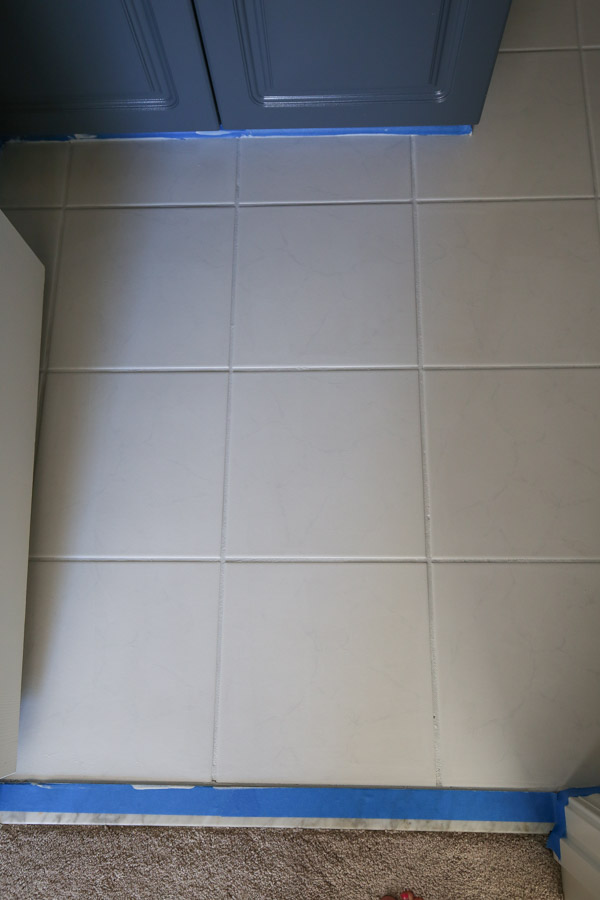 4. Paint the tile floor
Once the primer has dried, paint your floor tile. Use the same method as above by first cutting in the edges with the paint brush and then rolling the rest. Allow the first coat of paint to fully dry. Then, go ahead and add a second coat of paint.
A small tip during this process of painting tile floors, is to wear really clean socks or shoes to avoid little fuzzies or dirt on your floor while you paint. You can also keep a sticky lint roller or vacuum with a brush attachment nearby as well to clear away any fuzzies that appear before you begin painting!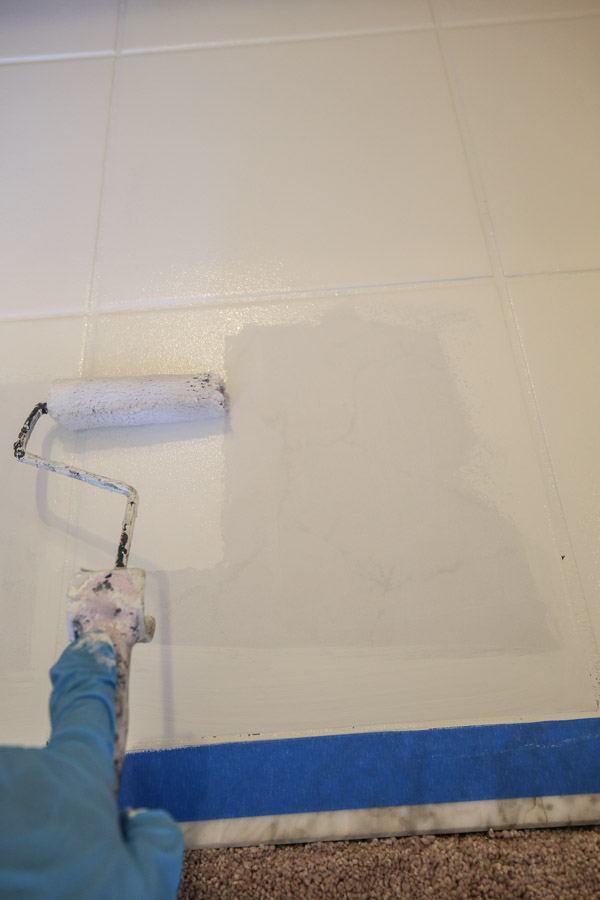 5. Add water based polyurethane over paint on tile floor
Allow the paint to dry and cure overnight. Then, finish off the project by sealing it with 3-4 coats of a non-yellowing, water based polyurethane in a low sheen. I used this poly in a matte sheen to minimize shine.
Use a foam roller for applying the poly. And you can use a foam brush instead of a paint brush to cut along the edges if you want. I like to keep my paint brushes free of any kind of poly, so foam brushes are a cheap solution to use instead.
Allow the polyurethane to dry for a few hours after the final coat before stepping on it. It takes a few days for the poly to fully cure, so I would try to take it easy on the floor until then.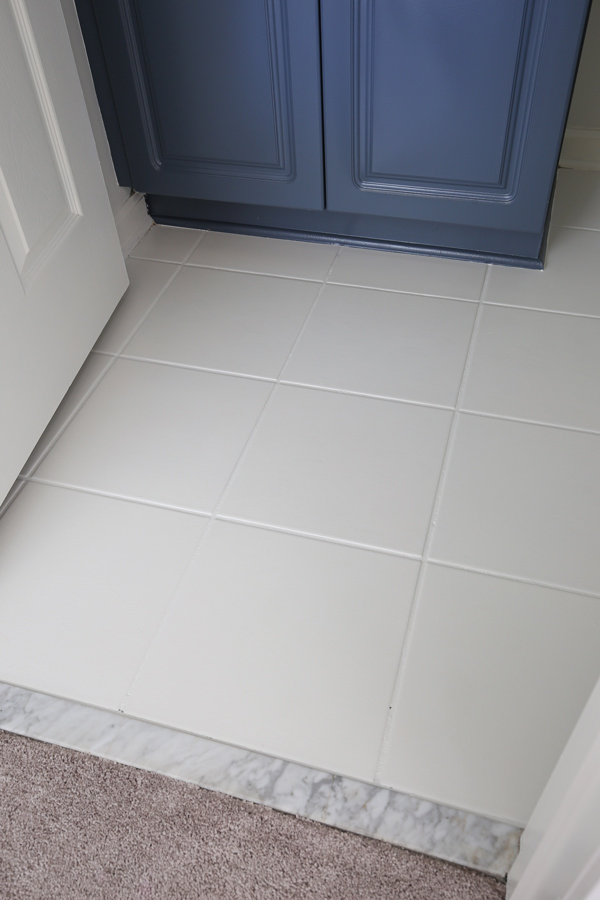 Also, as far as cleaning the floors, I'd try to use mild soap/cleaners and avoid any harsh chemicals to help maintain the finish.
And that's it! Enjoy your freshly painted tile floor! I can't wait to add a cute bath mat on my floor, I think it's going to look great over my white tile floor!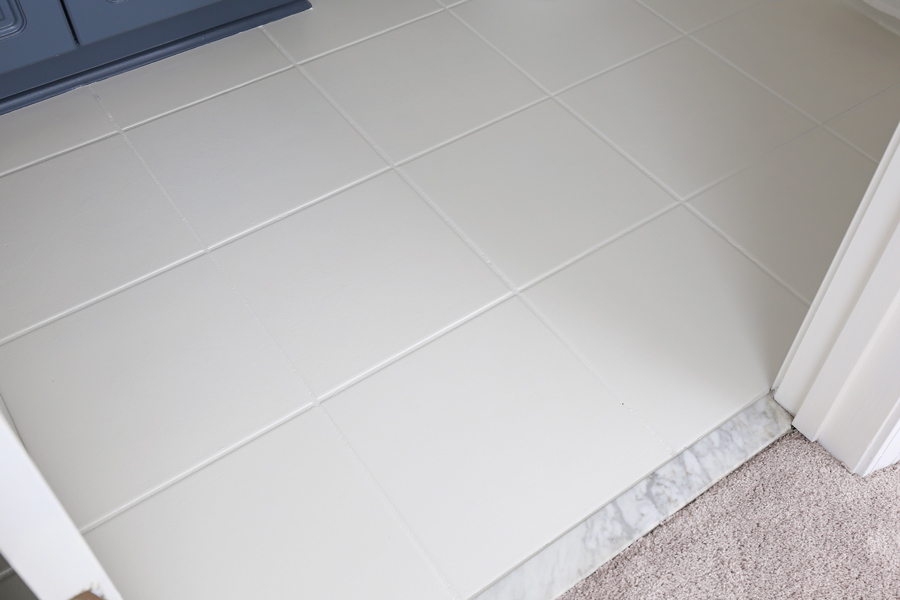 I must say that I was extremely nervous about this project initially because painting a floor seems kind of weird and just impractical. But, with the poly sealant, the floor has been holding up great so far.
Also, I instantly felt better once the paint covered the dingy old tile! It looked much better immediately! I will try to do a post update in a few months letting you know how our painted tile floor is holding up! If you want more painting tips for easily updating your bathroom, check out my how to paint a bathroom vanity tutorial!
Also, don't forget to check out my how to paint floor tile tutorial with Rustoleum floor tile paint, which is specifically formulated for floors and a great paint option for floors! I also have a step by step painting tile floors VIDEO here! And I have a one year Rustoleum floor tile paint review too!
I'll be revealing the final $100 bathroom makeover soon so stay tuned! Follow along on Facebook, Instagram and Insta stories for my latest projects, sneak peeks and behind the scenes!
6 Month Update:
Many people have been asking for an update on how the paint has held up! After 6 months, the painted tile held up very well!
I did have a small spot by the toilet where the paint did chip a little bit. I think I may have missed adding the second coat of poly in that spot. For any chipping spots, you can always touch them up with some paint and poly again.
Although, the white color does show dirt a lot and I would probably do a different color the next time I paint a floor.
Overall, I still think it's a good temporary solution but I don't think I would do it as a long term solution. We ended up totally renovating our small bathroom and replacing the flooring, so it was a great short term solution for us.
I am actually planning to paint our tile floor in our downstairs bathroom soon because it's the same dingy tile in that space and it desperately needs a makeover! When I do that, I will use an actual floor paint and provide a review of it and how it compares!