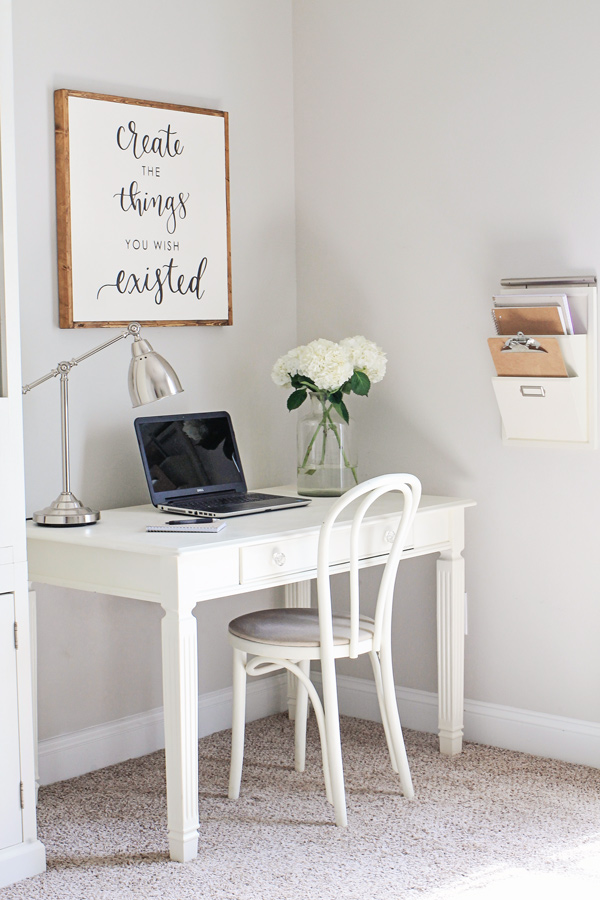 Every so often, readers ask me how to start a blog and questions on certain aspects of blogging. Well I've finally decided to create a post on this topic from my perspective!
Soon I plan on sharing my full blogging story and how this blog came to be, as well as answer other questions like how blogs make money (a question I get all the time). I'm a full time blogger and I love that this is my job! And it is totally possible for you to do it too!
While I'm going to share about how to actually start a blog, I want to also share some tips on how to grow it as well. It's pretty easy to start a blog, yet growing a blog takes a lot more work!
Note, this post contains some affiliate links. For more info see my disclosures here.
How to Start A Blog & Grow it:
1. Decide on a blog topic
Deciding on a blog topic or subject can be one of the most difficult parts of starting a blog. First of all, my number one piece of advice is pick a topic you are passionate about and won't get tired of writing about. Meaning a topic that you'd be happy to explore and do everyday on your own without getting paid anything. Something you just enjoy and makes you happy.
The great thing is that there are a lot of sub-categories within one topic. For example, I'm a DIY and home decor blogger and I write about all sorts of topics from woodworking to home improvement to room makeovers. There are endless sub-topics within this realm.
Further, having a specific niche can really help you to grow more quickly. For example, if you want to be a food blogger, you can literally just be a vegan food blogger or only share instant pot recipes. Or just desserts.
Opposite of niches, are more broad categories, like lifestyle. This type of blog is more difficult to do and grow as fast because it's so broad. If you want to go the lifestyle route I think one of the best ways to do it well is to keep your content cohesive and very branded.
Here are some types of blog topics: DIY, Home Decor, Food, Travel, Personal Finance, Natural Living, Homesteading, Parenting/Family, Crafts, Fashion, Beauty, Gardening, Entertaining.
2. Decide on a blog name, domain name, and social media handles
When picking a blog name, it's best to pick a name that's easy to remember and not difficult to spell (and no weird hyphens). And a name that you can grow with over time and doesn't pigeon hole you into one topic that you're stuck with forever.
Also, you want to make sure that the domain name is available as well as the social media platforms. You can use any domain name site, like Namecheap.com, to see if it's available. You can then purchase through a site like Namecheap, which is what I originally did. But, to make it even easier you can just register your domain when you sign up for hosting. See my next step about hosting.
Go ahead and sign up for all social media accounts with this blog name. You don't have to utilize all these platforms (as discussed in step #8) but it's good to lock in your blog name on all the popular social media channels so no one else takes it.
3. Pick a blog platform and host
When it comes to a blogging platform, WordPress.org (not WordPress.com) is the industry standard and most popular for bloggers and for good reason. It is self hosted, can be customized for many things, great for SEO optimization, and you can run ads on it.
I started my blog out on Squarespace and I really regreted it. About a year after starting it, I switched to WordPress.org, which was a pain to switch, requiring lots of redirects and re-uploading all of my images. I am so happy I made the switch early on, though I wish I just started on WordPress from the beginning.
With a self-hosted WordPress platform, you will need to have a host and pay a reoccurring hosting fee. There are several hosts to choose from and I've heard pros and cons about them all from fellow bloggers. There are some really bad hosts to avoid, I won't call them out, but I will tell you who I recommend starting with.
I highly recommend Siteground. I've been with them since I switched to WordPress and they are a great host to start with and grow with as well. They have great customer service, which I've had to utilize at times, they are affordable, and very little to no down time.
To get started with WordPress, Siteground, and registering your domain, go here to Siteground and click on "Get Started" with managed WordPress hosting.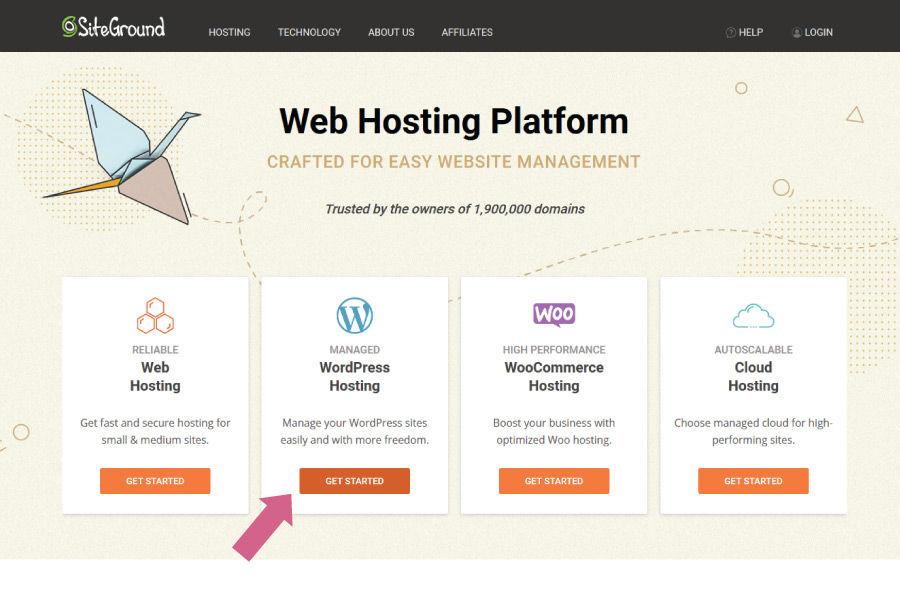 Next, choose the "Start Up" plan. From there, you can register your domain and finalize your hosting service. After payment, you can login to your Siteground hosting and follow some super quick guided steps to set up your new WordPress site! It really is super easy to actually just start a blog!
4. Pick a theme
Once your site is all set up on WordPress, you will need to pick a theme. A theme is the design/layout of your site.
There are some free, general themes that come with WordPress. But, I recommend spending the money for a custom theme through a company that offers good customer support, especially if you are not technical savvy, like me! Also, you can always have a custom website designed but it's very expensive.
My current theme is through Angie Makes and they are great. They have beautiful themes, an entire FAQ knowledge base, always keep their themes up to date with the latest WordPress updates, and great customer service for any questions.
Finally, I will say that site speed is becoming an increasingly important factor for both users and SEO/Google. Avoid adding lots of heavy features with your site design that will slow your site down.
5. Start creating consistent, quality content that is helpful
Ok now it's time to actually start blogging! I love to create a content plan quarterly and plan out all of my projects ahead of time. It makes a huge difference in making sure that I stay organized and on schedule.
Have you heard of the phrase "content is king"? Well it's one of the biggest foundations to growing a blog. And my biggest piece of advice is to provide quality content that is actually helpful to people in some way or teaches them something. You need to benefit them or answer a question that they are searching for.
It's better to provide less posts that are of better quality than it is to produce more posts with "fluff" and no value. Once you have your content planned, just start doing it!
Creating consistent, quality content is one of the most challenging parts to growing a blog. I certainly still struggle with it still as I think all bloggers do. You will have project flops and project successes. And in the beginning it may seem like no one is noticing your awesome content. The key to growing and becoming successful is to just keep going! Don't quit. It will take time and patience is key. And when I say time, I mean it could be a year or two.
6. Keep learning about blogging
The blogging and online industry changes quickly. Strategies that helped me grow 3 years ago no longer work today and I have to keep learning. However, there are many foundational aspects that don't change. One of the best ways to grow your blog is to keep learning, especially from those who have experience successfully doing it.
There are a ton of resources available on the web about growing a blog, both free and paid. I think it's important to seek out the ones that are valuable and invest in them. I've taken a lot of e-courses since I started blogging and learned something from each of them.
One of the best foundational blogging e-courses that I have ever taken that I highly recommend is Building a Framework by Abby Lawson. It's both very informative and actionable to really help you grow and learn all the basics to help set you up for success. I took it in my first year of blogging and it really helped me.
7. Take the best photos that you can
Photography is extremely important in growing a blog. And it takes a lot of time and practice to get what you may feel are really great photos!
With that said, I recommend learning everything you can about photography and practice, practice, practice! This is one topic that I'm mainly self-taught on, and I am still learning, but there are many free resources (hello YouTube) and paid e-courses on it.
Lastly, good photography equipment helps. Even starting out with a basic DSLR over a point and shoot or phone camera is a great start. I could write an entire post about photography.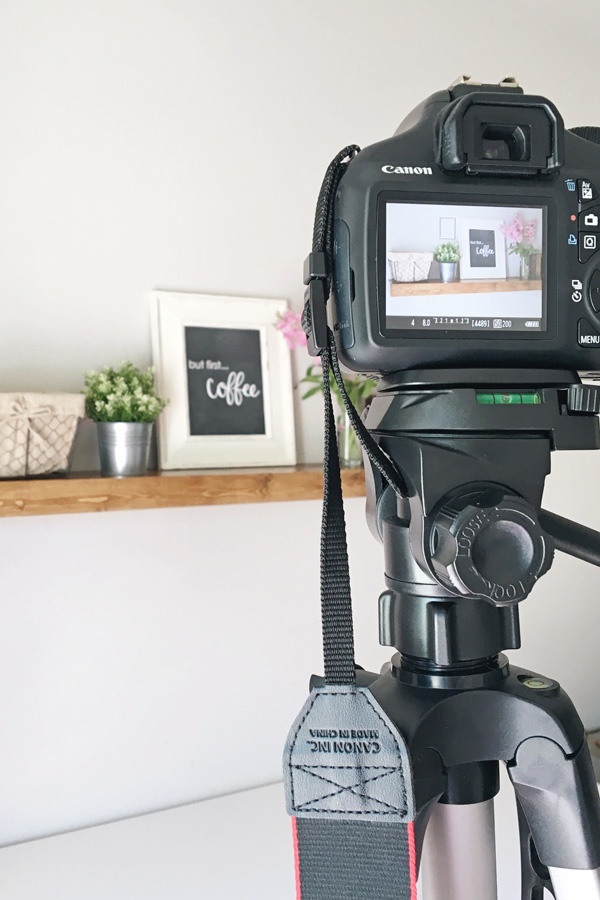 I started with a Canon Rebel, upgraded my camera lens shortly thereafter to a prime lens, this Canon 35mm f/2 which gave me great photos for my first 2 years. Last year I upgraded to a full frame camera, the Canon 6D, which I love, and a zoom lens, the Canon EF 16-35mm f/4L, which has been great for interior shots.

One of the most important photography tools, especially for any kind of interior photos, is a tripod, trust me! I started with this basic tripod and then upgraded to a more professional tripod.
8. Master a few ways to grow your audience
Ok so how do you grow your blog audience, besides posting awesome content and great photos? Well, there is social media (Facebook, Instagram, Twitter, etc), Pinterest, Organic search (aka Google), YouTube, and more, but these are the main streams.
If you focused on all of these streams, it would take a lot of time! Honestly, with the constant algorithm changes with platforms like Facebook and Instagram, it has become harder and harder to drive any significant amount of traffic to a website with these social media platforms.
I initially focused my efforts on Pinterest which helped to really grow my blog in the beginning. I did take an entire course on Pinterest which helped.
Once Pinterest started changing their algorithm, I switched my efforts to SEO optimization to help diversify my traffic. I've taken three courses on SEO, and completed lots of research and learning on SEO strategy.
I think it's best to master and learn as much as you can and put all your efforts into 1-2 platforms at first, it will make a difference in growth. You can always learn more and focus on a new stream in the future.
Finally, I highly recommend starting a newsletter subscriber list. It's something you have total control over and it can be huge in growing an engaged audience who keeps coming back to your blog instead of just visiting once and never coming back again. I really value my subscribers. I use ConvertKit to manage my list, though a bit pricey, it's totally worth it and I love how easy it is.
9. Make sure you love your content and change it up if you don't
Woo finally to the end here! Above all make sure you love the content your creating and sharing. It will show if you don't. And if something isn't as exciting as it use to be, figure out why, try new things, and keep exploring, learning, and growing!
Wow, this post on how to start a blog turned out to be incredibly longer than I anticipated. There is SO much more that I could share on this topic, but I don't want to overwhelm you haha! With all good things, it takes time to grow. But, the first step is to just start!
Good luck! And let me know if there are any other questions about this topic you'd like me to address in a future post!