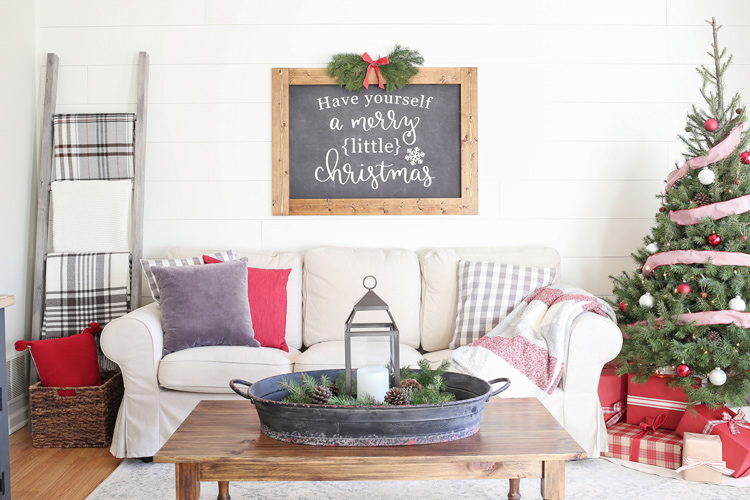 My Christmas living room decor tour is here, yay! I really meant to share this post much sooner, but I ended up doing a bunch of DIY projects to keep it more budget friendly, which of course always takes me longer than I think it will. And considering I haven't even finished my living room makeover for you know the rest of the year, I am relieved the Christmas decorating is finished, haha! Now I can sit back and enjoy it for the next few weeks till the end of the year.
A few weeks ago I shared my rustic red and white Christmas tree decor, which was really the starting off point for the decor in this room. My goal was to create a cozy, classic Christmas decor vibe.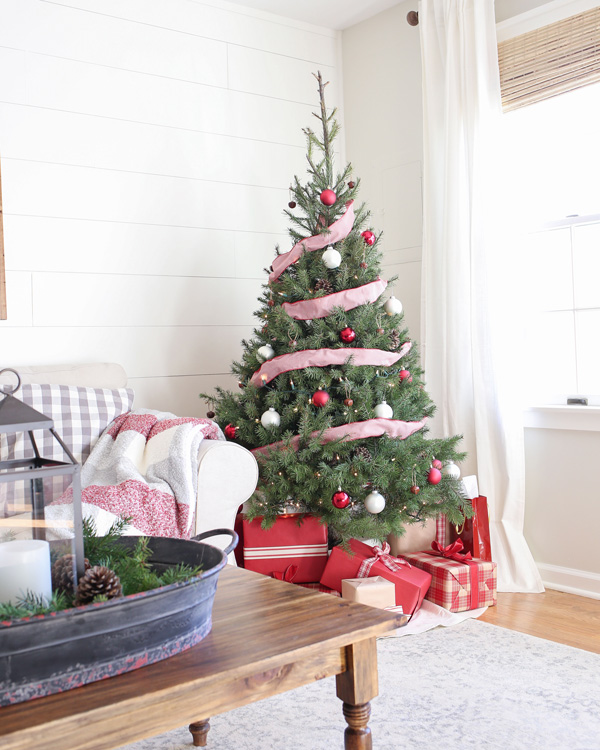 Note, this post contains affiliate links.
One of my favorite Christmas decor features of the room is this Merry Little Christmas chalkboard art poster printable that I created in my own hand-lettering and is available in my Etsy shop! It can be printed as a poster, engineering print, or canvas. Then, I made the wood frame, but you can also purchase similar 24×36 poster wood frames here: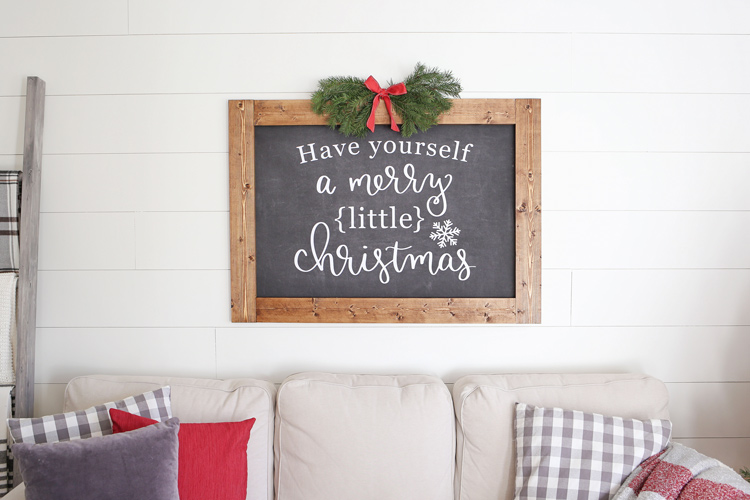 On the opposite side, where our other DIY shiplap accent wall is located, I decorated our vintage buffet for Christmas by adding a DIY fresh pine garland along the top of it with a jar of red and gold Christmas ornaments and some candles. The garland turned out to be a bit more challenging than I anticipated and is fading faster than expected, but I still like it!! To make it, I collected boxwood, juniper berries, and pine from outside and wrapped it with floral wire.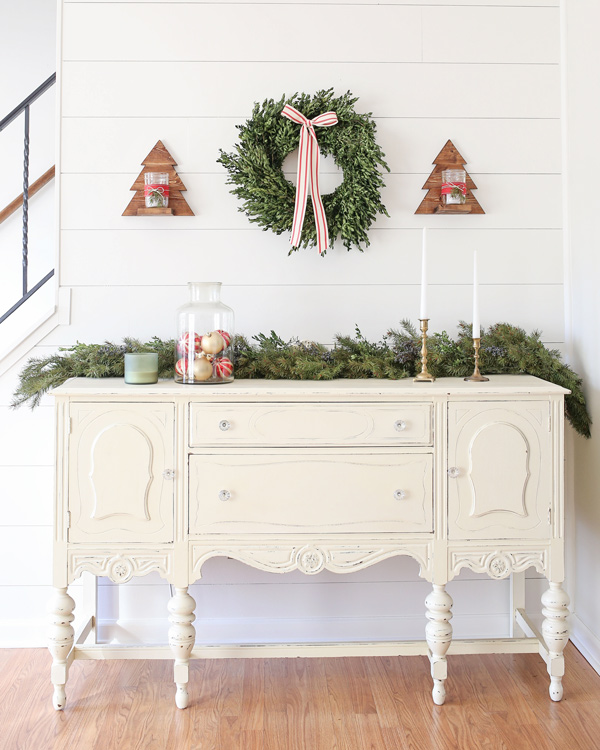 Above the vintage buffet, I added my two DIY Wood Christmas Tree Mason Jar Sconces and a fresh boxwood wreath from Trader Joe's accented with the prettiest red stripe ticking ribbon (similar here).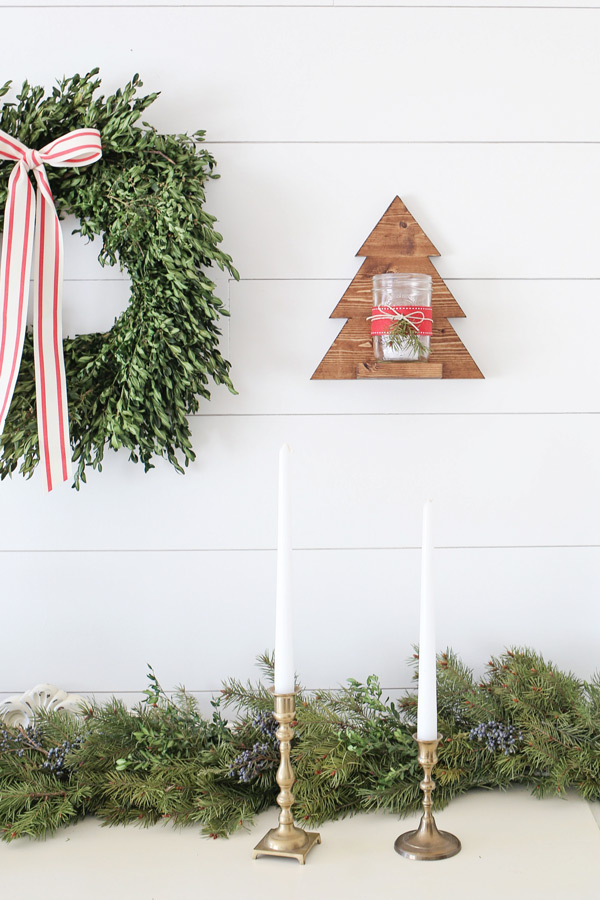 By the front door is my DIY hall tree which I love decorating for the seasons! I kept it relatively simple.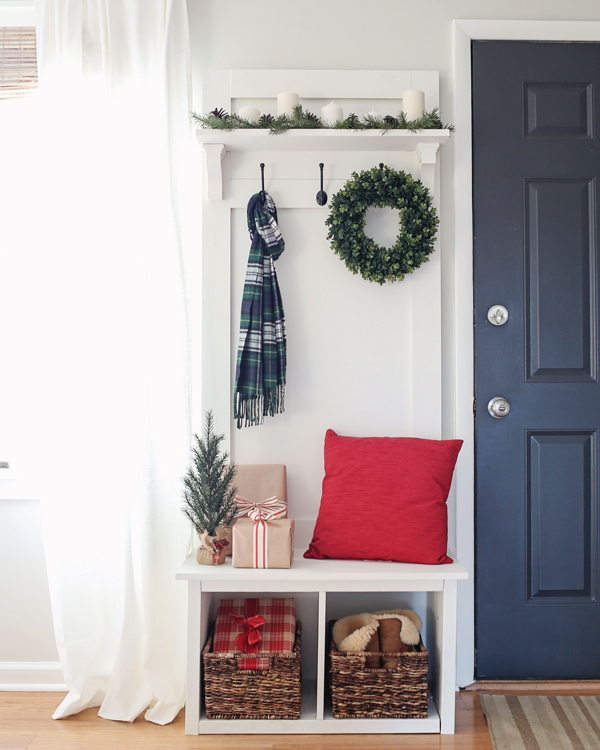 Overall, to help bring rustic, cozy, and budget friendly, Christmas touches I used a lot of natural elements and fresh greenery that I found outside and from our Christmas tree clippings. Brandon and my father in law helped me collect the greenery along with a bunch of pine cones! I used a bunch of it for our coffee table decor where I placed fresh pine and pine cones inside of my favorite rustic, coffee table tray with a candle lantern in the middle.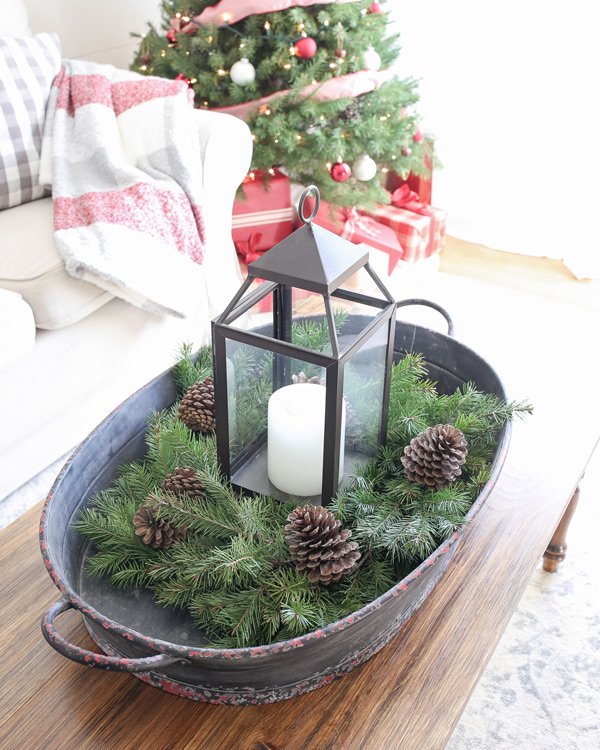 Now that my Christmas decorating is finished, I'm enjoying it everyday! I still have to add some festive decor to our kitchen but I'm keeping it super simple in there!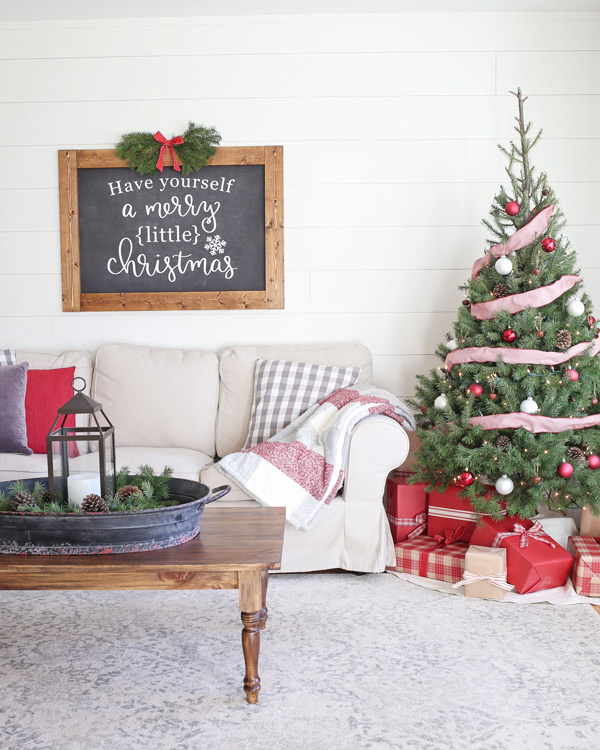 And here is a final aerial view of the room: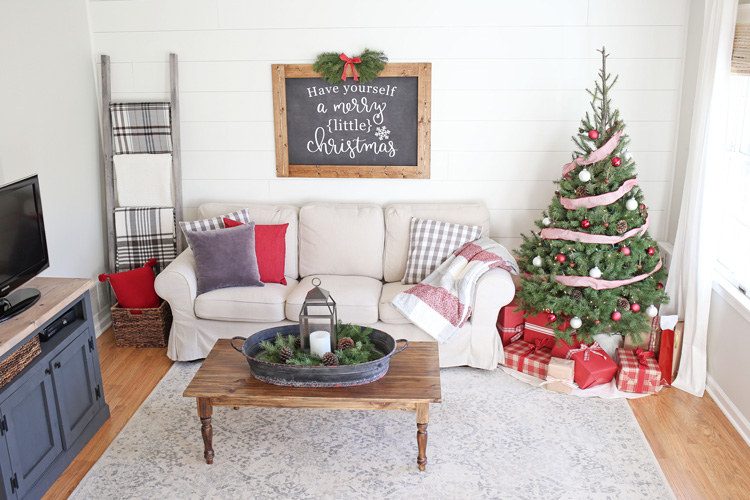 Thanks again for following along! Follow along on Instagram and Facebook for updates and sneak peaks on my latest projects!
Source List:
Christmas tree – Fresh and all decor sources here
Chalkboard art – Etsy
Lantern – Pottery Barn
Black Coffee Table Tray – Amazon
Real Boxwood wreath on vintage buffet – Trader Joe's
Faux Boxwood wreath on hall tree – Amazon
Blanket Ladder – DIY, tutorial here
Couch – IKEA Ekertop
Rug – Wayfair or Rugs USA