Making wood signs in one of my favorite projects and reader favorites as well! Over time I've received questions and comments about how to make wooden signs to sell. Before I switched to blogging full time and sharing all of my DIY wood sign tutorials on the blog, I use to sell wood signs myself in my Etsy shop!
Like any business, there is a lot that goes into making signs to sell and having a successful wood sign business! In this post, I want to give an overview with my top 5 tips based on my experience and what I've seen work best for others!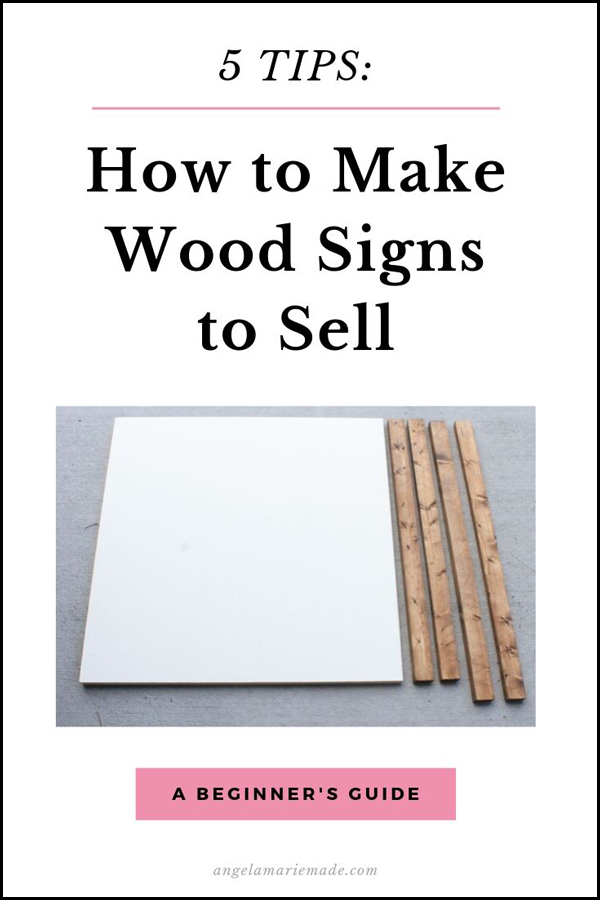 Note, this post contains some affiliate links. For more info see my disclosures here.
5 Tips: How to make wooden signs to sell
1. Use high quality materials for your handcrafted wooden signs
One of the most important steps when it comes to selling wood signs, is to start with a high quality product. The difference between a customer buying a wood sign from a creative, small business and a big box store or huge online retailer is that the handmade nature and high quality of the sign is expected and customers don't want a cheap, mass produced sign. And you can charge more for your signs to help offset these costs.
I know it can be easy and appealing to want to cut costs where you can with a new business especially if you have a tight budget. So, using cheap materials for your wooden signs may be one way you're thinking of saving costs and increasing your profit margin. It's best to not do this though!! Invest in high quality materials and it will show through in the final end product and it's something you can highlight as a selling point.
For example, I highly recommend using all wood and or high quality plywood for your wood signs. Avoid using MDF, even though it's cheaper. MDF is not wood and people want a handmade wood sign after all!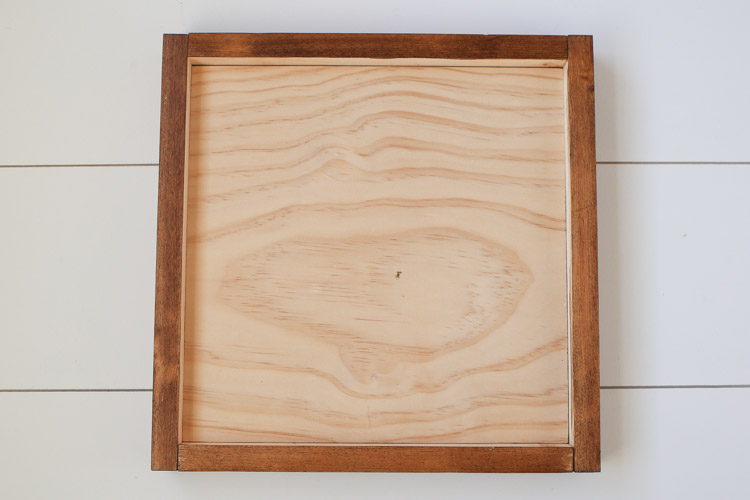 Another example would be to use a high quality paint and not the cheapest gallon you can get at the paint store. With the higher quality paint, the coverage is going to be better as well as the durability of it in the long term. You can see more details on types of paint for different types of DIY wood signs here, as well as details on different types of wood I like to use for sign making!
2. Make wood signs that look well made and crafted by a skilled sign maker
This tip might be obvious but try to make wooden signs that look neat, not messy, and like they were made by an expert, skilled, handcrafted sign maker! I'm all about a good DIY wood sign, but if you are making signs to sell, you want to go the extra step and make them look professional and really well made. Again it's going back to that concept of creating the best, high quality sign that you can.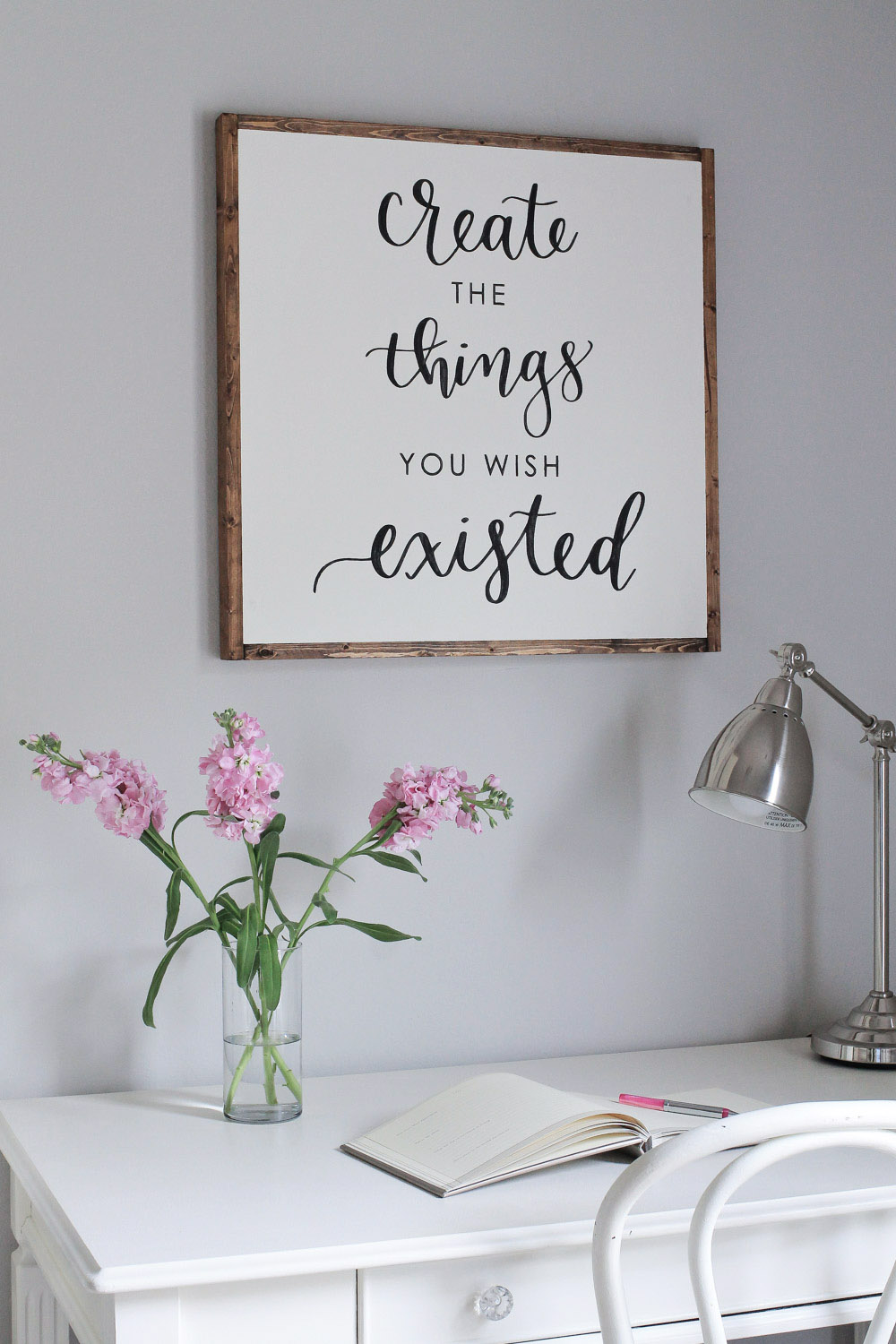 One of the ways to do this besides using high quality materials, is to take the time to sand, stain, and paint the wood correctly. This will make the final paint/stain finish on your sign look best! Check out my sanding tutorial for easy tips on sanding wood and my post how to stain wood for a beautiful finish. Also, see my how to paint wood signs post for details on the wooden sign painting process.
Another way to make the sign look well made is to make sure the actual design on the sign looks great! If you are really good at hand painting or hand lettering free hand, then that's great if that's you're preferred method for adding the design to the sign! But, if you are transferring a design to the sign, take the time to create a stencil, vinyl stencil, or other transfer method that creates a crisp and clean transfer of the design!
One of the easiest and more common ways to do this is to use a cutting machine like a Silhouette Cameo or Cricut or a professional grade cutting machine to make the stencil and transfer your design to your wood sign. Although these machines can be a bit expensive, they are well worth the cost and investment to have the right tools for your business!
For more info on how to make a stencil with the Silhouette Cameo, see my tutorial on how to make a wood sign with a vinyl stencil. And see how to make a wood sign with Cricut here.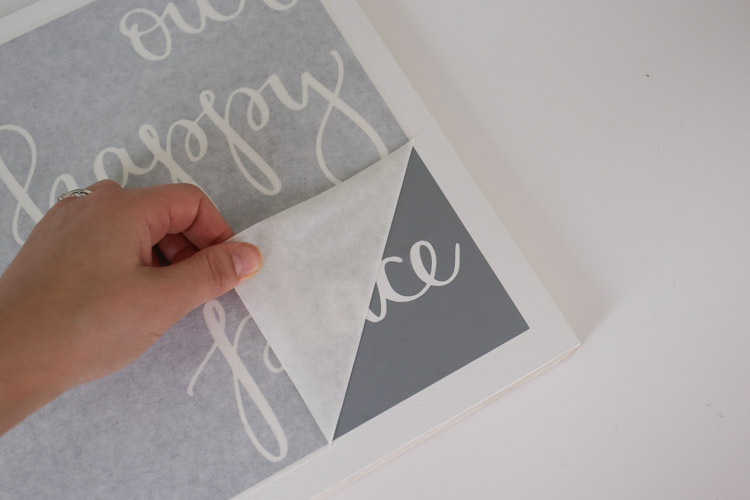 3. Create original and unique wood sign designs
Selling original wood signs with unique designs that don't look like every other sign out there is another way how to make wooden signs to sell successfully! I know it can be tempting to see what's out there and come up with a similar design layout or look, but to really stand out, take the time to come up with your own unique creations that fit the style and brand of your business.
I'm not saying that you have to totally reinvent the wheel here, you can still make signs with popular sayings and quotes, but try to be unique and creative with the actual design of the sign. The list is really endless for unique ways of designing signs, but here are some different ways you can do this:
create a unique graphic design or hand painted design
use your own original hand-lettering or calligraphy
mix different kinds of typography fonts
a play on colors (ex. color blocking or using fun color combinations for the background and design)
unique wood stain colors or weathered finishes
different sizes or shapes for the sign
One of the most important things I did for my creative small business was invest in a monthly Adobe Illustrator and Photoshop subscription and invest in courses on learning how to use them. After lots of trial and error and time, I learned how to use these programs and the best way to use them for creating designs for wood signs.
I also took the time to learn how to do calligraphy and hand lettering to create a one of a kind lettering that was all my own. Then, I learned how to digitize my lettering using Adobe Illustrator and Photoshop which helped me to create one of a kind designs for my wood signs.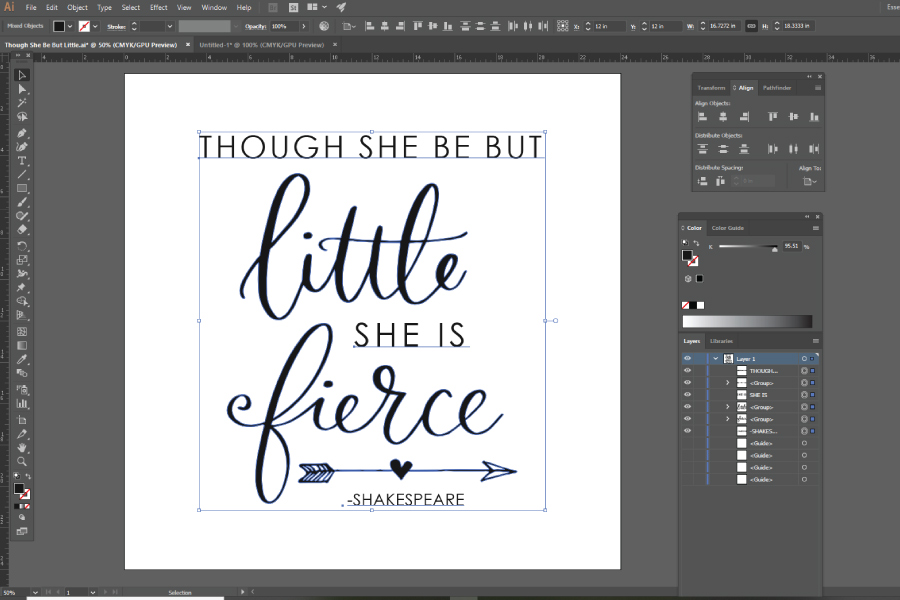 4. Create and implement a successful marketing strategy
You could have the best wood signs out there for sale but without a solid marketing strategy, not many people are going to know that your signs exist! Further, having a good marketing strategy is actually another way you can differentiate yourself and your product when it comes to selling your signs too! I could write an entire book on this topic, but instead I'm just going to focus on highlighting some key aspects, especially around an online marketing strategy.
Pick the best platform to show and sell your wood signs
Start by picking the best platform to show and sell your signs. One of the easiest and most popular platforms for small sign businesses is Etsy. When I sold wood signs, this is the platform I used since I already had an established Etsy shop. It's very easy to get started with, they only take a small fee, and it's already a very well known marketplace for handmade goods like wood signs. The down side is that unless you have a lot of listings, there are a lot of other shops selling wood signs here as well so the competition is higher to stand out unless you are using another strategy to drive traffic to your shop.
Another common platform is your own website with a shop. There are a number of ways to host this, including Shopify, Squarespace, WordPress websites with ecommerce plugins, and many more. Although this method is more advance and will take more time to set up, I think it's the best option because you have total control.
I think it's important to at least have a website no matter what, even if you have an Etsy shop or don't have a shopping option on your site. Because if people want to learn about your products or business, they expect an online presence like a website and again it's a platform that you have total control over. You can also have a blog on your website which can be another great way to stand out and highlight your signs.
There are other platforms like a physical shop, home and craft fairs, pops ups, social media, newsletters, etc. Any of these options can be successful if you take the time to learn how to do them right and create the best experience for your customers on them.
Photography
When selling wood signs online, photography can make or break your business. Good photography of your wood signs is essential and great photos can elevate your business and sales to another level.
I think it's important to have great, well lit, and clear photos of the signs by themselves, but an even more effective strategy to also do is to tell a story with your photos. Show the sign styled in a home the way the customer would envision it wanting to look in their home. For example, my photo below is of my coffee themed wood sign that is styled as part of a home coffee bar with flowers, decor, etc. This concept of styled imagery works great for branding your wood sign business and creating a custom look too.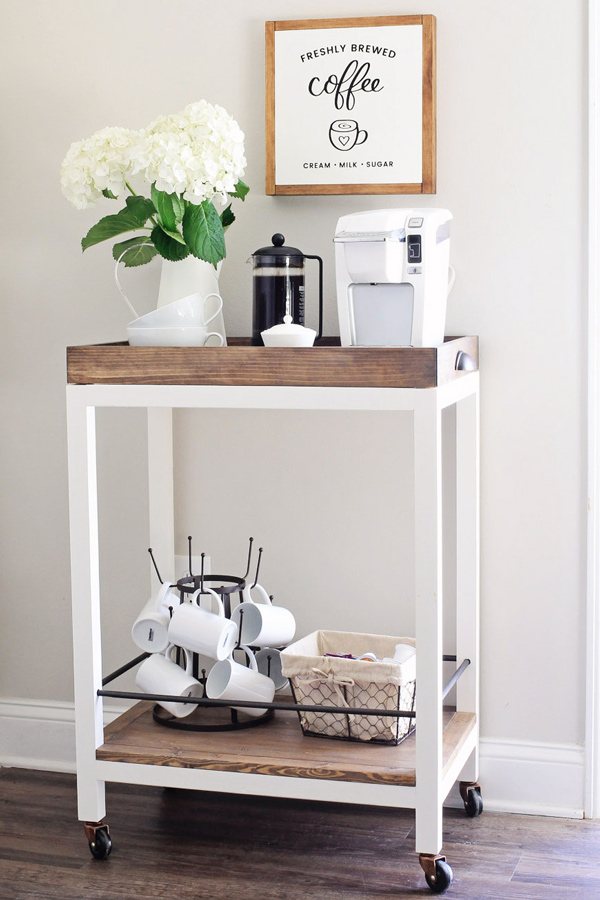 If you don't already know how to take good photos, you can the learn basics of photography by taking a course, there are many online courses available these days and then practice, practice, practice! Skillshare is a great place to start if you're looking for some online classes. Or there is always the option to hire a professional photographer as well.
Organic Search and Social Media
Using social media channels like Instagram and Facebook can be very effective for getting your wood sign products out there and building a loyal customer base. Again having great photos and branding can really set you apart on these networks, as well as consistently posting and engaging on the platform. The downside is that you don't have full control over these platform and you are subject to the constant algorithm changes.
Another marketing strategy is through the use of organic search (Google, Yahoo, etc.). This strategy takes more time as it involves learning some SEO (search engine optimization) and keyword best practices and implementing them through your website. But, organic search can be an excellent way to bring consistent daily traffic to your website/shop.
Pinterest is another social media platform, but it's really a visual search engine that's fueled by keywords, so it's a similar concept to SEO. It can be very powerful for driving product sales to your website, Etsy shop, Instagram, or any other site you want to drive traffic to.
As you can see there are SO many ways to market your signs! I'd try starting out with just a few methods and learn everything you can about how to use them the best way possible and start trying and testing things out.
5. Listen to customer ideas
Lastly, when it comes to how to make wooden signs to sell, listening to the wants and needs of your customers is important! What kind of signs or special sign features or designs do they want?
If you have an established audience or customer base, ask them if they aren't already telling you or giving you suggestions! Some of my best selling products and most popular blog posts in my businesses have come from a customer or reader request. It's always worth trying because there may be many others who want the same thing and there isn't something already like it out there.
If you don't have any customers to ask yet, I would try different things and then really start analyzing the data. Shop analytics can be really valuable for coming up with new ideas!
***
Wow, I feel like I covered a lot here in these tips on how to make wooden signs to sell! It's tough to get into all the details because there is so much involved. But, I hope this high level overview was helpful. If you have any other questions about these tips or want me to discuss another aspect of selling wood signs, feel free to ask me in the comments below or send me an e-mail or message.
Follow along on Instagram, Facebook and Pinterest for my latest projects, fun updates, and sneak peeks!