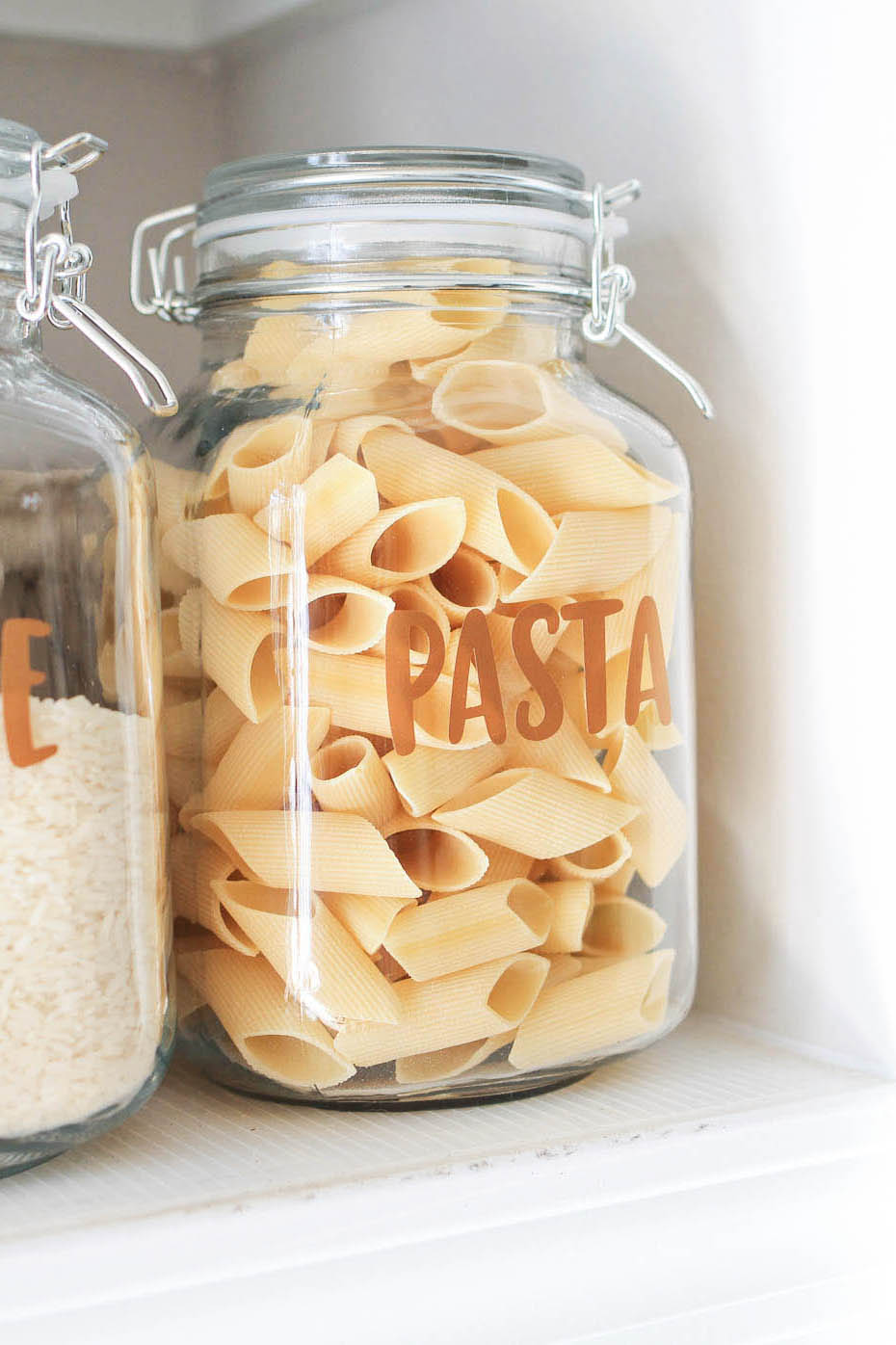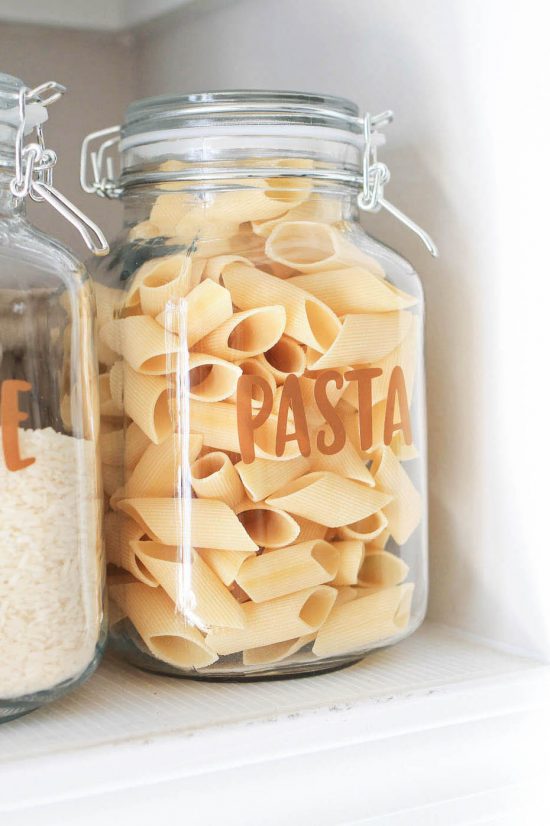 Last week I shared my open pantry shelves and a free pantry labels printable. Today I am going to be sharing two tutorials:
How to make pantry label stickers using just a printer, clear sticker paper, and the free printable I provided in last week's post.
How to make the same pantry label decals as I did using vinyl, a Silhouette cutting machine, and the free printable I provided in last week's post.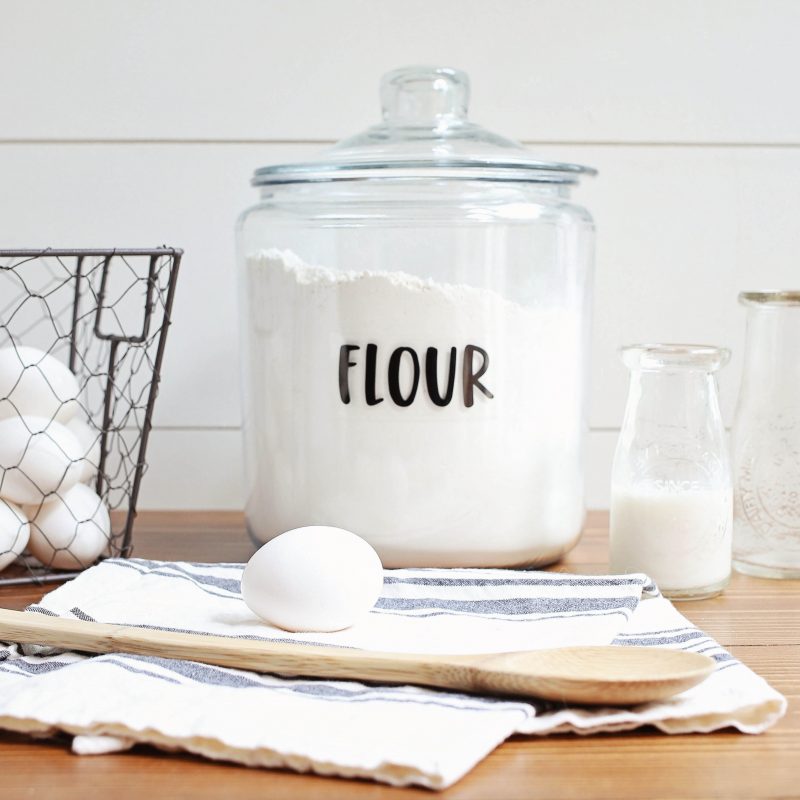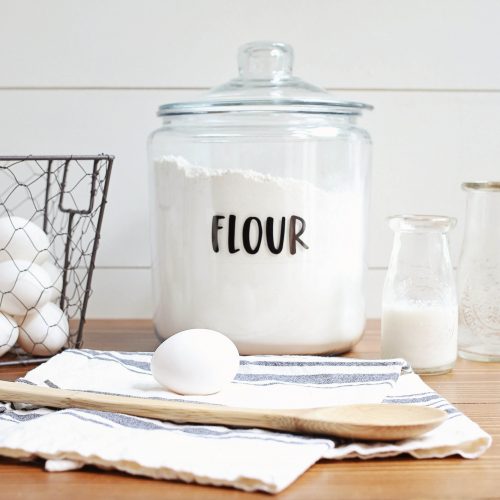 Pantry Label Stickers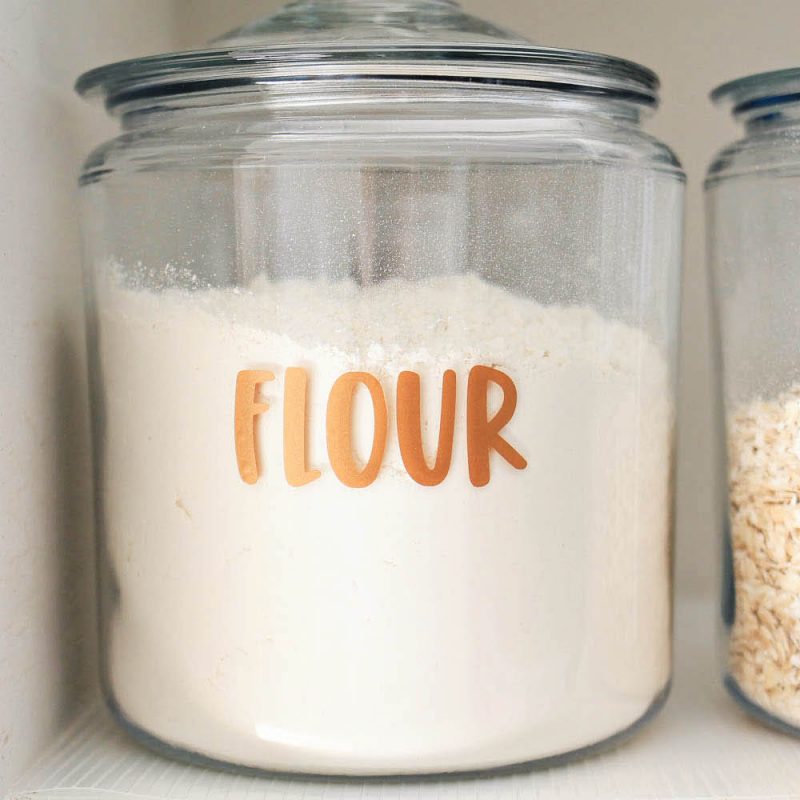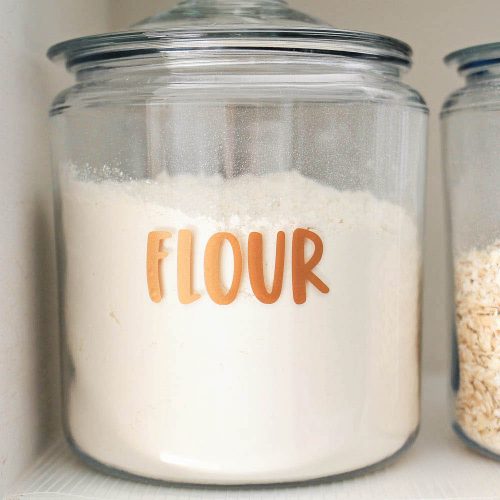 Pantry Label Decals
Note, this post contains some affiliate links for convenience.

In my third, final post on DIY pantry labels, I shared a tutorial on how to design and make custom pantry labels in Microsoft Word with the same font I used or any font you want! This is good to know if you want to make labels for other pantry items not included on my free printable or for custom labels for an office, bathroom, etc! But today, I'm focusing on how to physically make the stickers or decals!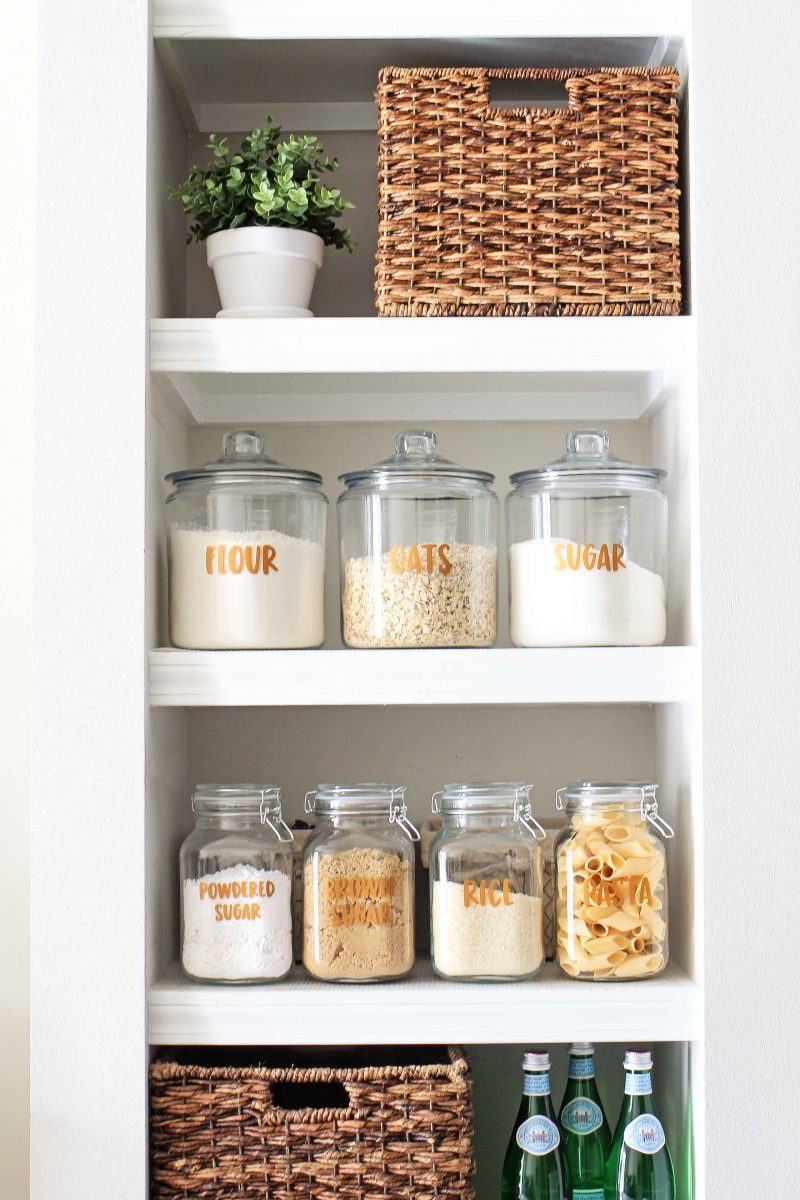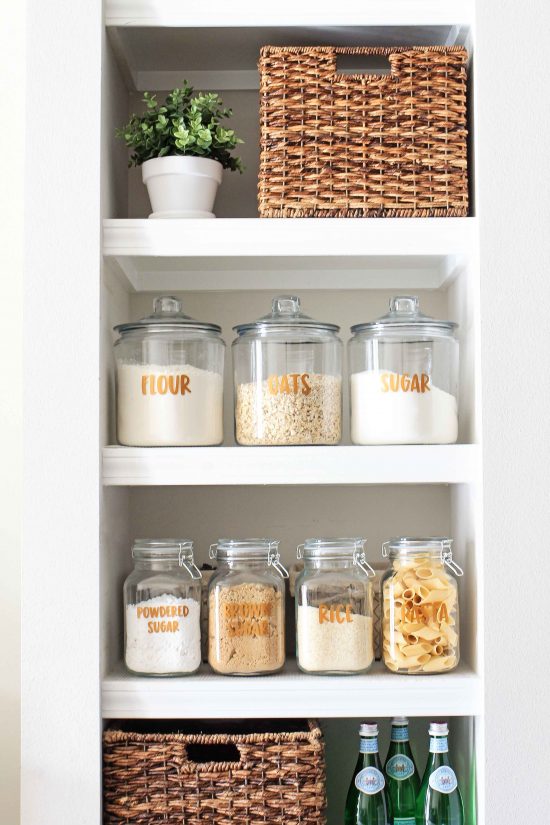 Let's get to it and learn how to make some pantry labels!!
How to make pantry label stickers
Supplies Needed:
1. Save the pantry labels free printable file to your computer and then open it in any program on your computer that can open images or jpg files.
2. Load your printer with clear sticker paper. Make sure you load it correctly in your printer so that the glossy side will be printed on and not the paper side. For example, with my HP printer, I have to load the paper upside down.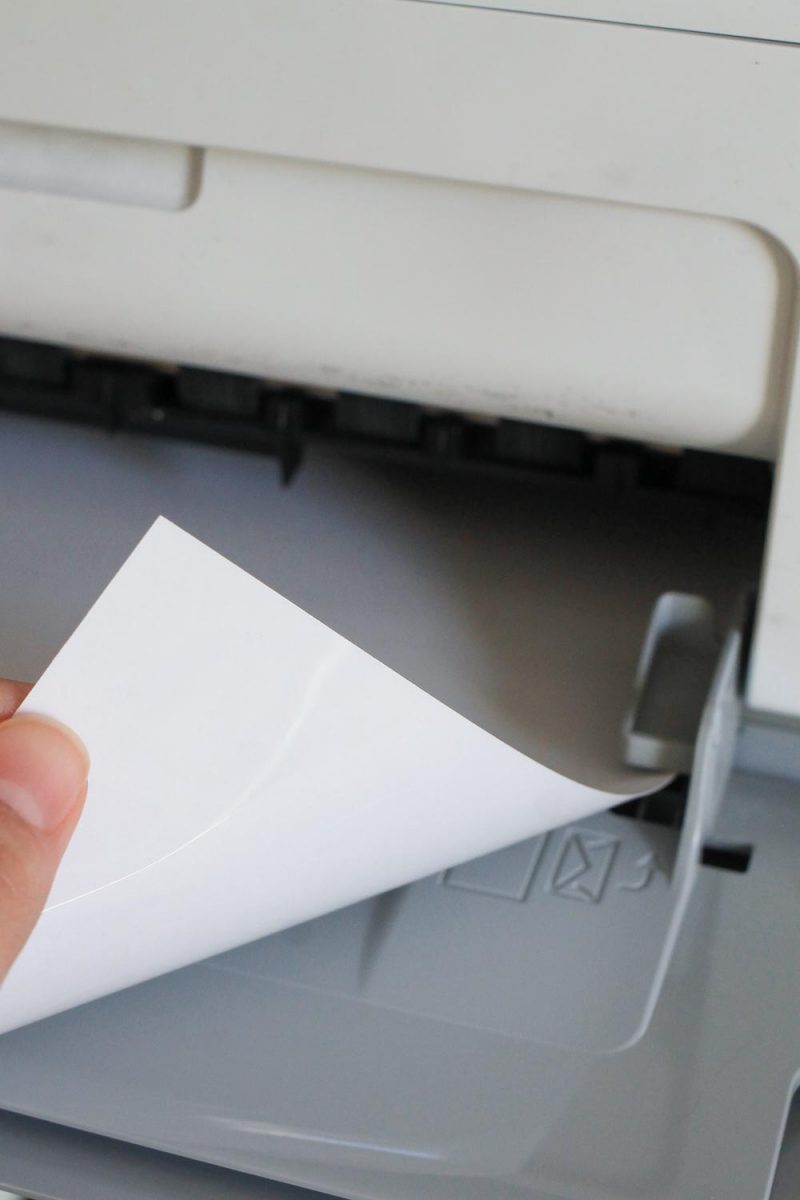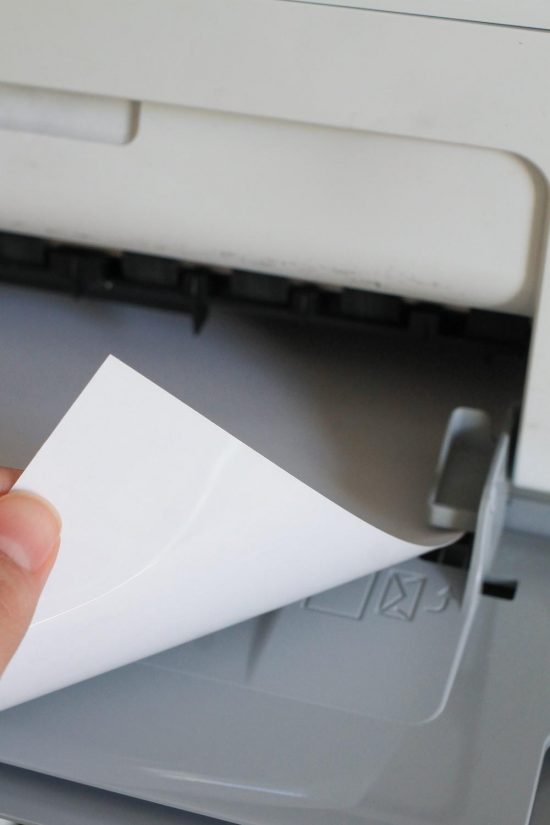 3. Go to print and open your printer settings or printing preferences. The printing options will vary depending on your printer type, but the important setting here is to adjust your print quality to its "Best" setting instead of normal. Print your pantry labels printable after the settings have been adjusted and allow the ink to dry for several minutes.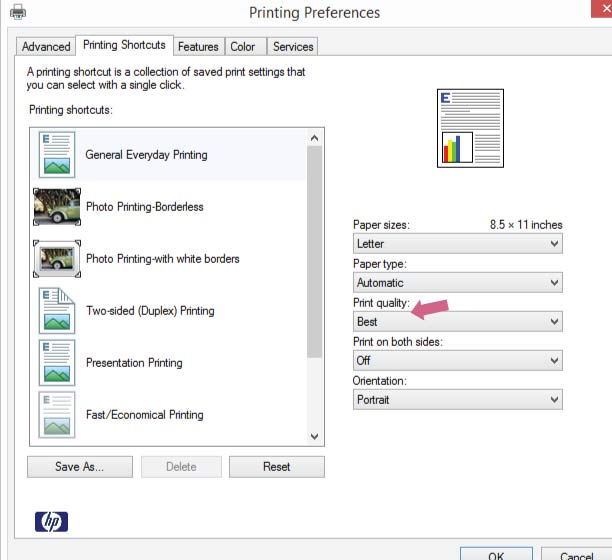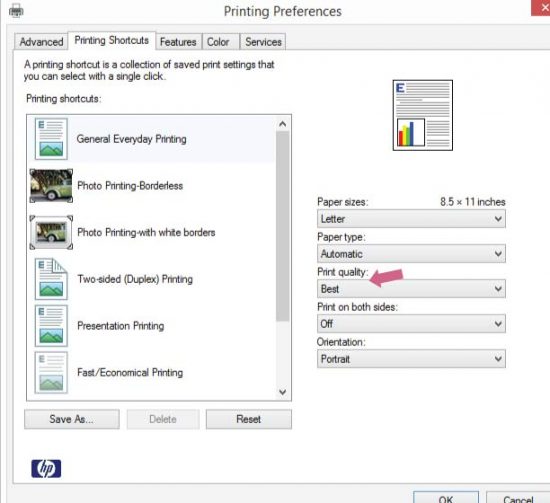 4. Cut your individual pantry labels out. I prefer to use a paper trimmer or guillotine paper cutter for a clean, straight cut, but you can use scissors too.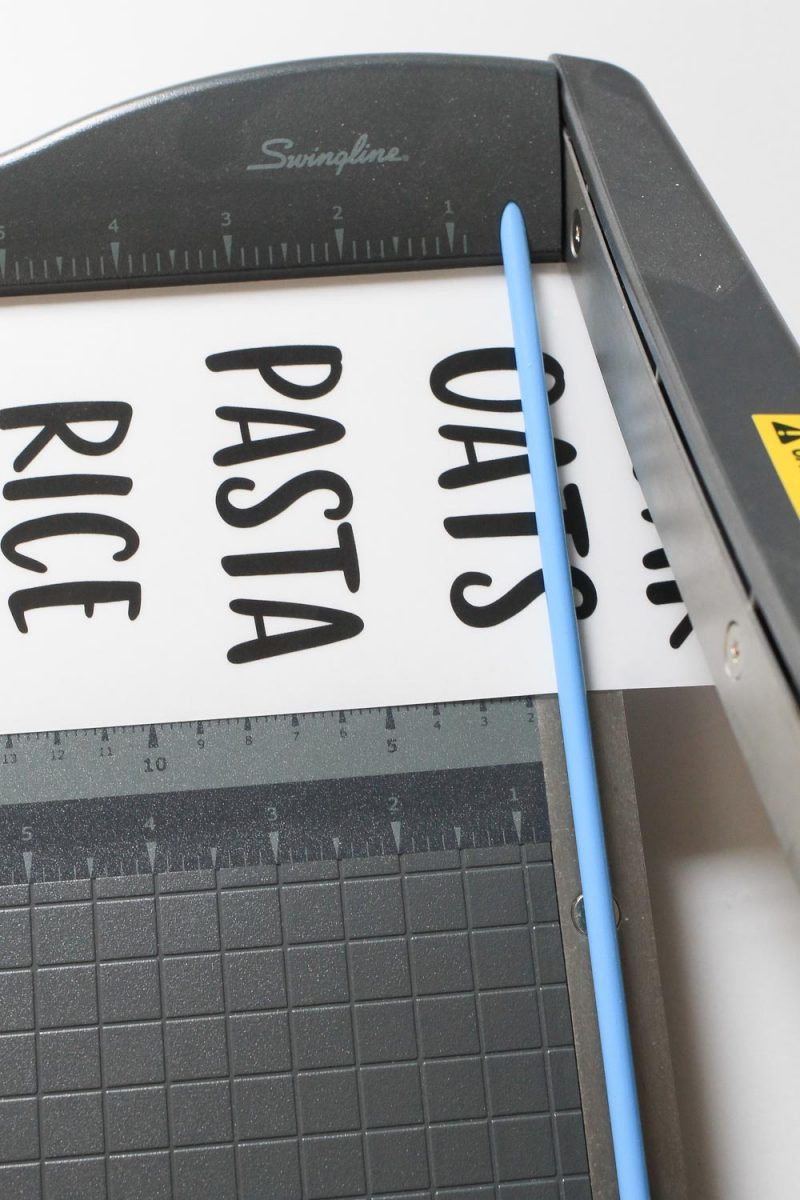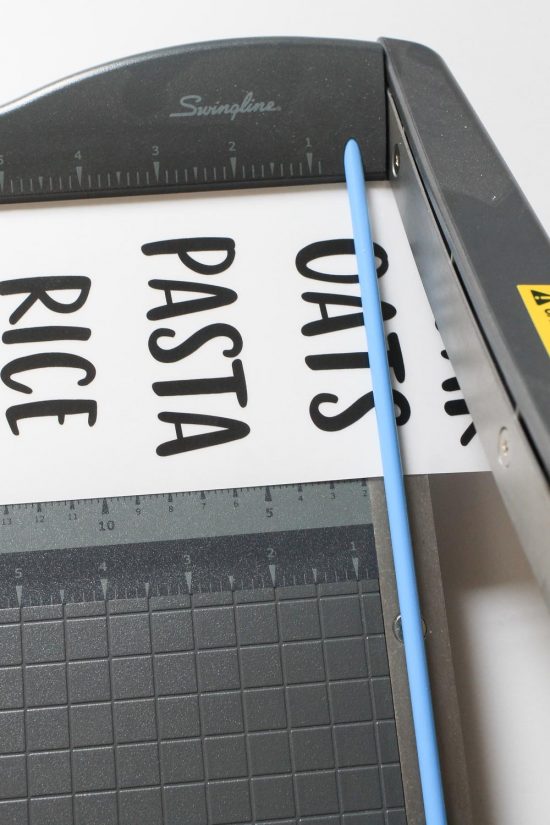 5. Stick the pantry label stickers to your jars and you are all finished! Note, I tested these labels out under a little bit of water and they are not waterproof and will smear if they get wet, just an FYI to be careful if you need to wash the jars after the stickers have been applied.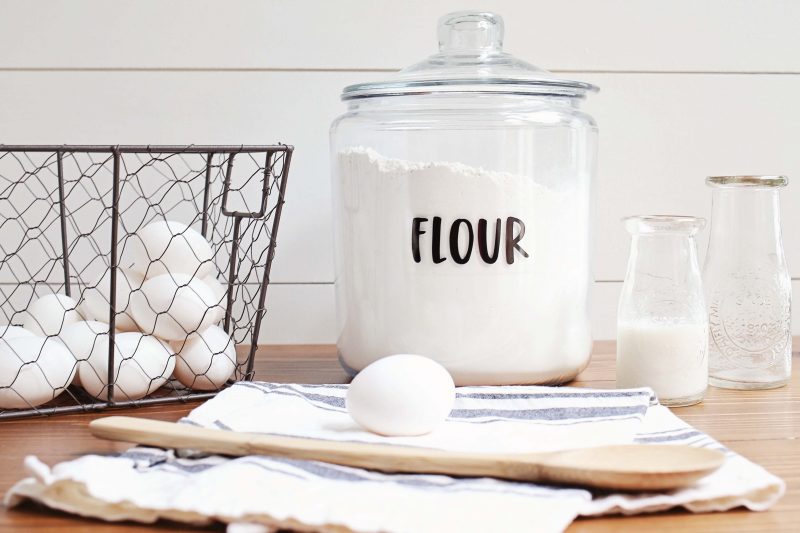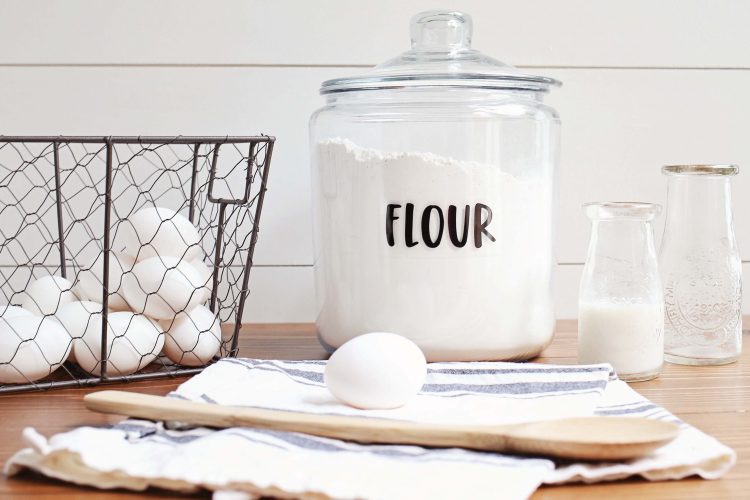 How to make pantry label decals
Decals are made out of vinyl. Vinyl is great for pantry labels because it is waterproof! Although, I still recommend hand washing the jars/containers with decals instead of putting them through the dishwasher.
Supplies Needed:
1. Open the pantry labels free printable file (available in last week's post) in Silhouette Studio. Then, open the trace window and click on "Select Trace Area"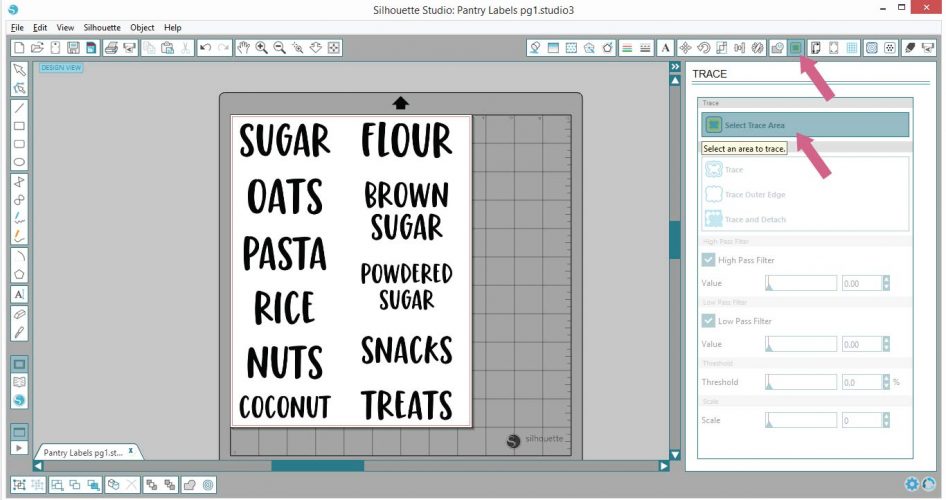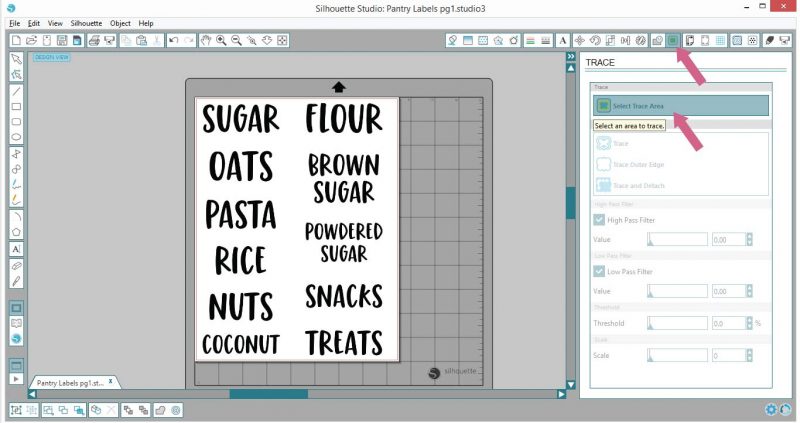 2. Trace one of the label items. I like to do one or two at a time instead of all the labels at once so I get a cleaner trace and cut. Next, select low pass filter and change the Threshold to 87%. When you select the threshold percentage rate, you want to ensure the yellow tracing highlights are filling in all the letters to the edges and there are no tiny gaps not highlighted, again to ensure a clean, crisp cut of your label!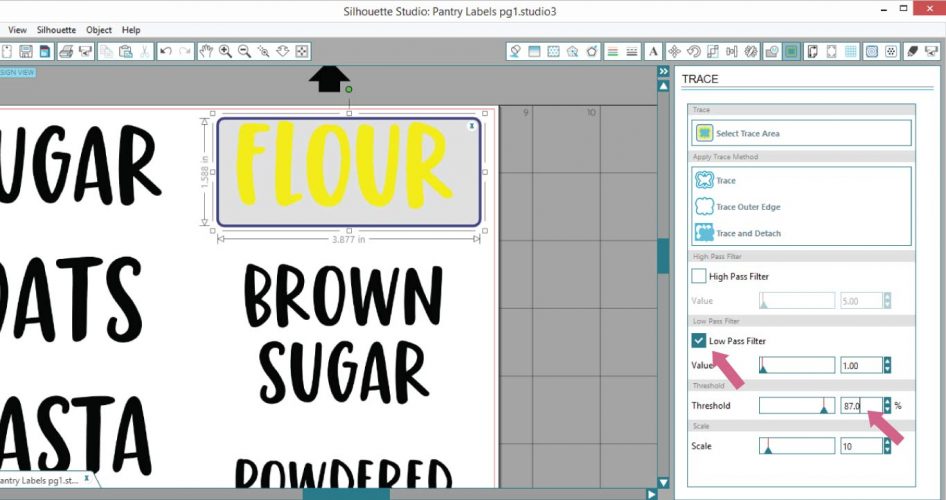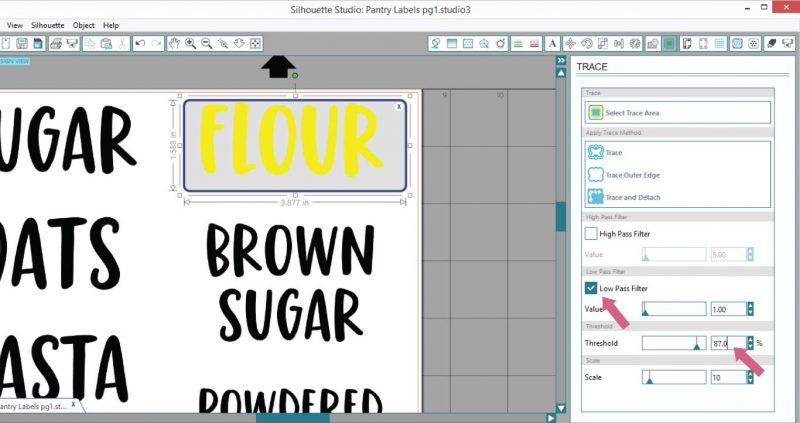 3. Select "Trace" and move the printable image out of the way to reveal your tracing outline and make sure it looks good! Repeat the tracing steps for the other labels.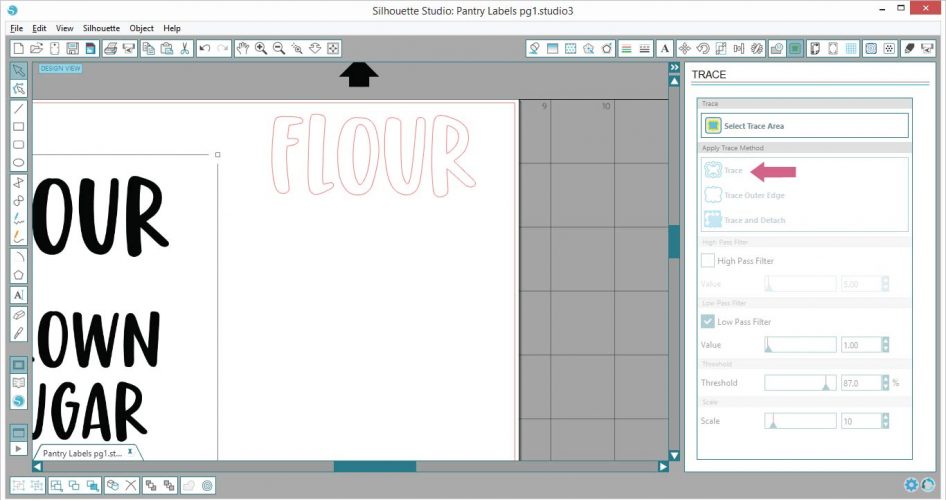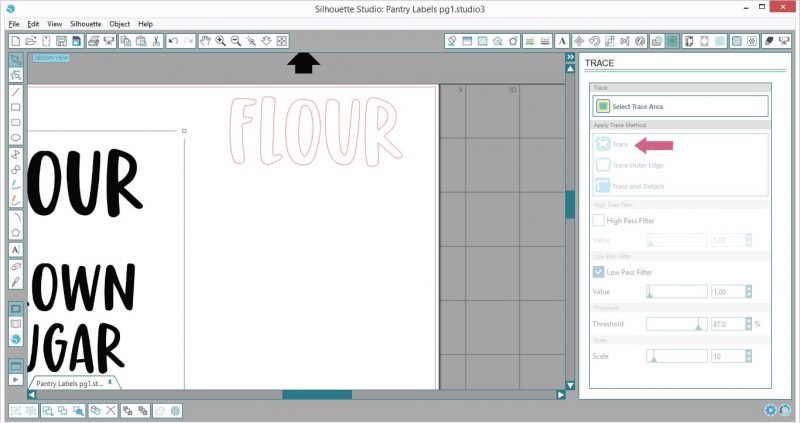 Also, another great thing about decal labels is that they can easily be resized. If you'd like a custom size for your decal label, click on the traced outline, open the Scale Window, check the "Lock Aspect" box, then change the width or height to your desired size settings, and click on "Apply".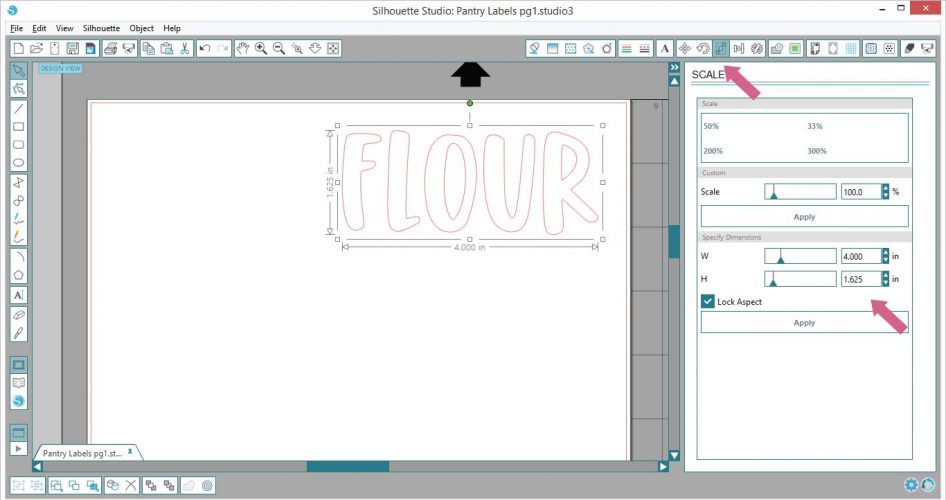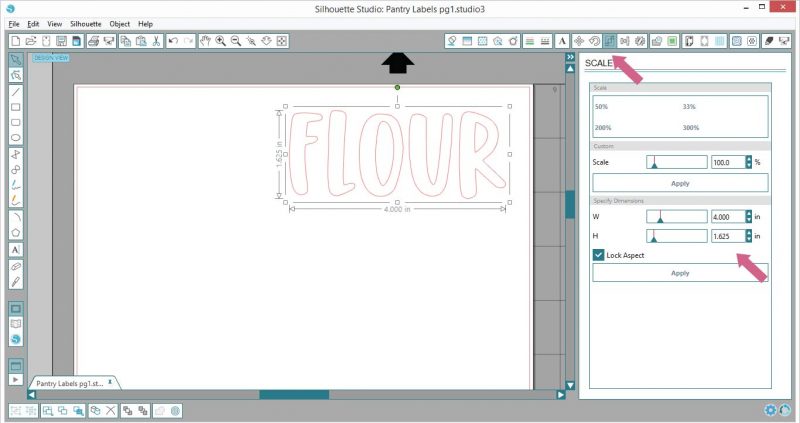 4. Once all of your labels have been traced, send them to your Silhouette machine and cut! The copper vinyl I used for this project was Oracal 631 Matte which can be purchased by the foot or by a 12″x10yd roll. I always use Oracal 631 because it is a high quality indoor/outdoor vinyl and is easy to apply and remove. It comes in lots of other colors too if you don't want to do copper!
5. Weed your vinyl! Basically, this means remove the excess, negative space vinyl that is surrounding your label. You can use a vinyl weeding tool or anything with a pin end like a thumbtack, safety pin, etc. to help with this part. Also, it's best to start at one corner and slowly peel the excess vinyl away at a 45 degree angle.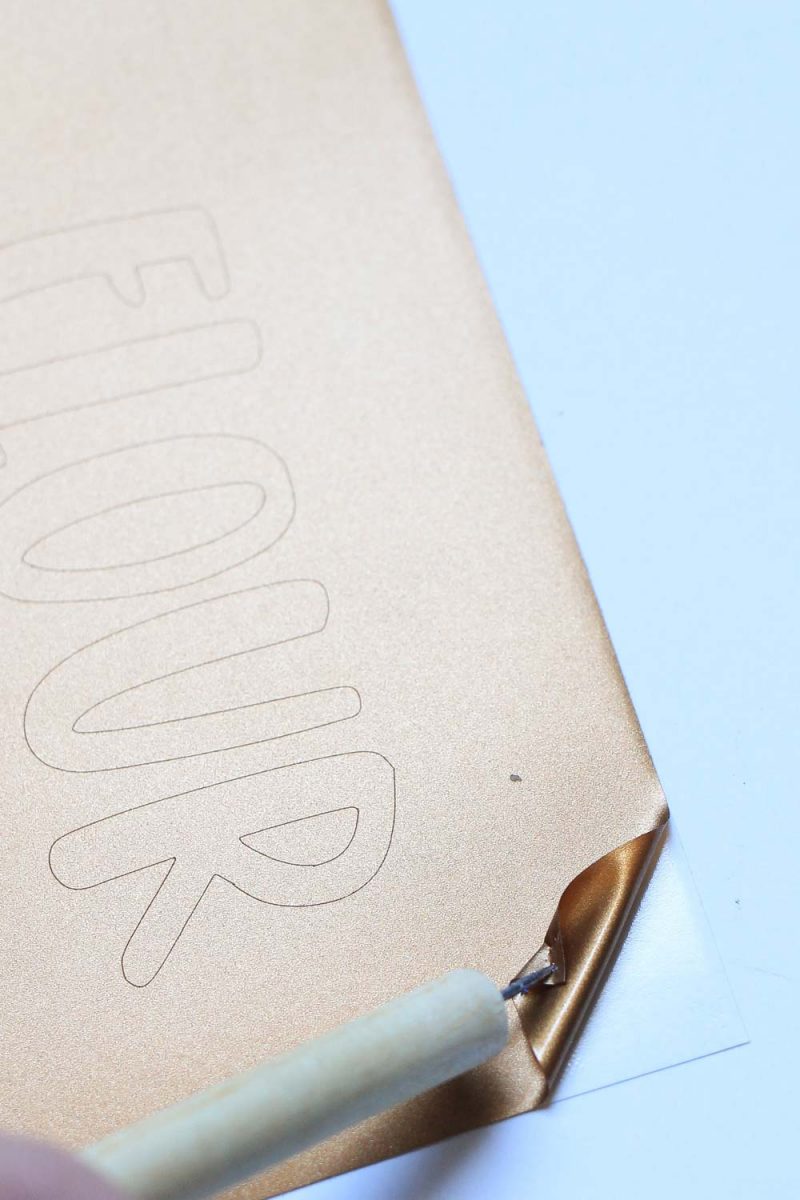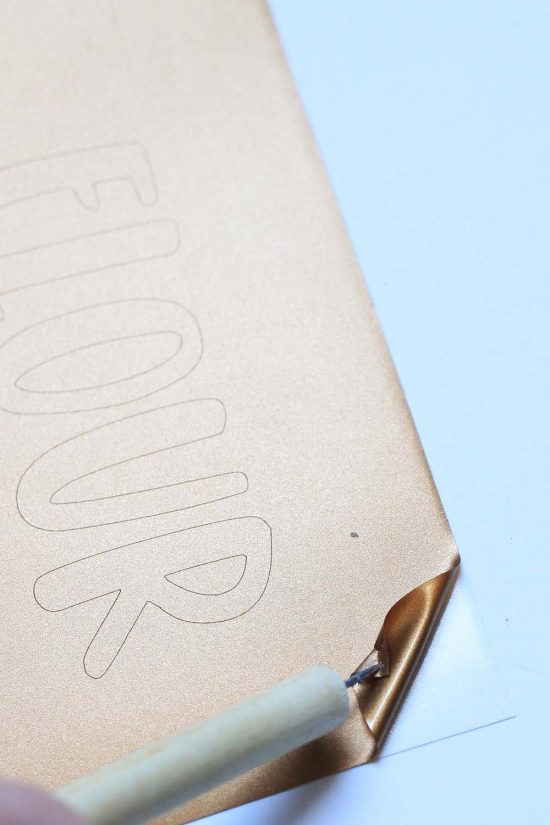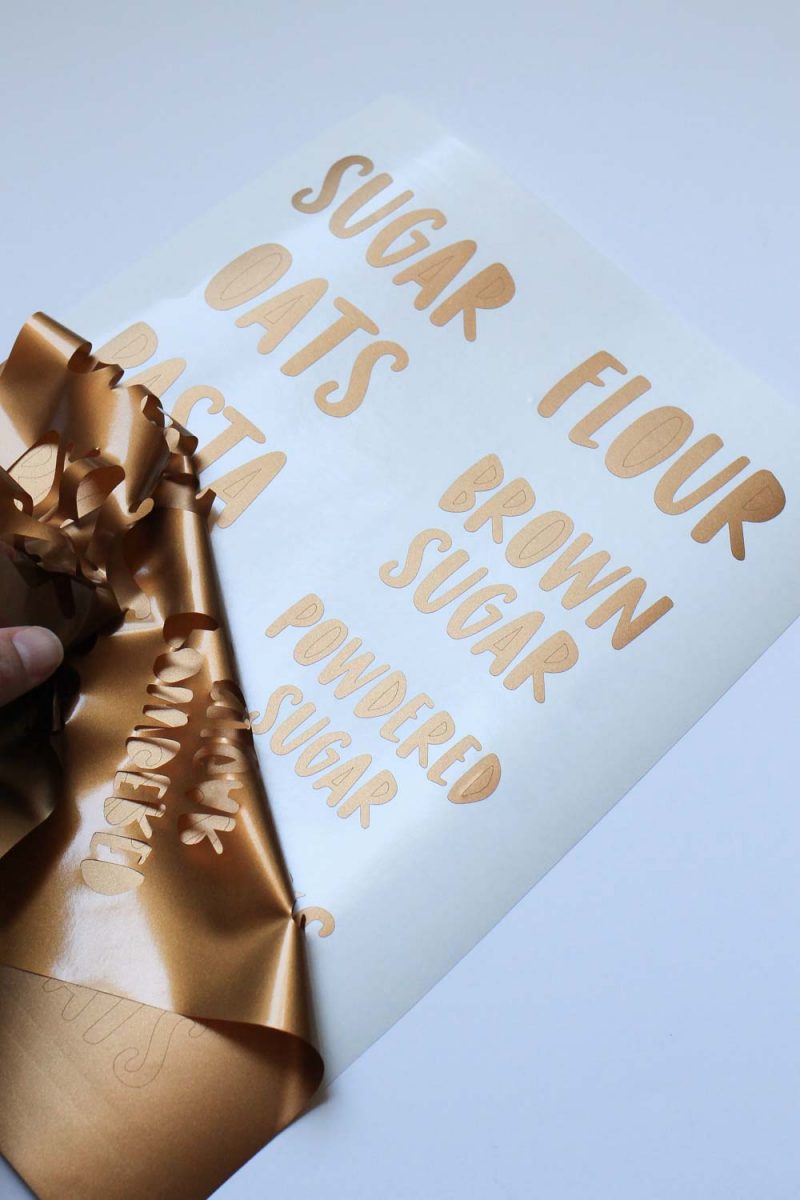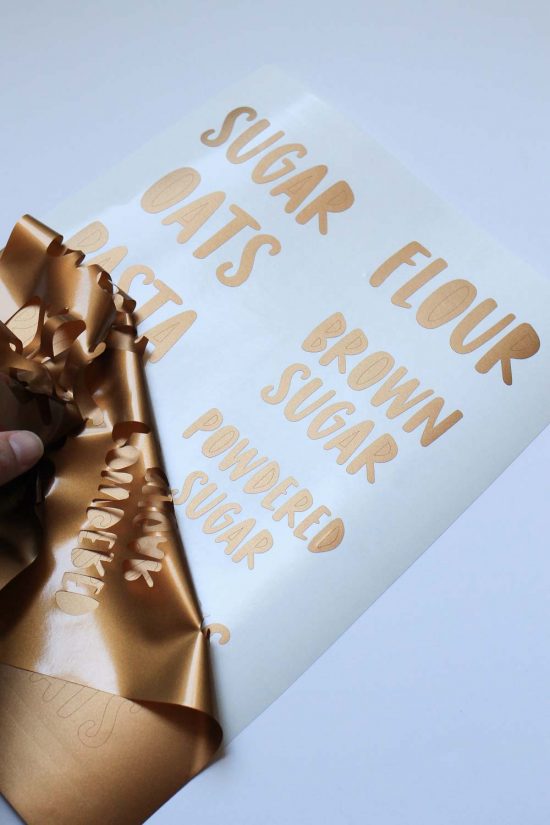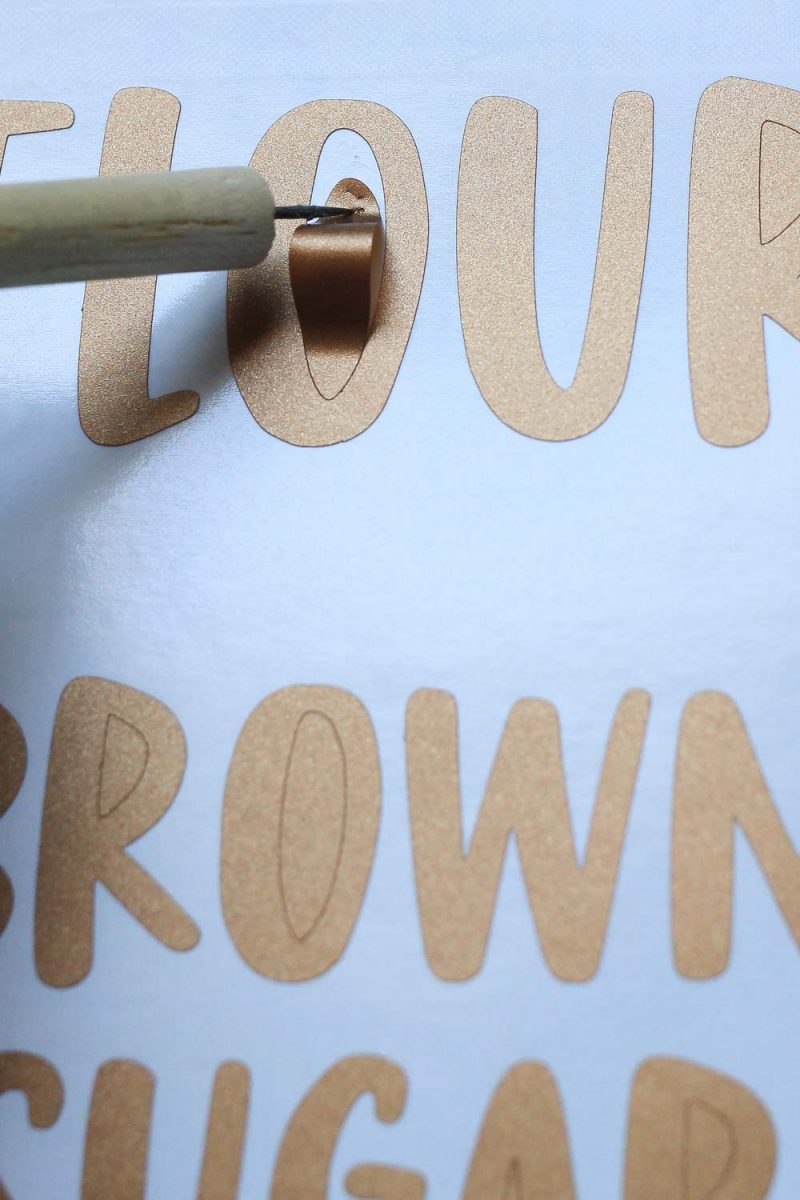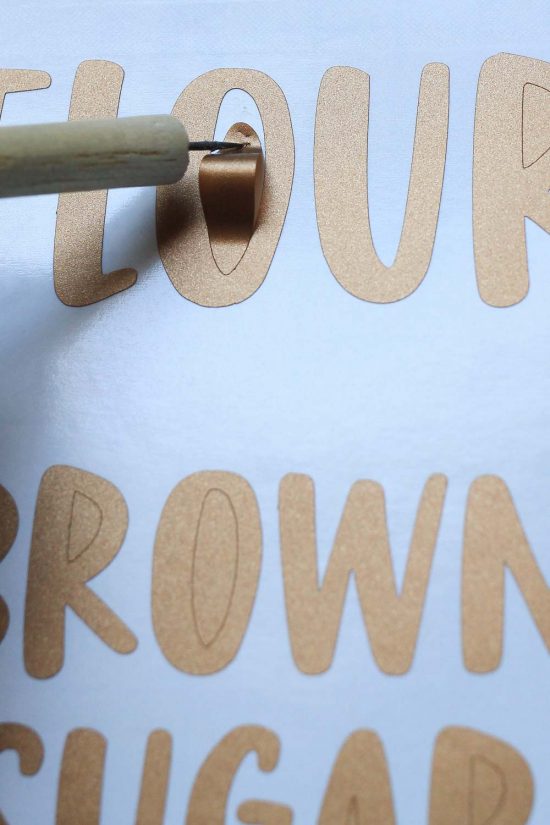 6. Apply transfer tape to your vinyl decals. I use Oratape HT55 transfer tape, which is made specifically for Oracal 631 vinyl and I buy it in bulk (it lasts a really long time) and it works great! But, any other medium to high tack transfer tape should work fine for this project.
These pantry label decals are small enough that you don't need any fancy tools or tricks to apply the transfer tape to the vinyl. It does help to tape the edges of the paper down with masking tape to your work surface. Apply a piece of transfer tape to the decals and smooth the transfer tape down firmly over the decals with a squeegee or credit card.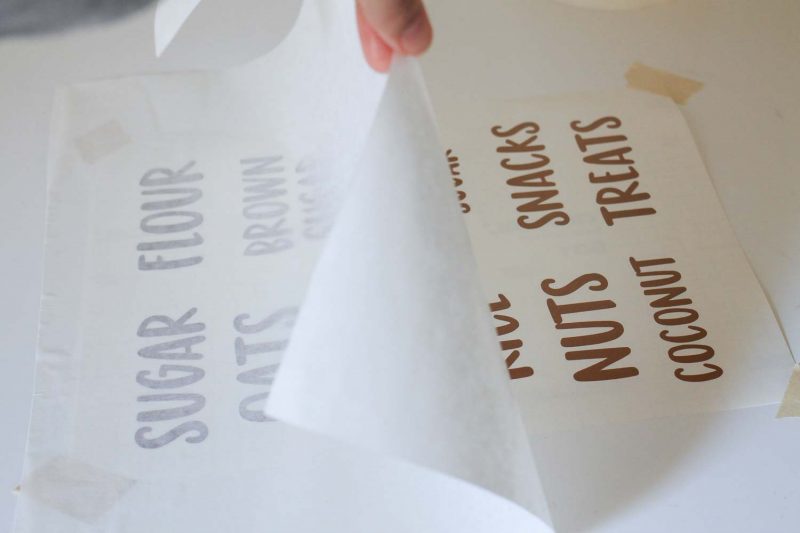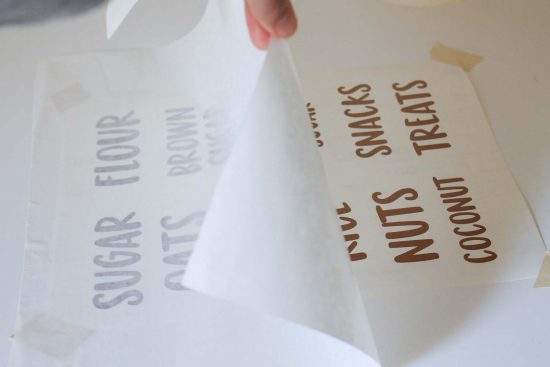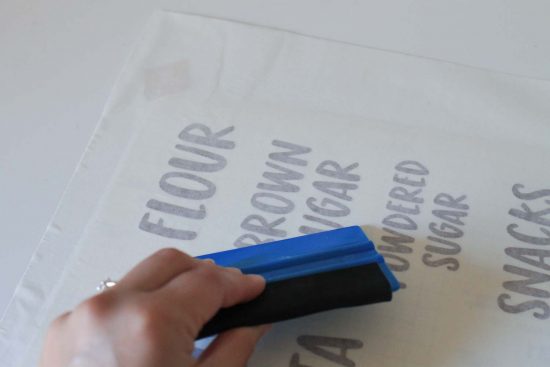 7. Cut your decal pantry labels out individually with scissors.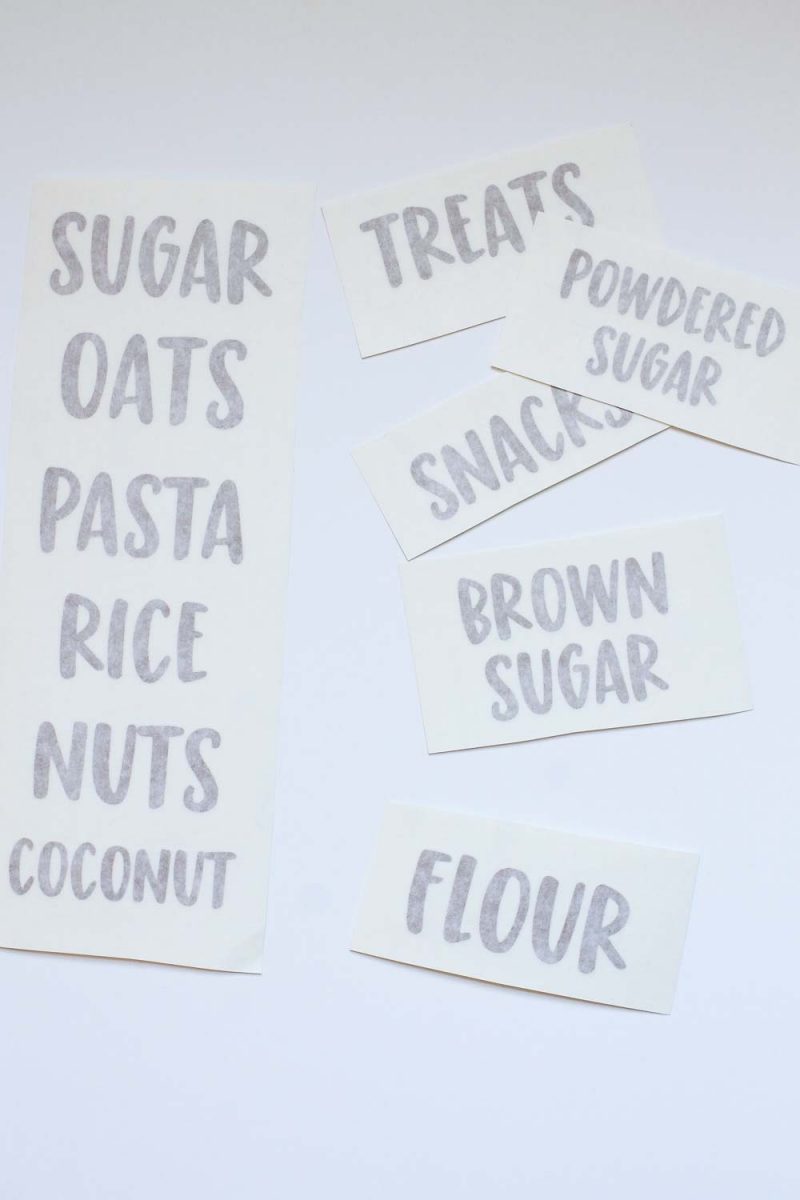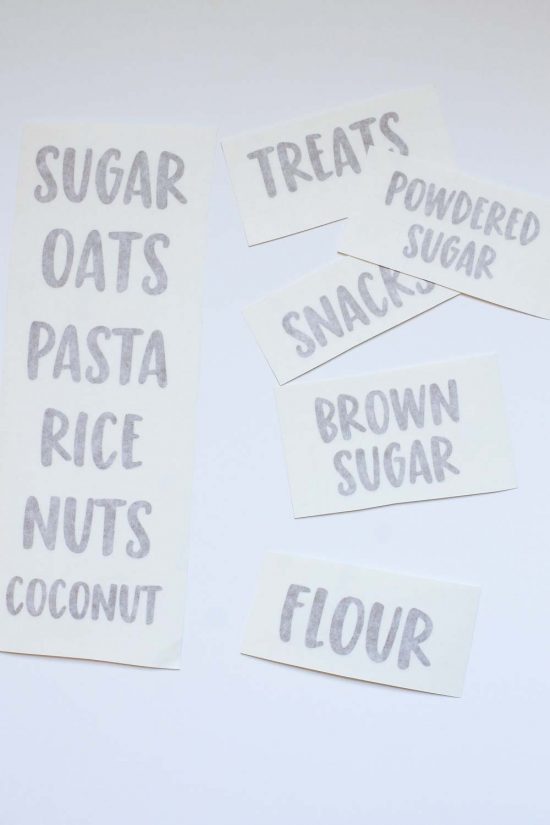 8. Time to apply the pantry label decals to your jars! Clean the area on your jar where you are applying the decal with some rubbing alcohol and let dry. This will really help the decals stick to the glass surface well! Next, slowly peel the backing paper away from your transfer tape and make sure the decal label is stuck to the transfer tape. If it isn't, rub back over the transfer tape again firmly with your squeegee or credit card.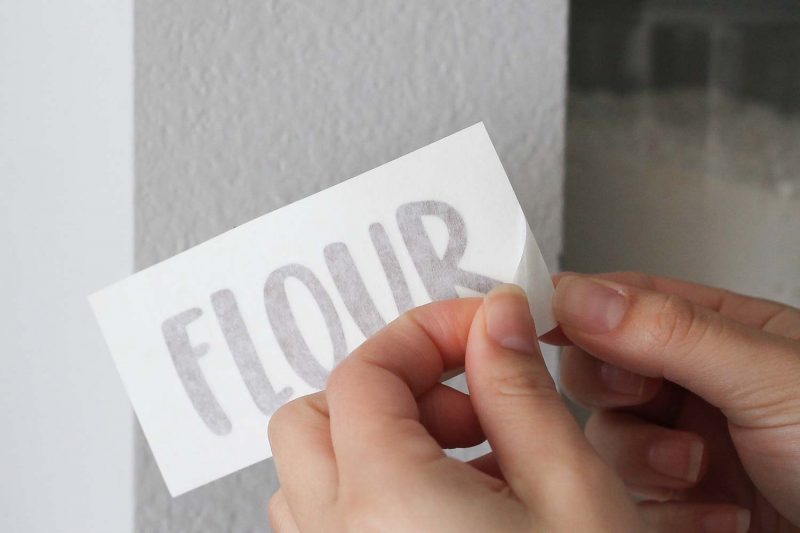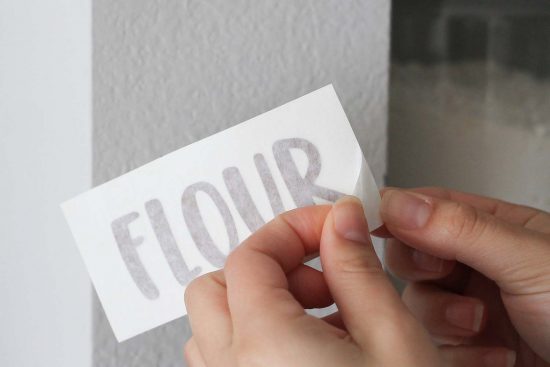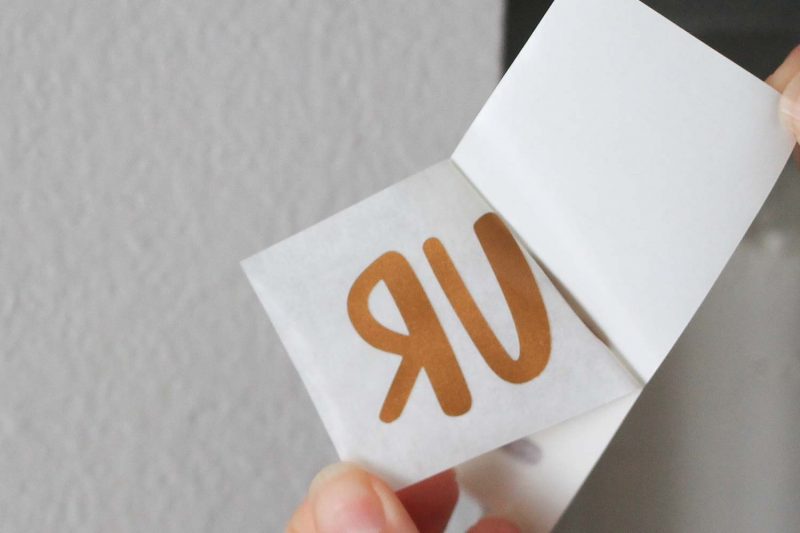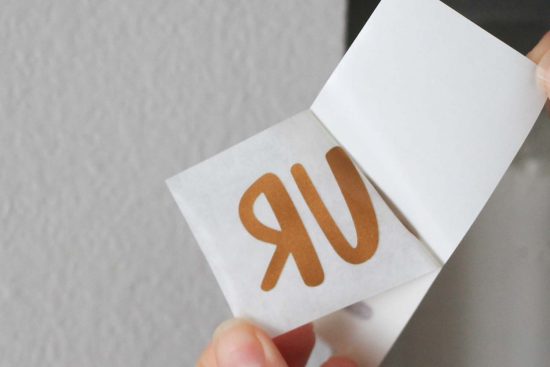 9. Carefully stick the pantry label decal on your jar and then rub it against the jar with a squeegee or credit card. Finally, slowly peel the transfer tape up at a 45 degree angle to reveal your beautiful, pantry label decal on your jar!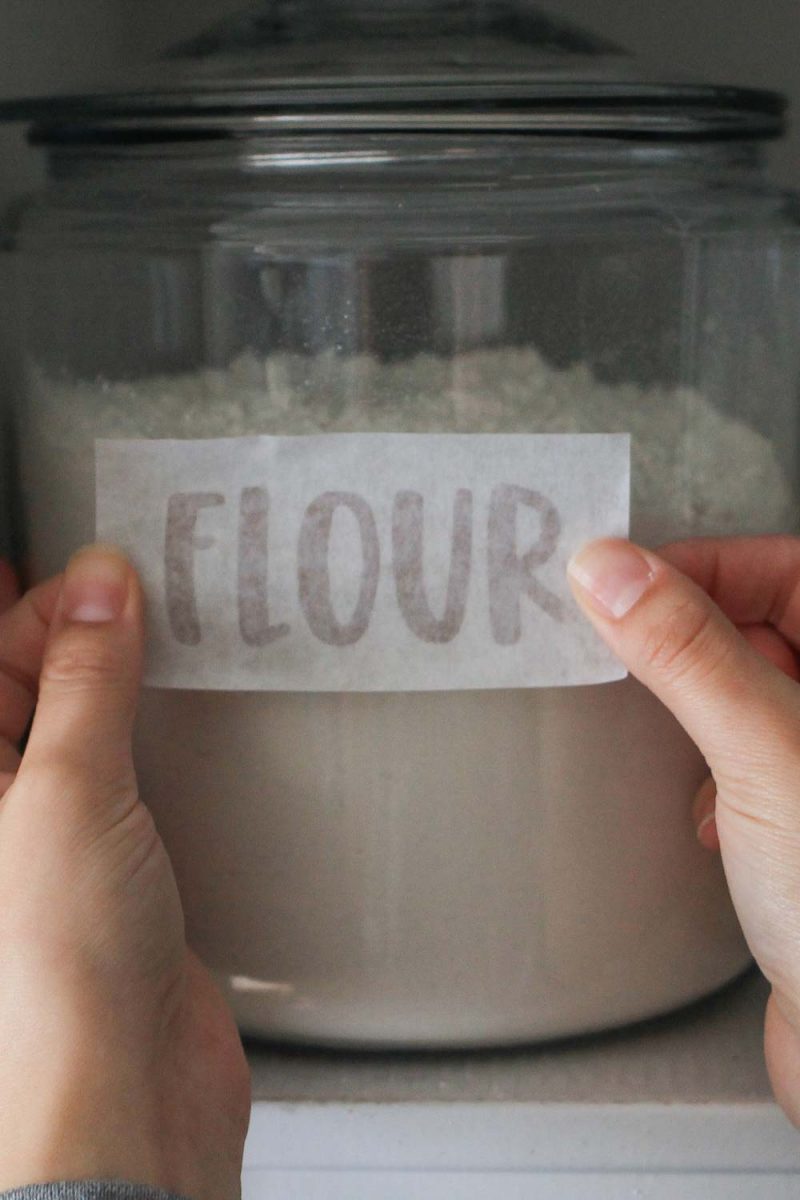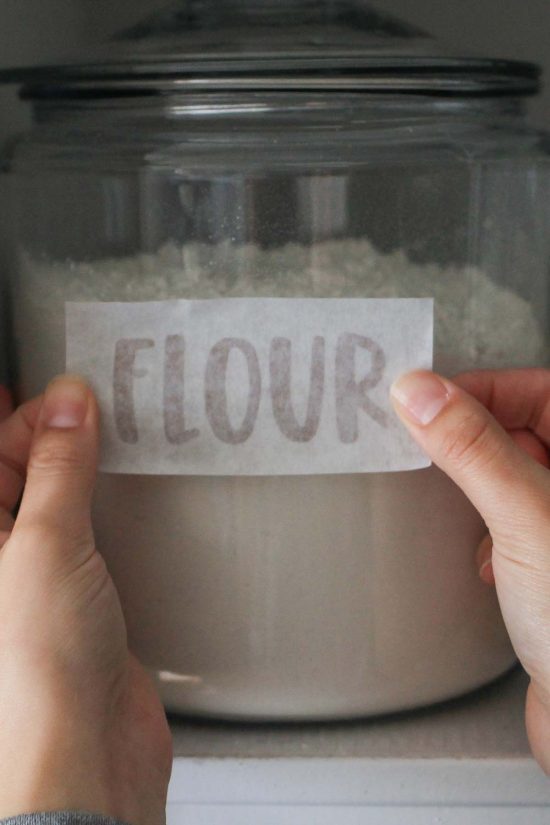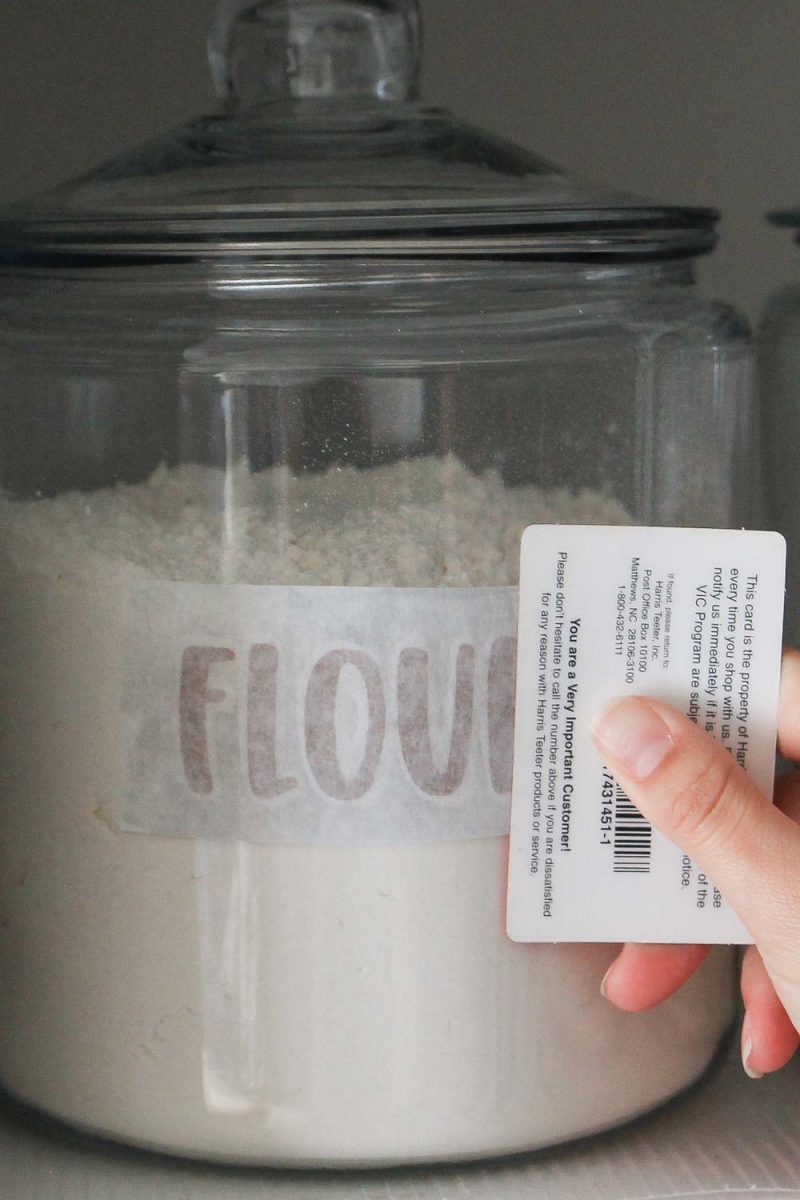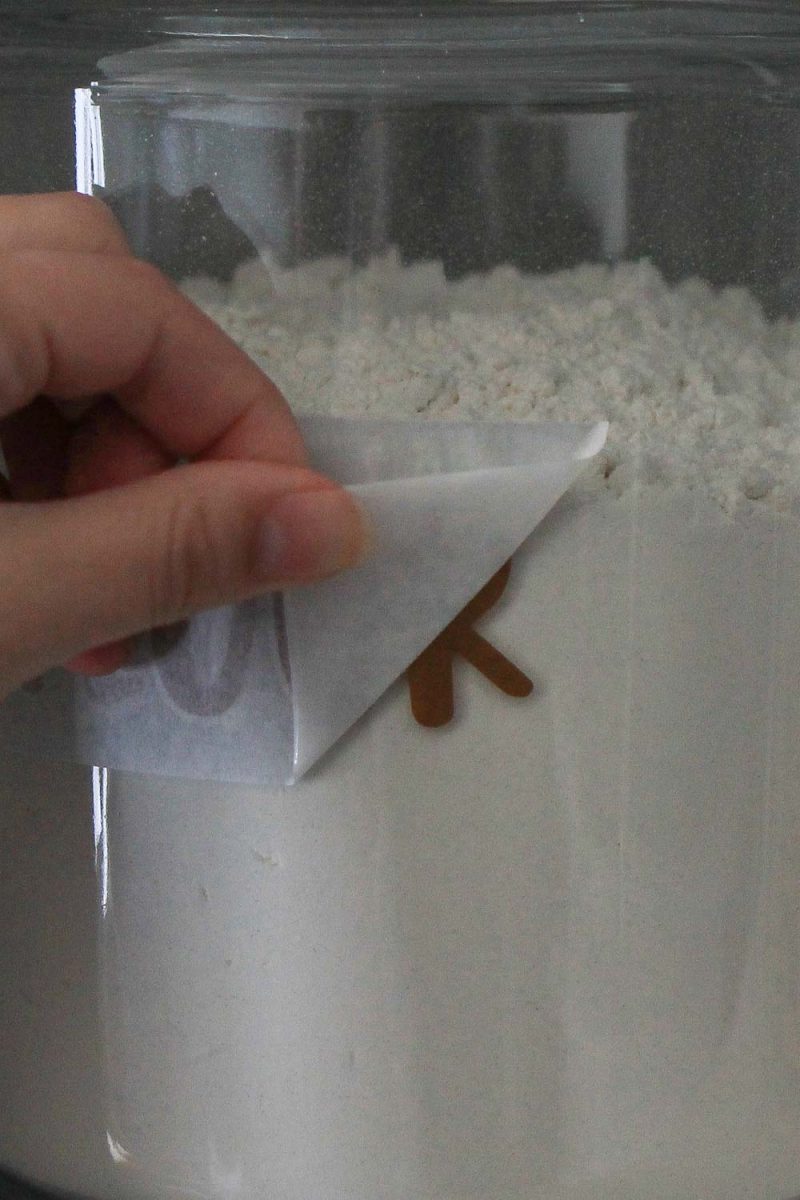 All finished with your pantry label decals!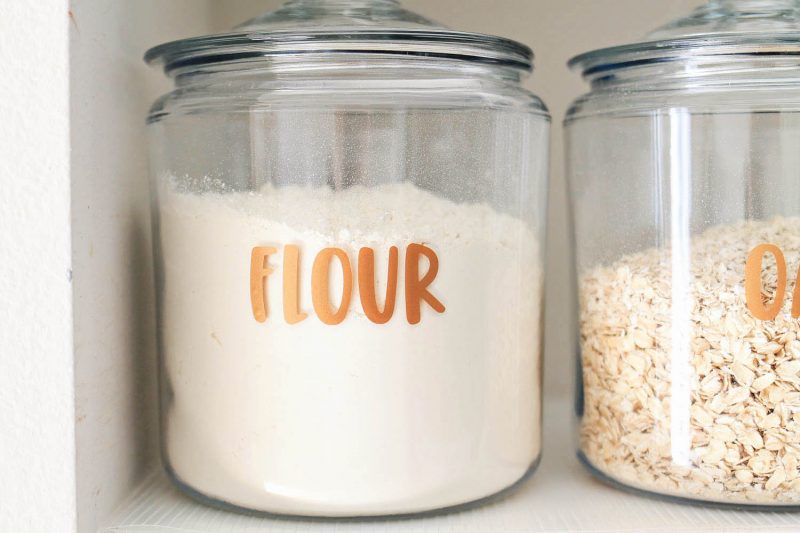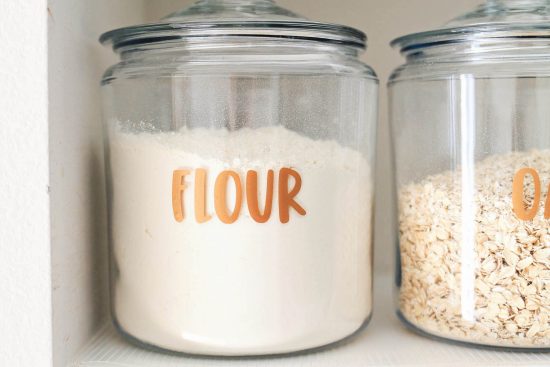 Whew! I know that seems like a lot of steps, but it really is quite easy once you get the hang of it! Do you prefer to make labels with decals or stickers?! I hope this post was informative and will help with all your pantry label needs! Don't forget to check back in the coming weeks for the final, third tutorial on how to make custom labels in Microsoft word!
Follow along on Instagram or Facebook for my latest projects, as well as Pinterest!
You may also be interested in:
Save
Save
Save
Save
Save
Save
Save
Save
Save
Save
Save
Save
Save
Save
Save
Save
Save
Save
Save
Save
Save
Save
Save
Save
Save
Save
Save
Save
Save
Save
Get instant access to the library of FREE printables for the home!
Subscribe and get home decor tips, DIY tutorials, and access to the library of FREE printables for the home!