Our small pantry organization makeover is complete and I'm excited to share the final reveal of our small pantry makeover! I hope you can get some pantry organization ideas from this makeover!!
Well let's take a look at the embarrassing before photo again of our messy, unorganized pantry:
BEFORE:
Last week I shared how we removed our wire shelving and installed DIY pantry shelves with wood in our pantry closet. That project made a huge difference in the pantry makeover process! Let's take a look now at the final pantry makeover reveal with everything all organized: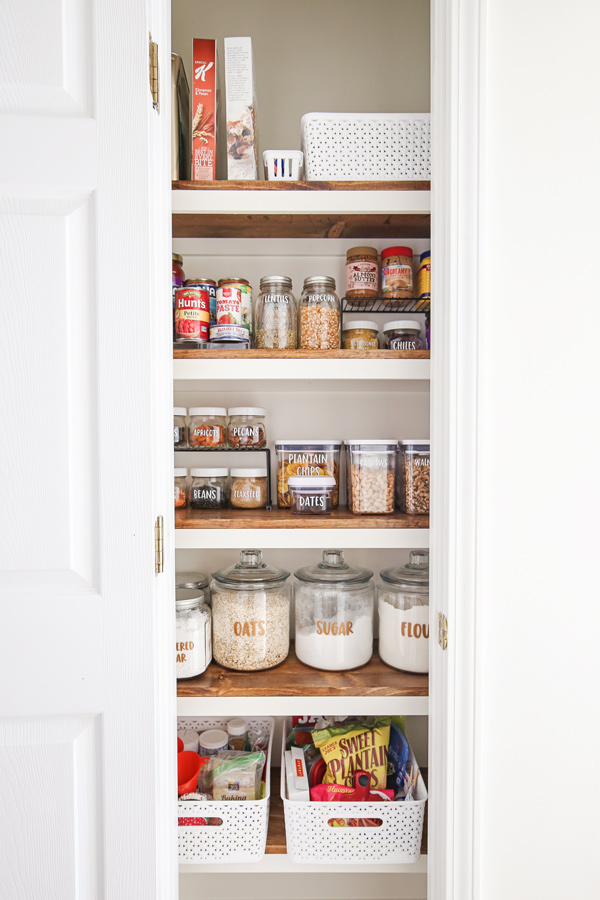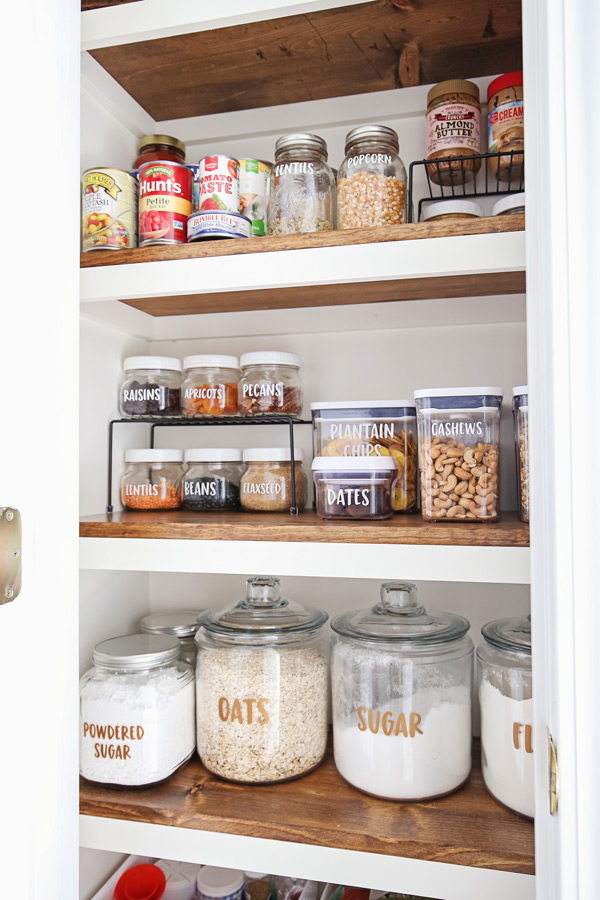 Note, this post contains some affiliate links. For more info see my disclosures here.
Wow what a difference right?! I'll be honest, this pantry makeover took way more time than I thought it would, but it was totally worth it! I love being able to see where everything is now and it makes me happy when I open up the pantry door!
Ok, so now I'm going to share how to organize a small pantry and the steps I used to get this point! I'm also including a video of the process too!
Small Pantry Organization Makeover Video:
Subscribe to my YouTube Channel here!
Before I get stared, I wanted to mention that we also have a second, larger pantry closet, with DIY corner closet shelves, that we gave a pantry makeover to as well! Check that out for more pantry organization ideas!
First, I removed everything from the pantry and put all of our pantry items on our kitchen table. Yikes it was a mess!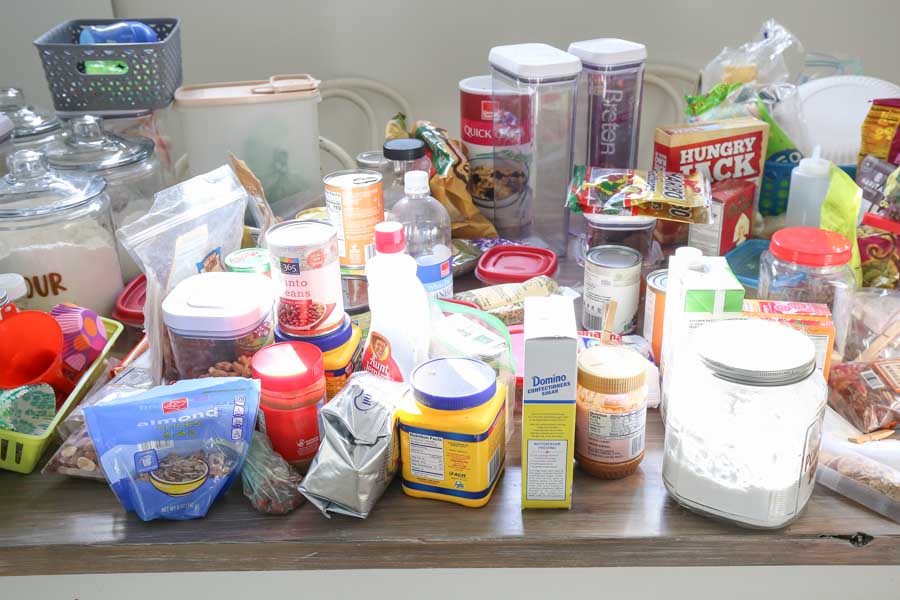 Then, I went ahead and removed our wire shelves, installed our new DIY wood pantry shelves, and gave our pantry closet a fresh coat of white paint (Alabaster by Sherwin Williams).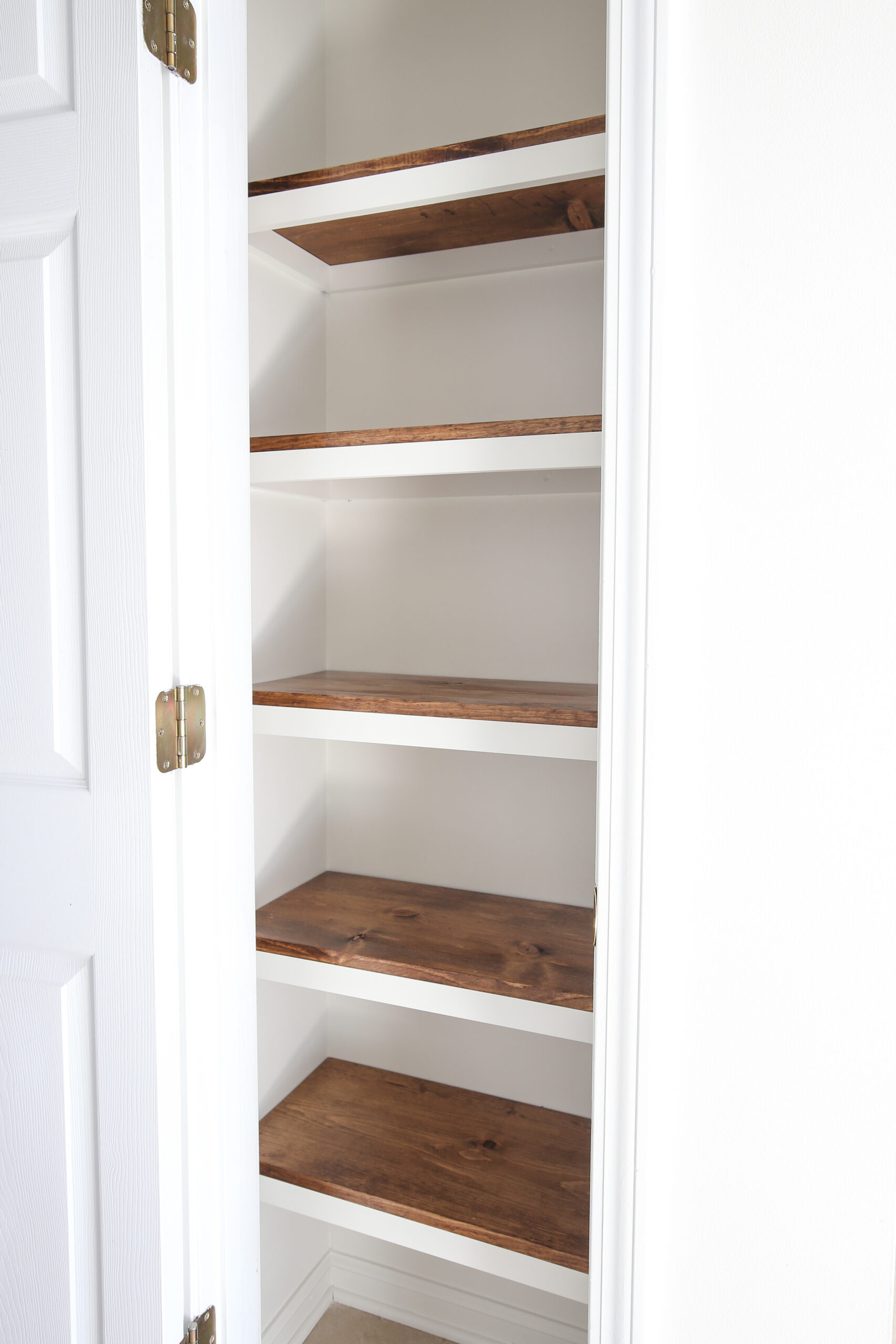 To start the small pantry organization process, I went through all of our pantry items and checked the expiration dates and threw out any expired items. I also created a donation pile for things I didn't need anymore, like mismatched plastic bins. These two steps eliminated quite a lot of things!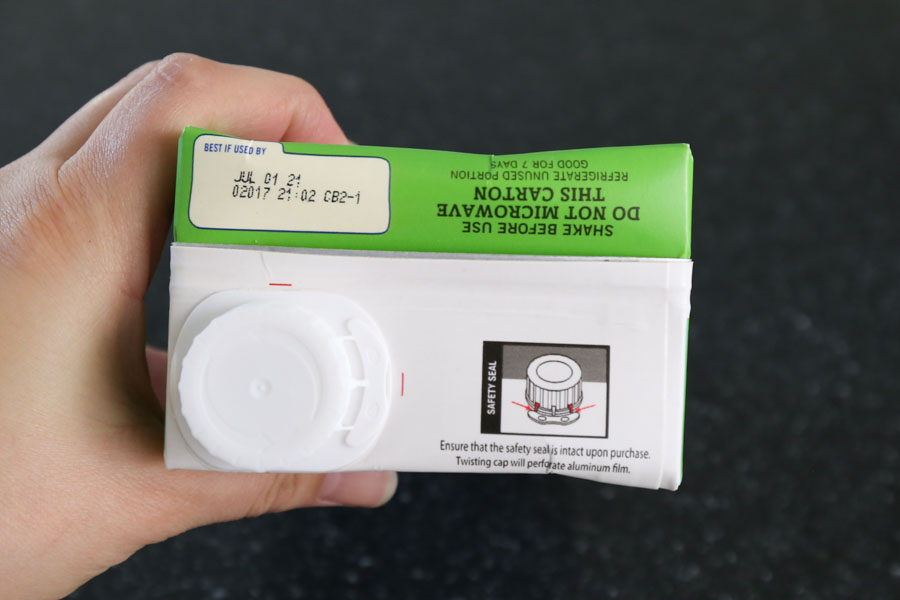 Next, I put my most commonly used bulk pantry items in OXO pop up lid containers, like nuts and snacks. I've always loved using these containers since they are so easy to open and access. However, they are pricey so I used the ones I had already and bought another set of three 1.1qt containers and a bigger snack size container. Note, you can find these containers discounted at TJ Maxx and Home Goods, but I just didn't have time to go searching so I ordered them online!
For smaller bulk pantry items, I used 16oz wide mouth mason jars (similar here) and for larger pantry items that we don't use as often, I used 32 oz mason jars. For the smaller jars, I replaced the canning lids with plastic screw top lids, an organization tip I picked up from Farmhouse on Boone! It makes opening them much easier! I also love how affordable mason jars are for storing food.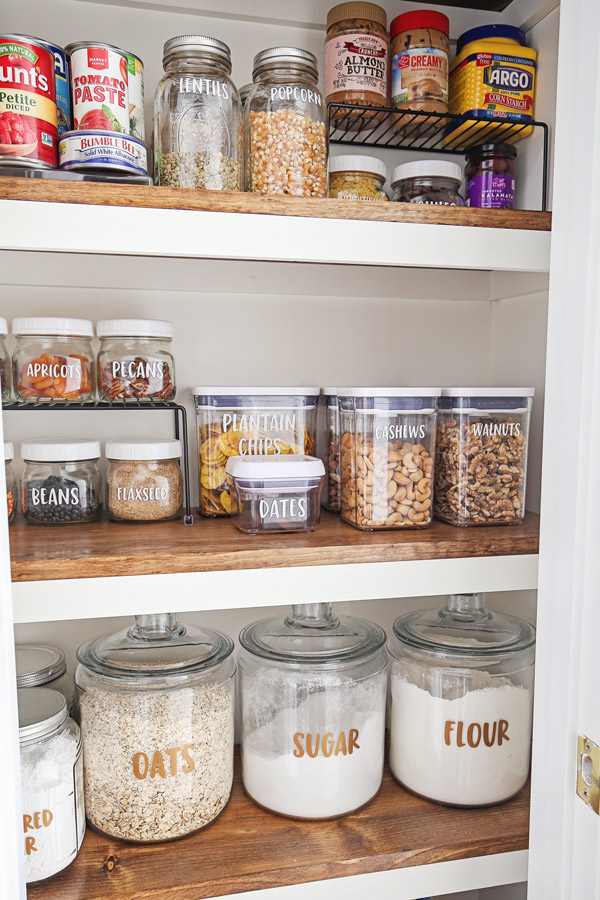 For our sugars, flour, and oats, I kept these items in our big glass jars from our previous open pantry makeover. They aren't airtight but we use them often and I just love how they look!
Further, to add more organization and utilize the height of the different pantry shelves, I added these cute, little metal shelves in black. I put our smaller jars and items on them.
Then, I added a clear, tiered rack for our canned items. I love this little tiered shelf, it's so simple but makes a huge difference in adding more storage space for canned goods that I can easily see and grab! I ended up ordering another one for our spice cabinet, which is a whole other organization problem lol!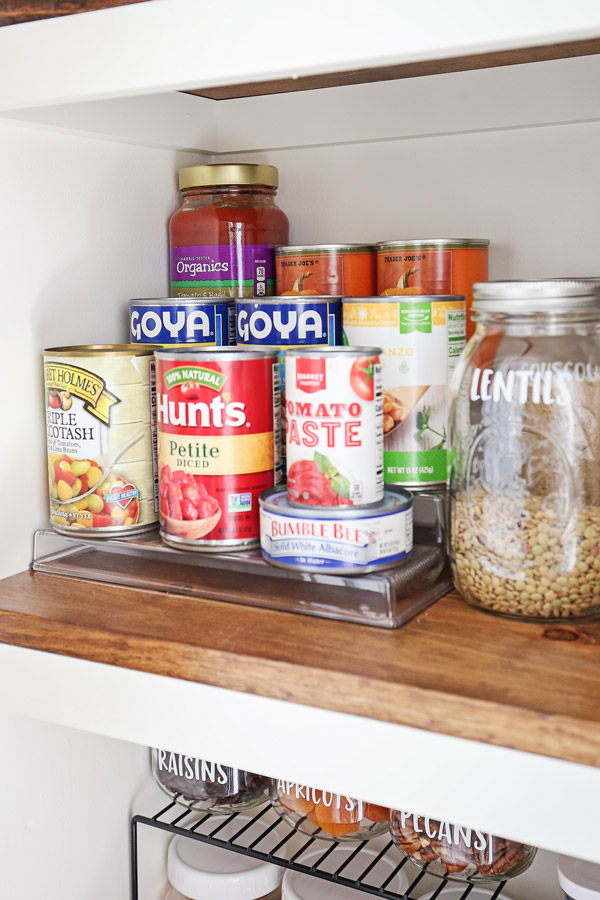 The last organization items I bought were these medium plastic bins. They are perfect for storing all my random baking supplies, as well as any overflow pantry items that we have at different times that I don't need a dedicated jar or container for since we don't use it all the time.
Finally, to really keep this pantry organized and looking good, I had to add DIY pantry labels with vinyl! So, a few years ago, when I redid our open pantry shelving in our old apartment, I shared how to make pantry label stickers (with a printer) and decals with a Silhouette Cameo and vinyl, along with a free pantry labels printable.
For this pantry makeover, I wanted to make more pantry labels for other items, so I created white vinyl pantry labels with my new Cricut! See my tutorial on how to make labels with a Cricut, along with an updated free pantry labels printable, if you want to make them too!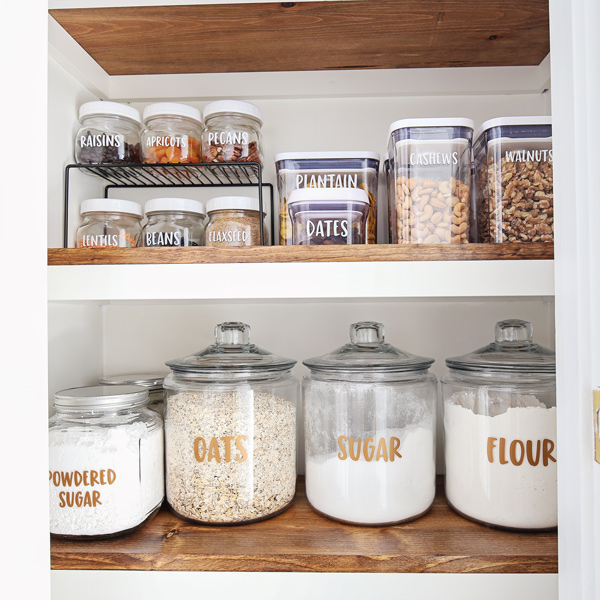 Overall, including my new DIY pantry shelves, this pantry organization makeover cost just under $200. Which is pretty good for an entire pantry overhaul!
I love that most of the jars and containers are all clear so I can see everything I have and I just love my DIY pantry labels with vinyl too that I made with my Cricut! I can easily wash the containers without worrying about them getting ruined since the vinyl is waterproof (yet still easily removable)! Also, you can make these vinyl pantry labels with a Silhouette Cameo or as printed stickers!
What do you think of my small pantry organization makeover? I hope with these new pantry organization ideas that we can keep our pantry organized and looking good long term!
If you want to see more pantry organizing, check out our corner pantry organization makeover for our second pantry closet!
Follow along for my latest projects and sneak peaks on Instagram and YouTube!

DIY Project List:
Paint Color Used in Pantry: Alabaster by Sherwin Williams