It has been very quiet here on the blog and my YouTube Channel over the summer because we've been super busy with major life changes! We had our second baby boy in June AND we bought a new house, moved, and sold our old house!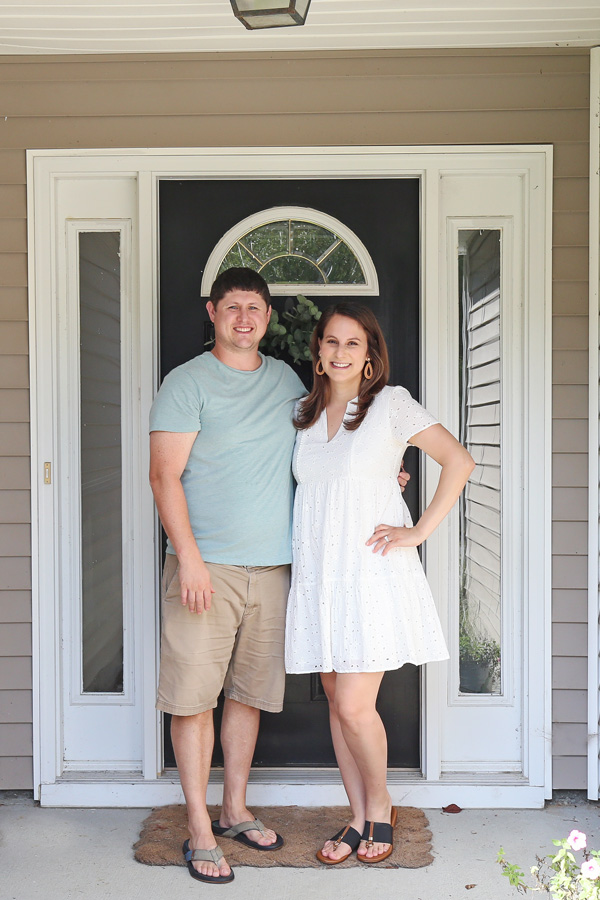 It has been absolutely crazy and challenging but we are super excited now that we are starting to get settled into the new place and getting a little more sleep as we are almost out of the newborn fog phase! So pardon any typos in this post as I am still not operating at full sleep capacity haha!
Brandon and I both took a maternity leave together and a break from projects/work. But now that we are slowly getting back to things, we are beyond excited to start working on projects for our new house. And we have been dreaming big with lots of fun (and functional) ideas for our new home.
Now let me tell you about our new house!! It was a crazy tough market to buy a house here in Charleston and very competitive so I'm very grateful this house worked out and just in time!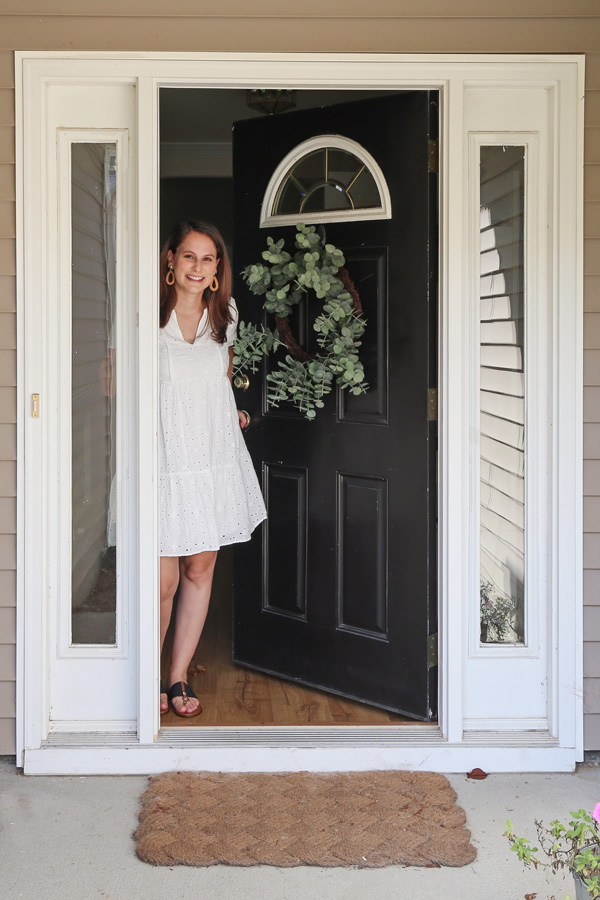 This first post back was going to be a full house tour, but somehow between the move, selling our old house, and having a baby, we lost BOTH of my SD memory cards that had all of the before photos and video footage that I took of the new house before we moved in and started making changes (we made some big changes right away). I rarely loose important things like that so it's hard for me to accept!
Luckily I have a few clips on my phone from before we moved in. But I retook some footage to share a first look today in this post and in the new house video tour:
New House Video First Look!
Make sure to check out the video tour of our new home here
Subscribe to my YouTube Channel here!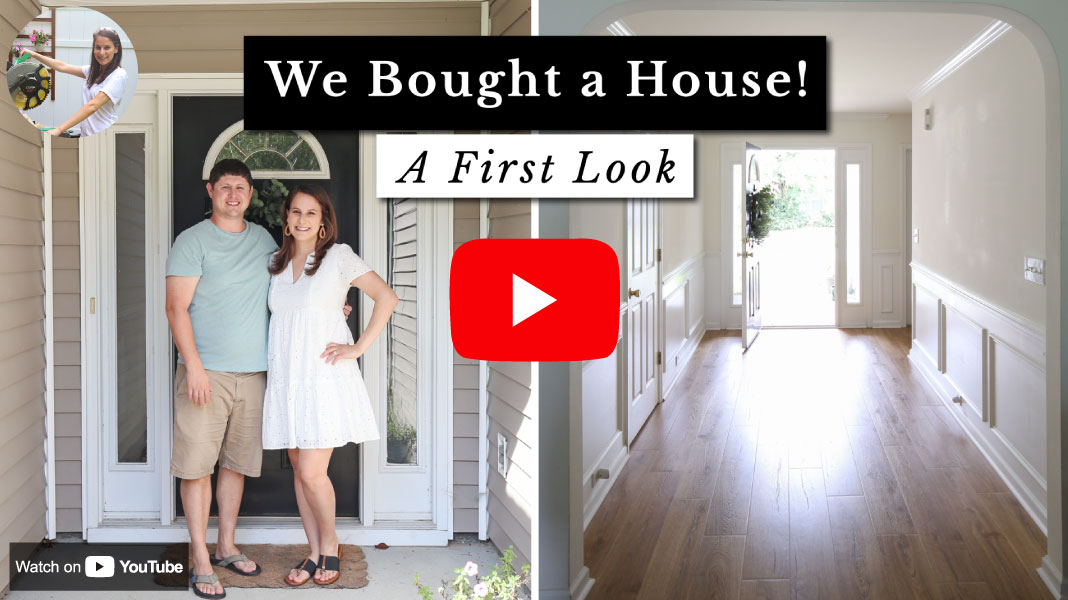 Let's start with the first feature of the home and what sold me on this home – the water view in our backyard!
I really enjoy watching all of the wild life and beautiful sunset views over the water (see more of this in the new house video here). It's so calming, peaceful, and beautiful.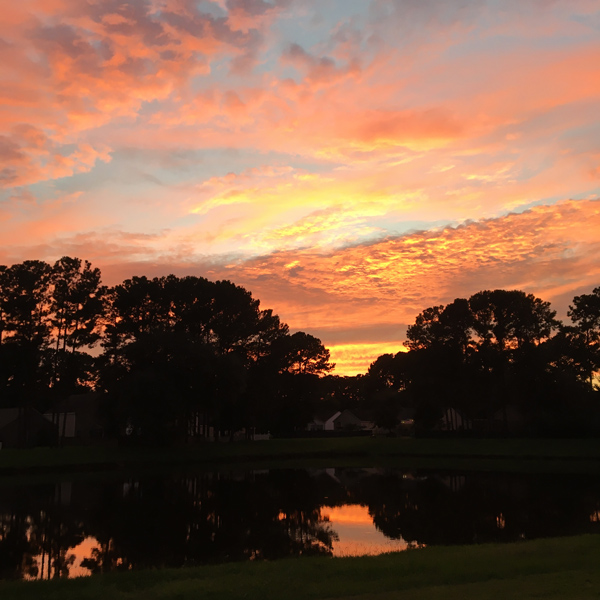 I love sitting out here in the evening to relax too – and so does our pup Chance!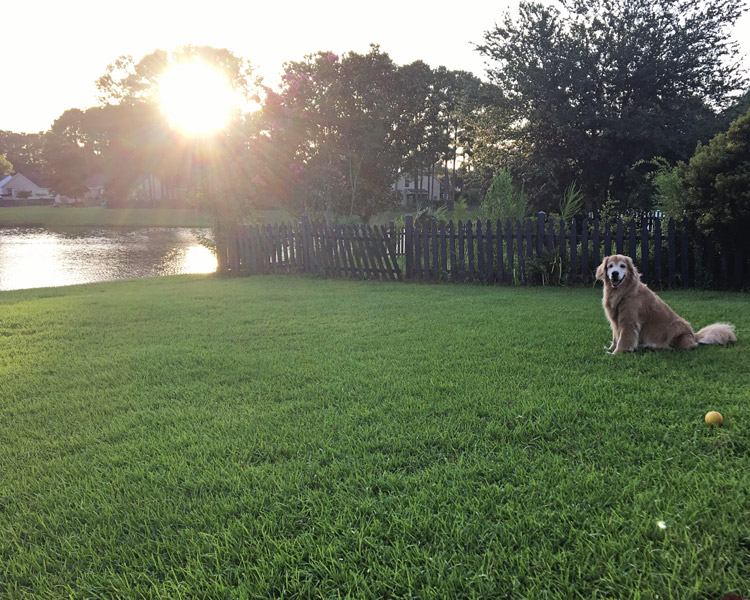 The water view is the very first thing I noticed through the back windows as soon as I stepped in the entryway for the first time and I knew it felt right! It has inspired me to transform this house into a cozy, beautiful, lake house style.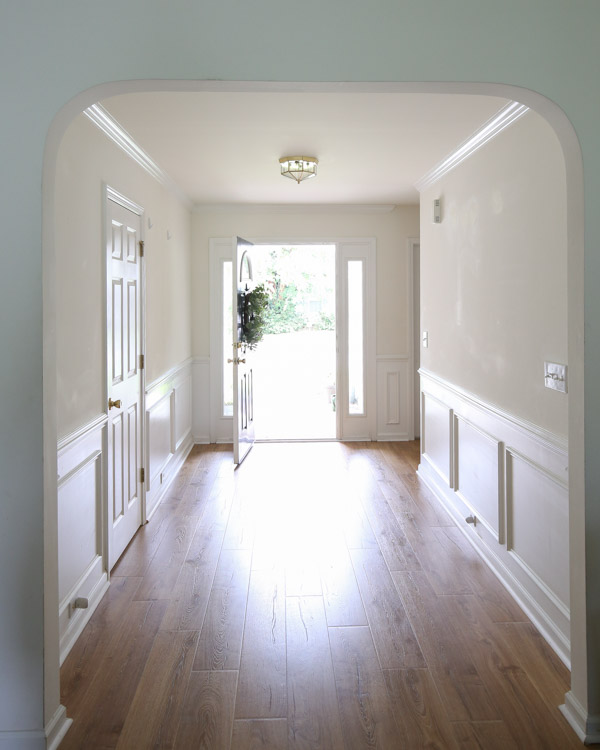 Right now the home is very basic and builder grade (except for some box molding), including ALL white walls that look like they haven't been painted in years. The home is very livable though while we take the time to update it.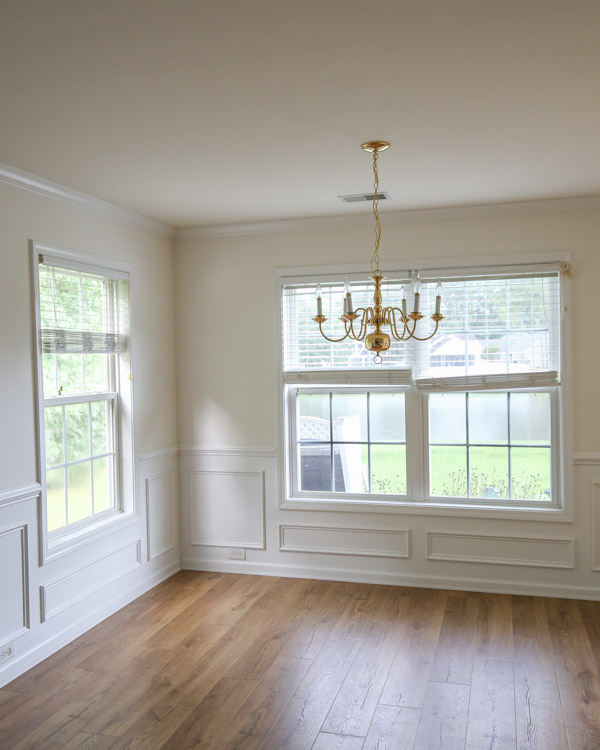 Most of the home had old, white carpet that was not in good shape. So the very first thing we did after closing on the house was have all of the carpet removed and replaced with beautiful new flooring! I will be sharing all about our new floors that I love next week!
The house has great potential and some special features like vaulted ceilings in the main living area, a gas fireplace wall, and a wide open entryway.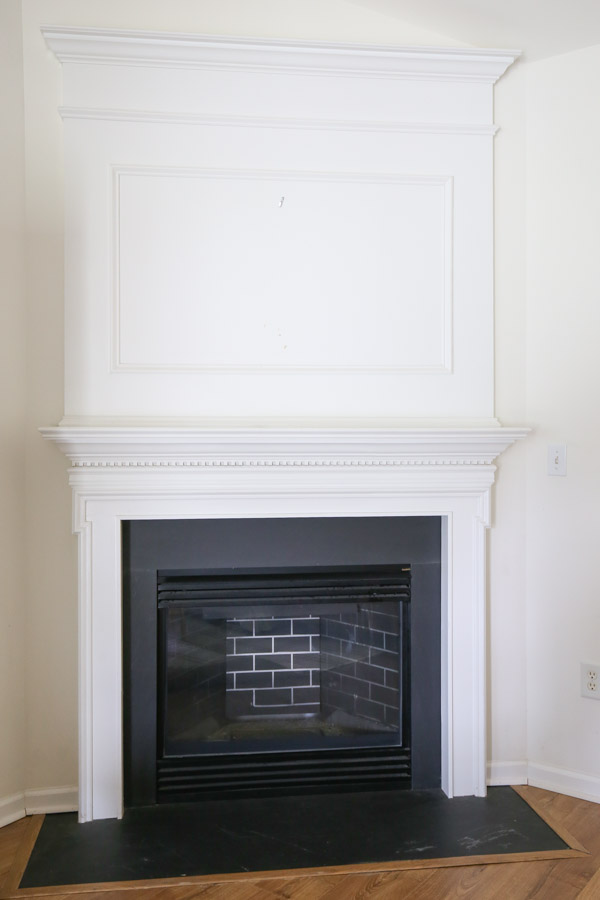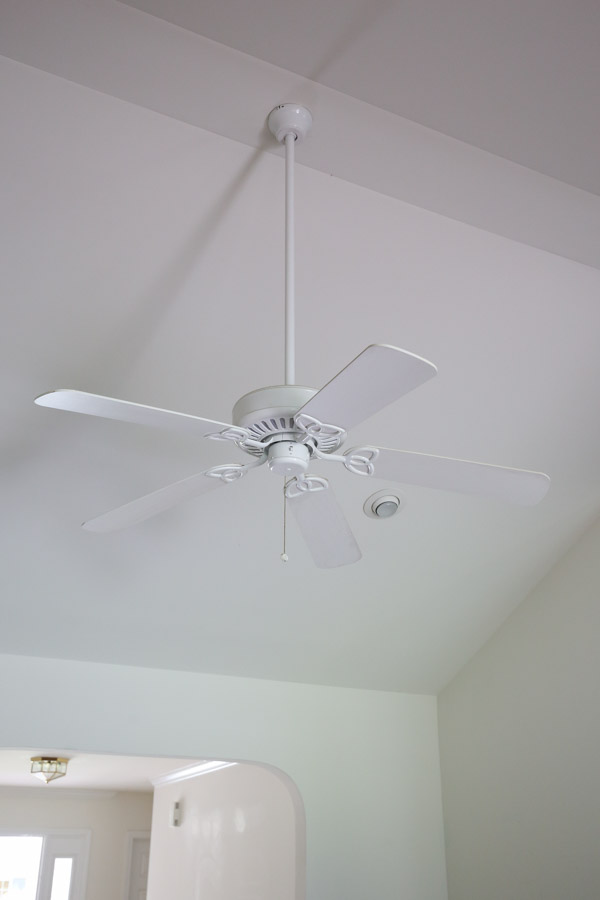 We really like the open concept of the home, with the living area, kitchen, and dining nook all connected.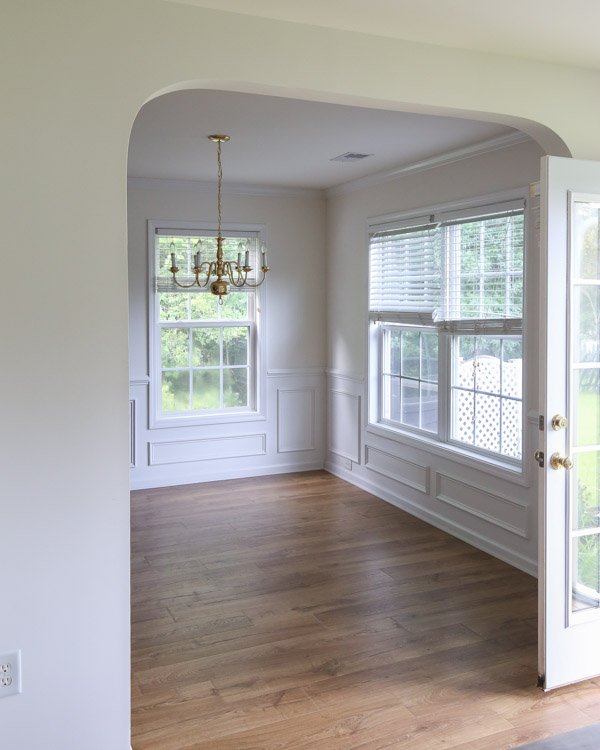 The house has a semi closed off bonus space that we are going to turn into an office/guest room. It was partially closed off with two sets of french doors, but we took those doors off immediately because they were awkward and our two year old son Jackson kept playing with them! You can see them in some of my original phone footage in the new house video here!
This bonus space is actually going to be the first full room makeover that we tackle hopefully this fall, including building a wall! I can't wait!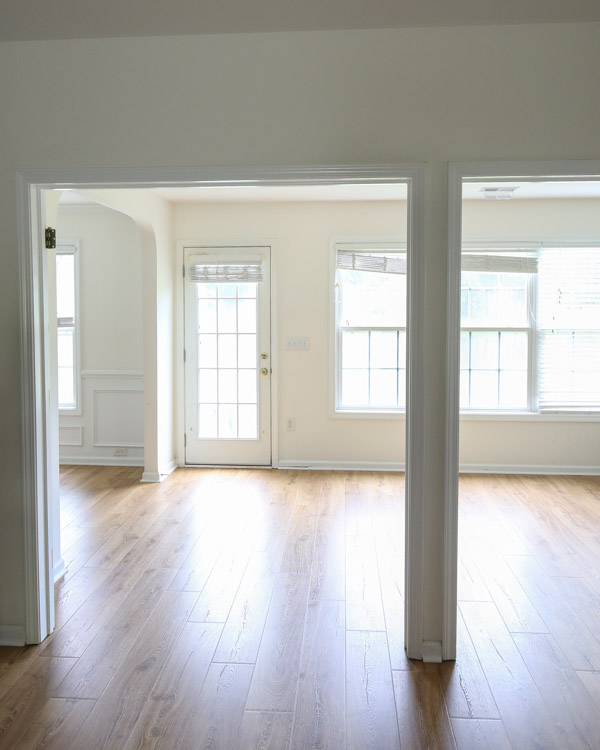 I love the full wall of windows along the back of the house with the water view and natural light. However, I can't stand the vertical blinds with the cords all tangled and we have been starting to take them down.
Circling back to the kitchen area, it is definitely smaller than we would have liked with a lack of storage and counter space, so this will be another space we update soon.
It had very outdated appliances that weren't all working right, so we replaced the refrigerator, range, and dishwasher right after moving in. But that is all we have done so far in this space besides the floors.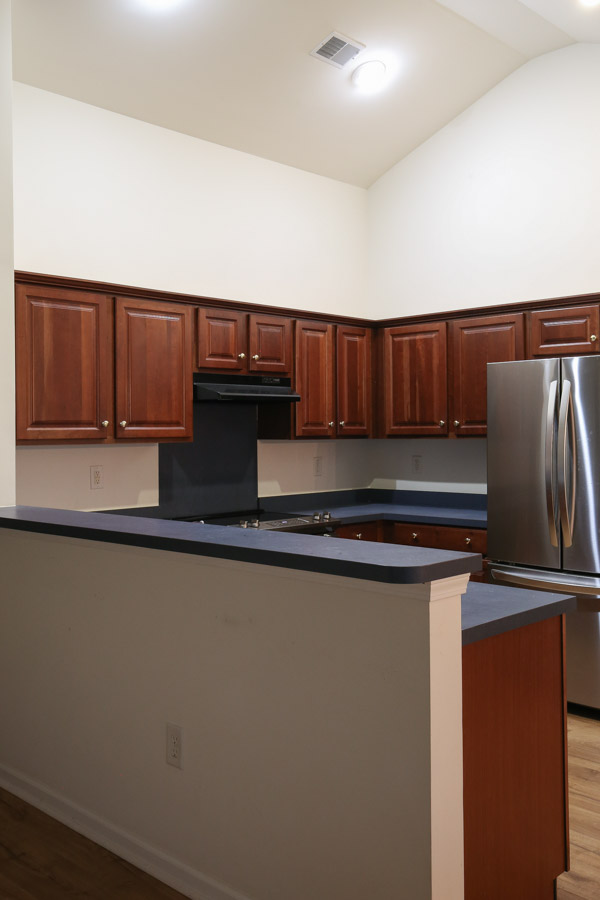 The backyard is just one big open space of grass right now, so it needs a lot of work, but there is so much potential for fun outdoor projects!
The bathrooms in the home are very standard and driving me crazy as I can't stand how they look and function, especially after making over our master bath and guest bath in our last home.
We didn't replace the floors in here as I plan on using tile when the time comes. Also, I do love the window in one of the bathrooms since our past two homes did not have any natural light in the bathrooms!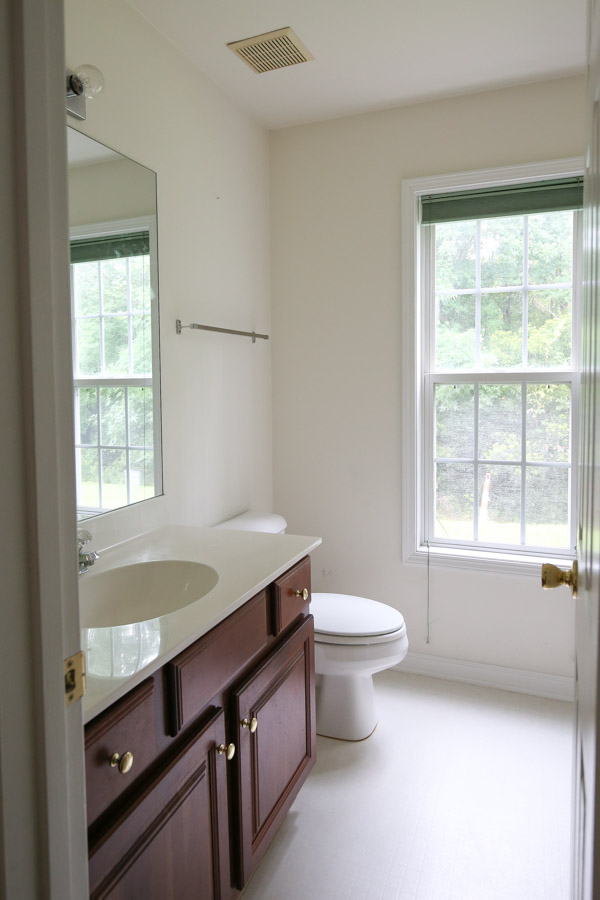 Finally, the bedrooms! They will probably be the last to get updated but we have added new blackout window treatments in both of the boys rooms already.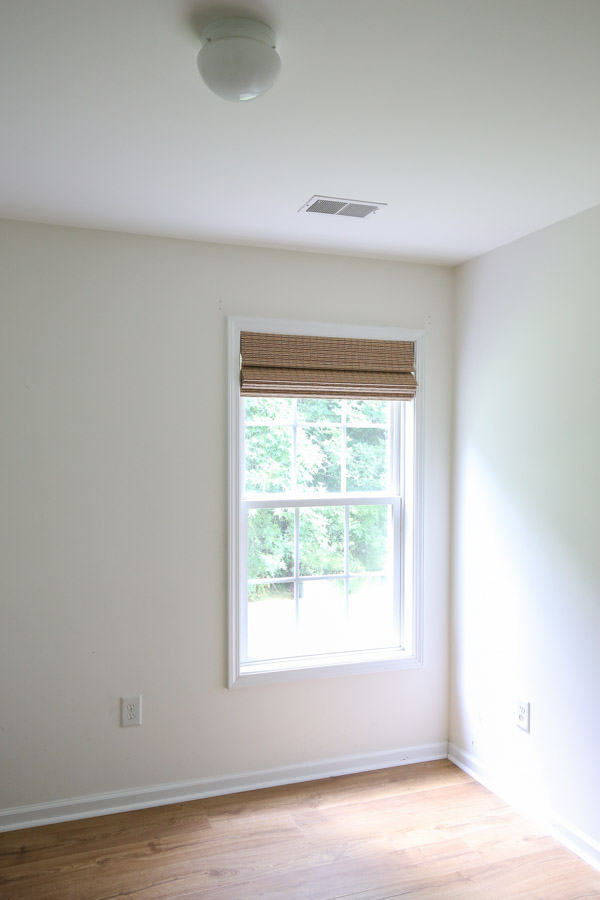 The last space of the home that we are super excited about is the garage! We have never had a garage in our past 2 homes, so this is big considering the amount of DIY and woodworking we do! Our last 2 houses were townhouses and this is our first single family home with a garage!
Currently, the garage is filled with stuff that we've been trying to declutter and organize. You can see a peak of the space currently in the video tour. We are slowly getting there but DIY garage shelves are definitely on the project list for the near future!
Really the biggest downside to this house is the lack of storage space and cabinets. But that will all be fixed as we make over each room to not only be a beautiful space we love, but to be very functional as well!
Next week I am going to share about our new floors, but after that we will be kicking off our very first needed project, DIY built in cabinets off of the kitchen!!
Stay tuned for all of the fun and exciting projects we have planned for our new home. I hope they will be helpful and inspiring for you and your home!
Make sure to follow along on my new home projects and sneak peaks on Instagram, YouTube, and Pinterest!