It has been 5 months since we installed our new Pergo Outlast flooring and I'm ready to share a Pergo Outlast review for it!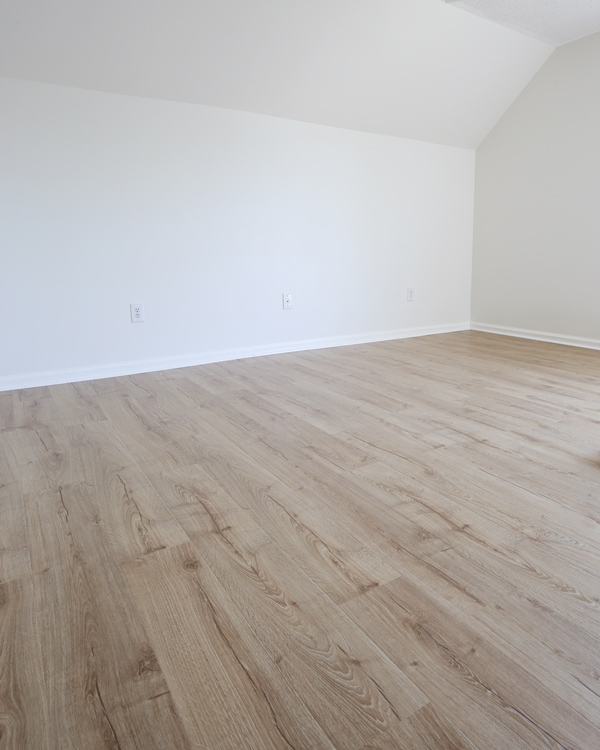 When we moved into our new home, there was carpet on the entire second floor and stairs. I strongly dislike carpet, especially since we have a golden retriever, the dirt and dog hair piles up fast. I knew I wanted to replace the carpet with a high quality, laminate wood flooring.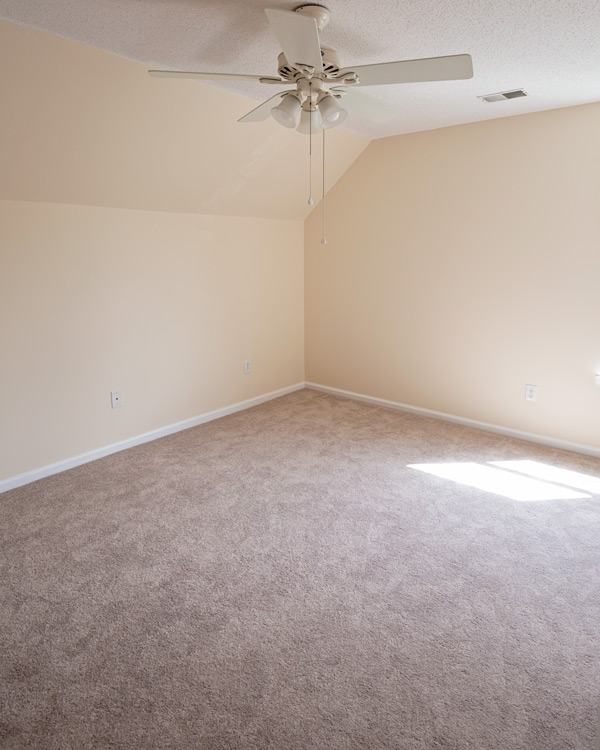 Note, this post contains some affiliate links. For more info see my disclosures here.
After researching laminate flooring, I decided I wanted a flooring that really looked like real hardwood, came in pretty color options, and was extremely durable and waterproof. The Pergo Outlast laminate flooring has all of these qualities.
It's a more expensive laminate flooring, so we decided to test it out in our master bedroom first before making a big investment in time and money to install it everywhere else. After checking out several color samples, I decided to go with the Pergo Outlast Vienna Oak color. We installed it ourselves to save money.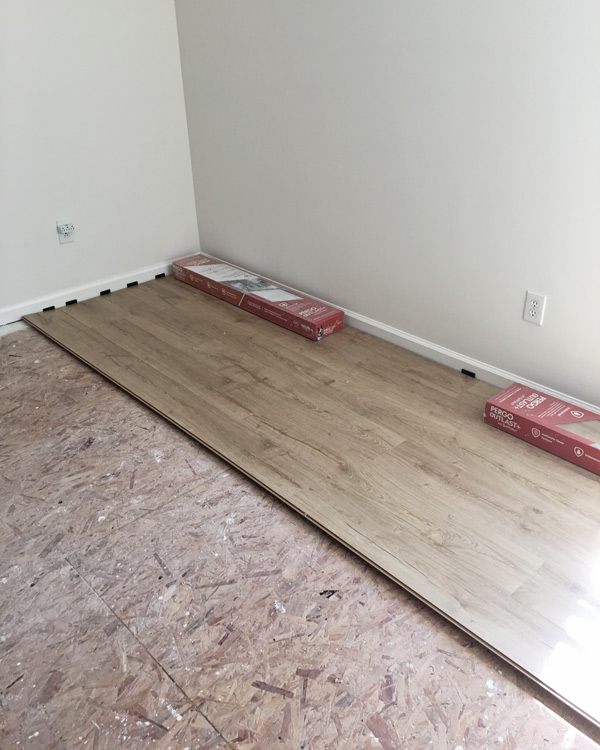 So, after 5 months of using it, I must say that I absolutely love this flooring! The two most important features to me that I've loved so far are the durability and the look.
The durability of the flooring is very important to us since we have a dog and he's constantly dripping water from his water bowl on the floor (we keep a water bowl in our bedroom for him). He's also always tracking in sand from the beach and dirt from rolling in the grass.
The flooring hasn't had any water spots or bubbling from the water and it vacuums up super easy.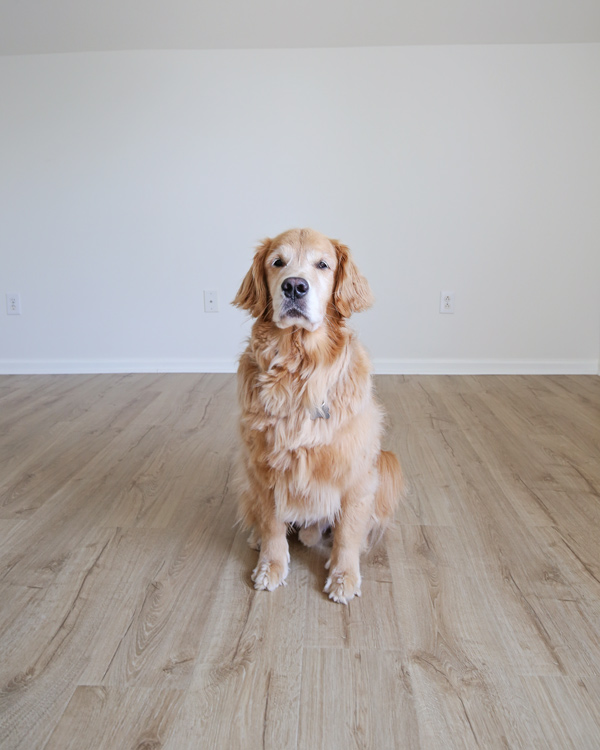 Note, check out my 5 bathroom flooring options on a budget guide and luxury vinyl plank vs laminate flooring for more flooring options!
Also, we haven't had any scratches on it and we've dragged furniture around on it. In fact, I took most of these photos after moving all of our bedroom furniture out of the room this week (which involved lots of dragging and pushing of the furniture) since we are turning this room into our nursery!
Second, the look of the flooring was another really important feature. I really wanted a timeless, authentic looking flooring that didn't look like cheap, wood laminate.
I love the wide plank boards of the Pergo Outlast, as well as the slight, varying texture in some of the boards. Also, the Vienna Oak color was perfect for us! The color looks beautiful with many different decor styles and looks just like expensive, hardwood flooring that I've seen.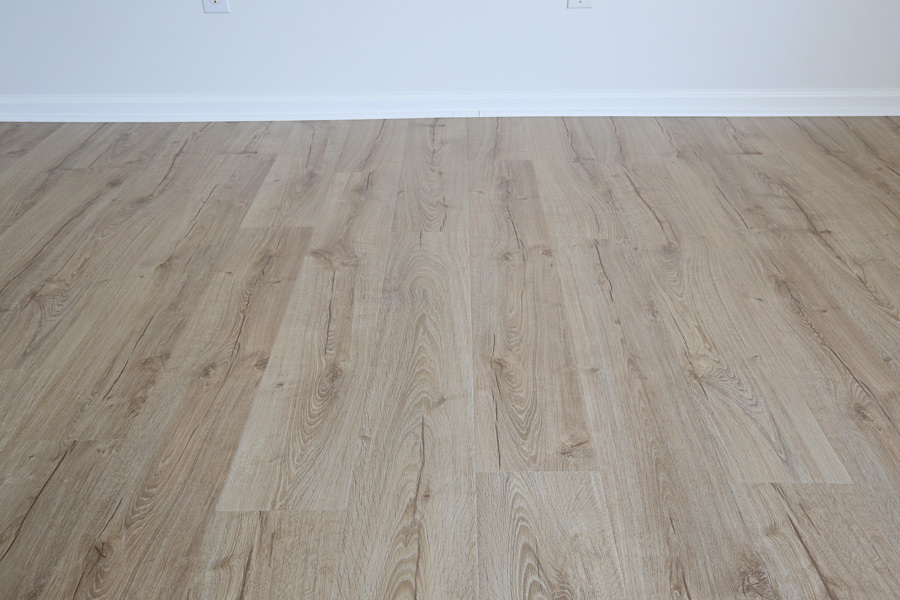 To sum things up, below is a pro and con list after installing and using the flooring for 5 months now:
Pergo Outlast Review Pros and Cons:
PROS
Really looks like real hardwoods, including some texture that gives the illusion of real wood
Comes in wide plank sizes, which looks more high end
Available in many beautiful colors, including timeless colors and more modern colors
Waterproof – can be used in kitchens and bathrooms and works great for water drips from dogs and other spills!
Very durable (see my explanation above)
Easy to clean
Overall, looks beautiful once installed, I love it!
Pet friendly, our pup loves laying on it too!
CONS
Price – It's definitely a more expensive laminate wood, but I think it's worth it for the quality and it's still less expensive than similar looking hardwoods or engineered hardwoods. But, I do wish it was a bit more affordable!
Installation – This was our first time installing a large room with laminate wood flooring, but with that said, as a typical DIYer, I still found this flooring a bit difficult to install. And it took my husband and I an entire weekend to install it in our bedroom.
Because the flooring is so durable we had to buy a new miter saw blade while cutting it. The material for the flooring really gunks up on the blade, which caused our saw to start smoking.
The flooring is more hard to walk on, so it's not as "soft" as real hardwoods feel underfoot.
I hope this Pergo Outlast review with the pros and cons of our experience has been helpful! As I said above, I really love the flooring and plan on using it for the rest of our second floor once we've saved up for it. I would totally use it on our first floor too if we didn't already have laminate wood flooring there. The biggest frustration with it was the installation which I am hoping to hire out next time!
Update: We ended up using these same Pergo floors throughout our new house because I love them so much and they are a high quality, affordable choice. See my luxury vinyl plank vs laminate flooring pros and cons for more details on why we picked these Pergo floors again instead of using luxury vinyl plank.
Also, check out my 5 bathroom flooring options on a budget guide too for more flooring ideas!
Follow along on my latest projects and sneak peaks on Instagram, Pinterest, and Facebook!