It has been over 10 months since we installed porcelain marble tile in our master bathroom. I love our porcelain tile that looks like marble so much that it has become my favorite floor tile yet!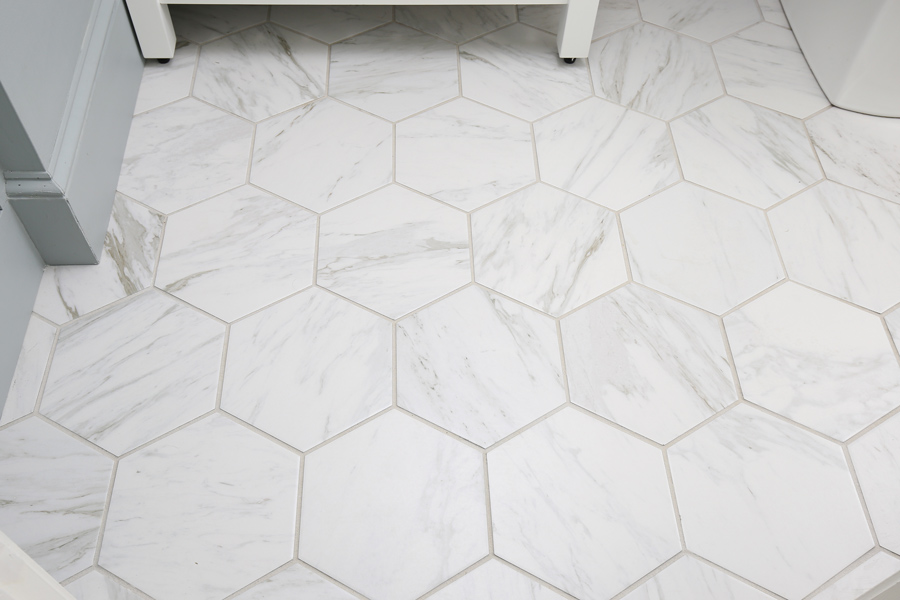 Note, this post contains some affiliate links. For more info see my disclosures here.
Since installing our hexagon marble porcelain tile, I've received several questions about it. Further, when I find something for the home that I really love, I want to make sure that I share about it in case someone else is in need of that item too! So, I'm sharing an overview of the tile, as well as a review of it, and answering some common questions I've received.

If you want to see a video review of the tile, which includes everything I'm discussing in this post, check out my video here:
To give a little background on how I discovered this tile, it all started with our small master bathroom renovation. I really wanted a marble floor tile, however there were two main problems with using real marble in our bathroom.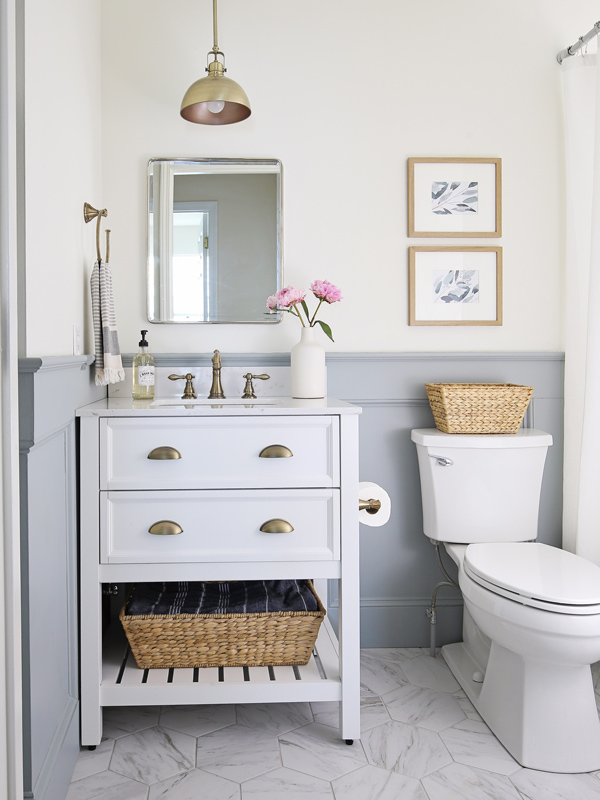 The first problem was the cost. Real marble is expensive. Our bathroom renovation had a tight budget and real marble just wasn't budget-friendly. The second issue was the maintenance. Real marble has to be re-sealed every so often and can stain easily from different cleaners and such due to the porous stone surface. With our high traffic bathroom, real marble just wasn't a practical choice.
Due to these issues, I wondered if there was a porcelain tile that looked like marble because porcelain is a very durable and more budget friendly tile. Sure enough, after researching online, I found several options! I even rounded up my top 5 options of porcelain tiles that look like marble.
Initially, I ordered a small, mosaic hexagon tile which I was really excited to use. Once I received it though, it was chipping in multiple places. It was also very thin and the tile design was very fake looking and didn't really look like real marble. As much as I had wanted to use the tile, I had to return it due to the low quality.
After further online research, I decided to go with a larger hexagon porcelain marble tile. And I'm so glad that I did because once it arrived, I knew immediately that I loved it and the quality was great.
Review of the hexagon porcelain tile that looks like marble
Our hexagon floor tile came really well packaged and it was a thick porcelain tile. There were no chips on any of the tiles either and it seemed very durable.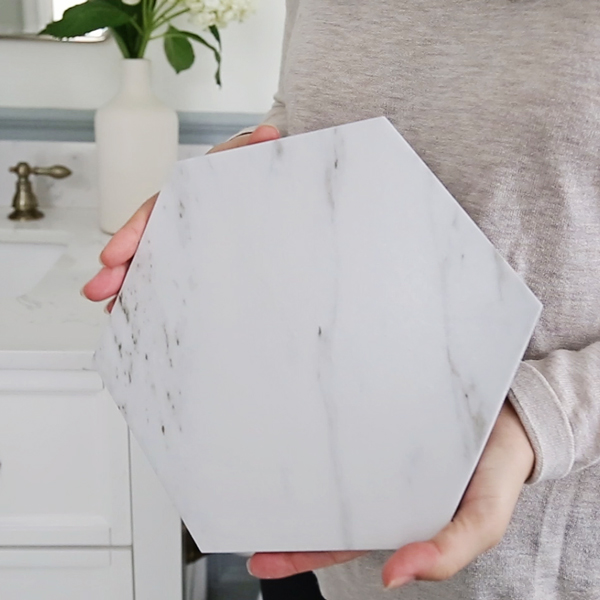 The top design of the tile really looked like marble too, very authentic looking for not actually being real marble. It was exactly the kind of marble look I wanted for our classic and modern master bathroom makeover.
After having the tile for over 10 months now, I still love it as much as the day we received it and when we installed it! It cleans up easily, we usually just use a mixture of vinegar and water. It hasn't had any kind of weird staining and has been very durable.
Also, although I love the tile, I'm always getting compliments on it as well from others! It's definitely one of my favorite features of our bathroom and I am planning on using it in our guest bathroom makeover, which will hopefully happen later this year!
I honestly can't think of any cons about the tile. Except maybe that it's a little harder to install due the hexagon shape. But, at the same time, the hexagon shape is one of the aspects I love about it!
Installation of our floor tile:
We installed the hexagon floor tile ourselves. It was our first DIY tile installation and I was pregnant while installing it ha! First, we removed our old tile. Then, we laid mortar down on the sub-floor, followed by Hardie cement board, and then finally we installed the tile with mortar and grouted it. Lastly, we buffed the grout haze.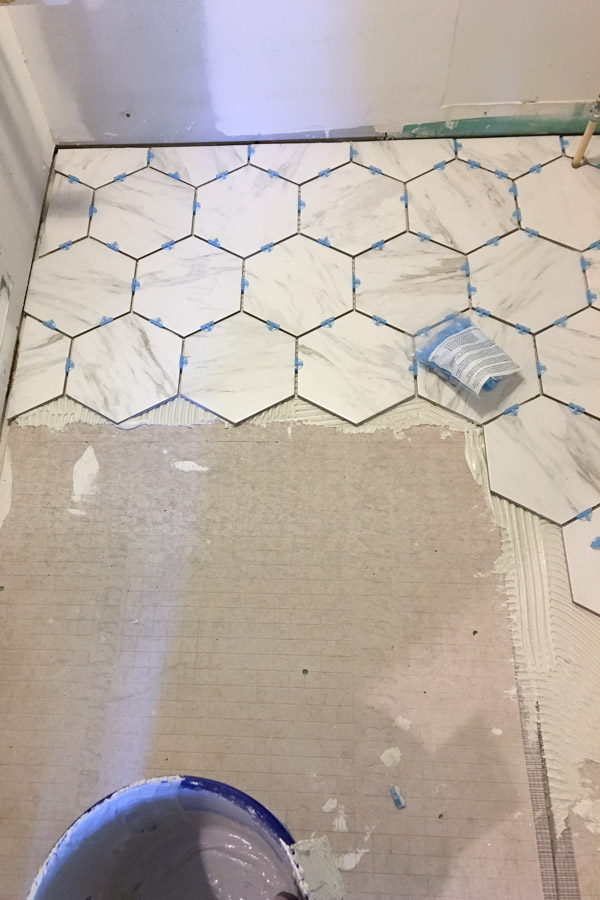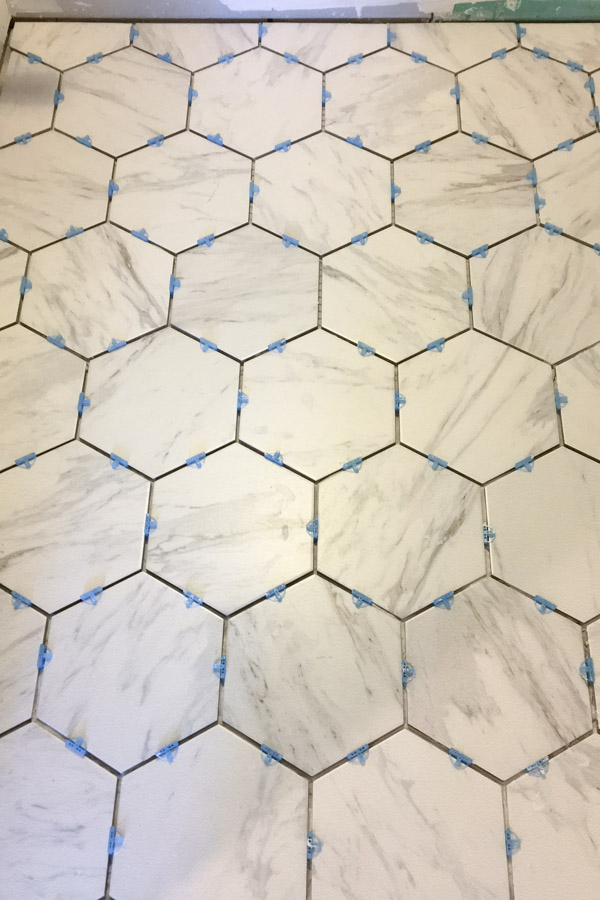 As I've shared previously, the longest part of the tiling process was figuring out where to start, laying some tiles out first, and making the edge and corner cuts. Since it was our first tile installation, I don't have anything to compare it too, but I don't think the hexagon shape made it overly difficult to install. Though, I would think a square or rectangle tile may be easier to install…
Common questions about our porcelain marble tile:
Below are answers to common questions I've received about the tile.
What grout did you use with the tile?
I used a warm gray grout by Mapei that was pre-mixed. I love the color of the warm gray with the marble tile look. I think the gray also hides dirt better than a white grout would.
What size tile spacers were used?
We used 3/8″ tile spacers. 3/8″ seemed like a good size grout line for the scale of the tile, not too thick or thin.
Is the tile slippery?
I just want to preface this answer by saying to always use your best judgement on what you think is slippery flooring for your own space. But, in my experience, because the tile has a matte finish, it is not slippery. If it gets wet, I'd say it's just as slippery as any other tile would be.
What is the tile variation like in person?
For the boxes of tile we received, the tile all had a natural looking variation to it. We didn't have any issues with the variation when installing it. Also, the color of the variation is mostly a mix of cool and warm grays and whites. There were a few tiles with small hints of brown mixed in, but the gray and white colors were the dominant colors, just like many types of real marble.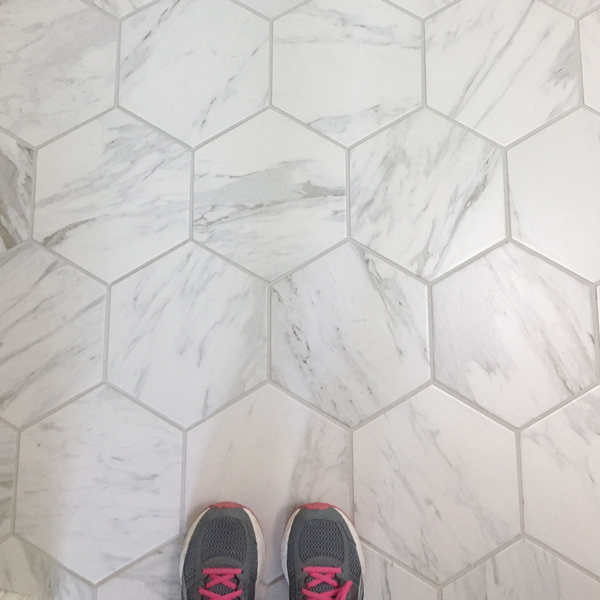 If you have any other questions about our porcelain marble tile, please let me know! Again, if you want to see more similar tile options, check out my five porcelain tiles that look like marble post.
Follow along for my latest projects and sneak peaks on Instagram and YouTube!
Want to save for later?! Pin it here: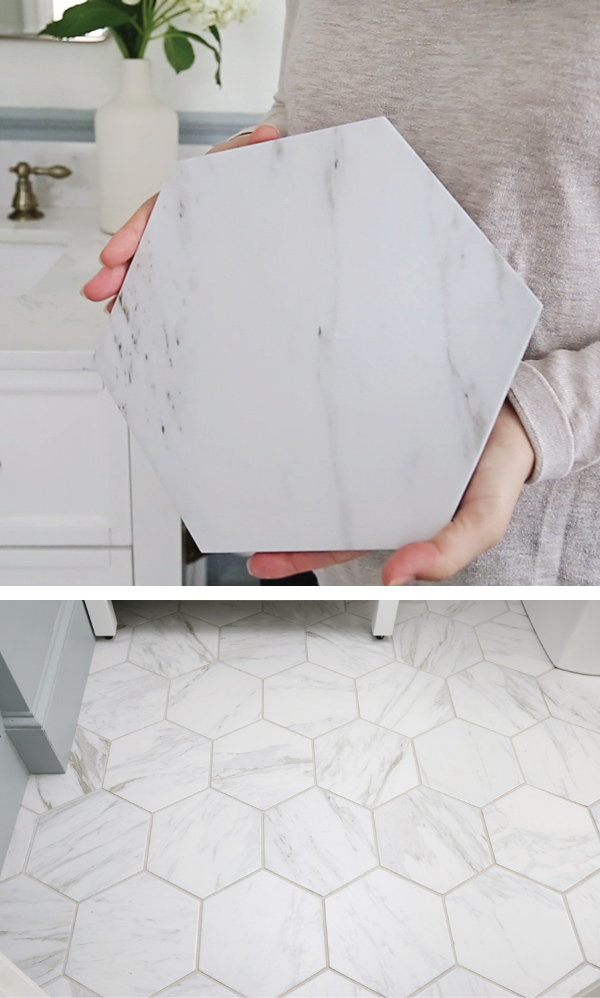 Sharing is caring!