Learn how to apply polyurethane to wood, the types of polyurethane, what type of brush for polyurethane, and answers to common polyurethane FAQ!
One of my favorite ways to get a beautiful and protected wood finish is using polyurethane. I am going to share about the different types of polyurethane and when to use them, the best way to apply polyurethane to wood with a how to video, and more polyurethane tips and tricks!
I am also sharing my favorite brand of polyurethane and my favorite tool for application!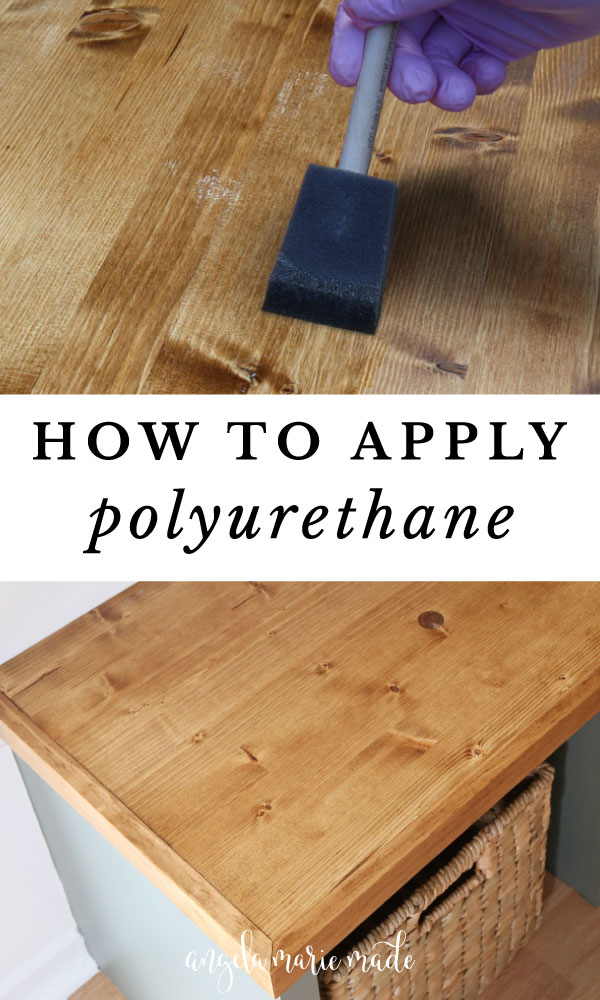 Types of Polyurethane
Just like with wood stain, the two main types of polyurethane (poly) are oil based polyurethane and water based polyurethane. They are available in different sheens including semi gloss, satin, and flat.
Note, this post contains some affiliate links. For more info see my disclosures here.
Oil Based Polyurethane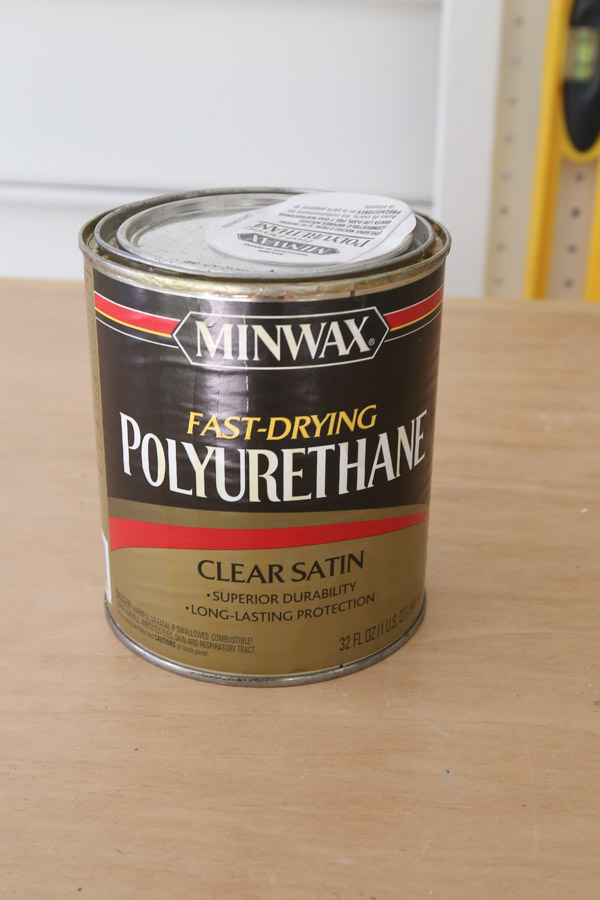 Oil based polyurethane is best for creating an amber color wood finish, with a rich, enhanced grain of the wood and stain color. It looks beautiful on brown wood stain colors, like these 10 favorite wood stain colors.
Here is our easy DIY desk top with two coats of oil based polyurethane over provincial wood stain. You can really see how enhanced the wood grain is and it has a smooth finish.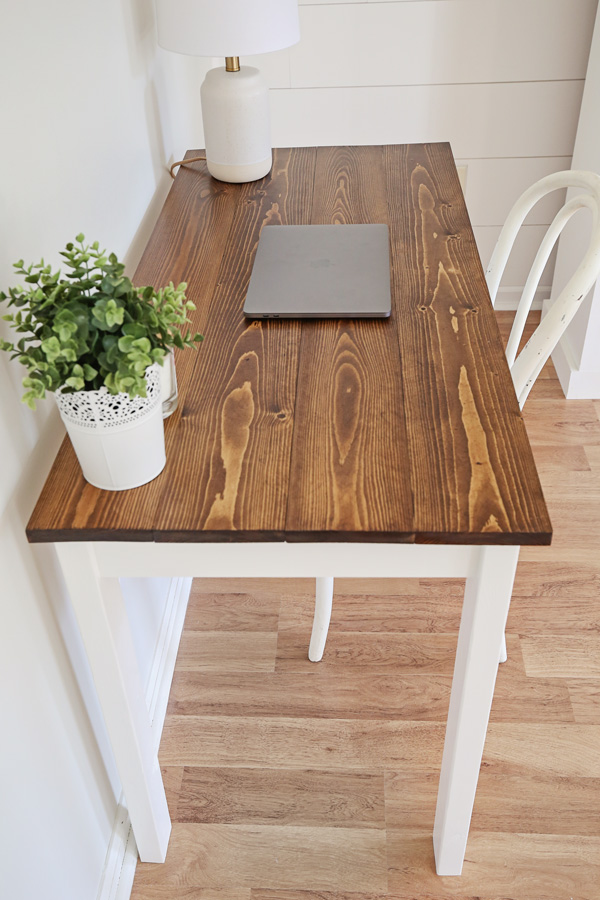 Here is an example of using oil based polyurethane vs no polyurethane over stained wood, you can really see how it brings out the richness of the wood: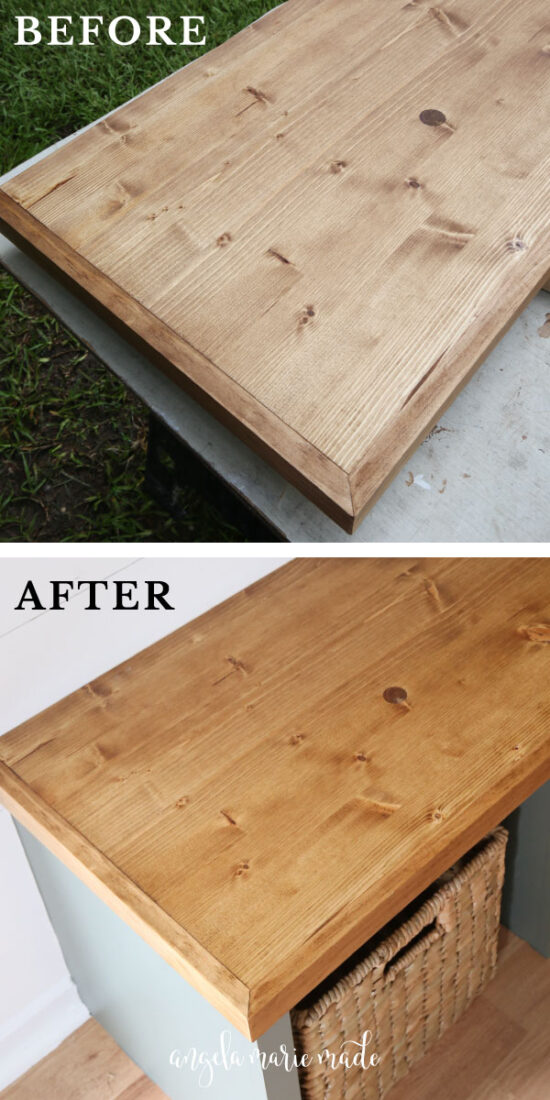 Avoid using oil based polyurethane over painted surfaces (especially white paint), white stain, grey wood stain, and white washed wood as it can yellow the color of the wood due to it's ambering color effect. That's why it works best with classic, brown hued stains.
Oil based polyurethane is considered one of the most durable wood top coats and more durable than water based polyurethane. However, the dry time between coats is a little bit longer for oil based polyurethane.
Oil based polyurethane is very smelly though and has a lot of VOCs, make sure to always apply it outside or in a very well ventilated area. You can also wear a paint respirator mask.
It can be applied with a natural bristle brush, foam brush, or rag (if it's the wipe on type). It also comes in a spray on finish.
Due to the oil based nature, oil based polyurethane should always be cleaned up with mineral spirits and properly disposed of at your local trash disposal center for hazardous waste.
Water Based Polyurethane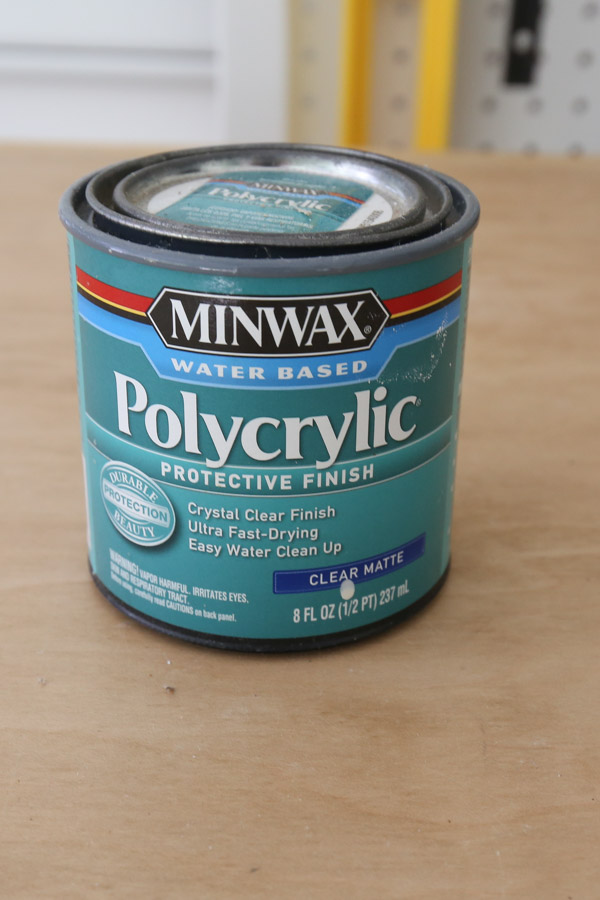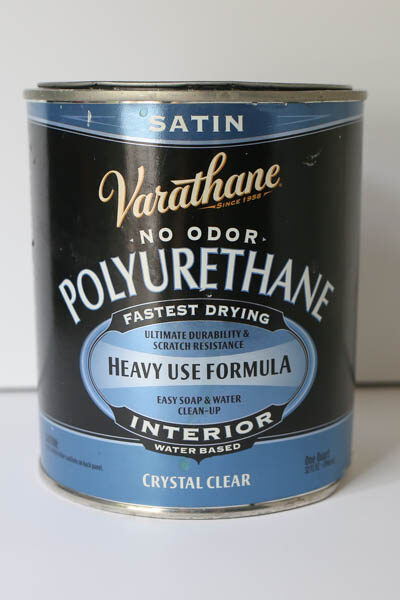 Water based polyurethane is best to use when you want a clear finish over stained wood or a painted surface. It's great for weathered wood finishes and gray wood stains too!
I used water based polyurethane on our weathered wood finish for our farm table makeover: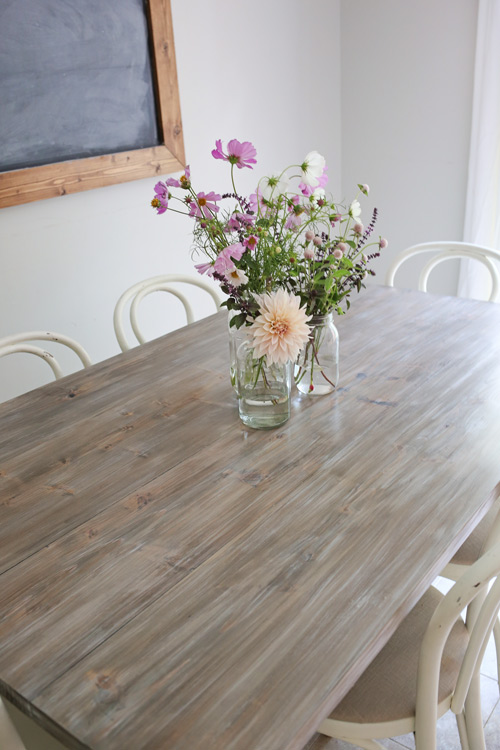 It also works well for raw wood finishes, I used it on our raw white oak wood for our DIY hanging planter: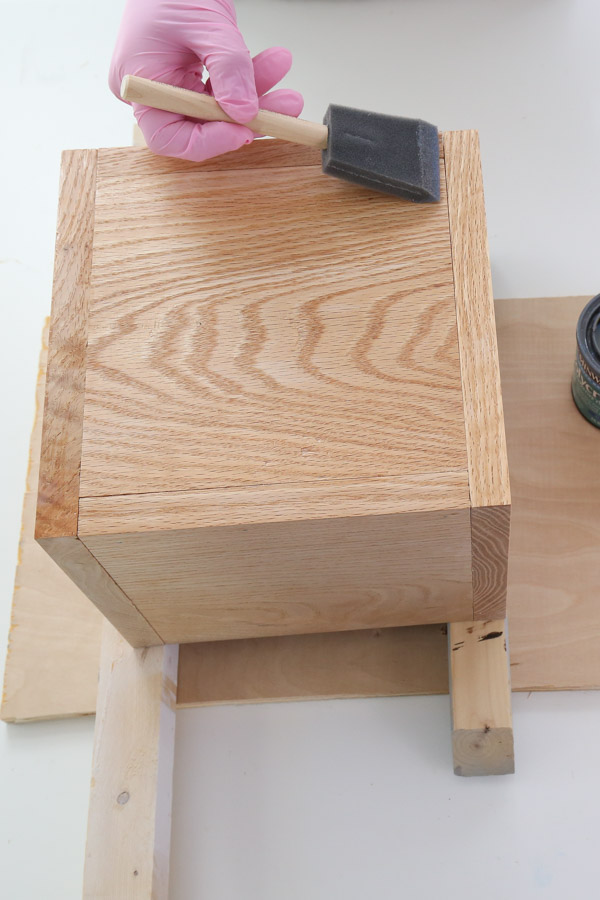 Although water based polyurethane isn't as durable as oil based, it's still very durable and a great top coat alternative.
One of the best features of water based polyurethane is that it isn't as smelly or high in VOCs. You should still apply it in a well ventilated area though.
It's also faster drying than oil based poly and cleans up easier. You can just use soap and water.
It can be applied with a synthetic bristle brush, foam brush, or in a spray on finish.
White Paint, Light Wood Finishes, and Water Based Polyurethane
Do keep in mind that if you have a white paint, light paint or stain, or white stain wood finish, you should always TEST out the water based polyurethane over it in a small hidden area first.
Although water based polyurethane does not cause yellowing like oil based polyurethane does, if the wood is older, the polyurethane can still cause a little bit of yellowing.
It can also cause darkening or altering of the wood color finish no matter what age or type of wood it is. It's especially noticeable on white and light colored stains and paints.
So, it's best to test it out on your wood finish to make sure you like how it will look!
My Favorite Polyurethane and Favorite Tool for Application
My favorite polyurethane to use is this fast drying, oil based polyurethane by Minwax. I've used it for years and on so many projects. It's inexpensive, easy to find, and works great for enhancing the grain and look of my wood finish.
I think the best way to apply polyurethane to wood is with a high quality foam brush. It doesn't leave brush marks and is easy to use and control the amount of poly used. They are inexpensive and can be disposed of after use, so I don't have to clean them, like brushes, after use.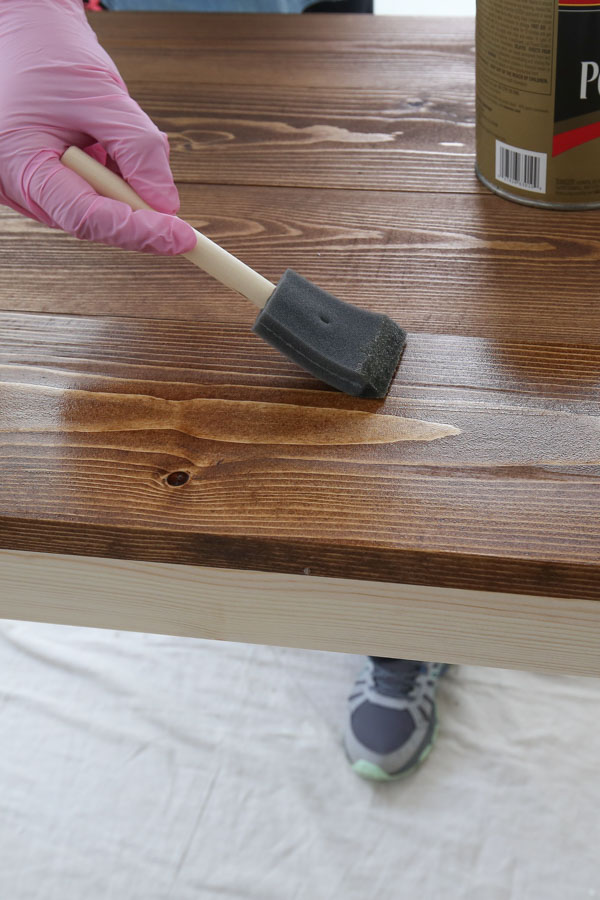 ---
How to Apply Polyurethane to Wood
Below I am explaining how to apply polyurethane to wood with a foam brush, my preferred application tool! I am applying the polyurethane to my DIY built in bench wood top.
Supplies Needed:
220 sandpaper or sanding block
Gloves (Rubber, Nitrile, or Chemical resistant)
Wood stirring stick, craft stick, or plastic spoon
Applying Polyurethane to Wood Video Tutorial:
Subscribe to my YouTube Channel here!
1. Prep the wood finish for polyurethane
Before you even finish your wood project with wood stain or paint, make sure that it is sanded well. This is extremely important for not just the polyurethane top coat, but for the best wood stain or paint application too!
See my how to sand wood and how to stain wood tutorial for more details on these steps!
The wood finish should be smooth to touch and not feel rough. Make sure it is free of dust and dirt too. Tack cloth can be used for removal of any dust/dirt.
Let the stain or paint dry on your wood project for at least 24 hours before applying polyurethane.
2. Set up a work space
As noted above, it's best to apply poly outside or in a very well ventilated area if you can't be outside.
Use a secure, flat surface or work table. I like to set up a pair of sawhorses and a plywood board from the home improvement store in my backyard.
Then, I place scrap 2x wood under my wood project to raise it off of the table surface. This helps to easily apply the polyurethane to the sides of the wood project and let it dry more evenly as well.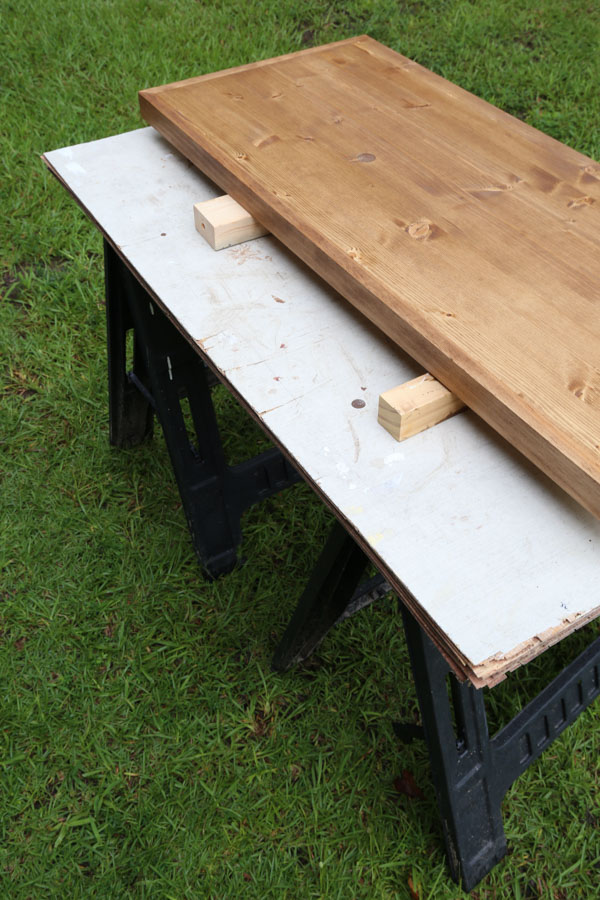 3. Prep the polyurethane
When handling polyurethane, make sure to where chemical resistant gloves.
Use a wood stirring stick, craft stick, or plastic spoon and stir the polyurethane before using it. Don't shake the polyurethane, it can cause bubbles in the application process.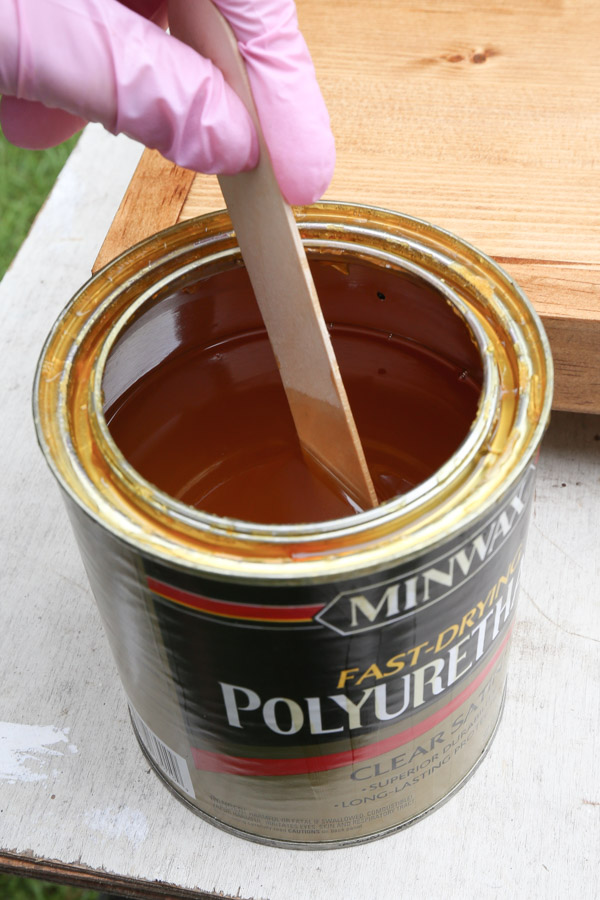 4. Apply the first coat of polyurethane
For how to finish wood with polyurethane, I use a foam brush (for easy disposal) and apply it very lightly in long strokes, into the grain of the wood, to avoid foam brush strokes.
These foam brushes work great and hold up well with the poly in my experience.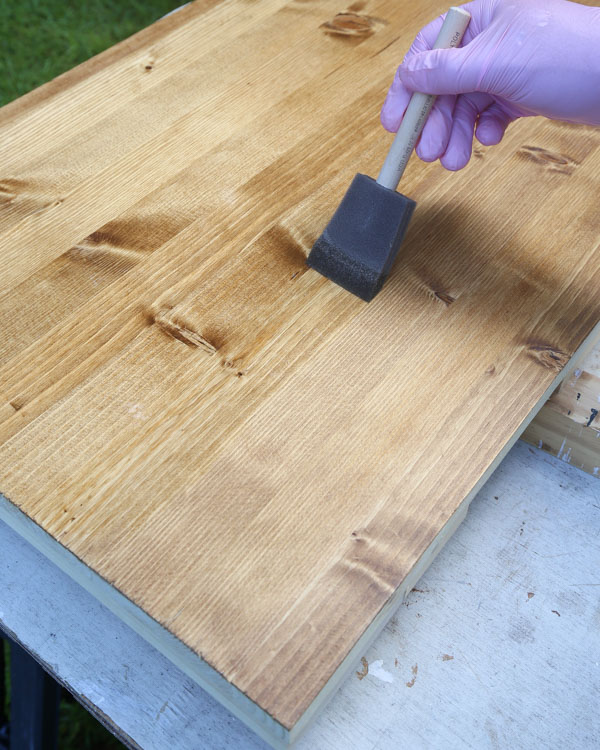 If the polyurethane goes on heavy in any area, go back over the area lightly and in a long stroke. This is especially important to do on the top edges, after you apply polyurethane to the side edges of the wood project as you don't want any heavy drips or areas.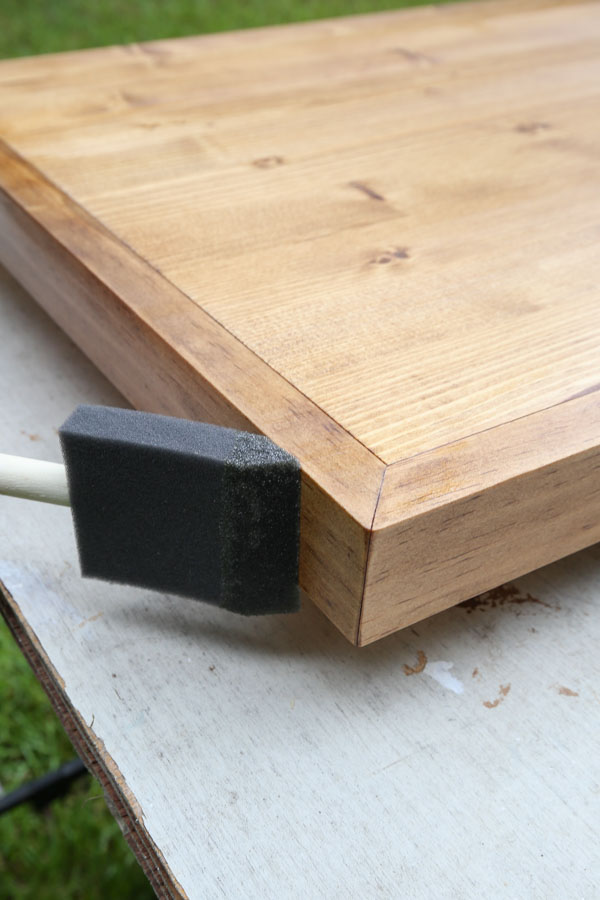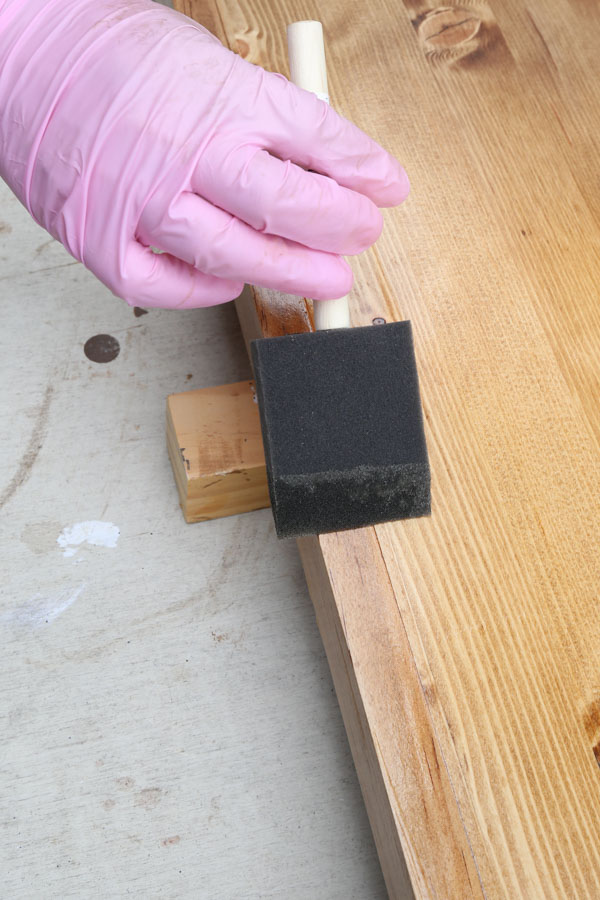 Tip: I like to wrap my foam brush in a small plastic bag between coats to keep it from drying out so I only need to use one foam brush per project.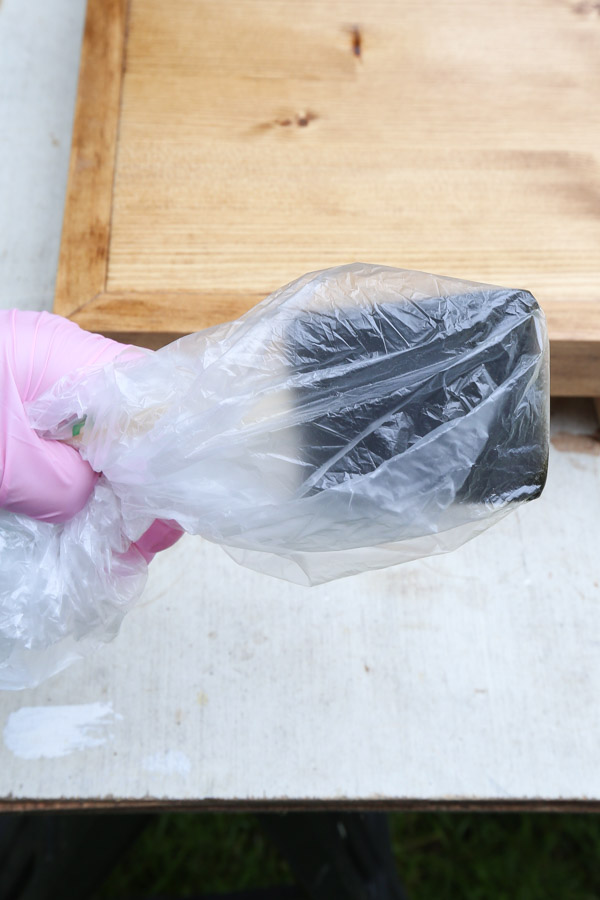 Dry time for polyurethane
Allow the polyurethane to dry for several hours until dry.
Drying times will vary depending on the type of polyurethane used and temperature and humidity conditions. The wood will feel dry to the touch and not sticky or tacky. Usually around 2 hours for water based polyurethane and 3-6 hours for oil based.
5. Apply a second coat of polyurethane
After your first poly coat is applied and has dried, the wood grain may rise some, which you can feel by running your hand over the wood. It will feel a little rough.
Simply use a 220 grit sand block or sandpaper and lightly hand sand over the piece. Then, use tack cloth to wipe away the saw dust. You can then feel the wood again and it should feel smooth.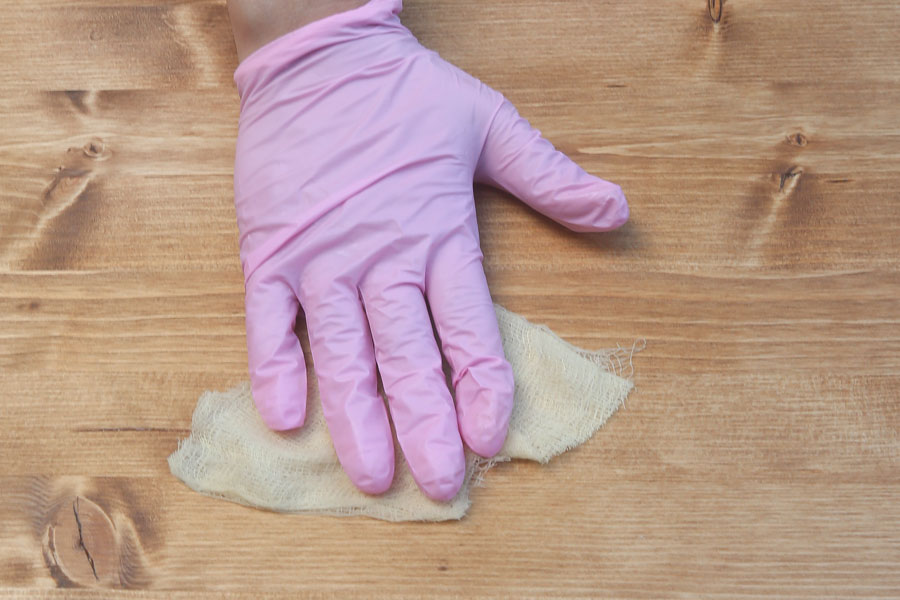 Apply a second coat of polyurethane the same way you applied the first coat. With the second coat, the poly will go on easier and smoother.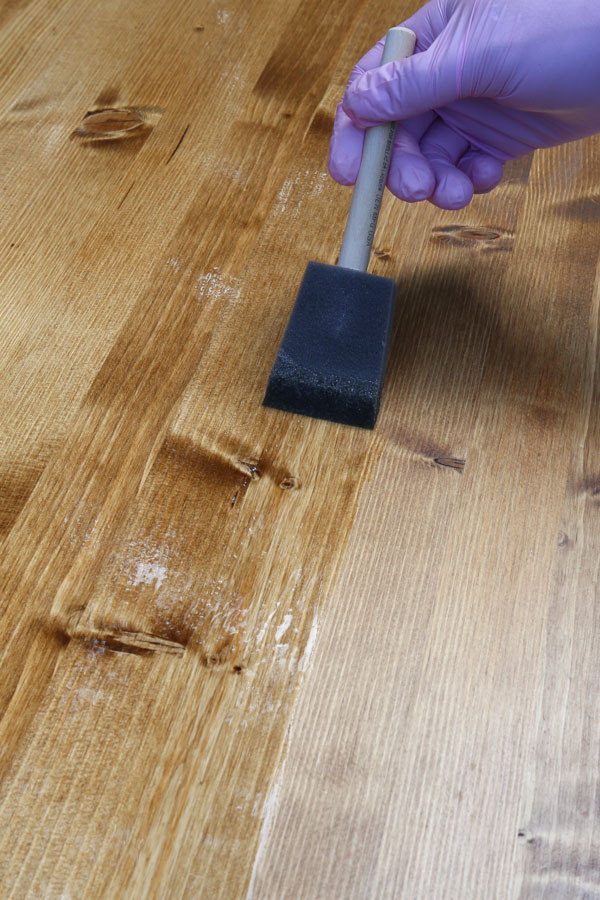 You can see all of this in action in my how to apply polyurethane to wood video here!
Allow the second coat to dry.
6. Allow the polyurethane to cure before handling
After the last coat of polyurethane has been applied, allow it dry for at least 24 hours before handling. It can take 2 or 3 days for the polyurethane to cure to a more durable finish and with minimal smell, so make sure to just lightly handle it.
It can take 30 days for polyurethane to fully cure to it's most durable finish. If there is more humidity it takes longer for it to cure, so try to avoid letting it cure in high humidity areas.
Here is how the polyurethane finish turned out on our DIY built in bench top: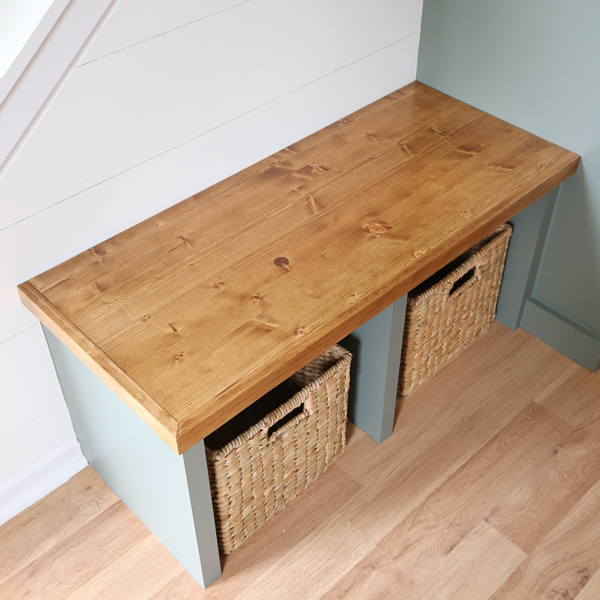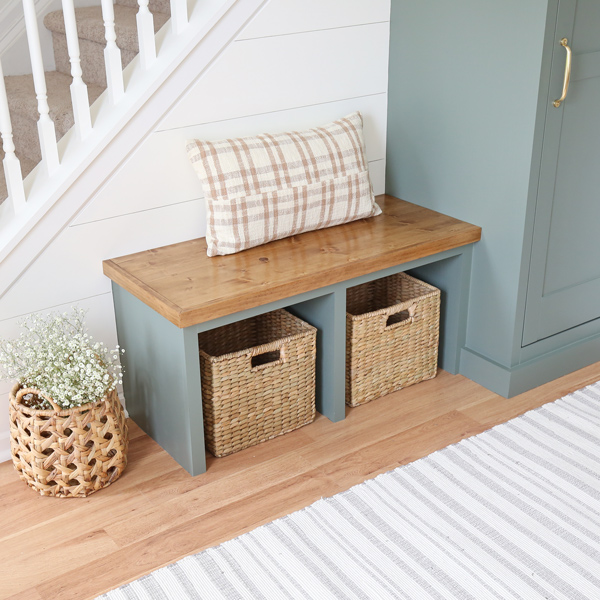 Here are answers to some common FAQ about polyurethane:
How many coats of polyurethane should be used?
Two coats of polyurethane should always be used with both water and oil based polyurethane. A third coat is optional and may be applied for extra durability. I like to apply three coats to surfaces that will be used a lot, like kitchen tables.
How do I get a smooth finish with polyurethane?
The key to a smooth finish, as described above, is in the proper sanding of the wood, both before adding stain or paint and hand sanding after the first coat of polyurethane has dried. See how to sand wood for more details on sanding wood.
Also, use the right tool to apply the polyurethane as described below.
How do you apply polyurethane without brush marks?
Use a foam brush! It doesn't leave brush marks because it has no bristles. And it's easier to control the amount of polyurethane being applied. It's also easy to gently smooth out any line marks caused by the ends of the foam brush (if too much is applied) and the lines are easy to see and smooth out while applying.
I've used brushes and foam brushes for polyurethane application and have found foam brushes to be much easier to use and clean up.
Well I hope this how to apply polyurethane to wood tutorial and finishing wood with polyurethane resource guide has been helpful! Here is one more look at that smooth, poly finish: