When it comes to staining wood, there are several different ways to apply it. After staining lots of different wood projects, I want to share what I think is the best way to apply stain and why, as well as what to avoid!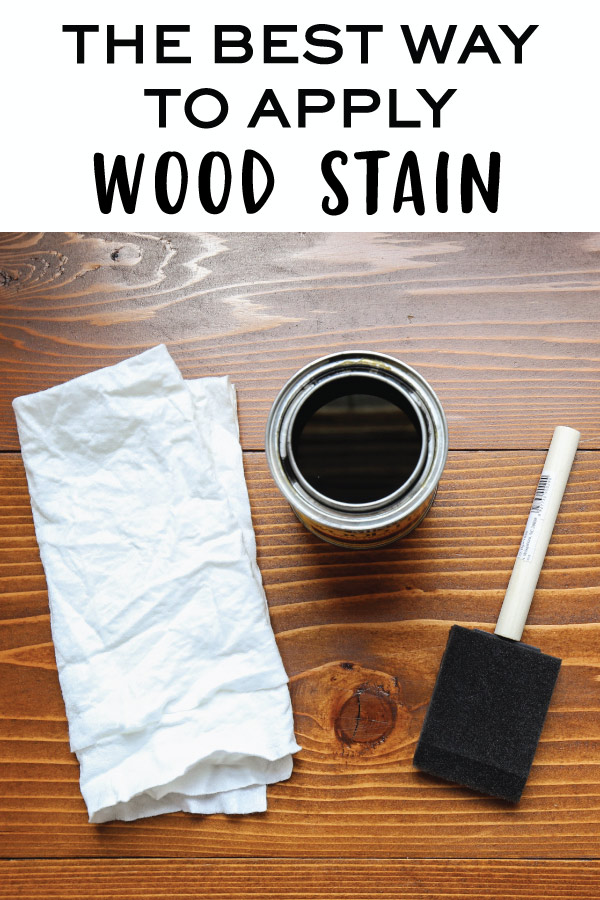 First, if you need a step by step tutorial on how to stain wood, check out my easy, how to stain wood tutorial. And before getting started with any staining wood project, always make sure to sand the wood first, it makes a huge difference in the quality of the final wood stain finish.
Note, this post contains some affiliate links. For more info see my disclosures here.
Best Way to Apply Stain:
Use a Lint Free Rag
The best way to apply stain is with a lint free rag and wiping it into the grain of the wood. Using a lint free rag is the best way to apply wood stain because it is great for controlling the amount of stain that is applied and for removing any excess stain. Also, the rag leaves a beautiful, even, and brush stroke free finish. It also can easily be thrown out once finished.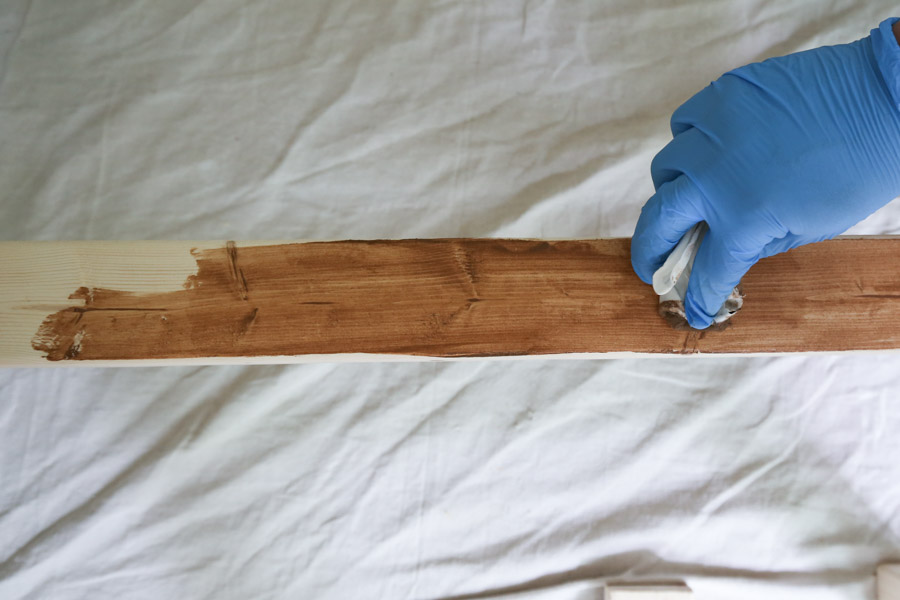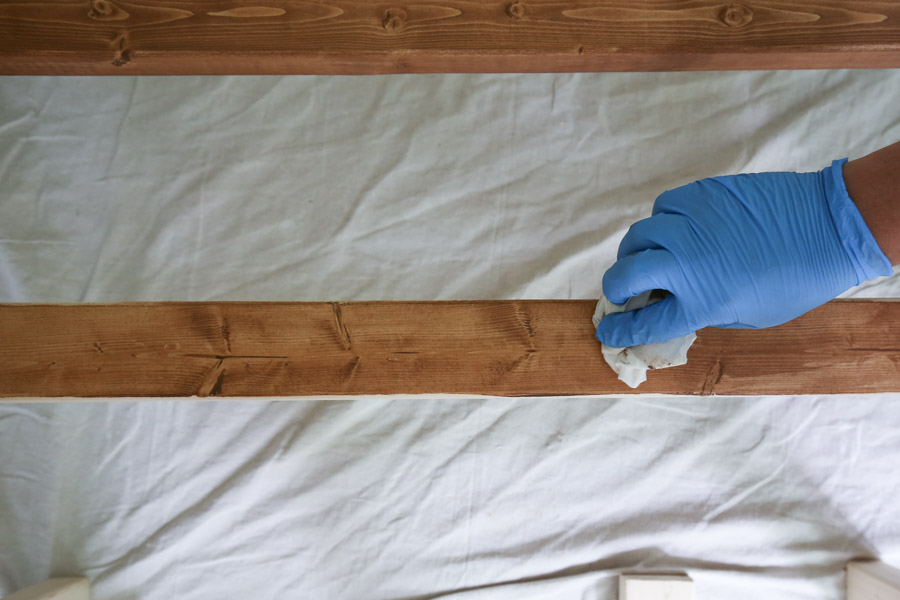 Make sure to use a higher quality, lint free rag because otherwise you may end up with little fuzzies on your project surface and they are annoying to remove with wet stain. Lint free rags can be found online and at the home improvement store. Or you can cut up some old t-shirts too (use fabric cutting scissors).
Also, make sure to wear rubber gloves or some kind of chemical resistant, disposable gloves (such as nitrile gloves), to protect your hands while applying the stain.
After applying the first coat of stain and letting it dry, apply a second coat of stain if you want to darken or enhance the color more. Again, for more details on the full staining process, check out how to stain wood.
Use a Foam Brush for Corners and Large Projects
For corners, nooks, crevices, or any other hard to reach spots, use a foam brush to apply the stain first. Then, wipe off the excess with a lint free rag. Foam brushes are great for nooks and crannies because of their angled tips. Once finished, you can easily throw them out as well.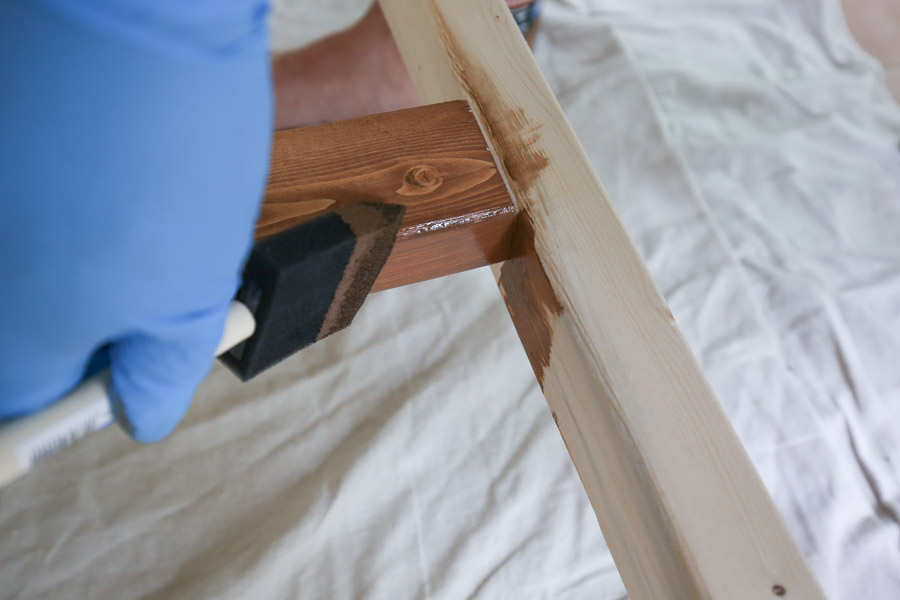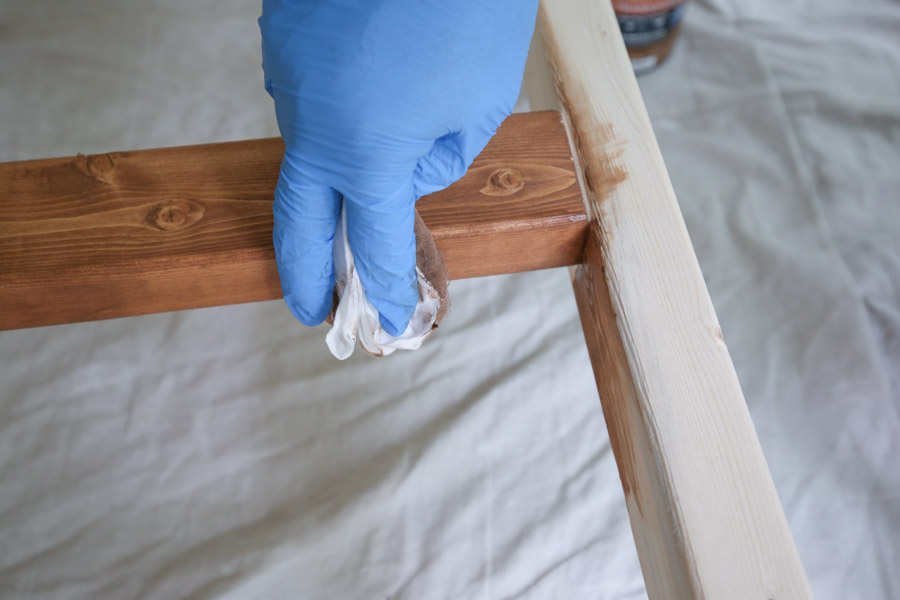 These foam brushes are the best value I've found as far as good quality and a low price! I've used them for both stain and polyurethane application. I prefer foam brushes and rags over staining pads because of the low price and ease of use.
Another great use for the foam brushes is to use them when staining a large project. Because they hold more stain than a rag, you can apply the stain over a large surface (in the direction of the wood grain), then wipe off the excess stain with your lint free rag. When I stained over 20 DIY farm tables, this is the method that I used for most of them for a quicker application.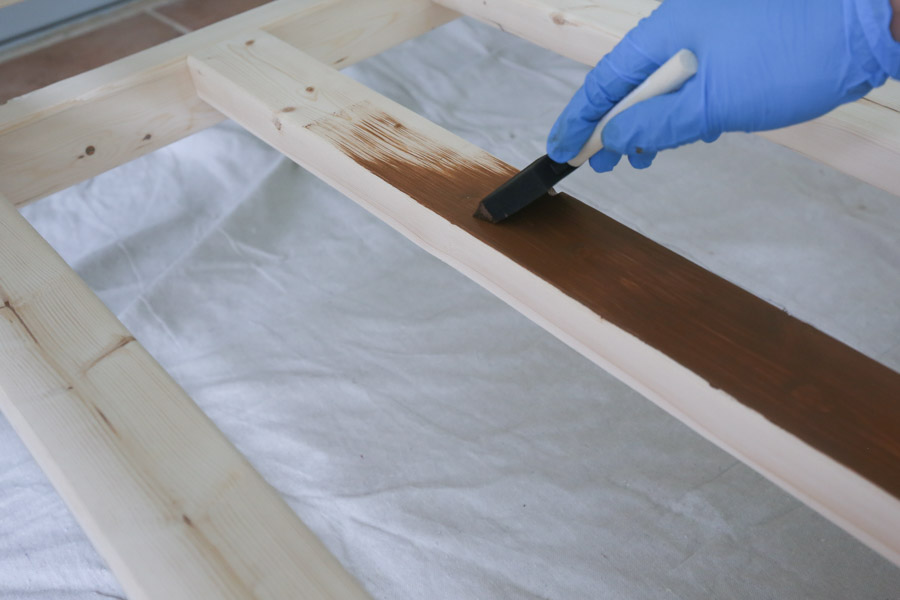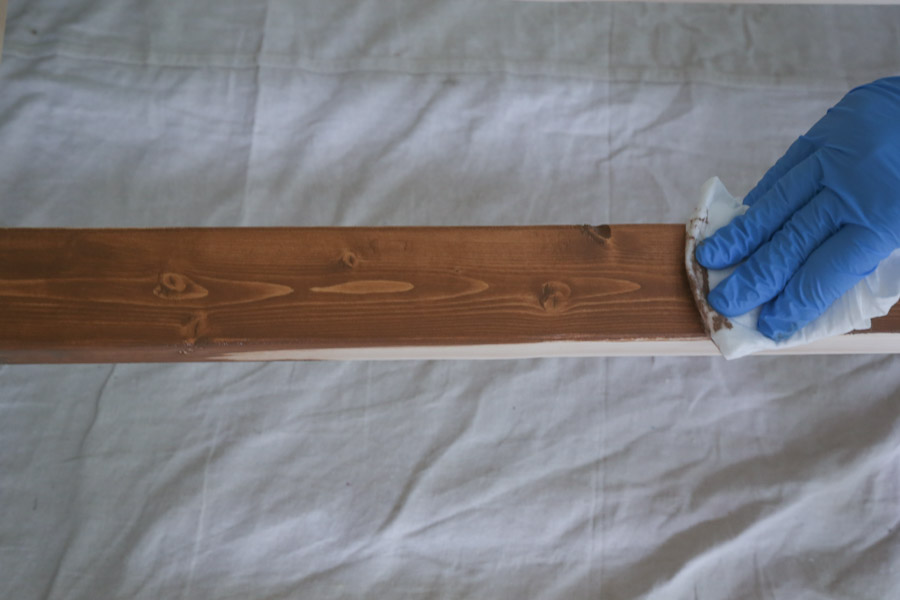 Avoid Using a Brush or Roller when Staining Wood
When you apply wood stain, avoid using a brush. Although they can be used, I avoid them because they can leave brush strokes in the wood grain finish, which makes the finish looks unnatural.
Also, when using a brush and oil based stain, one of the most common types of stain, the brush needs to be cleaned out with mineral spirits, which is a very messy process. I did this once and won't do it again. Then, the mineral spirits have to be properly disposed of at your local hazardous waste collection site. Another drawback of using a brush.
Lastly, avoid using a roller for stain application as well because it will apply unevenly and not go into the grain of the wood well. Further, with a roller you'd have to pour the stain into a paint tray and it's best not to pour stain out of the can. Stain is not as thick as paint and it would be very drippy and messy, making application much more difficult.
Use a Stain Marker for Small Touch Ups
If you just have a small scratch or spot that needs stain or a touch up, it's best to apply the stain with a stain marker. Stain markers are super handy as you can quickly touch spots up. I still like to wipe over the stain quickly with a rag even after using a stain marker, just to make sure it blends right in and no heavy spots remain.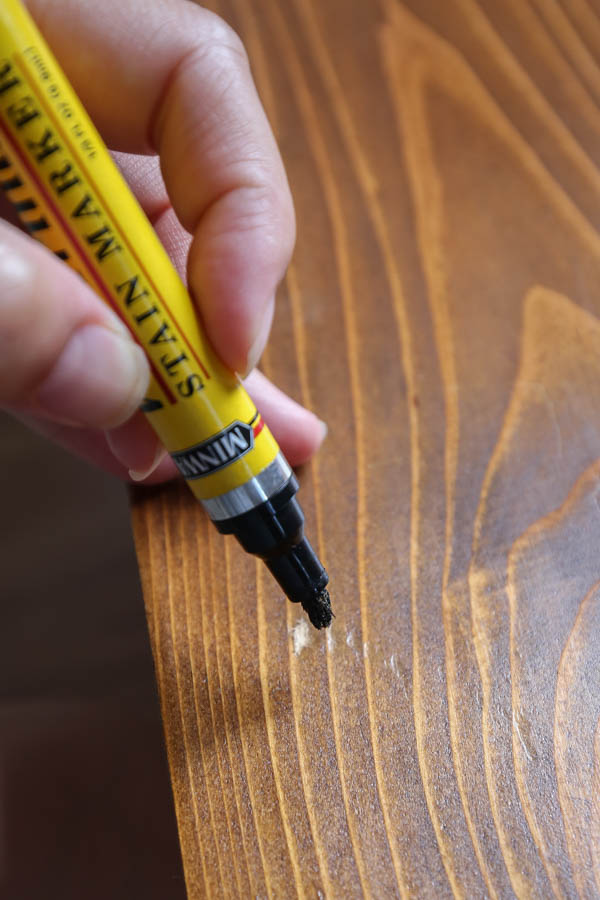 Well that's it for the best way to apply stain and what to avoid when applying wood stain! Also, if you need help with choosing a stain color for your wood, check out 10 favorite wood stain colors and 5 grey wood stain options and white wood stain options!
One of the best things about staining wood, is that stain is very forgiving and easy to work with, so you will get the hang of applying it like a pro in no time! Just remember to always wipe the excess away with a lint free rag for the best, natural looking finish!