Usually I don't talk about current events here on the blog. But, things have changed so quickly everywhere in the past week. So, I just want to say that I hope everyone is staying safe and healthy.
I am planning on staying on schedule as best I can with our current house projects and they are a great distraction for me! This past weekend we started updating our kitchen. The plan is to give the kitchen a makeover on a budget, more specifically a $750 – $1000 budget.
As much as I'd love to create my dream kitchen, our current home isn't a house we plan on staying long term. So, we don't want to over invest into it. However, I want to give it a makeover and make it more of my style as much as I can given the budget restriction.
It was a pretty basic kitchen when we moved in as you can see from the photo below.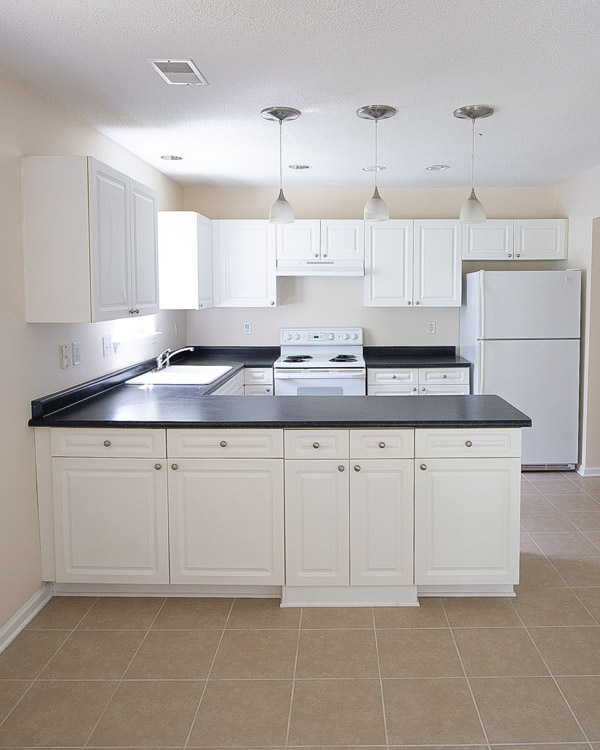 All we have done so far is paint the yellow beige walls white. It has black countertops which I strongly dislike and are difficult for me to design around. I really want to replace them, but that would exceed the budget.
Staying away from new countertops, cabinets, flooring, and appliances and then DIYing the other projects I have planned will save thousands. An average kitchen renovation can easily cost $30k plus, so my $1k renovation is going to be a challenge yet doable. Although, we are saving up for some new appliances to eventually add. So, I'm thinking that I can do mostly cosmetic DIY updates to improve the kitchen overall.
Over the weekend we started by removing a really bulky kitchen cabinet, which immediately opened up the space and made it feel more light and airy. I plan on reusing the cabinet on another side of the kitchen and doing some built in cabinetry with it! And then we are going to add floating shelves on the wall to replace it.
We also covered up the old phone jack with a drywall repair kit too!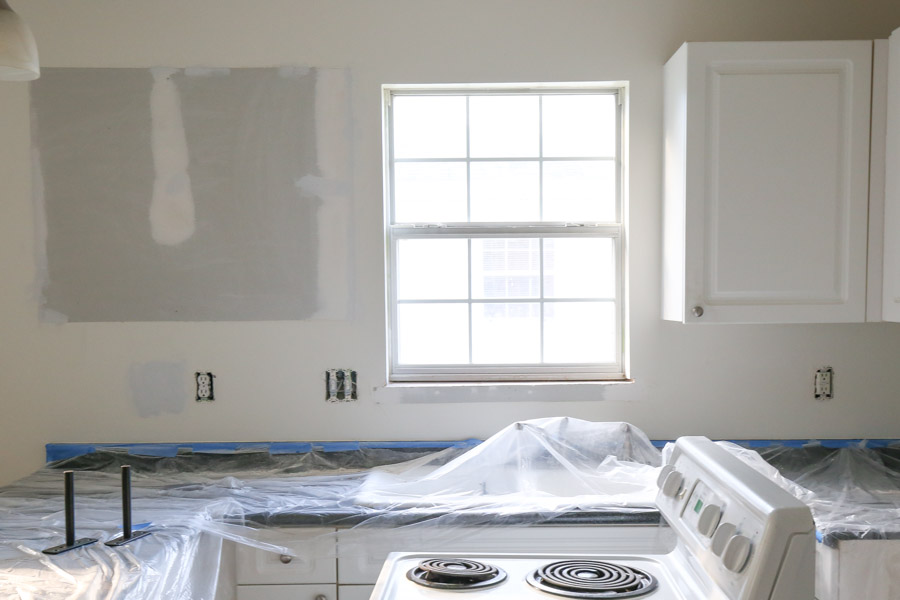 The next project we did was add custom window trim to the window using the same DIY window trim as we did in our living room.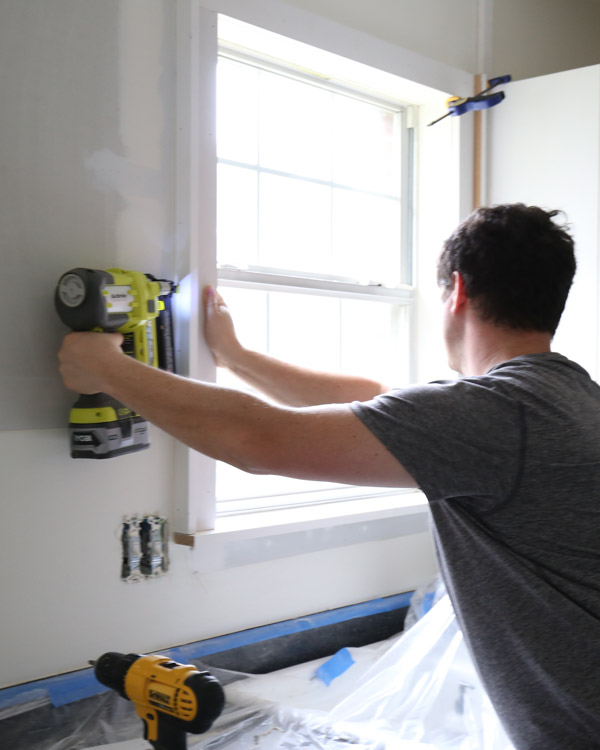 This DIY window trim adds so much character instantly. The only difference with our kitchen trim was that we had to not do overhang on the ledges since the wall outlets were in the way. Here is a video showing step by step how to do it just like our living room:
Finally, the biggest update we did so far was add a subway tile backsplash. Whew, was it exhausting! We're almost finished with it, I just have to finish grouting it and buffing the grout haze.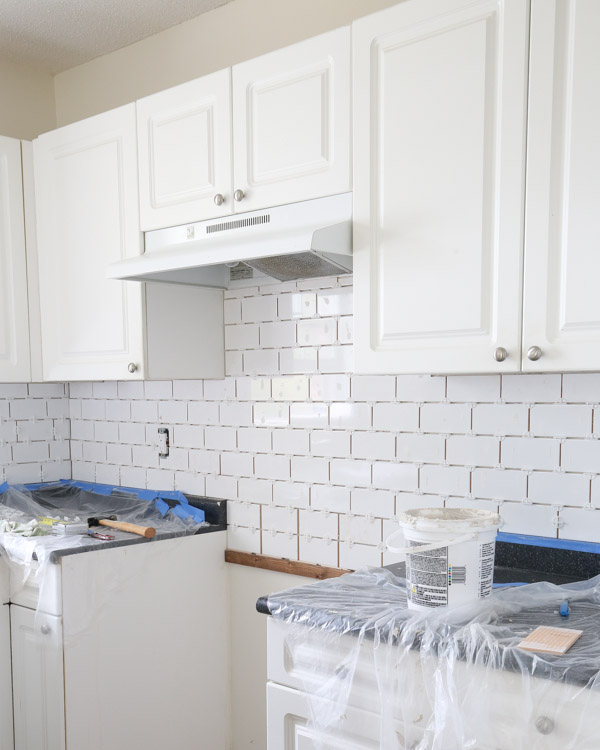 Hopefully, it all comes together once we paint the the cabinets…which leads me to my list of projects I have left for this space:
Paint kitchen cabinets
Update cabinet knobs with black or oil rubbed bronze hardware
Replace pendant lights with can lights
Add cute new pendant light over sink
DIY wood range hood cover and new range hood
Trim out peninsula with custom molding
Build up cabinets to the ceiling (so no open space) and add crown molding
Replace faucet
Finish floating shelves and kitchen window trim
Add custom built in with a wood countertop. Will do this with the old cabinet for extra storage and building a built in shelf for the microwave
Remove popcorn ceiling and paint it
Add bamboo blinds to the window
I think that's everything! Over the next 2 months we will be tackling all of these projects and I will be sharing how to do most of them! I decided not to do a subway tile tutorial since we are still such newbies at tiling (this was our 2nd tile project) and there are many tutorials out there already.
Follow along on Instagram for sneak peaks and behind the scenes of our kitchen makeover. And follow along on YouTube for all the how to videos!