If you're wondering how to stain wood white, then using a white wood stain is the best option!
After researching white stains available on the market, I found three stains that are ready to go in a can and that are readily available at home improvements stores and online, with no extra tinting involved.
I'm also going to be explaining the difference between whitewash wood stain and whitewash paint.
Want to save for later? Pin it here: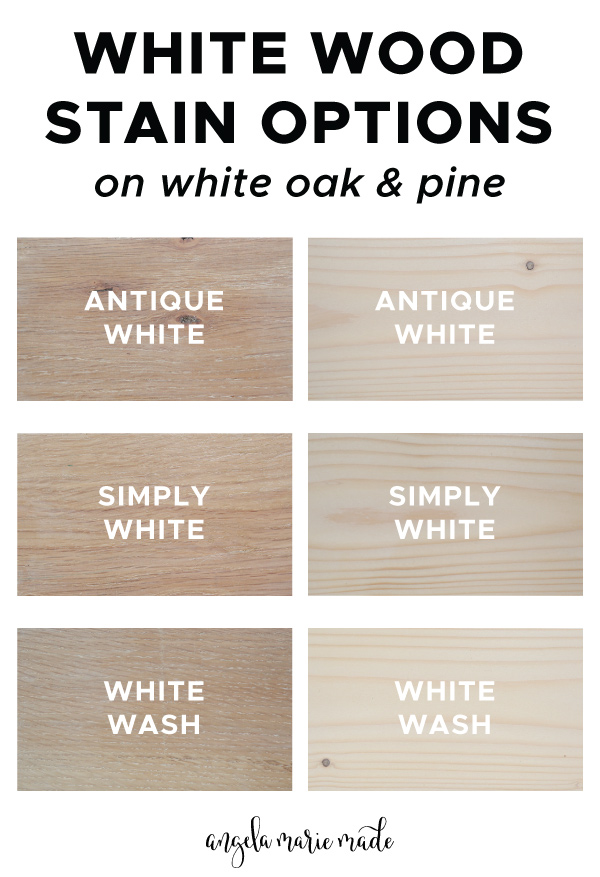 Today I want to share samples of those white stains on pine wood and white oak wood. If you're interested in other color wood stains, check out my 5 grey wood stain options, as well as 10 favorite wood stain color options for more classic colors. And if you need tips on staining for a beautiful finish, see my how to stain wood tutorial and the best way to apply stain.
Check out my video for these white stain options and how to stain wood white here:
The reason I'm testing these white stain options on white oak is because it's a popular wood to use for a more white washed wood look and the grain of white oak looks really pretty with a white stain. I'm also testing the white stain on pine wood because pine is a very commonly used wood and very budget friendly.
Also, I am making some floating kitchen shelves with white oak and I'm considering a white wood stain for them. So, I wanted to test these stains out anyways and I thought it would be helpful to share!
Another thing to note is that white stain provides a white washed look, but another technique is to use a mix of white paint and water for how to whitewash wood with paint. The difference between the two is explained below.
Note, this post contains some affiliate links. For more info see my disclosures here.
White Stain vs White Paint
1. Whitewashing over another stain or paint finish
I would use the whitewash paint technique if I want to whitewash over paint. Using a stain over paint or any surface with a sealant isn't going to work well because it can't absorb into the wood.
For whitewash over stained wood (with no sealant), you can use either white stain or white paint (like I did on my weathered wood gray finish). Either way results are going to vary greatly depending on the base stain color, so definitely test it out first!
2. Creating a thicker whitewash and more opaque finish
An advantage of white paint mixed with water is that you can make the whitewash thicker by mixing less parts water with more parts paint if you want to make the white wash more opaque. Below is an example of where I did this with a thicker whitewash paint mixture technique on our crate side table.

3. Enhancing the grain of the wood
Further, when finishing a more expensive piece of wood like white oak, I would use a white stain to enhance the grain of the wood. Whitewash paint doesn't enhance wood grain like stain is formulated to do.
4. Ease of Use
Another reason to use white stain vs white paint and water is for ease of use. These ready to go stains don't require any pre-mixing or tinting at the paint counter. At the same time, if you already have white paint on hand and no white stain, it's easier to just do the paint and water.
White Wood Stain Color Options:
Overall, I think all of these white stains look very similar. However, I do think that white oak takes white stain better than pine wood. The white stain on the raw pine wood is very subtle.
Also, I used two coats of stain for all of these samples, but if you want a more obvious white wash look, use more coats. And I used this pre-stain wood conditioner on all of the wood samples first before applying the stains.
This Simply White stain by Minwax darkened the tone of the white oak wood and added a slightly white streak look. I'd say this stain enhanced the wood grain the least and it wasn't as natural looking as I'd like it to be.
And on the pine wood, this stain was the lightest white wash look. If you want a really subtle white stain or wash, this would be a good option.
Out of all of the white wood stain samples, this White Wash Stain by Varathane on white oak was my favorite! It really settled into the wood grain the best and looked like the most natural white wash look out of all 6 wood samples.
It looks very nice on the pine too, helping to add a more white wood look and a less yellow pine tone.
Antique White by Varathane made the white oak more pinkish in tone. But, it did settle in the wood grain pretty well.
For the pine, I think this stain was the strongest white wash look, providing the most coverage in just two coats, compared to the other two stains. Although, it's super similar to the White Wash by Varathane.
Ok so I know this post is called 3 stain options, but I actually found a 4th ready to go white stain, Minwax White Wash Pickling, after ordering the first three cans. However, because all of these stains are so similar looking, I decided not to test this 4th option. But, I wanted to include it here so you know about it in case you want a 4th option.
I hope these white wood stains on pine and white oak wood samples are helpful for you so you can see how they actually look on real wood!
Again, if you want to see more stain options, check out these grey wood stains and classic wood stain colors and examples on real wood. And see my how to stain wood tutorial for staining tips!
Before starting any wood staining project, it's so important to sand the wood well. Check out how to sand wood for beginners for an easy step by step sanding tutorial.
Finally, I do want to note that if you are using another species of wood other than pine or white oak, I would definitely recommend testing the white stains out first on your wood since they can look different.
Follow along on my latest projects and sneak peaks on Instagram, YouTube, and Pinterest!