Painting a door a fresh color is a super easy way to refresh a space and I'm going to show how to paint a metal door!
Ever since I built our DIY outdoor chair a few weeks ago to finish our DIY furniture set, I've been wanting to refresh our sunroom for spring! I haven't had much time to work on the space since our kitchen makeover has been taking up most of my time. So, yesterday I decided to do a quick, little patio door makeover using some paint I had on hand already.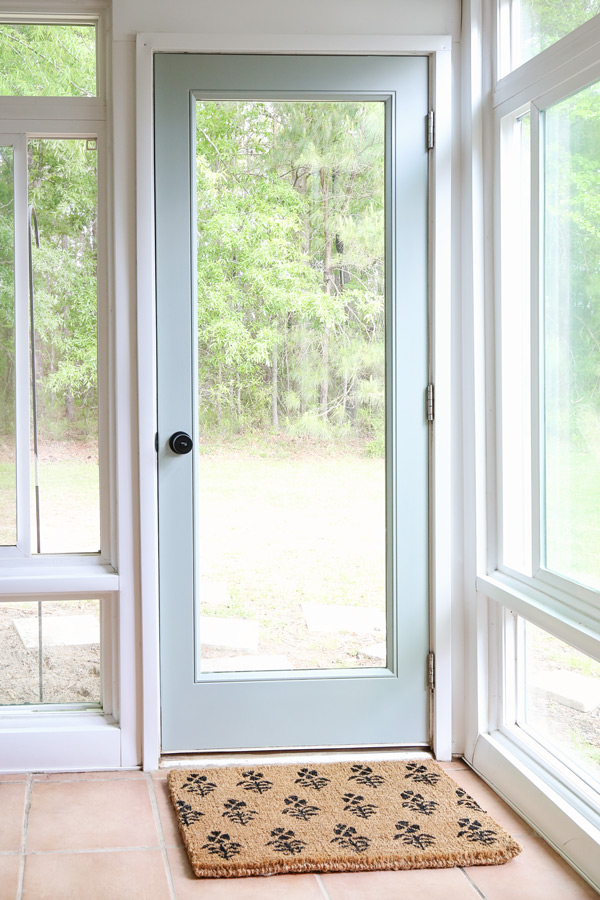 And here is the BEFORE PHOTO:
The fresh pop of color has instantly made the space cuter! I used Oyster Bay by Sherwin Williams, which I had leftover from our DIY double barn doors.
If you need a quick and easy project that really makes a statement and makes you feel like you've accomplished a project, painting a door is the way to go! This mini makeover took less than a day to complete!
Note, this post contains some affiliate links. For more info see my disclosures here.
I also added a new, matte black doorknob and a new outdoor doormat to complete the makeover! I didn't know how much I could love a doorknob, but this new one is slick and smooth. The quality is amazing compared to our old door knob.
A quick note. Although my door is metal, the below steps for painting a door are the same really for any exterior door.
How to Paint a Metal Door
Materials Needed:
Degreaser Cleaner or other cleaner and sponge or brush
Sandpaper (80-150 grit)
Primer (I used this primer)
Exterior Paint
Paint Brush
Small Paint Roller and tray
Screwdriver
Razor
Check out the video tutorial here:
Subscribe to my YouTube Channel here!
1. Remove the doorknob
Use a screwdriver and remove the doorknob from the door.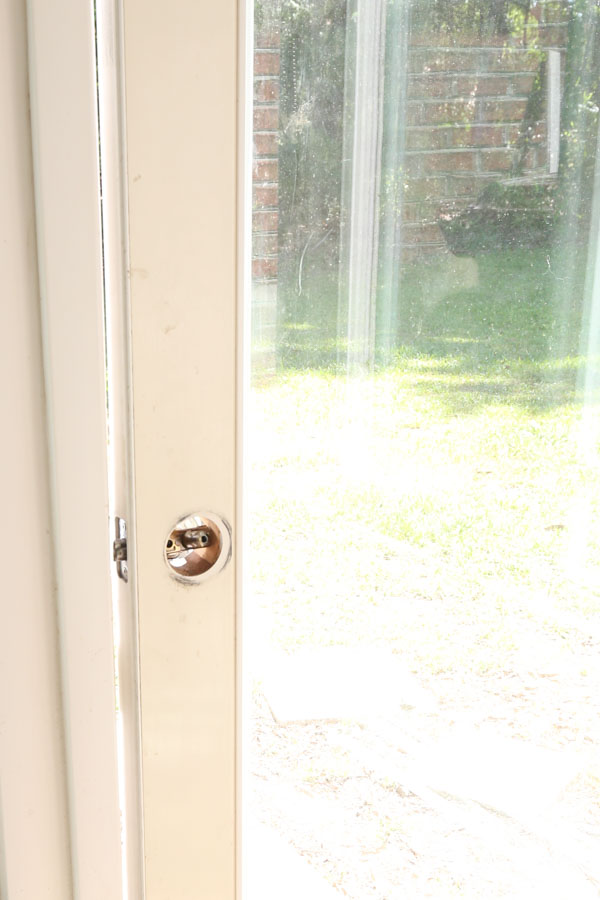 2. Hand sand the door lightly
Use a medium grit sandpaper and lightly hand sand the door just enough to scuff up the surface so the paint will adhere better. I used 150 grit but 120 works well too.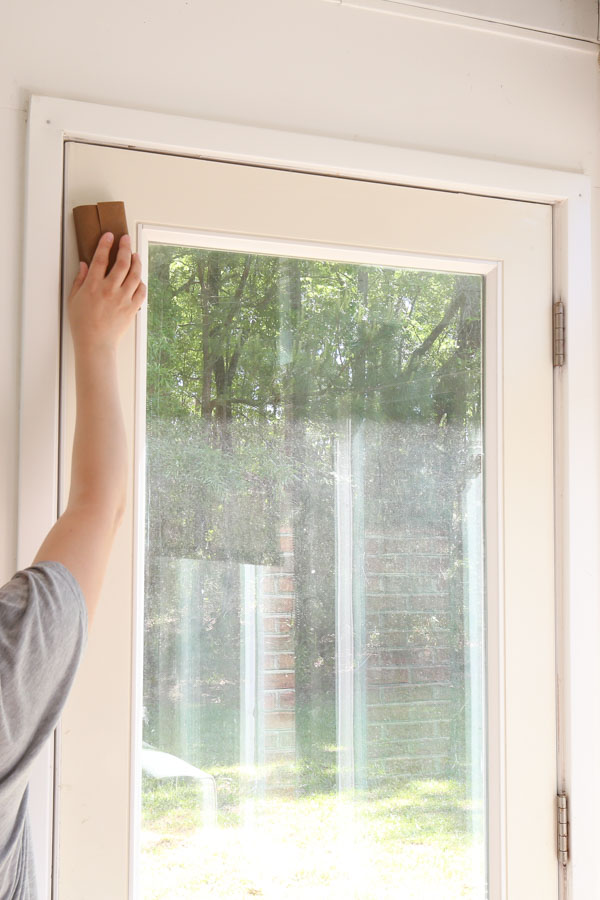 3. Clean the door
Use a degreaser cleaner, water, and a sponge or scrub brush and clean the door to remove any dust or dirt.
4. Use painter's tape around the edges
Apply painter's tape along the inside and outside of the door edges and around the door hinges. Basically anywhere that the brush or roller might touch, use tape to protect that surface.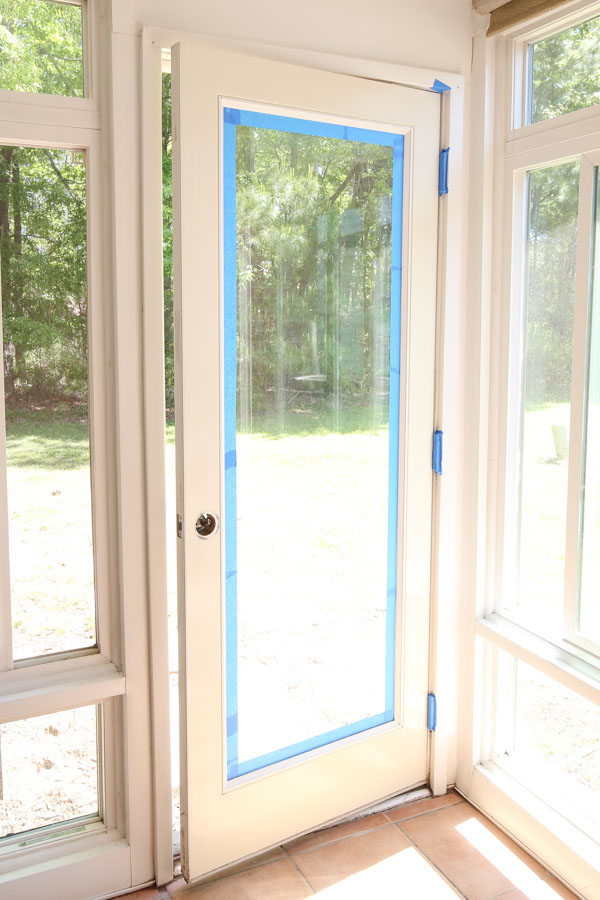 5. Prime the door
Use a high quality primer. I used this primer which always works great for me.
First, use a paint brush and cut in the edges, corners and creases with the primer where a paint roller won't reach easily.
Also, the white door trim on the inside of our door could have been left white and unpainted, but I wanted to paint it, so I primed that too. Either way is fine!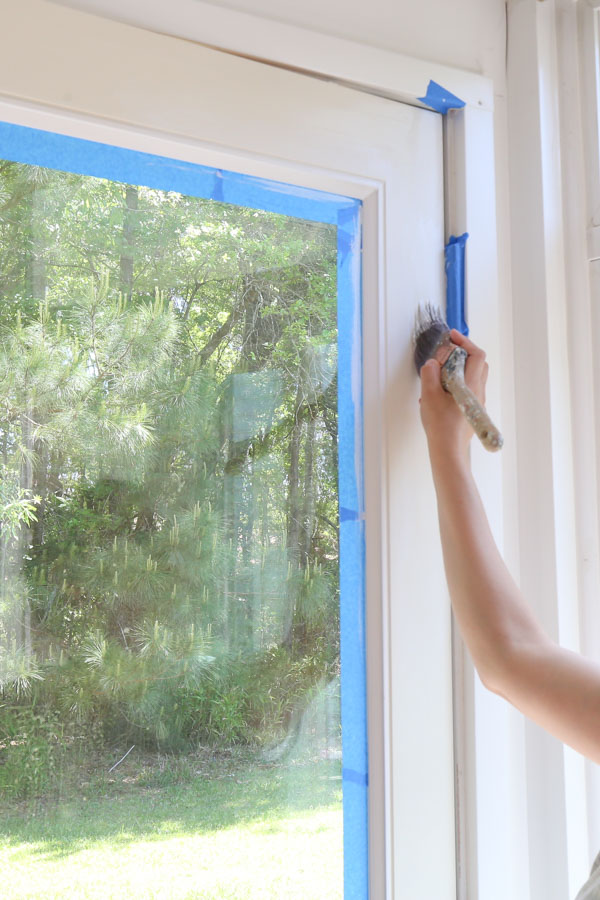 Then, use a small roller and roll the primer on to the door.
Let it dry.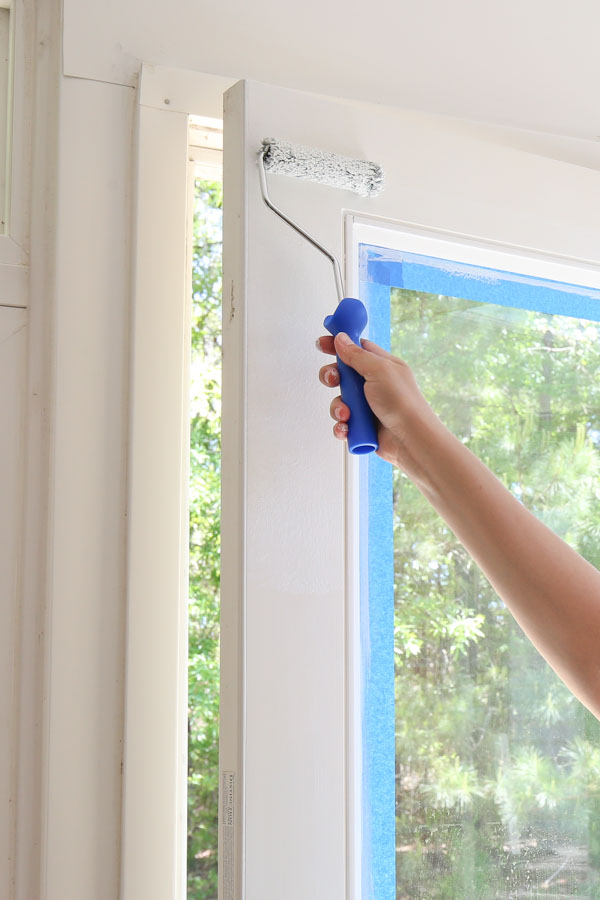 6. Paint the metal door
For an exterior door, it's best to use an exterior paint. Since I painted the inside of my door and I was just using paint I had on hand, I used interior paint which is fine since it won't be getting wet or direct sunlight.
Again use a paint brush and cut in the edges, corners and creases with the paint brush where a paint roller won't reach easily. Let the first cut coat dry. Then apply a second cut coat.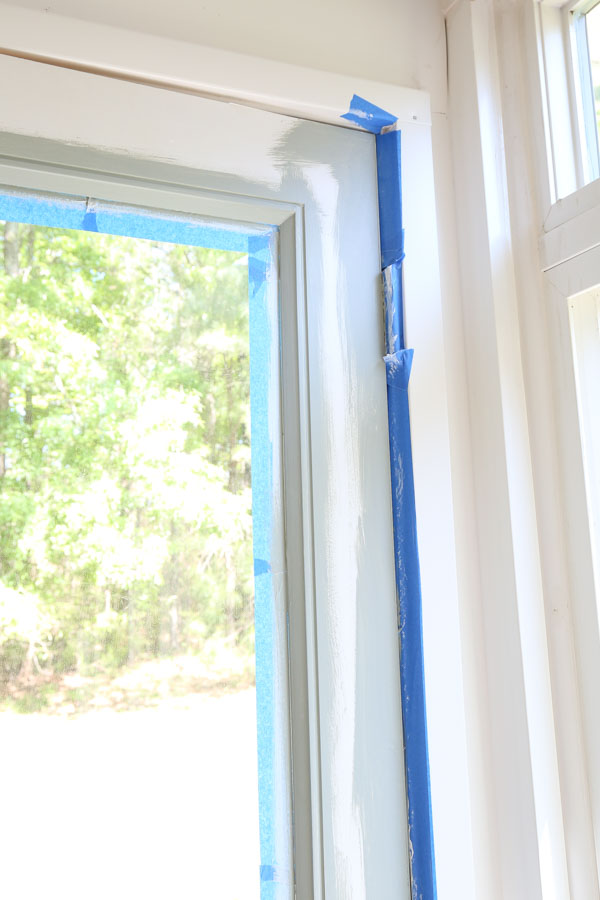 Next, use a small paint roller and apply a first roll coat of paint. Let it dry. Then, finish off the door makeover with a second coat of paint.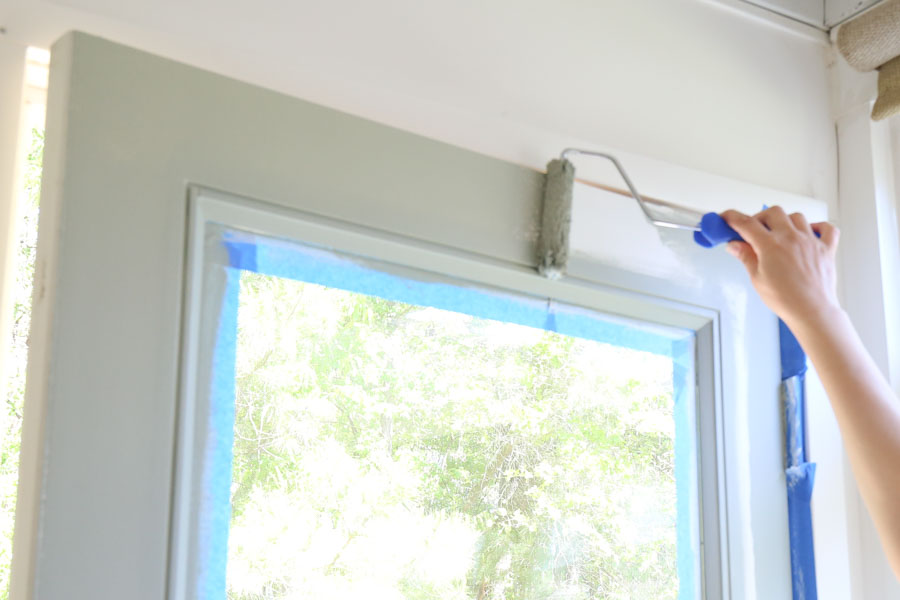 7. Remove tape and use a razor to remove any paint that leaked under tape
Once the paint has dried, remove the painter's tape. If any paint leaked under the tape onto any glass, remove it with a razor blade.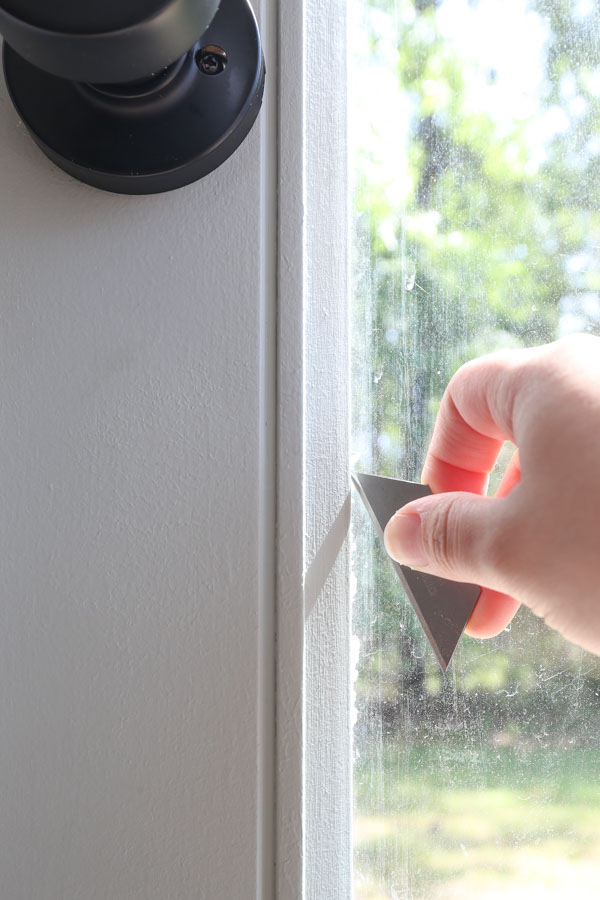 And that's it! Our pup loves the new door makeover too!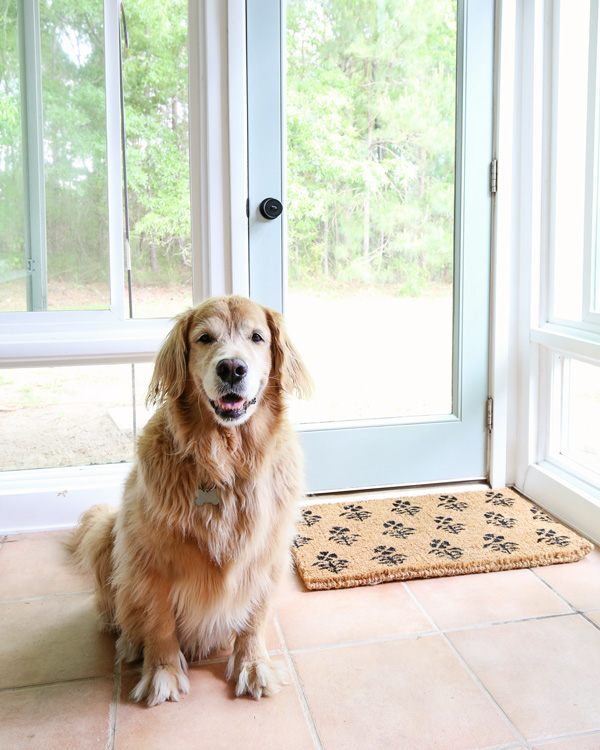 I hope this quick and easy tutorial on how to paint a metal door has been helpful! Have you ever painted your front or back door? It's so satisfying to see the transformation for just a little project!
Follow along on my latest projects and sneak peaks on Instagram, YouTube, and Pinterest!