After many requests, I'm excited to share our new DIY outdoor chair that matches our DIY outdoor couch! Now our DIY outdoor furniture set is complete!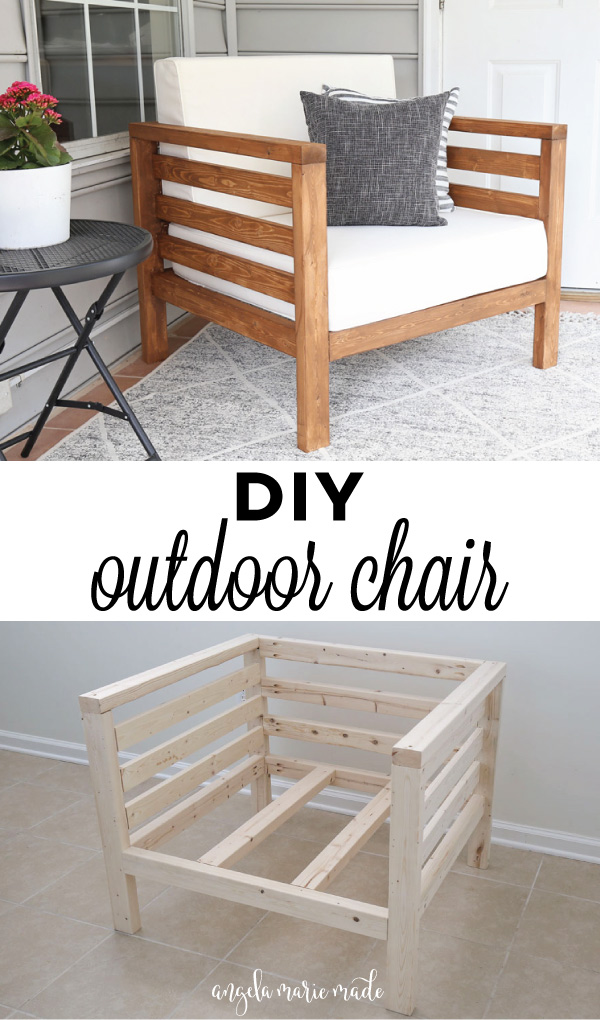 It's starting to feel like springtime in Charleston! The azaleas are blooming and the weather was sunny and around 60 degrees this past weekend. It was the perfect weather to get outside and do some woodworking!
Just like our DIY outdoor couch, the matching chair was built to go with these outdoor cushions that I love. They recently came back in stock and I ordered another set for the chair.
If you use different cushions make sure to adjust the below measurements. A reader found these other cushions which are similar in size, and this store has other outdoor cushions to choose from as well, but again measurements would still need some adjusting. Here are a few more cushion options as well.

Overall, the chair build is very similar to the DIY outdoor couch, there are a few modifications and a few less 2×3 boards. But, I will still break it down step by step below and I have a full video tutorial below as well!
Note, this post contains some affiliate links. For more info see my disclosures here.
How to build a DIY Outdoor Chair:
**If you use different cushions, make sure to adjust the below cut measurements!
The final size of this DIY outdoor chair is 26″ tall x 33 3/4″ wide x 30 1/4″ deep.
VIDEO TUTORIAL:
Subscribe to my YouTube Channel here!
1. Make cuts for outdoor chair frame
Use a miter saw and make the following cuts from the 2x3s:
4 pieces @ 24 1/2″
2 pieces @ 30 1/4″
5 pieces @ 28 3/4″
4 pieces @ 27 1/4″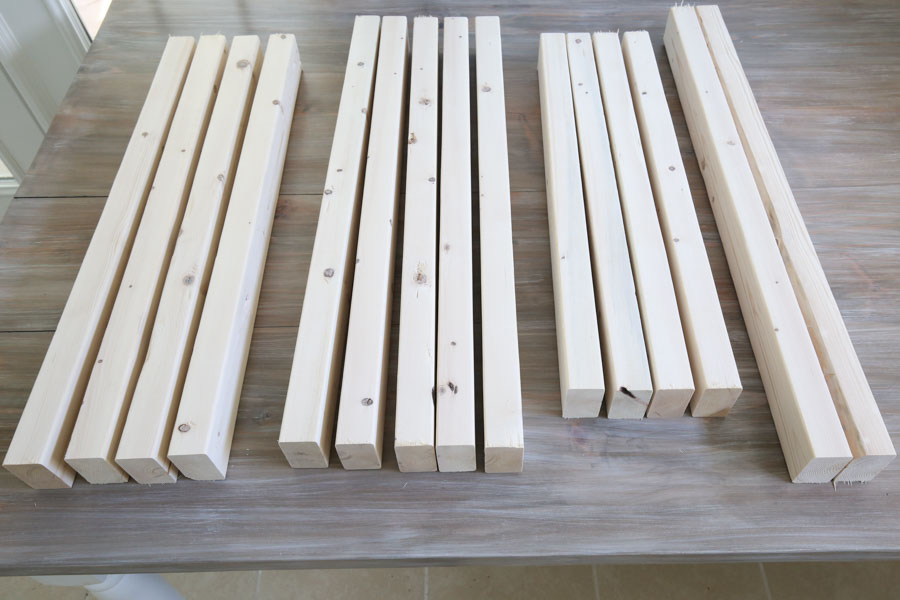 2. Add pocket holes to wood
Make sure your Kreg Jig is set to 1 1/2″ thick wood. Add two pocket holes to each end of the following 2×3 pieces:
5 pieces @ 28 3/4″
4 pieces @ 27 1/4″
Tip: See my how to use a Kreg Jig post for an easy, step by step tutorial and video tutorial on how to use the Kreg Jig!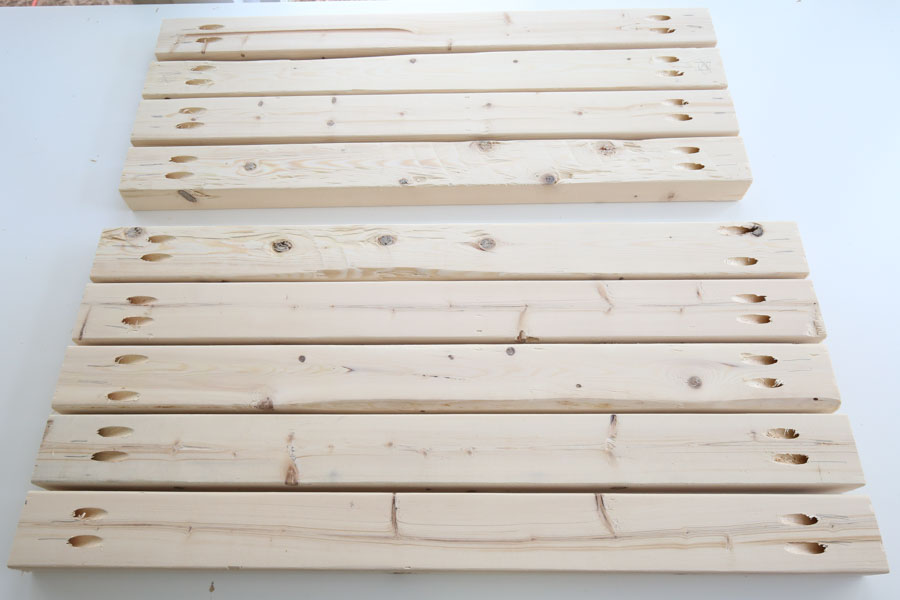 3. Assemble DIY patio chair side frames
The frames of this DIY outdoor chair are built exactly the same way as the DIY outdoor couch side frames. See that post for a few more photos of this step. Or you can refer to the DIY chair video tutorial as well!
Mark 10″ up from the bottom of one of the 24 1/2″ pieces. Attach one of the 27 1/4″ pieces perpendicularly to the 24 1/2″ piece at the 10″ mark. Then, attach them together with 2 1/2″ Kreg screws. Repeat on the other side.
I used a scrap 1×4 and paint stick underneath of the 2×3 to hold it up so the edges would be flush for when I attached the two boards.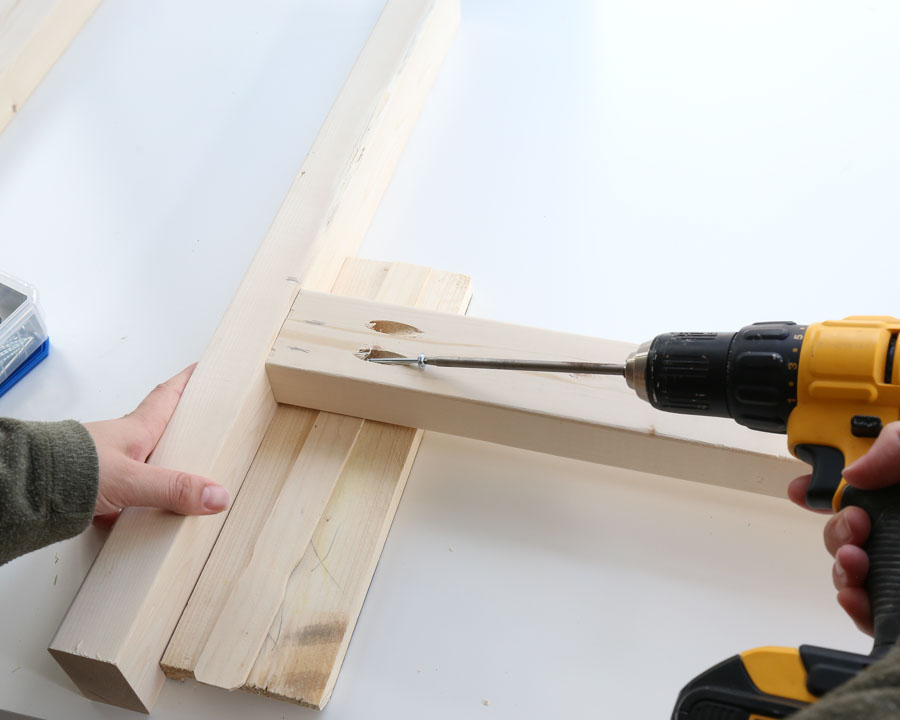 Also, another thing to note is that I am using 2 1/2″ indoor Kreg screws because it's what I had on hand and my chair is going to be in a sunroom. But, if your chair is going to be totally outside, you should use the blue, outdoor Kreg screws.
Next, attach one of the 30 1/4″ boards to the top of the frame with 2 1/2″ deck screws. Make sure they are countersunk beneath the wood surface (you will fill them with wood filler later). I used self tapping deck screws that do not require pre-drilling.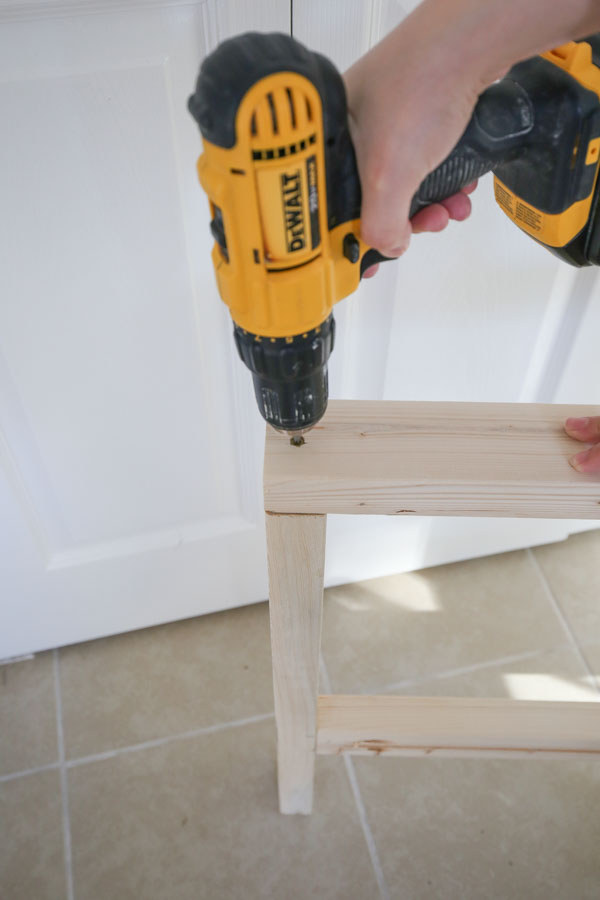 Repeat the above steps for the second side chair frame.
4. Add side slat boards to chair side frames
Measure the exact distance between the two legs of the side frames and cut three 1x3s to this size. The measurements should be close to 27 1/4″ but since we're working with framing lumber, they may not be. My 1x3s were about 1/16 different and I wanted the measurements to be precise so that there were no gaps!
Add each 1×3 one at a time with 2″ brad nails through the side 2×3 legs. Space them 1 3/4″ apart starting from the top 2×3.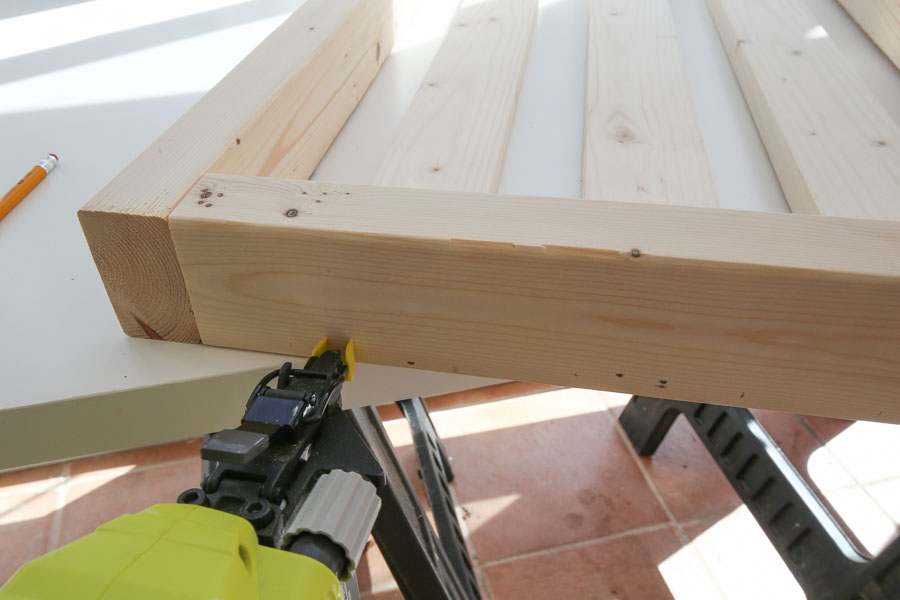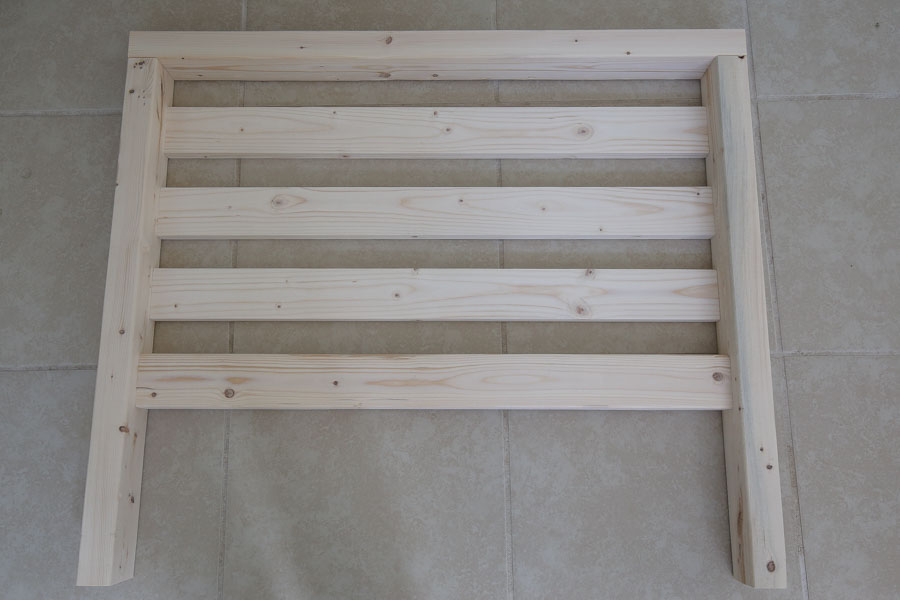 5. Attach sides of DIY outdoor chair together
Attach the two side frames together by attaching the front and back bottom boards (two of the 28 3/4″ boards). Use 2 1/2″ Kreg screws and a drill. Make sure that the pocket holes are facing the inside of the chair frame.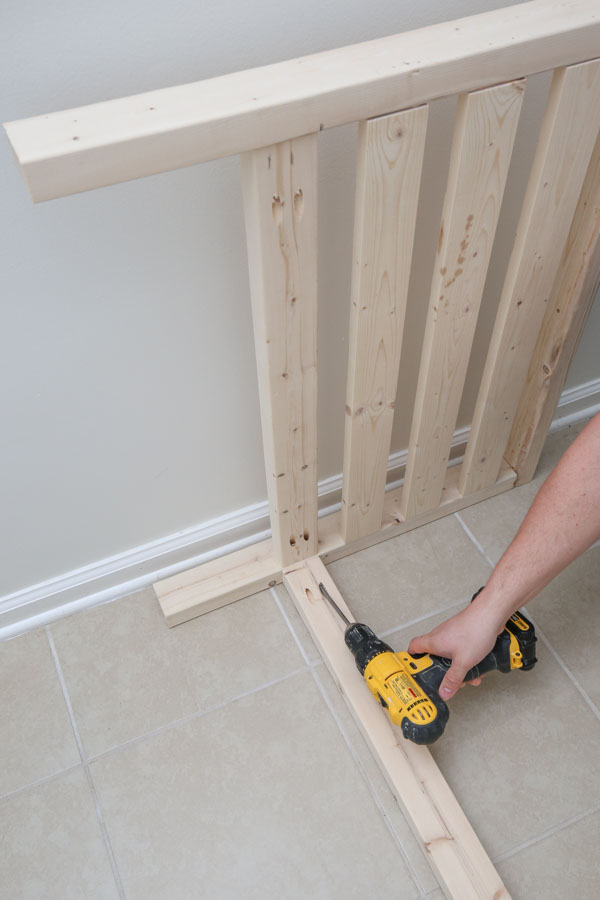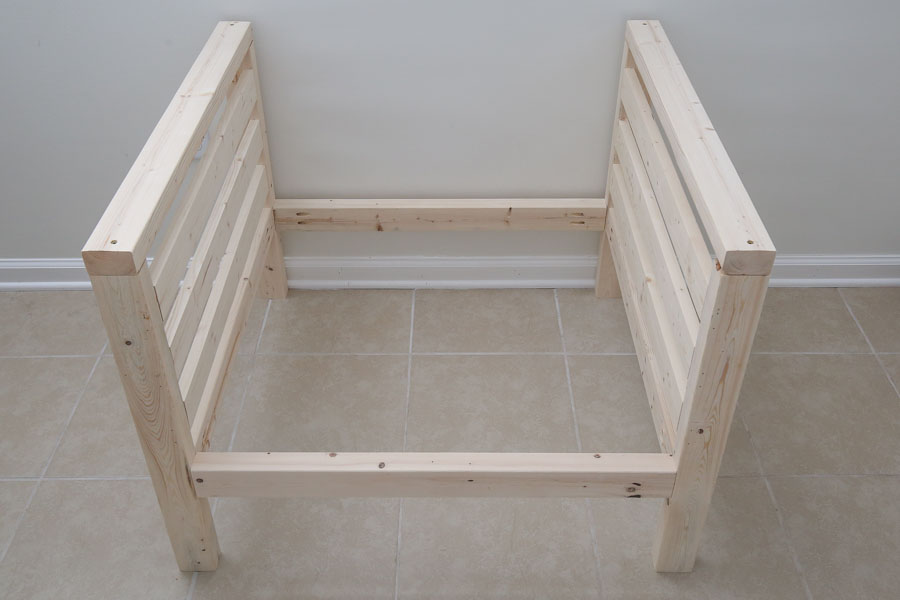 Next, add the two bottom support boards using the remaining two 27 1/4″ boards and 2 1/2″ Kreg screws. Space the bottom support boards about 8″ apart. Also, I ran out of lumber, but you can use three bottom support boards in this step instead of 2 for extra support.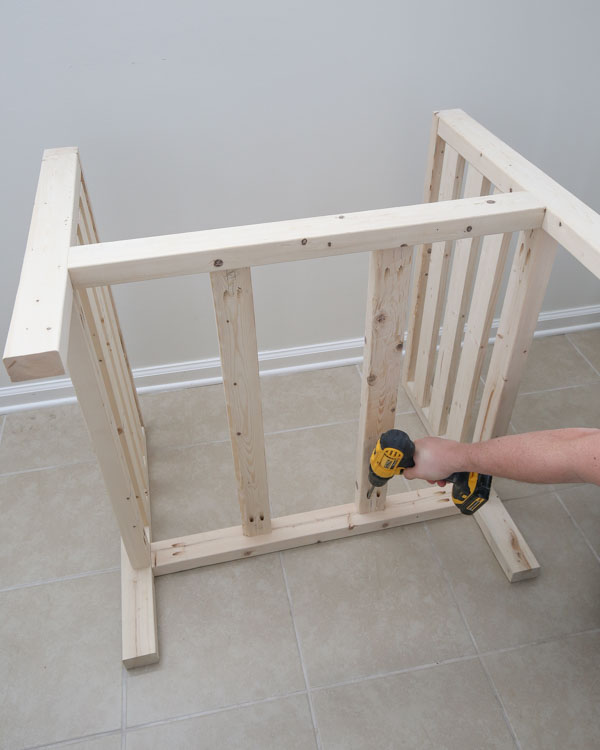 6. Add back frame boards to the chair
Finally, attach the remaining three, 28 3/4″ boards to the side frames to create the back frame of the DIY patio chair (space the boards about 2 3/4″ apart).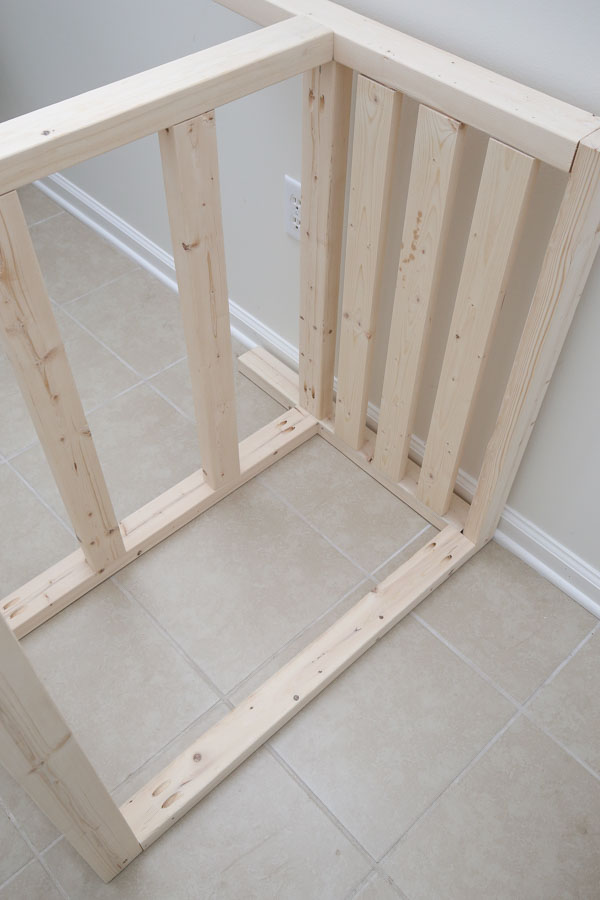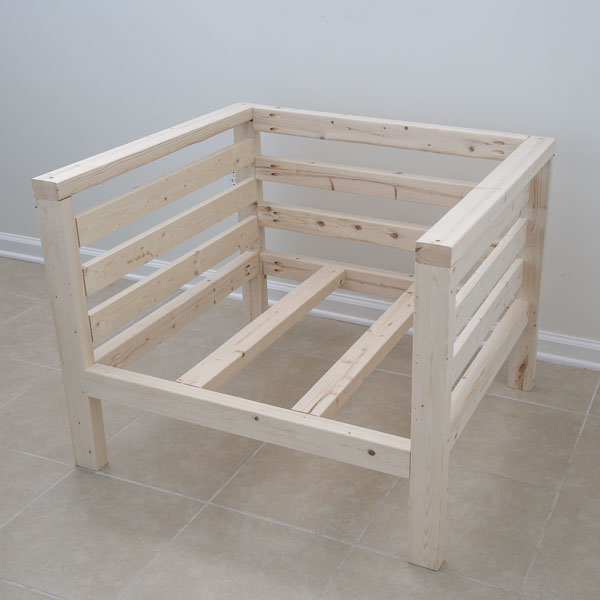 And that's it for the build!
7. Fill holes, sand, and stain the outdoor chair
The last step is to fill the screw and nail holes with stainable wood filler. Also, finish any needed sanding.
Finally, stain your DIY outdoor chair! I used one coat of Valspar semi transparent exterior stain in Pine bark. It was one of the only exterior stains I could find that came in a quart size and not a gallon size. Let the stain fully dry and then add your cushions!
I can't wait to start using our new DIY patio chair. I'm glad I've got the full spring and summer to enjoy it now! Bring on the warm weather!! Maybe this summer I will finally makeover our sunroom too!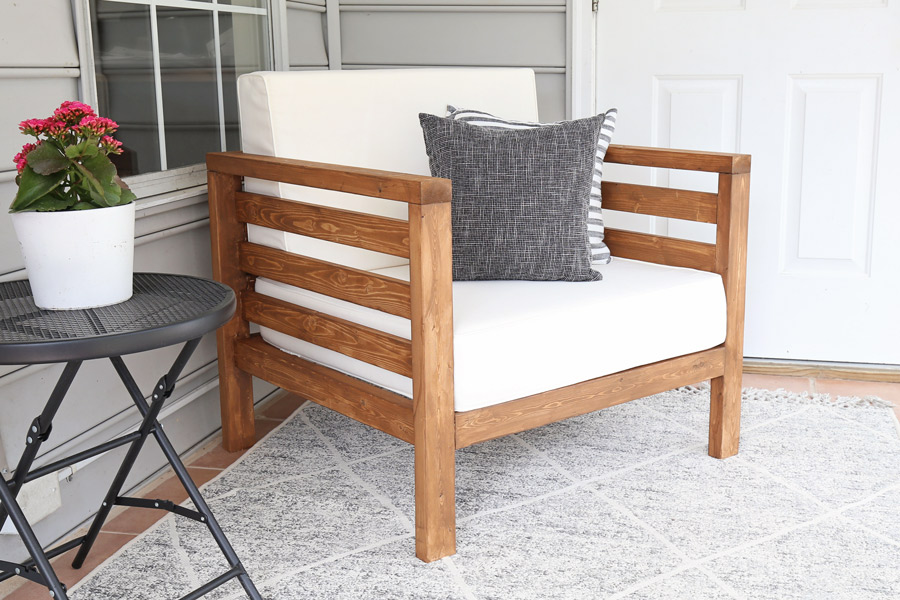 Follow along on my latest projects and sneak peaks on Instagram, YouTube, and Pinterest!
If you want to save this tutorial for later, Pin It here: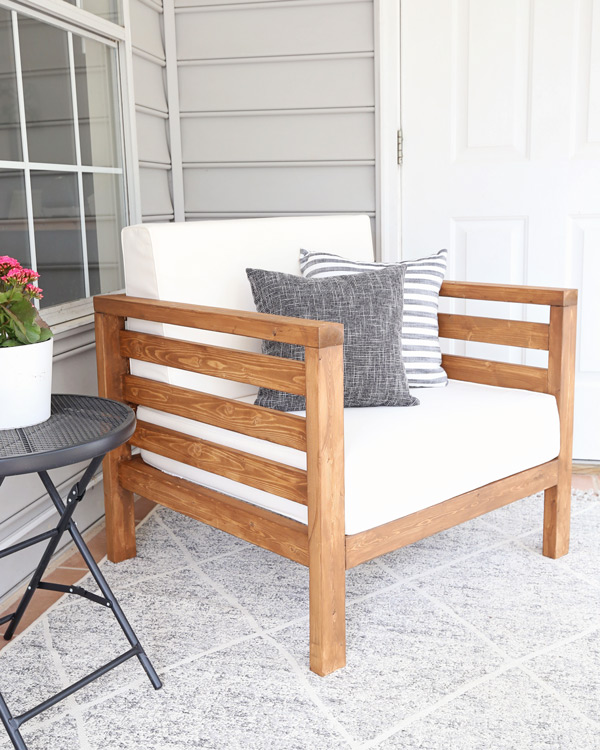 Get instant access to the library of FREE printables for the home!
Subscribe and get home decor tips, DIY tutorials, and access to the library of FREE printables for the home!