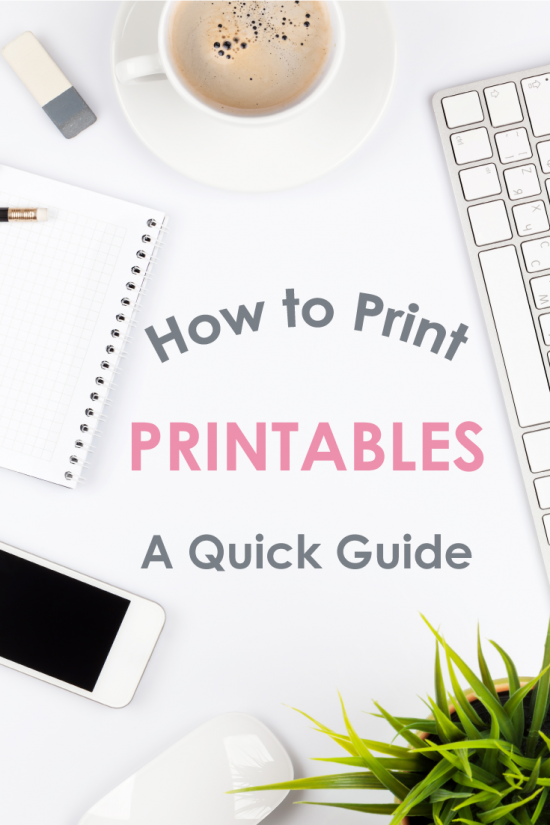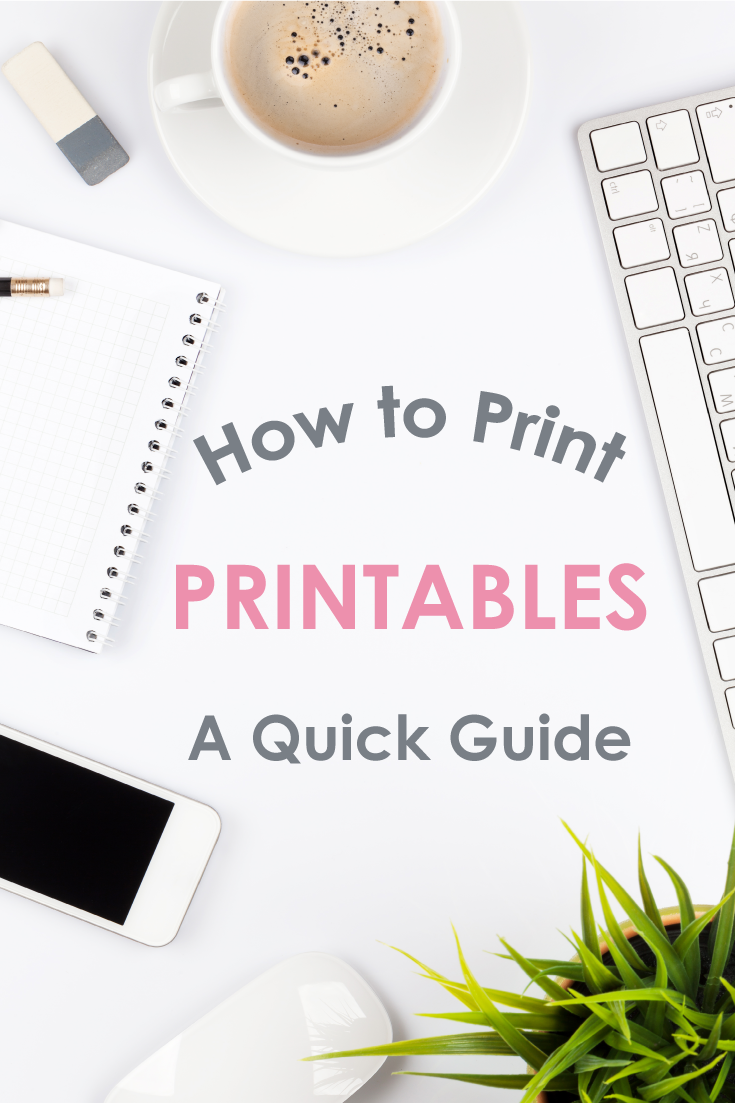 When I tell people I create printables I often get a confused look as to what is a printable?! I also have a lot of new customers in my Etsy shop who are purchasing printables for the very first time! So, I thought putting together a quick guide explaining what printables are and how to print printables would be helpful!
What is a printable?
A printable is a graphic design or text that is in the form of a digital download. Examples include art prints, worksheets, calendars, stickers, quotes, and more. Two of my favorite things about printables are that they are inexpensive (and sometimes free) and you can print them out yourself! I love using printables to update my home decor with fun, new designs and seasonal designs, as well as using them for party decor!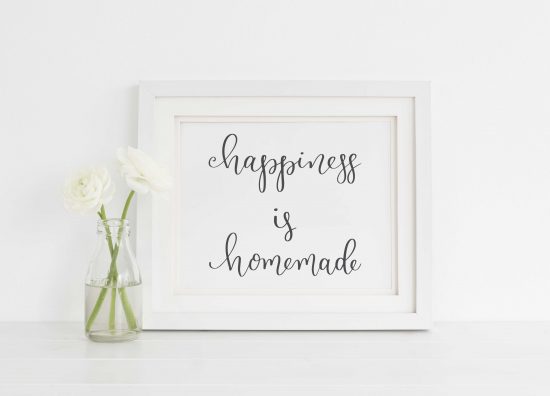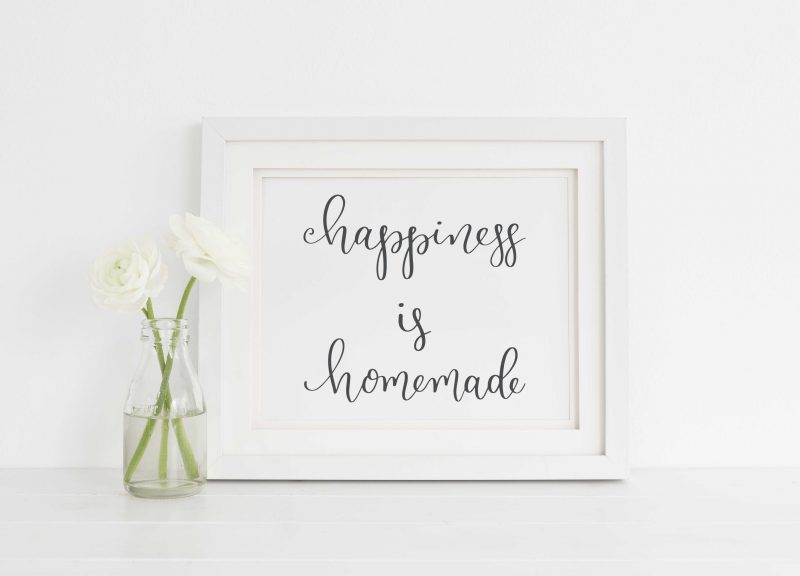 Note, this post contains some affiliate links. For more information see my disclosures here.
How to print printables?
All Angela Marie Made printables are a high resolution, 300 dpi (dots per inch). It's important to note that the actual print quality can vary depending on where and how you actually print the printable. Actual print colors may vary due to monitor settings and the printer/printing service used. Also, print quality may vary due to the quality of paper, ink, and printer/printer settings used. With all that being said, here are my printable printing tips to help achieve a high quality print!
1. Print at Home
This is the easiest, cheapest, and fastest method!
You can use an inkjet or laser color printer (although I prefer inkjet). It is best to print on a high quality paper such as a premium matte cardstock for best results. I bought a 250 pack of this cardstock paper for $10 and it has lasted me a really long time and works great for printables and other kinds of projects. You can always just print on regular printer paper too if you are in a hurry!
Since most readily available cardstock and printer paper is 8.5″ x 11″, you will need to trim the paper if your printable is 8″ x 10″ (all of our art print printables are this size so they fit in a picture frame). I find it's easiest to trim the paper to 8″ x 10″ before printing. This paper trimmer is my favorite, inexpensive tool for quality paper trimming. It's available on Amazon and also at many local craft stores like Michaels and Jo Anne Fabrics. Scissors and a ruler is always an option too for trimming.
Finally, before printing, make sure your printer settings are set up for high quality printing, high quality paper (if using it), and for the right 8″ x 10″ size under printer properties. The exact settings will vary on printers, but I use: Borderless Photo Printing, Borderless 8x10in., Premium Matte Paper, BEST print quality, and landscape or portrait orientation. Also, you can test out any other settings, such as color printer settings. For example, on black and white only designs, I chose high quality grayscale (instead of print in color).
That's it! Print, place in a picture frame if you want, and enjoy!
Here is a photo of our "but first…coffee" printable that I printed at home from my inkjet printer on cardstock paper: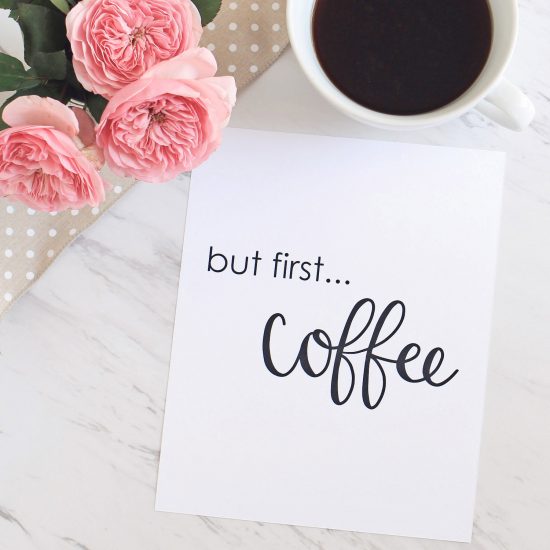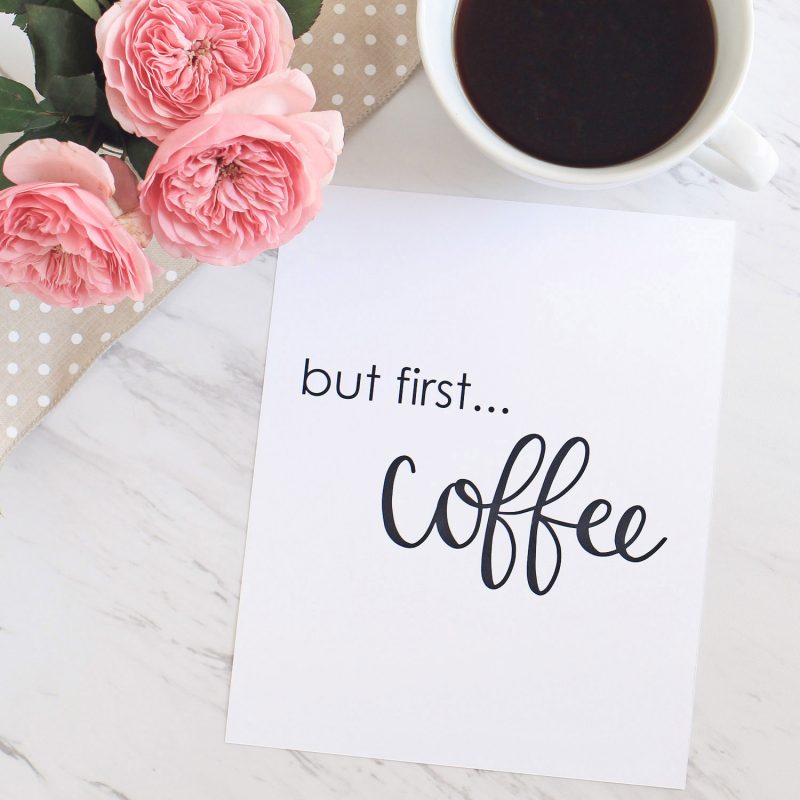 2. Online Printing Services
There are many online printing services, many of which can offer a quick and high quality print of your printable that is shipped directly to you. My favorite online printer that I have tried is Persnickety Prints. They offer high quality, affordable prints, fast shipping, and several paper choices. The great part about Persnickety is that you can select the 8×10 press print size, so no cutting or trimming is necessary! They are also great for printing our chalkboard printables since they are high quality and you don't have to use a lot of your own black ink!
3. Local Print Shop or Office Supply Store
You can use a local print shop or office supply store and take the file on a USB flash drive and go speak directly with someone about what you need printed, how you'd like it printed, and what type of paper you'd like to be used. Of all the office stores, I prefer Fedex Office (Kinkos). I'd avoid using supercenters and photo kiosks as they are intended for actual photo printing on photo paper not art prints on cardstock or specialty paper, so their quality is going to be lower for design/art printables.
And that's my quick guide to how to print printables! Besides the printables I offer in the shop, I am going to be offering some free printables soon on an on going basis! Freebies are always exciting! For new designs, updates, and more be sure to follow along on Instagram, Pinterest, and Facebook!
Save
Save
Save
Save
Save
Save
Save