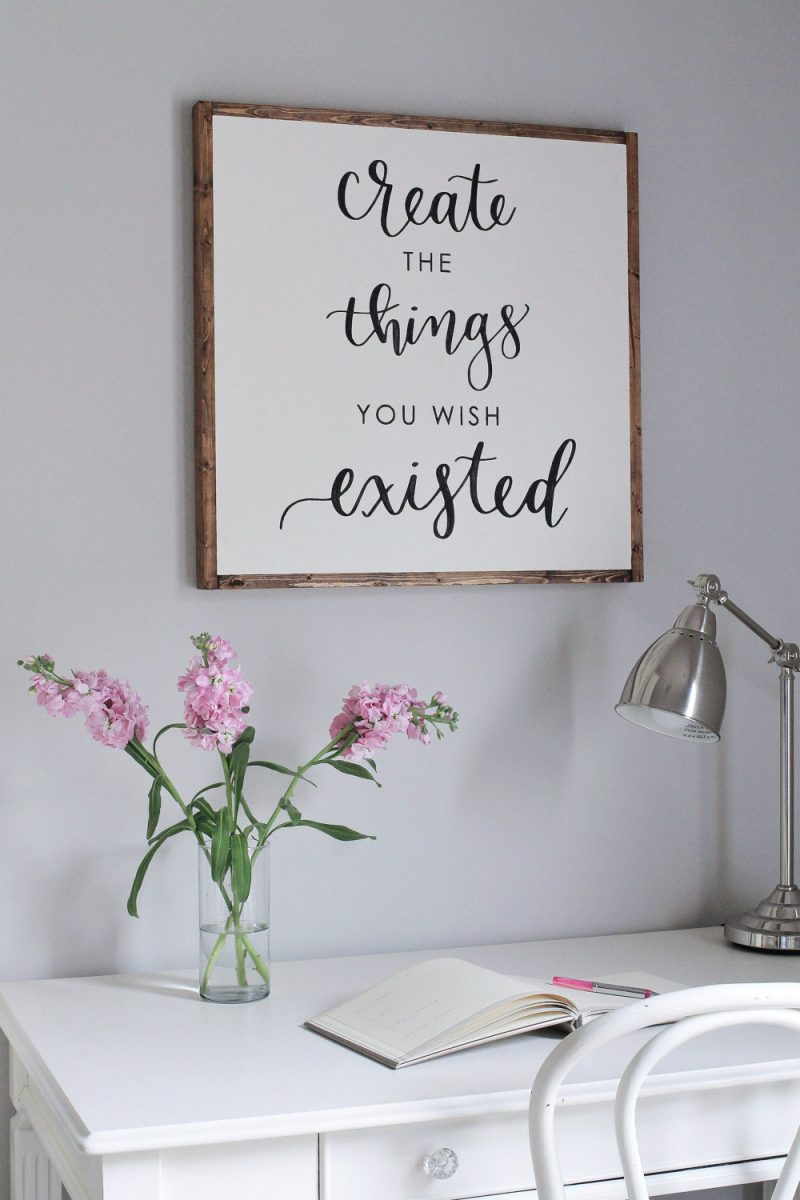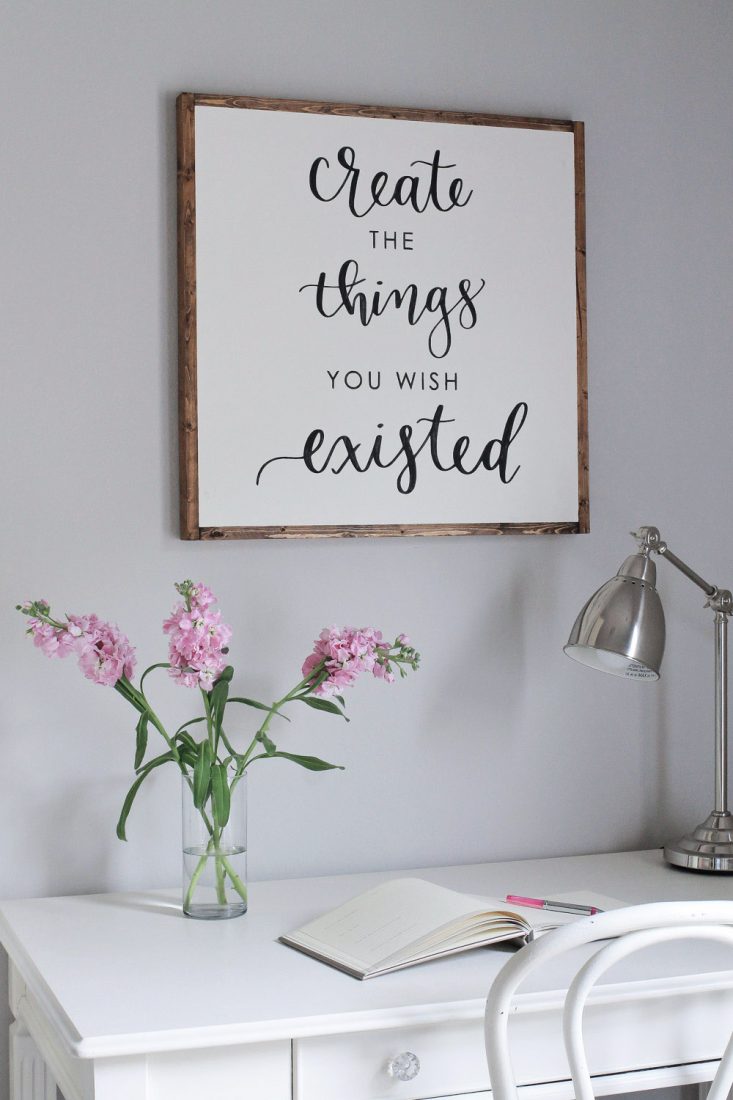 I've been working on my office makeover for what seems like forever! Finally, I'm nearing the end of the process trying to determine my wall art. I knew I wanted a simple, rustic, DIY wood sign for above my desk with an inspiring quote that incorporated my calligraphy. Picking the right quote was incredibly difficult for me, especially because I can be so indecisive and I changed my mind at least three times haha!
I decided on the quote "Create the things you wish existed," although I'm not sure of the source of it. I liked this quote because it can relate to all things creative/art/DIY or it can be applied to really any goals in life you wish to achieve!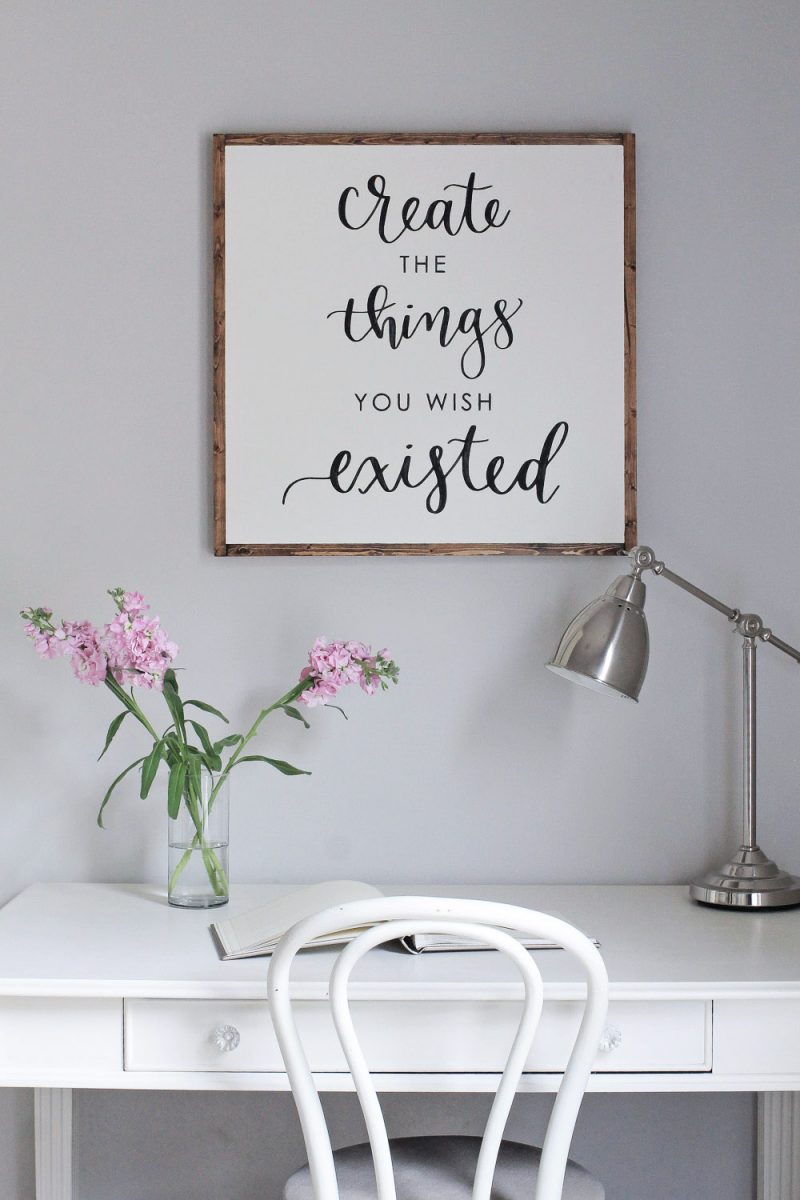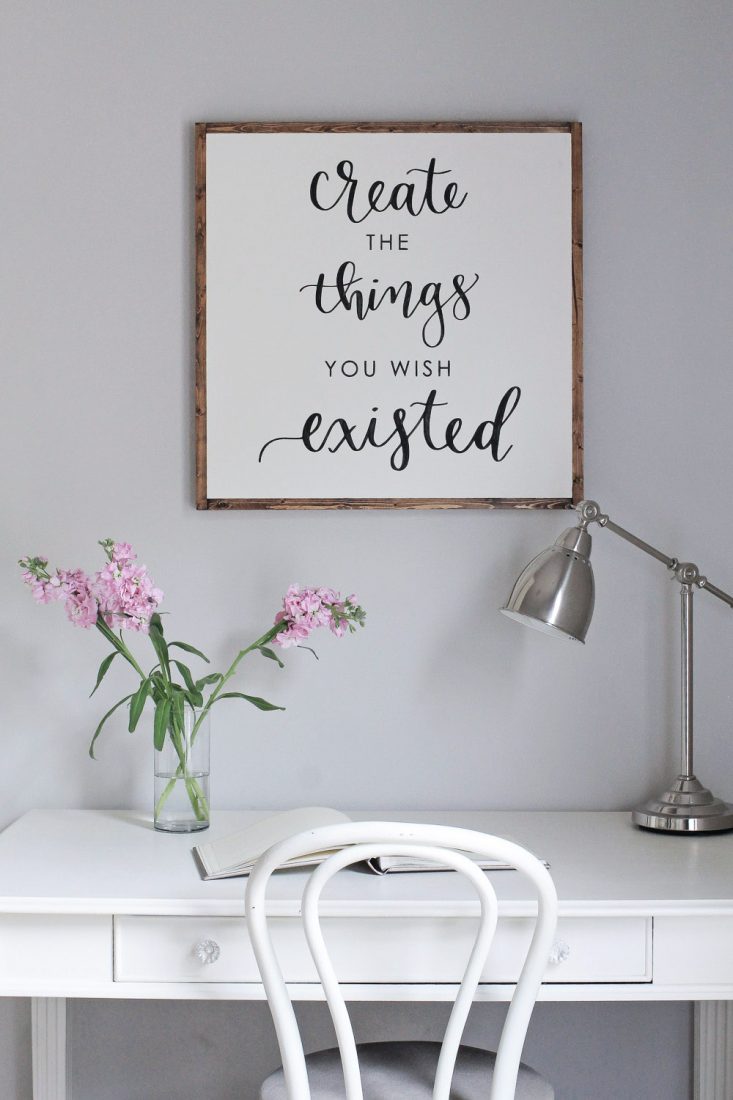 Note, this post contains some affiliate links.
This building project doesn't involve too many tools and it can be done with just a hammer and finishing nails, but I of course used my favorite brad nailer! Or if you really like the calligraphy quote design and don't want to DIY the wood sign, I've included a free 8″ x10″ printable art print of the design below:
(Printables are for personal use only, no commercial use is allowed, thanks!)
How to make a DIY Wood Sign with Calligraphy Quote:
Materials:
"Create the Things you Wish Existed" Printable file (free printable available here)
1/2″ or 3/4″ thick plywood panel at 2ft x 2ft
(2) 1×2 @ 8ft.
1 1/4″ brad nails or finish nails
Paint for the the sign background (I used Ivory White by Benjamin Moore)**
Paint for the lettering (I used acrylic craft paint)**
Paint roller
Small paint brush or paint marker (for lettering, see step #4)
Wood Stain (I used Minwax Provincial)
**Paint – For details on painting signs and the best type of paints to use for DIY wood signs, see this post on How to Paint DIY Wood Signs.
1. Cut wood to size for DIY Wooden Sign with Saying
Using a miter saw, cut your 1x2s to the following sizes (or have your local home improvement store make the cuts for you):
Two pieces at 24″
Two pieces at 25 1/2″
Note, if you have a custom size sign do two wood pieces cut at the exact length of the top and bottom sides and two at 1 1/2″ plus the length of the left and right sides.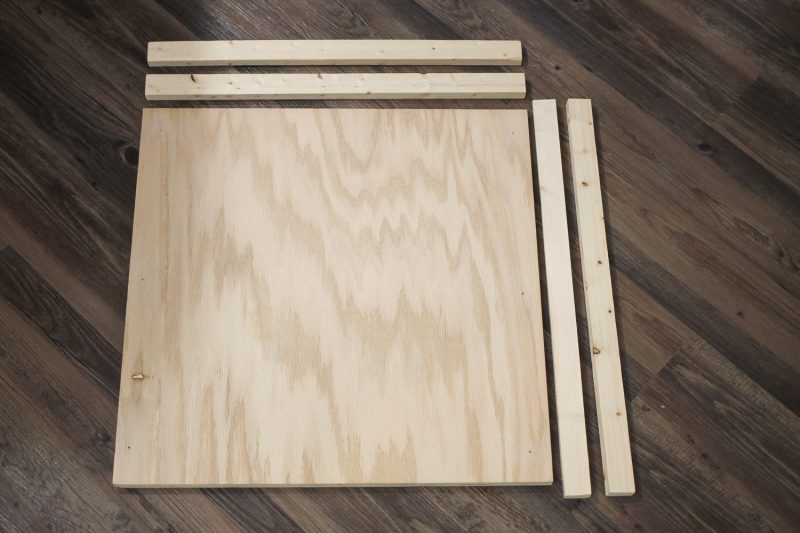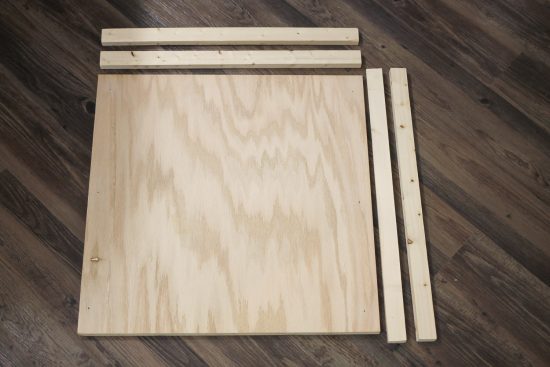 2. Stain Wood Sign Frame and Paint Wood Sign Backing
Stain all sides (except the back), of your 1×2 frame pieces. For tips on how to stain wood for a beautiful finish, check out my tutorial on how to stain wood.
Then, use a paint roller and prime and paint the front side of your 2ft x 2ft plywood piece. To learn my favorite methods for painting wood signs and the best kinds of paint to use, see How to Paint DIY Wood Signs.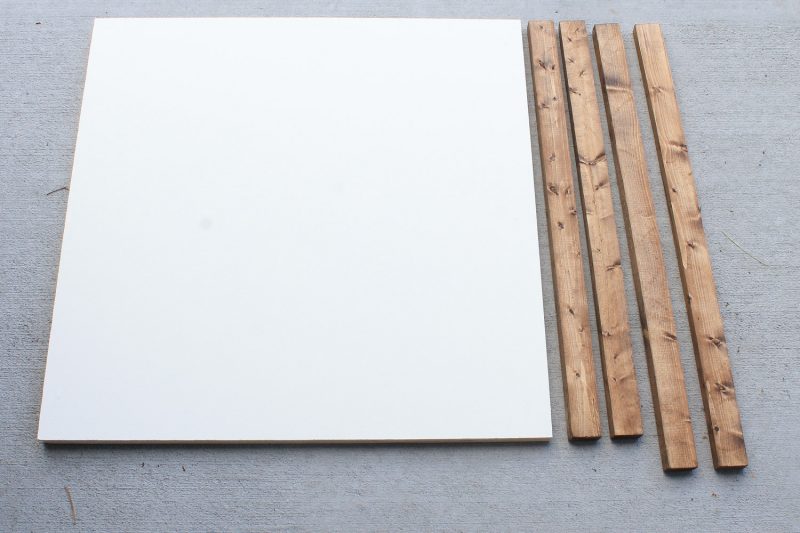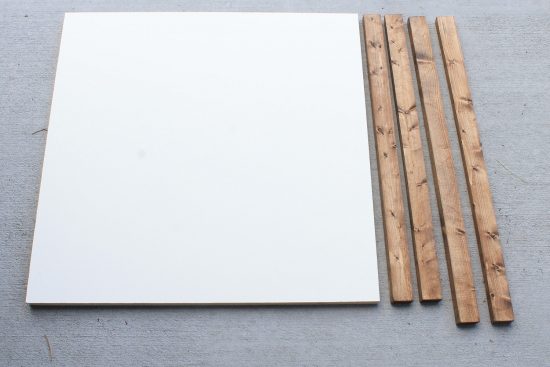 3. Attach wood frame to DIY wood sign backing
Now it's time to attach the framing to the sign! There are two simple ways you can do this. You can flip the sign over and lay your frame pieces against it, so everything is flat on your surface (shown in the first photo below). Or you can put some scrap 1x thick wood under your sign, leave it face up, and line up your frame pieces (next two photos below).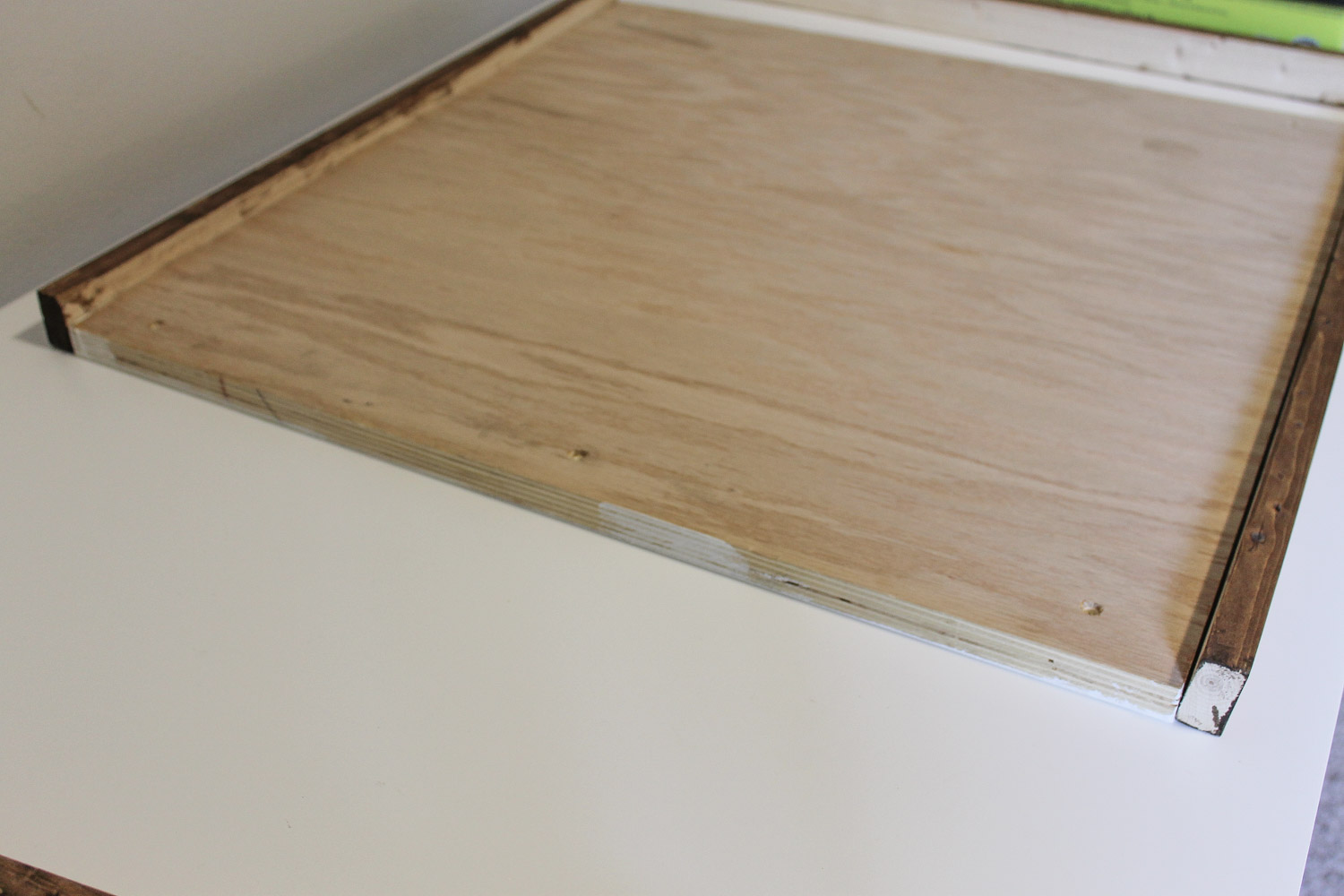 I chose to do the second method so I could see exactly how my frame pieces were going to look when attached. Line up one of your shorter frame pieces on the bottom of the sign (use clamps if desired, it does make it easier).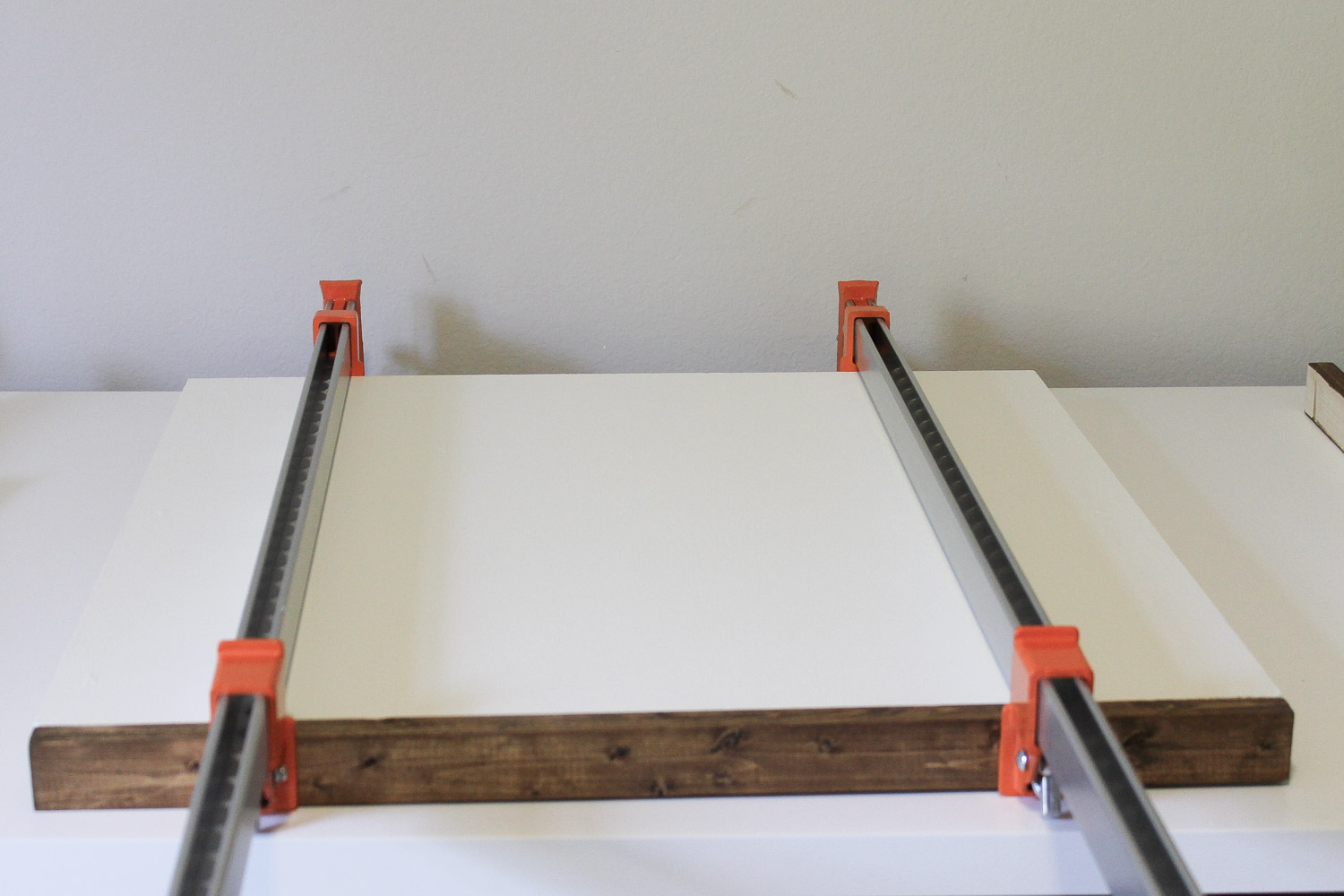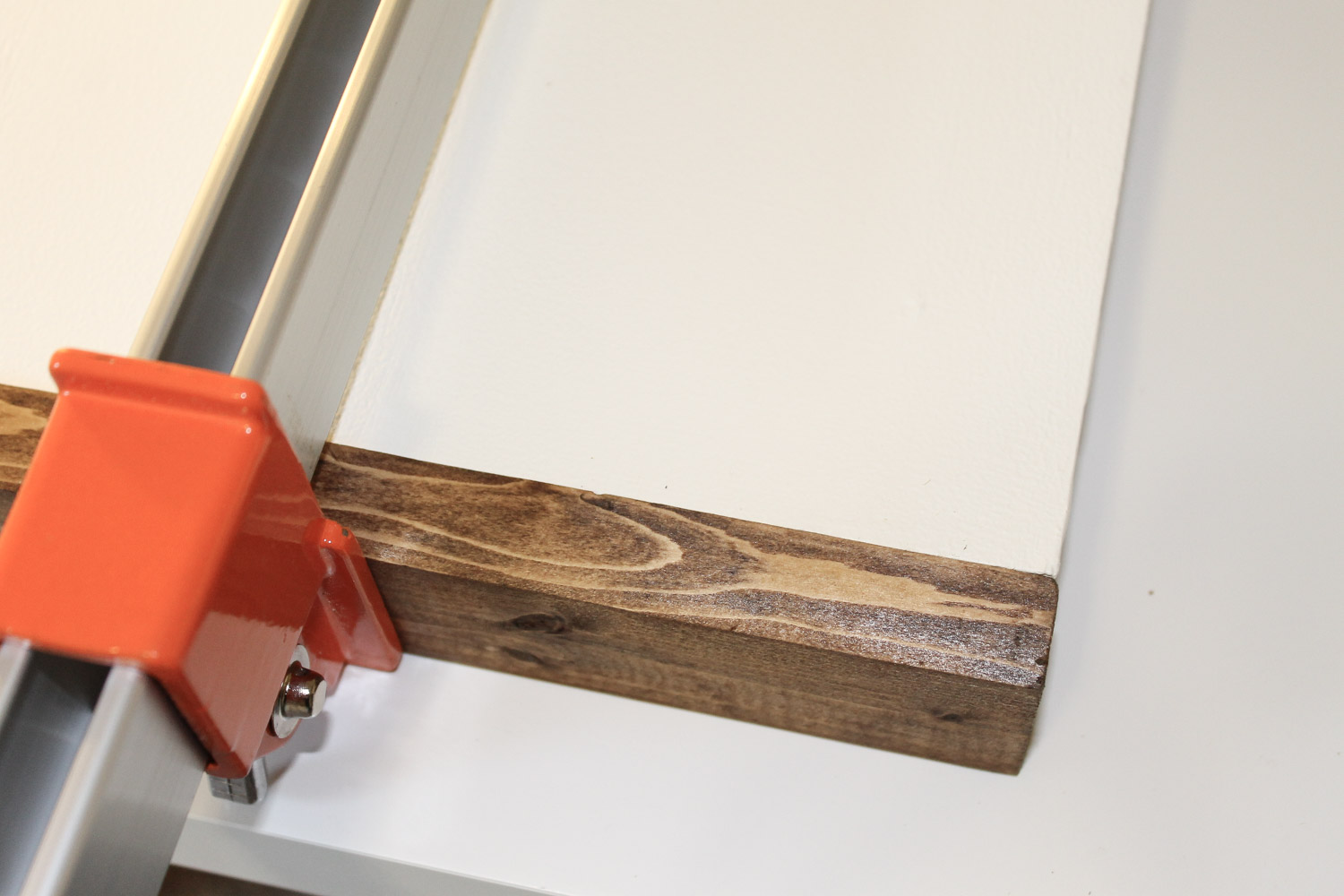 Use a brad nailer or hammer and attach frame to sign with brad nails or finish nails. Repeat for the top frame piece on the top of the sign. You can use extra nails on the top and bottom pieces since they won't really show when hung on the wall.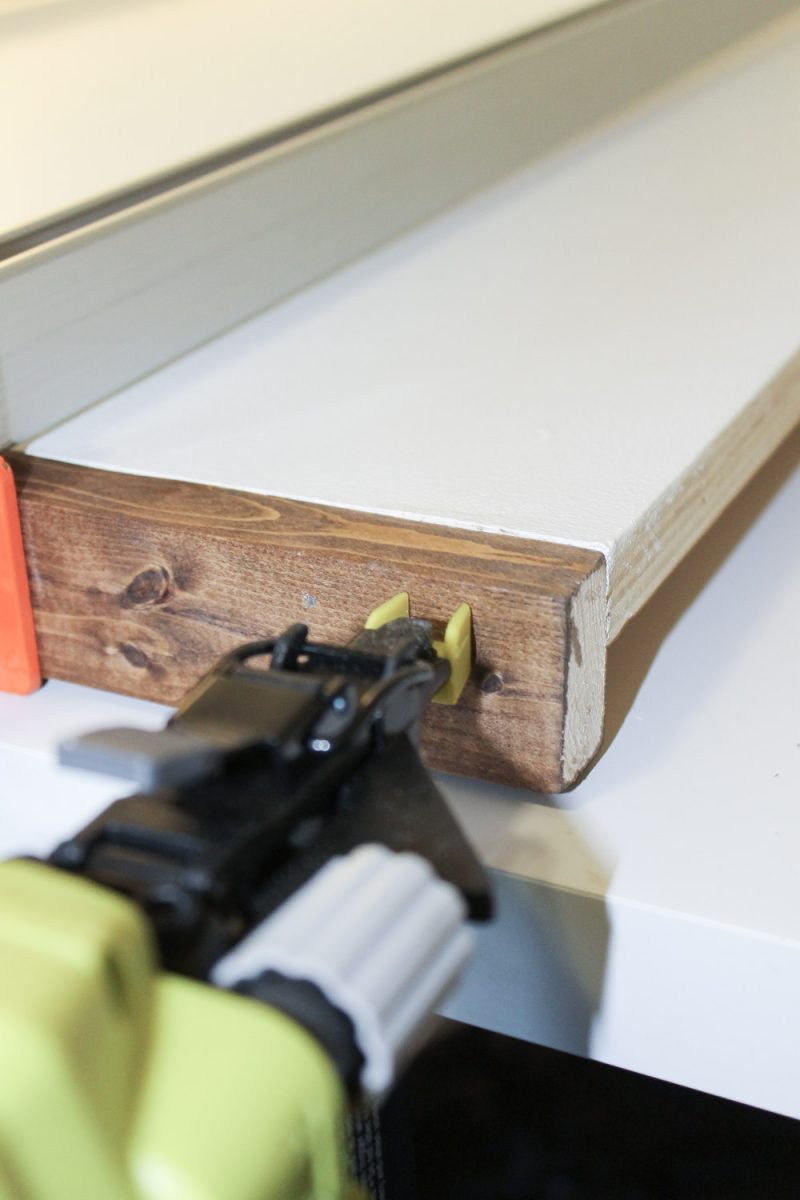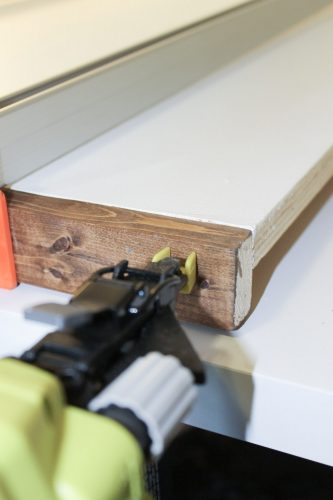 After your top and bottom frame pieces are attached, repeat above steps for the left and right side frame pieces to complete the framing for your sign build!
4. Apply lettering to your DIY Wooden Sign with Saying
Time for the lettering! There are many ways to transfer a print design on paper to a wood sign. And if you have a favorite way I'd love to hear in the comments! I'm going to share two methods here, one method with a vinyl cutting machine (like a Cricut or Silhouette Cameo) and a second method with just a pencil and NO machine or stencil!
Transfer Design Method #1 – Vinyl Stencil Method
The first method is what I originally used, where I printed the calligraphy quote out with my vinyl machine as a vinyl decal and used it as a vinyl stencil on the wood sign (shown in below three photos). Then, I painted two coats of black acrylic paint with a small, art, paint brush, making sure I didn't put the paint on too heavy to prevent it from seeping under the vinyl.
So, if you have a Cricut, Silhouette Cameo, or other vinyl machine, this is a good method. Check out my post here to learn how to make a vinyl stencil for DIY wood signs. A free printable for tracing the design is available below! Also, I recommend using Oracal 631 Vinyl, it's a high quality indoor vinyl and removes easily and cleanly from the sign.
Note, if using a Silhouette Cameo, Cricut or craft size cutter, you will need to make the vinyl decal in two sections (12″ x 24″) for this oversized sign which measures 24″ x 24″. In addition to my Silhouette Cameo, I also have a 24 inch vinyl cutting machine that I used to make one large vinyl stencil here.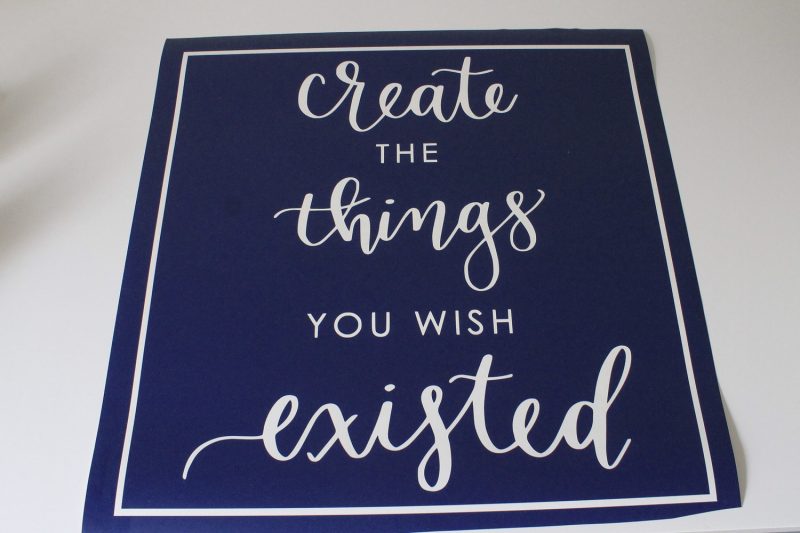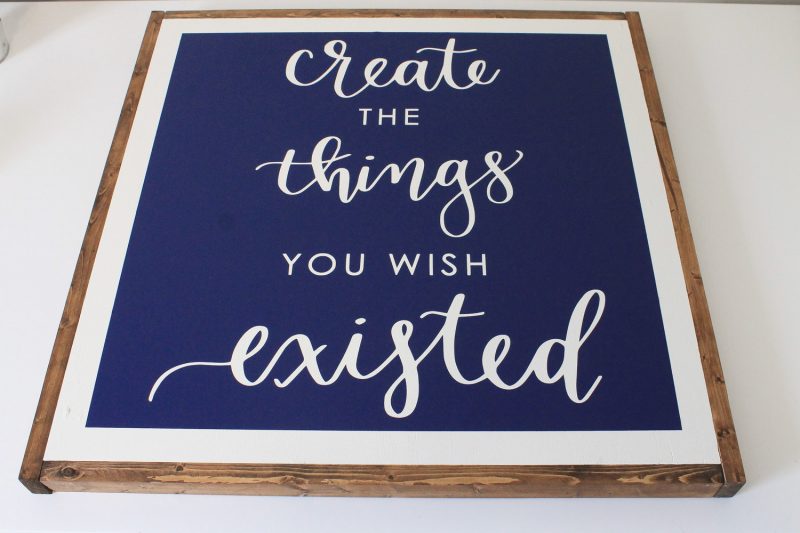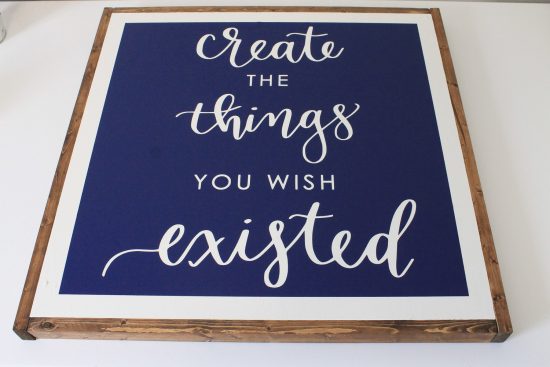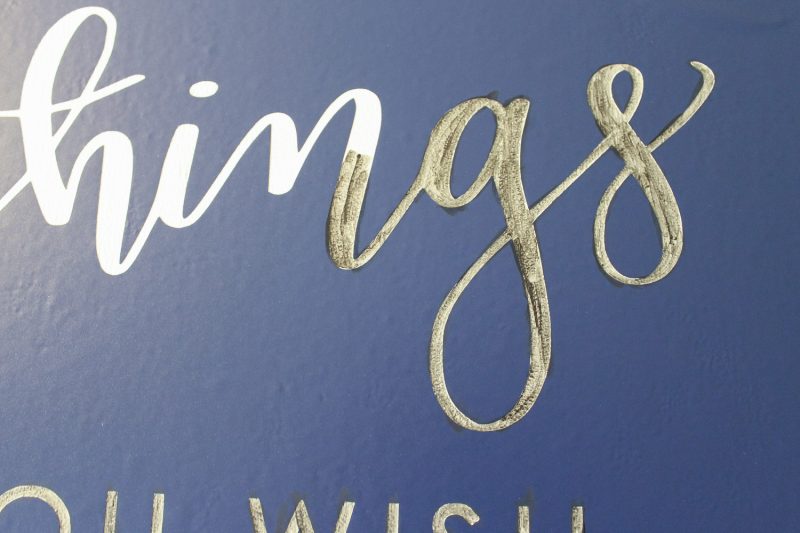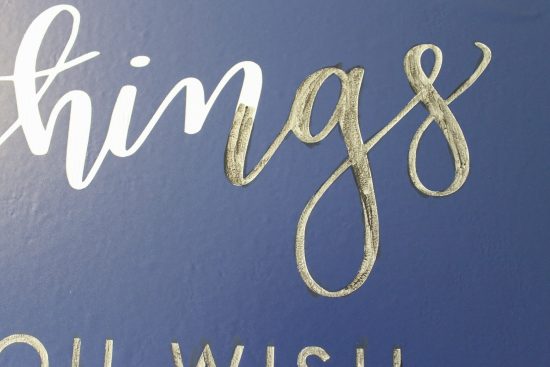 Also, I just want to mention that if you are learning how to make wooden signs to sell, this transfer method is great for providing a beautiful, professional look! For more information, check out my tips on how to make wooden signs to sell.
***
Transfer Design Method #2 – Pencil Tracing Method (NO vinyl machine or stencil needed)
If you don't have a vinyl cutting machine, this second method works well too with just a pencil to apply the lettering to your DIY wooden sign with a saying! Although it is more time consuming, it's very easy!
Have the free design file printed as an enlarged print at your local copy store. Staples and Fedex Office both offer 24″ x 36″ engineering or architectural prints for $3-$5. And I've included a free, 24″ x 36″ download of the design available below which you can use!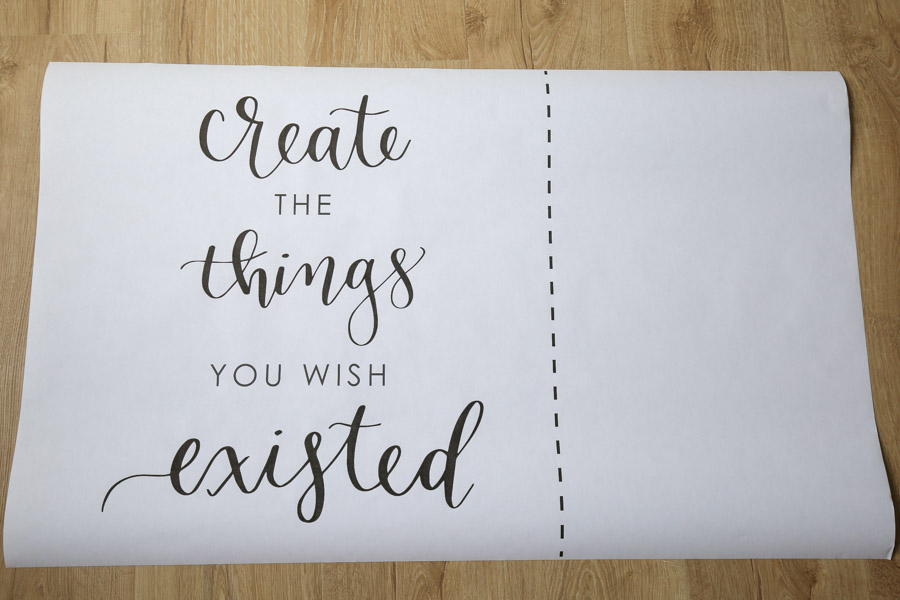 Then, once you have the enlarged print, use the easy pencil tracing method of transferring a design onto wood. So, first you flip your large poster print over and shade over the lettering that shows through the back with a pencil. Make sure to place a piece of paper underneath to avoid the ink getting on your work surface.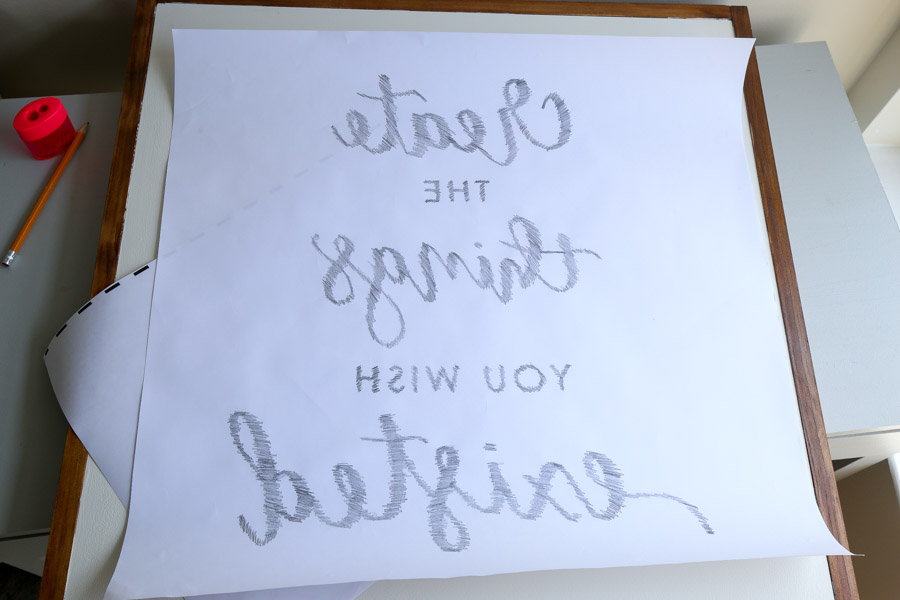 Flip the poster print back over and secure it to your sign with painter's tape or masking tape, centered on the sign.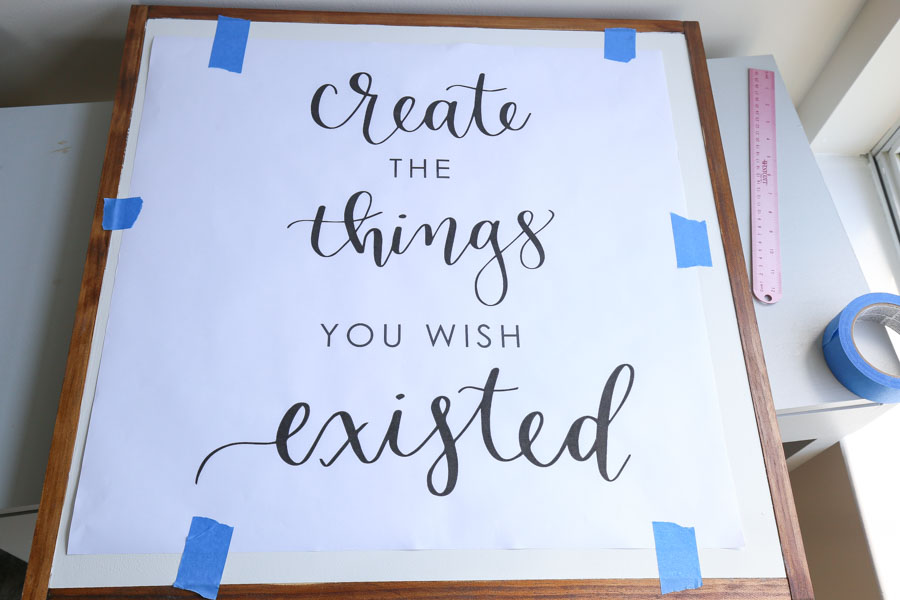 Trace the lettering outline with a pencil with some pressure.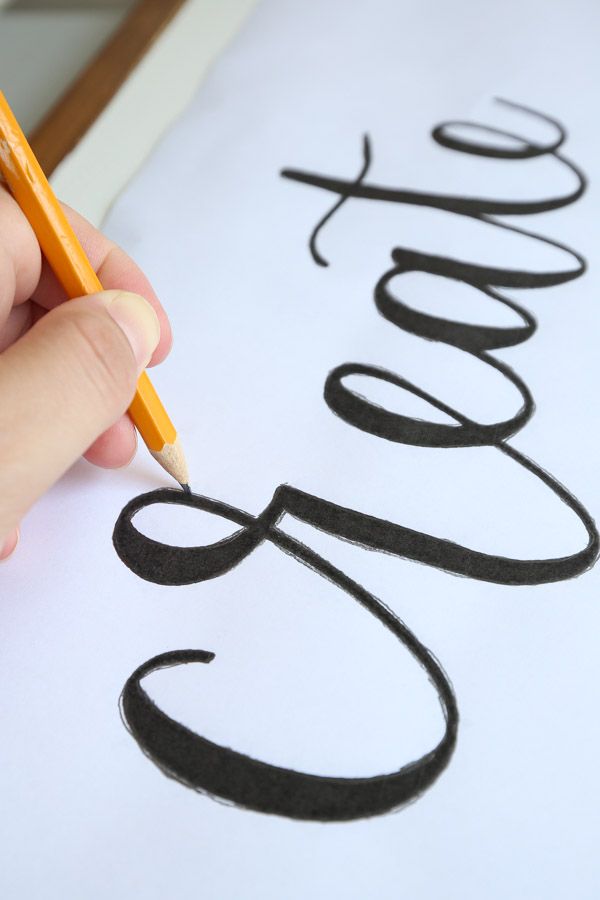 Finally, proceed with painting in your letters after you have the design outline on your wood. For this method, a paint marker or permanent marker works best for tracing over the pencil lines!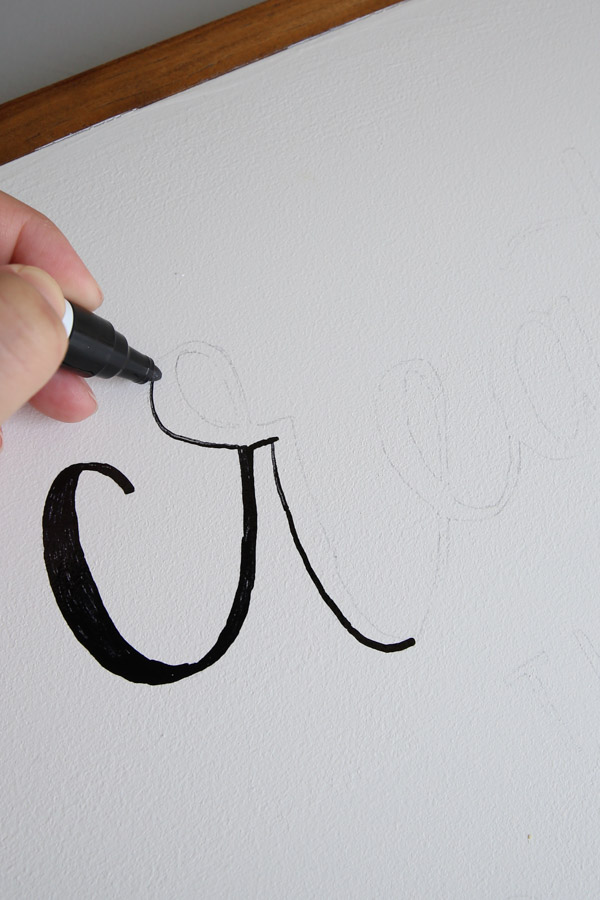 Once you've painted on your letters, your DIY wood sign with calligraphy quote is complete!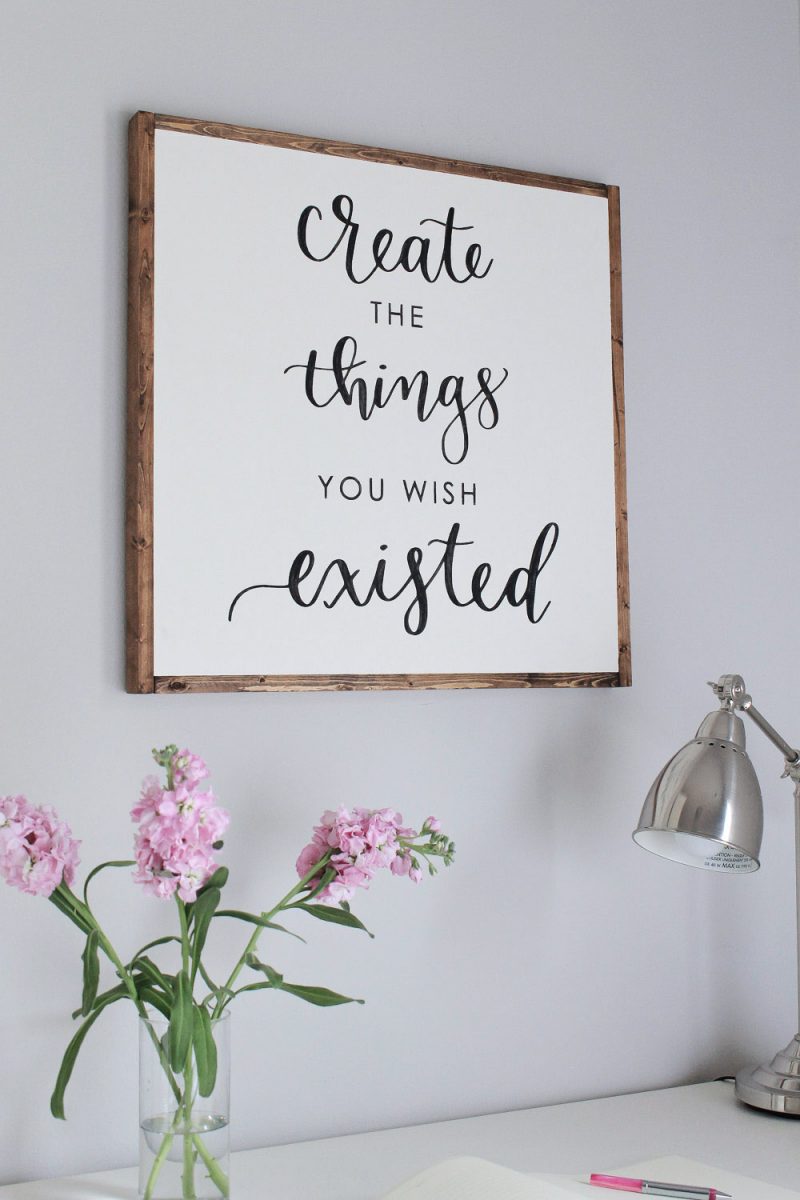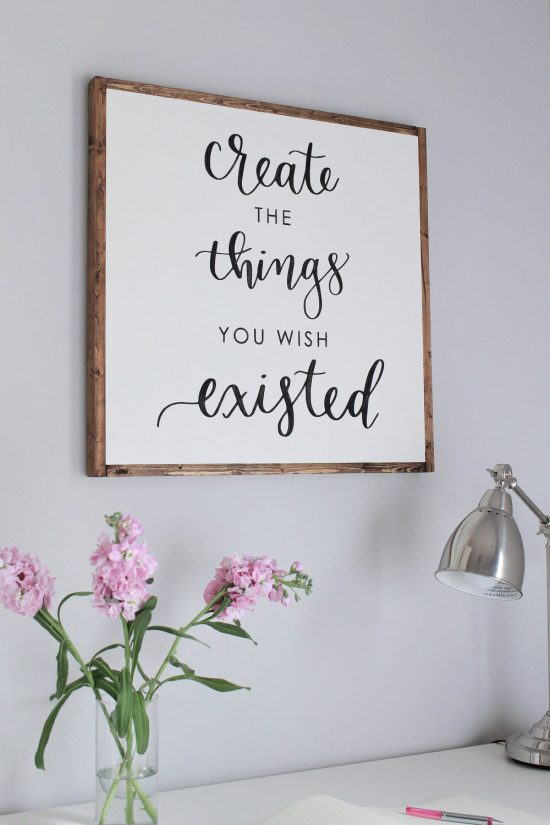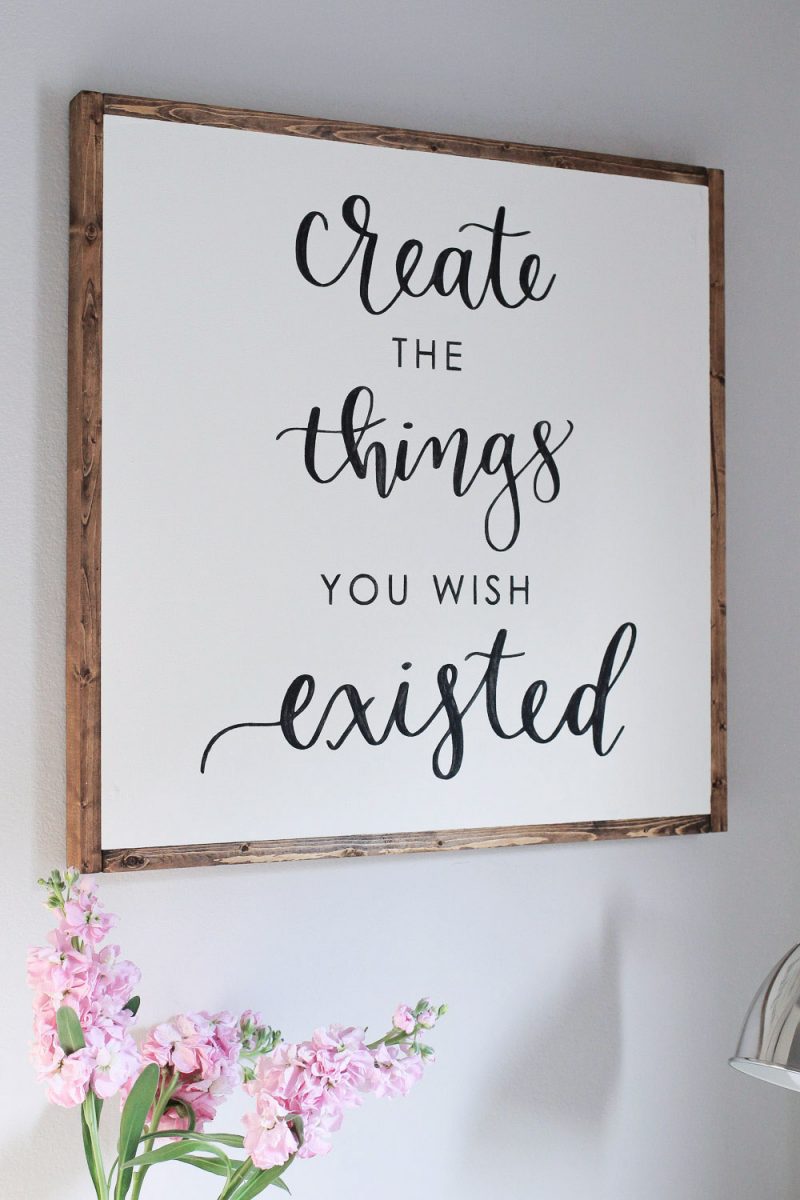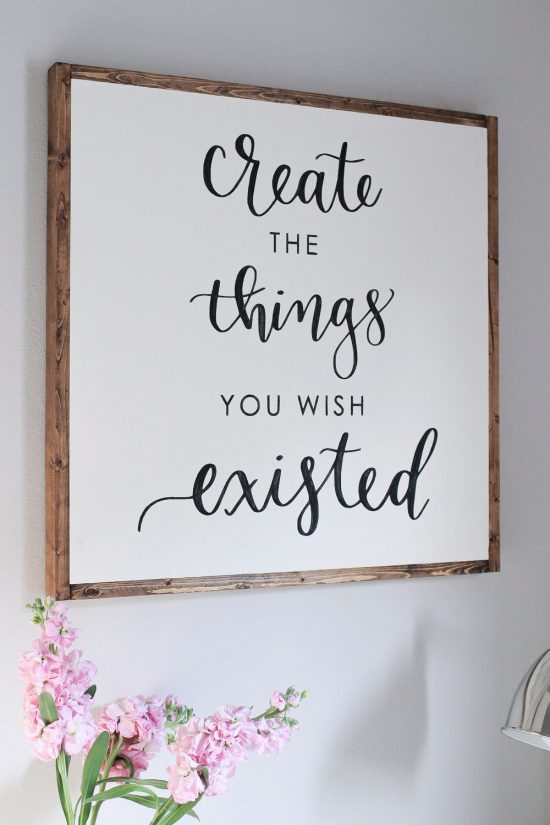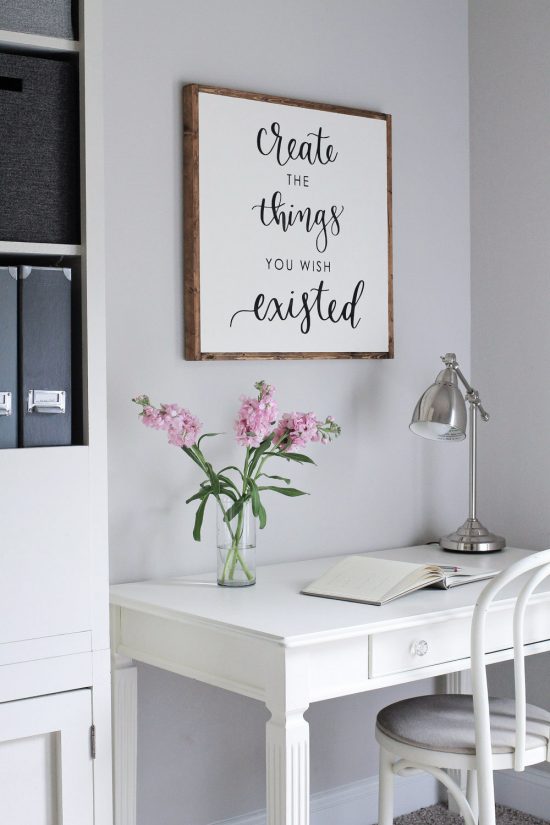 I hope this tutorial on how to make a wooden sign with a saying has been helpful! I will be sharing some more office projects in the upcoming weeks as well as my full office makeover reveal!!! Be sure to follow along on Instagram and Facebook for my latest projects, fun updates, and sneak peeks!
Update: You can see this sign in my full office makeover reveal here!
More From the DIY Wood Sign Series:
Save
Save
Save
Save
Save
Save
Save
Save
Save
Save
Save
Save
Save
Save
Save
Save
Save
Save
Save
Save
Get instant access to the library of FREE printables for the home!
Subscribe and get home decor tips, DIY tutorials, and access to the library of FREE printables for the home!